Itching to make something creative but out of ideas? Have no fear! The Cricut machine is here!
We've collected the top 25 creative Cricut projects for you to try. They're fun, easy to make, and will start you on an amazing creative crafting journey!
25 Creative Cricut Projects
You will find so much inspiration on our list of Cricut crafts to make, from coffee mugs, banners, pantry labels, shirts, knockout tiles and so much more!
1. Cricut Knockout Tiles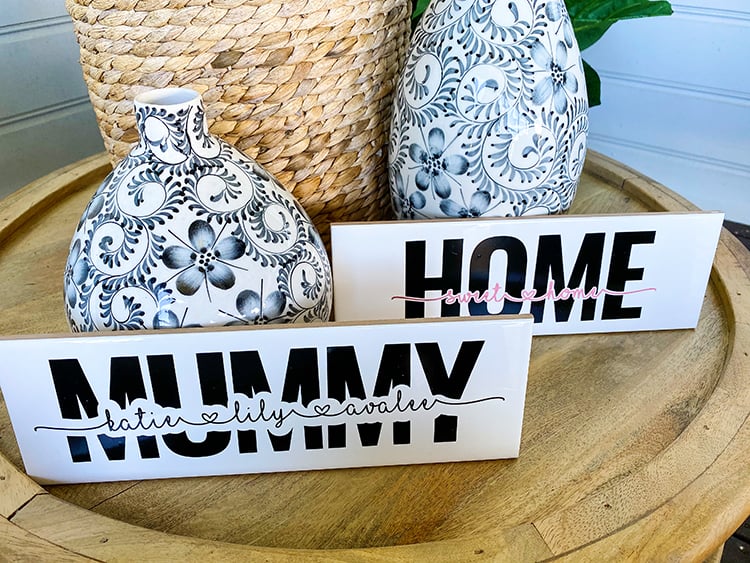 Looking for a gorgeous statement piece for your home? These Knockout Tiles are also fabulous as gifts. As you can see I did one for Mother's Day and also for a home welcoming present as well.
Click here to grab the full tutorial from our blog.
2. Steel Cricut Mug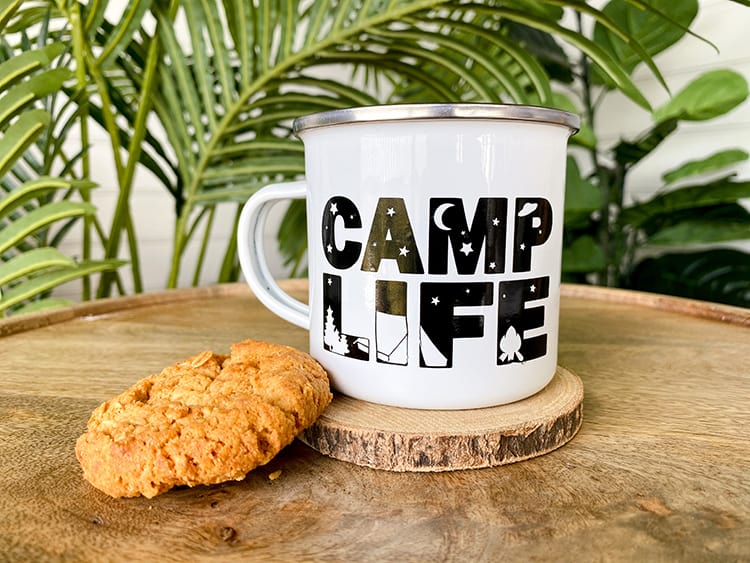 Want to personalize some coffee mugs? I customized a steel camping mug for my daughter so she can easily identify her cup when she goes camping with Cadets.
But you can easily follow the same tutorial to whip up any kitchen mugs.
Click here to find our full tutorial for the steel mugs on the blog.
3. Cricut Wood Sign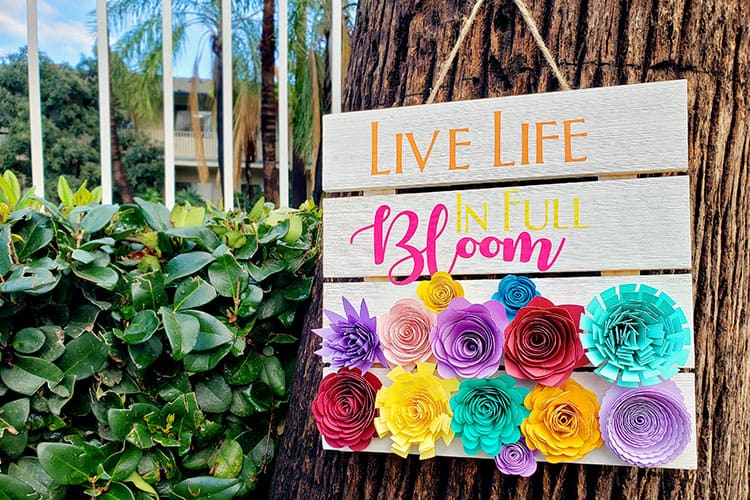 Nothing says Spring more than this bright and beautiful wooden sign, made with colorful paper flowers and your Cricut. Follow this tutorial to make your own sign for your home or front porch.
Click here to find our full tutorial on the Cricut Spring Paper Flower wooden sign on the blog.
Love signs? Find a list of gorgeous Cricut wood sign projects here.
4. Cricut Pantry Labels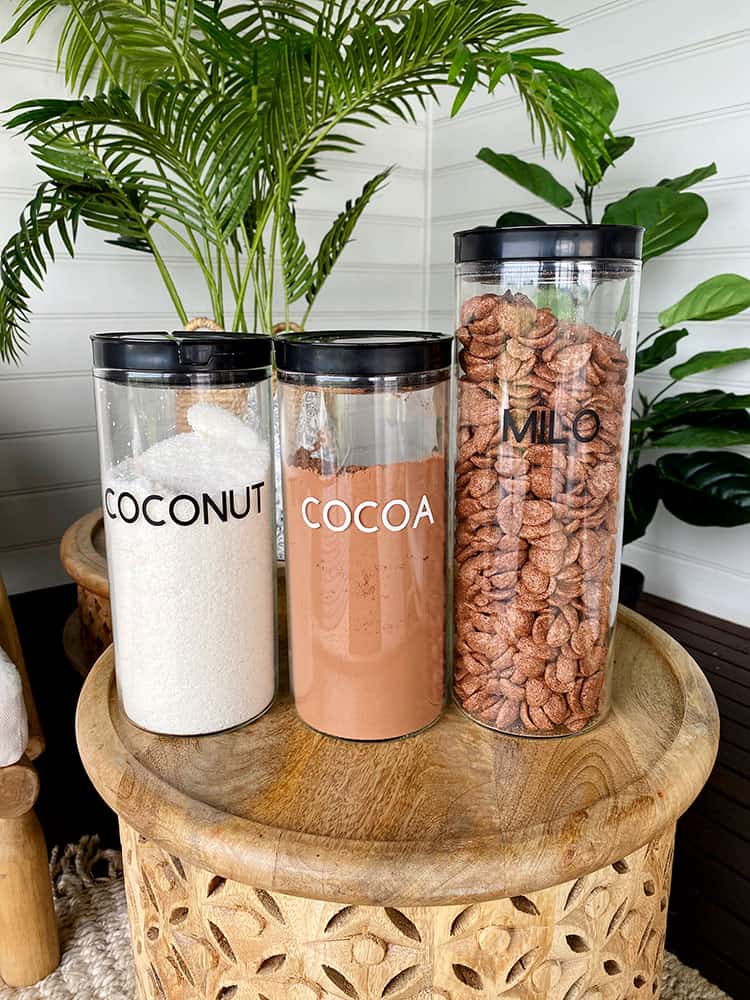 Want to organise your pantry a bit? I love to use jars in my pantry, it makes everything look organised and I find it is easier to find what I want. Creating labels for your jars is actually really easy.
Click here to find the full tutorial on how to create your very own labels here.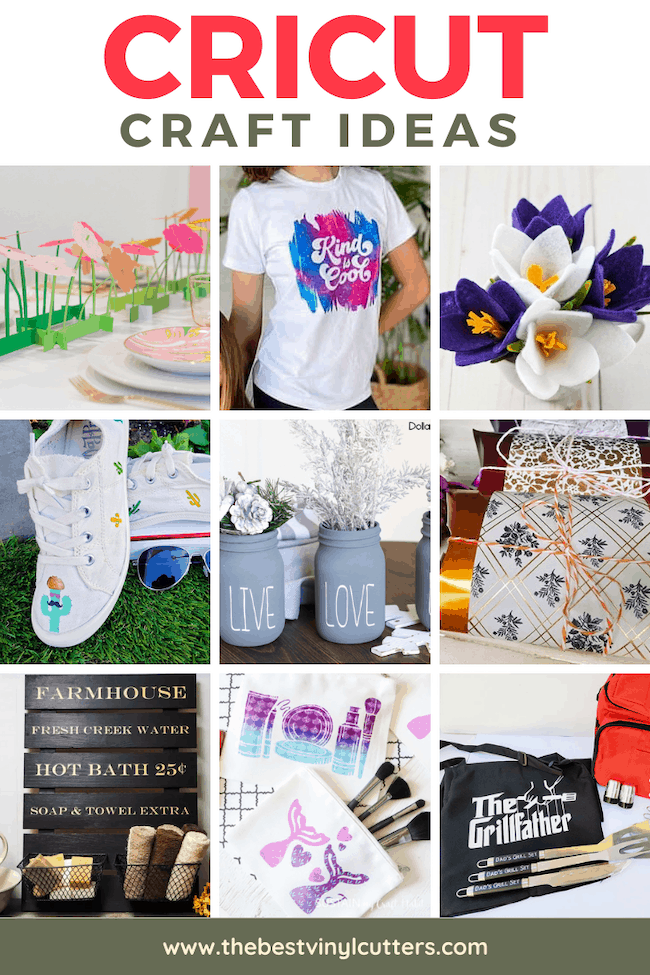 5. Cricut Banner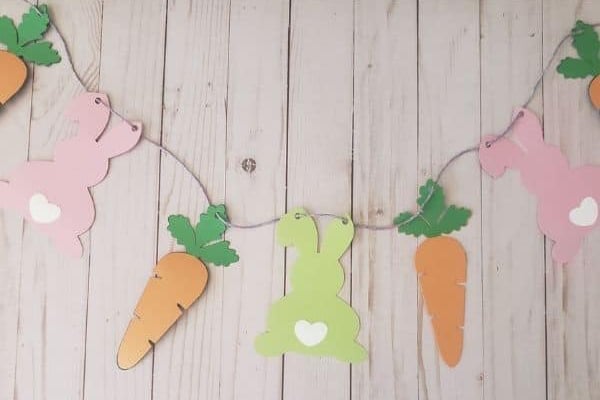 Ring in the fresh spring season with this absolutely precious DIY Easter bunny and carrot banner. It will add some cheer to any room!
But don't wait for Easter, follow Amanda, from the Craft Corner, and the steps to make a cardstock banner for any season, event or theme.
If you love working with cardstock, you will also enjoy our list of easy Cricut cardstock projects here.
6. Cricut Infusible Ink Shirt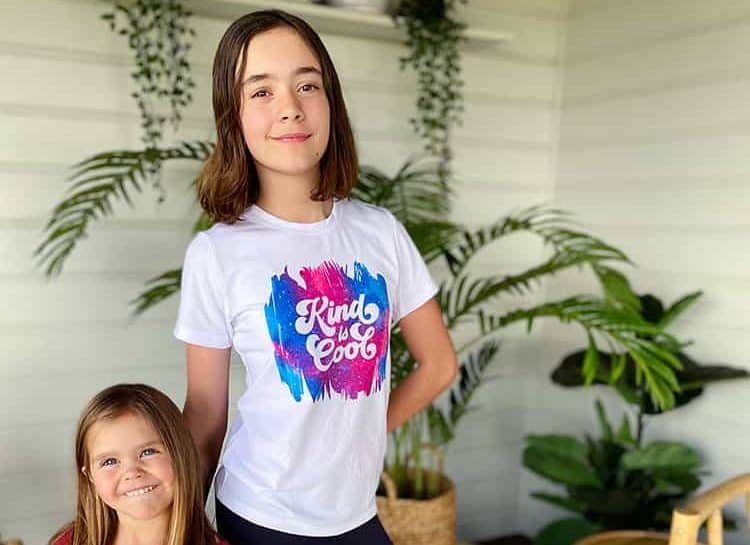 Want to try your hand at Infusible Ink? I created this cool Infusible Ink shirt for my daughter and she really, really loves it.
Working with Infusible Ink is so much fun so this is one you are sure to enjoy making.
Click here to find the full tutorial on how to create your very own cool infusible ink t-shirt.
>>> Want some more Cricut Infusible Ink project ideas? Check out our post full of Cricut Infusible Ink Coaster ideas! You will also enjoy browsing through our round-up post of Infusible Ink Cricut shirt ideas.
7. Personalized Cricut Serving Tray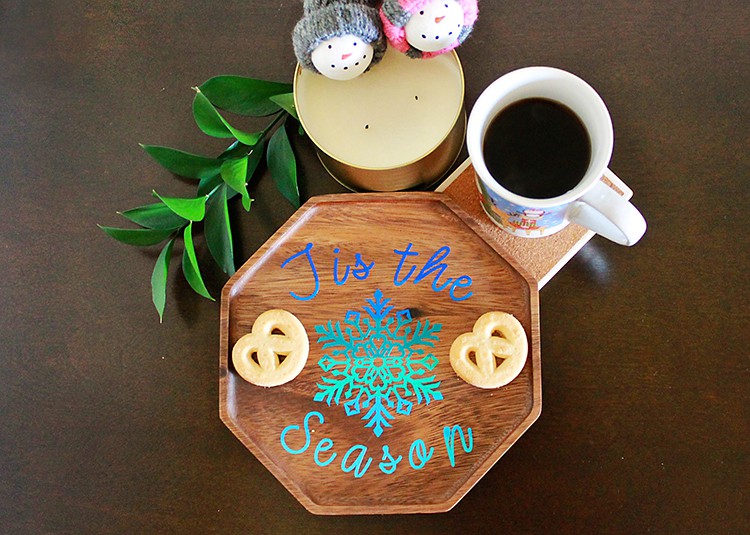 Jazzing up a plain wooden serving tray is such fun and a really quick and easy way to make a statement in the home. Sandra, from our Design Team, created this very cute serving tray using her Cricut and some adhesive vinyl.
You can follow the steps on our blog to learn how to make your own serving tray with an ombre effect or just use one color adhesive vinyl to create yours!
8. Cricut Etched Casserole Dish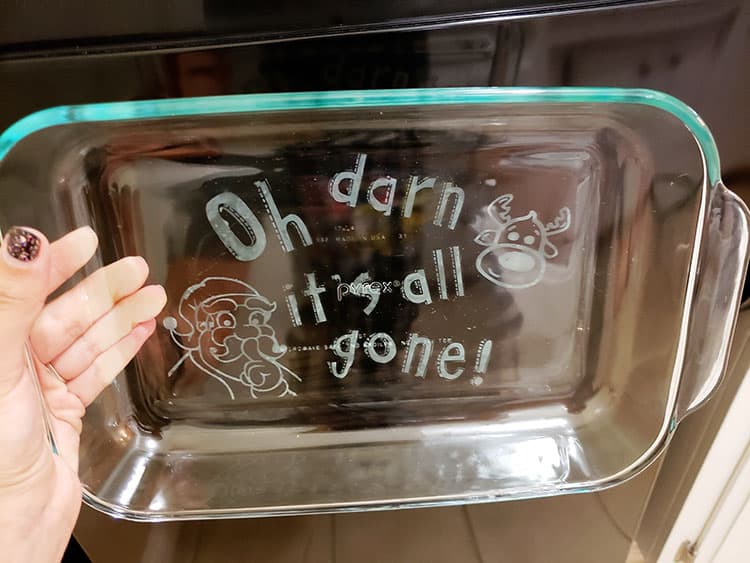 Creating this cute casserole dish is super easy and will definitely make everyone laugh after the final scrape! Use your Cricut to create a stencil with adhesive vinyl and then use some etching cream to make an etched casserole dish.
Check out the full tutorial here on our blog.
9. Cricut Personalized Kitchen Apron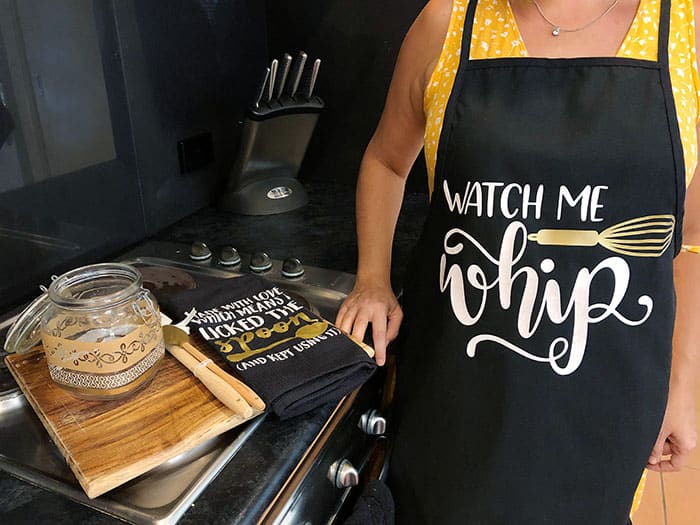 If you have a great cook or baker in the house, then this is a great gift idea to create for them. Personalize the apron with Heat Transfer Vinyl (HTV) and your Cricut and add your own wording to make it special just for them.
Hop on over to our blog post to see how I created this quick and easy personalized apron using my Cricut.
10. Cricut Foil Transfer Card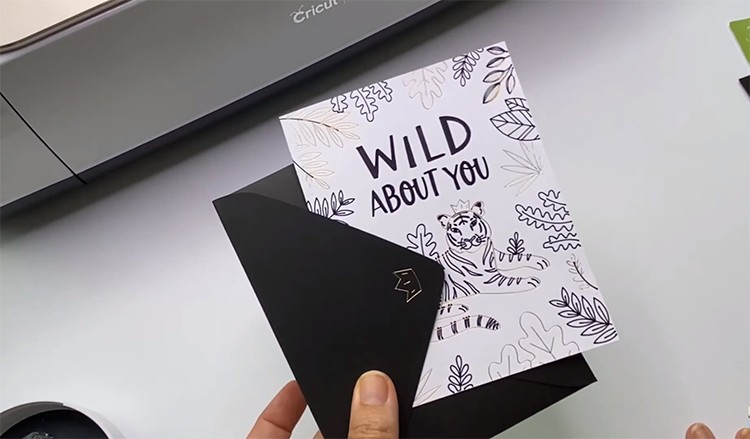 Nothing says I love and appreciate you more than a beautiful handmade card. I used my Cricut and the Cricut Foil Transfer tool to create this card for someone special.
Head over to the blog to see how you can create your own. You will learn how to use your Cricut with Cricut pens and the Cricut Foil Transfer Tool.
11. Cricut Cake Topper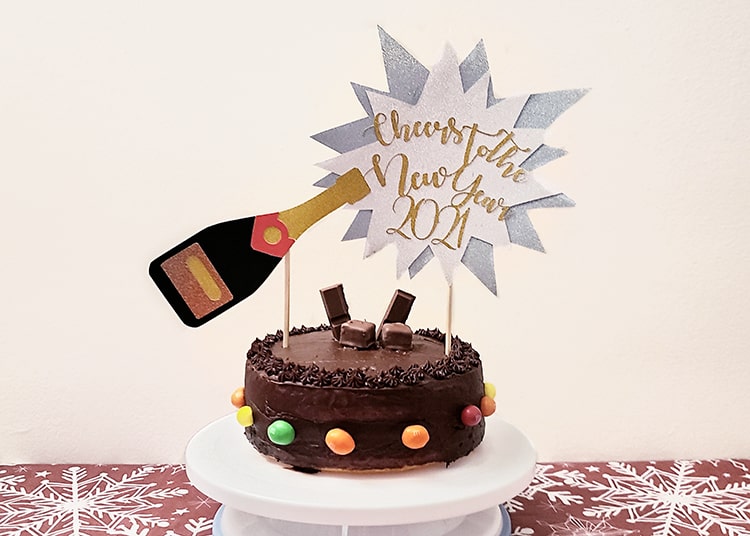 Make your cake stand out from the crowd by adding a great cake topper. Using your Cricut to cut a cardstock topper is such a cool way to add your own touch to your cake.
Follow the steps on our blog to see how to create a Cricut cake topper so you can add one to every cake for any occasion.
12. Cricut Pillow Box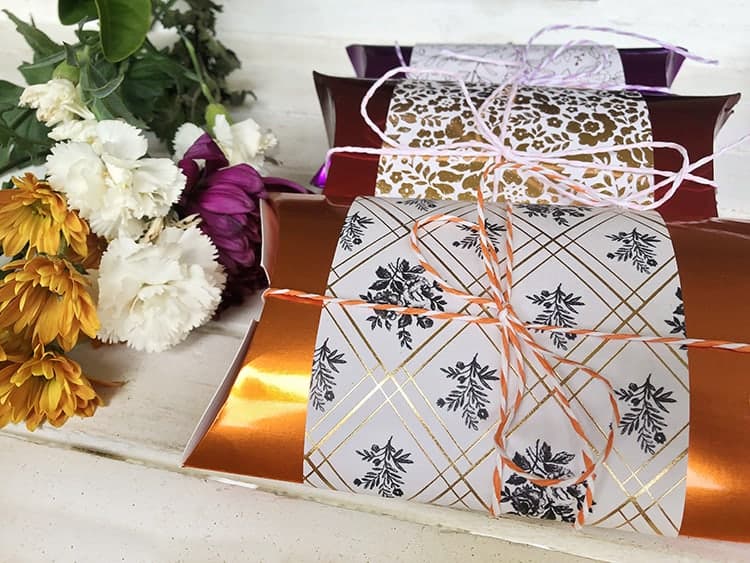 When you make your own unique gifts, creating a beautiful gift box is a great way to add that final special touch. I created this pillow gift box using my Cricut in no time at all.
Create your own pillow box by hopping over to the blog post and you can also grab the free SVG file.
13. Cricut Leather Earrings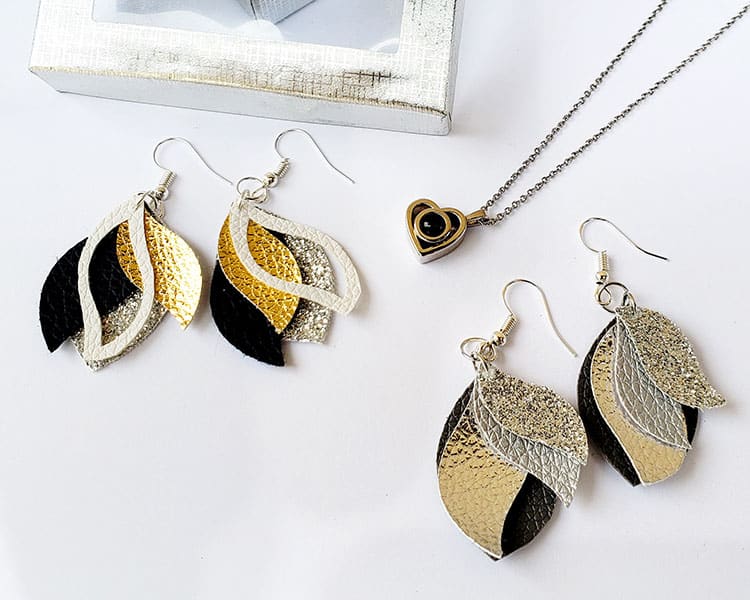 Working with faux leather and my Cricut is one of my favorite crafts.
Creating gifts that look professional just like these faux leather earrings is a great way to take your personalized gifts to a whole new level.
Follow the steps on our tutorial to see just how Sandra from our Design Team created these stunning leather Cricut earrings.
We also have a big post full of free leather Cricut projects that are worth checking out as well.
14. Cricut Baby Onesie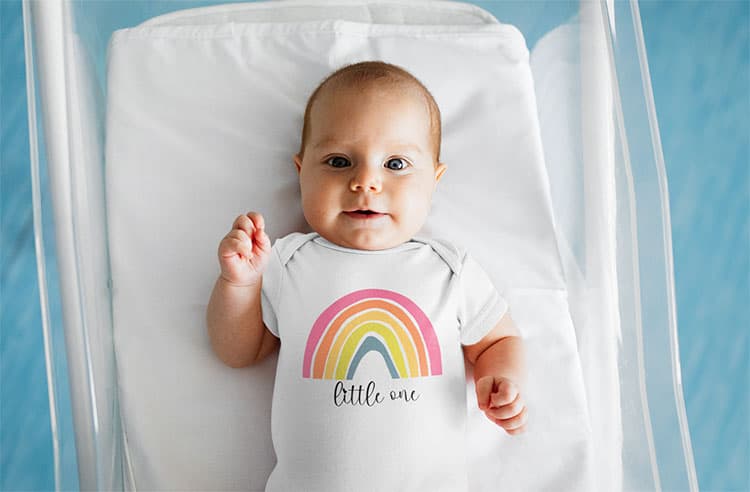 Creating a special baby onesie for that little bundle of joy is so easy with your Cricut and some Heat Transfer Vinyl. This is a great way to take a plain onesie and make it unique and special.
Follow the full tutorial on our blog to see how I created this rainbow baby onesie.
15. Cricut Personalized Canvas Shoes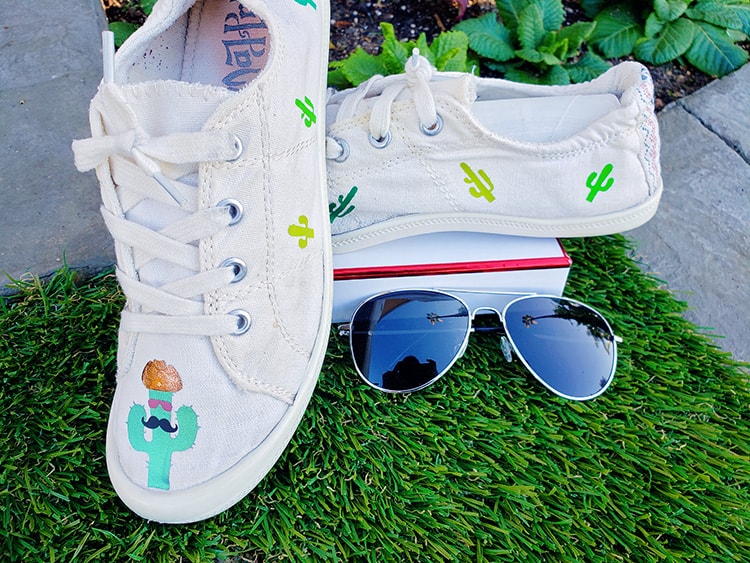 Got a pair of canvas shoes or sneakers that are in need of a little upgrade? Why not create these funky canvas sneakers using your Cricut, HTV, and your EasyPress Mini (you can also use an iron if you do not have an EasyPress Mini!).
Sandra created these sneakers and you can too by heading over to our blog post.
16. Cricut Personalized Grill Gear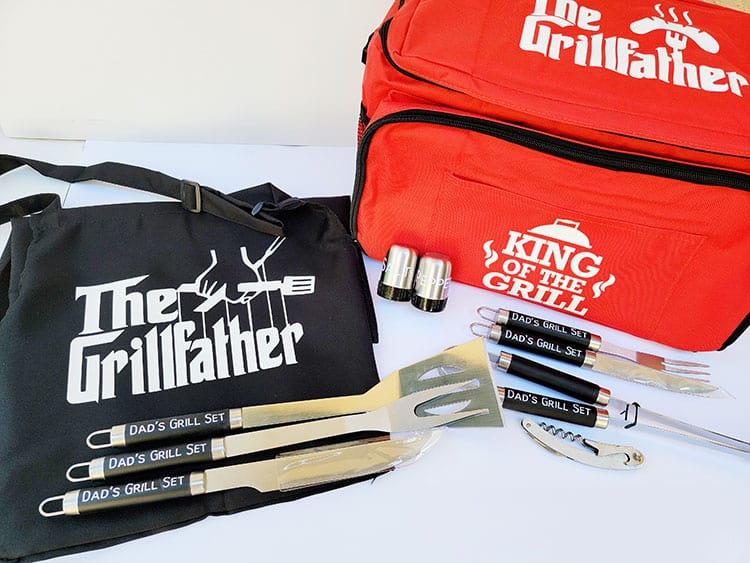 Tell Dad that you love the way he grills and is your ultimate Grill Master by creating this personalized Grill Set. He is sure to love this and will be grilling at every opportunity to show off his grill gear.
Follow the tutorial on our blog to see how Sandra, from the Design Team, created this cool Grill Gear Set.
17. Cricut Teacher Calendar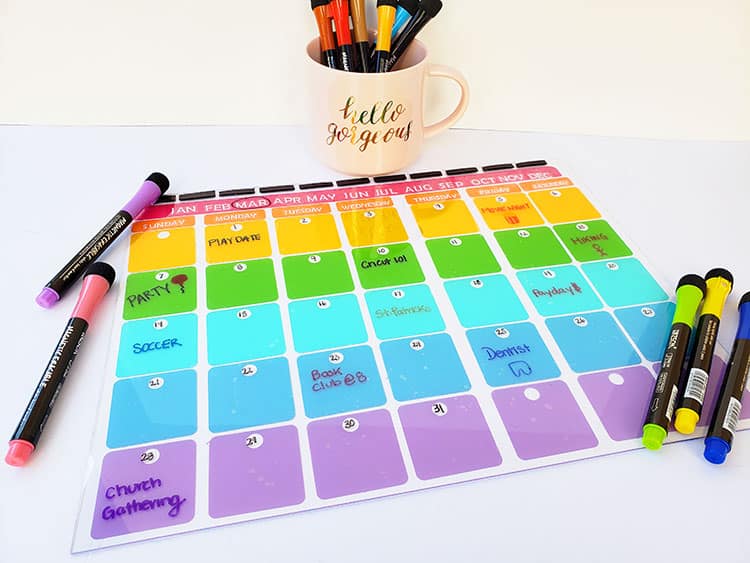 There is no cooler way to stay organized than this color-coded plexiglass calendar. These make super awesome teacher appreciation gifts which is bound to keep that classroom organized but you are also great for home use.
Create your own calendar organizer using your Cricut and some adhesive vinyl.
18. Cricut Family Birthday Board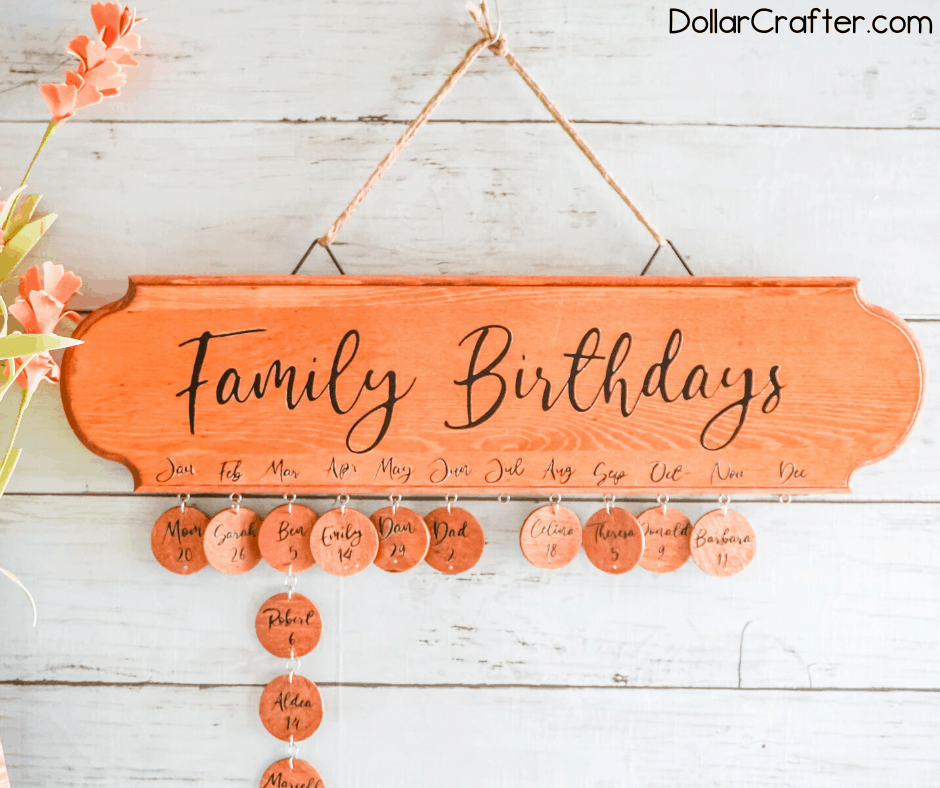 Never want to miss a family birthday again? This is a really cool way to keep track of all those family birthday's and the best part is you can add any new arrivals or family members without having to create a whole new family birthday board.
Check out the full tutorial on the Dollar Crafter blog here.
After more home decor projects? Here is our list of stunning Cricut home decor ideas.
19. Cricut Face Masks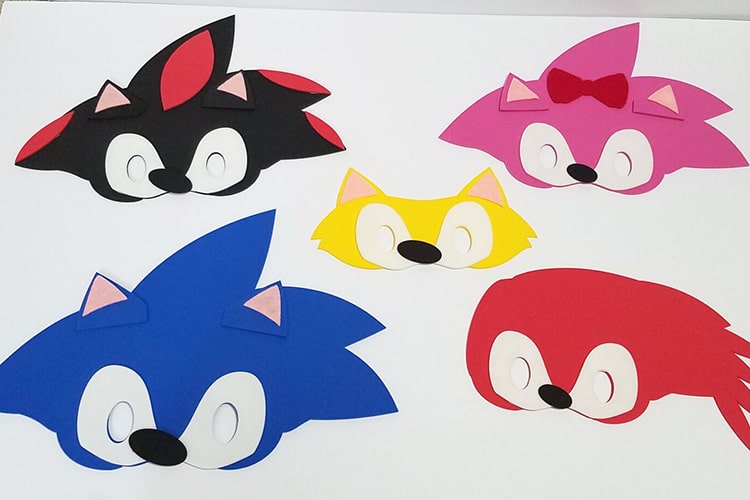 Your gaming kiddos will love these awesome Sonic the Hedgehog character face masks. They're so easy to make, too!
20. DIY Cricut Infusible Ink Wine Bag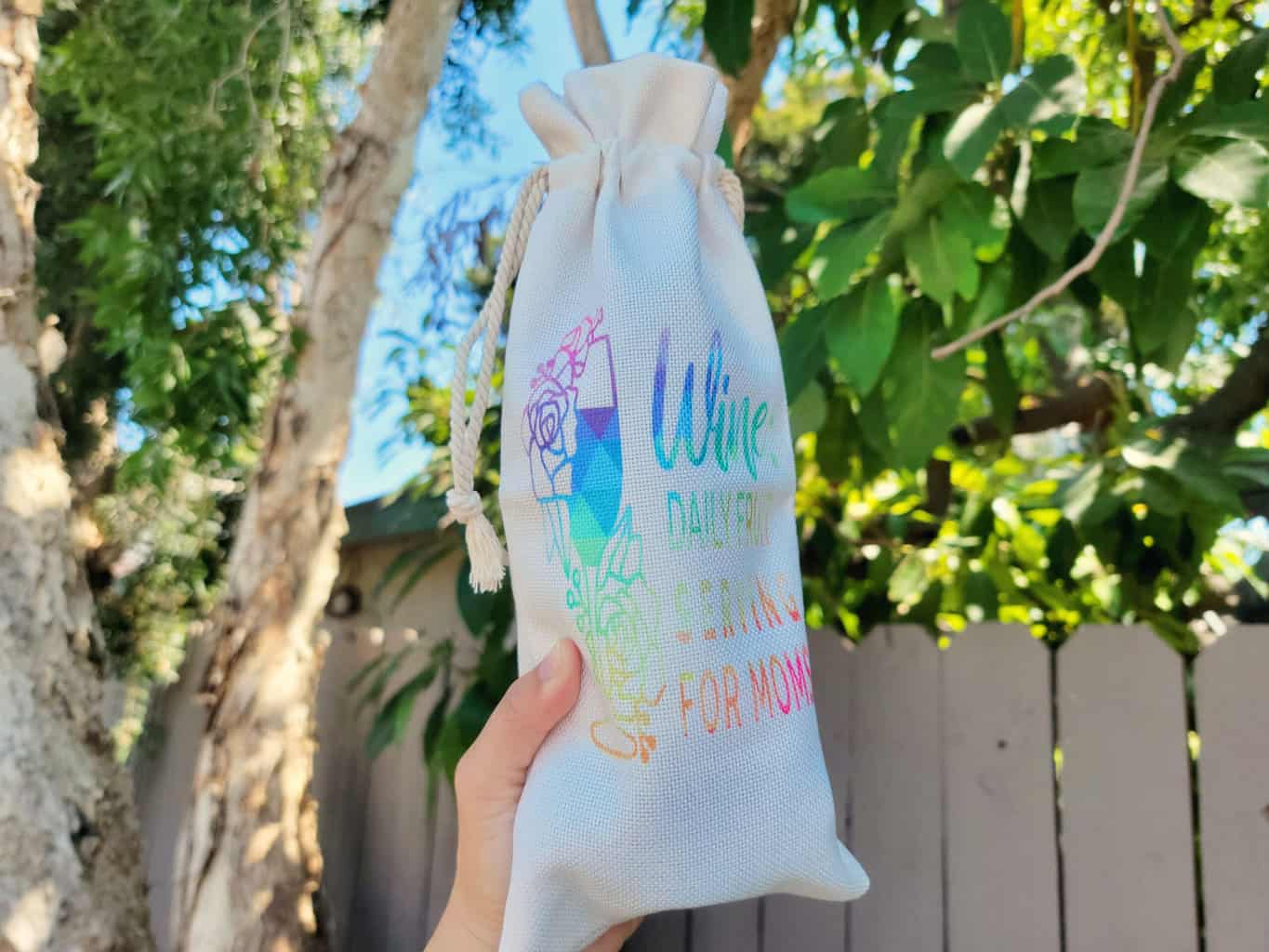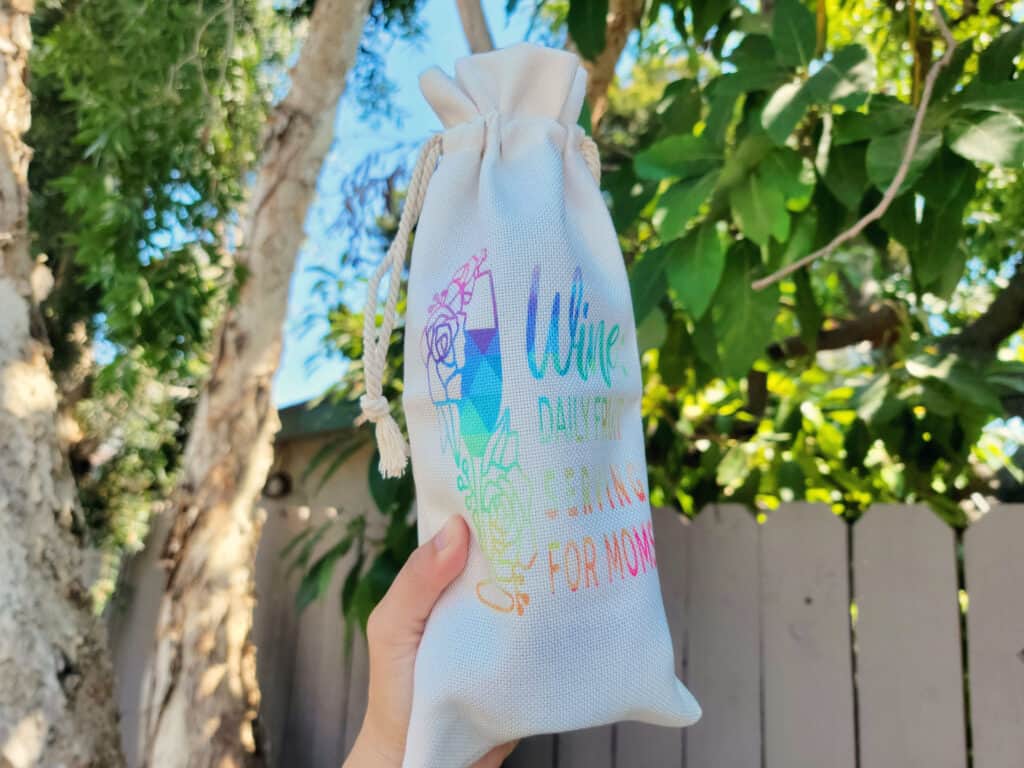 For a touch of sophistication, try this DIY Cricut Infusible Ink Wine Bag. It will add a personal touch and elegance to your gift of wine. The best part is that they can use the wine bag again.
Create your own Cricut Infusible Ink Wine Bag here.
Read our Ultimate Beginners Guide to Cricut Infusible Ink to learn all about Infusible Ink!
21. Cricut Disney Mugs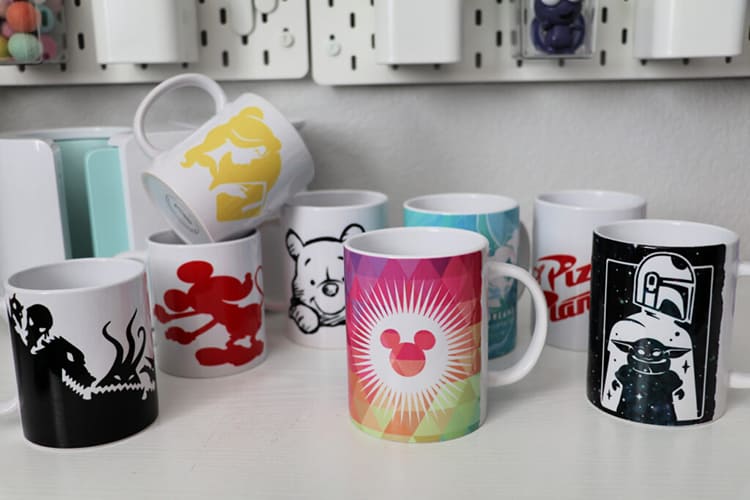 Who doesn't love a good Disney craft!?
These super cute mugs are fun to make because the possibilities are endless with the designs you can use. They make great gifts, too!
These mugs are made with Cricut Infusible Ink, which means you will need a sublimation mug press in order to create them.
Make your own Disney mug by following the tutorial created by Jamie of The Denver Housewife.
WANT MORE: Check out our blog post for more Cricut infusible ink project ideas!!
22. Cricut Flower Centerpiece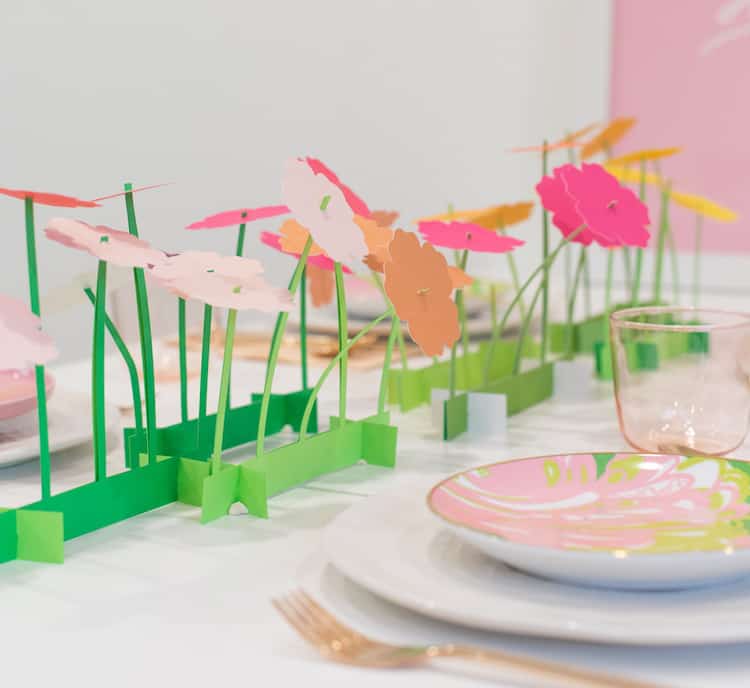 Hosting a spring wedding or baby shower? These flower centerpieces will brighten up your tables in no time!
Whip up these centrepieces for your party by following the step by step tutorial of Lovely Indeed here.
23. Cricut Mason Jars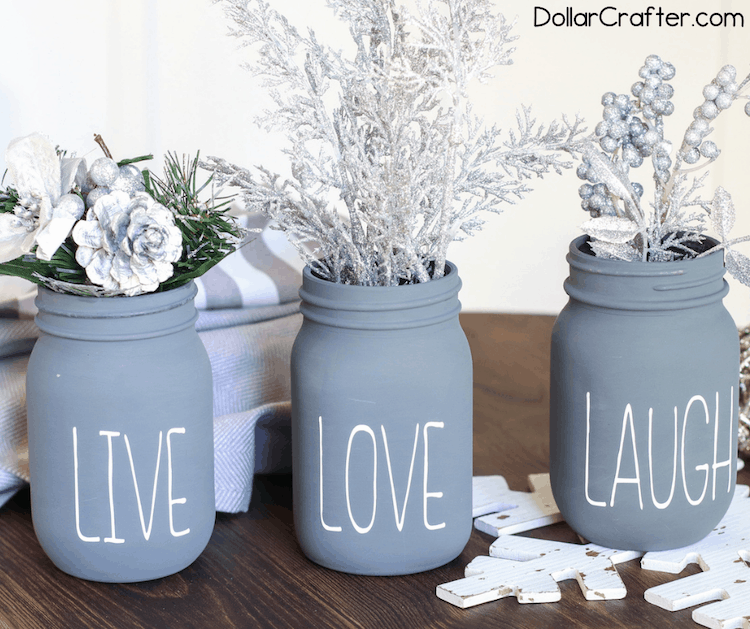 These versatile mason jars can be made in any style you want; from elegant farmhouse to kid-friendly rainbow colors, the choices are endless!
Follow the Dollar Crafter tutorial here to whip up your own.
24. Cricut Infusible Ink Cosmetic Bag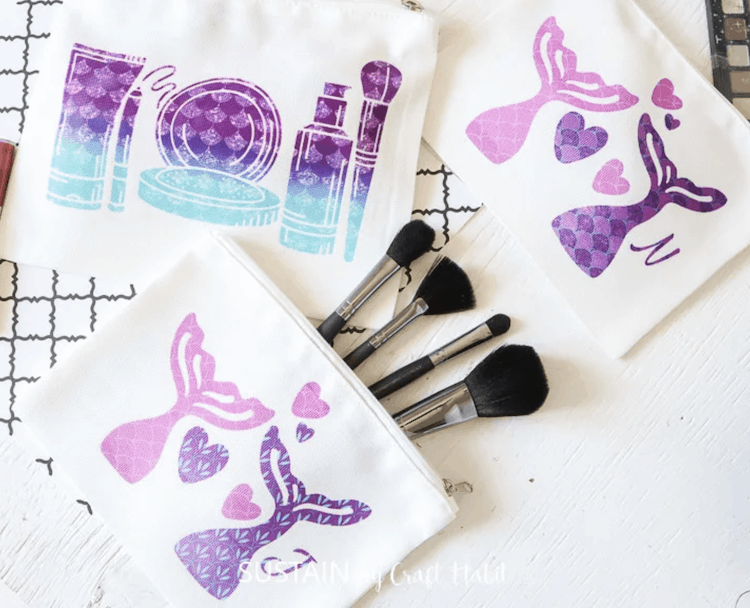 Looking for a fun bridesmaids gift for your friends? This quick tutorial teaches you how to make colorful cosmetic bags. Add a personal monogram to make it special for each of your ladies!
Create your own personalized cosmetic bag by following the tutorial on Sustain My Craft Habit.
25. Cricut Flowers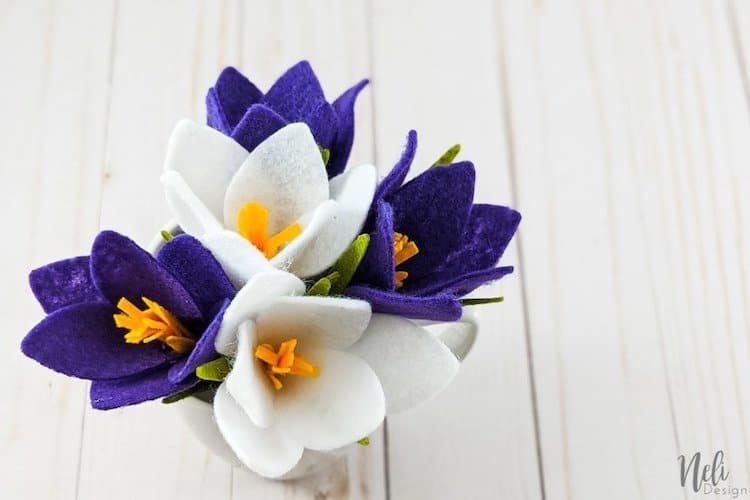 When the snow melts, precious little crocus flowers tell us that spring has sprung! Show off these dainty little flowers with a grapevine wreath, felt, and your Cricut machine!
Check out the full tutorial here to see how Natalie created these gorgeous felt flowers.
Did you know!? We have a post full of beautiful felt fabric crafts here.
We love all of these fun ideas! Which one will you be making first? Whatever you choose, we know that you'll come out with a craft that is sure to make you smile!