Getting overwhelmed trying to choose which is the best Cricut machine to buy for your style of craft? 
So, you know you want to invest in a Cricut machine. But what's the newest Cricut machine that is worth investing your hard earned money in?
* Latest News: The Cricut Joy was released on 1 March. Watch the video and learn more about it here.
There are so many different types of options. They are definitely not cheap, so you want to make sure that you get the right machine for you and your craft.
Sound familiar? - We hear ya! - It can get pretty overwhelming! So we want to make it super easy for you by outlining the top features and capabilities of each Cricut vinyl cutter machine.
I have been lucky enough to actually use each and every one of these machines so I can detail out what each type of die cutting machine is brilliant for.
Each of the Cricut machines excels in one crafty area over another, so we will help pinpoint which machine is the right one for your crafts.
This should make it simple for you to choose the best Cricut cutter machine for your needs!
So without further ado, here is the best Cricut machine 2020 buyers guide!
---
---
---
Cricut Cutting Machine Comparison Guide & Our Cricut Reviews 2020
In this Cricut cutting machine buying guide, we suggest you check out our comparison chart of the best Cricut machines 2020 and then read our Cricut machine reviews of the machines that best suit your requirements.
We love playing with the newest and latest machines, so you can rest assured that we have the best Cricut machine to buy on our list!
So what is the best Cricut machine to buy? Let us answer that for you!
Our Cricut Comparison Chart 2020
Below is handy Cricut comparison chart where we compare Cricut machines to showcase their best features. Machines that are not mentioned here are not included because they are older Cricut machines.
If you are investing in a machine, you might just as well get one of the latest releases so that you know that the technology is up to date and that you will be able to find replacement parts easily.
Older Types of Cricut Machines that I have not included in the table:
Cricut Cuttlebug - Released in 2014

Cricut Expression 2 - Released in 2012

Cricut Mini - Released in 2012

Cricut Imagine - Released in 2010

Cricut Create - Released in 2009

Cricut Personal - Released in 2006
Now that you know which Cricut machines NOT to buy, it really does narrow it down to only 3 Cricut Machines!
I told you I would make this really easy 🙂
A fast, quiet fabric cutter

Quilting, Sewing, Paper Crafting & Vinyl Crafting

Cuts 100+ materials, from thin fabric to thick leather, metal & foam




__________

The best cutting machine for beginners

Paper Crafting, Vinyl Projects, Banners, Signage & Decals

Cuts 100+ materials, from thin vinyl to thick leather, metal & foam




__________

Fabulous for small projects

Stickers, Scrapbooking, Cards, Die Cutting & Labels

Cuts 50+ materials, focusing on thinner materials such as paper, vinyl, cardstocks, etc
So What is the Best Cricut Machine to Buy in 2020? Here is Some Help!
Find some really simple questions below which will help you figure out which machine is the best Cricut craft machine for you.
Hopefully the answers will help you to understand the main difference between the Cricut machines.
1. Are you after a cheap Cricut machine?
If you want an electronic machine, the Cricut Air 2 is cheaper than the Maker, and is a great machine for beginners.
2. What size do you want to cut?
If you want to work on a larger scale, both the Cricut Explore Air 2 as well as the Cricut Maker can cut 12 x 24" in size.
3. Do you mostly do paper crafting?
The Cuttlebug is perfect for paper crafters and it might just be the best Cricut die cutting machine if you don't mind being limited to using dies. Note: this cutter was discontinued, so might be tricky to find one in stock.
However our top pick for the best Cricut paper cutter is the Cricut Explore Air 2. The machine delivers beautiful clean cuts on over 100+ material. It also has the ability to write, so you can add some personal touches to your cards.
Whilst the Maker is a great machine for paper crafting, it is so much more expensive and the Explore Air 2 Machine does a perfect job, so why invest money when not needed.
4. Do you prefer working with vinyl or iron-on projects?
The best Cricut vinyl machine is the Cricut Maker.
Whilst the Cricut Explore Air 2 does a great job with vinyl, it does sometimes struggle with the more intricate details of vinyl designs, so we much prefer the vinyl cutting capabilities of the Cricut Maker instead. It truly is a top notch choice as your Cricut vinyl cutting machine.
5. Do you want to cut material for your sewing projects?
Whats the best Cricut for cutting fabric?
If you wish to work with fabric, we highly recommend you invest your money in the Cricut Maker machine. This machine was built to keep quilters and sewists happy!
It slices through thin fabric as well as thicker felts etc. The machine also comes with a sewing pattern library with hundreds of patterns available. It is by far the best Cricut Machine for fabric!
We also have a full guide on fabric cutters that you might like to check out.
6. Do you wish to cut really thick material such as balsawood?
If you wish to cut thicker material, we suggest you grab a Cricut Maker machine.
This machine is not only strong enough to cut thicker material but it can also hand any material up to 2.4mm in thickness. You will need to purchase the Knife Blade additionally.
7. Do you simply want to purchase the newest and latest Cricut Machine?
What is the newest Cricut machine in 2020? The latest and newest release is their beautiful Cricut Joy Machine. It was released in March 2020.
Whilst the Cricut Maker is by far the most expensive machine from their range, it is also the most versatile.
Is Cricut coming out with a new machine in 2020?
We all want to know: "Is there a new Cricut machine coming soon?"
Cricut has released a brand new cutter this year! The Cricut Joy is the latest addition to the family. It is small and portable. It is electric and boy can it whip up some gorgeous crafts and designs.
---
Cricut Machine Comparison Chart Outlining the Main Differences
Find below a handy Cricut machine comparisons chart.
The chart outlines the main differences in features between each of the machines.
Hopefully it will help you figure out which Cricut to buy.
---
What is the Best Cricut Machine 2020?
The Best Cricut Machine of 2020 is the Cricut Maker Cutter!
The Cricut Maker is a new Cricut machine and it truly offers some impressive features together with brilliant technology!
It offers lighting-fast speed and intricate precision cutting. This is a brilliant machine that really has impressed us!
Introducing the Ultimate Smart Cutting Machine - Cricut Maker
The Cricut Maker machine can cut over 100+ materials from thin fabric such as silk to 2.4mm thick material (if you purchase the Knife Blade).
We also love how intuitive this machine is; so much so that you don't need to do any guessing when it comes to settings.
The Maker can automatically calculate and calibrate the correct cutting force on your materials!
Add in the fact that Cricut has made the machine to fit all your past tools and has guaranteed that it will be able to fit all the future tools, so you know that you won't need to upgrade this baby any time soon!.
For more information about why recommend this machine as the best die cutting machine for 2020, read our Cricut Maker Review.
So if you are wondering which Cricut is the best machine when it comes to versatility, this is definitely our top pick!
---
What is the Best Cheap Cricut Die Cutting Machine?
The Best Cheap Die Cut Machine of 2020 is the Cricut Cuttlebug Cutter!
* Discontinued in 2019.
If you are trying to find the best die cut machine for under $100, look no further than the super popular Cuttlebug machine.
This machine has been around for many years, but yet it is still one of the favorites due to its small portable size as well as its super cheap price tag.
I personally had a Cuttlebug machine when I was simply enjoying scrapbooking as a hobby.
It is important to note that the Cuttlebug Cutter is crank operated and that it work with dies and embossing folders. It also has a max cutting width of 6".
For most scrapbookers and card-makers these points won't be much of an issue as the size is large enough to make accents and embellishments.
Overall, if this is all you can afford, it is a really nifty machine that can make it so much cheaper to make your own embellishments rather than buying expensive pre-made ones.
We do love this machine! Check out our Cricut Cuttlebug Review here.
---
Top Cricut Machine Reviews 2020 Guide
Below you will find the best Cricut machines. We will have a close look at a top cutter machine for paper, vinyl, fabric, cardstock and other materials.
I will outline the top features, the pros and cons of each in detailed Cricut cutter reviews, which should help you choose the best Cricut Cutter 2020 has on offer.
1. Cricut Maker (Cricut's Newest Machine)
- Our Quick Circut Maker Review -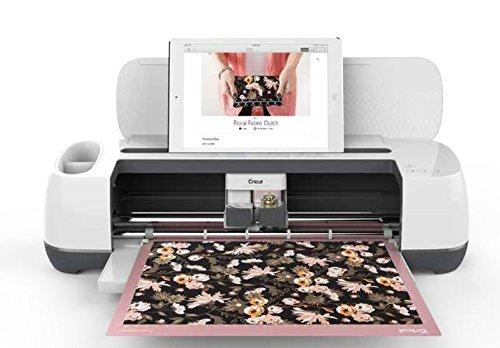 A new Cricut machine is out! The Cricut Maker is incredibly versatile.
It can cut even more material than the Explore and offers more strength and even more precise cutting. It is super fast and it can cut over 100+ materials.
This electronic cutting machine has the ability to work from ready-to-go images and sewing patterns.
You can also send your own choice of images from your computer to the machine to cut out.
This machine is a brilliant buy and happens to be the top Cricut cutting machine on the market in 2020!
Introducing the Ultimate Smart Cutting Machine - Cricut Maker
---
OUR VERDICT:
The Cricut Maker is one of the newest cutting machines on the market.
Sewist will be thrilled to know that this machine can cut out their sewing patterns for them.
Whilst other crafters will enjoy the fact that the machine can cut material up to 2.4mm in thickness with absolute precision.
The machine is so clever that it will work out the correct settings for you, taking all the guest work and trial and error out of trying to figure it out yourself.
You can either purchase the Cricut Maker Machine by itself or you might like to invest in the Cricut Maker bundle deal which will save you money if you are starting out!
>>> CLICK BUTTON BELOW TO BUY NOW.
---
- Our Quick Cricut Explore Air 2 Review -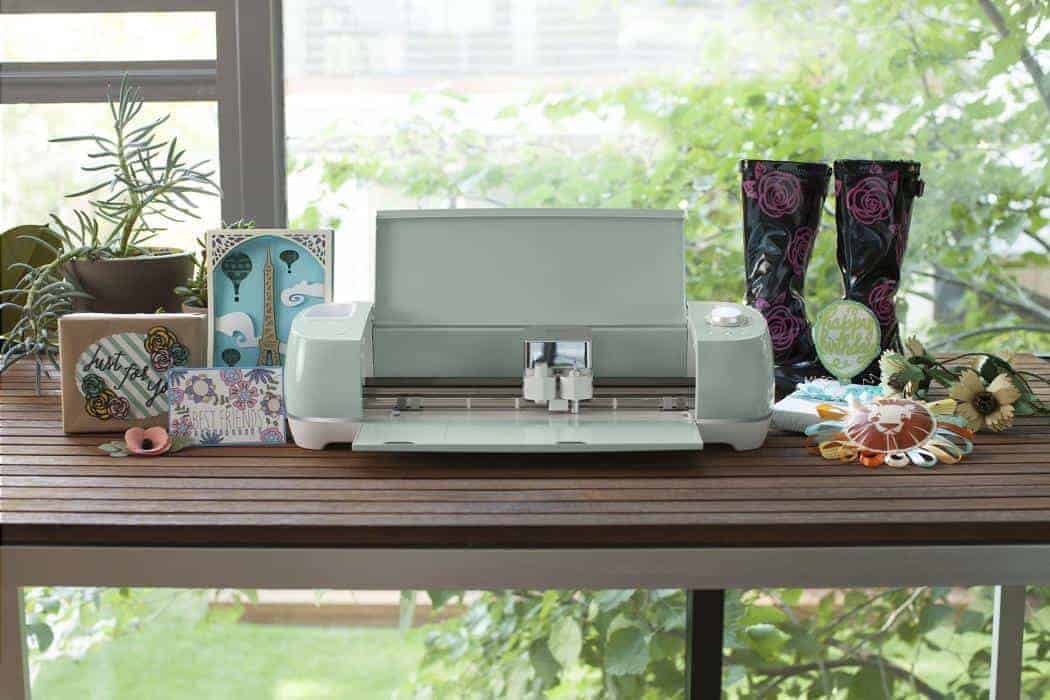 The Cricut Explore Air 2 is one of the top Cricut die cut machines. This Cricut die cutting machine is also our top pick as the best electronic die cutter for beginners.
It is a great machine for those who love working with paper, card or vinyl.
It has been called 'the ultimate DIY machine' as it has such a wide variety of capabilities, from paper projects, vinyl transfers, banners, wall decals, signage and so much more!
The maximum cutting width of this Cricut Cutter Machine is 12" wide by 24", which is large enough for any hobbyist or beginner crafter.
It is an easy machine to use and we love that it is a Cricut printer and cutting machine in one, which means that you can print and cut your design in one easy step!
Built-in Bluetooth connectivity

Faster Precision Cutting

Extra Features such as Scoring, Cricut Pen for Handwritten effects and Download Fonts from your Computer to use!

Cuts over 100+ Materials; from Thin Vinyl to Thick Leather

Design your own Art Work to Use
The Machine is a Little Loud

Doesn't handle very thick material very well

You can only use the Design Space software that comes with the machine
---
OUR VERDICT:
Explore Air 2 is a very popular, top rated cutter machine. It is electronic but it is still small and light enough to take along to craft workshops or retreats.
It is the best Cricut machine for beginners; a machine that makes it super easy to turn your ideas into professional-quality projects.
It is also heaps more affordable than the Cricut Maker machine.
You can either purchase the Cricut Explore 2 Machine by itself or you might like to invest in a Cricut Explore Air bundle deal (Includes scoring stylus, etc.) which will save you money if you are starting out!
>>> CLICK TO READ THE FULL CRICUT EXPLORE 2 REVIEW OR CLICK BUTTON BELOW TO BUY NOW.
---
3. Cuttlebug Die Cutter Machine (Cheapest Machine)
- Our Quick Cricut Cuttlebug Review -
* Discontinued in 2019 - so grab yours whilst stock lasts
The Cuttlebug Die Cutting Machine is one of our favorite card-making and scrapbooking die cut machines. The machine can cut up to 6" in size, and can create die cuts as well as emboss.
The machine is small, light and portable so you can easily take it along in your tote to crafting workshops.
It might be crank operated, but that also means that you can use this machine wherever you want and add in that it is the cheapest Cricut machine on the market and you have a perfect hobbyist die cutter machine.
---
OUR VERDICT:
The Cricut Cuttlebug Die Cutter and Embosser is a brilliant Cricut machine for beginners and even for kids.
Card-makers and scrapbookers love this machine because it so cheap. It creates beautiful die cuts and we love the beautiful defined embossing that it delivers time and time again.
For a lot of crafters the 6" cutting width will be all they need, however for some it might be limiting.
---
FAQ
1. What is the difference between Cricut Air 2 and Cricut Maker?
Essentially the main differences between the Cricut Explore Air 2 and the Cricut Maker is that the Cricut Maker is much stronger (10x) than the Air 2.
Which means that you can cut some really thick material such as balsa wood and leather with ease on the Maker, using the new knife blade.
The Cricut Maker is also brilliant for cutting fabric for custom designs. It has a new rotary blade which has been designed to cut even the thinnest of materials - without the need for any backing.
The Cricut Maker is much more expensive than the Explore Air 2, but it truly is a big upgrade from the popular Explore machines.
2. Can I use my Cricut cartridges with Cricut explore AIR 2?
The great thing is that the Cricut Explore Air 2 does not require cartridges.
But if you have cartridges that you would like to use with the machine, you will be happy to know that you can plug them into your machine. You can then link them to your Cricut Account, so that they will show up when you search for an image in the Cricut Design Space App.
Conclusion
We hope you have enjoyed our handy Cricut reviews and Cricutt Comparison guide.
If you have come to the end of this post and you are still wondering which is the best Cricut machine to buy, I would highly recommend that you invest in the newest Cricut 2020 machine - the Cricut Maker. It is our pick as the top rated Cricut machine of the year.
So hopefully you will have another look at our Cricut reviews in our Cricut Machine buying guide above and see if you can find a suitable machine for your needs and for your budget.
Now that you have found a new Cricut cutting machine for your office or business, why not hop over to our craft blog section.

Whether you are working with adhesive vinyl, transfer vinyl, or vinyl with permanent adhesive - or any other of a wide variety of materials - we'd love to help you.

We have loads of tutorials, project examples, svg files, and free designs as well as step-by-step posts on our DIY blog to help you.
Happy Crafting xxx