Are you trying to find the best heat press machine for mugs?
Printing on mugs is just one of many ways for companies and freelance designers to handle their branding.
Along with T-shirts and stationery, coffee mugs make for some of the most eye-catching mediums for you to display your artwork or message on.
What's also cool is that with all this new technology, everyone can own and operate a mug heat press - hello to mug gifts for mothers, friends, teachers, family members and more.
Of course, having something worth transferring from sublimation paper to a fine ceramic mug is important.
But so is having a machine that won't fail you and that will do justice to your skill as an advertiser, designer, or both. There's no shortage of manufacturers claiming that they make the best mug press machines.
Obviously, not all of them can be correct. In this article, you'll be able to read reviews on some of the best entry-level, mid-range, and commercial mug heat presses on the market.
You'll also learn about the important features to look out for in these machines in order to avoid getting fooled by false advertising or "fancy" wording.
---
---
---
Comparison Table of the Best Mug Press Machines
Below is a comparison chart of the top mug heat press machines, which are mentioned in this article. You can then read my mug press reviews below.
Mug Press

Info

Price

1. BetterSub Mug Heat Cup Press

Temp: 0 - 430°F




Time: 0 - 240s




Size: 6-11oz

The mug press is designed to work with Cricut Mug blanks and their Infusible Ink materials.

3. Super Deal Pro 2-in-1 Mug Heat Press

Temp: 0 - 420°F




Time: 0 - 240s




Two Attachments: One for 11oz mugs and one for 12oz latte cups

4. F2C 2-in-1 Mug Heat Press Machine

Temp: 0 - 430°F




Time: 0 - 240s




Two Attachments: One for 11oz mugs and one for 12oz latte cups

5. Smartxchoices 2-in-1 Coffee Mug Heat Press Machine

Temp: 0 - 430°F




Time: 0 - 240s




Two Attachments: One for 11oz mugs and one for 12oz latte cups

6. Yescom Automatic Mug Heat Press

The mug press is designed to work with 31/7" diameter mug blanks.

7. Techtongda 3D Sublimation Vacuum Heat Press Machine

The mug press can press up to twelve 11oz mugs at one time.




8. Zerone ST-210 Double Station Mug Heat Press Machine

Temp: 0 - 356°F




Time: 0 - 90s




Can press two for 11oz mugs at once

9. Estink ST-110 Pneumatic Mug Heat Press Machine

Temp: 0 - 356°F




Time: 0 - 180s




Digital LCD screen

10. Sican Mug Heat Sublimation Press Machine

The mug press is designed to work with 31/7" diameter mug blanks.




Digital LCD screen
---
Coffee Mug Heat Press – What to Know Before You Buy One
There are a few considerations you need to be aware of before buying a cup heat press that looks cool and has some decent reviews.
Most of the time, the affordable heat press machines will be too similar in specs to even tell apart from one another unless you check the logo.
1. Temperature
This means that the devil is in the details. First of all, if you're looking at a mug heat press that can barely break 380° F it means that you won't be able to guarantee a long-lasting imprint.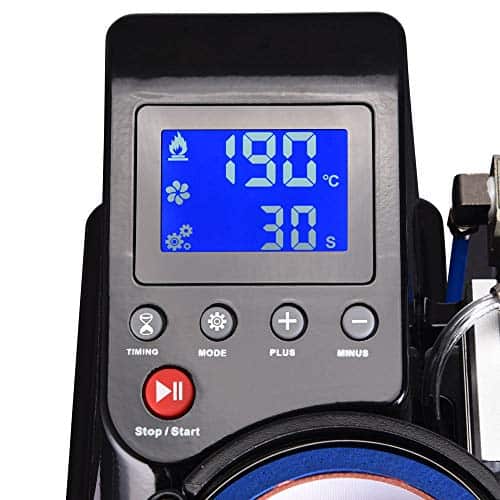 For ceramic material in particular, being as close as possible to 400° is considered ideal.
2. Timer
Now you have to look at what the timer offers. There are some machines that allow a maximum timer setting of around 240 seconds. That's usually enough for ceramic and way more than a plastic mug will need.
But, the longer you make the pressing cycle, the darker the imprint turns out. If you're looking for a darker shade then you may need a few extra seconds. That's when machines with timers that go from 0 to 999 come in handy.
Not that you should ever get to 999 or anywhere near that mark, but it's good to know that you can extend the pressing cycle without having to operate the machine twice per mug. It saves time, ink, and money.
3. Adjustable vs. Automatic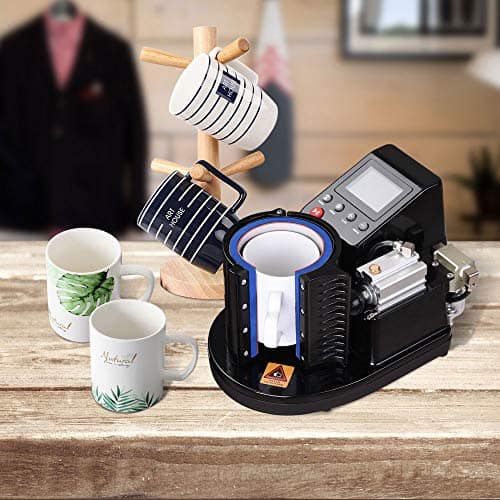 There are really three types of mug presses: those that are manually operated, those that have a mix of automatic and manual features, and those that are fully automatic.
It's hard to tell which combination is better unless you know just how reliable the machine readings are. It's always easy to rely on a pneumatic pump to apply even pressure to your mug. But what if that machine is poorly designed and the pressure is not enough to facilitate a clean detailed imprint?
The same thing goes for fully automated machines. There are a couple of models for home use that don't require anything from you than to just add the mug and press the start button – temperature and pressure settings are calculated by the machine.
That's not to say that working the pressure screw can't be tedious or difficult at times. Some machines are simply calibrated better than others and some testing may be required before making a decision.
It also comes down to how much you trust a brand and how much you trust machines to have error-free software. Sometimes giving your work a more personal touch may not be such a bad thing. Besides, it would be easier to experiment with different "recipes."
4. Production Goals
At the end of the day, probably nothing matters more than what your actual goals are. Figure out what do you need a mug printing machine for and everything will become so much clearer.
If you're not looking to sell tons and tons of mugs, you won't need a very fast, heavy-duty machine to make your vinyl or sublimation mugs. You can settle for a slower one that doesn't use as much power and doesn't cost too much.
If you want to make your mugs to order or to promote your brand or company, then you might need a machine which supports mug pads of different sizes. This will allow you to put your artwork on small cups and large mugs and make your presentation more appealing.
Last but not least, if you are considering a medium-sized commercial production, then you need a heavy-duty machine first and foremost. On top of that, one that can press multiple cups at the same time is always preferred. Even two cups at the same time are better than one at a time.
Also worth noting is the fact that not all commercial mug heat presses may allow you to work on mugs and cups of different sizes simultaneously. So, if that's something important to you, you should look into that feature first.
5. Warranty
Due to how much work these machines are put through, manufacturers rarely offer more than one year of warranty. This is why it's tricky to judge the durability of a mug heat press. It's not usually the chassis that gives but the heating element and moving parts. Therefore, unless you're getting a commercial-grade heat press, it's best not to abuse it.
On the other hand, if you're running a business, you can now write off the cost of the machine in one year. That's assuming your company has a positive taxable income.
6. Attachments
You probably know that there are various "2-in-1," "5-in-1," "6-in-1," and other similarly labeled models of coffee mug heat presses. Some of the best heat press machines also come with a mug attachment as well.
This usually refers to the number of attachments supported (sometimes to create other products such as bowls, caps, t-shirts and more). It doesn't always indicate how many separate elements you get in the package.
This also doesn't indicate that the machine you're looking at is a dual-station model or otherwise. For that, you just look at how many presses or levers there are. Each lever typically indicates a separate heating pad.
The included accessories may also include protective gloves, high-end cables, and almost always an instruction manual.
Even though most machines are straightforward and easy to use, having detailed instructions on how to press on various materials is important as it can save time spent on researching those facts yourself.
7. Price
Price is always a problem for some people. Luckily, when it comes to heat pressing mugs at home, there are many affordable machines that can get the job done beautifully.
If you don't mind waiting for the pressing cycle to be over in a few minutes, a low-wattage mug heat press might be your best bet.
8. Bonus Features
There are a few interesting features, some rarer than others, that you may find on a coffee cup heat press machine. One of them is a safety feature that's also for quality control. It's the secondary thermometer that kicks in and resumes the pressing cycle if the default temperature sensor fails.
Another cool feature is alarm notification. This alerts you when the heating pad reaches the desired temperature and the transfer is complete. This means you can prep more mugs while waiting for the one in the machine to finish which can speed up your production cycle considerably.
Dual temperature unit support is also nice to have. Since not all machines are manufactured in the US, some of them may come with instructions that use the metric system and the Celsius scale for measuring temperatures.
Top Mug Heat Press Reviews
So what is the best cup press? Here are some mug press machine reviews to help you decide.
I will outline the top features, the pros and cons of each in detailed coffee mug printing machine reviews, which should help you choose the best mug heat press 2022 has on offer.
1.
BetterSub Mug Heat
Cup Press Review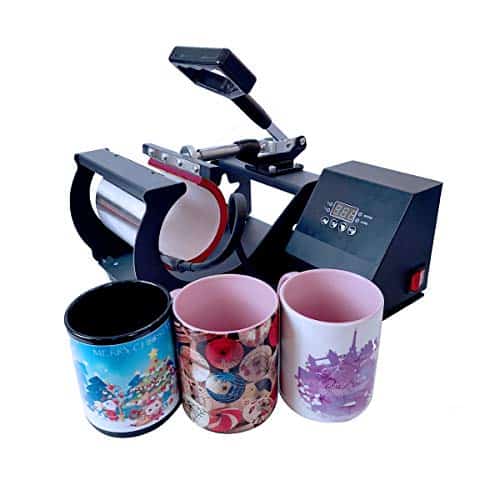 BetterSub is responsible for a wide range of heating presses. The manufacturer makes standard presses for shirts, presses for cups and mugs, and also vinyl and sublimation paper.
That being said, if you're only interested in transferring ink on mugs, there's no real need for anything more advanced than a basic cup press machine, especially not if you're not planning to commercially release your mugs just yet.
This BetterSub machine can heat press mugs in a timely manner. The temperature goes up to 430°. You can set its timer between 0 and 240 seconds, which is all you need for mug sublimation machine.
There's only one mug attachment included. The mug heater size is 6-11oz (3.1"-3.9" diameter). This is a great size for mugs as well as for water bottles.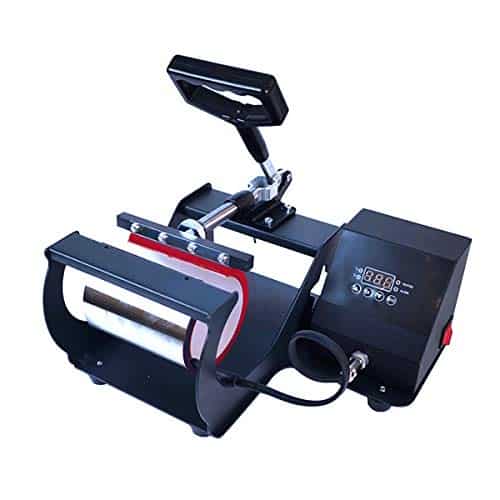 The press lever is small, which gives the machine a small vertical footprint when not in use.
It also has automatic baking time control and automatic temperature kept at a constant. You can also adjust the pressure with the use of the adjustment knob.
No additional element attachments
---
---
2. Cricut Mug Press Review
The Cricut Mug Press is designed for home use whilst still giving a vibrant, professional-quality to personalized mugs.
The mug press is designed to work with Cricut Mug blanks and their Infusible Ink materials (pre-printed sublimation transfer sheets).
Once you have created your design with the infusible ink range you attach it to your mug and let the press do the rest!
The mug press is to easy to use as there is no need to set the temperature or pressure as the press does it all for you!
The Cricut Mug Press has a heat plate that creates excellent, consistent results with every use.
This is the ultimate home mug press that allows to you make unique and personalized gifts for family, friends, teachers, neighbors, and coworkers with complete ease.
Although the Cricut Mug Press has been optimized for Cricut's Infusible Ink products, you can use it with other sublimation blanks and products as well.
So if you have a sublimation printer this is definitely a great addition to your crafting room and machines. This unique mug press is the perfect complement to any brand of cutting machine.
The press is designed to work with mugs that are 11 - 16 oz (350 - 470 ml) in size.
The heat press is reasonably priced, is compact enough that it does not take up a lot of space in your craft room and can easily be stored away.
Its size and weight make it highly portable which makes it great if you want to create designs and mugs at craft shows and markets.
Easy to use with one-touch settings
Small and compact
Makes mugs in minutes
Affordable
---
3.
Super Deal Pro 2-in-1 Mug Heat Press Review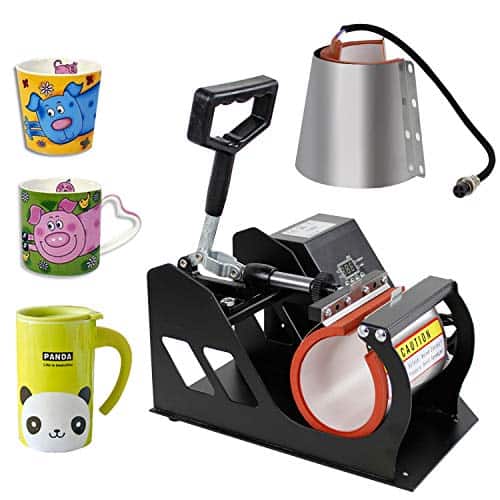 This Super Deal Pro 2-in-1 mug heat press is a manual-operated machine. It allows you to digitally set the temperature and timer for the press, but the pressure adjustments and the press itself are not automated.
There's a pressure adjustment knob with easy access from above. The press itself has a handle and is rubber-coated to protect you from the heat and give you a firm grip over the lever.
This mug heat press is similar to many others in this price range.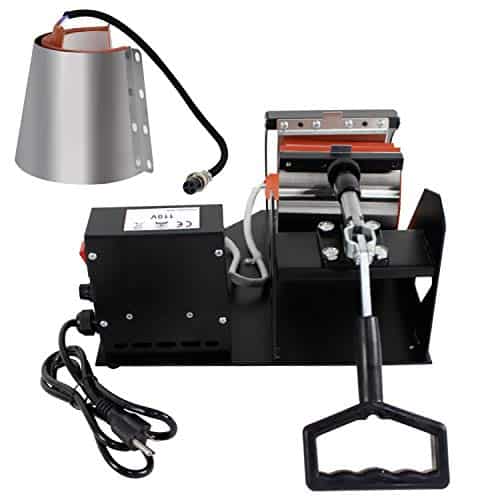 Super Deal offers multiple heat press machines including for T-shirts and other apparel.
But what makes this model particularly appealing is its high heat output and the fact that it comes with two attachments.
The package includes two elements, one for a standard 11-oz. mug and one for a 12-oz. latte cup. The latter comes in a cone shape.
This provides some much-needed versatility to the heat press as it allows you to create a wider range of merchandise if you want to scale up production for your startup.
Of course, you can only press one mug at a time – but there's nothing to stop you from getting a dozen of them (and you might be able to train someone to operate 3 or 4 of these machines at a time).
The maximum heat output can be held steady at around 420°, ± 2°.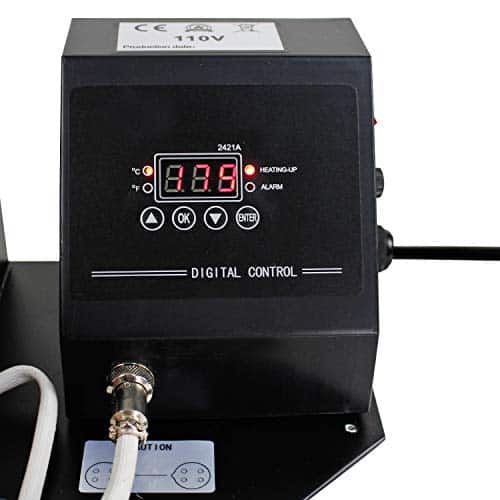 The solid steel framework makes this a durable machine and reliable in the long run, especially for a portable model. The display panel can be set to display Celsius or Fahrenheit.
The timer only goes to around 240 seconds. But, that's enough for all ceramic applications anyway. Another cool feature is the cycle recording function.
The machine automatically records how many times you've completed a pressing cycle so you can always check how many mugs you've made.
Standard one-year warranty
---
4. F2C 2-in-1 Mug Heat Press Machine Review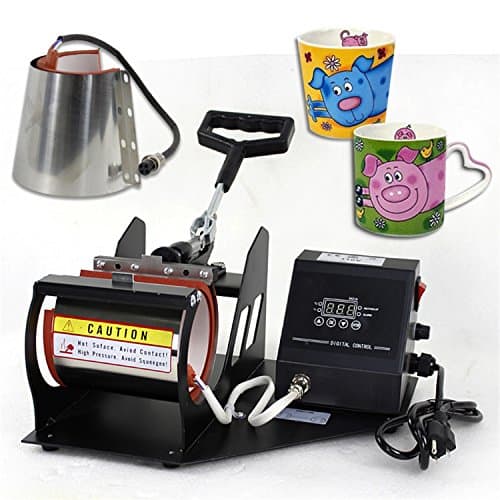 This F2C mug heat press machine is one of the fastest compact presses on the market. It takes less than two minutes from start to finish printing one mug. This is even if you're going for a darker shade and at a higher temperature.
The machine comes with a single attachment by default. It's a 9" x 4.5" rounded element that's designed for standard-sized mugs.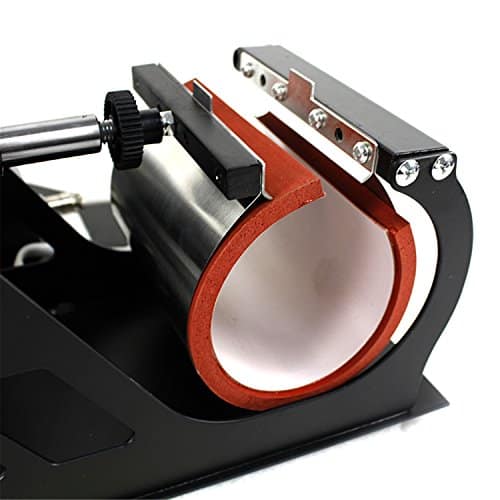 The maximum temperature output is 393° F which is mostly enough to ensure quick ink transfer and color clarity.
Because the machine is designed for small businesses and hobbyists, it has a straightforward design and it's very easy to use. The panel on the right side lets you set the temperature and time. You can then apply pressure manually using the lever on the left.
Another cool feature is the dual temperature display which allows you to switch back and forth between Fahrenheit and Celsius, whichever you're more comfortable with.
Due to its size and limited heat output, the heat press doesn't have a big power draw either.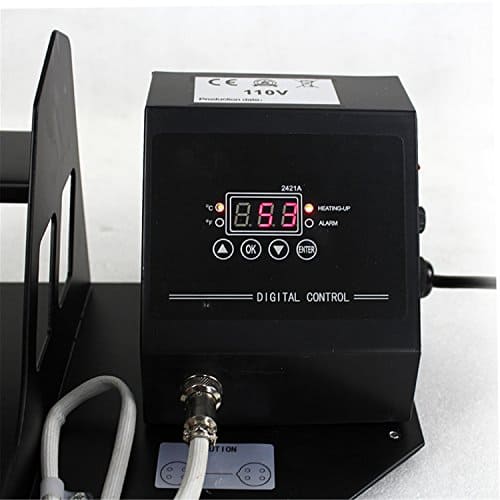 Its size and weight make it highly portable. You can use this for show and tells, proof of concept, and even during pitches.
5.
Smartxchoices 2-in-1 Coffee Mug Heat Press Review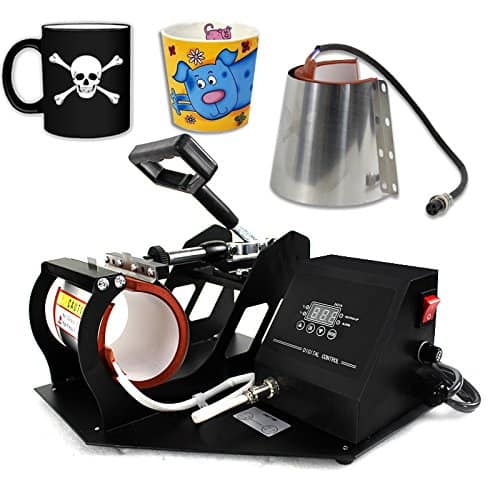 This Smartxchoices mug press is another reliable alternative for those seeking compact heat presses for small-scale production or for creating proof-of-concept office or kitchen merchandise.
The machine comes with two elements or mug attachments, which is what the "2-in-1" stands for. This can be a big deal for a lot of designers since most machines only have one attachment.
And, finding compatible replacements or extras is not always as simple as you think.
The heat press has temperature stabilization and you can set it for up to 430° Fahrenheit. You can also switch the scale to Celsius if you're more comfortable with that.
The top end of the heat output is very good; that ensures that you get the recommended 400° during the pressing cycle even if the temperature varies.
The timer can be set for up to 240 seconds. 210 seconds is usually considered enough for most ceramic applications.
However, you can use a few extra seconds if you want your print to have a darker shade and a bit more contrast. Just make sure that the material can handle it.
The standard attachment for the mug press is an element designed for 11-oz. mugs of between 3" and 3.5" in diameter.
The secondary element is cone-shaped and can be used to print your artwork or company logo on 12-oz. latte mugs.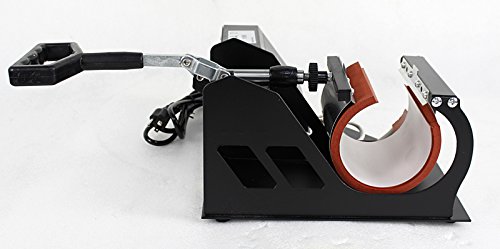 What's also interesting to note is the large heating surface which ensures even heat and pressure distribution as well as a full cup surface print.
This is one of the small details that matter most if you want to create various custom merchandise.
---
6.
Yescom Automatic Mug Heat Press Review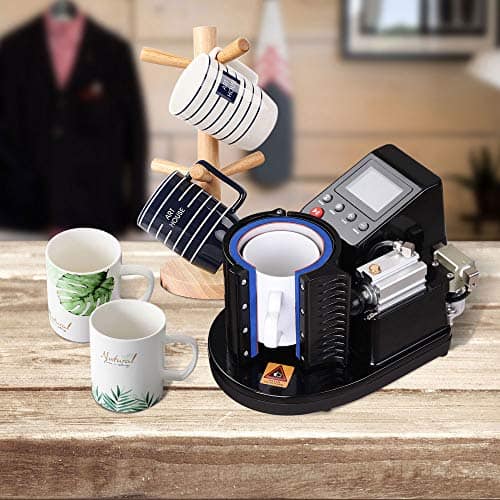 What sets this heat press apart from others is its ease of use and convenience. As an automatic heat press, you don't have to worry about keeping your hand on the press until the ink transfer is complete.
The Yescom includes a pneumatic press design which makes this a mostly hands-free device.
After you place the mug on the element, you then adjust the pressure setting, temperature, and timer (depending on the material) before starting the machine.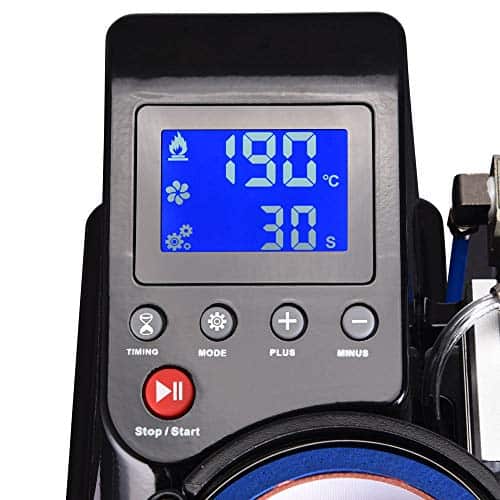 Once the transfer is complete, the machine will automatically release the mug.
One thing to note about automatic presses is that there's even less room for error. Since you aren't in control of pushing down or pushing the plate forward, everything locks into place automatically.
You'll hear an alarm when the process is complete. The temperature goes up to 400°. As far as personal heat press machines are concerned, this is exactly what you need for mugs.
And, with a wattage rating of just 280W, it's a safe choice for many hobbyists.
Another benefit is that the machine fits just about anywhere. Its dimensions are roughly 12" x 8" x 6", which makes it suitable for any home office, studio, or workshop.
The machine also comes pre-assembled and with a detailed manual; this makes it a beginner-friendly choice.
You can use it with any 110V standard outlet. You can even switch between Fahrenheit and Celsius.
As for the mug element, it's big enough to fit a standard 11-oz. mug.
There are no smaller or larger elements provided for this model, so the standard mug attachment is the only one you get.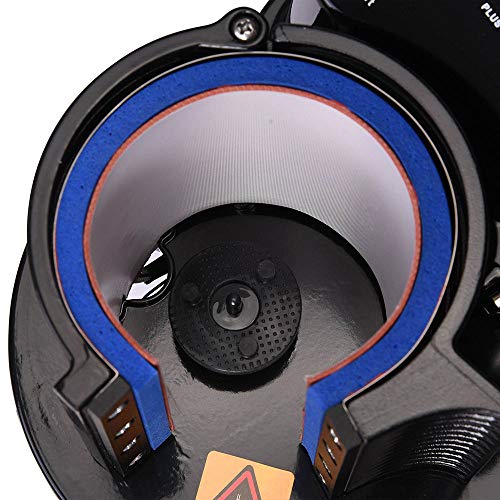 The mug is inserted vertically as is the case with most entry-level automatic mug presses.
---
7. Techtongda
3D Sublimation Vacuum Heat Press Review
If you're looking for something more innovative to showcase in your workshop, a sublimation vacuum heat press machine might be just what you need.
The unique heating system saves time and lets you easily switch between office mugs to phone cases, tiles, metal accessories, and even glass.
The reliability of this press is what makes it stand out, perhaps even more so than its versatility. The press functions much like an oven and the pressure and heat distribution are always spread evenly.
It's not that a classic manual mug heat press can't do a good job, it's just that a vacuum heat press does it better.
But before diving into more of its highlights, here's one thing you should consider. This tool is not cheap and it also has a massive power draw.
It may not be the ideal choice for hobbyists, but at least Americans don't worry about the energy bill, which is much cheaper than Europe on a per kWh basis (your mileage may vary if you're outside of the US).
As far as actually operating it goes, it's nothing to be scared of. The process is fairly similar to that of a traditional heat press.
You just put the mug between the vacuum film and the platen. Then set the temperature and timer and let the machine do its thing.
The LCD screen makes configurations easy to do and each function is clearly displayed.
What's interesting to note about the readings is that they should be a lot more accurate than what you would see on a classic cup printing machine because heat losses and transfers are much more predictable in a vacuum.
A nice safety feature is the addition of a second thermostat. Only one works at any given time and the second one only kicks in if the primary thermostat fails. This prevents you from ruining your mugs during the transfer process.
And yes, we did say mugs. That's because Iglobalbuy designed this cup heat press for commercial use. It can handle up to 12 mugs at the same time.
This can really help you scale up production and get out your merchandise at a good clip. Remember we mentioned buying a dozen compact heat press machines? You don't have to if you go with this one.
Expensive
More parts that can fail, including a sensitive vacuum pump and gauge
---
8.
Zerone ST-210 Double Station Mug Heat Press Review
If you're tired of dealing with printing one cup at a time or if you're simply ready to scale up your production, you might want to consider the Zerone ST-210 as your new coffee mug heat press machine.
This heavy-duty unit features a double station design. This means that it comes with two heating pads and that you can print two mugs at the same time, doubling your turnaround.
Back to our 12-press factory, you'd only need 6 of these, and you might be able to train someone to work 3 of these machines at once.
The two heating pads don't have to operate simultaneously. Secondly, you can simultaneously print on mugs of different sizes, and transfer different impressions too.
If you're all about creating unique mugs and you only want one of each, this is a good way to get things done fast and cut down on the delivery time.
A 180-degree transfer should be complete in roughly 90 seconds. Of course, this may differ slightly depending on the size of the mug.
The machine fits heading pads for 6-oz. through 17-oz. mugs. It can also fit two conical mugs at the same time.
However, it's not recommended to print on two 17-oz. latte mugs at the same time (they're not going to fit anyway).
Note that Zerone sells the ST-210 with standard 11-oz. heating pads. For working on smaller or larger mugs, you'll need separate elements.
Luckily the cross compatibility seems to be there for use with other brands.
The fact that you can configure each station independently is a very useful feature and perhaps the main selling point of the Zerone ST-210.
But, to take full advantage of this unit, you will have to invest in extra attachments too.
The machine is solidly built at around 15 lbs., but it does have a larger footprint compared to single presses.
Only comes with two pads of the same size
---
9.
Estink ST-110 Pneumatic Mug Heat Press Machine Review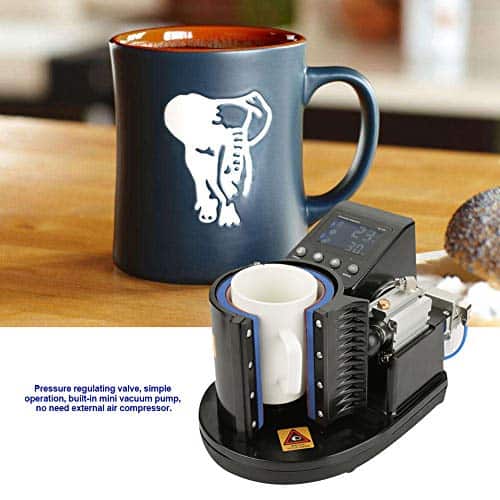 Last but not least, the Estink ST-110 is another highly convenient portable mug cup heat press transfer machine for traveling designers or people working in small workshops.
You'll realize how small the mug printer machine is by looking at the comparatively massive LCD screen is.
It's almost twice as large as what you see on most machines of this kind. That means that the readability is also better, which is never a bad thing.
The control panel is right under the screen and behind the heating element. It's best to be careful when making adjustments as it's easy to get burned if you're not careful. But, that's probably the only real drawback of using this design.
What makes it so convenient? The pneumatic press. You no longer have to worry about pushing and pulling the lever to press and release the mug. This is done automatically based on the timer settings you input.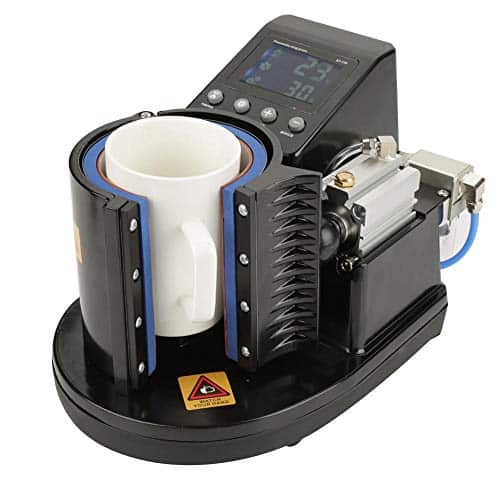 What's also interesting is the automatic cup size adjustments done by the machine's sensors. They save you a lot of time when you're trying to speed up your production on a small machine.
The temperature control also gets some help from the machine's processor which increases the accuracy.
The power draw is almost nothing since the ST-110 is rated at 280W. You can plug the machine in any 110V outlet and watch the magic of the built-in vacuum pump and heating element happen.
As you will notice, the standard cup size setting is for an 11-oz. cup. You may be able to use other mugs too with minor adjustments, but you won't get full vertical coverage if you need it.
However, you can ensure 180-degree printing in under three minutes, which isn't bad for a compact starter machine that's fully automatic.
---
10.
Sican Mug Heat Sublimation Press Review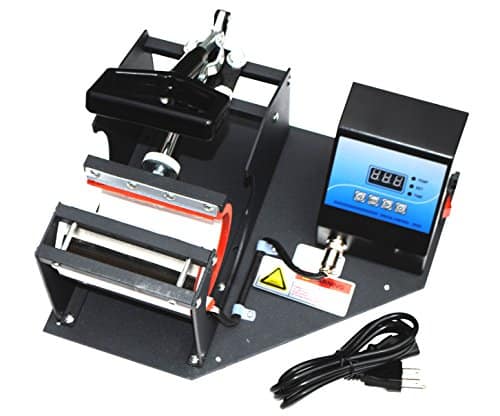 If you're a traveling designer and you need to print out some of your artwork on the spot, nothing highlights your work better than a cool coffee mug. It's easy to do this with the Sican sublimation mug heat press.
Sican has a very nice solution for traveling designers and hobbyist crafters. This mug press machine is manually operated but it's also as compact as they come.
The machine runs on 450W which isn't a lot when compared to most heat presses in the same size and price range.
The sturdy framework also makes this a suitable choice for mobile workshops such as those set up in an RV.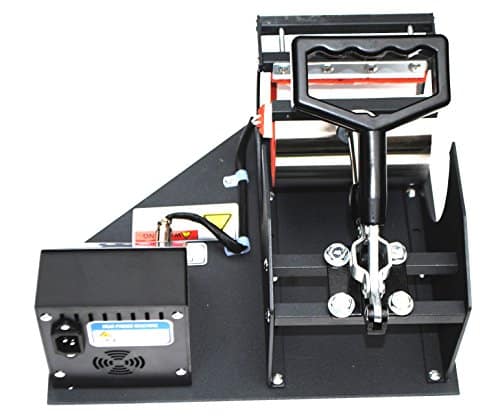 Now, despite its size, the heat press can still generate around 400° during the pressing cycle which is just what you need to transfer high-quality artwork.
But, it doesn't exceed 400°, so if you're looking for a darker shade or tone, you may be out of luck. The control panel is fully digital, as to be expected.
The press is operated manually via a small lever. You'll also notice a mechanical pressure adjustment system.
Both temperature and pressure adjustments are possible, and this will be helpful if you're working with various materials such as ceramic, plastic, and more. You can also set the timer using the control panel.
You won't have to keep your eyes on the machine during the pressing cycle since an alarm will alert you when the mug is done.
Also worth noting is the fact that you can use multiple sizes of mugs as long as they're between 10-17oz.
One thing that you won't be able to do right out of the box is printing on a tapered mug. A separate attachment must be purchased.
---
How to Print on Mugs
Sublimation printing on mugs is one of the easiest and cheapest ways to monetize your artwork. This process involves turning sublimation ink into gas and transferring it onto the mug. This is done through the pores built into sublimation paper.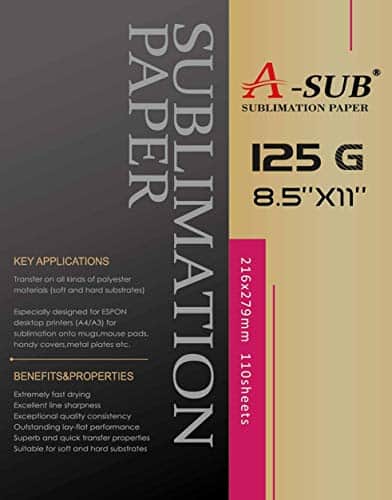 You can use sublimation paper to create a lot of different products.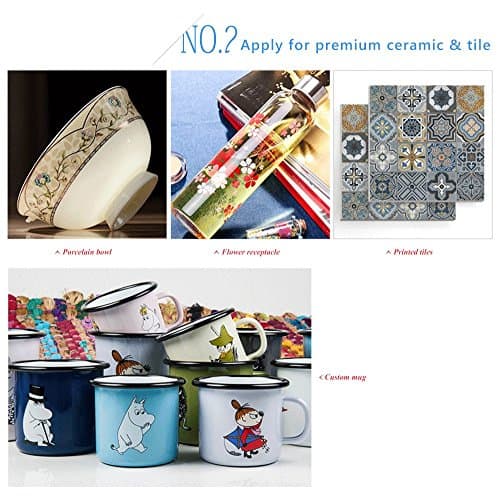 The end result is almost always very smooth and maintains all the colors used by the artist. There's one very important thing to remember when printing on a mug. Different materials require different temperatures, pressures, and pressing times.
While plastics mugs may be heat-pressed in just 60 seconds, ceramic coffee cups may take up to 210 seconds for the ink transfer to complete. No matter what you're pressing your designs on, the recommended temperature is always around 400°.
Anything less and you risk losing color saturation and clarity. The temperature settings may differ from one material to another, but for the most part, you'll only want to exceed the 400° threshold when working with certain fabrics (or if your machine is off and you have to compensate for it).
You also need to think about the different requirements for heat transfer mugs vs sublimation mugs.
What's the Point in Buying a Cup Printing Machine?
Most people look at a coffee mug printer and only think dollar signs. While it's true that monetizing your artwork by printing it on various cups, mugs, or apparel has a lot of potential, there are many more things that you can use a sublimation mug press for.
What if you're not an artist and you don't plan on filling dozens of boxes with printed mugs? You can use a cup printing machine for branding. Put your company's logo on a couple of office coffee mugs and include them in your gift packages.
People will always see your brand on a coffee mug. Business cards have a way of getting lost or forgotten. Another thing that you can do is using a heat press to make a few unique mugs and use them as proof of concept during presentations for your design firm.
And, considering how cheap some starter mug heat presses are, you can even use one to give new life to your favorite mugs at home. You really don't have to worry about the brands. Just thank the manufacturing miracle known as China.
Furthermore, we've done the legwork for you and picked out the best mug press machines for your perusal.
Our Recommendation
Clearly everyone has their own interests and needs, so what works for you may not work for another designer.
That being said, it's worth pointing out that BetterSub Mug Press is the most balanced of all affordable mug heat presses.
Its ability to handle long production schedules makes it suitable not just for hobbyists and small businesses but also for designers that want to start crafting commercial merchandise.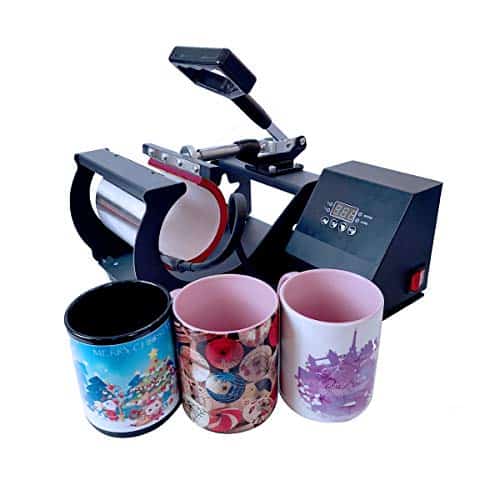 And, with all three key factors being completely under your control (time, temperature, pressure) you can make sure that each mug comes out exactly the way you want it to.
With that in mind, if you really want to ramp up your production scaling, then the Techtongda 3D Sublimation Vacuum Heat Press with its 12-mug capacity can really help. It's big and it can ensure you get the turnaround you want, from the comfort of your home or somewhere else.
Now that you have a mug press what is next? Grab some inspiration of what to make from our Cricut Mug Ideas post.