If you are looking to buy a Maker 3 (be sure to read our Cricut Maker 3 review) or if you have already bought a Maker 3 (YAY!), understanding which Cricut Maker 3 tools and accessories you need to buy can be a bit overwhelming.
I LOVE LOVE my Cricut Maker 3, and I love whipping up a large variety of projects on it.
So I wanted to share a list with you of what I believe to be the must-have Cricut Maker 3 accessories, tools & supplies.
Creative Everything Materials Bundle
Don't have time to read the full article?
Here is a fantastic bundle to get you started – it includes a variety of materials for you to try, together with tools and pens.
Click to check the price for this bundle on Cricut.com (use code CRICUTLOVE for free shipping).

I don't want you to waste your money, so start thinking about the type of project/s you wish to create with your cutter.
That way, you will buy the Cricut tools and accessories that suit your interests.
I've tried to clarify when tools are only required for a specific type of project – such as working with fabric, etc.
---
Do you have to set up your Cricut Maker 3? Grab the downloadable and printable version of this post to have it next to you while you set up your new machine.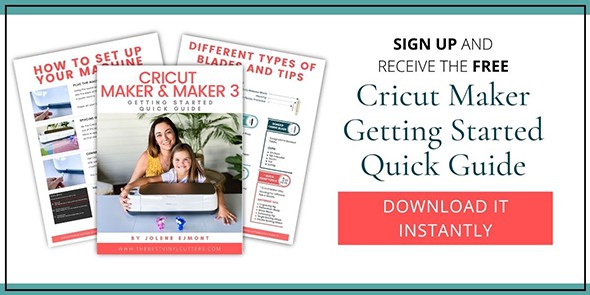 ---
Quick List: Must-Have Tools For Cricut Maker 3 Beginners
After a quick list of the top Cricut Maker 3 accessories that you will need?
Here are the must-have accessories, tools, and supplies – read further to find a full list of all the compatible accessories.
Use this code: CRICUTLOVE at checkout to receive 10% off your order of $50+ (non-electrical items) and receive FREE shipping too!
---
What Comes with Cricut Maker 3 Machines?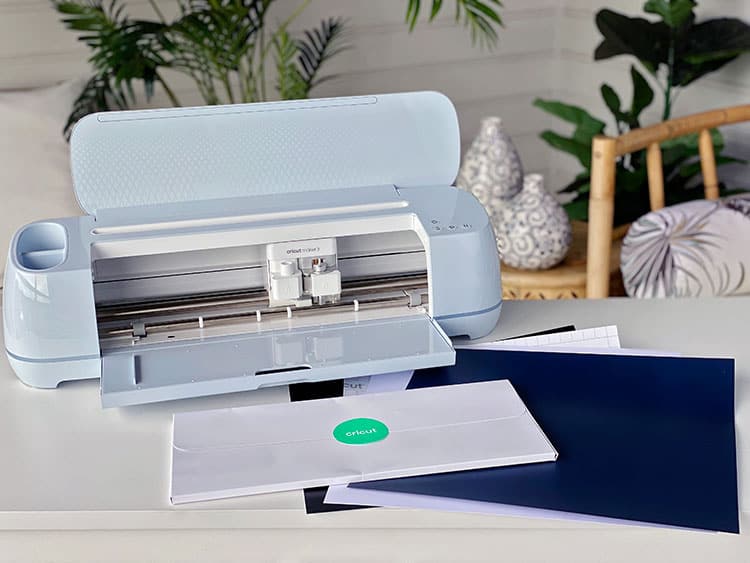 So before we talk about the Cricut Maker 3 must-haves, let's look first at what you will get in your box:
Cricut Maker 3 Machine (of course)
Premium Fine-Point Blade + Housing
Practice Cut Material
So as you can see, you don't get all that much. And you do need to purchase additional Cricut Maker 3 essentials, tools, and supplies to start.
Now, let's look at which tools I would highly recommend you purchase to enjoy a variety of project crafts.
PS. If you haven't set up your machine yet, we have a fabulous FREE quick-starter guide on how to set up your Cricut Maker 3 here.
---
Cricut Maker 3 Tools List
Below you will find a list of the best tools for Cricut Maker 3 machines. I will discuss what each tool will be used for.
As I mentioned, it is crucial to think about the type of crafts you would like to make so that you can only purchase the tools that will support your crafting type.
These tools are not cheap, so to help you out, we have a way for you to save money below.
* BONUS FOR WHEN YOU SHOP AT CRICUT.COM: Use this code: CRICUTLOVE at checkout to receive 10% off your order of $50+ and receive FREE shipping too!
1. Cricut Knife Blade
If you want to cut thick materials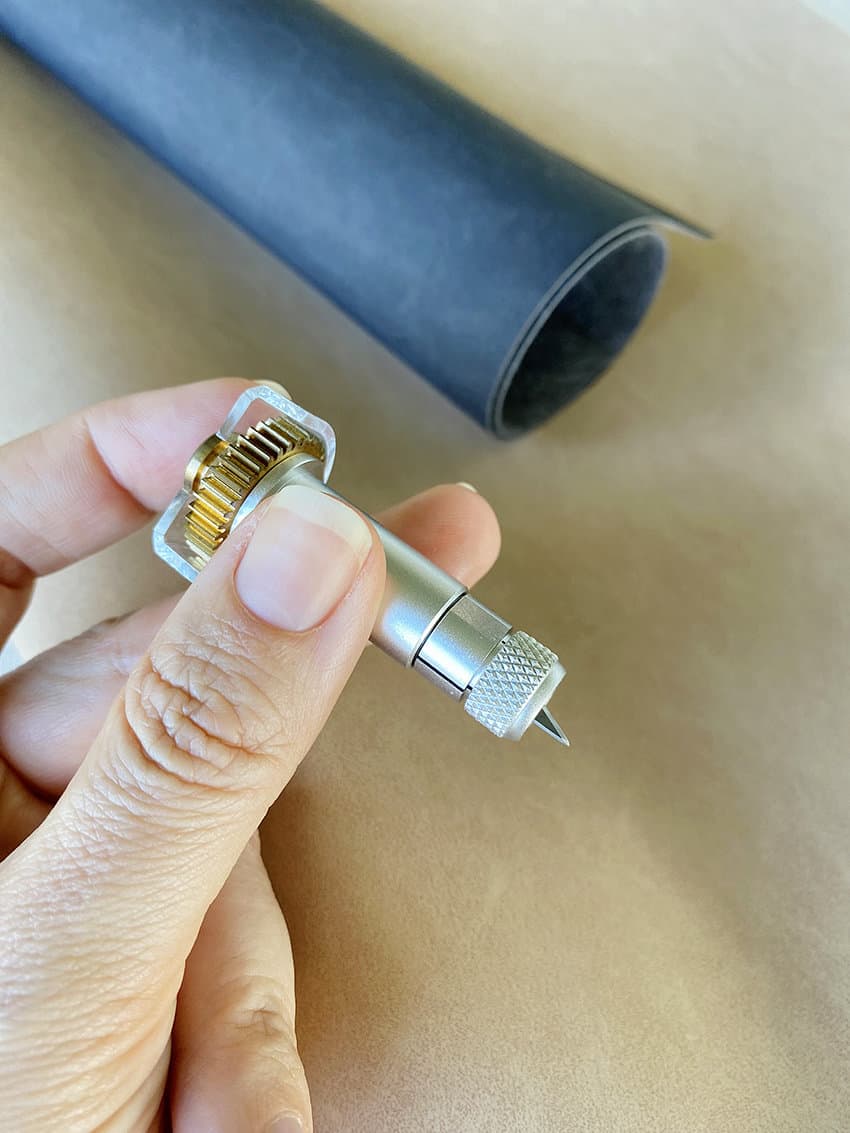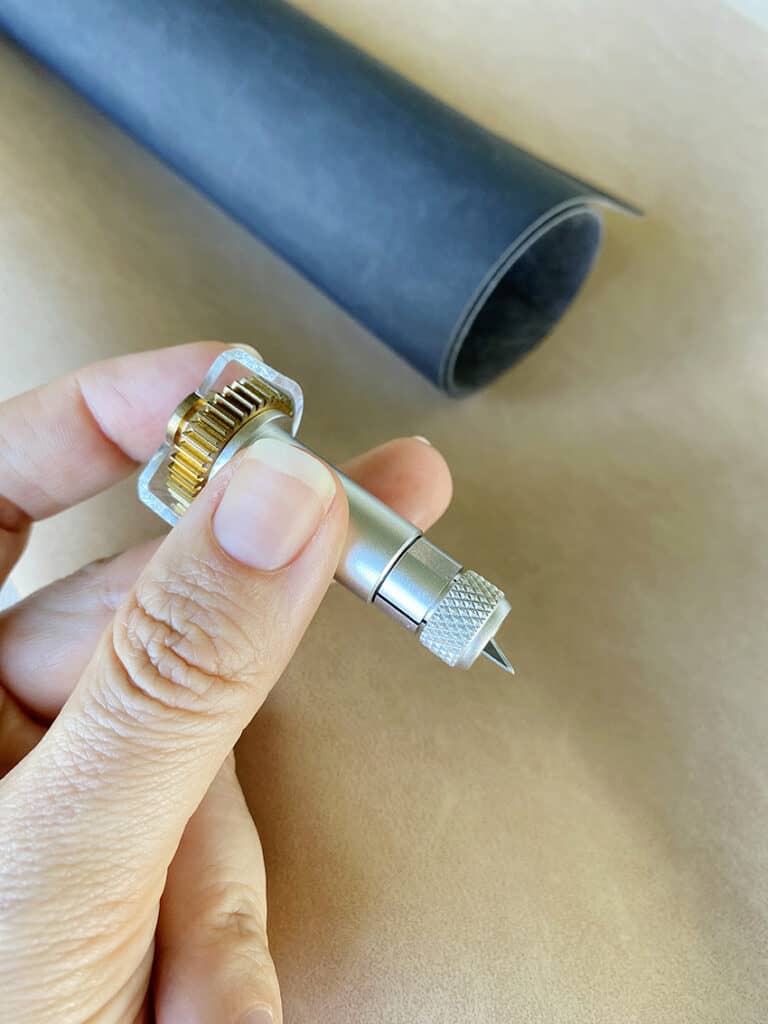 You will receive ONLY the standard Fine Point blade in the box.
The standard fine blade is for most 'normal' material that most people cut, like vinyl or cardstock, so it is an excellent first blade to receive, but the Cricut Maker 3 can do so much more than just cut paper and cardstock.
Tip: You can read more about the Cricut Maker Blades here.
If you want to work with REALLY thick material, you will need to purchase the Cricut Knife Blade. This blade is an extra-deep blade that can slice through dense material up to 2.5 mm in thickness.
It is perfect for cutting materials such as balsa wood, matboard, and chipboard (you can browse through a list of wood-cutting Cricut crafts here to see if this would be something you would like to do).
I didn't purchase this until well after a year of using my machine. It is challenging to work with thicker material, so I suggest that beginners start with paper or cardstock projects instead.
Grab the Knife Blade with housing here (nice-to-have but not essential for beginners).
2. Cricut Rotary Blade
If you want to cut fabric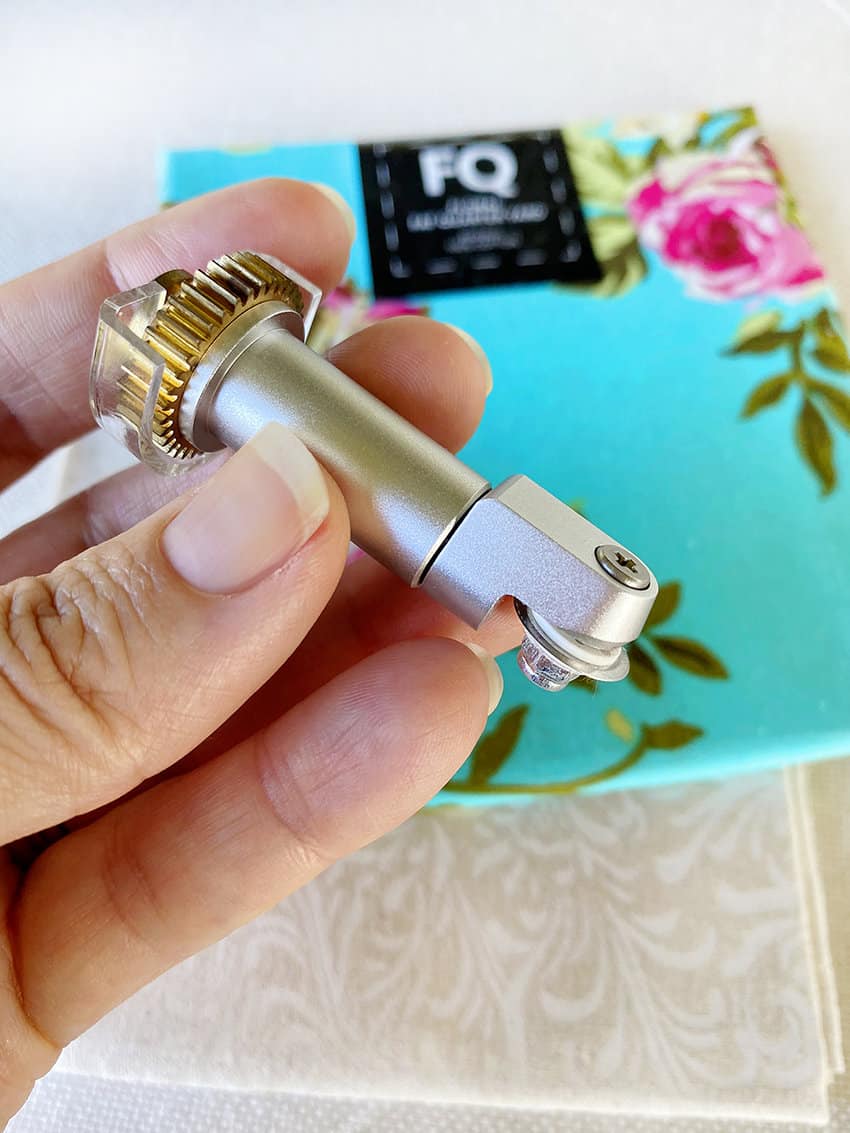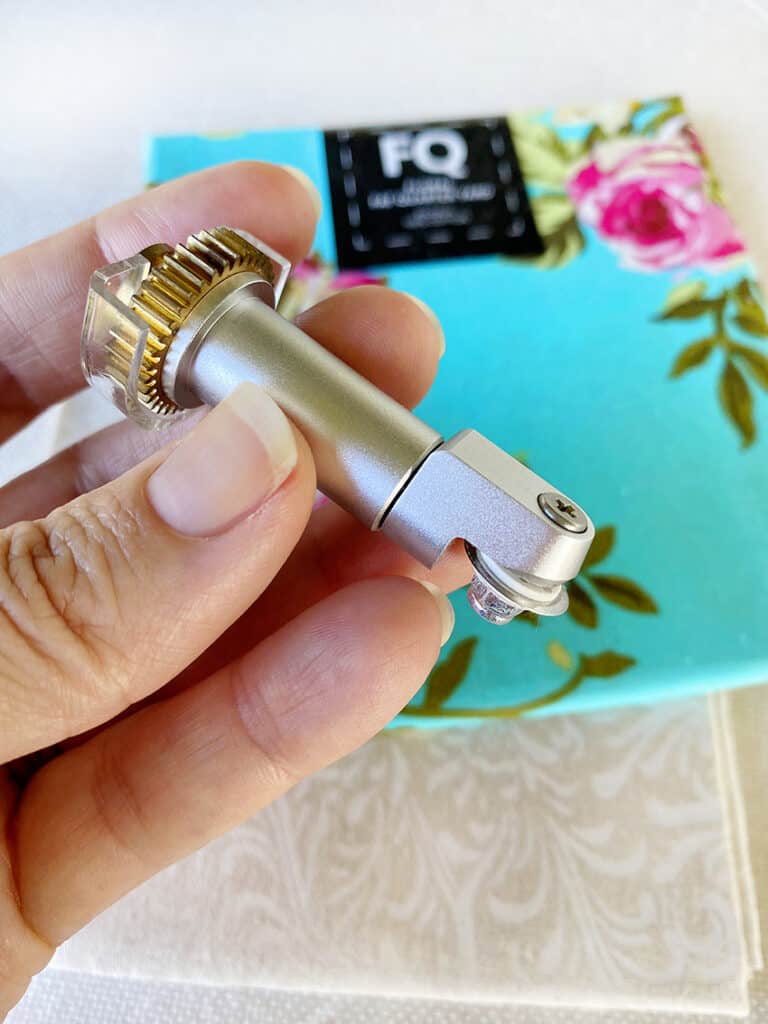 The Cricut Maker 3 is perfect for cutting fabric which is why this is the favorite home-cutting machine for sewers and quilters.
If working with fabric is your craft, and cutting patterns is what you will be using your Cricut Maker 3 for, you will need to purchase the Rotary Cricut cutting blade.
Read this post to learn more about cutting fabric with your Cricut Maker 3. This blade is only essential if you KNOW that you will be doing Cricut fabric projects.
3. Quickswap Tools & Blades
The Quickswap tool is a great accessory for your Cricut Maker 3, especially if working with card stock is what you love.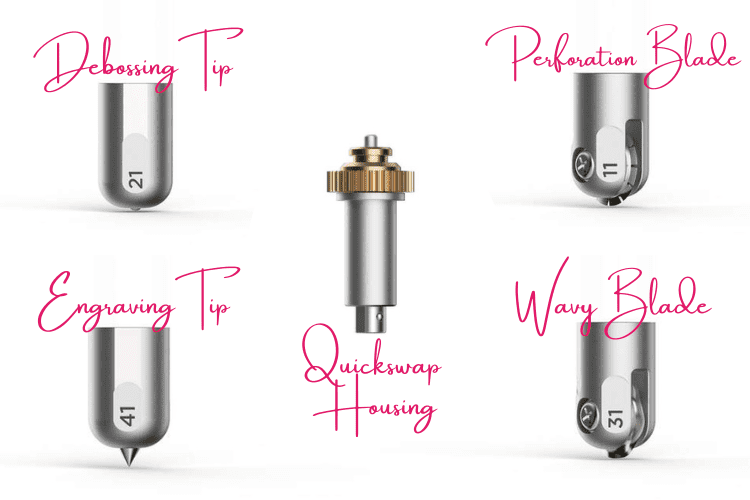 The Quickswap tool has a housing that can be attached to a variety of tips which makes this tool great if you do not have space to store a large number of individual blades and tools.
Here is a list of the tips that can be attached to the Quickswap Tool housing:
Perforation blade
Wavy blade
Debossing tip
Engraving tip
I must admit, I don't use these as often as I thought I would, however, they are still handy to have in my craft kit.
Grab the Quickswap Housing, tips, and blades from here.
4. Foil Transfer Kit
If you want to add foil accents to your projects
The foil transfer kit works really well if you want to add foil accents to your card stock projects.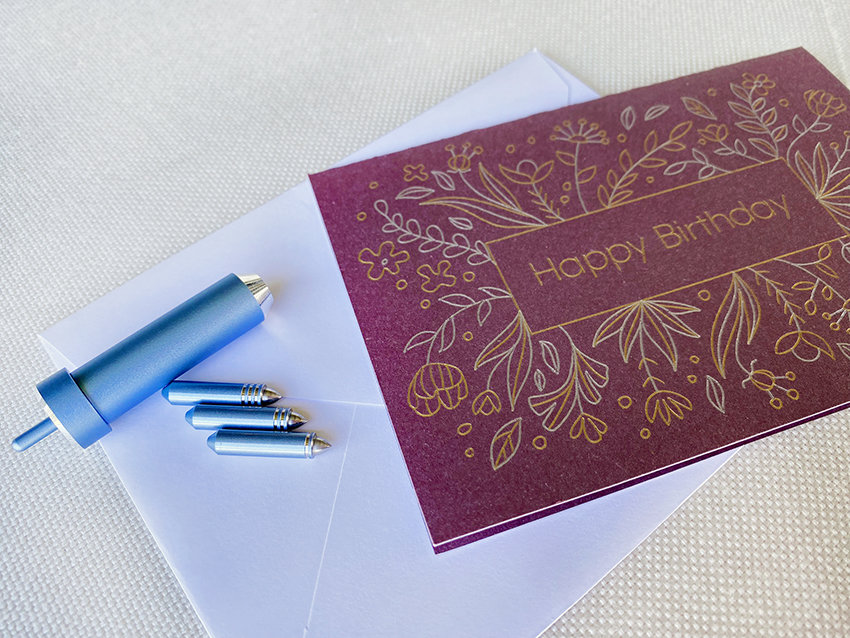 They add a great touch that takes your projects to a new level. Your result will look very professional when using the Foil Transfer Tips with the foil transfer sheets.
The kit includes the housing tool, three interchangeable tips (fine, medium, and bold), and 12 foil transfer sheets.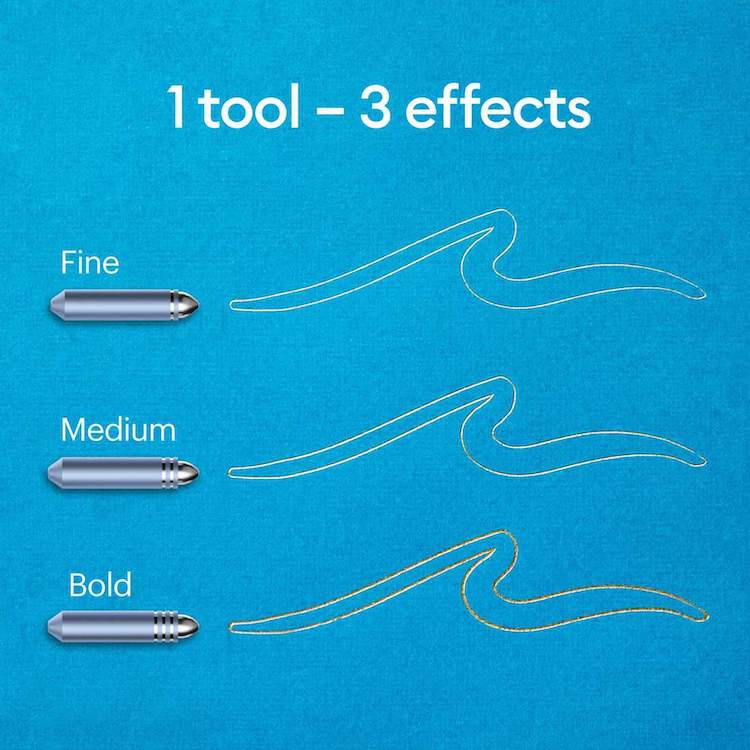 You can also buy replacement tips if you need to in the future.
If you plan on making cards for birthdays or special celebrations, then this kit is a MUST. I love using my foil kit – it honestly adds such an elegant and special touch to cards.
See a tutorial on a card I made with my foil transfer kit here.
Grab the Foil Transfer Kit here.
5. Scoring Stylus and/or Scoring Wheels
If you want to create things that have to be folded
Scoring is brilliant if you love creating things that need to be folded, such as cards, envelopes, boxes, and other 3D paper crafts.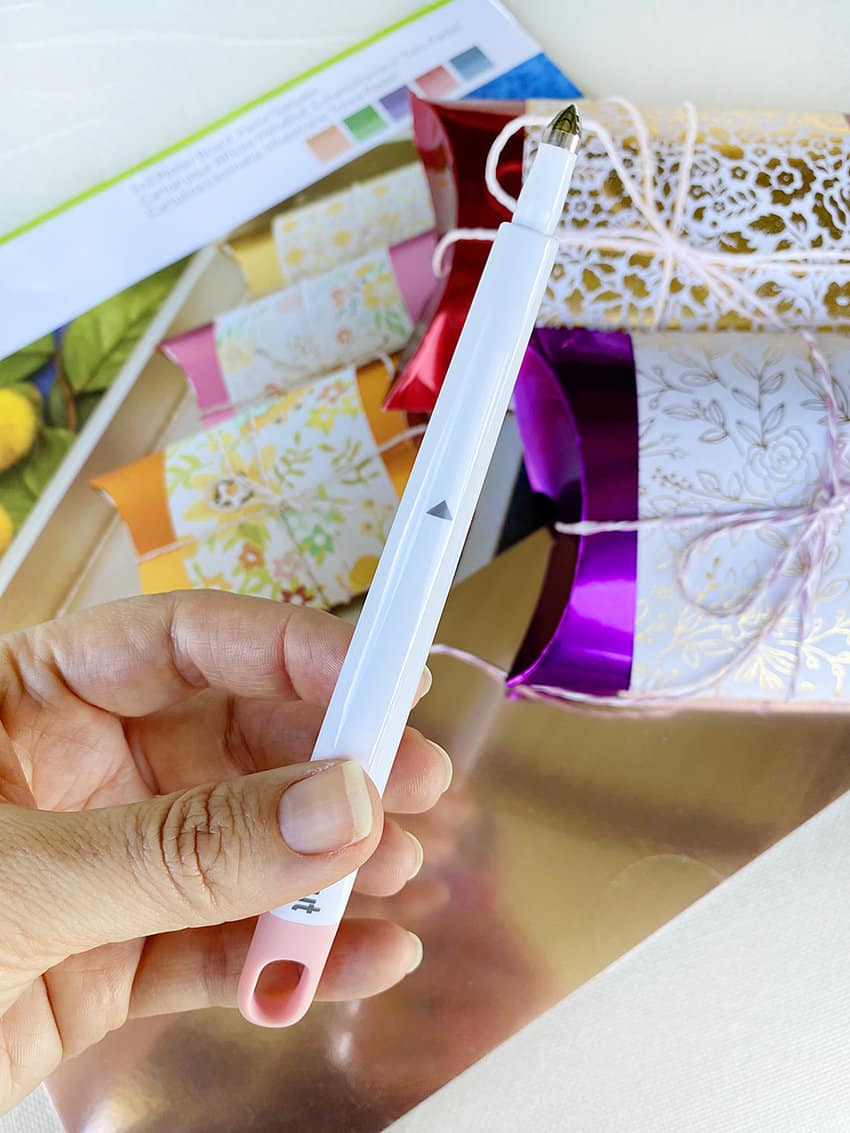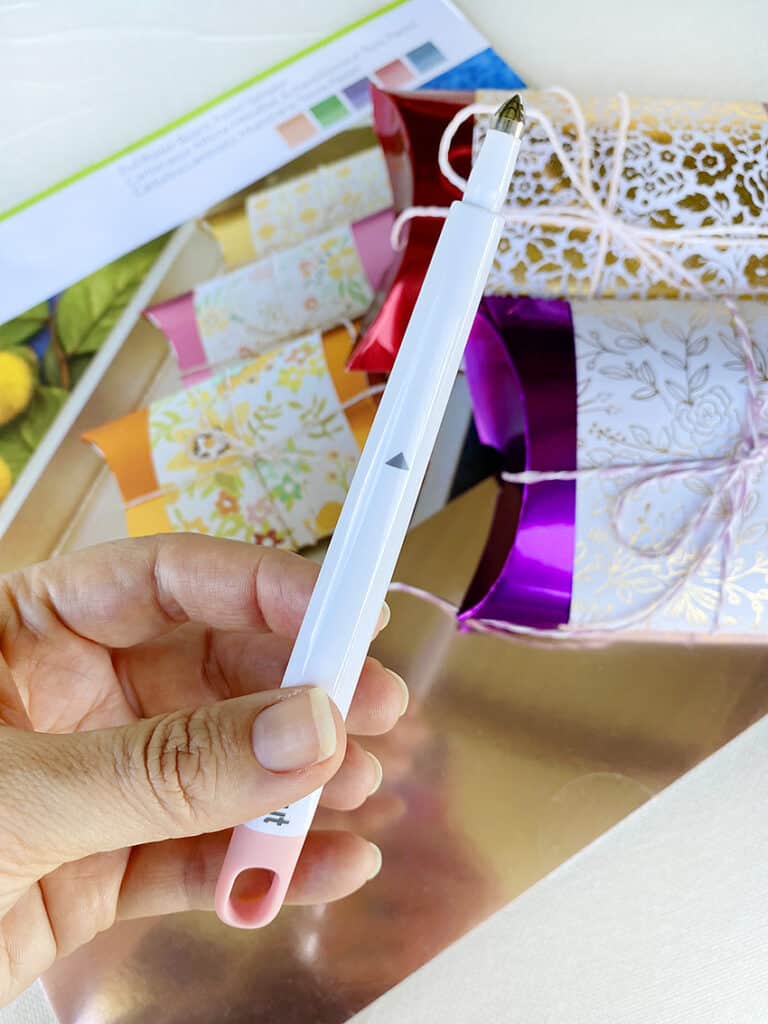 The Scoring Stylus can be used if you do not have the Scoring Wheels to use with your machine.
The stylus and the scoring wheel can be placed in Clamp A of your machine to create the fold lines on your project.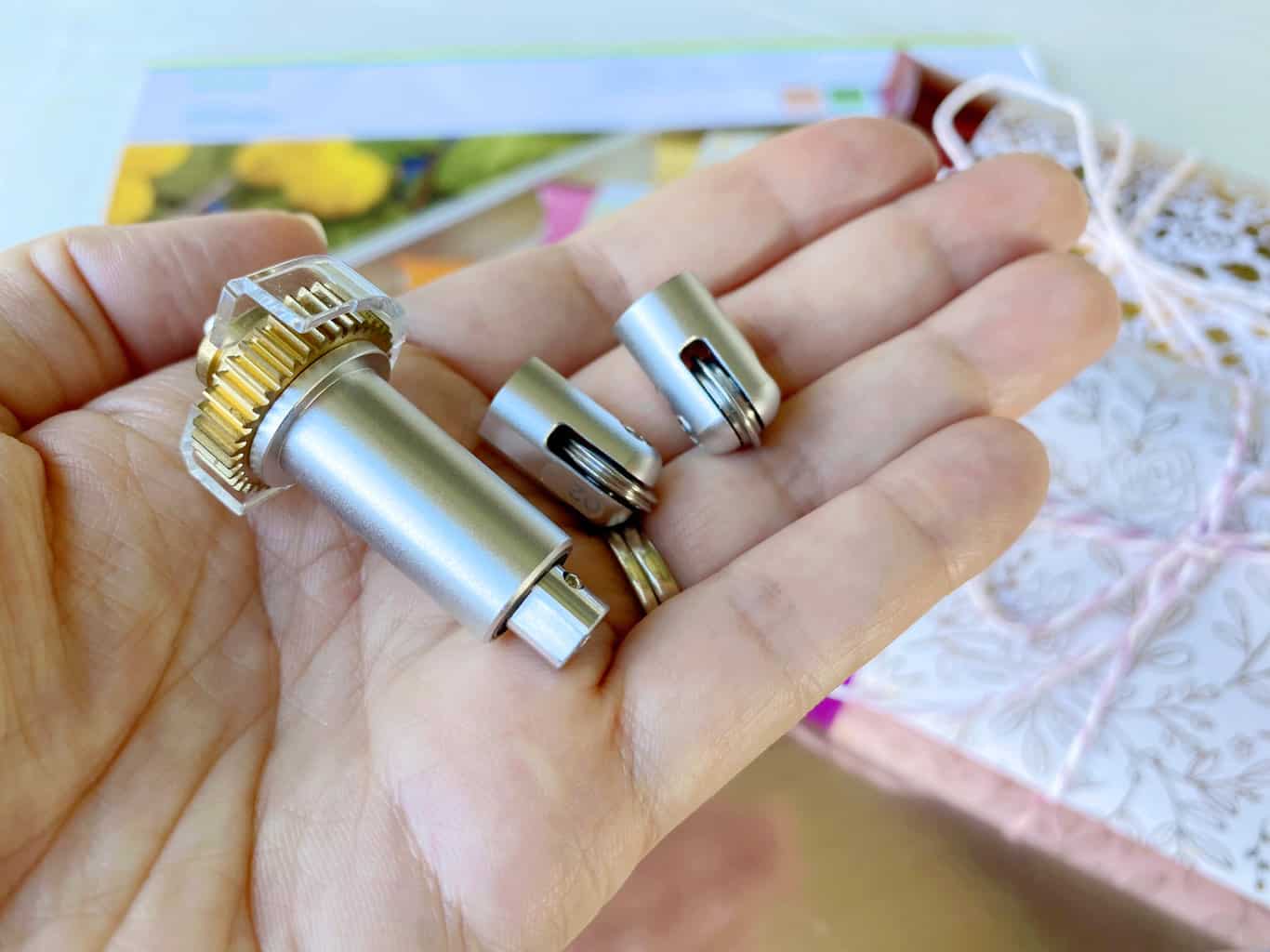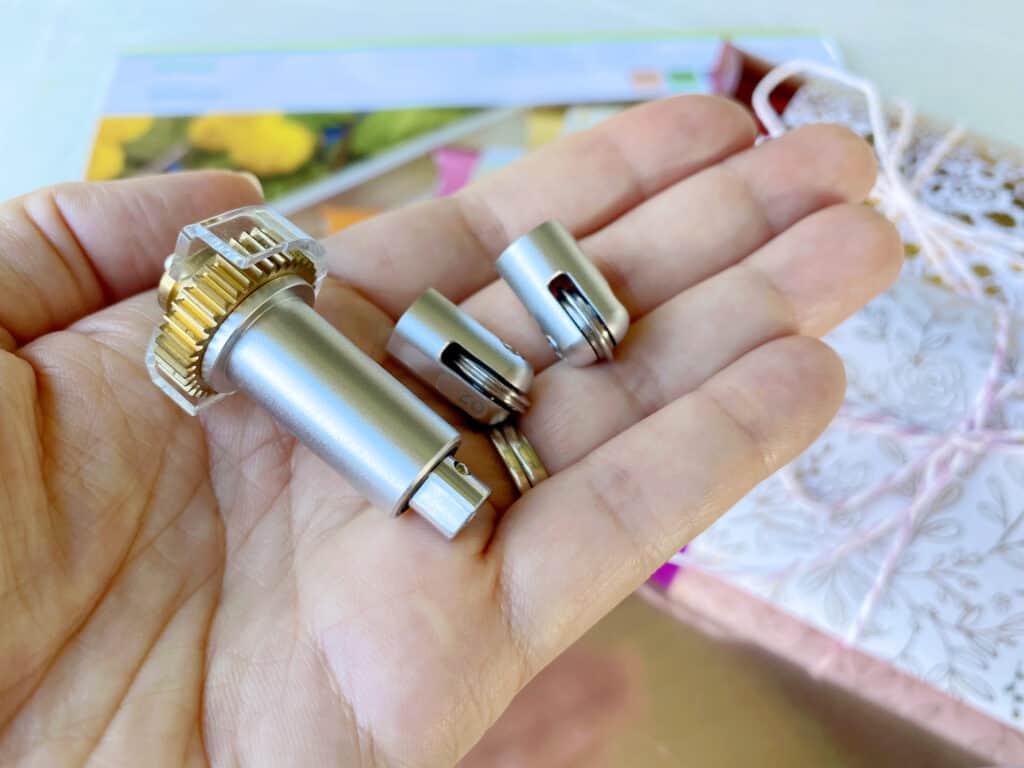 These are handy to have in your stash as well. I use these a lot. When I started doing Cricut crafts, I used the scoring stylus because it is so much cheaper and it does work really well.
However, if you are hoping to do things such as make cards, and envelopes and make 3D boxes like gift boxes, then the scoring wheel combo pack will make life so much easier for you.
There are a few projects that require a double score, so it also means that you will be able to make whichever folding craft Cricut has on their software.
Grab the Scoring Stylus from here. (Great and cheap way to add a scorer to your stash)
Grab the Scoring Wheels here. (More advanced than the stylus, I have both the single and double scoring wheels)
6. Cricut Mats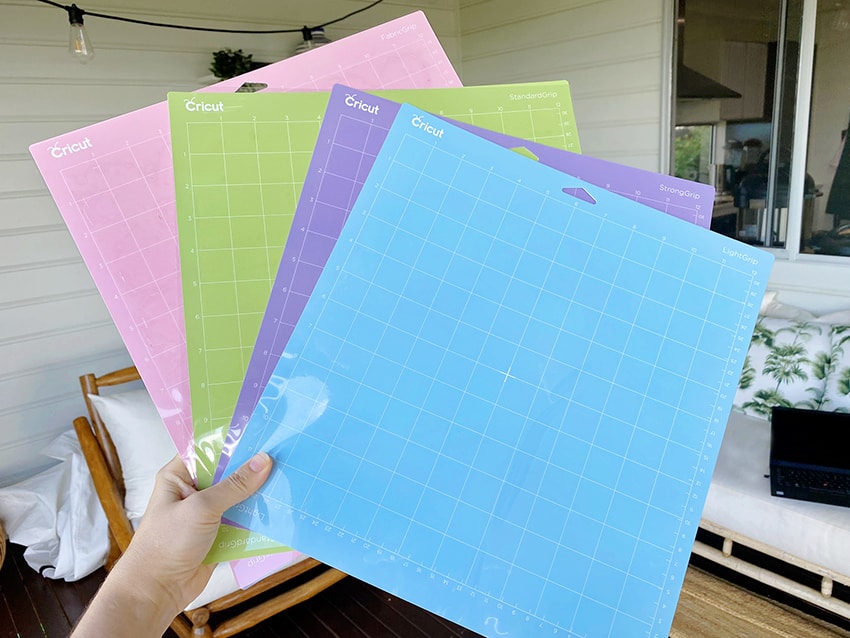 Do you need a cutting mat for Cricut Maker 3?
The Maker 3 does not come with any mats as it is designed to cut Cricut Smart Materials (Vinyl, Iron-On, and Cardstock) without a mat.
Suppose you wish to work with other brands of materials or materials that are not Smart Materials (they are easier to use and cheaper, plus they offer so much more variety). In that case, you will need to purchase mats suitable for the material you will be cutting.
To cut most materials like adhesive vinyl, HTV (Iron-On), or infusible ink sheets, you will need to use the StandardGrip Cricut Mat. This is the mat you are likely to use most often, so it is worth investing in.
If you purchase the Rotary Blade because you will be using your Maker 3 to cut fabric, you will also need to purchase the pink FabricGrip Cricut Mat.
If you intend to cut thicker materials with your machine, you will need to purchase the StrongGrip Cricut Mat, as this mat has a stronger adhesive to keep the materials in place when cutting.
For beginners, I highly recommend you purchase the Standard and LightGrip mats at a minimum. However, I like to purchase the machine mat variety pack because I only want one mat of each and it just works out cheaper.
Tip: You can read more about the different Cricut mats here.
To purchase your Cricut Mats for your Cricut Maker 3 click here.
7. 12 x 24″ Mats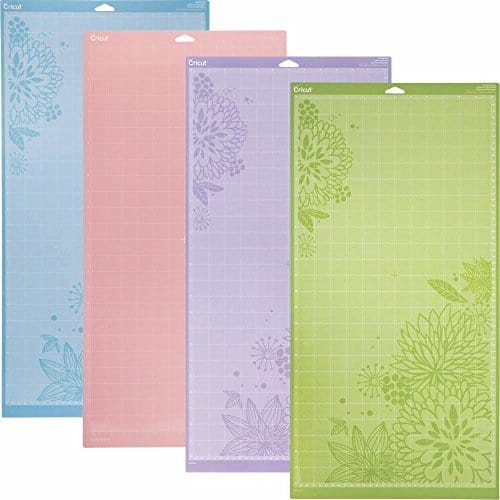 The standard Cricut mat size is 12 x 12″, and this is the size that I use 90% of the time when I craft, but there is a place for the larger mats (for beginners, I suggest you get some 12 x 12″ mats to get started and invest in these when you start working on larger projects).
I LOVE the longer 12 x 24″ Cricut Mat, so I can create larger vinyl decals and cut larger sewing panels for my projects.
If you think you will be creating large-scale projects, I suggest purchasing the mat type for the material you will be cutting for larger projects.
However, if you will be using Cricut Smart Materials to create your large-scale projects, purchasing these mats will not be necessary, as the machine can cut up to 12 feet in length without a mat.
Grab these large mats from Amazon here.
8. Cricut Card Mat
The Cricut Card Mat is great if you want to create more than one card at a time!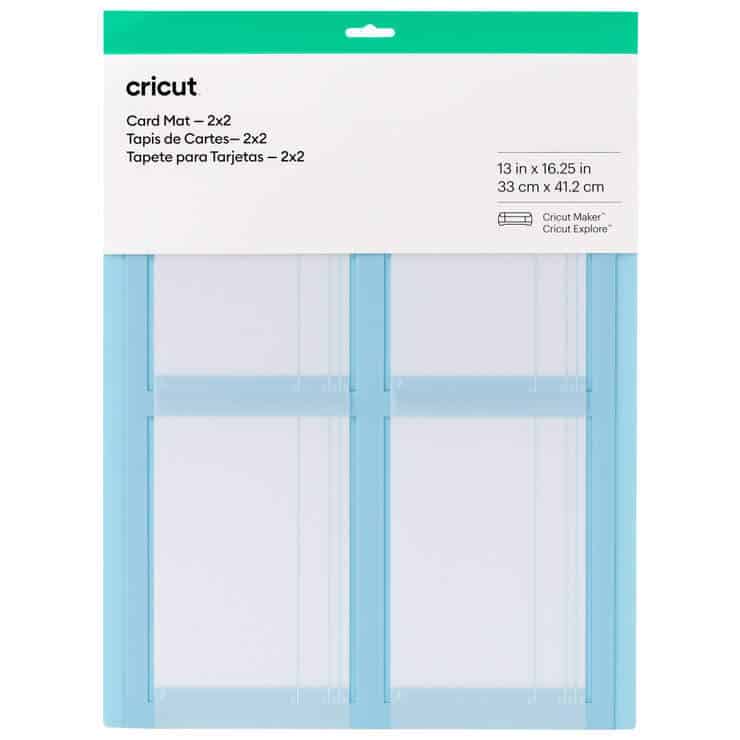 This mat works with all Cricut cards, including the Card Inserts and Cutaway Cards.
If you know anything about the Cricut Joy cutter, you would know that it can create pretty special cards, and that is thanks to a mat like this.
I love making my cards this way if I am in a hurry and I love that you can make four cards in one go.
To buy your Cricut Card Mat click here.
9. Cricut Pens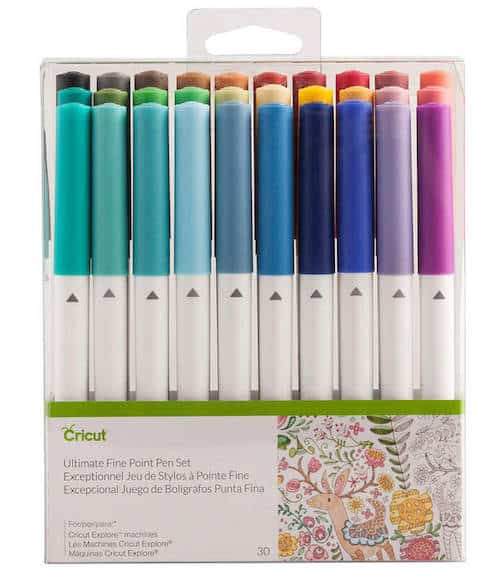 Cricut pens are used to draw shapes and embellish projects with beautiful text.
You can also create coloring pages with pens or use them to create beautiful cards.
These pens are acid-free, non-toxic, and permanent after 24 hours of drying.
If you are unsure if you will enjoy working with pens and markers, I suggest you buy a small set of black pens before investing in more pens.
There are also generic pens that you can use in the cutter, but I suggest you start with the Cricut ones first, as they are a perfect fit for the machine.
Pens are great for creating cards, labeling envelopes, creating labels, creating coloring pages, and so much more.
Cricut makes a great range of pens for the Cricut Maker 3 that include:
Glitter Gel Pens in Opaque, Neon, and Rainbow
Watercolor Marker & Brush (for making watercolor effect designs)
Metallic Pens
Extra Fine Ink Pens
Washable Fabric Pens
Infusible Ink Pens
You can browse through the range of Cricut Pens here.
If you want to work with fabric, I suggest you grab one of the washable fabric pens.
Best Cricut Maker 3 Accessories List
Now that we have looked at the best tools to buy for the Cricut Maker 3 machine let's look at some of the best accessories for Cricut Maker 3 machines.
1. Cricut Roll Holder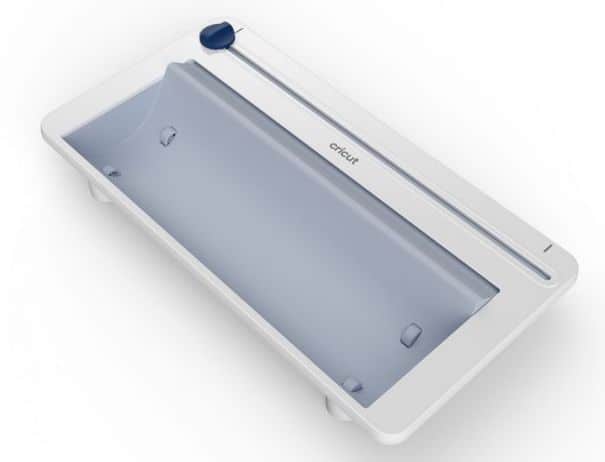 As the Cricut Maker 3 can cut projects up to 12 feet in length, when using Smart Materials, there is an optional roll holder for the machine.
You do not need to purchase the roll holder to use the new rolls of Smart Vinyl; however, we think it helps ensure that vinyl remains steady when cutting.
So if you plan on using the rolls of Smart Vinyl, this is probably a great addition.
The roll holder also has a built-in trimming blade to quickly cut your vinyl project before removing it from the machine.
2. Cricut Trimmer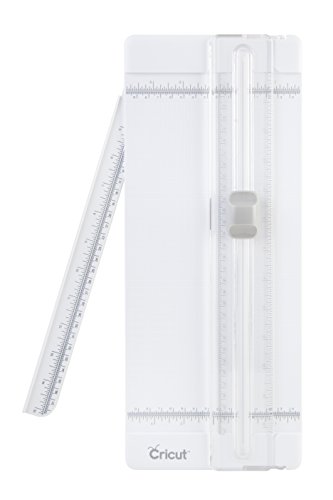 A Cricut Trimmer is convenient if you are a scrapbooker or cardmaker. This great trimmer can quickly and professionally trim down your paper or cardstock.
I actually love using this trimmer to do more than just trim paper and cardstock, I also use it to trim my vinyl because I'm terrible at cutting straight and that way my scrap pieces have straight edges which makes it easier to line up next time I have to use it.
Cricut released their trimmer with a 13″ cutting width, which is handy. Grab your Cricut Trimmer here.
3. Cricut Brayer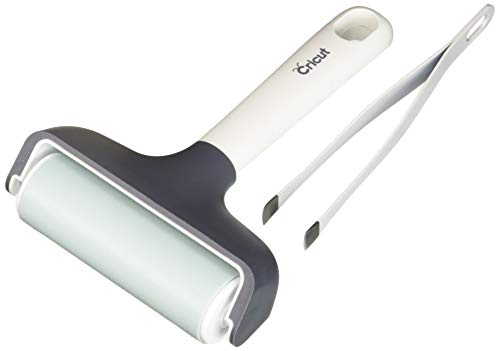 The Cricut Brayer is essential if you plan are working with fabric.
You will need to use a brayer to smooth your fabric over your Fabric mat. Especially handy for thin and flimsy materials.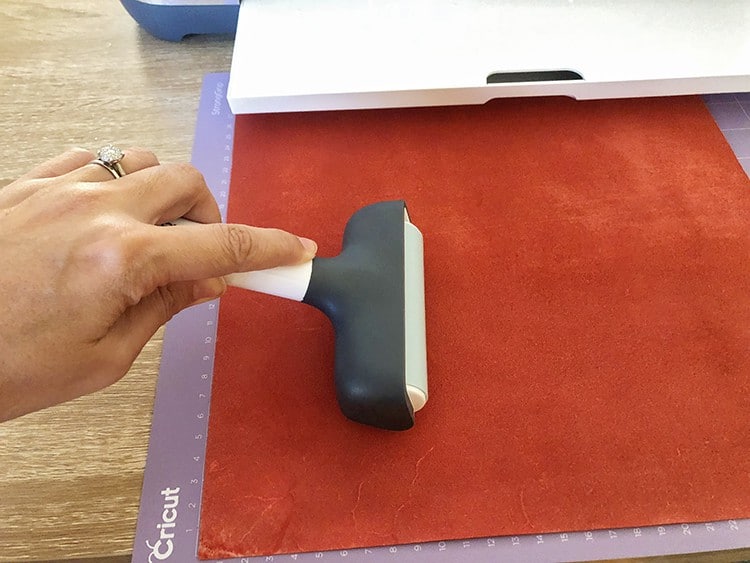 The tweezers help you lift off the fabric from your mat.
The pink mat only has a thin layer of adhesive, so you have to be careful about touching it, and please don't scrape it either.
I don't use my tweezers as often but I probably use the brayer almost every time that I craft, so I would say that it is a must-have item for your stash.
You can grab the Cricut Brayer and Tweezer Set here, or if money is an issue for you, you can save a lot of money by buying this off-brand Brayer and Tweezer set on Amazon (it works just as great!).
4. Cricut Basic Tool Set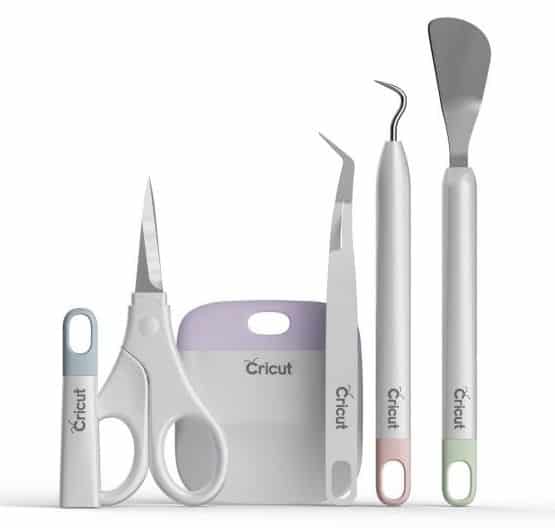 The Cricut Basic Tool Set is a must-have Cricut Maker 3 accessory. You will use these tools.
The Scraper & Spatula are used to aid you in lifting projects off your Cricut mats, which helps to preserve the adhesive on your mat. They are a necessity.
The weeder and tweezers are great for your vinyl projects. And we all know what scissors are used for.
You can grab the Cricut Essentials Tool Set here or again, there is a much cheaper option on Amazon that works just as well – grab the off-brand Basic Tool Set from Amazon here.
If you prefer, purchase the weeder tool set (for vinyl projects) or the paper tool set (for scrapbookers and cardmakers) instead.
5. XL Scraper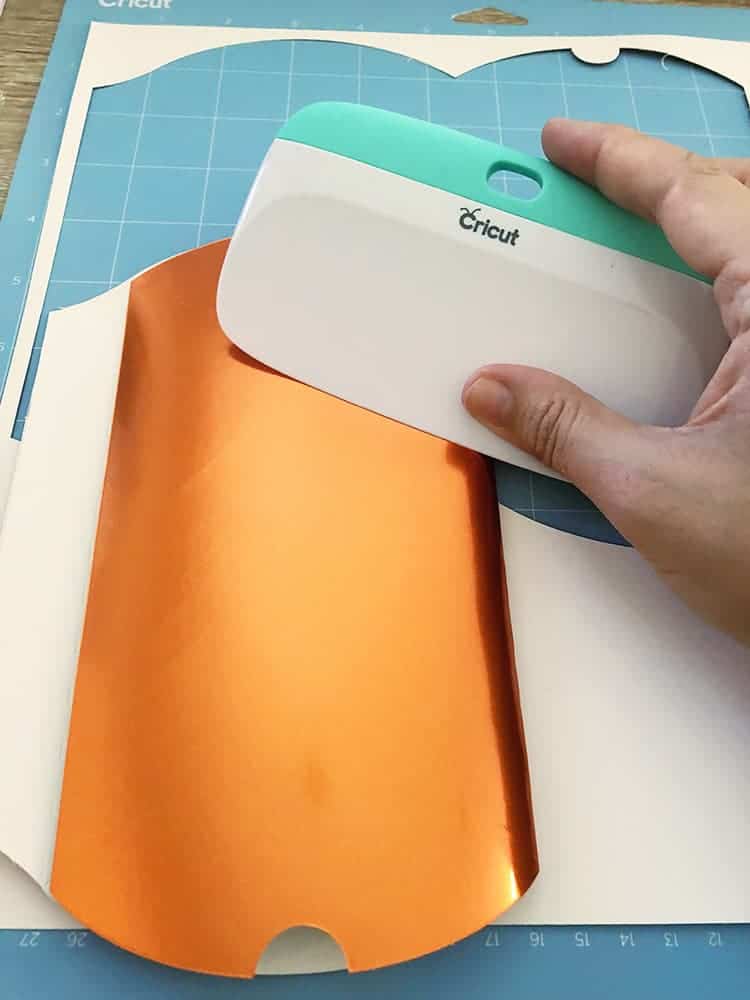 I love my XL Cricut Scraper. While you can use it to clean up your mats, I love using mine when applying adhesive vinyl.
It just helps to ensure that the adhesive sticks well to my product.
You get a small-size scraper in the essential tool kit, so if money is tight, you can leave this tool until you have some cash to splurge.
Grab your Cricut XL Scraper here.
6. Cricut Sewing Tool Kit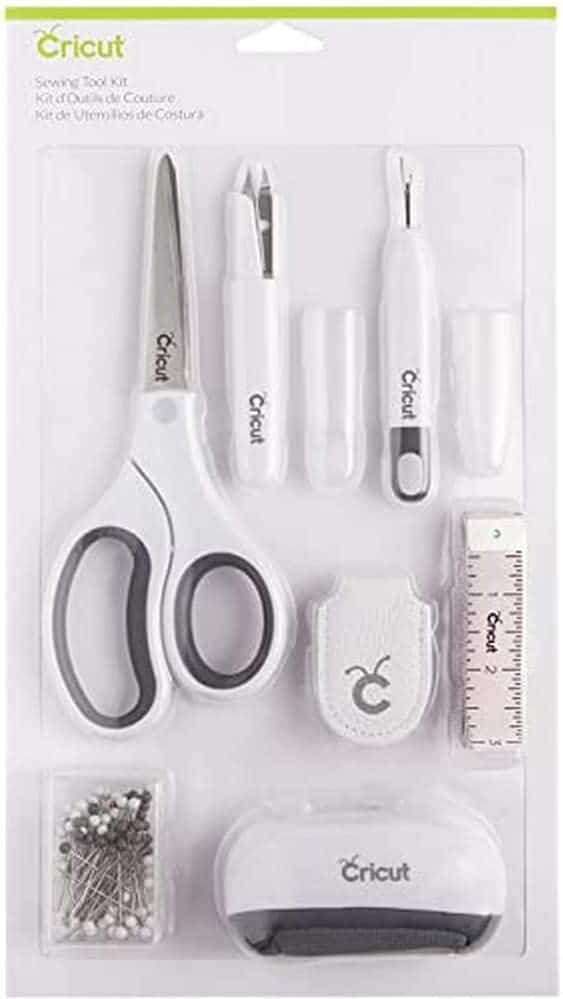 The Cricut Sewing Kit is a great companion tool kit if you plan on cutting fabric with your machine.
It includes 8″ Fabric Shears, Thread Snips, a Seam Ripper, a Pin Cushion, a Set of Pins, a Measuring Tape, and a Leather Thimble.
I'm not much in fabric crafts, so I don't personally own one of these kits, however, it would be essential for those who want to use their machine for sewing crafts.
7. EasyPress 3/EasyPress Mini/AutoPress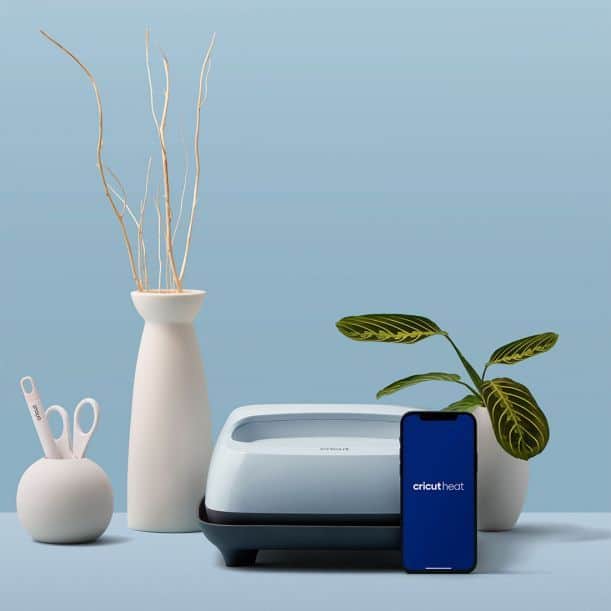 If you are planning on working with Iron-On transfers or HTV (heat transfer vinyl), then using a home iron can be very unreliable.
Not only do you have to guess how hot it is and how long to press for, but you also do not get an even temperature across the design due to the size and shape of the iron.
Take the guesswork out and get an EasyPress 3 instead. The EasyPress 3 comes in two sizes, 9×9″ or 12×10″. I love my EasyPress, and I am sure you will too!
You can set the temperature and time electronically or use Bluetooth connectivity and wirelessly connect to the Cricut Heat App.
Once connected, you simply select your materials, and the app will set the time and temperature for your EasyPress.
Grab your EasyPress 3 9×9″ here.
Grab your EasyPress 3 12×10″ here.
Now, if you are making small items that are not flat, like t-shirts, cushion covers, or totes, the Cricut EasyPress Mini is just what you need.
It is like a mini iron and is excellent for applying Iron-On to those awkwardly shaped items like shoes, stuffed toys, and more!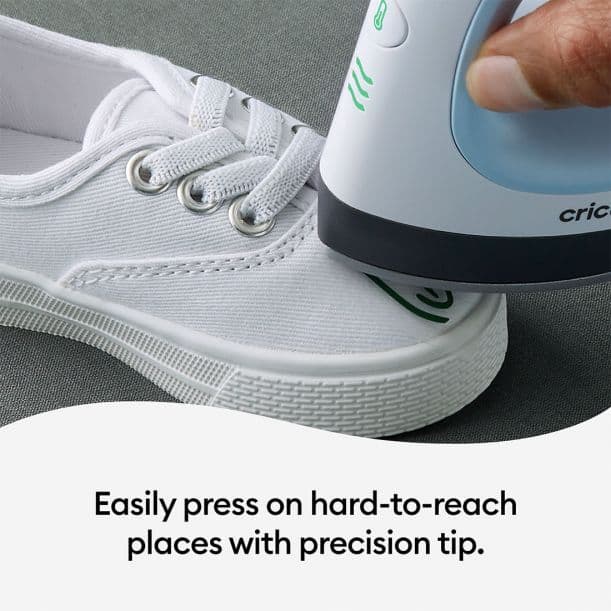 Grab your EasyPress Mini here.
I also love the EasyPress Mini. Once you have your stash set up and want to spoil yourself, grab one as well, as they are great and easy to use when doing smaller projects!
Now, if you know that you are looking for a more traditional heat press that can handle a lot of pressing and large items with a professional end product, then the Cricut AutoPress may be what you are looking for!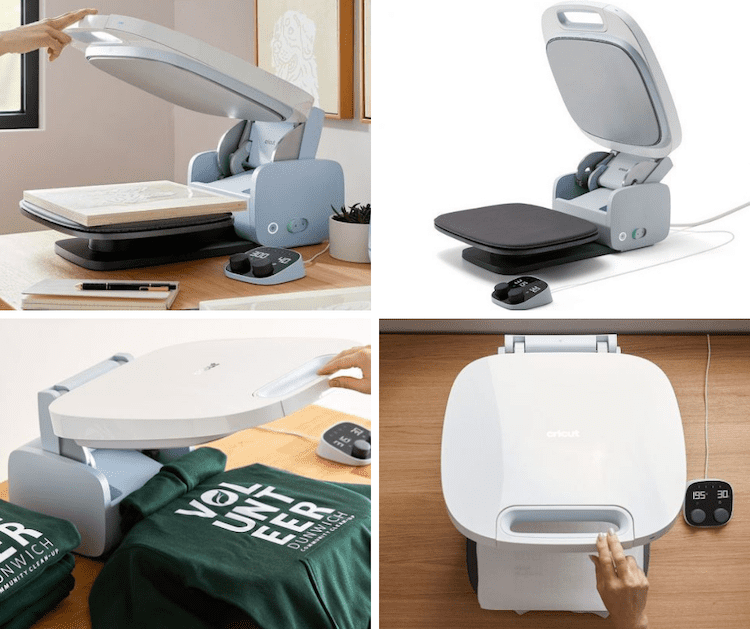 This is the latest press released by Cricut and lives up to its name of being an AutoPress, as it is so easy to use and does a lot of the hard work for you!
Here is a quick summary of the main features of the Cricut Autopress:
Manually set both the time and temperature using the control pod.
Automatically adjusts pressure for materials up to 2 in (5 cm) thick.
Heats up to 400 °F (205 °C).
Large heat plate 15 in x 12 in (38 cm x 30 cm).
The heat press is an Auto off safety feature to switch off when inactive for 13 minutes.
It delivers professional results.
The only downside to this great heat press is the price!
If you want to learn more about the Cricut Autopress that is making waves, then read our full and honest review here!
Grab your Cricut AutoPress here!
Not sure which size to get? Here is a helpful post about which Cricut EasyPress size to buy.
8. Cricut Mug Press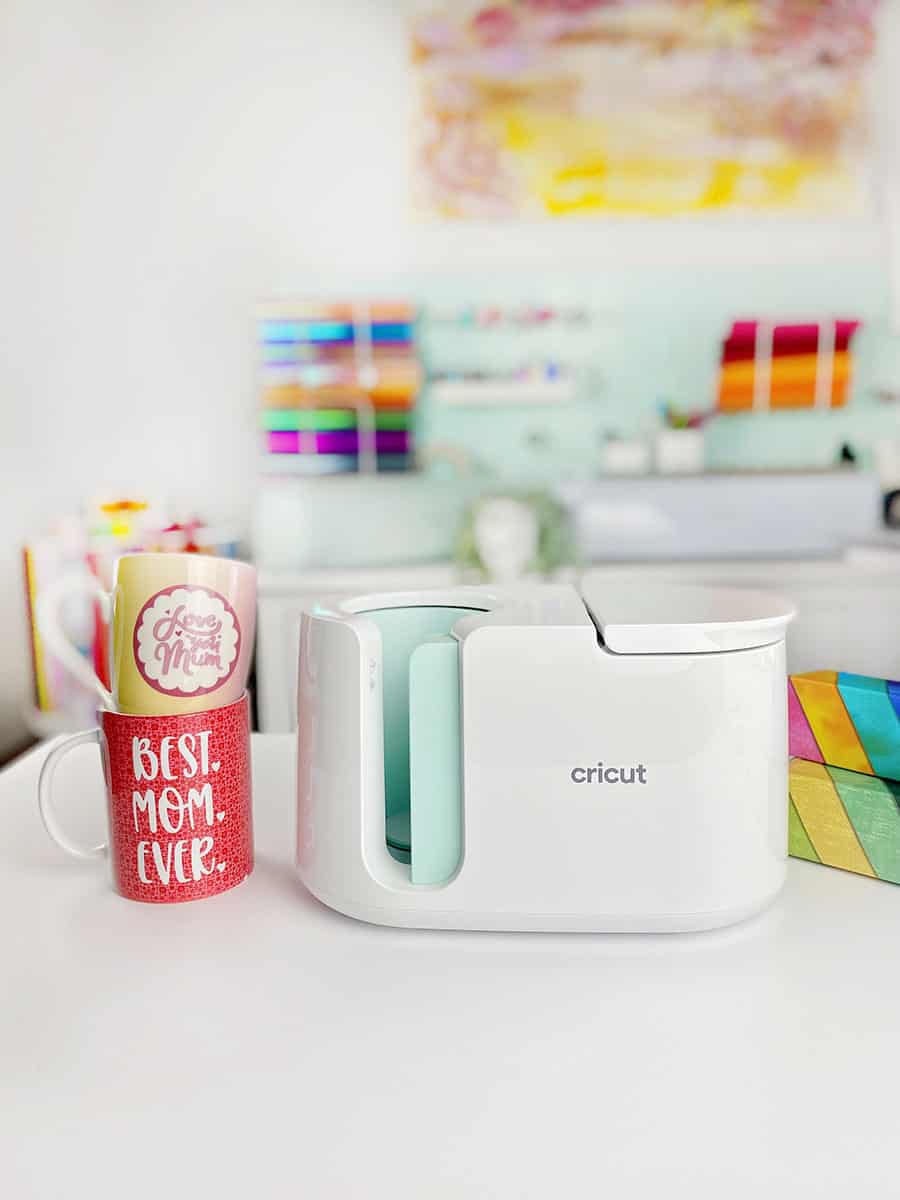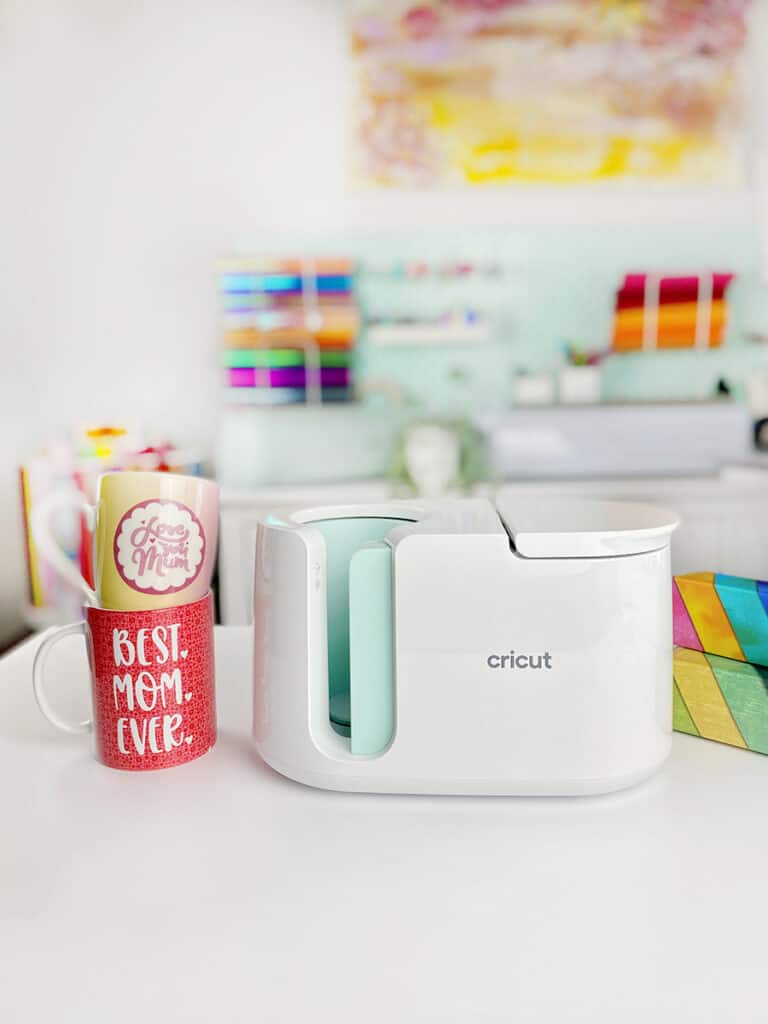 The Cricut Mug Press is Cricut's latest machine added to their range of presses.
If you think that you will be creating sublimation mugs, then this is a machine that you should consider.
You can use the press with mugs or tumblers suitable for sublimation printing.
If you do not have a sublimation printer, then you can use Cricut Infusible Ink sheets (you can read more about Infusible Ink Sheets further down).
I own the mug press and so does my design team and my virtual assistant. We all love creating mugs with the press. It is so easy and they make fantastic gifts.
If the Cricut Mug Press is for you, you can get yours here.
9. Cricut Hat Press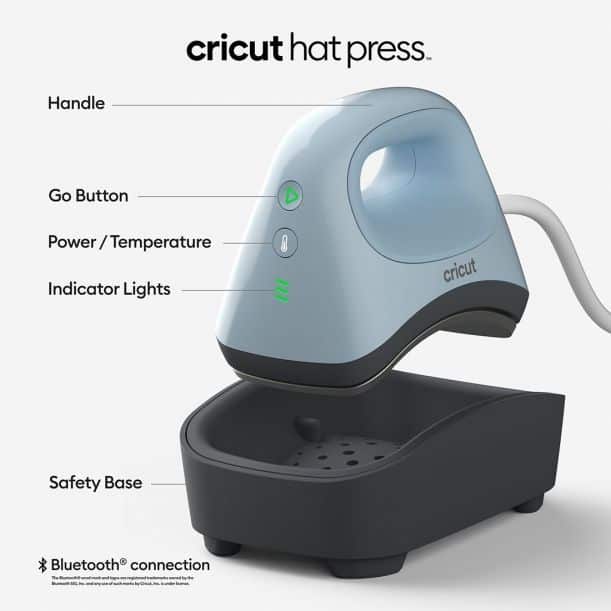 Making customized hats using Iron-On or Infusible Ink has never been easier with the Cricut Hat Press.
This is the heat press machine missing from Cricut's range of presses and is a must-have accessory!
The Hat Press has Bluetooth connectivity like EasyPress 3, which makes applying Iron-On to hats much easier.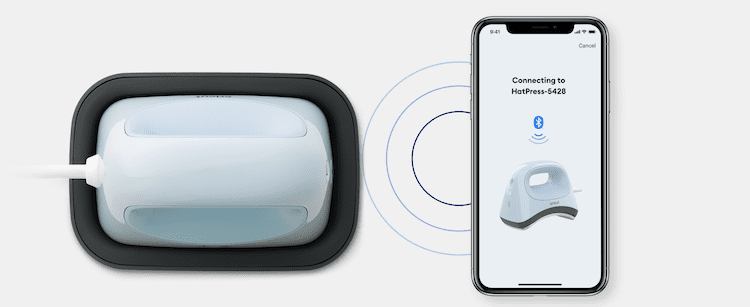 It has a curved ceramic-coated heat plate with edge-to-edge heating to ensure that your design receives equal heat when pressing, resulting in professional designs.
It can be used on different hat types like caps, bucket hats, and visors as it comes with a Hat Pressing Mold to ensure you get the desired pressure when pressing.
If making hats is your thing, you can grab your Cricut Hat Press here!
10. Cricut Glue Gun
One essential item that nearly every crafter needs is a glue gun.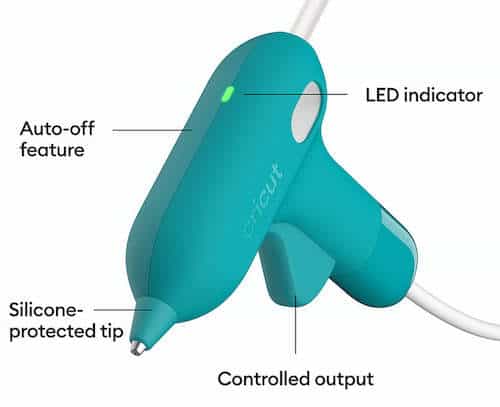 Cricut recently released their Glue Gun, which will be a game changer if you love using a glue gun!
The tip is small in diameter, so you end up with fine lines or tiny glue dots when needed.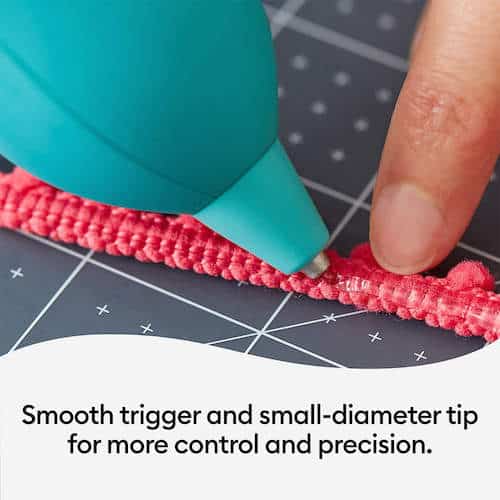 The tip also reduces glue drips which is fantastic as you will have less mess and wastage when using the glue gun.
The Cricut Glue Gun also has an auto-off safety feature, so if you forget to turn it off when not using it will automatically switch off!
The Cricut Glue Gun works with Cricut's Mini Blue Sticks.
Grab your Cricut Glue Gun and Glue Sticks here.
11. Cricut Bright 360 Lamp
If you love crafting at night, having a great light when weeding or working on your project is a must.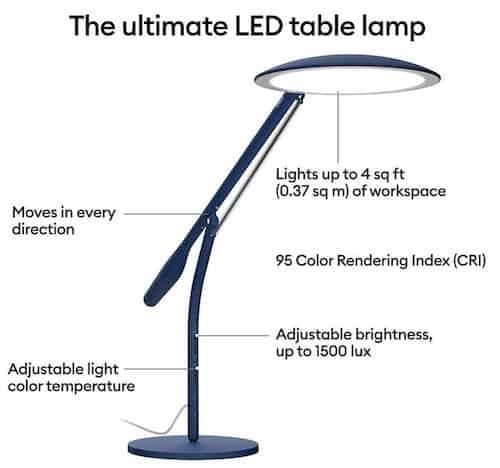 Cricut's Bright 360 Lamp is perfect for creating more excellent light when crafting at night and fantastic for adding light when photographing your crafts!
You can buy the Cricut Bright 360 Lamp as a table or floor lamp. They also come in a choice of color, white or indigo.
You can buy the Cricut Bright 360 Lamp here.
Now that we have looked at all the must-have Cricut Maker 3 accessories, here is a list of the best supplies for your machine.
Best Cricut Maker 3 Supplies List
Now, you might have just purchased all the Cricut Maker 3 cutting tools and accessories that you will need, but what about the basic supplies that you will need to purchase?
Here is our Cricut Maker 3 materials list:
1. Cricut Smart Materials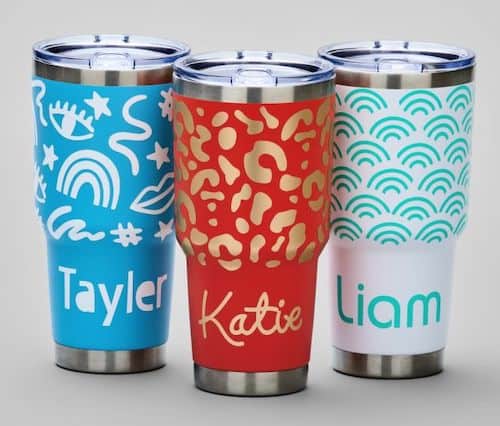 Cricut's Smart Materials range is what you can use when you want to use your cutting machine without a cutting mat.
All you have to do when using these materials is load the material directly into your Cricut Explore 3 and press go!
Smart Materials come in a variety of material types. The most popular materials include Cricut Smart Vinyl, Cricut Smart Iron-On, Cricut Smart Writable Vinyl, and Cricut Smart Cardstock.
2. Adhesive Vinyl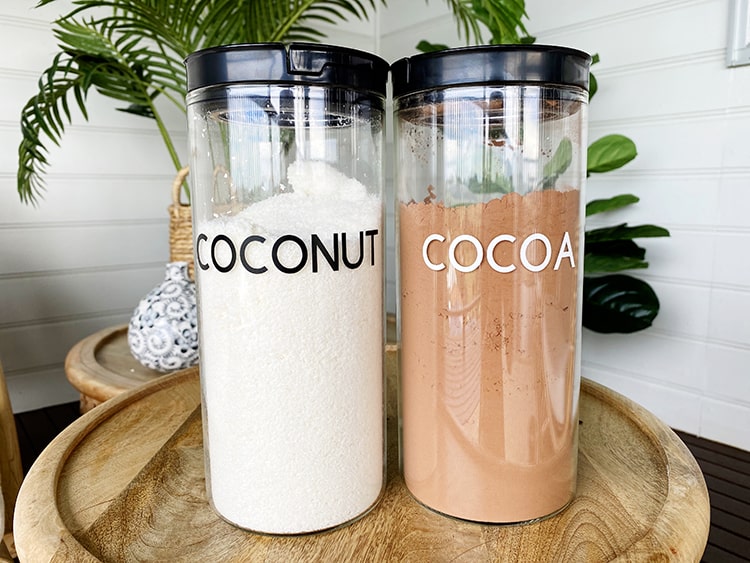 Adhesive Vinyl is a fabulous product to have on hand. You will use this vinyl for things such as sign-making, decorating glassware, home decor projects, and so much more.
Adhesive vinyl comes in a large variety of colors, as well as specialty types.
While you can buy the vinyl from Cricut, I prefer the bundle packs from Amazon. It works out much cheaper, and I find it just as easy to cut, weed, transfer, and apply.
If you want to create some cool wall decals that light up at night, then make sure to look at Cricut's Glow-In-the-Dark removable vinyl.
Here is my favorite bundle of Adhesive Vinyl on Amazon that is perfect for beginners.
Another really cool product that you might enjoy working with is color-changing viny. You can either have the vinyl change for cold temperature or hot temperature. I think it is the coolest thing ever!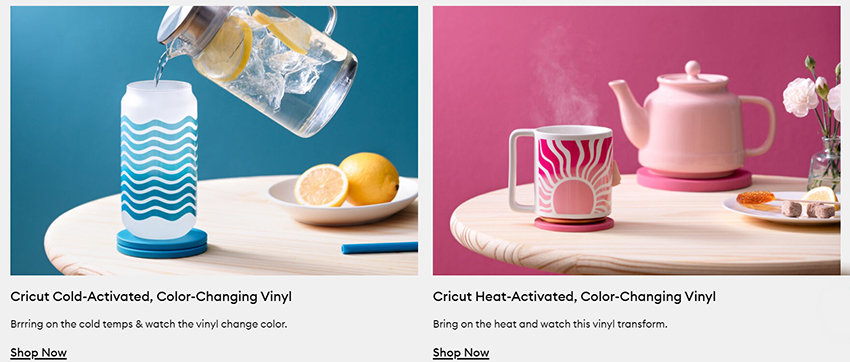 You can purchase the Cold-Activated Color-Changing Vinyl here, or grab the Heat-Activated Color-Changing Vinyl here.
3. Transfer Tape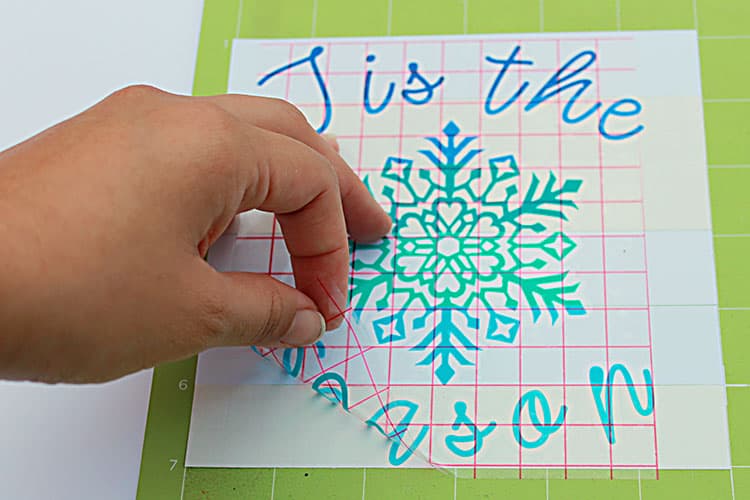 Adhesive vinyl is like a sticker, but it is much more flimsy than a sticker, so it is tricky to move from one surface to another with your hands. So to move it, you will need special transfer tape for vinyl decals.
Again while I do have Cricut transfer tape, I love this bulk roll transfer tape from Amazon (and it is so much cheaper, too!).
4. Heat Transfer Vinyl or Cricut Iron-On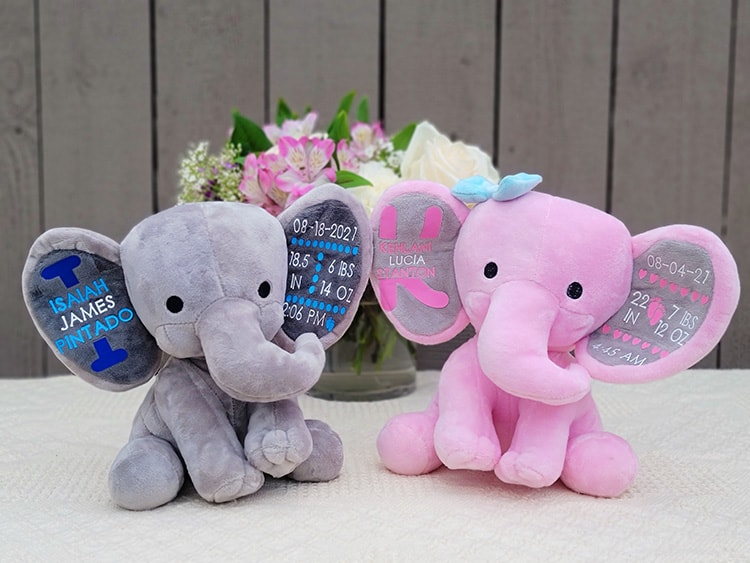 Iron-On Vinyl (or HTV) is my favorite product; you can apply this to fabric such as t-shirts, tote bags, aprons, etc. You can also apply it to wood and metal as well.
Again, you can find it in various colors and specialty types. I love the glitter range, but you can get foil, patterned, holographic, and more.
You can also purchase Cricut Iron-On in the Smart Materials range of products. Cricut also has a great Glow-In-the-Dark Iron On vinyl – perfect for creating great effects when the lights are off!
This bulk pack from Amazon is a great buy for beginners. The vinyl is easy to cut, weed and apply. You will love it.
5. Felt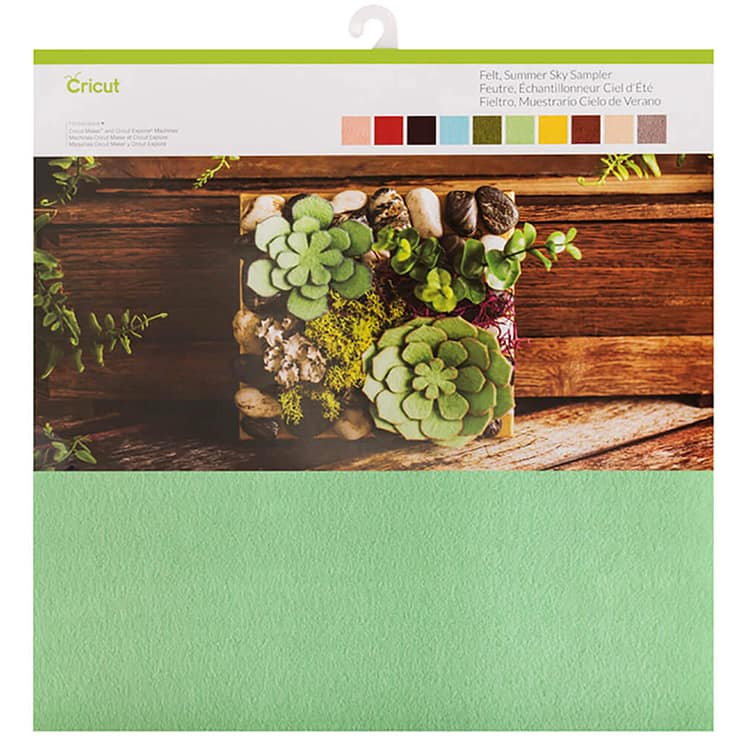 Felt is ideal for kids' crafts, stuffed animal toys, textured baby decor, and more. You can easily cut felt with the rotary blade.
Find a list of Cricut Maker felt projects here.
6. Chipboard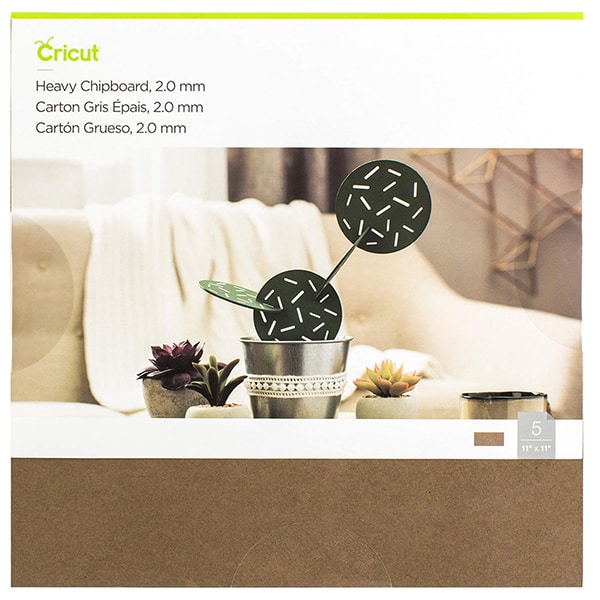 If you want to try out the Cricut Knife Blade, you might want to grab some Chipboard.
You can use chipboard to create some puzzles, and photo frames or to design some 3D models.
Grab some Cricut Chipboard here.
7. Cricut Infusible Ink Sheets & Markers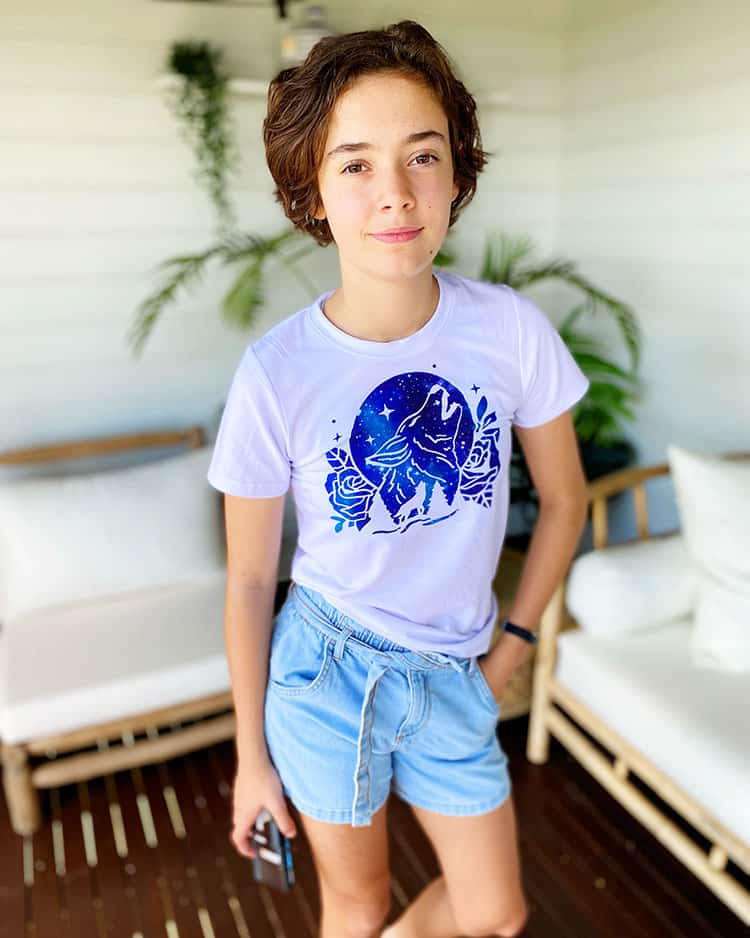 Cricut's Infusible Ink sheets are great to work with. You can use them on Cricut blanks for Infusible Ink, like baby onesies, t-shirts, mugs, coasters, and so much more.
The great thing about Infusible Ink sheets is that you can use them on any other sublimation blank because they are essentially pre-printed sublimation sheets.
Cricut also has a great range of Infusible Ink markers and if you love a great deal, you can always grab an Infusible Ink bundle to get the best value for money!
8. Paper and Cardstocks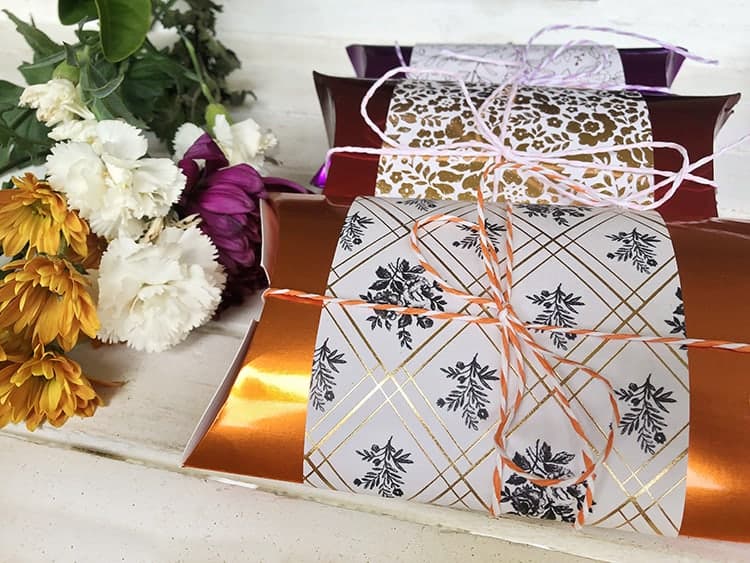 Lastly is the essentials. I always recommend that beginners start with a paper or cardstock project.
It is cheap material, so if you make mistakes, it won't be such a big deal and is easy to work with. So make sure to have some in your stash.
Cricut also makes a set of Watercolor cards that you use with the Watercolor Marker & Brush Set.
Grab some Cricut Paper, cardstock and speciality papers here.
9. Cricut Blanks
Whether you love using Cricut Iron-On or Cricut Infusible Ink, there is a Cricut Blank suitable for you to use with your material of choice.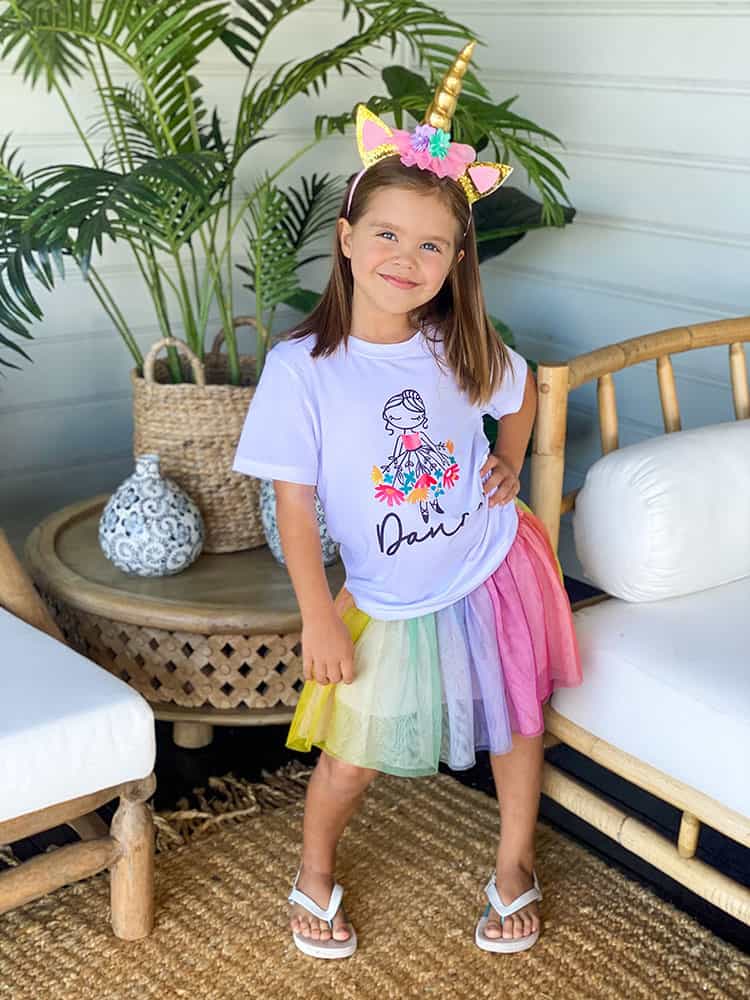 Cricut's range of customizable blanks includes t-shirts, caps, tote bags, wine bags, cosmetic bags, and so much more!
If you want to use Cricut Infusible Ink with your customizable Cricut Blank, do make sure to double-check that it is Infusible Ink compatible.
If you want to learn more about Cricut Infusible Ink Blanks that you can use, read here to find out more!
To purchase and see the complete list of Cricut's Customizable blanks, click here.
Cricut Maker 3 Accessories Bundle
Buying a Cricut Maker 3 bundle, especially when you are first starting out with your Cricut Crafting journey, is a great way to get value for money.
Bundles are a great way to get a large variety of tools and accessories that you are very likely to use when crafting for a great price and a lot cheaper than buying the items individually.
Here is a great Cricut Maker 3 Accessories bundle that is great value for money.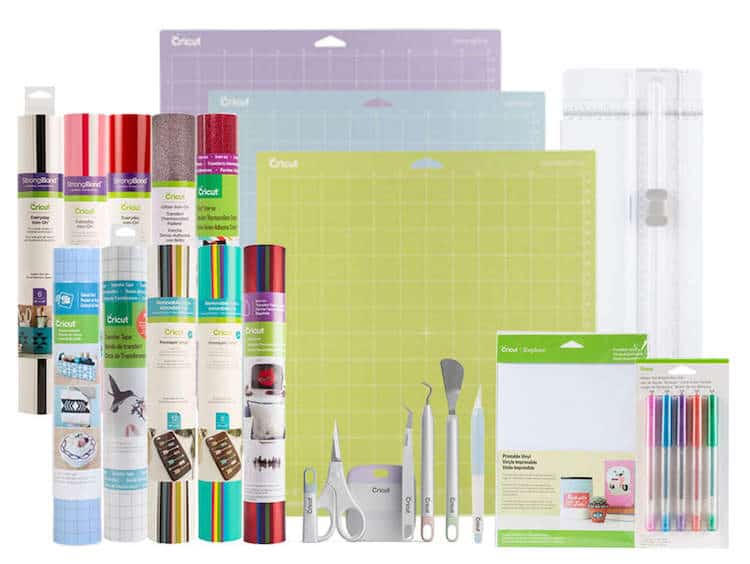 Here is everything you get with this great Cricut Maker 3 Accessories Bundle:
Dark Gray Basic Trimmer
Cricut Vinyl Transfer Tape 12×48
Core Colors Basic Tool Set
Cricut Cutting Mat 12×12 Variety 3pk
Truecontrol Knife Blue
Cricut Printable Vinyl 8.5×11 10 Sheets
Glitter Gel Pen Set, Brights
Cricut Stencil Material 12×48
Premium Vinyl Essentials Sampler
Premium Vinyl Tropical Sampler
Cricut Iron On Glitter Red
Cricut Iron On Glitter Multi Pink
Everyday IronOn 12×24 Red
Foil Iron On Sampler Bejeweled 12×12(4)
Everyday IronOn Sampler Tea Party 12×12(3)
Everyday IronOn Sampler Basics 12×12(6)
Buy this Cricut Maker 3 Accessories Bundle here!
---
Conclusion
You could purchase many more things to compliment your Cricut Maker 3, but these are the ones I pick up most often and have found valuable for my crafting process.
>>> Looking for more Cricut Accessories? Take a look at our guide to see where to buy Cricut accessories.
Where to next? Now that you have grabbed your tools, materials, and supplies, it is time to set up that machine.
Hop over to our complete guide on how to use the Cricut Maker 3, or if your machine is already set up, here is our post full of Cricut Maker 3 projects for beginners.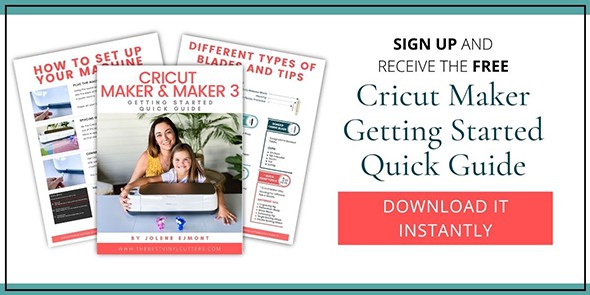 If you have any tools that you love, please leave us a comment below.