Wondering which vinyl transfer tape is best?
If you want to perform a flawless transfer from craft vinyl to a substrate, you should use adhesive transfer tape. With this tape, you can pick up even the tiniest details of your design and place them exactly where they need to be.
The key to good transfer tape is not just in the adhesiveness. It's also important to know how good the tape is for certain vinyl types, how static it is, whether it comes with a grid, the price, size, and many other parameters.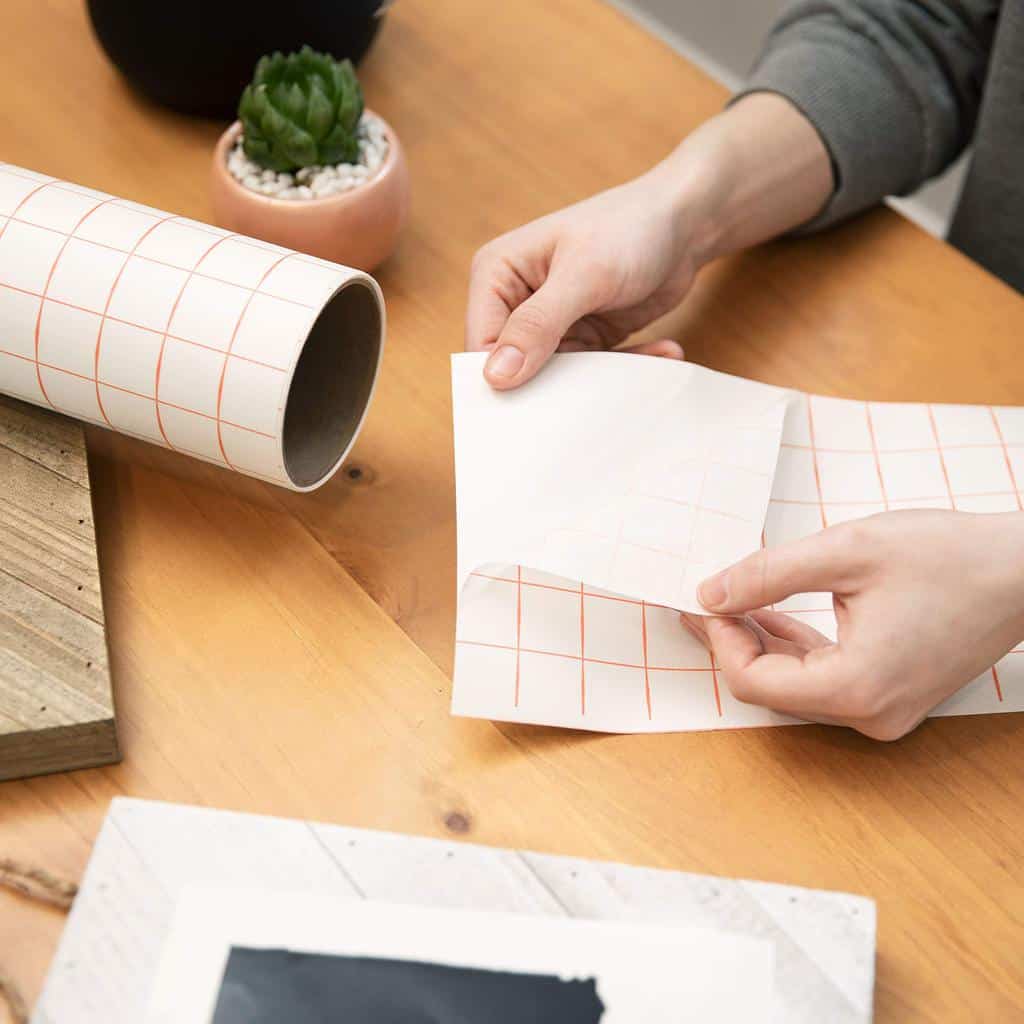 This article will guide you through some of the best transfer tapes of 2020, taking a closer look at their unique characteristics.
---
---
Best Vinyl Transfer Tape Navigation
---
What is Transfer Tape & What is it Used For?
Transfer tape has an extremely important place in the crafting world. It does exactly what its name says – transfers your vinyl design from the backing paper onto a new surface.
Adhesive vinyl might seem like a regular sticker that you can just simply stick to a substrate. But, vinyl is really thin and it can be challenging to move it by a hand. It can lose its shape, the edges can stick to each other, and you won't be able to place it in a perfect position to your surface.
Also, many projects that use adhesive vinyl are delicate designs with a lot of tiny details. These thin layers are impossible to transfer without good transfer tape.
So, if you are serious about your work, you should get transfer tape, together with some adhesive vinyl tools which will help you to apply the tape smoothly.
When to Use Adhesive Transfer Tape?
If you're crafting a project with adhesive vinyl, you should always use a transfer tape.
First, you should prepare your vinyl design. Most crafters use a vinyl cutting machine to cut out the letters or shapes that they want, but you can use other accessories, or cut out shapes by yourself.
Once you remove unnecessary parts around your design by weeding your transfer, you can rub your vinyl transfer tape over the left-over design.
Set the tape over the vinyl and flatten it out. The design will fix to the transfer tape and you can easily transfer it to another substrate.
This way, your design will stay solid and you will be able to transfer it in the same shape and form.
Can I Use Transfer Tape for Heat Transfer Vinyl?
Using transfer tape for vinyl is usually not necessary for heat transfer. You generally only use it with adhesive vinyl.
Most heat transfer vinyl (HTV) doesn't require a carrying accessory since it won't stick. You can place it on any substrate freely before you apply the heat to melt the adhesive into the fibers of the fabric. In order to do this, you need an iron or a heat press machine.
You do however need to use heat transfer tape when you are working with printer heat transfer vinyl. However this type of vinyl differs from the type we are discussing in this article today.
When Should You Use Adhesive Vinyl?
Whenever you want to decorate a solid substrate, you can use adhesive vinyl. You can use it to place a logo on the door to your business, decorate the walls in your room, bring life to your windows, and so on.
You can learn more about the types of vinyl, as well as which the best adhesive vinyl is in our guide.
There are different types of adhesive vinyl.
Permanent vinyl is a strong, durable material that can last many seasons. Rain, snow, heat, and other unfavorable weather conditions shouldn't affect it. This type of vinyl has a super strong adhesive for obvious reasons and therefore you need to use a super tacky transfer tape in order to release the vinyl from the carrier.
Temporary adhesive vinyl on the other hand has been designed to only last for a short-term period, usually under a year. Therefore this type of vinyl has a light adhesive.
Here is our guide that fully explains the difference between Removable vs. Permanent Vinyl.

Can I Use Adhesive Vinyl on T-Shirts?
No, you should only use heat transfer vinyl to decorate clothes. Adhesive vinyl will not stick as well to cloth and it will fall off after a couple of times in the wash. If you want to transfer vinyl to your clothes, you should get a t shirt heat press.
Where to Buy Transfer Tape for Vinyl?
You can typically find transfer tape anywhere that you can find vinyl, some of my favorite places to source vinyl is:
Amazon - They have some cheap but great transfer tape for normal adhesive vinyl. Some of the favorites from here include Craftopia & Angel Crafts.
Swing Designs - They sell the good stuff! The brand-quality transfer tape that can be hard to find elsewhere, great for Oracal type vinyl and speciality vinyl such as glitter vinyl. Click here to shop.
Cricut.com - The best and cheapest place to get Cricut transfer tape. They offer normal transfer tape rolls, bulk transfer tape and StrongGrip transfer tape. Click here to shop
Which Type is Best for Which Material?
As mentioned, it is important to match your material to the right transfer tape. Different brands have different strength to their stickiness.
If you get a tape that has a stronggrip, it might destroy lightweight material. Get a tape with a light grip and you will be frustrated that it isn't picking up more textured material.
Here is a great guide to mix and match your tape with your type of material.
Best overall transfer tape for a variety of crafts: If you aren't sure exactly what you will be working with, we recommend Craftopia - it is cheap and works with most materials.
Best transfer tape for car decals: It depends whether you are using a permanent or removable vinyl. We prefer using Oracal 651 permanent vinyl for our car decals which works fabulously with R-TAPE.
Best transfer tape for glitter vinyl: We love using Siser Easy PSV transfer tape for textured vinyl such as glitter or
Best transfer tape for Oracal 651: We love transferring our Oracal 651 decal designs with R-TAPE. R-Tape is a high tack rubber adhesive transfer tape.
Best transfer tape for Cricut vinyl:

We recommend

Craftopia for your Cricut vinyl, it is cheaper than the Cricut transfer tape and works beautifully.
Transfer Tape Buyers Guide
There are different types of transfer tapes that work well with different types of adhesive vinyl. Here are some parameters that you should always look for in a transfer tape.
Size
If you are going to transfer just a few decals, you might as well get a 12" x 12" piece of tape. However, most of the tapes come in big rolls of over 10 feet.
You will be suprised how quickly you can use up a big roll of transfer tape!
Type of Vinyl
Not all tapes work with all vinyl. Most of the versatile tapes (from Amazon) are good for vinyl of normal thickness. But you need to match your strength of adhesive on the transfer tape to the type of vinyl you using.
For example, you should use StrongGrip transfer tape if you're looking to transfer Glitter Vinyl, whilst normal paper transfer tape will work well with your thinner vinyl. We will outline what each brand of transfer tape listed below could be used for.
Also, consider using branded tapes for different vinyl brands. For example, it's best to use Oracal tape for Oracal vinyl, or Silhouette tape for Silhouette vinyl, etc. as the brands typically do plenty of test-runs to ensure that their tape work brilliantly with their own products.
Grid or No Grid?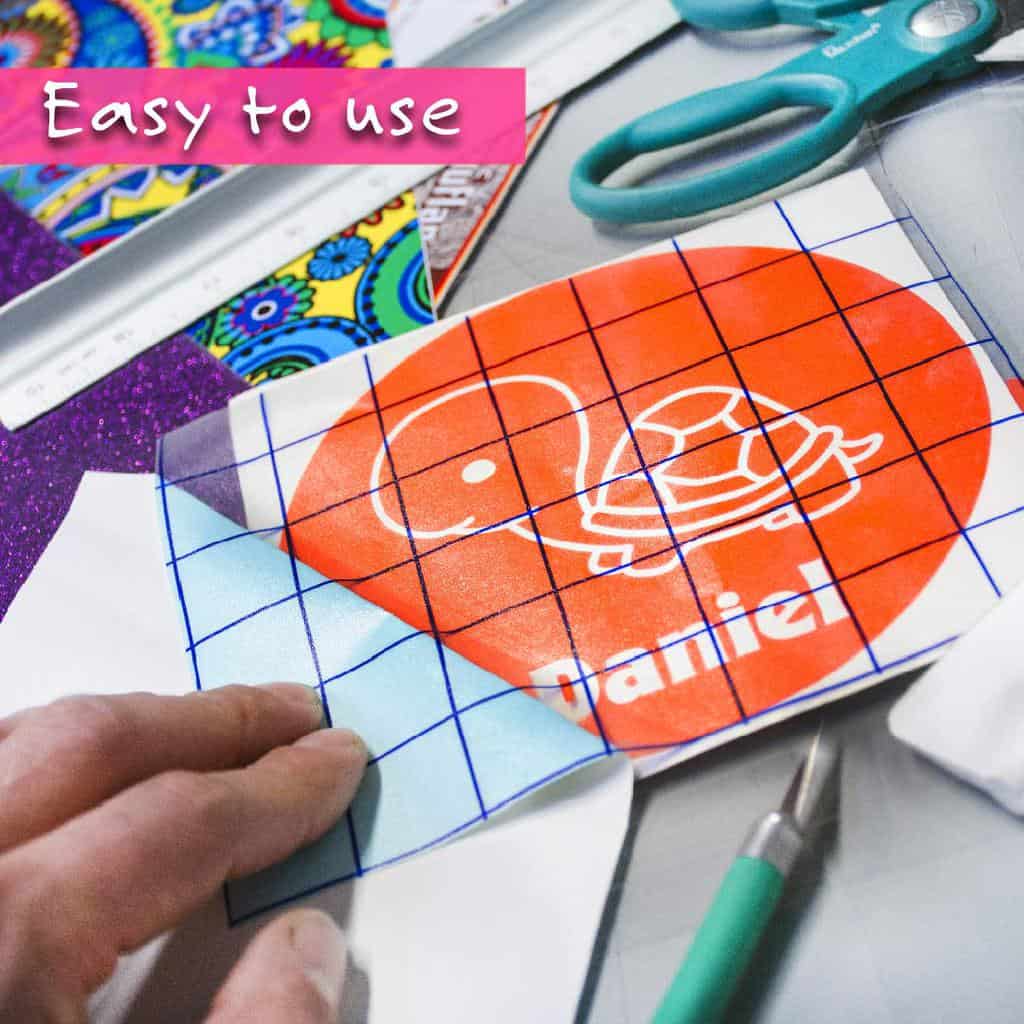 Many transfer tapes come with a 1" x 1" grid that helps you position your design perfectly to the surface. However, some prefer gridless tapes, since grids can distract you and cover some important details on the decal.
Paper or Clear Transfer Tape?
In this article, you will see both paper and clear transfer tapes. The differences between them are minor. With clear transfer tape for vinyl, there's a possibility of air and wet bubbles to appear since it isn't breathable. So, if you're transferring a wet vinyl, it's better to use paper.
On the other hand, paper tape is opaque, so you can't see your design perfectly while you're applying it. We much prefer clear transfer tape.
Price
The price of transfer tapes can vary depending on the brand and type, but the average price is around $1.5 for one foot of length.
Still feeling stuck on how to use transfer tape? Here is a great guide for you.
Best Transfer Tape for Vinyl Decals
So what is the best vinyl transfer tape? Here are some adhesive transfer tape reviews to help you decide.
I will outline the top features, the pros and cons of each in detailed reviews, which should help you choose the best tape for your type of vinyl.
---
---
3.
Craftopia Vinyl Transfer Paper Review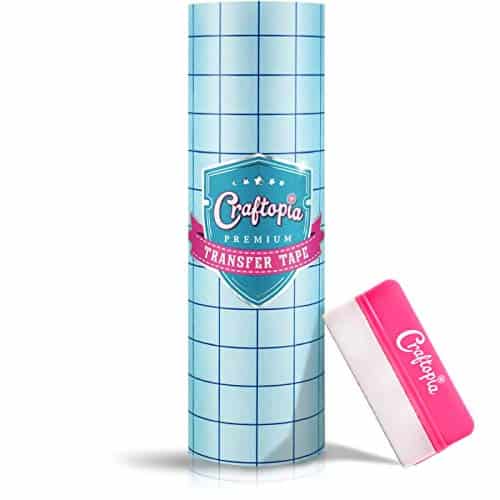 What separates Craftopia transfer tape for vinyl from others on the list is its complete transparency. With this design, you'll have full awareness of how your decal fits the surface. This means you won't have to worry about whether you missed any little details.
There is also a 1" x 1" blue square grid which further helps you to place your design. This grid combines with low opacity well, helping crafters focus on the position of their decal.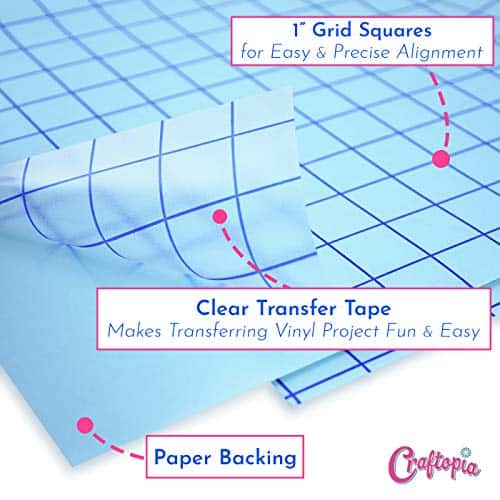 Looking for the best transfer tape for glitter vinyl? The Craftopia transfer paper works well with glitter vinyl, Cricut, Oracle, Silhouette, and various other types.
With the Craftopia transfer paper, you will also get a cyan or pink felt tip squeegee. This accessory is important to polish the tape with the vinyl beneath. This can get rid of any bumps or bubbles, making your vinyl flat.
The roll is 12 ft. long, which is more than most other rolls in the same price range.
Unfortunately, this transfer paper may take a little more effort to pick up certain vinyl types. Make sure to rub it well and use a good amount of pressure when you stick the decal on the surface. If it doesn't apply well, the paper will pick up the vinyl too once you try to remove it.
Craftopia is one of the top sellers of crafting gear and accessories, and they have an impressive money-back guarantee. So despite some downsides, it's still one of the best transfer paper options on the market.
Pro
Completely transparent
Blue, precision grid
Works well with Cricut, Oracle, Silhouette
Affordable product from a well-respected manufacturer
Cons
Takes some effort to release certain types of vinyl
---
---
5. Oracal Transfer Tape MT80P Review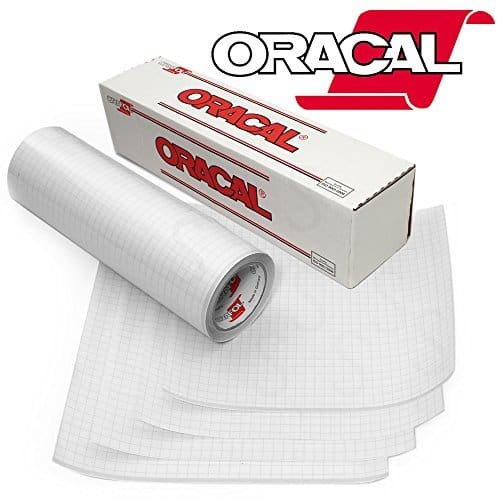 This tape works best with Oracal vinyl. It is the best transfer tape for Oracal 651 and Oracal 751, as well as with Oramask.
If you don't use Oracal vinyl at all, you can use this product, as long as you have a good scraper. You will need to burnish the vinyl well once you apply it to the substrate if you don't want the paper to pull it back up.
The great thing about Swing Design is that you can order the exact amount of transfer paper that you need. So, if you're working with a smaller design, you don't have to order a 10-foot roll. Instead, you can save up money and order a few 12" x 12" sheets.
On the other hand, the 10-ft. roll is extremely affordable too, compared to some other offers. So even if you're unsure how much tape do you need, you won't regret buying it.
Overall, this Oracal transfer paper is a great choice for the price. The fact that you can order a 300-ft. roll for an amazing discount makes this transfer paper one of the best options if you plan on buying a larger stock.
Pros
Great with normal and glossy Oracal vinyl
Extremely affordable
Various sizes
Cons
Doesn't work as well with non-Oracal vinyl
---
6. Silhouette Transfer Tape Review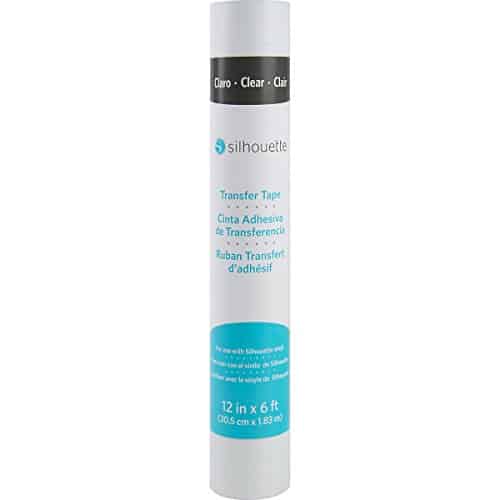 This is a transfer paper for Silhouette Vinyl that comes only in a 6-ft. roll. If you're working mostly with Silhouette Vinyl, it's a good idea to get this specialized tape even if you don't need that much at first.
With this transfer paper for vinyl, you get a standard 1" x 1" red grid to help you place your decal better. But the tape itself is not clear, though you can still see the design underneath. If you're crafting smaller details, you might look for a clearer tape.
When you use this tape with Silhouette Vinyl, you'll have no trouble removing the tape once you place the decal on the substrate. However, if you try to use it with some thing other than standard vinyl, removing only the tape becomes more difficult. That's why you should always have something you can use to burnish the vinyl under the tape once you place it on the surface.
In short, it is a great transfer tape but you should primarily use it for Silhouette Vinyl. If you try to use it with something else, you may get frustrated quickly.
Pros
Perfect for Silhouette Vinyl
Affordable
Sticky and precise
Cons
---
7. Siser EasyPSV Application Tape Review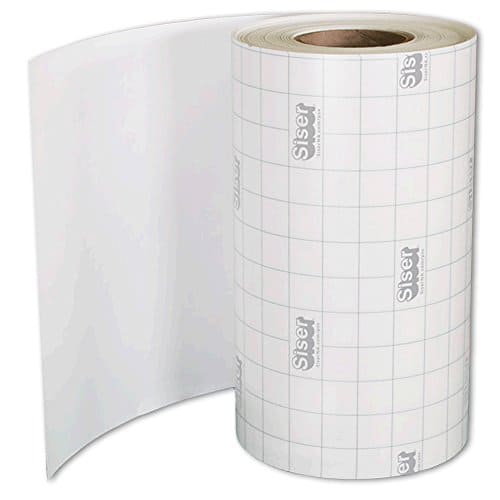 The Siser EasyPSV comes in four different sizes, so you won't have to overpay for tape that you will never use. At the same time, you can save money thanks to the discounts when you buy in bulk.
This roll is medium tack, which it the best transfer paper for vinyl of various types. Glitter and high-gloss vinyl will require a bit more pressure to stick. But with the medium tackiness, you can skip the frustrating part where the decal doesn't want to peel off the tape.
So, whether you use a normal vinyl or a special type, you should consider this tape. It comes at a far lower price than some other branded vinyl tapes but it does the job well.
If you want to buy the biggest roll, the size goes up to 150 feet. Since you can save almost double by buying the biggest roll, this is one of the best choices for serious crafters who require a great deal of tape. The size of the smallest option is 12" x 12".
When it comes to opacity, this tape is completely transparent and has as very discrete 1" x 1" grid.
Thanks to this semi-transparent grid, you can see exactly what is going on underneath the tape, and you won't miss out on any smaller details when placing your decal.
Pros
Extremely affordable
Versatile tape that works well with all vinyl types
Various sizes to choose from
Semi-transparent grid for better vision
Cons
Slightly pricey in comparison to other brands
---
8. Oracal HT55 Transfer Tape Review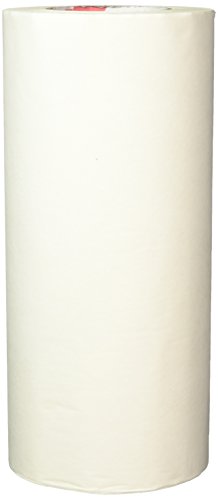 This transfer tape works best with various Oracal vinyl types and decorative window films. You can use it effectively with dusted glass, frost glass, etched glass, as well as precise and glitter vinyl. It is our go-to tape for speciality type vinyl.
This is a huge Oracal roll with a 300-ft. length. The first thing that will catch your eye is the price, as it is up to three times cheaper when you compare it to some other offers. But you need to buy a large stock of transfer tape to get this discount.
You will notice that the tape is not fully transparent, and it also lacks a grid. So if you are a perfectionist when positioning your design, this tape may not be for you.
But if you frequently use a lot of transfer tape, don't discard it out of hand. This transfer tape is sticky enough to pick up the smallest of details and will remove the decal easier than some other tapes on the list.
Also, buying 300 ft. of high-quality transfer tape for the price three times lower than some other brands is a great deal if you're into crafting professionally.
Overall, this is an effective and affordable vinyl transfer tape roll that can save you a lot of money without compromising on the quality. It is an especially great choice if you're crafting commercially.
Pros
Extremely cheap when buying in bulk
Works great with all Oracal vinyl
Effective and easy to use
Cons
Lacks transparency and a grid
---
9. StyleTech High Tack Transfer Tape Review
The StyleTech tape is especially useful when you're working with thick vinyl. With this tape, transferring glitter vinyl and Oracal Oramask should be an easy job.
The stickiness is really high, so you should opt for different tape if you want to transfer normal vinyl. However, it can work well with Oracal 651 and 631.
It's important to note that you can reuse this transfer tape many times. Start with using it for thicker vinyl, and then as the adhesiveness wears away, you can move on to thinner vinyl.
The tape is fully transparent with a red grid on the back, which will help you adjust the angles and position your design.
Unfortunately, the roll comes only with a length of 30 ft. This can be a bit too much tape if you don't use transfer tape for glitter vinyl regularly.
However, considering that this tape can help you avoid a great deal of frustration, you should consider getting it even if you won't use it all.
It is best to get both a high tack transfer tape and a medium tack transfer tape for vinyl decals that have more small details. So, you should always have a transfer tape like this one around even if it's not your go-to choice.
Pros
Perfect for transferring thicker vinyl like glitter vinyl
High stickiness
Transparent with grid
Cons
Large size
Too sticky for everyday use
---
10. Frisco Craft Transfer Roll Review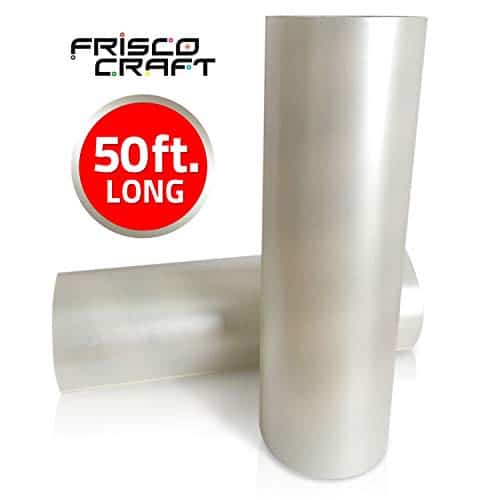 This transfer roll is for crafters who want to stick to the basics. While it's not the best vinyl transfer paper for detailed work, it has some very useful traits – it's versatile and extremely adhesive.
The Frisco Craft is a 50-foot long roll that comes at a low price. It is completely transparent, and that means that it also lacks a grid, which is why it's not right for some crafters.
On the other hand, the clear tape helps you get a full picture of what your decal will look like on your surface of choice.
Note that this tape does not come with release backing. It is easier to take the amount of roll you need, cut out the rest, and just stick it over your vinyl for transfer.
When it comes to versatility, you won't be disappointed. The tape should work well with Cameo, Silhouette, Cricut, Oracal and many other types of vinyl, and you can use it on any surface that you prefer, from wood to glass.
If you prefer a thin, clear, quality transfer, this one is for you. Unfortunately, it only comes with a 50-foot roll, which may be too much for some.
Pros
Affordable and universal
Completely transparent
High adhesiveness
Cons
Comes only in a roll of 50 ft.
Verdict: What is the Best Transfer Tape for Vinyl?
If you consider everything from price and size to versatility, the Siser EasyPSV tape is probably the best choice. It comes in various sizes for an affordable price, and it works well with all vinyl types.
If you're looking for tape for a specific vinyl, it is better to get one of the branded tapes from the list. Also, if you want to buy in bulk, Frisco Craft may be the best option. Wanting a cheap option and usually only working with standard vinyl? Craftopia Transfer Tape is a hot favorite.
All these tapes have their good and bad sides, so you have to find the most effective transfer tape for you. To do so, you need to consider how much transfer tape you need and what vinyl types you use the most often. You should also consider whether you like working with a grid or consider it irritating.
Once you venture into crafting, you'll purchase plenty of different tapes anyway, and you'll do your best work if you experiment. So don't think too long about the selection – instead, you can pick one right away.
Now that you have found the best application tape for vinyl, why not hop over to our DIY blog section. We have loads of tutorials, project examples as well as step-by-step posts to help you get started.