Vinyl is our absolute favorite product to use these days, it is incredibly versatile, truly affordable and comes in a wide range of types and colors. You get two main types of vinyl, one is a heat transfer vinyl and the other is adhesive vinyl. Today we will be discussing two types of adhesive vinyl.
The questions we have seen most people asked are:
"What is permanent vinyl?"
"What is removable vinyl?" and
"Is there any difference between the two?"
We want you to use the right type of vinyl to match your project purpose. So today, we are here to clarify and help you understand when you should be using removable vinyl and when you should use permanent vinyl.
Removable vs. Permanent Vinyl: What's the Difference?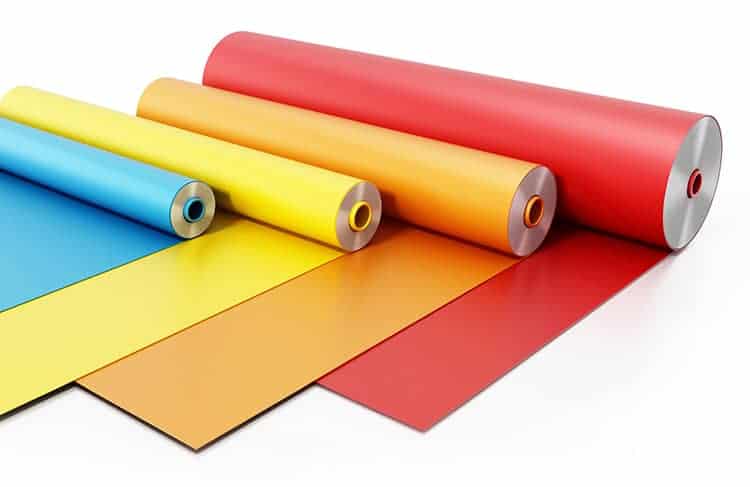 Below we are going to look closely at both removable self-adhesive vinyl, as well as at permanent vinyl. Once you understand what each of these types of vinyl is used for, you will understand how they are different.
What is Removable Vinyl?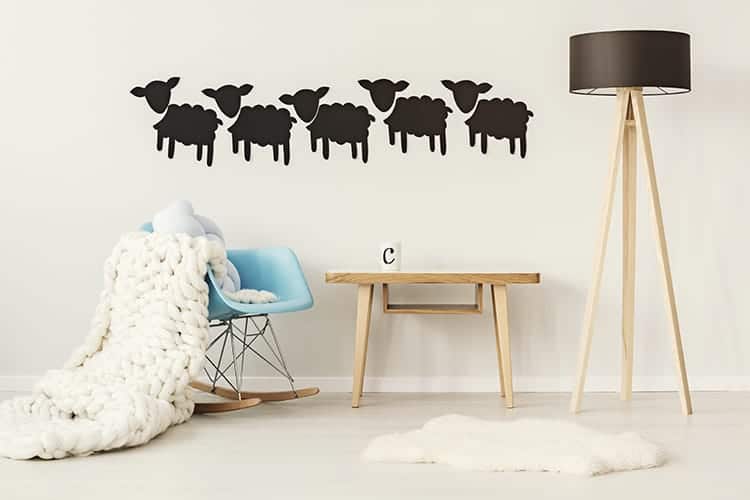 I think people most often assume that is they are creating something like a vinyl sticker, you would want it to last forever. So we often have readers who are really confused about why you even would need something like a removable vinyl.
But removable vinyl is a FABULOUS product and I am about to give you loads of inspiration on how to make use of this great product.
The beauty about removable vinyl is that it can be peeled off with ease and it won't leave any adhesive marks on the surface. It won't damage the paint on your walls and won't leave residue on your windows.
What Can You Do with Removable Vinyl?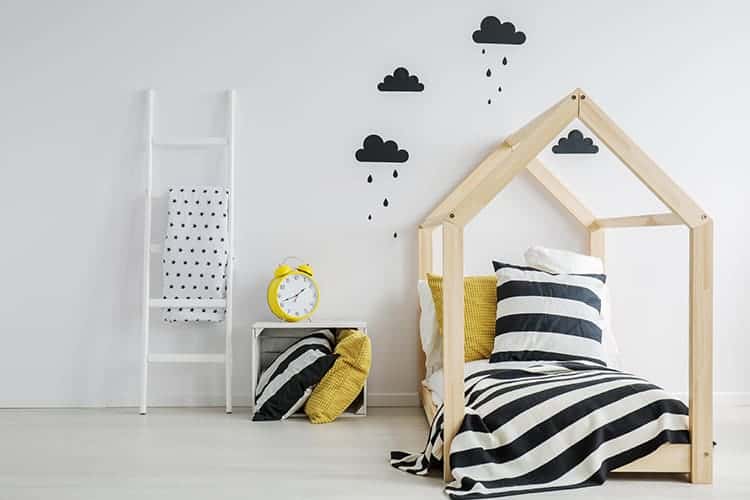 So that is nice and all, but why would you want to use removable vinyl? Here are a few examples of when you will find yourself reaching for the removable type of vinyl.
Removable Vinyl Stickers: Removable vinyl stickers are commonly used for bumper stickers, temporary decorations, food packaging, containers, calendar stickers, and bottles. For instance, when we need to reuse containers/bottles, a removable vinyl sticker is more preferable. And if we wish to switch these containers, we can use removable stickers as identification tags.
Removable Vinyl Decals for Cars: You can also use removable vinyl decals for cars, that is, if you have to remove it afterwards. The best example for this is a wedding car sticker for recently married couples.
Removable Wall Decals: Another example is when you want to decorate a room without having to paint your designs time and again: removable wall vinyl comes to the rescue! You can change them as many times as you want to.
Vinyl Stencils: Another fabulous way to use vinyl that is removable is by using it as a stencil. You can then use the stencil together with some paint or spray paint to create a unique product – such as a sign.
Nail Decals: Want to get super creative? We have a reader who cuts tiny adorable nail art with her cutter. She applies these to her nails and then simply pops some clear nail polish over the top to keep them in place.
Themed Parties or Special Events: Have a special party or event coming up? You can literally transform your entire house for the day when you can create removable wall decals, window stickers, removable jar labels and more. Removable vinyl is the best products for days such as Easter, Christmas, St Patrick's Day, Thanksgiving and so much more!
Besides this, there are other countless events and reasons for the use of removable vinyl stickers and decals.
Where Should You Use Removable Vinyl?
Removable vinyl is best used indoors. It is best when you apply it to most smooth surfaces such as walls, glass and ceramic. The adhesive on this vinyl is not strong enough to endure a variety of weather conditions that it will be exposed to outdoors.
How Long Does Removable Vinyl Last?
Most people only use removable vinyl for short durations of up to a month (for example at Christmas time), but your removable wall decals should be fine on the wall for around one year.
Which Vinyl is Removable?
So now that I have you excited about the possibilities of removable vinyl, which brands are the best and where can you get some from?
1. Cricut Removable Vinyl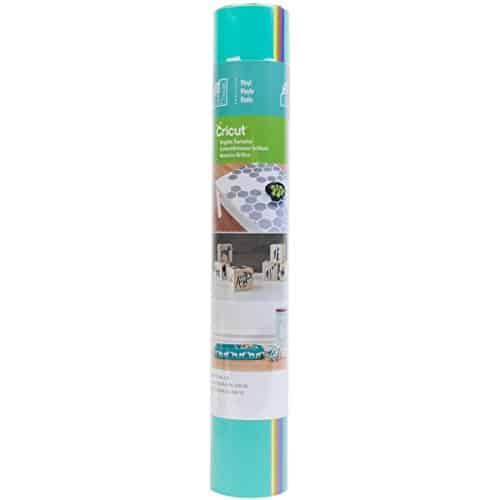 Is Cricut vinyl removable? If you are a Cricut fan, you will be happy to hear that Cricut does indeed have some beautiful removable vinyl on offer. All of their 'basic' vinyl is removable and they also have some removable vinyl in their 'premium' range.
Their removable vinyl can last 1+ years and they currently have 17 colors available.
2. Oracal Removable Vinyl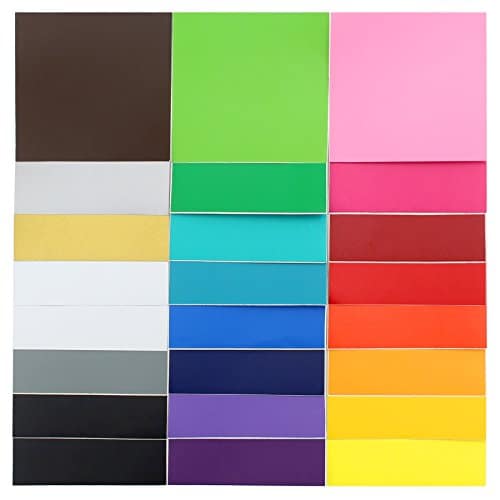 Oracal is one of the best brands if you want to use adhesive vinyl (they don't make HTV). Their vinyl is superior in quality to most brands. The Oracal 631 vinyl is their removable vinyl, whilst Oracal 651 is their standard permanent vinyl.
Due to the fabulous quality, you can get 3+ years use out of their removable vinyl, and they come in a massive 69 colors.
3. Craft E Removable Vinyl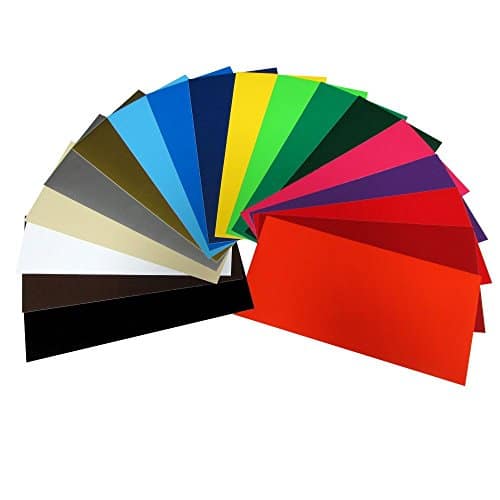 Never heard of this brand? Yeah, I'm not surprised. We all know that if we stay clear of brand name products we can still pick up great quality product for lower prices. This is one of those cases. Craft E vinyl has a very popular removable vinyl pack for sale.
The pack contains 2 x 20 different color 12 x 12″ sheets. So you get 40 sheets in total.
4. Other Brands and Types
Other than that, you can also find removable adhesive vinyl in speciality type vinyl such as:
What is Permanent Vinyl?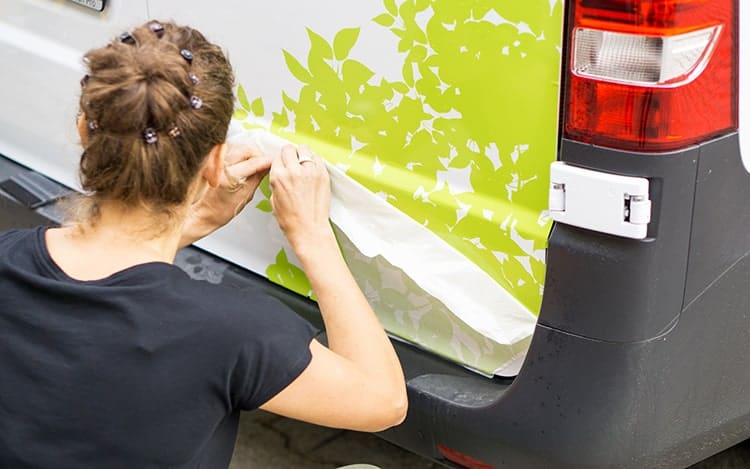 Permanent vinyl, on the other hand, contains much stronger adhesive on it. It is a long-lasting vinyl and whilst you can remove this vinyl it will often leave the adhesive residue behind (which can be hard to remove) and it also might rip paint off the walls/cars etc.
What Can You Do with Permanent Vinyl?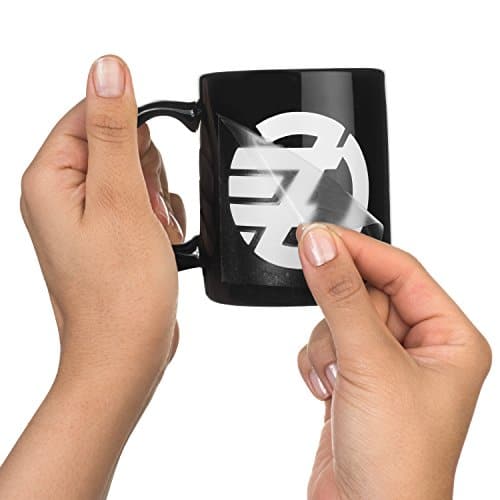 Drinkware: Want to personalize a glass, a cup, a tumbler or a mug? You need a strong vinyl adhesive that can survive water and detergents. Permanent vinyl is your best bet.
Car Decals: If you want to add logos, pictures or decorative features to your car, I would highly recommend that you use a permanent vinyl. This type of vinyl is ideal for surfaces that have to endure harsh outside elements. You can read more about vinyl for car decals here.
Signs: Most people make signs that will last, so we typically use permanent vinyl to ensure that it will stick properly. Most signs are also used outdoors, and permanent vinyl will be able to handle weather conditions better than removable can.
Welcome Mats: Want to make a personalized welcome mat? You need a strong adhesive vinyl to stay put whilst people rub their feet clean.
Themed Decor: This year I decided to decorate some Easter eggs with sweet words. I used permanent vinyl because I want these eggs to be usable each Easter.
So, Does Permanent Vinyl Come Off?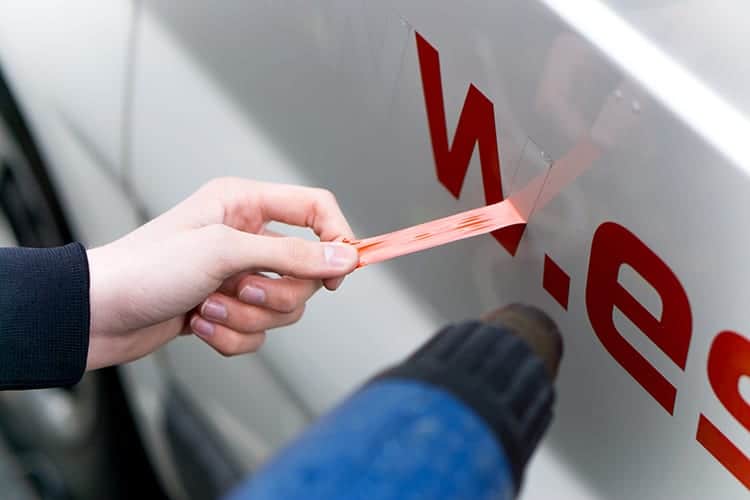 Let's face it. What lasts forever? Of course, nothing. So, yes, it comes off eventually, but after quite a long usage. The idea of permanent vinyl is to make it last longer than removable vinyl.
Note: This type of vinyl has a stronger adhesive and whilst it can be removed, you will most likely destroy the surface if they try to pull it off.
How Long Does Permanent Vinyl Last?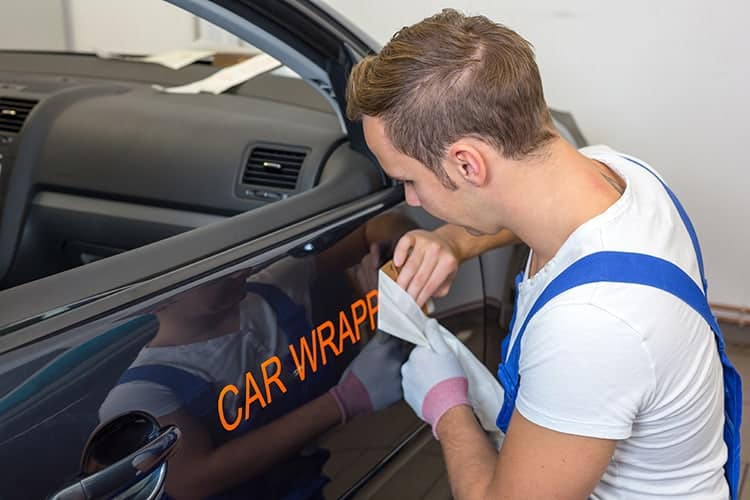 It depends on the surrounding environment they're used in. The Oracal Permanent Vinyl, for example, is built to endure harsh weather conditions for 6 years. Some of the more expensive types of permanent vinyl can last 8+ years.
Which Vinyl is Permanent?
So now that I have you excited about the possibilities of permanent vinyl, which brands are the best and where can you get some from?
1. Cricut Premium Vinyl
Which Cricut Vinyl is Permanent? You can find permanent vinyl in their 'premium' range.Their permanent vinyl can last up to 3 years. You can also find the permanent vinyl is speciality types such as shimmer, pearl, frosted and more!
2. Oracal 651 + Oracal 751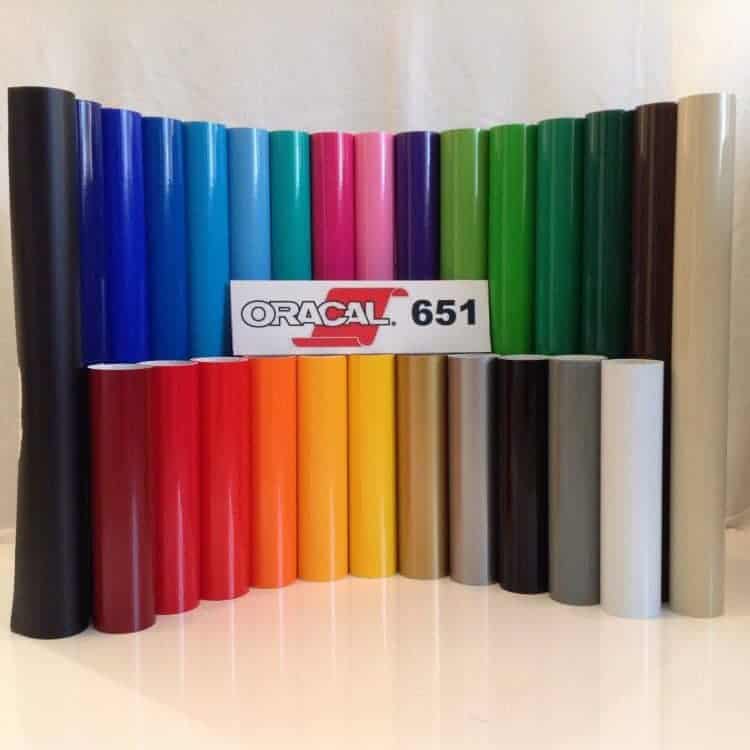 Oracal is one of the best brands if you want to use adhesive vinyl (they don't make HTV). Their vinyl is superior in quality to most brands. Oracal 641, Oracal 651, Oracal 751 and Oracal 951 are all permanent vinyl.
Most people tend to use Oracal 651 (glossy) or Oracal 641 (Matte) because it is the cheapest and works for most projects.
The Oracal 641 will last up to 3-4 years, whilst the Oracal 651 can last up to 6 years.
3. Siser EasyPSV Vinyl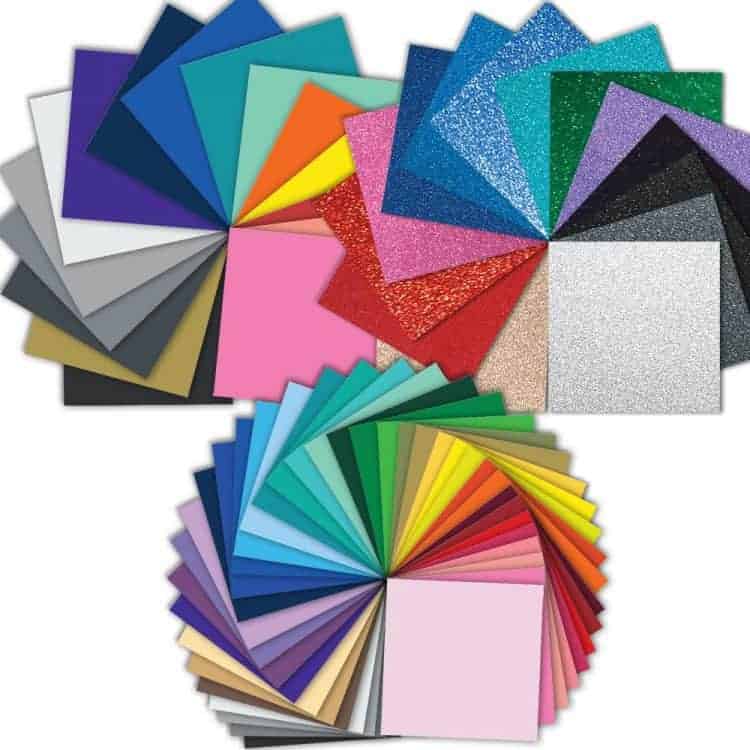 Siser is well known for the high-quality heat transfer vinyl, so we were all super excited when they recently started producing their own adhesive vinyl range called Easy PSV.
Their vinyl is top notch quality, they are easy to weed and easy to apply.
4. EZ Craft USA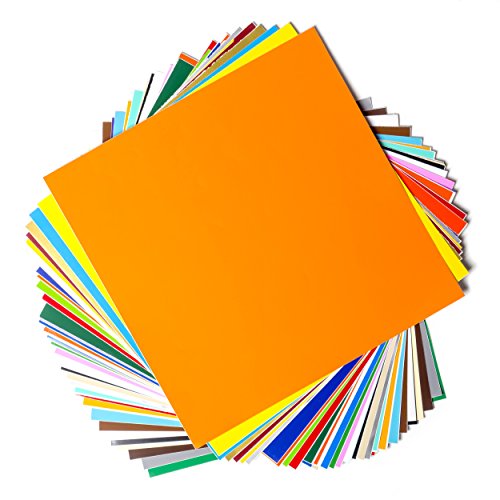 Another brand that you might not have heard of, but they have some great quality vinyl available for a lovely low price. You can pick up this permanent vinyl pack.
The pack contains 40 different 12 x 12″ sheets. You will get 30 different colors.
5. Other Brands and Types
Other than that, you can also find permanent adhesive vinyl in speciality type vinyl such as:
Summary: What is the Difference between Removable and Permanent Vinyl?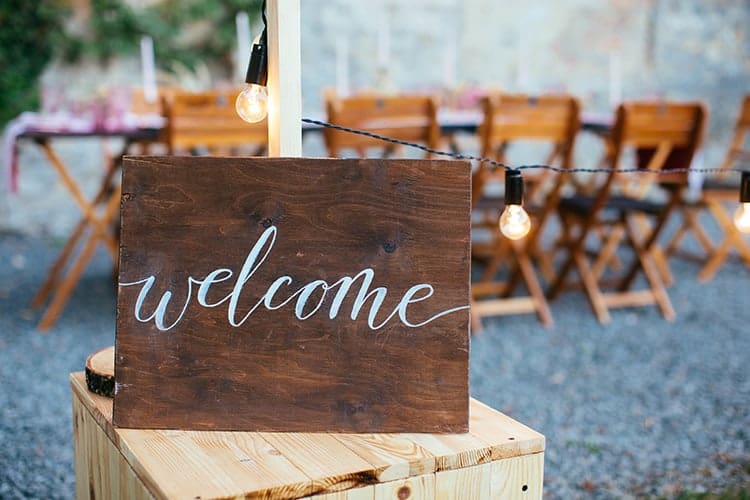 In a lot of ways, you will find that removable and permanent vinyl is similar. Both of these types of vinyl are:
Waterproof
Writable with a permanent marker
Microwave safe
Dishwasher safe
The difference between these types of vinyl mainly lies in the permanence and strength of the material's adhesive.
Due to the fact that removable vinyl has a weaker adhesive, it is best to use this type of vinyl indoors, whilst the strong adhesive on the permanent vinyl makes it suitable for both indoor an outdoor use.
Whilst you can expect the removable vinyl to last for around 1 year (for Cricut) or 3 years (for Oracal), your permanent vinyl should give you at least 3 years (for Cricut) and up to 8 years (for Oracal) of use.
If you want to use it in water, whilst both are waterproof and dishwasher safe, the removable vinyl will start peeling way too soon.
So basically, the only difference between the two types of vinyl stickers/decals is their durability.
It is important to match your style of project with the right type of adhesive vinyl. Once you know which vinyl to use, cutting it with your vinyl cutter and applying it should be easy. Make sure you have the right tools for adhesive vinyl to make your life simpler.
And that's all we have for this post! We hope this has helped you clarify a few questions.
Till later,
Sam xxx