If you are looking for some new and creative ways to experiment with your Cricut then you are in the right place!
Learn how to start making some awesome and fun Cricut wood projects to spruce up your home decor, use as gifts for friends and family or even sell at craft shows or online!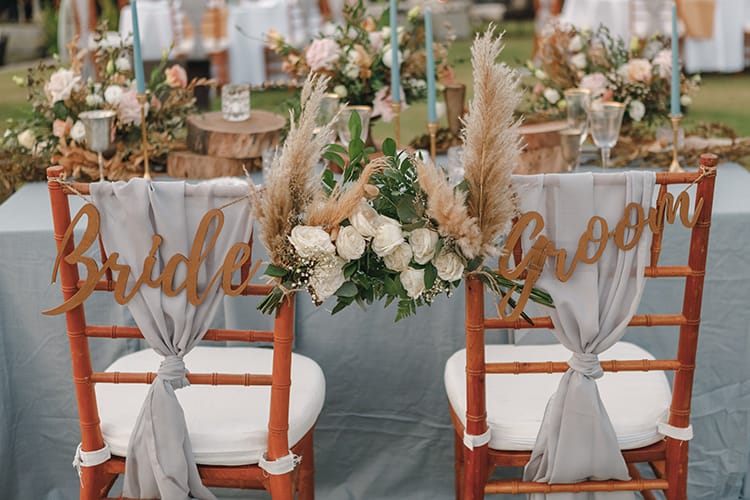 With everything from cute wooden signs, picture frames, plant markers and so much more, you will be able to find something fun and easy to start making wood crafts with your Cricut!
---
What Wood Can A Cricut Cut?
In order to cut basswood and balsa wood you will need a Cricut Maker machine. In order to cut basswood or balsa wood you will need to have a purple Cricut StrongGrip mat and a Knife Blade.
In order to cut wood veneer you will need either a Cricut maker machine or a Cricut Explore machine. You can cut the wood with a purple Cricut StrongGrip mat and a Deep Point Blade.
The type of wood to purchase:
1. Basswood
Basswood is a dense wood (denser than Balsa Wood). It has an even smooth wood grain, which makes it an excellent choice for painting or staining.
The Maker can cut Basswood with a thickness of either 1/32″ or 1/16″.
It is great for craft models, toys, puzzles, etc.
Click here to purchase Cricut Basswood or an off-brand Basswood from Amazon.
2. Balsa Wood
Balsa wood, on the other hand, is ideal for painting or leaving in its natural state but does not take stain well.
The Cricut Maker machines can cut 1/32″, 1/16″, and 3/32″ thicknesses.
It is important to find a piece that isn't warped and that contains minimal blemishes and knots.
Browse the Balsa Wood sheet selection on Amazon here.
3. Wood Veneer
Wood veneer is a thin smooth genuine wood that resembles plywood veneer and is available in maple, walnut, and cherry.
It is perfect for staining, layering, and creating intricate wood designs. Use it for gift boxes, home decor, earrings, and more.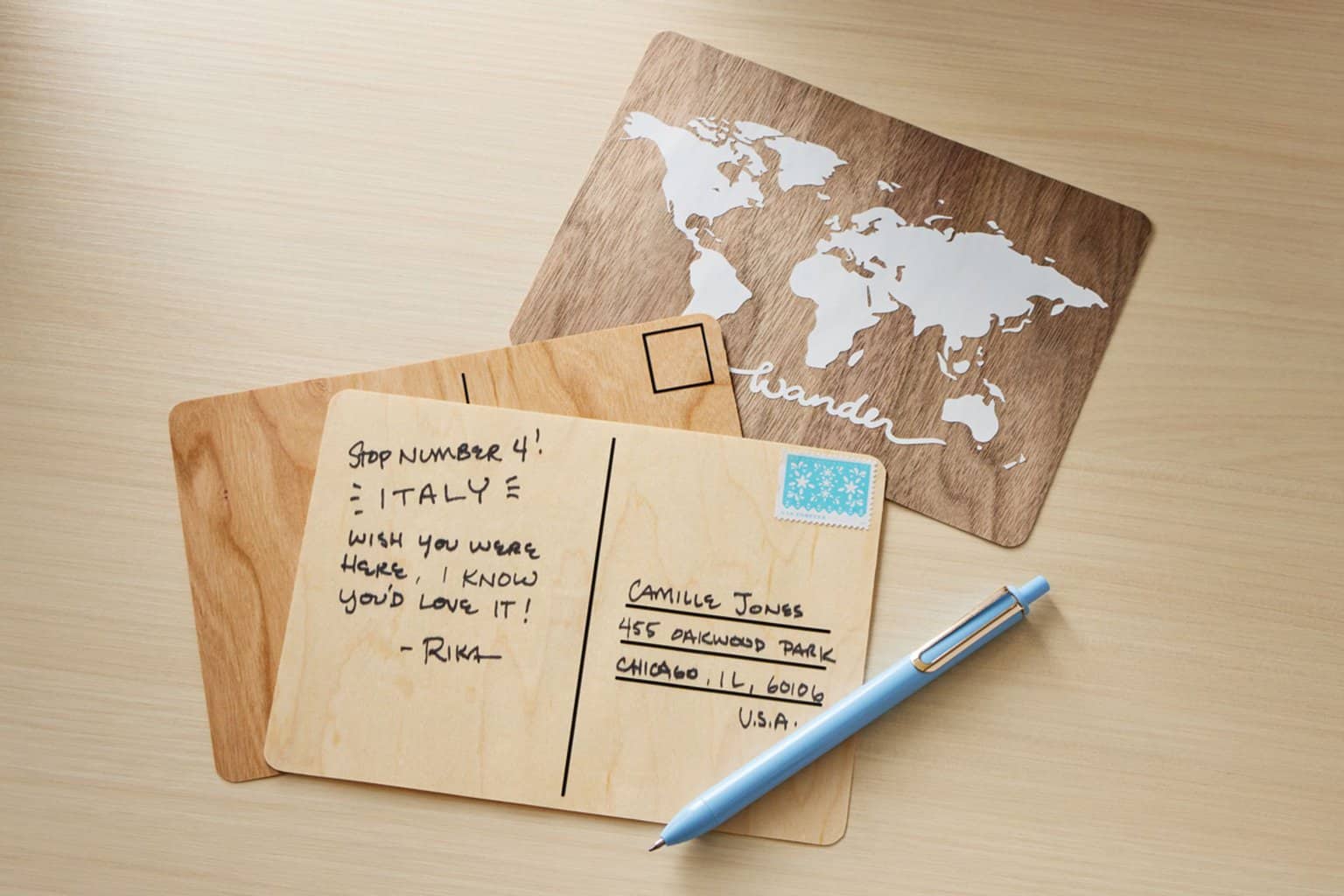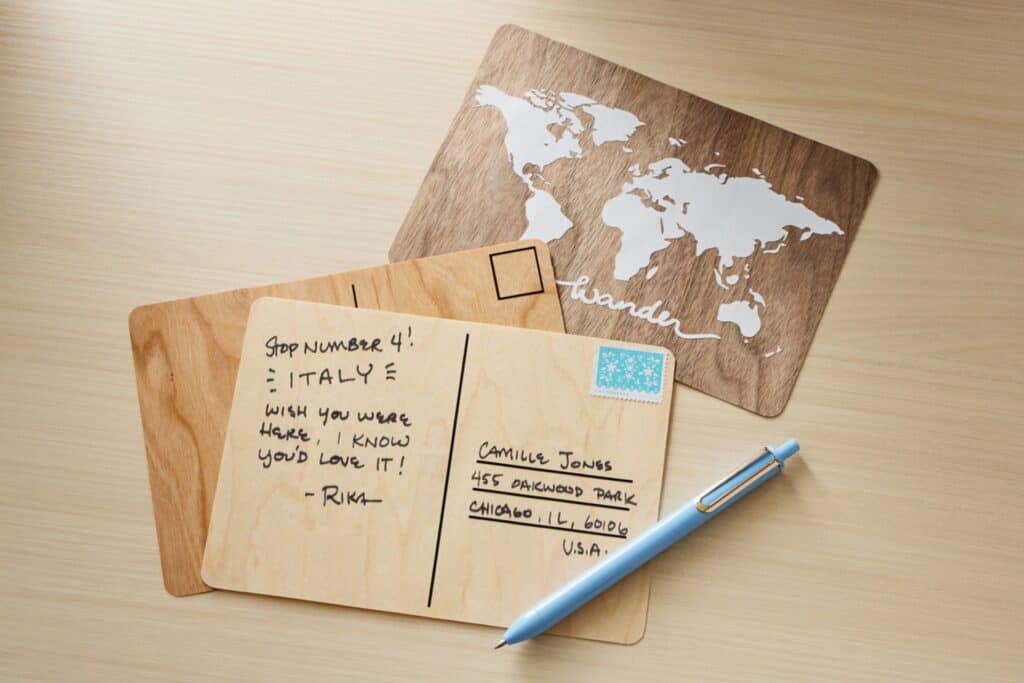 The thickness of veneer differs depending on the species, with Walnut being thicker than Maple, and Maple being thicker than Cherry.
Buy Cricut Wood Veneer here, or grab some off-brand Wood Veneer from Amazon here.
---
12 Cricut Wood Cutting Projects
We have found some awesome Cricut projects with wood that are great for any home crafter to create using their Cricut. There is a wood project idea for Cricut for everyone!
For those who are more interested in learning how to cut wood with a Cricut Maker or Maker 3, here are some wood-cutting tutorials (including wood veneer Cricut projects) for you.
For those looking for Cricut wood with vinyl projects, you will find a list of those after this first list.
1. Cricut Maker Home Wood Sign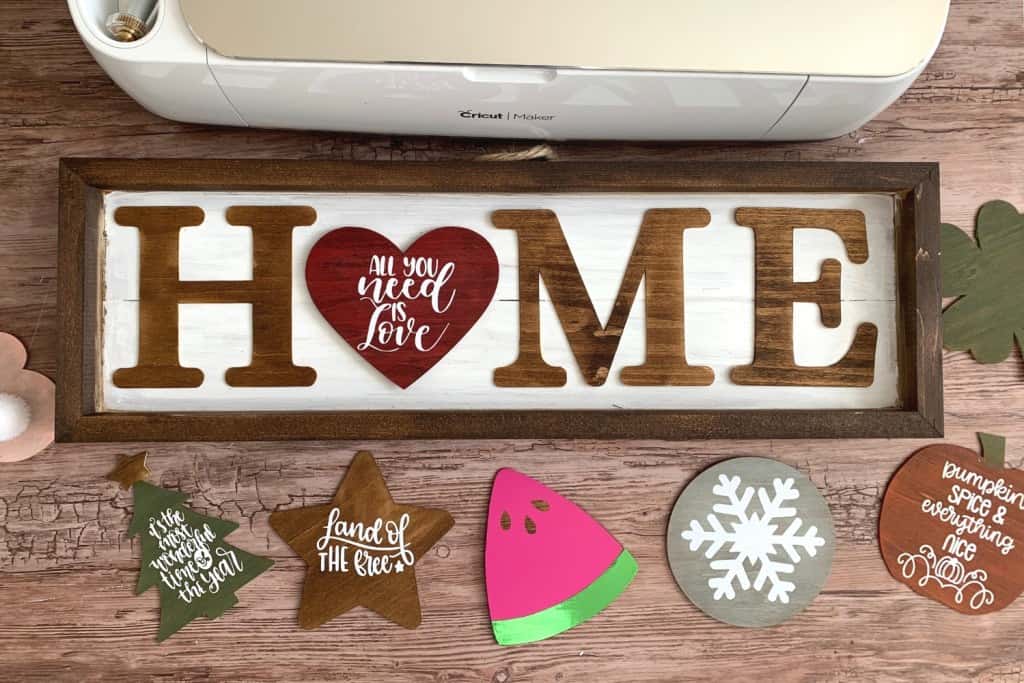 Discover all the essential information on cutting basswood with your Cricut Maker machine and Cricut Knife Blade!
Additionally, Everyday Jenny generously provides the Cricut Design Space link for an adorable "Home" sign that you can easily swap out to match various seasons.
If you're new to cutting wood with your Cricut Maker, don't worry! Everyday Jenny shares helpful tips and tricks for using the Cricut Knife Blade to cut basswood in the blog post.
---
2. DIY Wooden Elephant Pencil and Phone Holder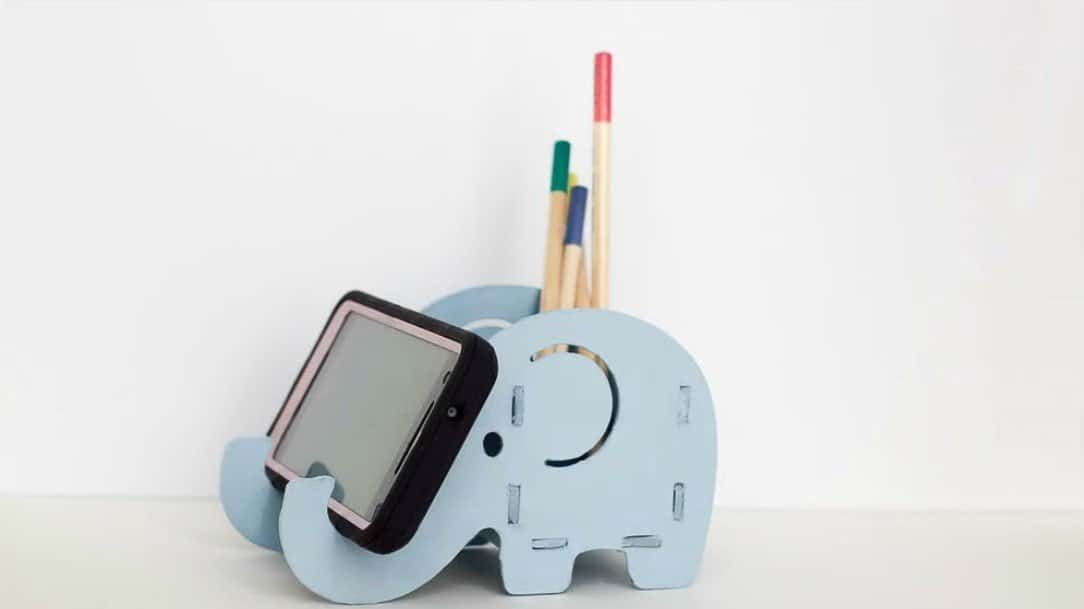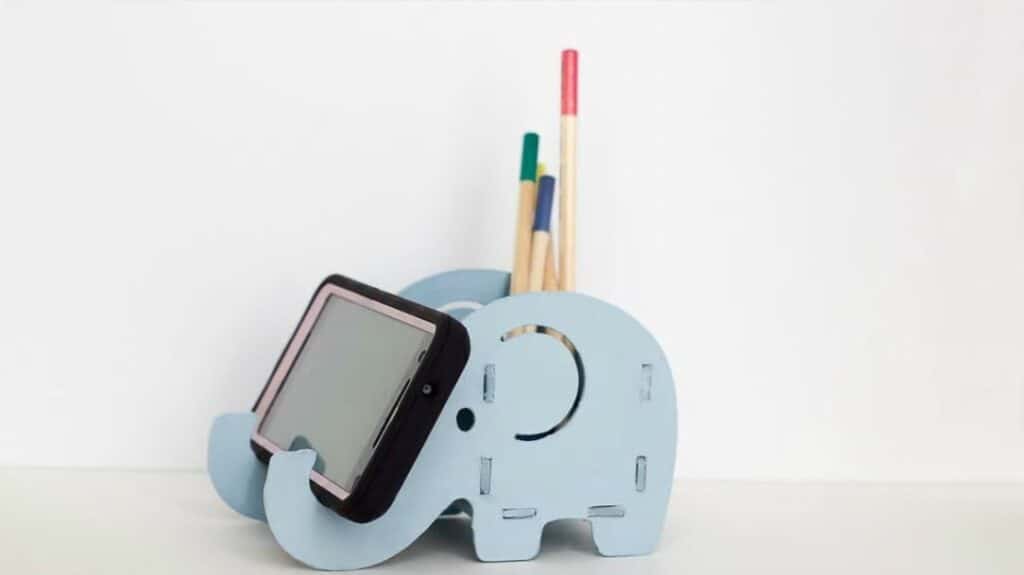 Keep your desk tidy with a charming DIY wooden elephant phone and pencil holder that not only stores your writing utensils but also keeps your phone or tablet within reach.
By using the provided template file and the Cricut Maker, you can cut the pattern and maximize material usage.
You can find the full tutorial for this cute wooden elephant holder here.
---
3. Cricut Name Puzzle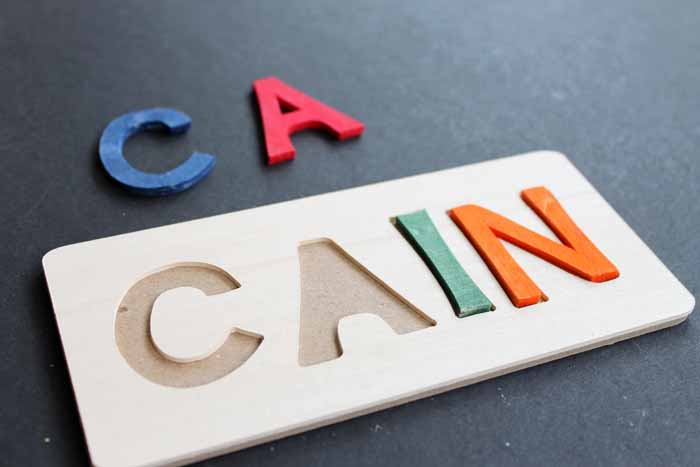 Create a unique and entertaining addition to your child's bedroom décor with a wooden name puzzle, which also makes for an excellent gift idea.
With the help of your Cricut Maker, producing one is a breeze!
Check out these simple steps to fashion your own personalized name puzzle with ease.
---
4. Wooden Name Place Settings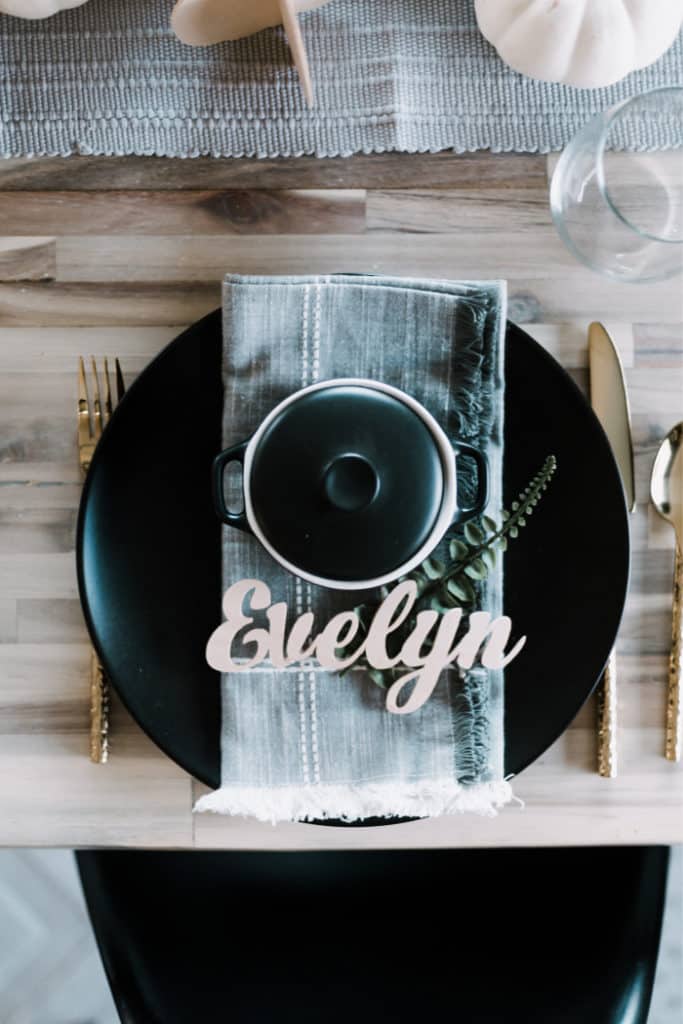 Discover how to swiftly and effortlessly craft wooden words using the Cricut Maker! Enhance the charm and personality of your tablescape by incorporating these wooden place settings.
Lindi, from Love Create Celebrate, presents a guide on creating these sophisticated wooden place settings that include the names of your guests.
---
5. Wood Veneer Floral Wreath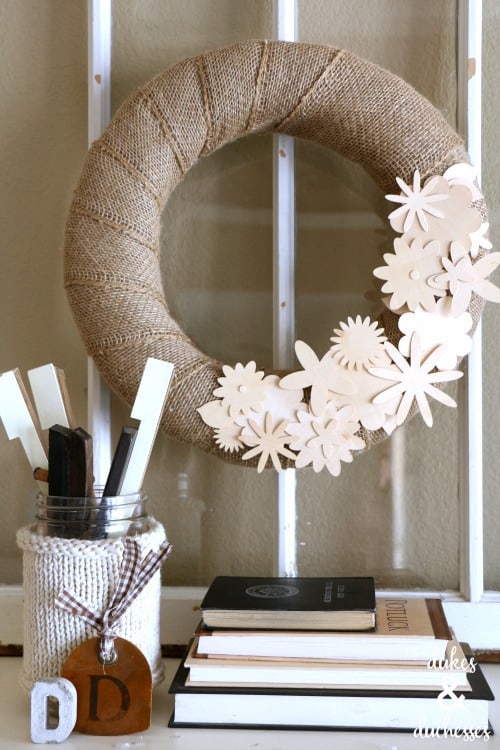 Let's step it up by creating some Cricut wood-cutting projects. It's so easy to cut the wood veneer flowers and you will love the look of this three-dimensional floral wreath in neutral tones!
Find the full tutorial here.
---
6. DIY Wood Veneer Cricut Garden Markers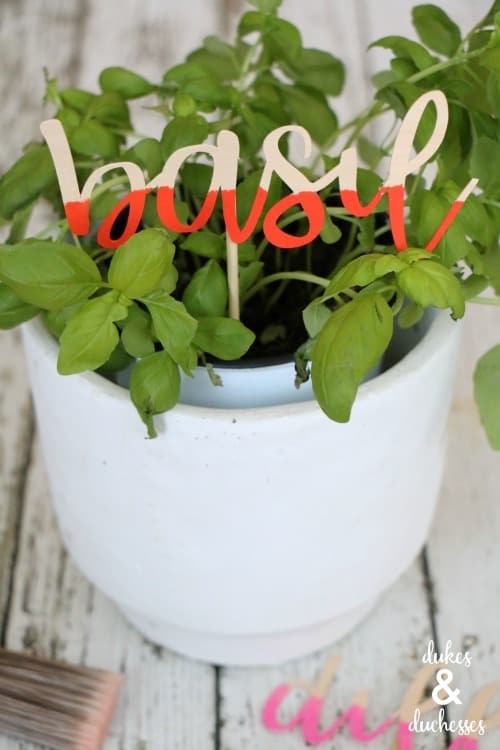 These DIY wood veneer plant markers are easy to make with a Cricut machine and add a cute and colorful element to a pot or garden.
You can find the tutorial for these DIY Garden signs on Duke and Duchesses website.
---
7. DIY Wooden Coasters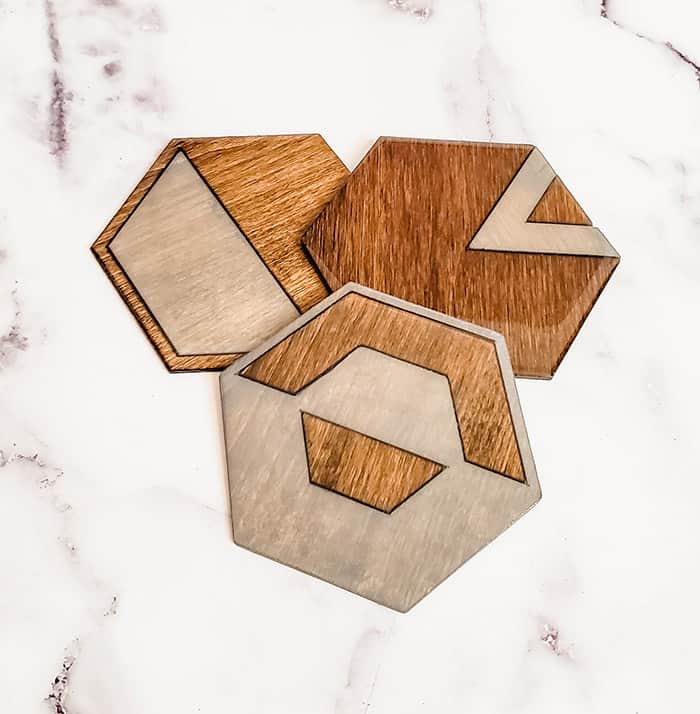 Here is a great Cricut basswood project for you. Did you know you could cut your own coasters? How cool is that!
In this tutorial, you will learn how to cut basswood on a Cricut Maker or Maker 3. How to stain your wood as well as how to glue it together and seal it with resin.
This project is easy to make but does require a fair dose of patience. You can find the Cricut Design Space project link plus the full tutorial on Crafting In The Rain.
---
8. Cricut Wood Veneer Earrings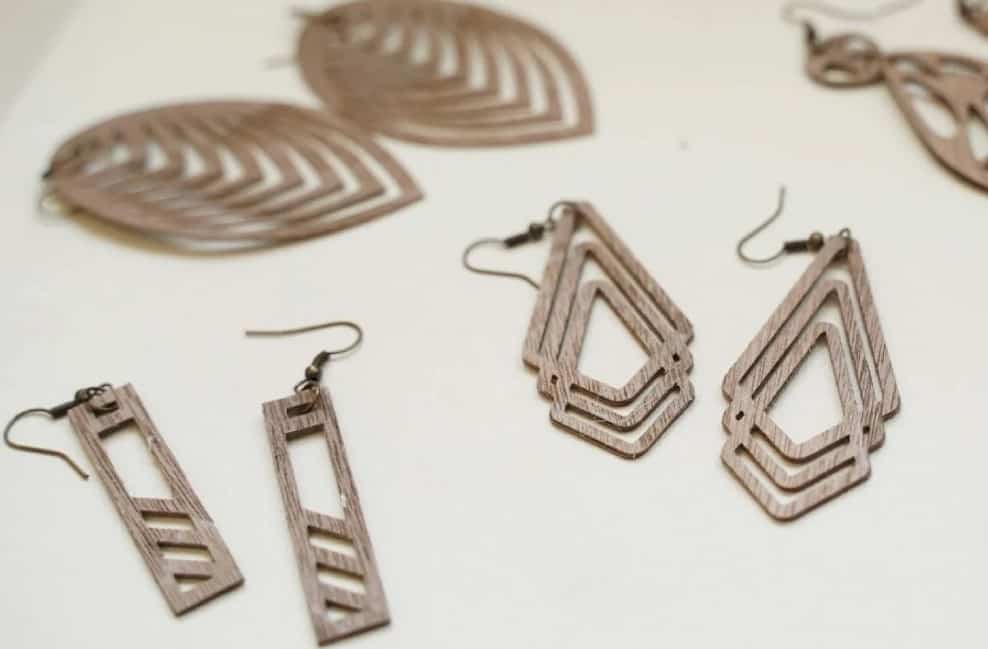 The wooden earrings made from wood veneer have a slender profile and an exceptionally sleek texture.
As the veneers are made of real wood, the texture and hue of the grain will differ, resulting in distinctive items.
By utilizing Cricut's Deep-Point Blade, you can craft intricate designs and patterns on the wood veneer to your liking.
For a detailed guide on making these earrings, refer to Domestic Heights.
---
9. 3-Dimensional Floating Decorative Plaque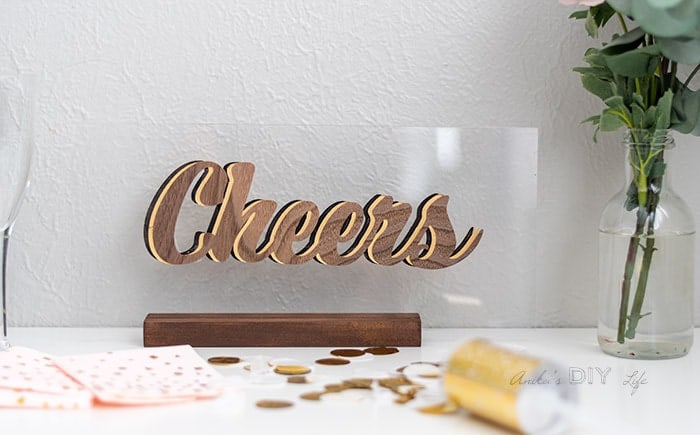 This tutorial demonstrates how to create a 3D floating sign using basswood, chipboard, and veneer to achieve a stunning 3D effect.
The specific sign in this example reads "Cheers", but you can customize it with any word or phrase of your choosing, such as names, quotes, or even art.
Follow this tutorial to create your own unique floating word sign.
---
10. Cricut Wooden Nursery Sign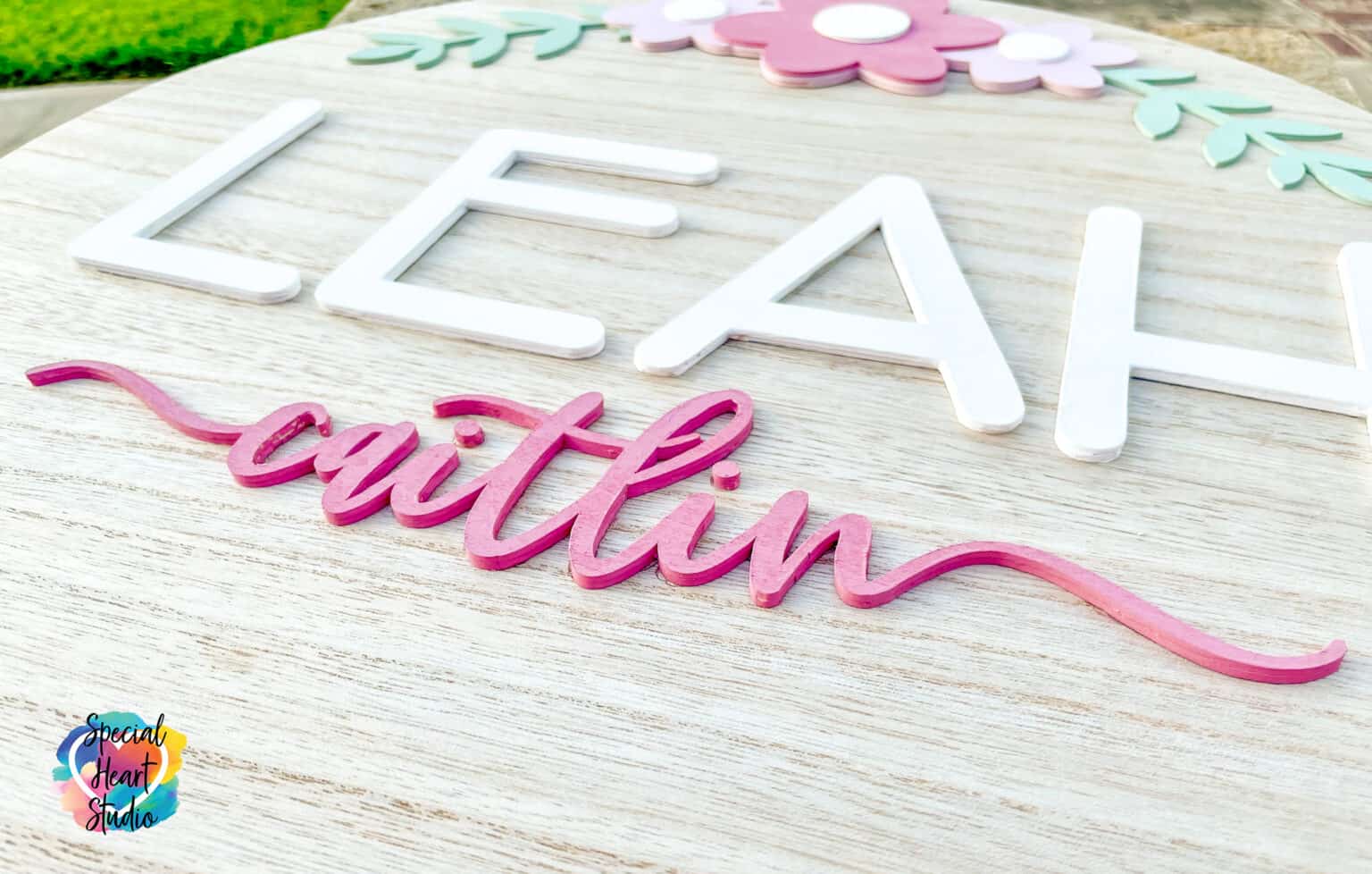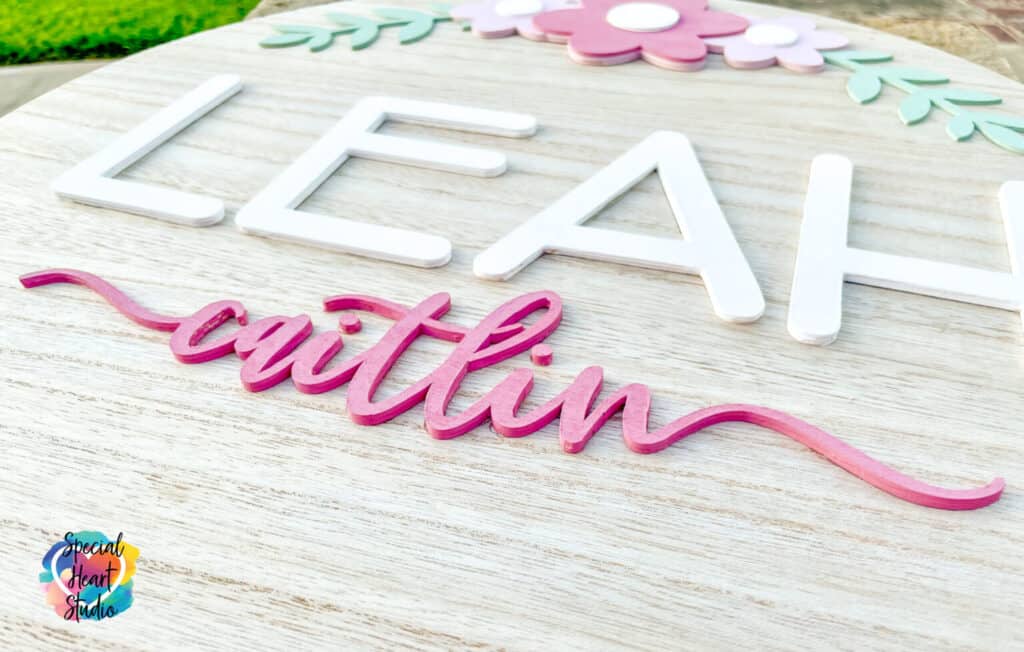 Want to whip up your own beautiful 3-dimensional sign for your home? I adore the dimension in these signs, in order to achieve this look you will need to cut the letters twice and then glue the layers together.
You can pick up all the tips and steps on how to create this sign from Special Heart Studio.
---
11. Wooden Bookmark with a Cricut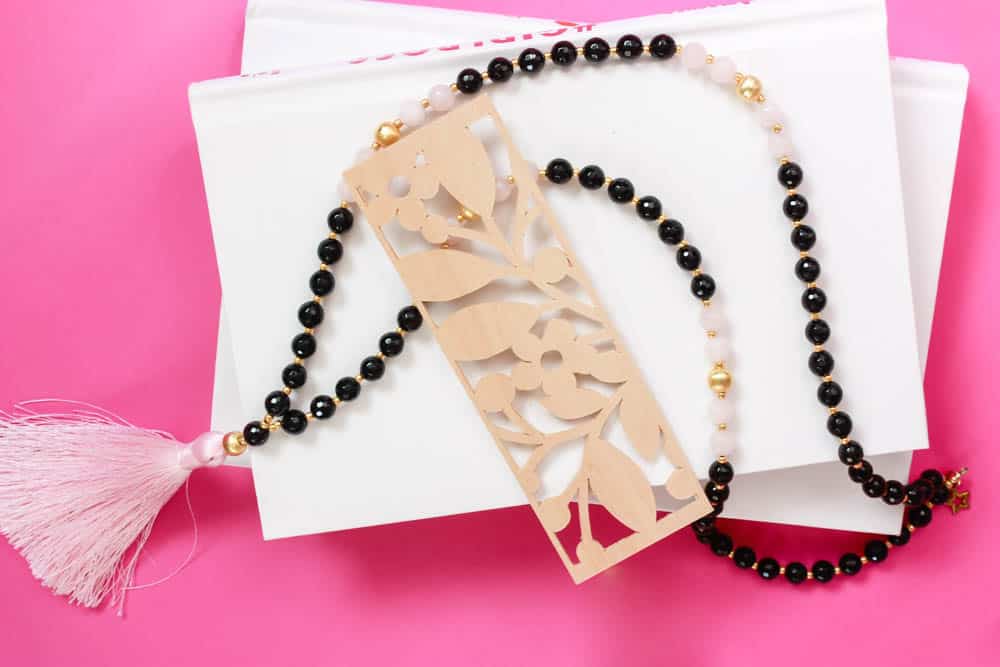 Using the Cricut Maker, you have the ability to craft one-of-a-kind and quirky bookmarks, including ones tailored to your favorite literature.
These charming wooden bookmarks are perfect presents for any avid readers you know. It's an enjoyable do-it-yourself project and an excellent opportunity to use your Maker machine.
Additionally, you may want to keep one of these bookmarks for your own treasured book!
Find the complete tutorial by clicking here.
---
12. Cricut Chipboard Closet Dividers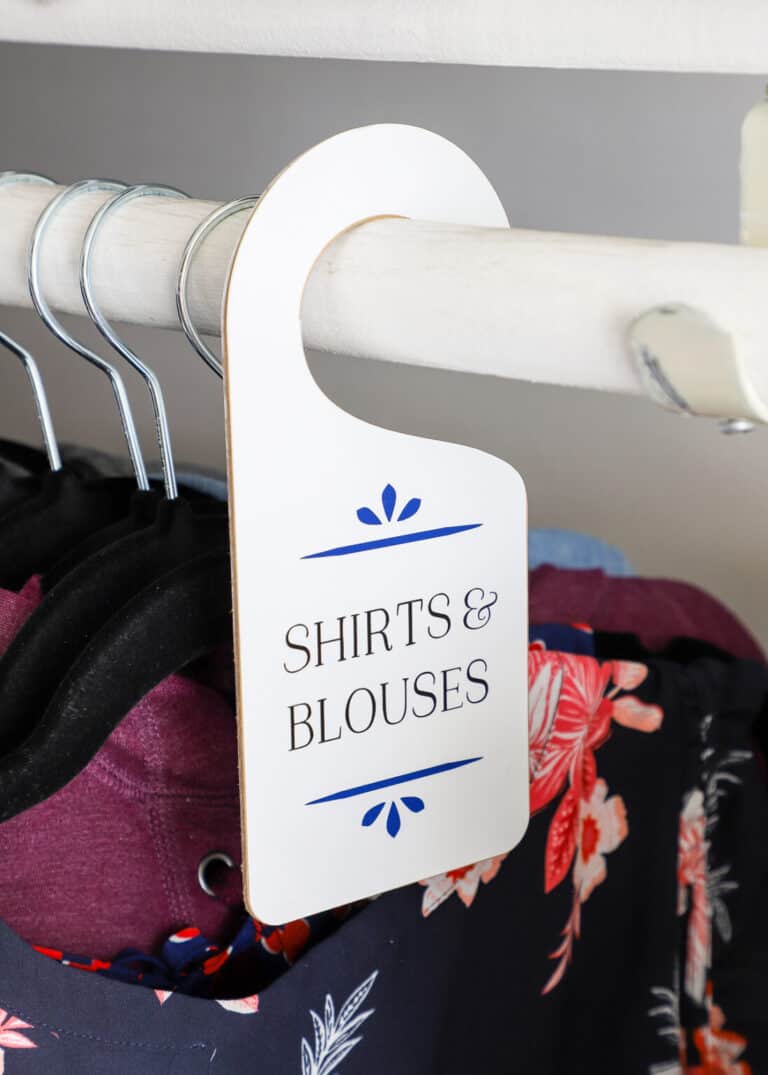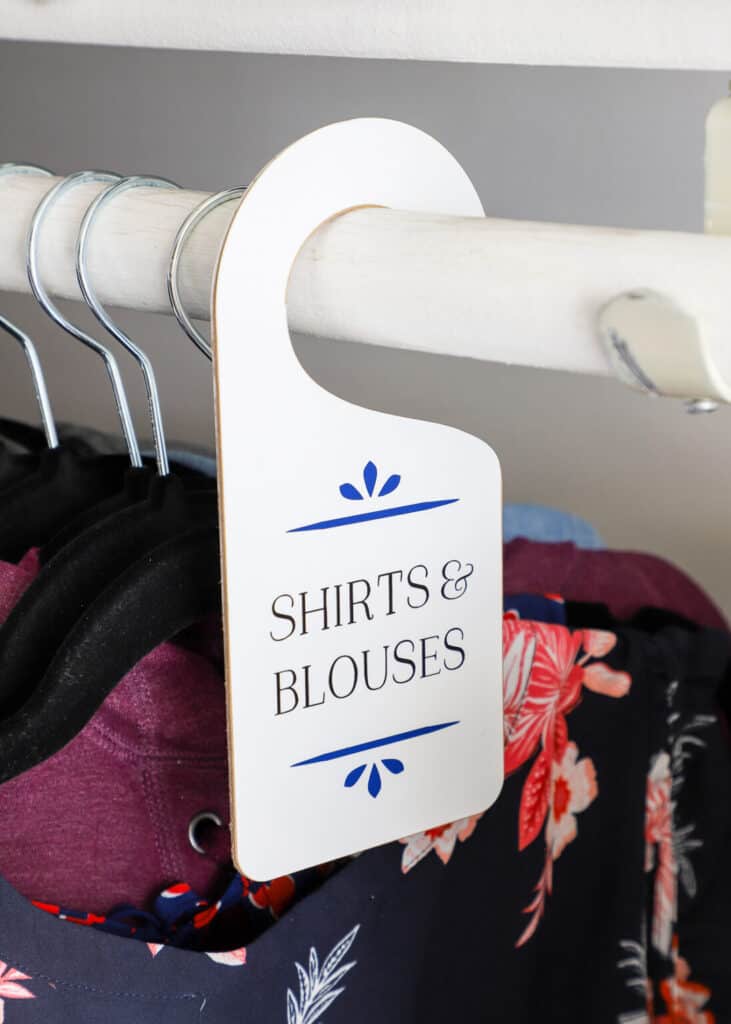 Looking for a straightforward way to bring some order to your closet? Consider making your own hanging closet dividers.
These dividers are particularly useful for closets that accommodate various sizes or seasonal items, such as those found in nurseries.
However, they can also be helpful for separating clothing belonging to different family members.
The Homes I Have Made offers a complete guide to creating these dividers.
---
10 Free Cricut Wood Projects With Vinyl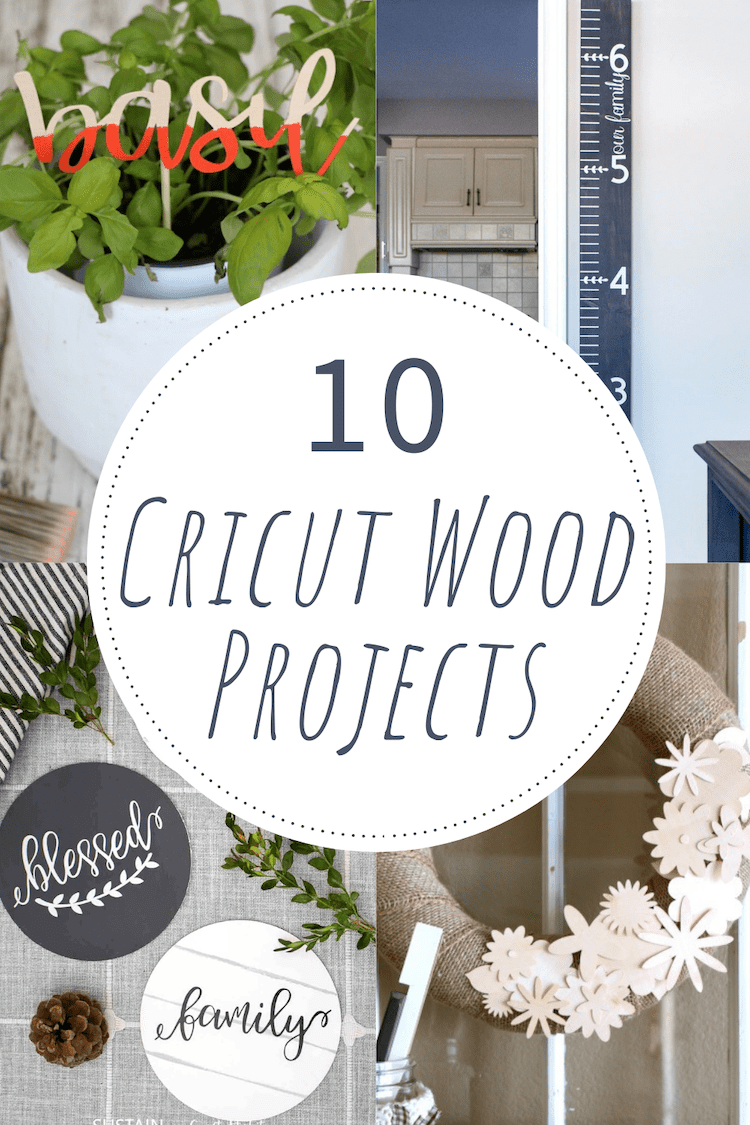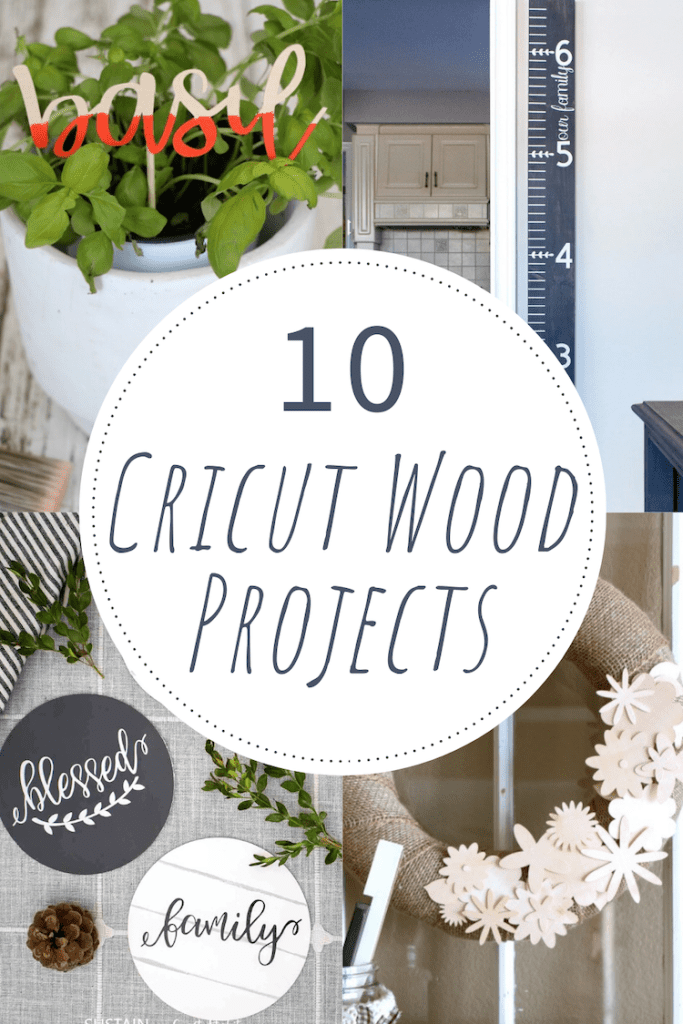 We will start off this section with simple wood with vinyl projects, which means that these projects include Cricut Explore wood projects, Cricut Joy wood projects, and Maker projects because all three machines can cut vinyl which can then be transferred to a wood surface.
Here is our list of wood projects for Cricut machines.
1. Wooden Spring Sign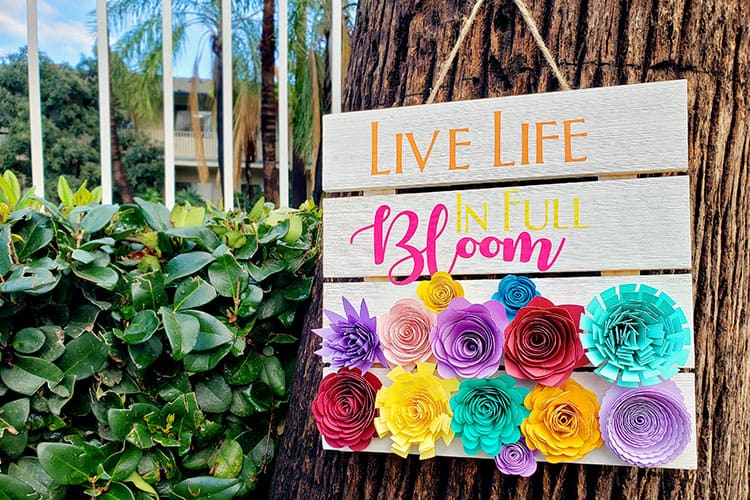 Our blog provides a tutorial for crafting a lovely DIY Wooden Fall Sign that makes an impressive statement for any front porch.
Using your Cricut and colorful paper flowers, you can create this stunning wooden sign that embodies the beauty of spring.
Although it's possible to do it without one, it would be helpful to have a cutting machine such as the Cricut Maker 3.
Check out our Cricut sign tutorial and make your own sign to enhance the décor of your home or front porch.
---
2. DIY Growth Chart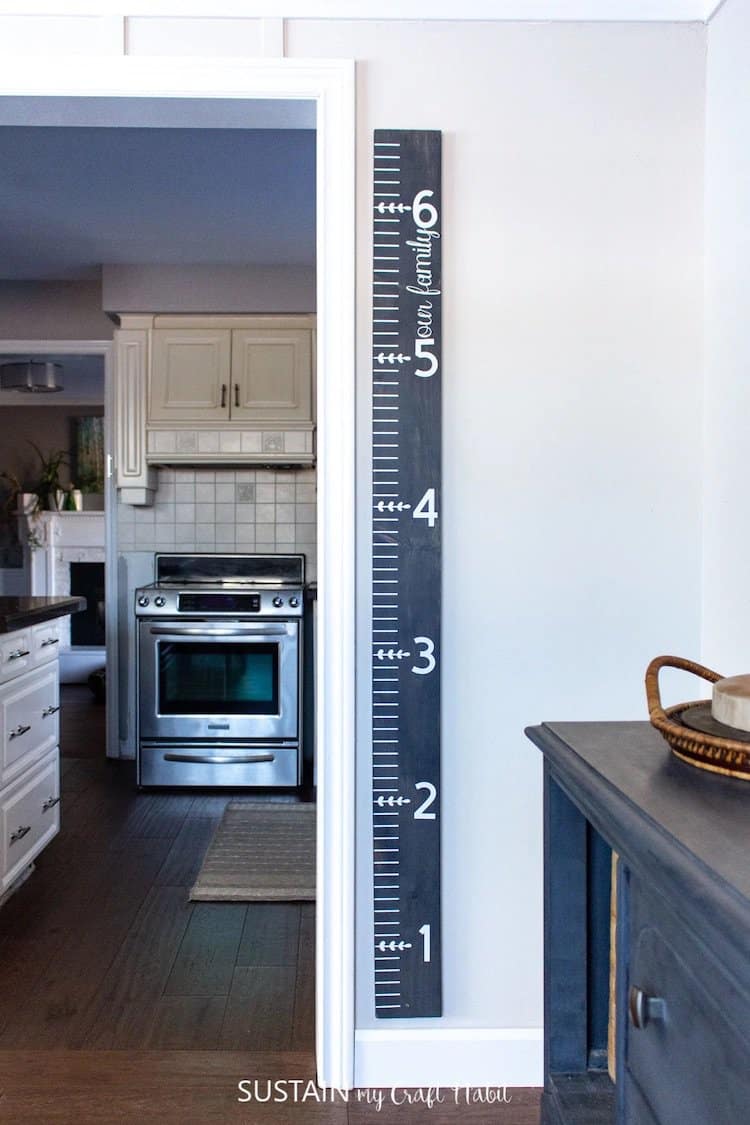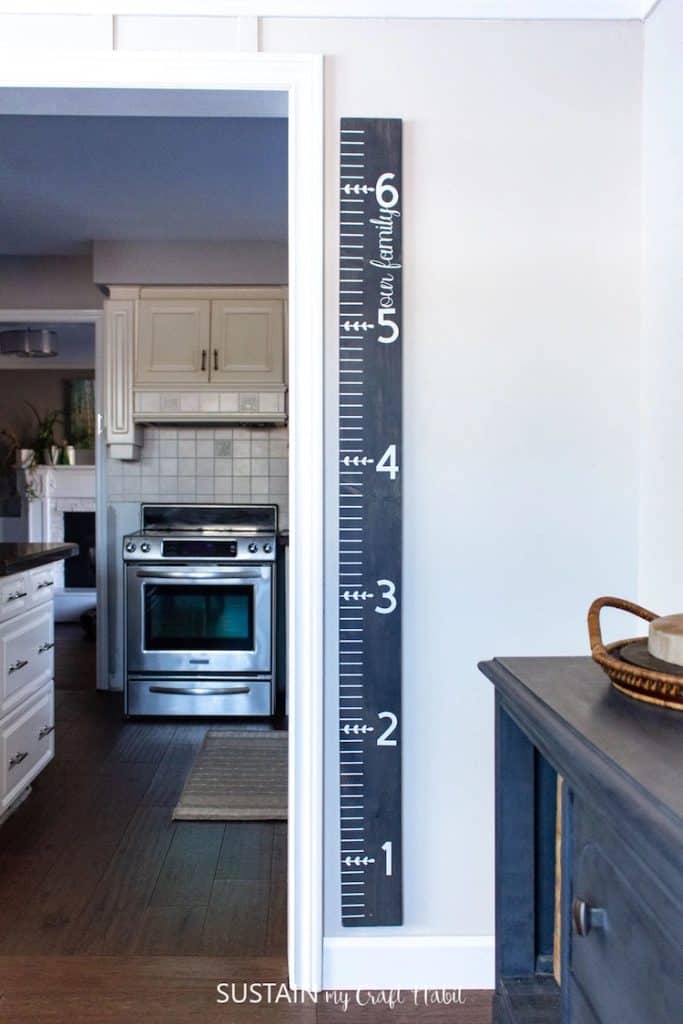 Looking for some Cricut Maker wood projects?
Using a piece of pine, some wood stain, and a Cricut Maker, learn just how simple it is to make this personalized woodworking project.
Of course, you could easily complete this project with a Cricut Explore (or even the Cricut Joy) as well.
All you need is a piece of wood, a wood stain, and some vinyl. Wondering which vinyl to use on wood? This project uses premium Cricut vinyl.
You can find the tutorial with all the info on how to make a DIY Growth Chart here.
---
3. Rustic Wood Frame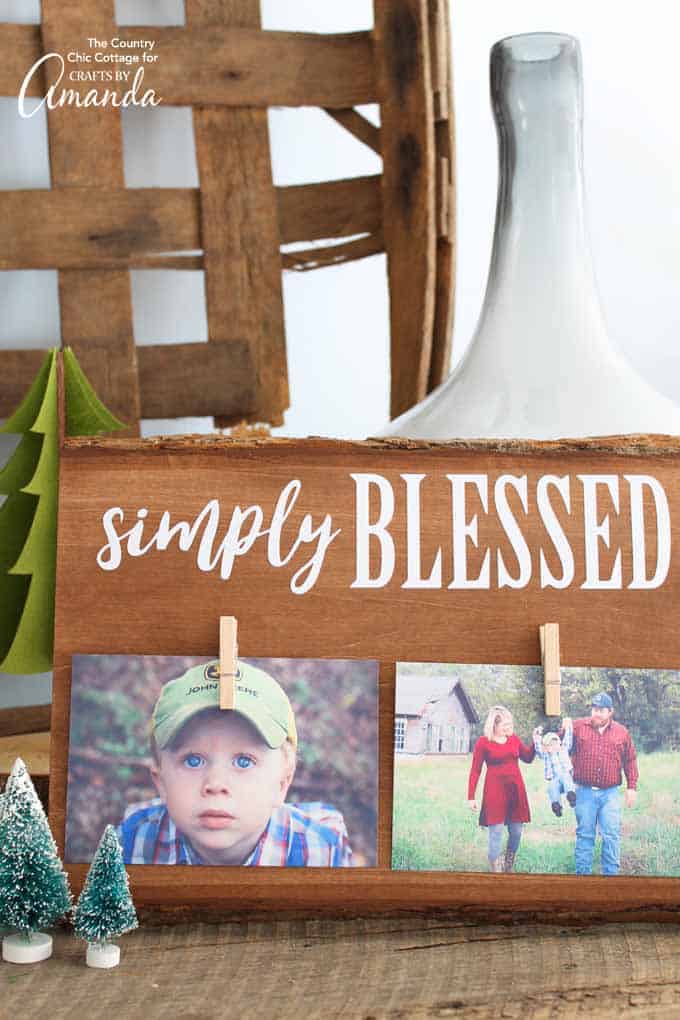 Looking for some free Cricut wood projects with vinyl?
This rustic wood frame is great for parents, grandparents, friends, or just about anyone that is simply blessed. Look no more for an easy DIY wall art gift!
The trick is to find an interesting piece of wood, then all you need to do is to transfer some vinyl with some transfer tape onto the wood surface.
Find the step-by-step tutorial on how to create this rustic wood frame here.
---
4. Farmhouse Inspired DIY Round Wood Sign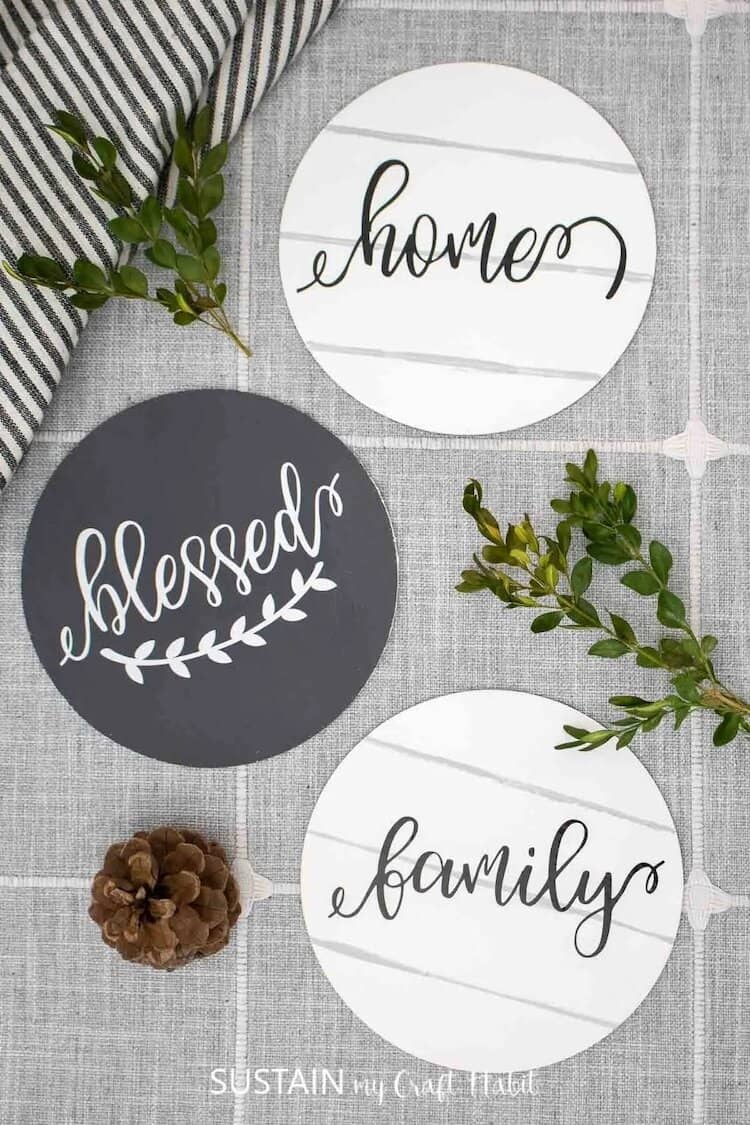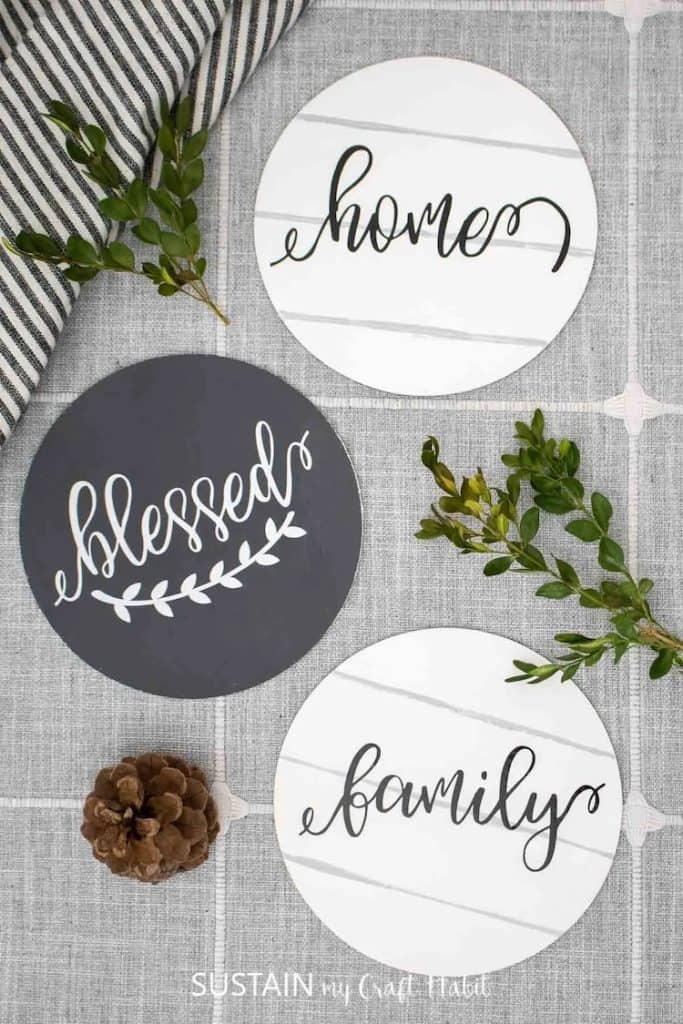 Can you make wood signs with a Cricut? Well yes, you can!
You'll love adding these versatile signs to your everyday decor! These farmhouse-inspired round wood signs are made using a Cricut cutting machine and some permanent vinyl.
This home sign will look amazing on your front porch!
Create this farmhouse-inspired DIY round wood sign by following the instructions on the Sustain My Craft Habit blog. You can also find 10 other Cricut sign ideas here.
---
6. Round Cricut Wooden Sign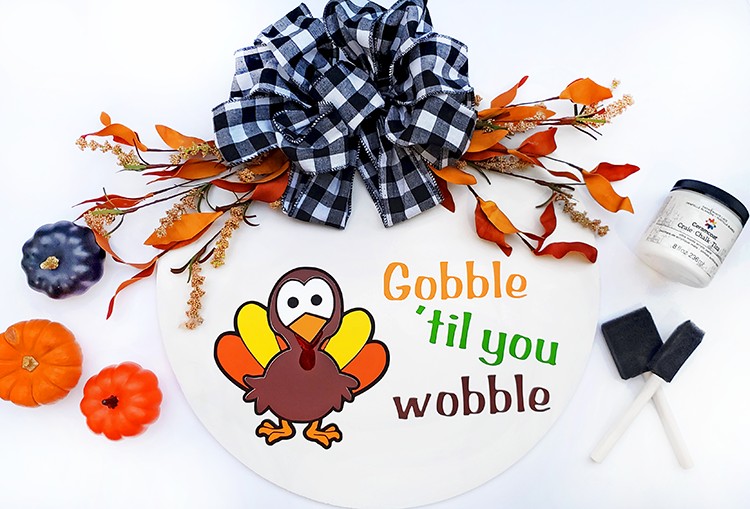 Are you prepared to craft some round wood signs with your Cricut machine? Our next project is an adorable Thanksgiving sign that you can customize for any occasion or time of year.
For a detailed guide on how to make this sign, head over to our Cricut Thanksgiving Sign tutorial.
---
6. DIY Watercolor Cricut Picture Frame Idea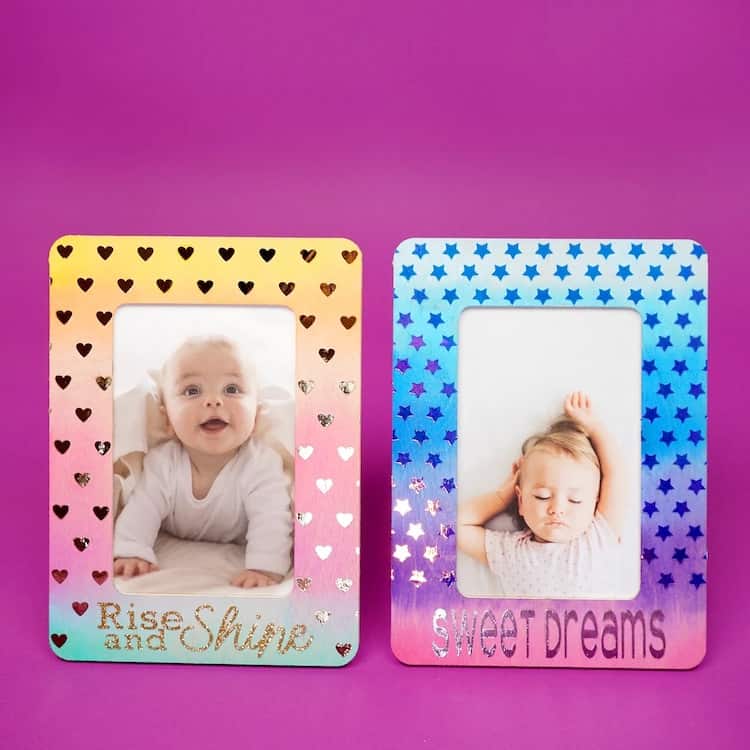 These pretty DIY watercolor wooden picture frames make a fantastic homemade gift idea! Watercolor frames are quick, easy, and perfect for all occasions!
Find all the info that you will need about how to recreate these watercolor picture frames here.
---
7. Countdown Wooden Block Calendar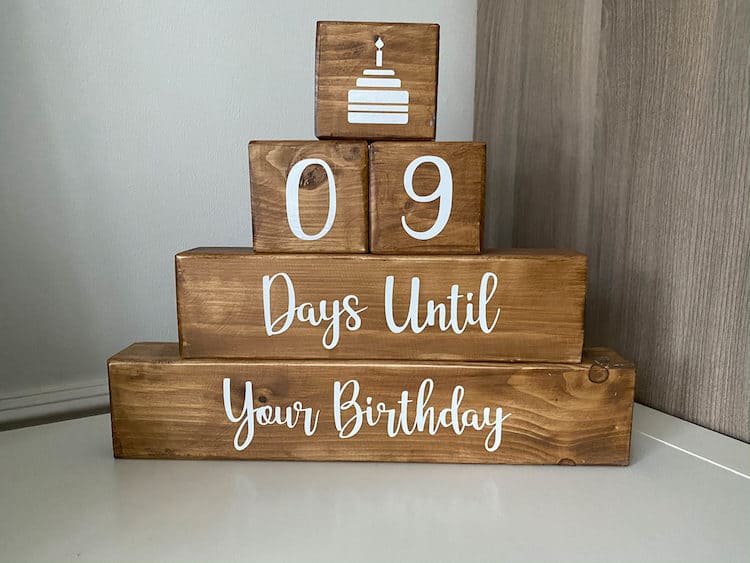 This wooden block countdown calendar is so much fun to make and easy to use. You can use it for anything you are counting down to like vacations, Christmas, or a new baby!
Grab the step-by-step info on the Gingerbread House blog here.
---
8. DIY Mini Cricut Cutting Board Idea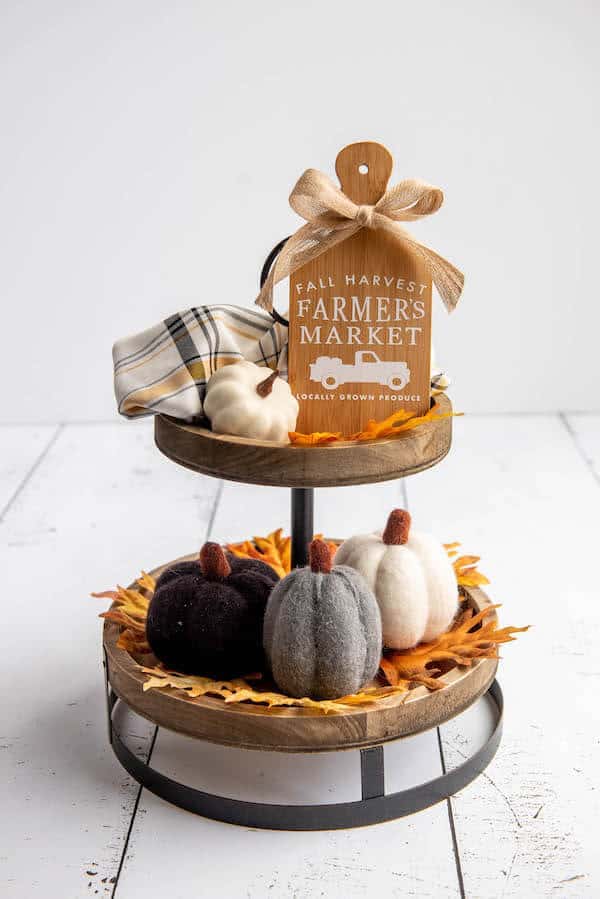 Make this cute mini cutting board with a free fall SVG file to display in your kitchen or on a farmhouse-tiered tray! This Fall Cricut craft is super easy, so it's also a great fall craft to make and sell!
This is one of my favorite wood Cricut Maker projects, but again you can very easily use an Explore or Joy machine to recreate this as well.
Click here to find the instructions on how to make a DIY mini-cutting board.
---
9. DIY Bathroom Sign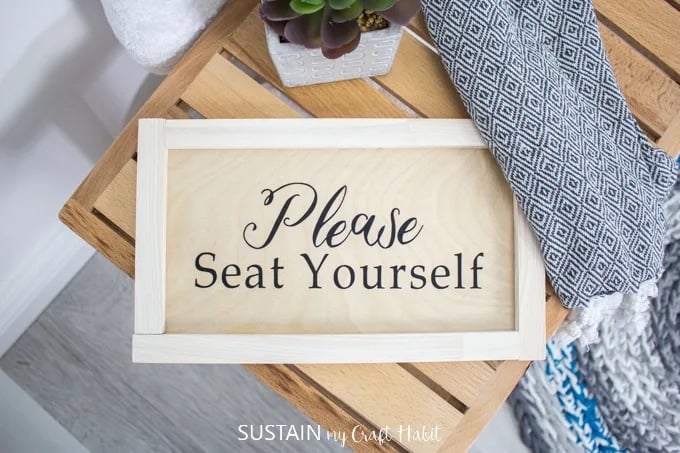 Make your own silly and cute bathroom sign using your Cricut EasyPress and wood scraps.
Create your own DIY bathroom sign by following the instructions on Sustain My Craft Habit.
---
10. Wooden Cricut Place Settings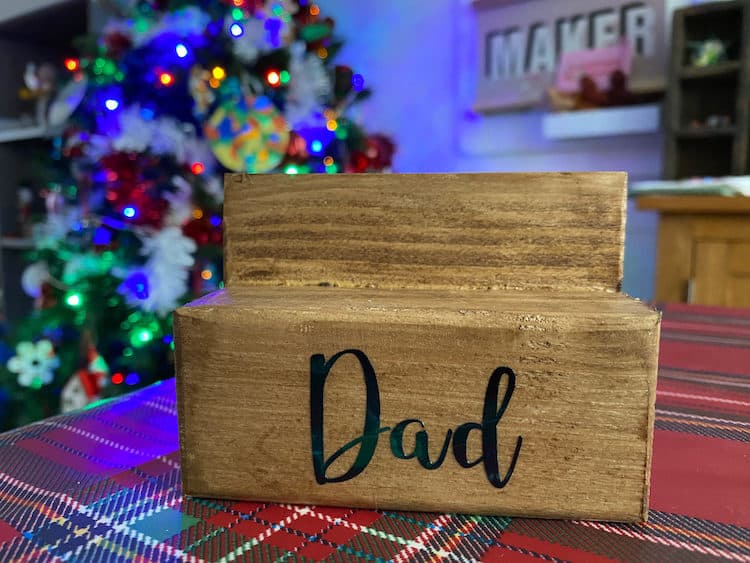 Looking for a fun way to create place settings? These wooden place settings can be used all year round and are great for family meals at Christmas!
Grab all the info about how to make these place settings here.
---
Tips for Cutting Wood On A Cricut Machine
A Cricut Maker machine is primarily designed for cutting paper and vinyl, but it can also cut thin wood materials such as balsa wood, basswood, and thin plywood.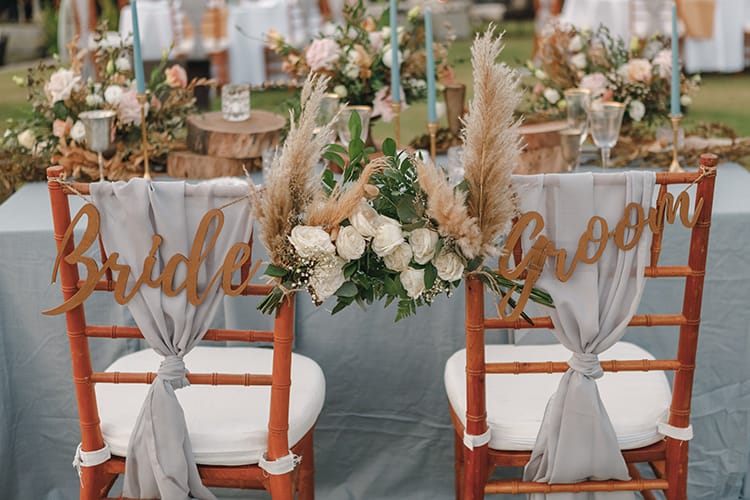 Here are some tips for cutting wood on a Cricut:
Choose the right type of wood: As mentioned, the Cricut can only cut thin wood materials. The recommended thickness is 1/16 inch to 1/8 inch. Make sure to use high-quality, low-density wood like balsa or basswood.
Use a strong grip mat: A StrongGrip mat (the purple mat) is essential when cutting wood on a Cricut. It will provide a strong hold on the wood, preventing it from slipping during the cutting process.
Use masking tape: We really need the wood to stay secure on the mat, so I like to use masking tape around the edges.
Move the white wheels: There are little white wheels on your roller, you need to move these all the way to the right.
Adjust the blade depth: Make sure to adjust the blade depth according to the thickness of the wood you are using. You can do this by turning the dial on the machine.
Test cut first: Before cutting your design, it is always a good idea to do a test cut on a small piece of wood.
Check the cut: Before you release the wood, make sure to check whether it has cut through. There is a good chance that you will need to do another cut or 20 before it has managed to cut all the way through.
Avoid intricate cuts: While the Cricut can cut intricate designs, it is best to avoid overly complex designs when cutting wood. Stick to simple shapes and designs to ensure a clean and accurate cut.
By following these tips, you can successfully cut wood on a Cricut and create beautiful, personalized wooden Cricut projects.
---
FAQs About Cricut Maker Wood Projects
Here are some answers to some of the most frequently asked questions about Cricut wood craft ideas.
1. What can you make out of wood with Cricut?
With a Cricut, you can create intricate designs and cutouts on wood to make a variety of DIY Cricut wood crafts, such as signs, home decor, cake toppers, garden markers, puzzles, letters, ornaments, and even jewelry.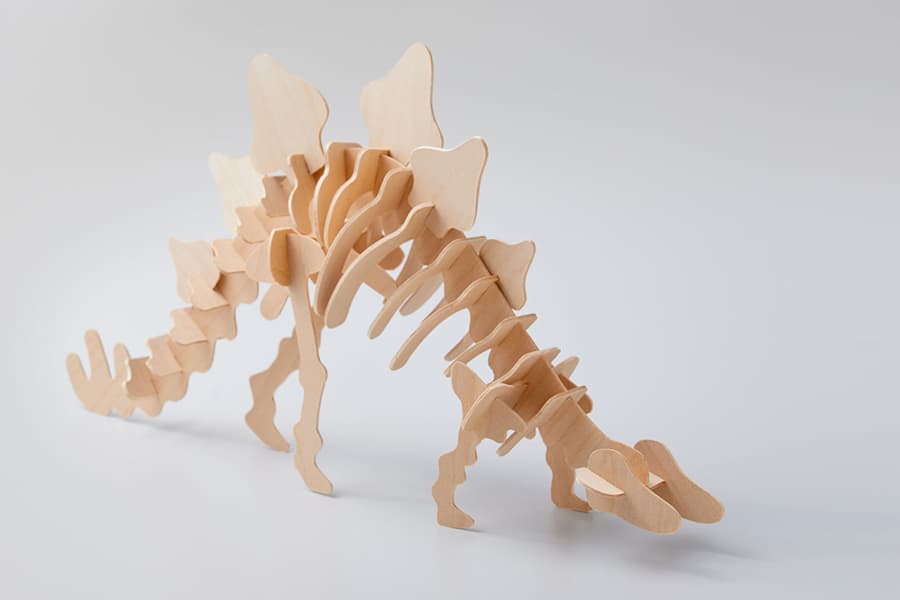 The project above is free for Cricut Access members – Find it here – Credit: CDS

You can also engrave wood using a special engraving tip on the Cricut Maker.
2. Can Cricut engrave wood?
Yes, Cricut Maker and Maker 3 can engrave wood using a special engraving tip.

It's important to note that the Cricut Maker is designed to engrave on thin wood sheets, such as balsa wood or basswood, and may not work as well on thicker wood materials.
3. How thick wood can Cricut cut?
The Cricut Maker and Maker 3 can cut basswood and balsa wood up to 3/32″ thick with the Cricut Knife Blade.

It's important to note that the hardness and density of the wood can impact the ability of the machine to cut through it cleanly, so always do a test cut first.
4. What blade do I need for Cricut maker to cut wood?
To cut wood with the Cricut Maker or Maker 3, you'll need to use the Knife Blade, which is specifically designed to cut through thicker and denser materials like wood, leather, and matboard.
5. Can Cricut cut wood veneer?
Yes, the Cricut can cut wood veneer. However, it's important to note that not all Cricut machines are capable of cutting wood veneer.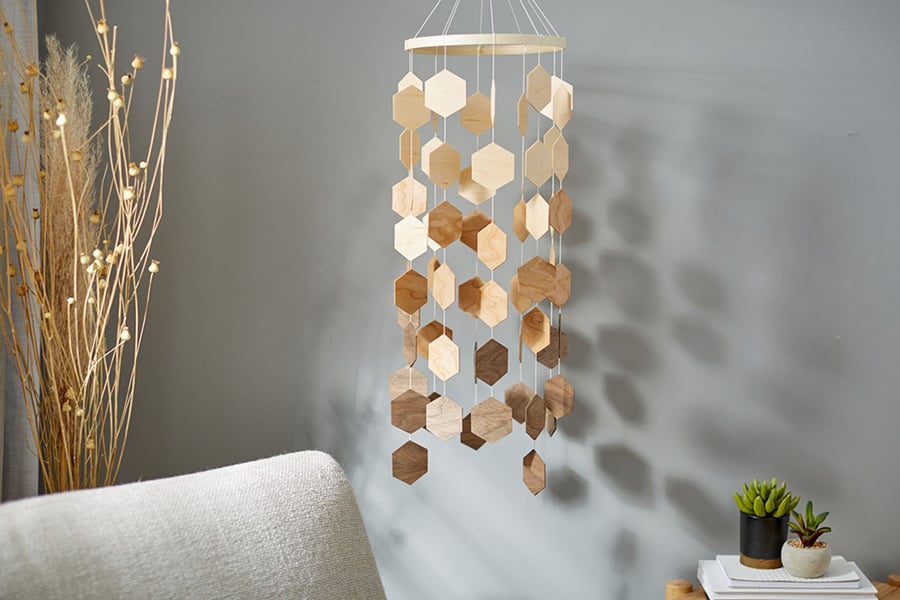 The project above is free for Cricut Access members – Find it here – Credit: CDS

The Cricut Maker machines and the Explore machines are the only machines in the Cricut lineup that is able to cut wood veneer – you will need a Deep Point Blade.
6. What is the best Cricut machine for wood projects?
The best Cricut machine for wood projects is the Cricut Maker and Maker 3.

The Cricut Maker machines are versatile cutting machines that can cut wood with a knife blade.
---
Final Thoughts On Cricut Wood Project Ideas
Cricut wood projects can be a great way to add a personal touch and unique flair to any home.
Whether you're looking for something simple like Cricut cutting boards or more intricate such as wooden flowers, the possibilities are endless when it comes to crafting with your Cricut machine.
With some imagination and creativity, you can create stunning pieces of art that will last for years!
So if you've been thinking about trying out new ways to make beautiful things from wood, I hope our list of Cricut machine wood projects has inspired you to get started.
Love Cricut crafts? We have a whole page full of Cricut craft tutorials for you to browse for more inspiration.