Crafting with your Cricut is always fun but with so much to create you may be wondering where to buy Cricut supplies not only for price but quality!
Knowing where to buy Cricut supplies and materials including Cricut tools and accessories can be overwhelming.
Heading to your local store is an option however shopping online is a great choice especially as there are so many great places to shop.
So, if you are about to shop for some new Cricut supplies or looking for some Cricut products on a budget, look no further!
We have put together a guide to the best place to buy Cricut supplies!
The Best Places to Find Cricut Supplies
I am always on the lookout for some new supplies for my Cricut, and I always try to find ways to get quality supplies for great prices.
I thought I would share a list of my favorite Cricut supplies, and ways to save money on them!
1. Cricut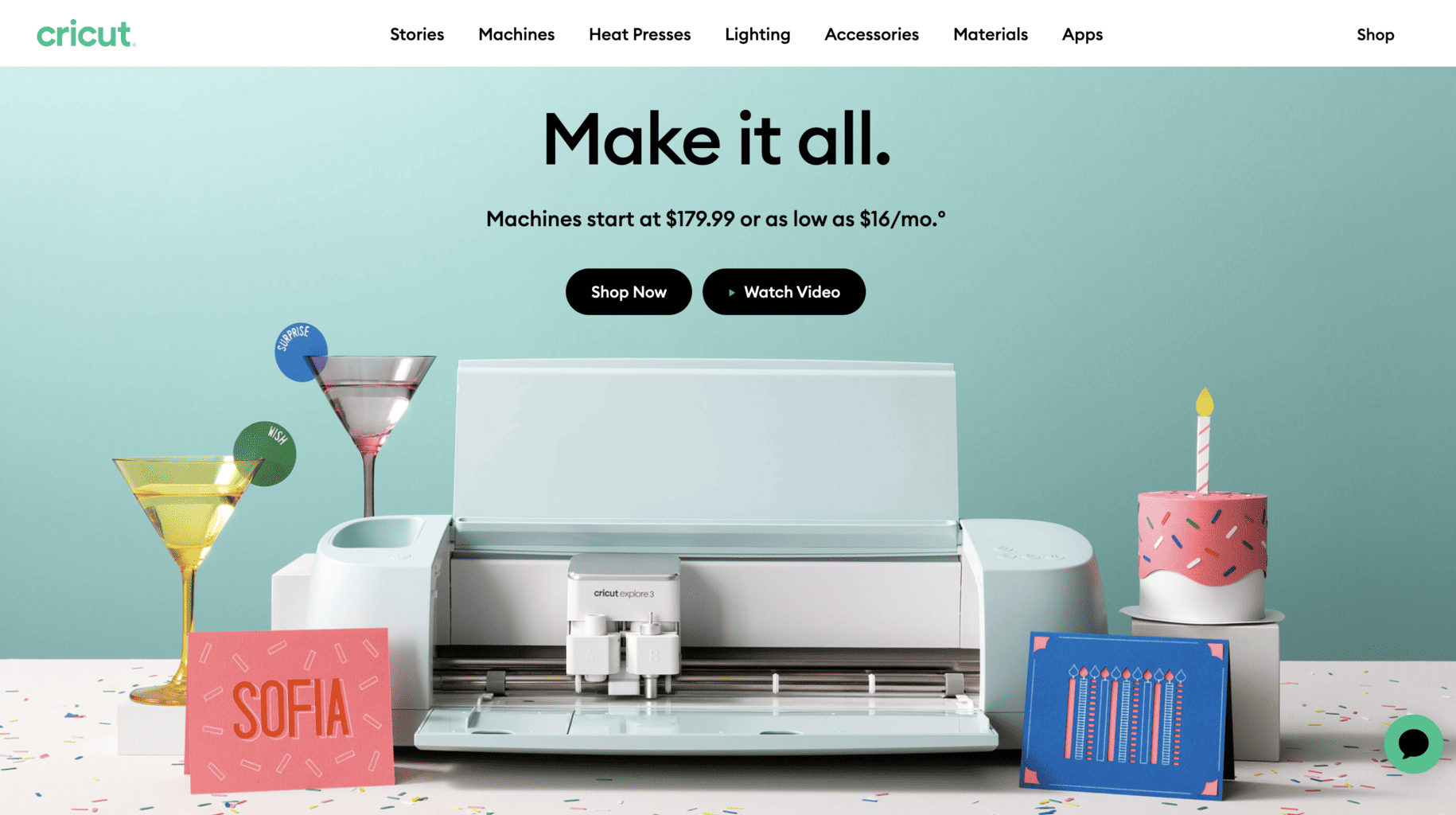 My favorite store to buy a new Cricut Supplies will almost always be the Cricut site itself.
Not only is it best for supplies, but it is also the best place to buy a Cricut machine! Cricut can also often be the cheapest place to buy a new machine when they have great offers and sales!
Cricut has such a great range of products, and has some great bundles to choose from to make sure you have the machine and all of the essential supplies to go with it!
Bundles can range from the Cricut EasyPress to the Cricut Explore Air machines with a selection of materials and accessories!
Not only can you purchase bundles, but you also have the option to buy lighting, accessories, and even storage for your Cricut!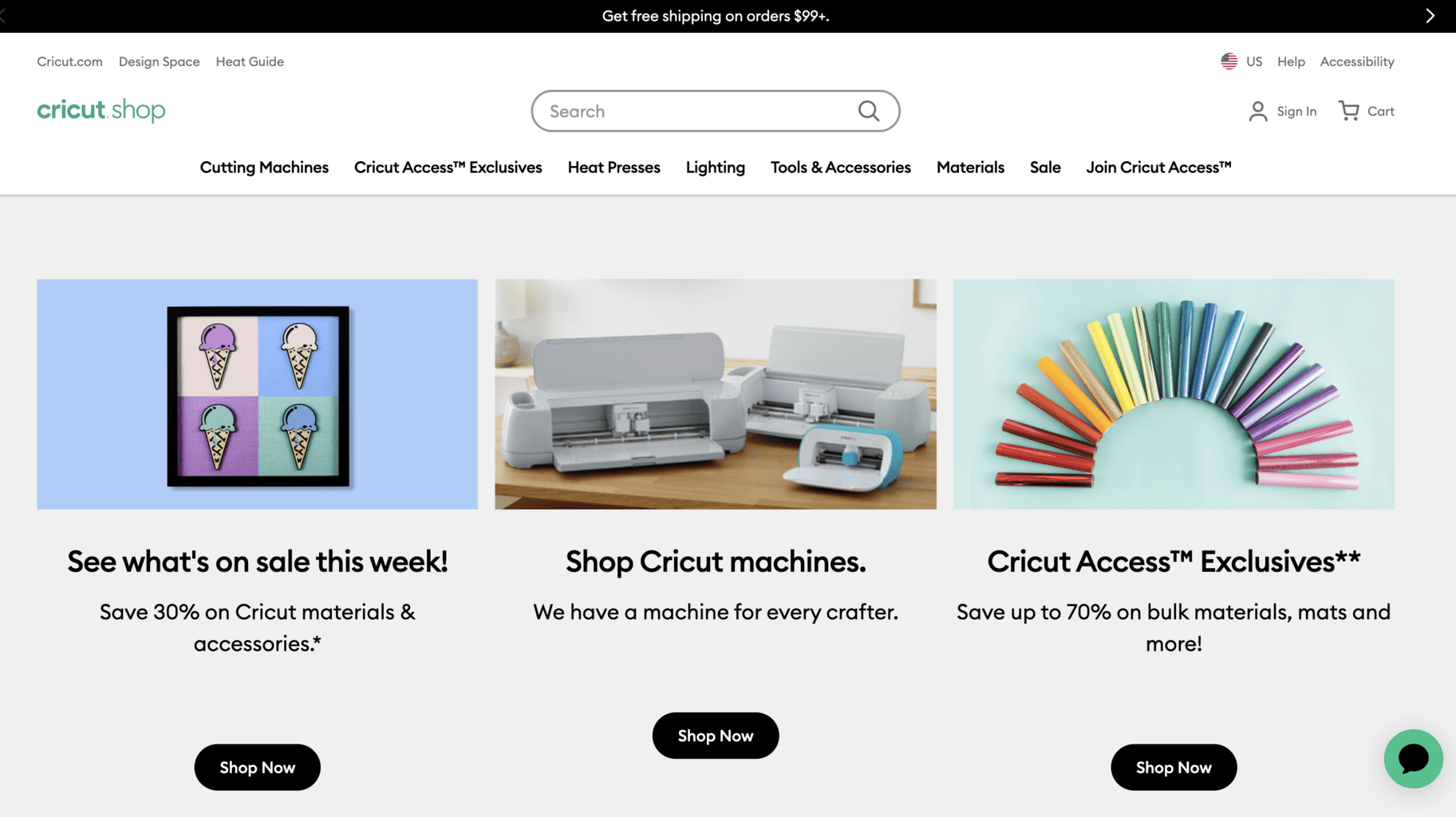 Looking to save? Cricut does not only offer sales on their machines, accessories, and bundles but also has the option to sign up for Cricut Access.
For a monthly subscription of $9.99, members can receive a 10% off discount, a $10 coupon every 3 months, and free shipping!
2. Amazon
Amazon is another one of my personal favorites for buying Cricut branded supplies.
They have a great range of items from the Circut store, ranging from machines, to adhesive vinyl, heat transfer vinyl (HTV), and accessories.
Not only do they have a great selection of branded products, but their platform also means that you can buy supplies from other brands that are compatible with your Cricut!
This means that you can always switch it up with your Cricut craft projects!
Looking to save? Not only does Amazon Prime help you to save on the cost of delivery, but also the range of products on Amazon means that you can shop for supplies no matter your budget!
Another Great way to save on Amazon is during Black Friday and Amazon Prime days! There are always huge savings during these times of the year on Cricut branded products.
3. JOANN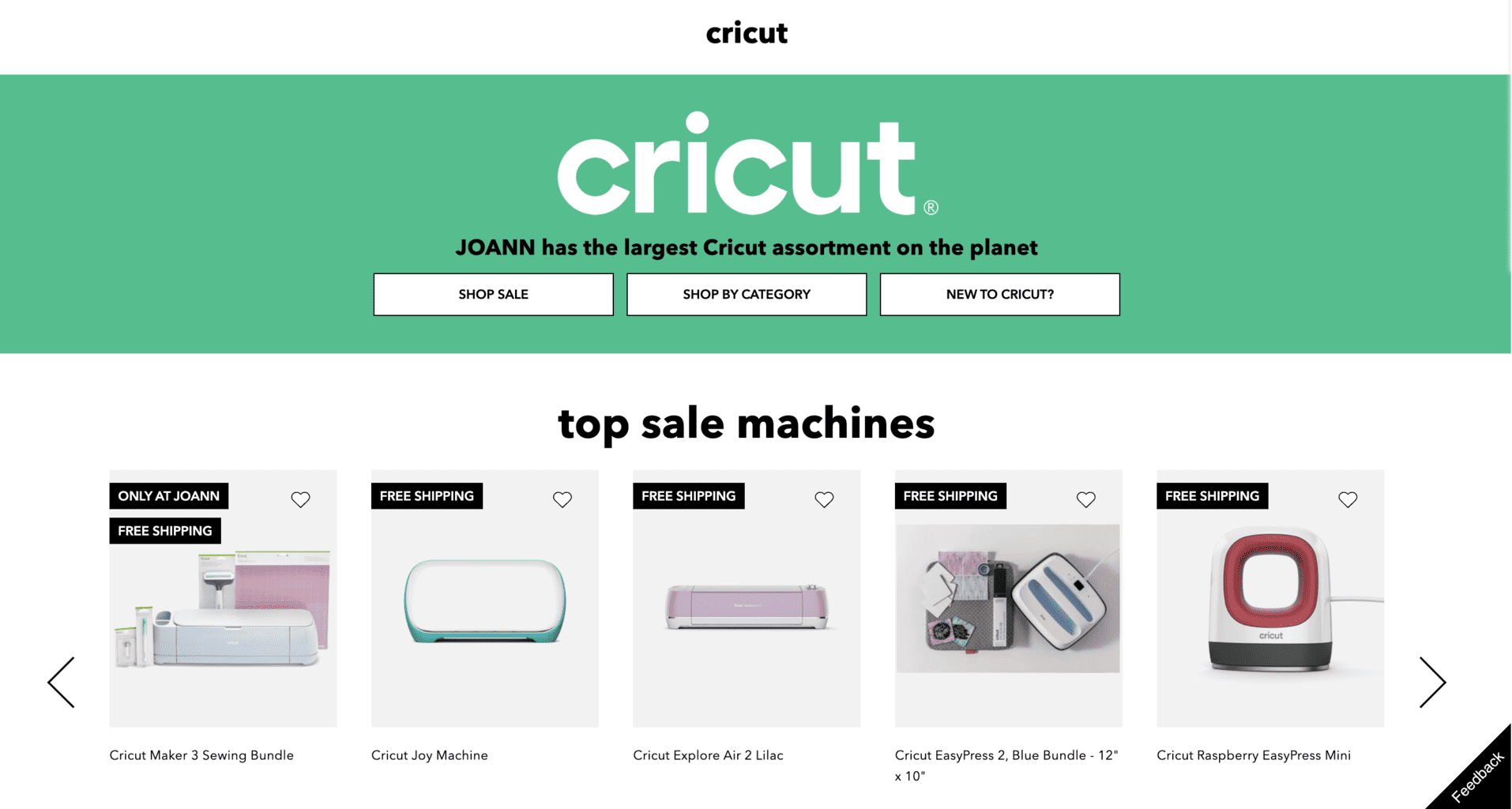 Another great place to find your Cricut supplies has to be JOANN!
Not only do they have all of the Cricut vinyl supplies and accessories that you could need, but they also have some exclusive bundles for anybody looking for a new Cricut machine!
Looking to save on your supplies? JOANN is currently offering 25% off of the Cricut range for anybody who signs up for their newsletter!
Such a great way to grab a discount and you can always unsubscribe once you have the discount!
So get signing up to save on your next round of supplies!
4. Swing Designs
Swing Designs are my go-to for all of their vinyl bundles! They have a number of bundles to choose from, including sheets and rolls depending on what you are looking for!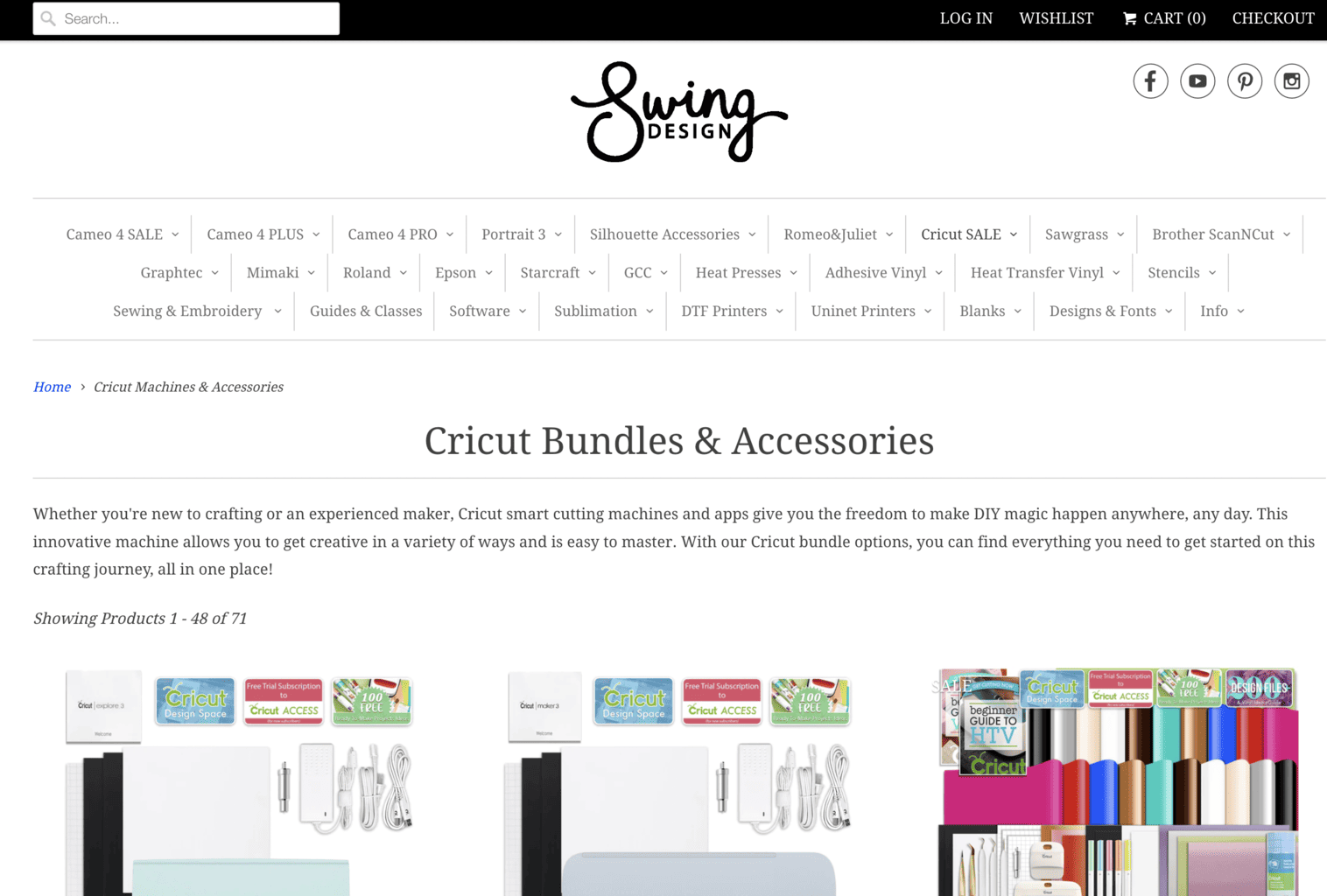 If you are just starting out, they also do some great bundles which include the Cricut machine, supplies, and even guides on how to create using your Cricut!
Looking to save? Swing Designs currently have a sale on many of their machine and material bundles!
So not only are you saving your cents on buying a bundle, but you get an extra saving on top of that!
Their deals and sales probably make Swing Designs the cheapest place to buy Cricut supplies and the best Cricut accessories!
>>> Want More? Check out this for the best place to buy vinyl for Cricut!
5. Michaels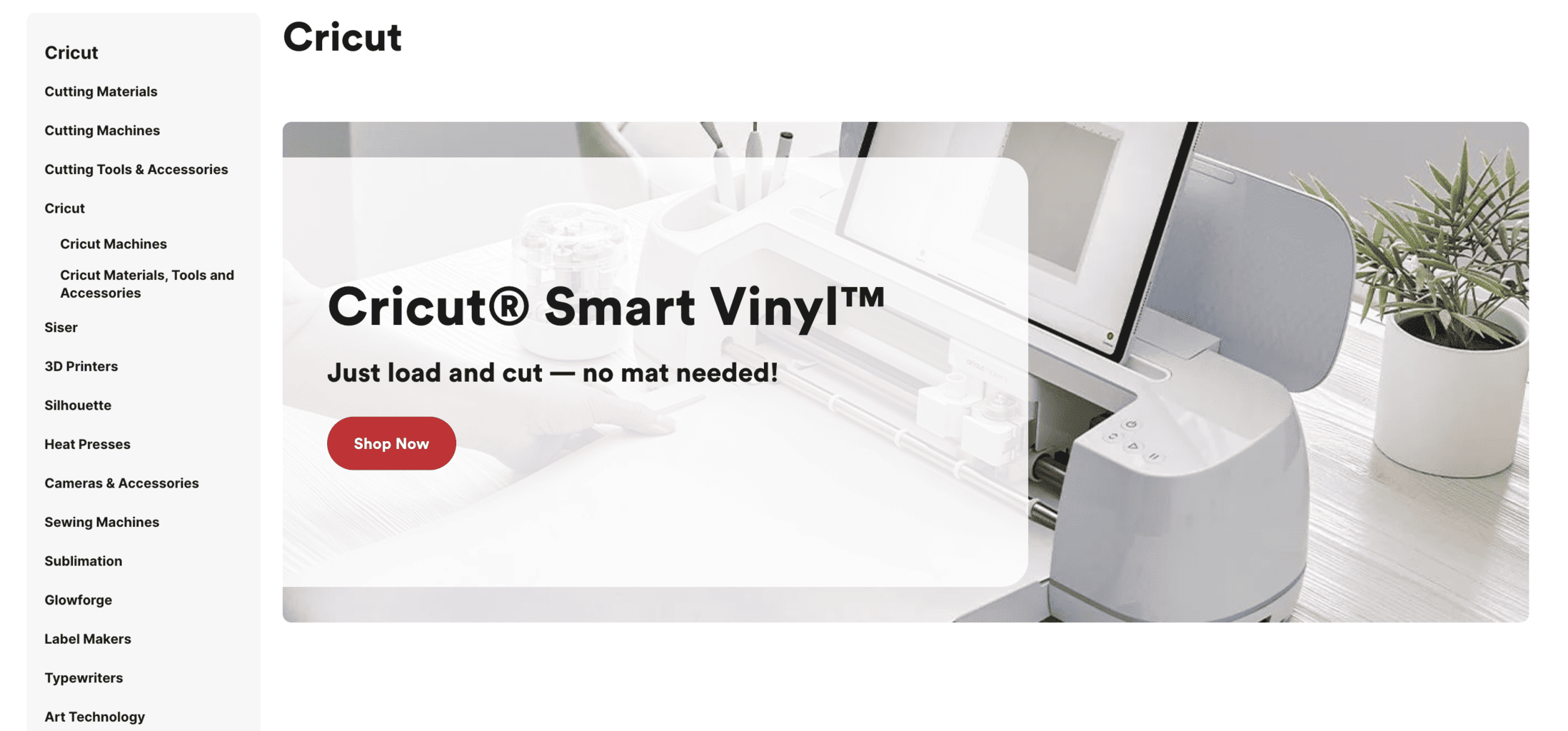 Michaels is another great place to buy your Cricut machine and all of the materials to go along with it!
From Cricut branded tools, vinyl, and storage, to endless colors of Infusible Ink, it really is a great place to go for all of your Cricut projects.
Looking for some savings? Michaels offers free delivery when you spend $49, and also offers regular coupon codes for savings on all things Cricut!
6. Walmart
On the lookout for some new Cricut materials? Look no further than Walmart!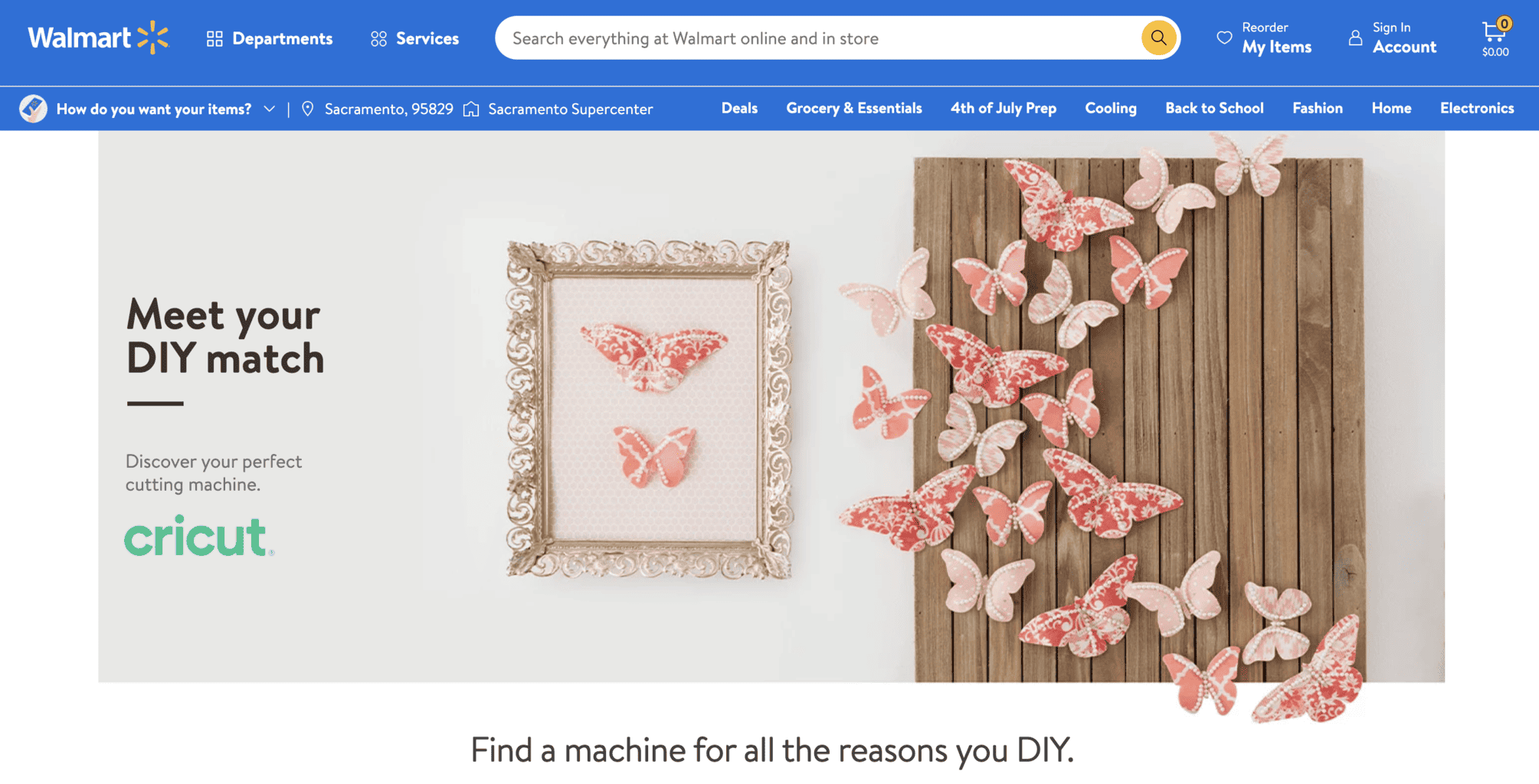 They offer a wide range of Cricut branded tools and vinyl, as well as an array of vibrant colors of infusible ink.
They also have a great selection of Bundles, including a Cricut Mug Press bundle with Infusible Ink, and a number of Cricut Joy machine bundles to choose from!
Whether you're embarking on a new Cricut project or restocking your supplies, Walmart has you covered.
Wanting to save some money on your new supplies? Walmart offers free delivery, pick-up, and extra savings using their Walmart+ benefits!
7. Expression Vinyl
Expression Vinyl may not be a one-stop shop for all of your Cricut supplies, but they have such a wide range of vinyl to choose from!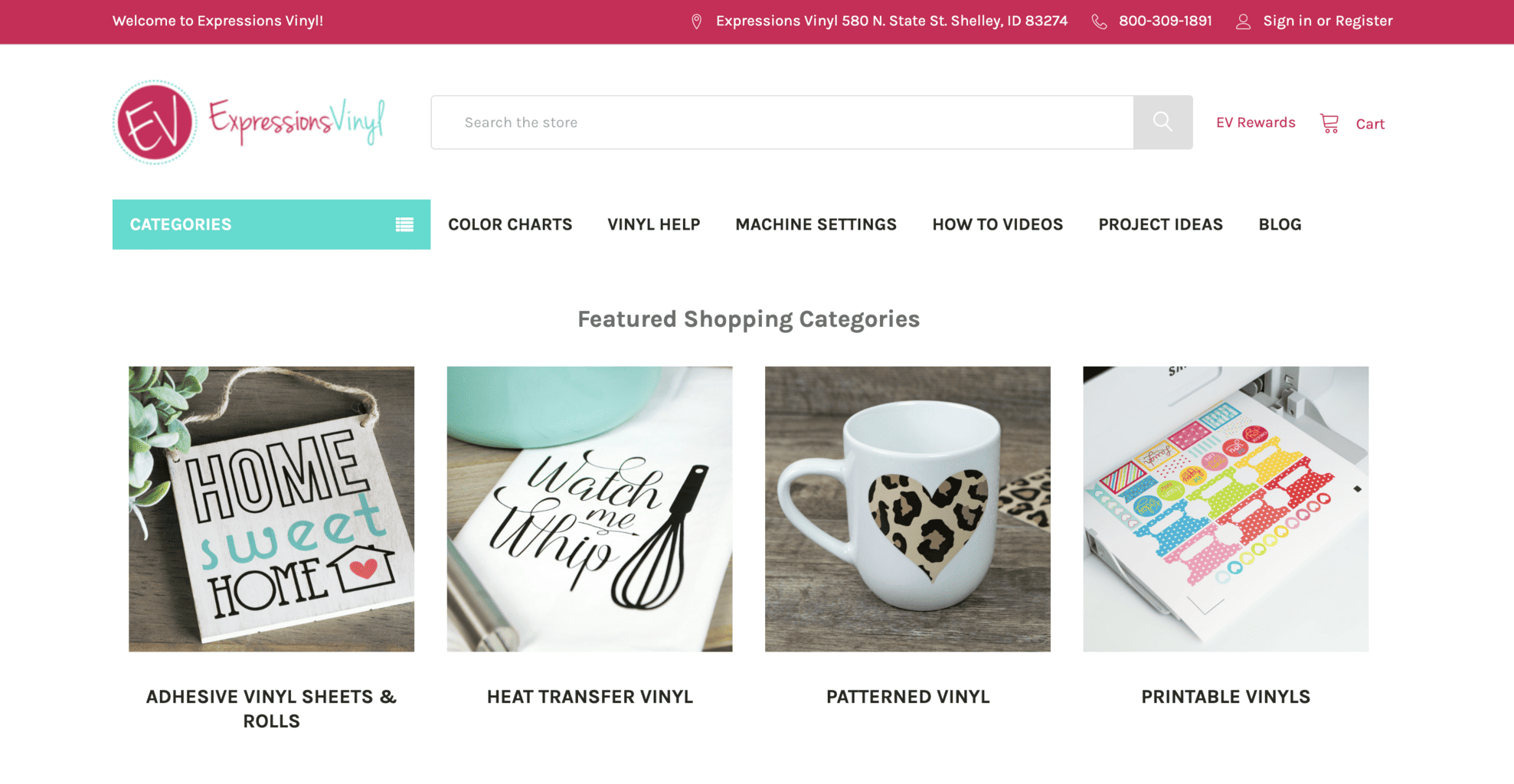 I do love shopping at Expression Vinyl because it is a one-stop shop for all things vinyl!
Whether you are looking for patterned, glitter, holographic, or even glow-in-the-dark vinyl… Expression Vinyl have you covered!
The best part about Expression Vinyl is their EV reward scheme! The more vinyl you shop for, the more you save!
Such a great way to keep stocking up on your vinyl craft supplies whilst being rewarded for your purchases!
8. Craft Stash
Craft Stash is a great place to find everything you need to start up your Cricut projects!

At Craft Stash, you'll find a great selection of Cricut branded tools, vinyl, and a range of colors for Infusible Ink.
You will also find a large variety of other branded heat transfer vinyl (ideal for heat press machines) and tools that would be compatible with your Cricut – perfect if you are looking for more affordable options when shopping for craft supplies.
Whether you're starting a new Cricut project or need to replenish your supplies, Craft Stash is a destination to consider!
9. Happy Crafters
Happy Crafters may not sell Cricut branded supplies, but they have lots of options for vinyl and accessories that can be used with your Cricut!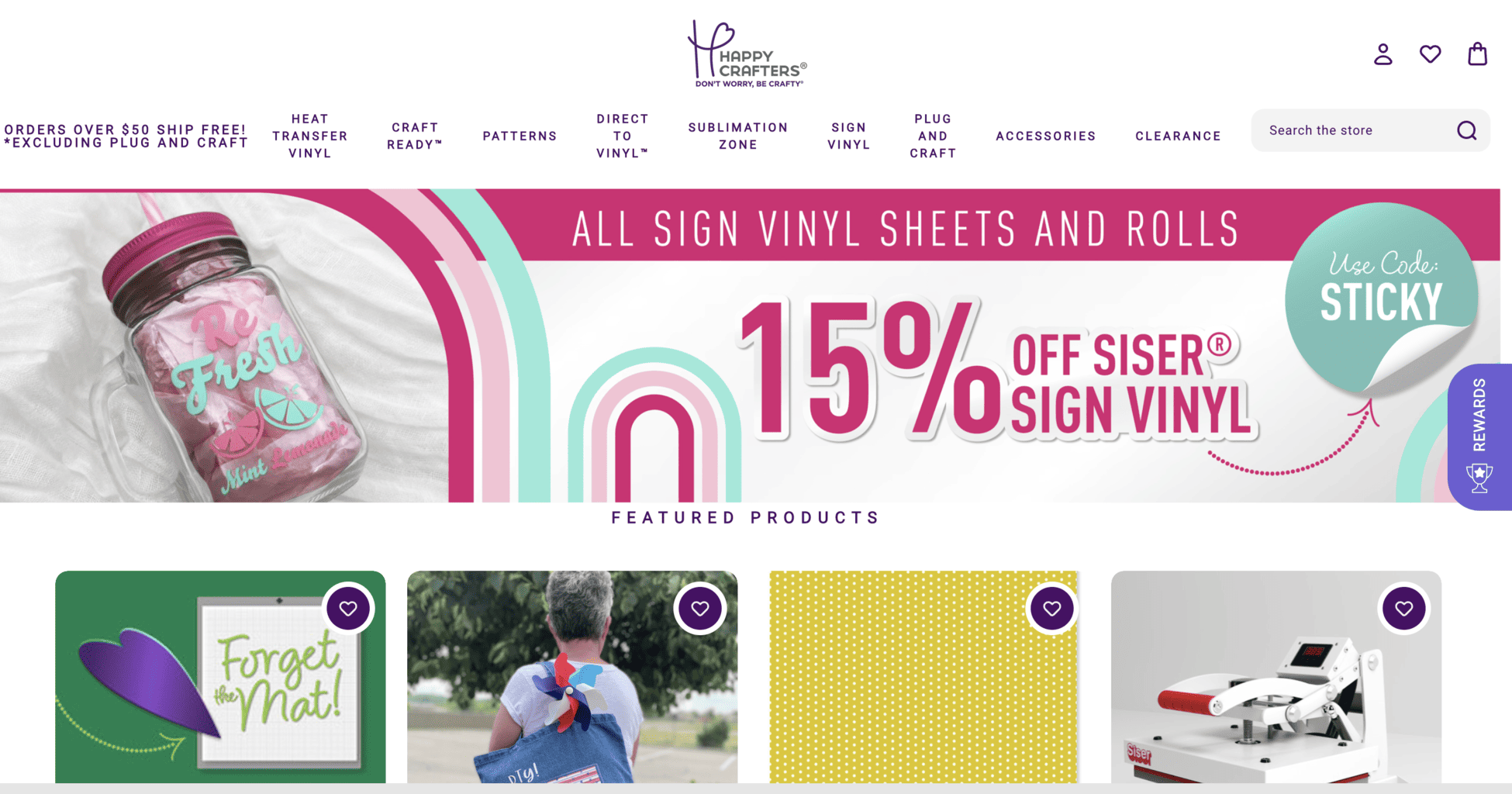 There is such a wide range of vinyl on offer. Not only can you purchase Happy Crafters branded tools and accessories but they also stock tools and accessories that are compatible with your Cricut.
It really is a great place to find materials to make some original designs!
If you choose Happy Crafters to buy your supplies, make sure you sign up for their newsletter and rewards program, you'll get notified of any new offers and sales!
10. My Vinyl Direct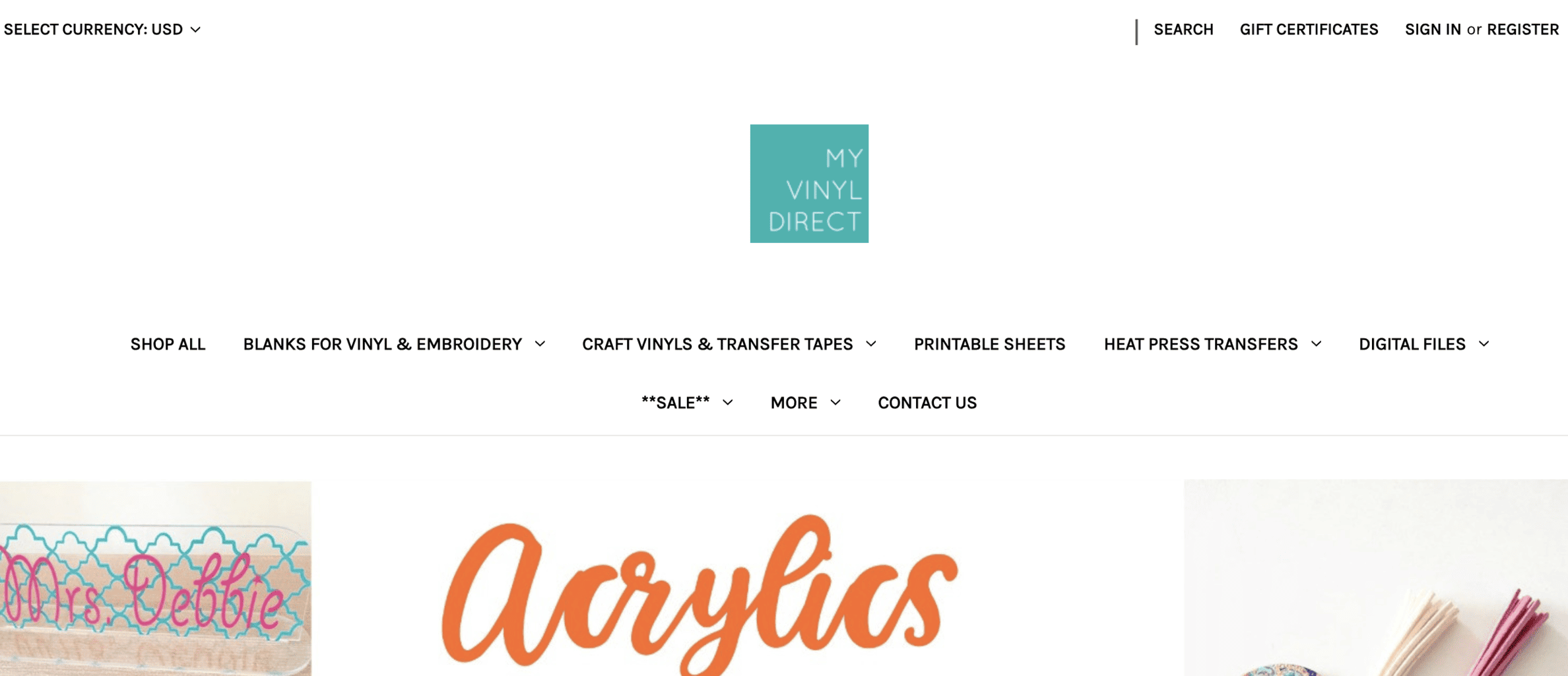 My Vinyl Direct does not have any Cricut supplies, but does have a large selection of brands of vinyl and other materials which are perfect for your Cricut!
From permanent vinyl and rolls, removable vinyl sheets, and even vinyl bundles in a wide range of colors, there is something for everyone!
Not to mention the wide selection of blanks that are perfect to put your design on!
My Vinyl Direct offer everyday low prices for their materials and blanks, meaning that you do not need to create an account to receive pricing perfect for a budget!
11. Dollar Tree
Not only does Dollar Tree have some cheap blanks for you to experiment and try out some designs on, but they also have very affordable Cricut supplies for your Cricut!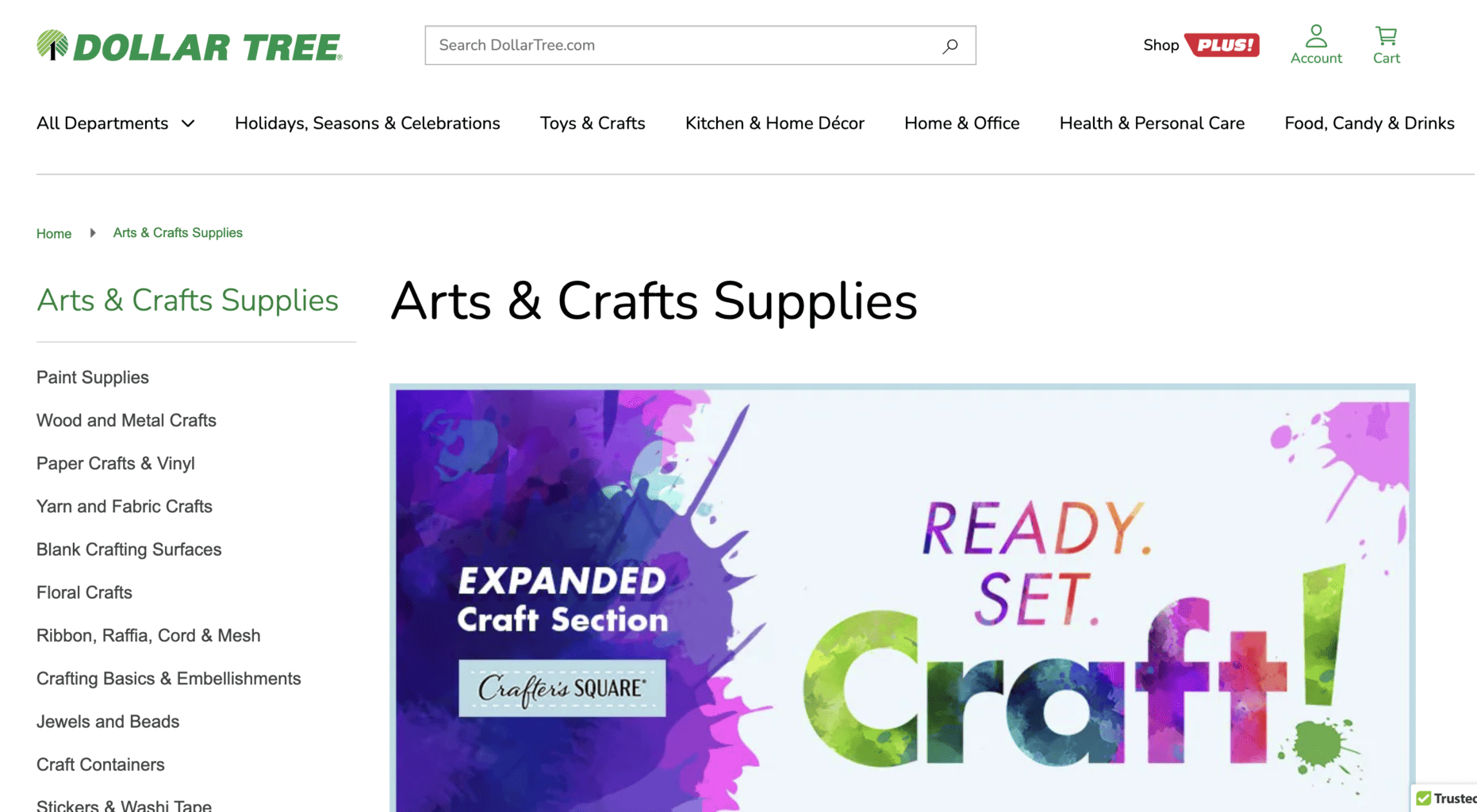 With rolls of Vinyl starting at $1.25, Dollar Tree is perfect for anybody starting out on a budget or wanting to experiment without spending a lot of their money!
There is so much to shop at Dollar Tree that your Cricut projects and ideas will be endless.
If you are starting out, be sure to check out our Best Cricut Tutorials For Beginners!
What Do You Need to Buy When You Buy a Cricut?
Once you have your machine you may be wondering "Now what?".
You may also be even more confused about what materials and tools you may need as there is so much that you can create and make with the Cricut Explore Machines or the new Cricut Maker machine!
I always suggest that you start with some easy, simple projects to get started. My favorite materials and tools for these projects are detailed below to help you get started.
Below is a quick list that I think is perfect for all Cricut machine beginners!
Iron-on Vinyl or HTV is perfect for making decals for t-shirts, tote bags, caps, etc.
Adhesive Vinyl (permanent or removable) for making decals for walls, cars, labels for storage jars, etc.
Cricut Transfer Tape or YRYM HT Clear Tape to help you transfer your adhesive vinyl decals.
Infusible Ink to create personalized mugs, tumblers, t-shirts, caps, and more!
Cardstock and paper if you want to make greeting cards, paper flowers, or gift bags and tags.
Blue LightGrip Cutting Mat if you plan on making cardstock and paper projects.
Cricut EasyPress or Heat Press Machine or an Iron if you want to use HTV or Iron-On vinyl.
A Cricut Heat Guide or our Cricut Cheat Sheet Book that shows you temperature settings, decal sizing, and much more!
Cricut Pressing Mat (included with Cricut Autopress)
Basic tool set to include scissors, tweezers, and weeding tool.
Scoring Stylus (for Explore Machines) or Scoring Wheel (for Maker Machines) for creating score marks when creating cards or folds in cardstock projects.
Cricut Brayer to help ensure your material is stuck to your cutting mat smoothly and firmly.
Cricut XL Scraper to help you press down cardstock and materials
Cricut Basic Tool Set (you will need scissors, weeding tools, scraper)
A computer or mobile device to use the Design Space software on.
Portable paper trimmer to trim your cardstock and paper if needed.
The Ultimate Guide to Cricut Design Space to help you learn how to use Design Space stress-free!
Top Tip: You can grab both of our bestselling books in one handy Cricut book bundle will give you two of the best books to get started with a Cricut machine.
Final Thoughts on Where to Buy Cricut Supplies
Stocking up and buying materials and supplies for your Cricut can be expensive.
This list of where to buy Cricut supplies hopefully gives you a lot of different options to help you save on your next Cricut project, no matter where you choose to shop!
To buy the Cricut machine, I would always recommend taking a look at the Cricut store or Amazon for the best offers and the cheapest machines!
If it is a bundle you are looking for, I would recommend checking prices at Swing Designs or JOANN, as they offer value for money on their bundle supplies, vinyl, and Cricut tools.
Expression Vinyl or My Vinyl Direct are great if you are looking for non-branded vinyl and materials that will work well with your Cricut.
Finally, if you are a first-time Cricut user looking to experiment with some blanks and cheap vinyl, Dollar Tree is a great option to try your hand at a variety of projects.
I hope have fun browsing for your new Cricut supplies and planning all the wonderful Cricut projects that you can now make!
Don't forget to grab the money-saving sales and deals as they definitely help as I know how many projects you will enjoy making!
Happy shopping!