I love using my Cricut EasyPress when making HTV projects however if I am honest, the one thought I have 90% of the time when using my EasyPress is that it would be so much better if it could automatically press my design without me using my own bodyweight!
What I love is that Cricut visited many crafters at home to see what their struggles were with their heat press machines. They took all the issues and figured out how to make it more friendly to use.
This heat press machine will be making waves to the heat press market as it has a lot to love!
Want to know more? Here is our honest Cricut AutoPress review – let's face it, this press is much more expensive than other presses, so is it worth it?
Click here to purchase the AutoPress from Cricut.com
Cricut AutoPress Machine Review Rating
Find below our review rating of the new AutoPress heat press machine.
Summary
We love the features and modern design of the Cricut AutoPress. It has Bluetooth connectivity to wirelessly connect to the Cricut Heat App which then automatically sets the temperature and time for you based on the materials used. The press automatically adjusts the pressure for materials up to 2 in (5 cm) thick. It is easy to close by simply using two fingers and automatically opens when the required time has been reached. Despite the clamshell design, the machine can be stored standing up on its base when not in use giving you a clear workspace. The downside to this machine is the slightly hefty price tag compared to other non-commercial heat press machines on the market.
PROS
Manually set both the time and temperature using the control pod.
Automatically adjusts pressure for materials up to 2 in (5 cm) thick.
Heats up to 400 °F (205 °C).
Large heat plate 15 in x 12 in (38 cm x 30 cm).
The heat press as an Auto off safety feature to switch off when inactive for 13 minutes.
It delivers professional results.
CONS
The cost of the machine is quite a lot more compared to other non-commercial heat press machines.
Cricut AutoPress Review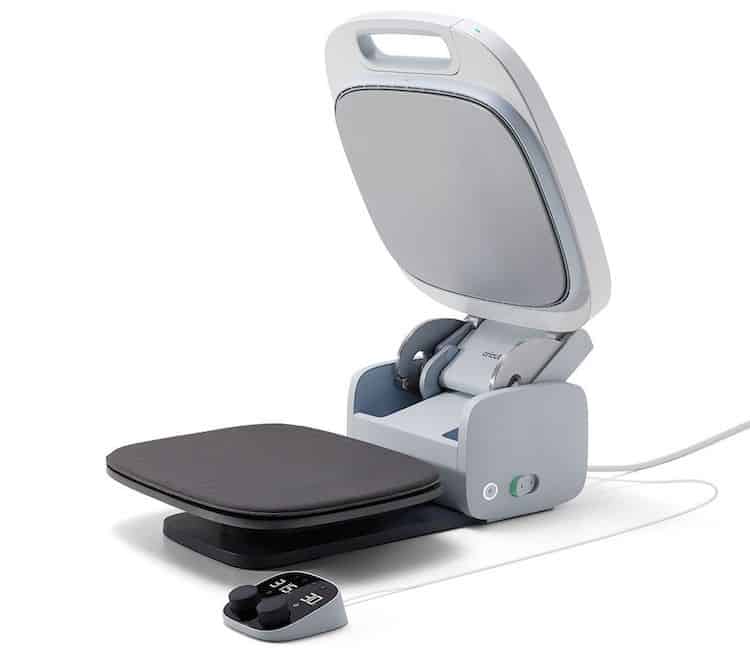 The Cricut AutoPress machine is the newest heat press released by Cricut that is of a professional standard for home use. Despite this heat press machine having the same power as a commercial machine, it has a super sleek and modern design.
As the name suggests, this heat press machine has many auto features that are a game-changer and well worth considering if you are looking to purchase a clamshell heat press machine. The automated features have been designed to help you make more in less time making this heat press machine suitable for home use and business use.
The Cricut AutoPress has a Zero Effort™ operation which means you can close the machine by simply using two fingers and the inbuilt motor does all the work for you in closing. It automatically adjusts the pressure required for materials up to 2 in (5 cm) thick which means you no longer have to guess what pressure is required or adjust the pressure for each project!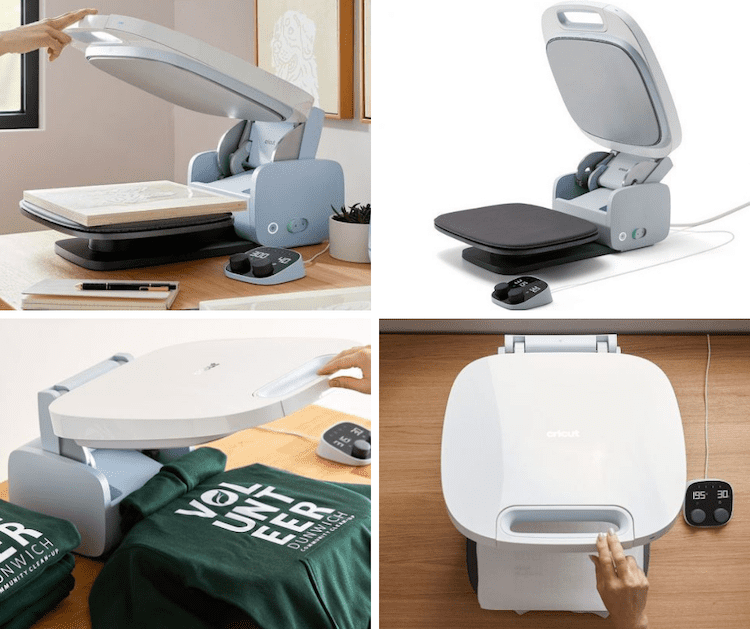 The machine also has an auto-release so when the press is complete it opens up ensuring that your project does not receive too much heat and burn. This is an awesome feature as you can close the machine and carry on working whilst waiting for the press to finish pressing.
Use the dial on the control pod to set the precise time and temperature required ensuring that you achieve consistent and professional results each time. This makes the AutoPress machine perfect for businesses or home crafters.
The heat place is a ceramic-coated heat plate and can heat up to 400°F (205°C).
The AutoPress has been designed with safety in mind as it has an auto-off feature so the machine will switch off when it has not been active for more than 13 minutes.
It works with all brands of iron-on (HTV), Infusible Ink™ & sublimation materials and makes an excellent addition to all Cricut cutting machines and craft rooms.
What's In the Box?
As one would guess, the box will be relatively large compared to other Cricut products.
Inside the large box is the AutoPress that is closed and locked. You will also see two other boxes. The first box has the control pod, electrical cord/cable, and the Getting Started Guide. The control pod has two dials and four buttons that are numbered 1 – 4.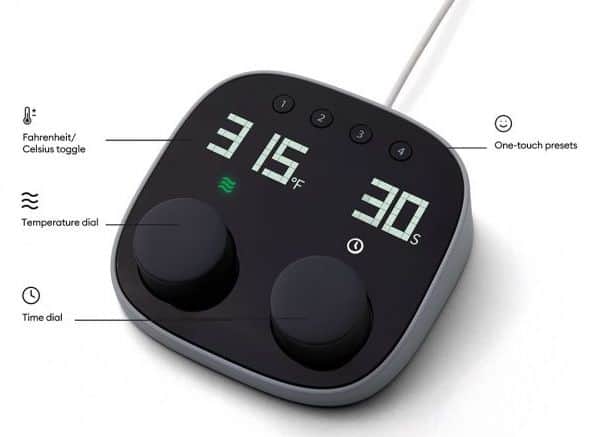 Who is the AutoPress Best Suited For?
The Cricut AutoPress is an excellent solution for home crafters and businesses. It has the same power and heating capabilities as professional heat presses but has been designed so that it can easily be stored standing up on your work surface (or in a cupboard) when not in use.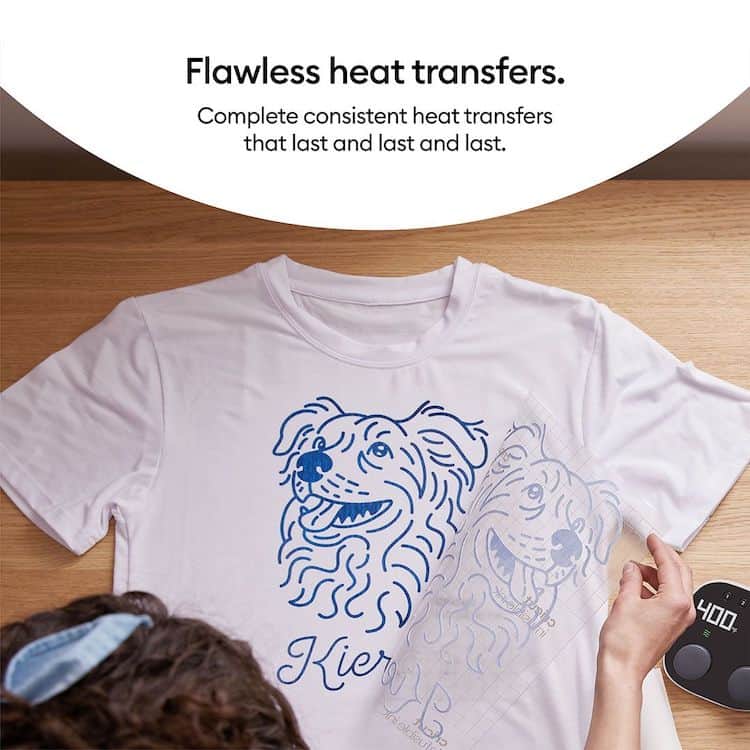 The auto features of the heat press allow you to make more projects in less time which is a great time saver and benefit for homemade crafts.
That being said, business owners can also benefit from AutoPress as they can create customized items in large batches quickly and still achieve professional products that can be sold.
In terms of price, this clamshell heat press has a hefty price tag when compared with other heat press machines that are used by hobbyists and small businesses. Although the design, features, and capabilities of the AutoPress stand out above other heat press options, the question of whether the features are worth that much more really does come down to what you value and the budget you have!
Overview of Features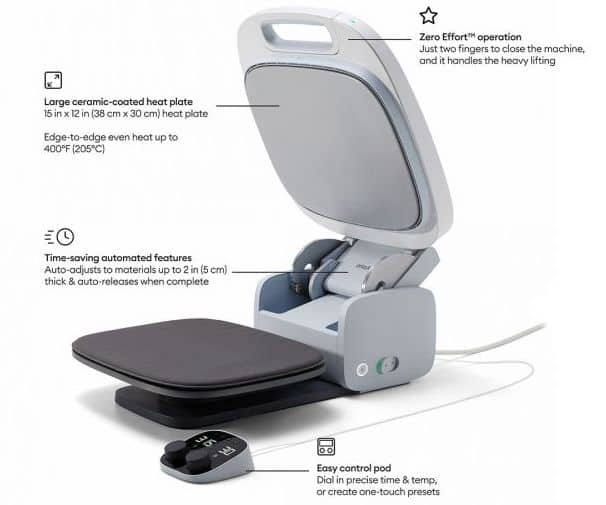 The Cricut AutoPress features a 15″ x 12″ ceramic-coated heat plate that evenly distributes the heat. The temperature range reaches 400°F (205°C) with edge-to-edge heating, allowing you to transfer heat transfer vinyl, Infusible Ink, and sublimation designs to a variety of different materials.
The top of the press can close effortlessly by using just two fingers and once closed it will automatically adjust the pressure required depending on the thickness of the material being used. There's an auto-shutoff feature that turns off the machine if unused for 13 minutes.
As for the controls, the on/off, heat, and timer dials are located at the control pad. There is a dial for setting the temperature and one for the time, which you can track on the LCD display. On top of that, there are 4 buttons numbered 1 – 4 that you can select for preset settings.
The even heat and high-temperature capability provide professional results each time and in no time at all, you will get high-quality transfers that can withstand multiple washes.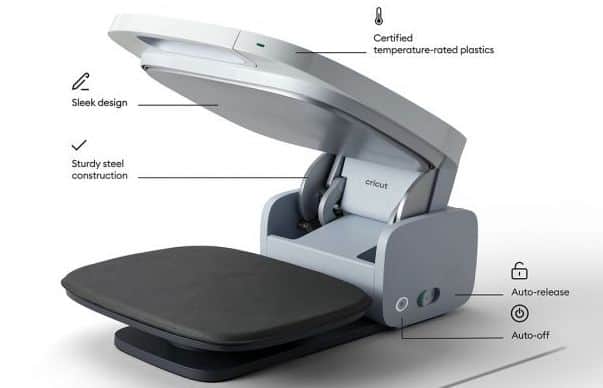 You can use the AutoPress for transferring designs on blankets, banners, jackets, etc. Of course, you don't actually have to transfer something of the full size. If your vinyl is 3" x 3", you can still use the AutoPress.
Click here to purchase the AutoPress from Cricut.com
How to Use the Cricut AutoPress
This heat press is a great choice even if you've never used one before. Adjust the temperature and time and wait for the unit to heat up.
The manual list recommended settings for different materials. You can also go to the Cricut's heat guide and select your preferences from the drop-down menu to get the right time and heat. In addition, the website offers preparation and maintenance tips.
The Cricut AutoPress has been designed to make it as easy to use as possible by automating a lot of the capabilities and removing any guesswork when using a heat press machine. Don't forget to use a teflon sheet between the heat plate and the iron-on material to protect both your project and the press heat plate.
Alternatives to the Cricut AutoPress
To be honest, you'd be hard-pressed to find another clamshell heat press that matches the Cricut AutoPress performance and functions. However, if you want more heat power the following ePhotoInc heat press machines are a good alternative.
1. The EPH10BU features 1400W of power and a 9" x 12" heat press. It can reach up to 500°F and the Teflon-coated aluminum heat platen ensures even heat distribution. There is also a knob to adjust the applied pressure as well as a large display and capacitive settings buttons.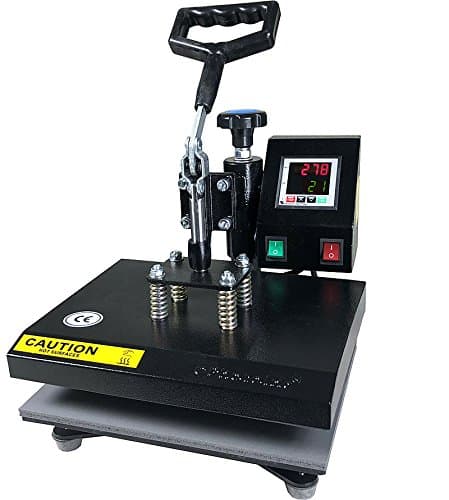 >>> You can check out current pricing for this heat press on Amazon here.
2. Stepping up to the 15" x 15" class, the ePhotoInc EPH15BLK is capable of much larger transfers. The heating elements draw the same power and the heat plate is also Teflon-coated aluminum. However, it doesn't come with a raised base, and the handle sports a different design.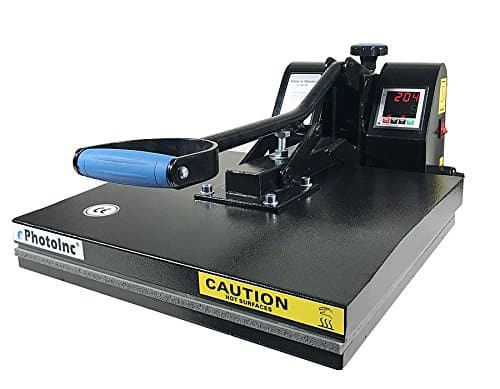 >>> You can check out current pricing for this heat press on Amazon here.
Both of these ePhotoInc machines are a good fit for professional and home use however they are not sleek in design nor do they have the option to store away like the Cricut AutoPress.
Our Verdict
When all is said and done, the Cricut AutoPress stands out as one of the best heat presses for crafters. It's hard to fault in terms of usability, performance, and versatility considering. It's safe to use and can press projects that are up to 2 inches thick.
Compared to traditional heat press machines, the new AutoPress is less labor-intensive due to all its automated features. For what it's designed for, this press is capable of pro-quality prints and withstanding heavy use. Though the true highlight lies in the fact that it's a heat press that can easily be stored away to save on space, unlike traditional heat presses.
Click here to purchase the AutoPress from Cricut.com
Where to Next? Here is our blog post full of gorgeous Cricut Heat Press Projects.