The new EasyPress 2 has been released and we often get asked whether this press from Cricut is worth the $$$. To answer this question, we thought it might be worthwhile to have a look at what you can make with this press.
Why not try making some personalized bags, home decor, apron's, tea towels or throw pillows. The possibilities are endless.
We love the versatility of the EasyPress 2 and we love that the heat press comes in a small size that is easy to carry around as well as easy to store. Perfect for those of us who enjoy working on a variety of crafts.
If you are thinking about getting this heat press, here are some posts that will help you out:
And in the meantime, here is our list of fabulous Cricut EasyPress 2 Project Ideas that will provide you will a load of inspiration:
Cricut EasyPress 2 Project Ideas
We wanted to round up some beautiful inspirational EasyPress 2 crafts from around the web, to show you what you can make with this fabulous heat press machine. Before we start, if you are brand new to the world of the EasyPress we have a fabulous guide on how to use a Cricut EasyPress 2 here.
1. Personalize a Kitchen Apron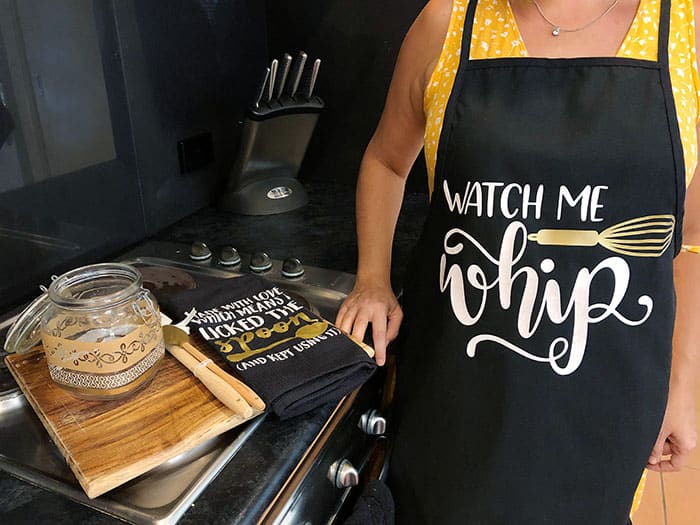 In this tutorial, I will show you how to take a boring black apron and whip it up into a gorgeous personalized kitchen apron. I use this apron in my own home, but they are fabulous to create for birthday or Christmas gifts as well. Click here to find the full step by step HTV Kitchen Apron tutorial.
2. Make Your Own Wall Sign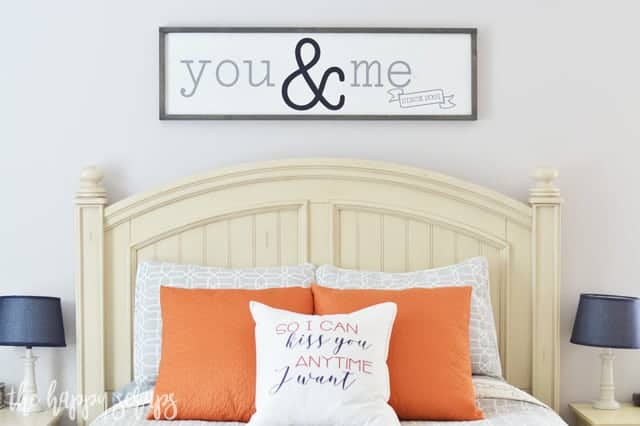 Amy from The Happy Scraps shows us how to quickly whip up a super elegant sign. I love this personalized fashion wall piece. Hop over to see her great tutorial as she walks you through the steps of using an EasyPress 2 to adhere some iron on vinyl straight onto wood.
Please note, she also used a Cricut Maker to cut out her letters. You can read through our Cricut Maker review here.
3. Create Your Own Custom Printed Napkins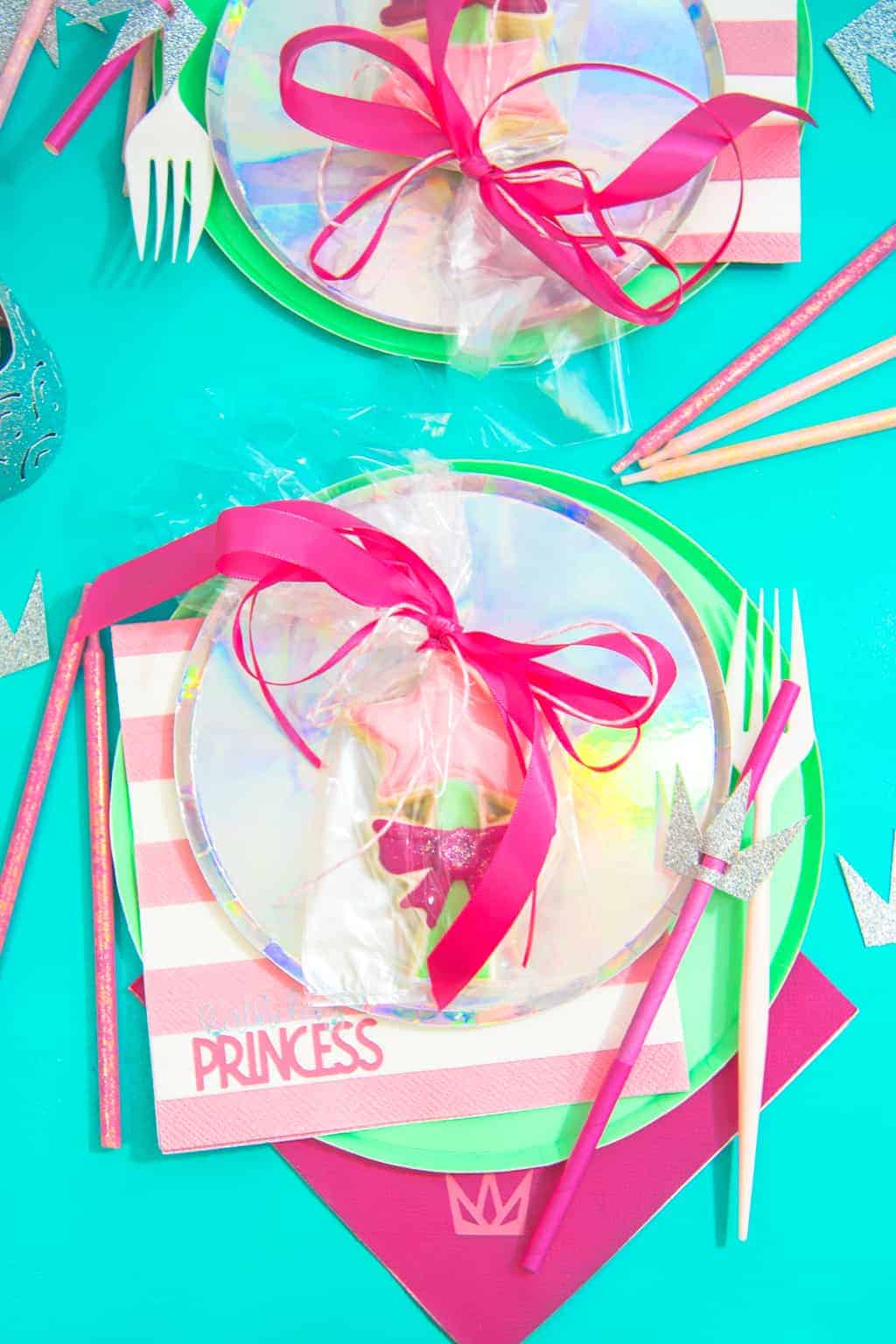 We are loving these adorable personalized napkins from Lindsay. You will find the full tutorial on how to whip up these gorgeous babies on her blog: See Lindsay. You will also need a vinyl cutter to cut out the letters (see our vinyl cutting buyers guide here).
4. Create Your Own Wall Decor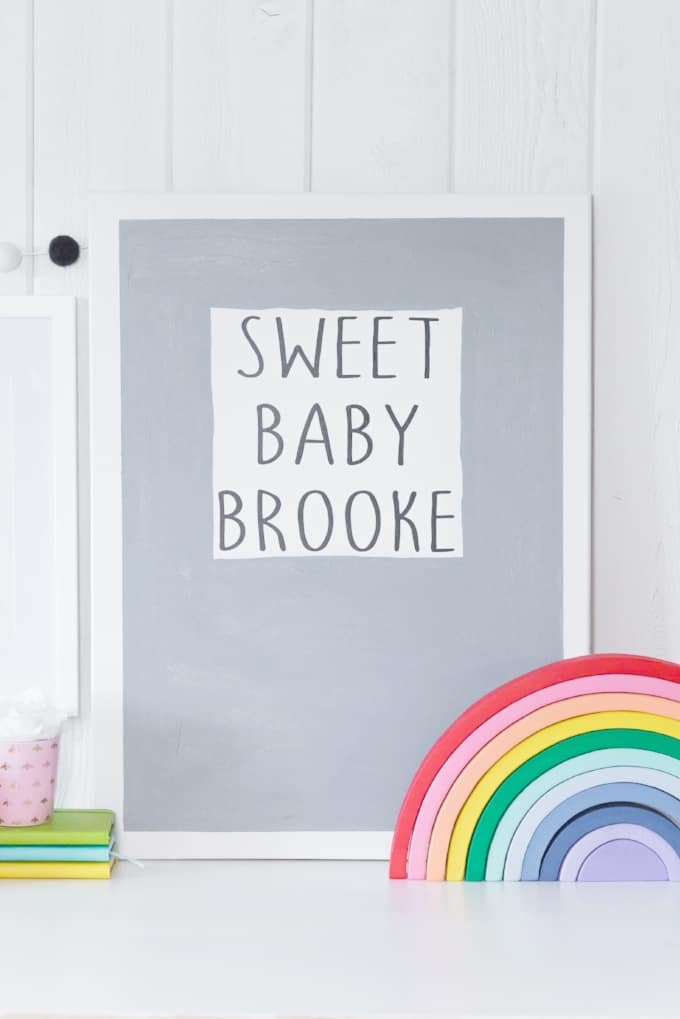 Beth from Kingston Crafts says that she loves gifting personalized gifts for little ones. So she whipped up this incredibly sweet statement piece for a baby's room. Super easy to make. Hop over to Beth's blog to see a full tutorial as well as a material list.
5. DIY Bedroom Curtains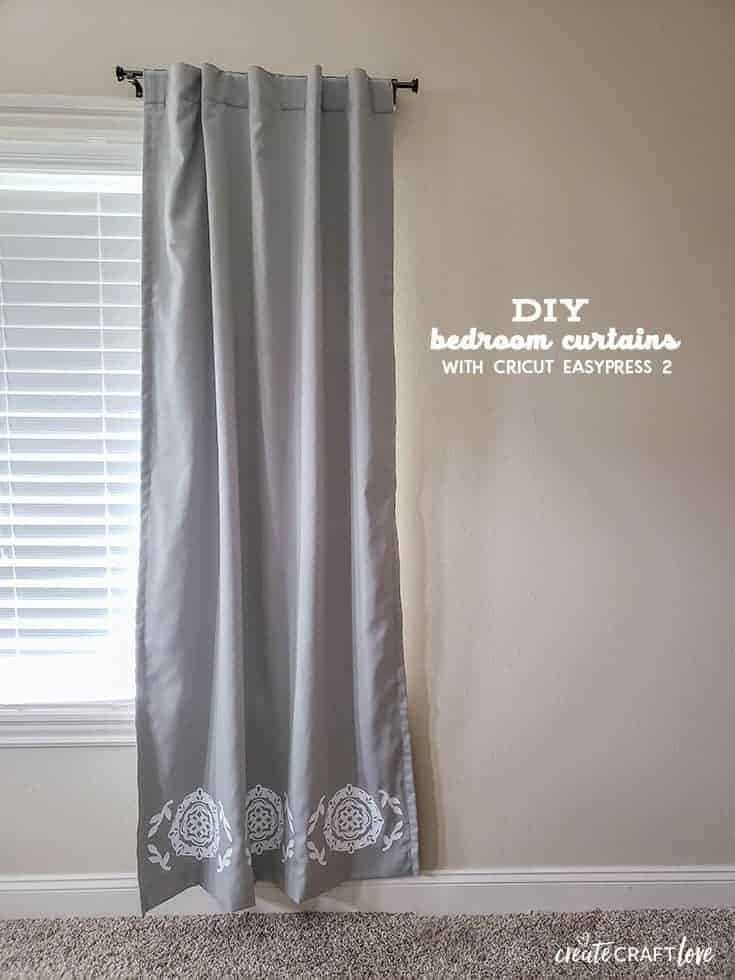 Jill from Create Craft Love takes boring curtains and turns them into showstoppers. I absolutely love the design she has chosen for her curtains. The white against the grey is elegant, simple but powerful. You can visit her blog as she shows you how to whip up these DIY curtains. She also shares some nifty tricks on how to week intricate designs with a Cricut BrightPad.
6. Easy Quilt Blocks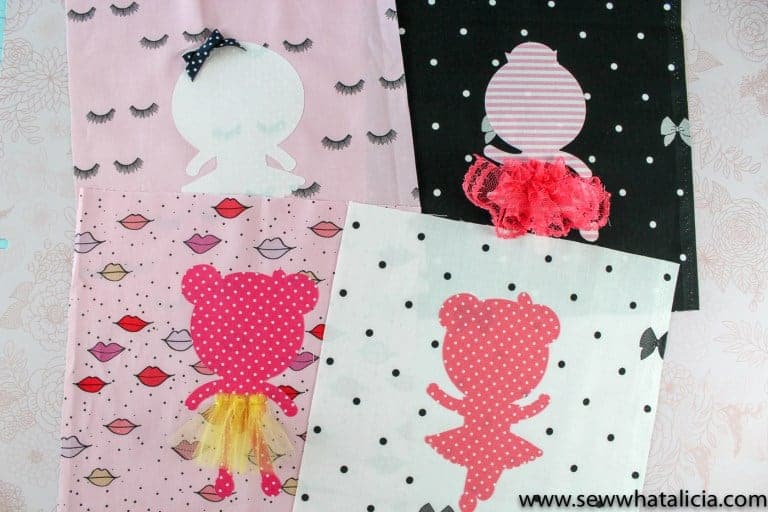 These super sweet quilting blocks would make sure a cute quilt for any girl's room. Alicia from Sew What Alicia shows you how to use some fabric, an EasyPress, and a sewing machine to create these adorable blocks. Easily adaptable if you have a boy in your family.
7. DIY Funny Socks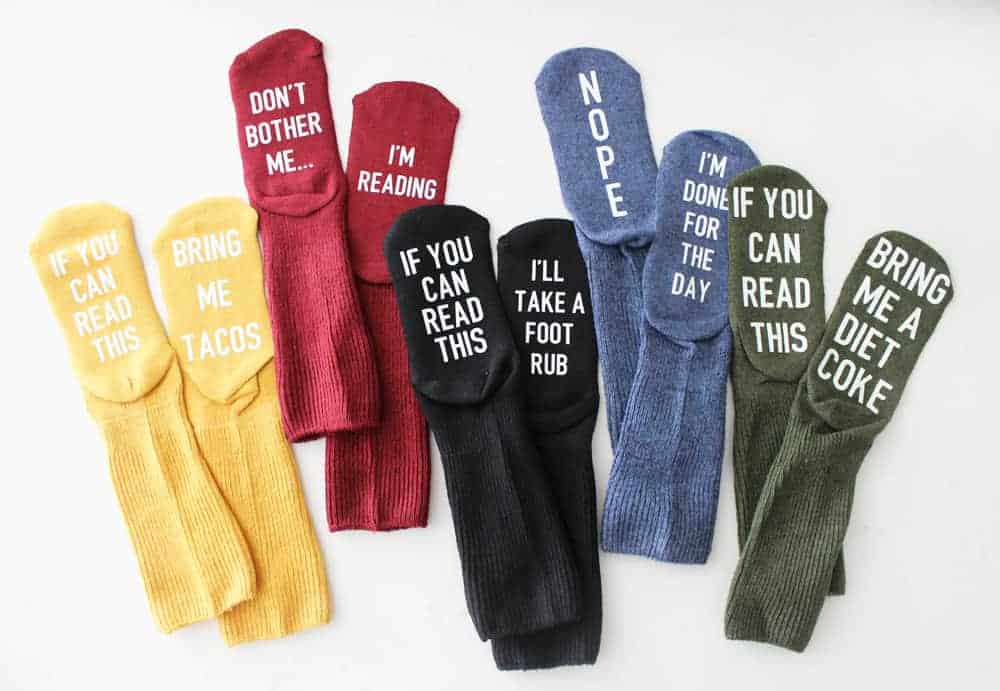 These gifts are the best! They are great for birthdays, teacher's gifts, father's day and of course Christmas. Jessica from Pretty Providence shows you how you can easily and quickly whip up some DIY funny socks.
8. DIY #MomTired Shirt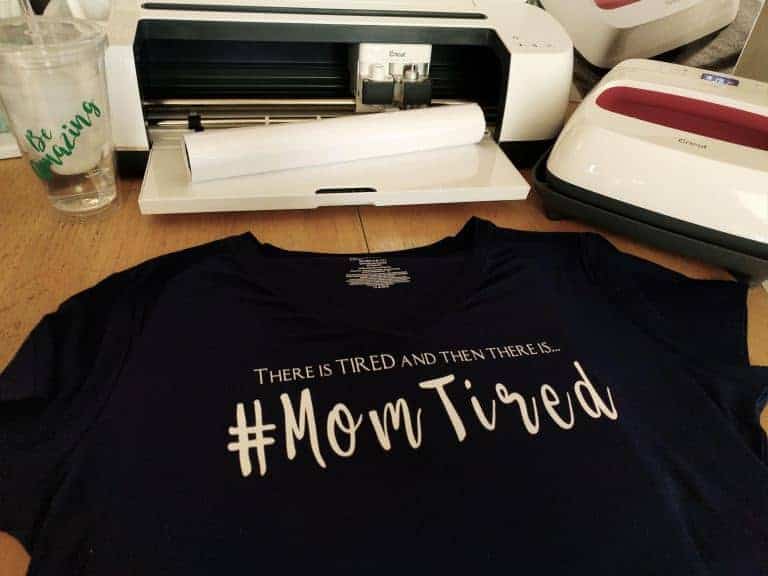 As a mom, I can totally relate to this shirt! Want to make your own DIY transfer shirt? Hop over to The Quiet Grove where Julia will walk you through the steps.
9. DIY Table Runner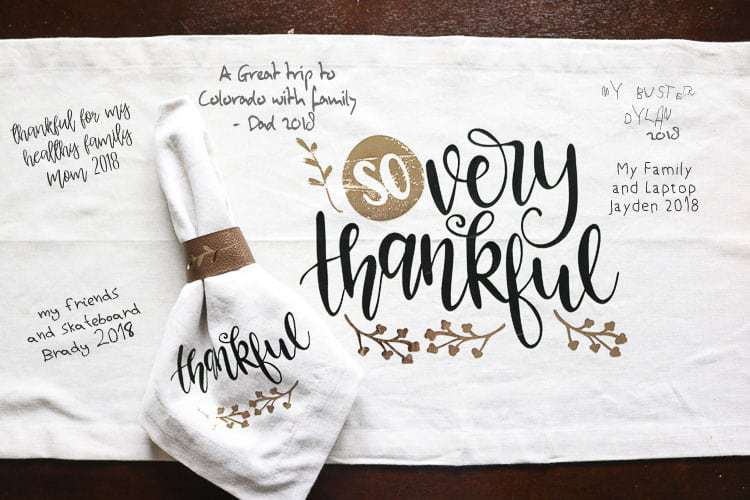 I love the idea of creating themed table runners for special occasions. Cheryl from That's What Che Said shows us how to whip up this gorgeous Thanksgiving Table Runner. Isn't it beautiful!
10. DIY Custom Backpack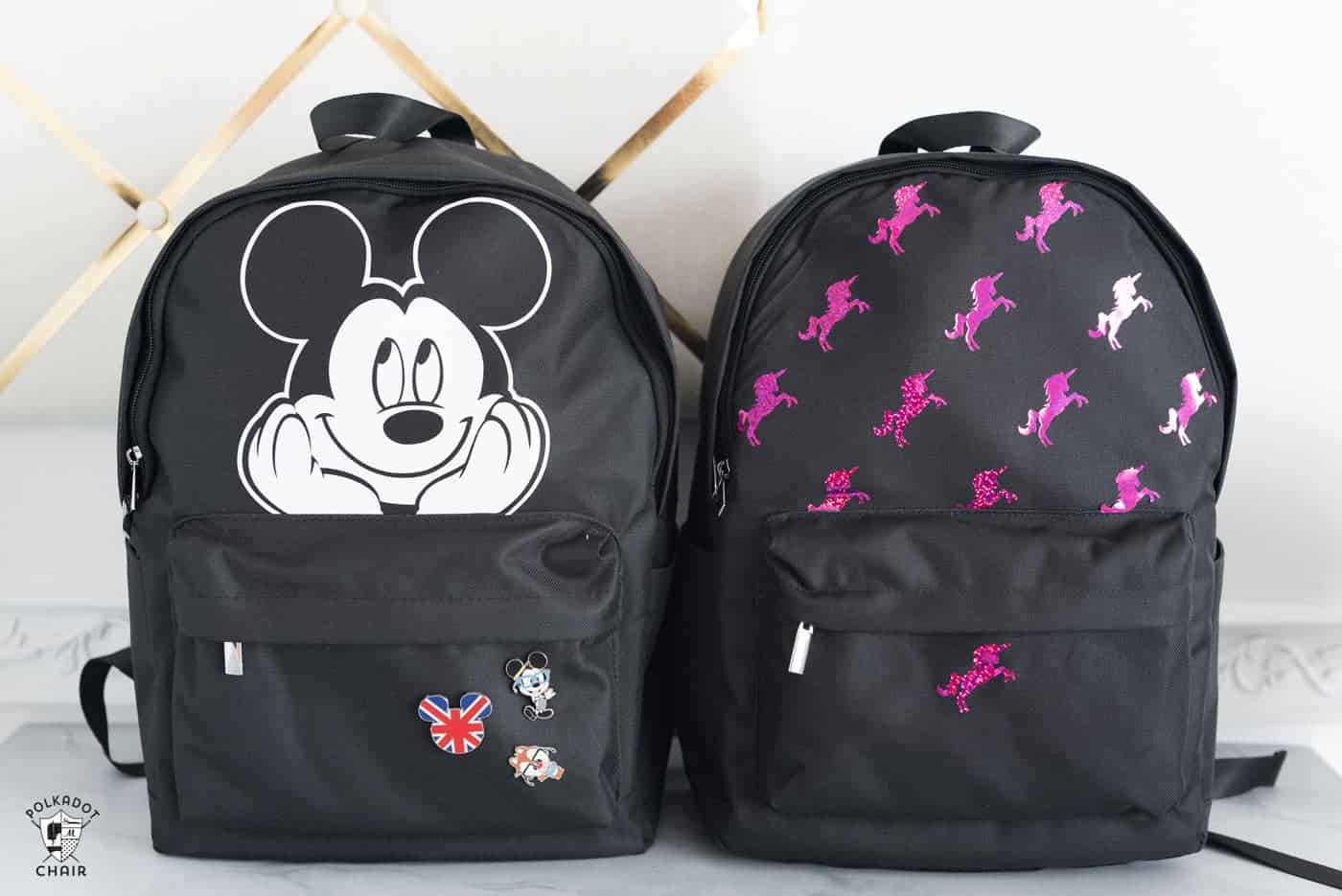 This is such a brilliant idea! What a great way to personalize backpacks, great for school-aged kids, but also great for those of us who love to travel. Melissa from Polka Dot Chair, shows you how to customize these bags. Hop over and have a read, as her tips might save you a lot of headaches!
11. DIY Craft Bag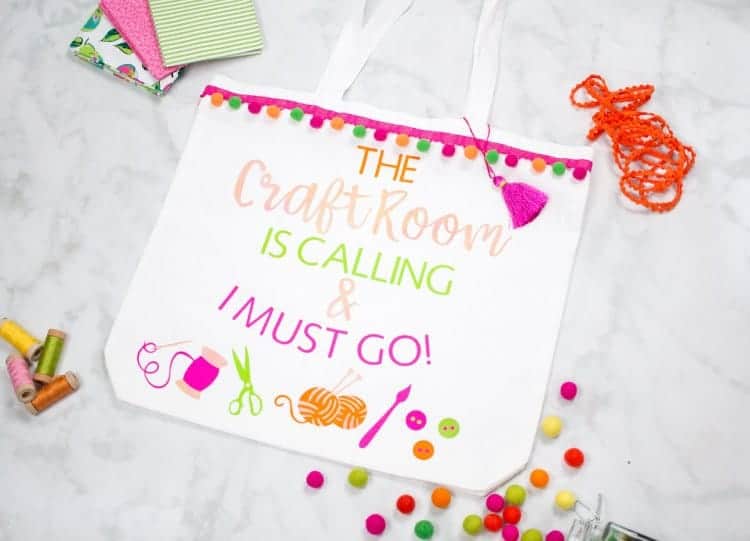 Our last share for today is from Kimberley. Hop over to her blog: Sweet Red Poppy, to find the tutorial that will help you whip up this gorgeous craft bag. We all have too much craft stuff, so these bags will come in so handy when you go over to a friend's house to create.
12. Personalize Toilet Paper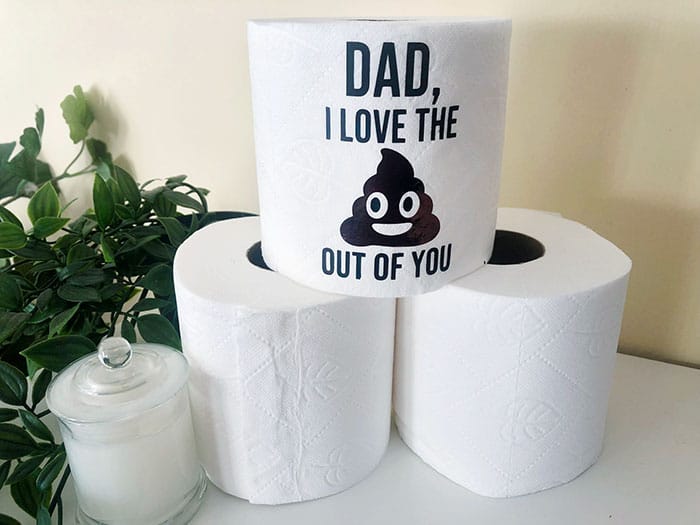 Here is a great example that you can add HTV to almost anything. Here I've added it to toilet paper. It was a Father's Day gift and was meant to be a joke … you know because men spend a hell of a lot of time on the loo haha! Anyways, if you want to follow the tutorial, you can find it here.
We hope you have found some great inspiration for your next Cricut EasyPress 2 project! Please leave us a comment below and let us know what you will be making next.