The Cricut Maker is 10x stronger and more precise than its predecessor the Explore Air 2. Talk about an impressive upgrade!
But is the Cricut Maker worth it?? It is pretty expensive after all!
PS. Whilst you can pick up the Cricut Maker for a fabulous price currently, you might be interested to check out the new Maker 3 as well. Find our Cricut Maker 3 review here.
This Cricut Vinyl Cutter is so incredibly versatile! It can cut even more material than the Explore.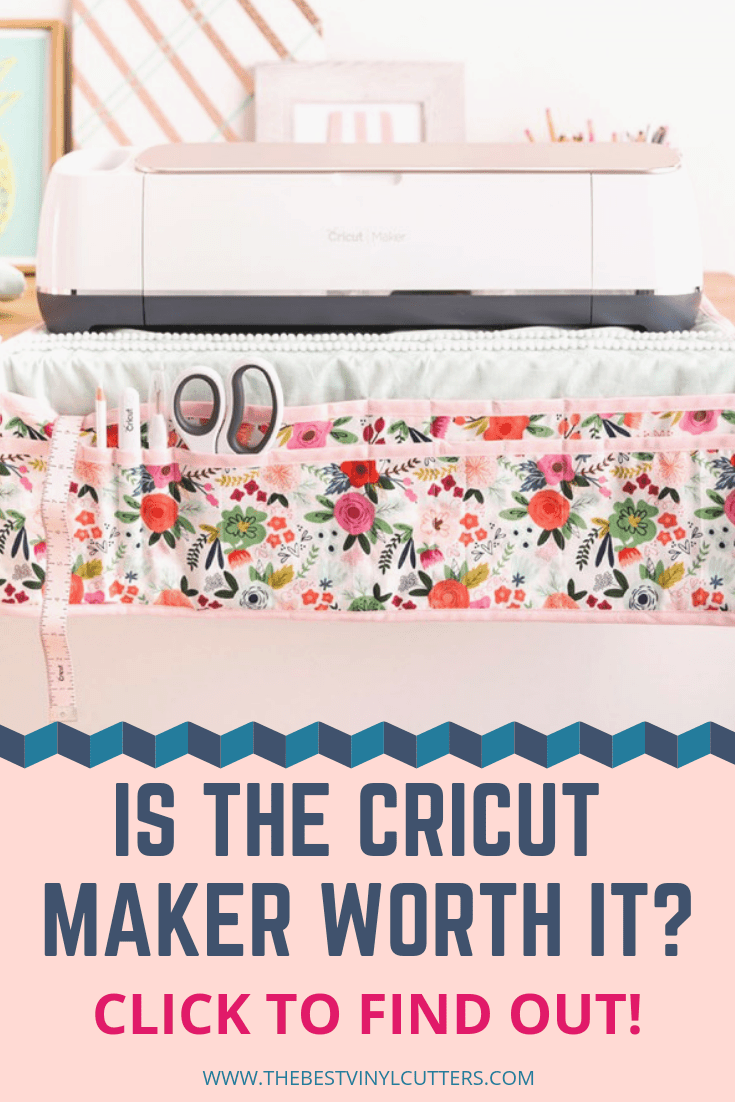 It has a uses a Rotary Blade that can cut sewing patterns for those wishing to work with fabric. This blade can be used on fabric without risk of tearing or fraying.
For those who wish to cut really thick material, the Knife Blade can slice through material of up to 2.4mm thick!! WOAH!!
Add in some truly clever features such as the Adaptive Tool System that automatically controls the blade direction and cutting pressure for you! So easy, so simple!
AMAZON BESTSELLER: The Maker is on Amazon's bestseller cutting machine list. Check where it is ranking here.
No wonder why everybody loves this cutter so much! Can't wait to share this Cricut Maker review with you!
Watch the short Maker Overview of the top features in this video below!
Cricut Maker Review Rating
User Experience

Cutting Specs

Materials Supported

Software

Value For Money
Our Verdict
The Maker is a truly unprecedented cutting machine.
Its stand out feature is its ability to work with fabric without the need for backing, as such as this machine is perfect for sewing enthusiasts.
We love its ability to offer clean precision cuts from the thinnest of silks to thicker material such as balsa wood. It offers 4kg worth of force and cut up to 2.4mm thick material (if you choose to purchase the knife blade additional).
We are really impressed with this new cutter and we have been wow'ed by its plethora of features on offer!
Pros:
The cutter can slice through over 100+ materials! From thin fabric to thick balsa wood. It is lightning fast and offers beautiful precision cutting.
We love the adaptive tool system that automatically calculates your force according to the material you are using and we are so happy to see an extension on the ready-to-go projects that include some beautiful sewing patterns to cut out.
This machine truly is revolutionary and comes at a truly affordable price tag.
Cons:
The cutting area is 12″ x 24″, whilst a decent size, we would love to see a bigger cutting space. We are annoyed that the knife blade isn't included in the box and we would love to see a move away from the old Design Space software

____________________
Cricut Maker Features & Specs
[easyazon_image align="none" height="872″ identifier="B072VYPWM4″ locale="US" src="https://www.thebestvinylcutters.com/wp-content/uploads/2017/11/71UjLt7c7aL-1.jpg" tag="bestvinylmachines-20″ width="750″]
The Maker is an electronic cutting machine but it is also a fabulous fabric cutter.
It comes included with software that will help you to create images that can then be drawn and cut out via the vinyl cutter on your choice of over 100+ materials.
Just imagine the potential of those Cricut Projects that you can whip up!
The key features of this cutter machine are that it has the ability to cut fabric (using the rotary blade) as well as thicker materials of up to 2.4mm in thickness (using the knife blade).
Click here if you want to get an idea of what sort of fabric projects you can make with the Maker. We also have some inspiration of some felt fabric projects you can make with the maker here, and here is a list of the types of projects you can make beyond fabric.
Below you will find our detailed review. I will outline the top features, specs, the pros, and cons of the Cricut Maker Cutting Machine.
I will also give you suggestions of who this Cricut vinyl cutter would be perfect for; in order for you to help figure out if this machine is the right match for you!
IS THE CRICUT MAKER CURRENTLY ON SALE? Check our Cricut Sale page to find any special deals on the Maker.
Six of the Top Maker Features
The Maker offers a few upgrades and nifty features that will make it easy for even beginner crafters to use this machine. As I'm sure you are aware, the Maker is the newest Cricut on the market and boy did they release a fabulous cutter! Here are some of the top features of the Maker:
1. Rotary Blade
One of the main new exciting features of the Cricut Maker is its revolutionary ability to handle fabric really well.
The Rotary Blade (one of the 6 blades that work with the Cricut Maker) has been designed to cut through virtually any fabric; without the need for backing, spray starch or Terial Magic.
This nifty blade can handle a wide variety of material from stiff denim to fine silk.
It can cut straight lines, right angles or curves and deliver fabric cuts without tearing or snagging.
–
2. Knife Blade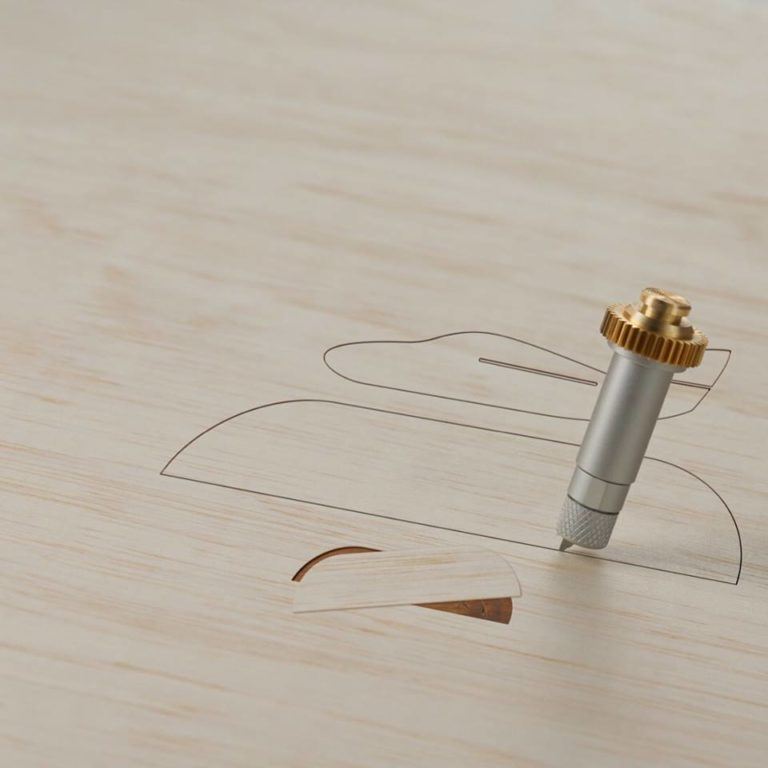 If you love working with thicker material, you might want to look into investing in the new cool Knife Blade (Grab the Knife Blade here).
This blade can cut extra deep and ensures precision cutting up to 2.4mm (3/32″).
This means that you can now create clean precision cuts on thick material such as leather and balsa wood.
This feature truly takes this personal vinyl cutting machine up to the same levels as some of the more expensive professional machines.
3. Adaptable Tool System
For those who loved the smart dial on the Cricut Explore Air 2, you might be sad to know that the dial has disappeared.
However, we are in love with the Adaptable Tool System and think it is the best feature yet. It adjusts the direction of the blade as well as the pressure to match the material you're using.
No more setting the dial to the material you are using, this machine is so bloody clever that it can work with the grain of balsa, the warp, and weft of fabric and the specifications of other materials to preserve the crispness of the lines.
Incredible isn't it!!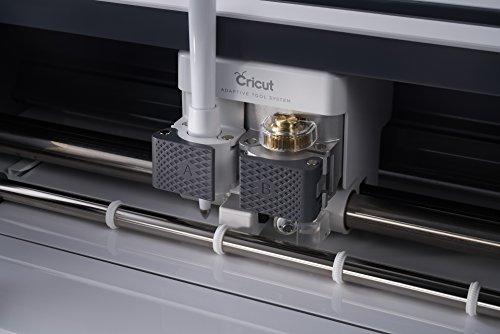 –
4. Two Tool Capacity
The Maker allows you to keep two tools locked and loaded at once.
It means that you can easily switch between your favorite tools and simply makes life so much easier.
You can choose between a pen tool to create phrases; a washable fabric pen to use for your sewing patterns and a calligraphy pen.
You might also enjoy the scoring stylus for all those folded paper crafts.
5. Sewing Pattern Library

As you know, a big feature of this cutting machine is its ability to cut fabric.
To make this feature even more pronounced, Cricut has teamed up with Simplicity patterns and Riley Blake Designs to bring you ready-to-make projects that come free with the Cricut Maker.
This truly simplifies sewing and quilting projects and will save you loads of time; plus it takes away the boring job of hand cutting your panels for your projects.
Simply choose a digital sewing pattern, and let the Cricut Maker cut and mark all the pieces – you just sew them together! So easy!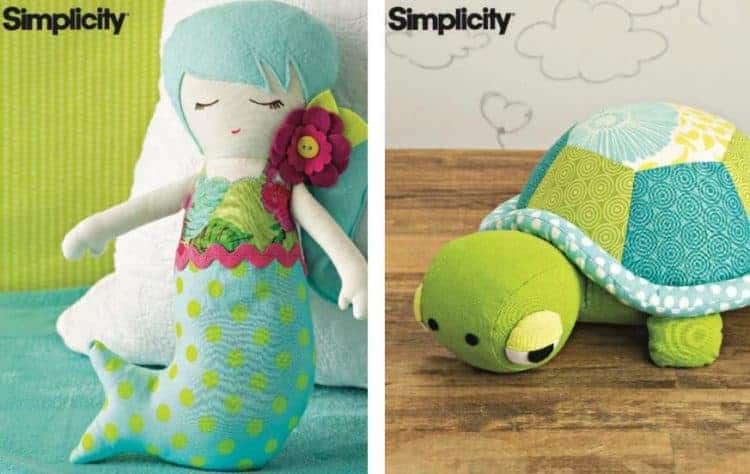 Unique Pens
Want to work with some unique pens? This machine can make coloring pages, write beautiful card sentiments and prepare decor items.
Use the Fine Point Pen for your lettering or to draw acid-free, water-based drawings.
Use the Washable Fabric Pens to make some markings on your sewing patterns.
Or try out the Calligraphy pen for some fancy writing.

____________________
Cricut Maker Specifications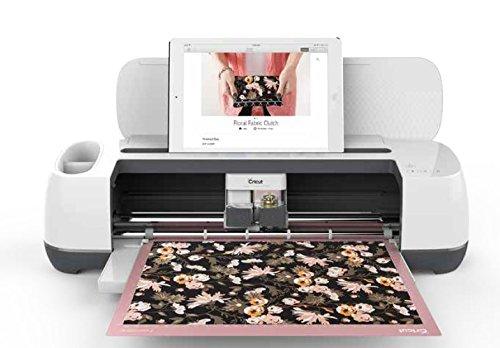 In the Box
Cricut Maker machine
Rotary Blade & Drive Housing
Premium Fine Point Blade & Housing
Fine Point Pen
FabricGrip Mat 12″x12″
LightGrip Mat 12″x12″
Welcome book
USB cable & Power adapter
Cricut Access free trial membership (See if you should grab a Cricut Access Membership here)
50 free ready-to-make projects, including 25 sewing patterns
Materials for your first project
Cricut Maker Size
The Cricut Maker dimensions and weight are as follows:
Size: 22.6″ x 7.1″ x 6.2″

Cricut Maker Weight: approximately 24 lbs
What can the Cricut Maker Cut?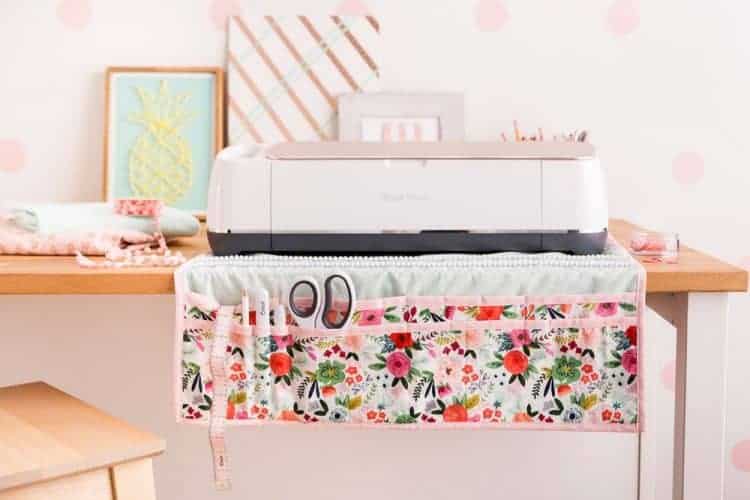 This new Cricut Maker is a great machine for those who wish to work with a wide range of materials.
It has the ability to cut over 100 materials; from thin vinyl to thick leather, metal, foam, and fabric (including silk, chiffon, denim, and canvas). Find a full list of the materials it can cut here.
A top difference between the Cricut Maker vs Cricut Explore Air 2 is that the Maker can handle fabric & thicker materials really well (although you will need to purchase the Knife Blade additionally for thicker materials)!
Cricut Maker Cutting Size
The Cricut Maker max cut size is 12″ wide x 24″ long. This is a pretty standard size for a personal vinyl cutting machine and will be sufficient for most craft enthusiasts.
It comes with two cutting mats; a FabricGrip Mat 12″ x 12″ and LightGrip Mat 12″ x 12′.
If you are after a larger cutting surface, we recommend you have a look at either the Cameo 3 Silhouette (12″ x 120″) or the US Cutter MH 871 MK2 (31″ x 96″).
What Material Thickness can the Cricut Maker Cut?
We love the flexibility of the cutting thickness of the Maker.
The Cricut Maker has a cutting force of up to 4kg.
If you purchase the additional knife blade, this nifty machine can cut materials up to 2.4 mm thick. This extra-deep blade slices through heavier materials like balsa wood and matboard!
Warranty & Support
Your Cricut Machine comes with a 1-year warranty. You will also have access to their Help Centre, their 'How-To' tutorials as well as videos on how to set up the Cricut craft cutter properly.
Cricut Maker Colors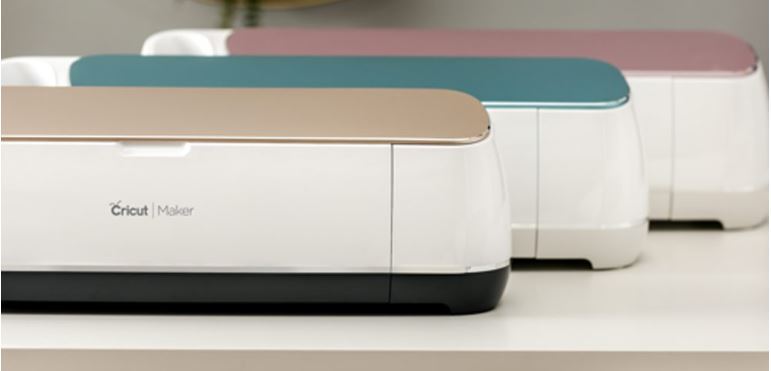 The Cricut Maker is available in three beautiful and elegant colors.
Choose from one of the following colors:
Cricut Maker Champagne
Cricut Maker Blue
Cricut Maker Rose
Cricut Vinyl Cutter Machine Comparison Chart
Cricut has created this super handy chart to outline the difference between the Cricut die cutting machines. (Please click on the image to open it in a larger size)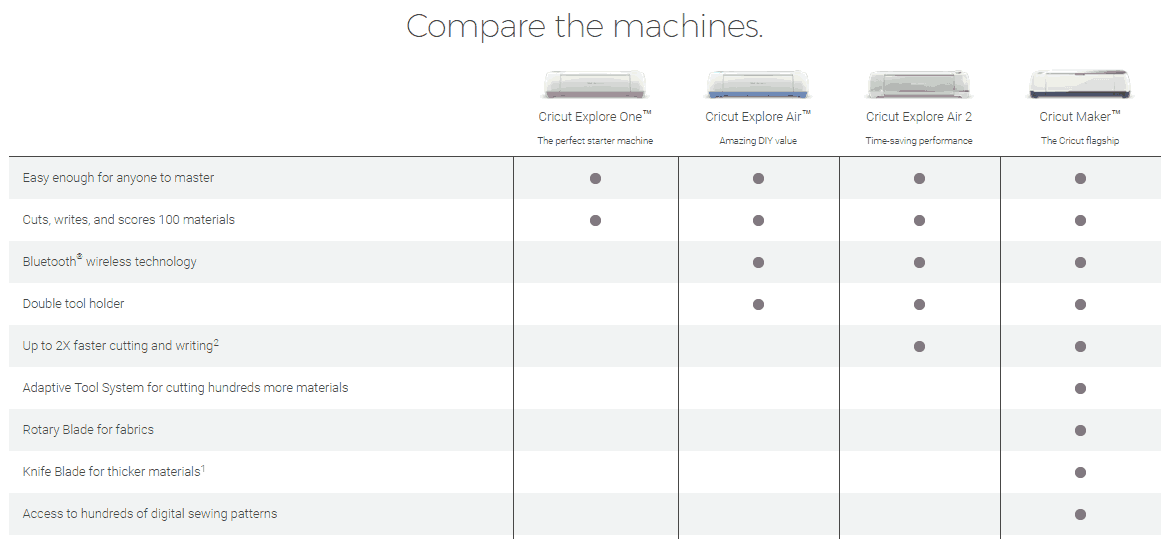 ____________________
Cricut Maker Pros and Cons
Below you will find our Maker Cricut machine review; focusing on the pros and cons of this machine together with information on who this machine would be perfect for.
Pros
Twice as Fast
We love that the Fast Mode enables you to cut and/or write up to 2x faster without losing precision.
Intricate Precision Cuts
This is the machine for you if you are after super intricate designs. Simply switch the Maker to precision mode (which is a bit slower than fast mode) and it will deliver superior intricate cuts!
Ability to Cut 100+ Materials
This machine's remarkable ability to handle over 100 materials is definitely impressive! It is also our top choice machine when it comes to working with thicker materials and fabrics.
Docking Station
The docking station is a really great addition. Simply dock your tablet or phone right onto the Maker. It even has a USB port for phone and tablet charging. Perfect for when you are watching video tutorials!
Of course, because the machine has wireless functionality, you can also create your design on the comfy couch and simply send it to the machine when you are ready.
It is Great for Fabrics
One of the biggest selling points about this machine is that it is our recommended vinyl cutter for fabric. Cricut has really fine-tuned this feature and we love that it can create superior cuts from sewing patterns.
It is, in fact, the only hobbyist vinyl cutter that we would recommend for fabric as the other machines such as the Cameo 3 and Explore Air 2 struggle to produce a clean cut.
Ready-Made and Personalized Projects
This cutter is flexible in how you wish to attack your projects.
For those that love to stick to easy ready-to-go projects, you can make use of the 50 free projects and 25 sewing patterns that come with the Cricut Maker.
And for those who are more proficient and love to do their own thing, you will be happy to know that you can use your own images and fonts, using a variety of different file formats. Simply migrate designs from Photoshop, Illustrator or other programs.
Cons
You Need to Purchase the Knife Blade
I really have a pet peeve with companies who advertise that a machine can do something, only to realize that in order to do it you have to spend more money!
If you tell me this machine can cut up to 2.4mm then include the blade to do so!! *Rant Over*
Limitations on your Cutting Size
The maximum cutting area of the Explore machines is 12″ wide by 24″ long. As this machine is a halfway stepping stone between hobbyist and professional vinyl cutters, we really would have loved to see a larger cutting space.
It is still a really decent cutting length, but it would have been nice to have a larger area altogether.
____________________
Our Verdict
So back to our question – is Cricut Maker worth it?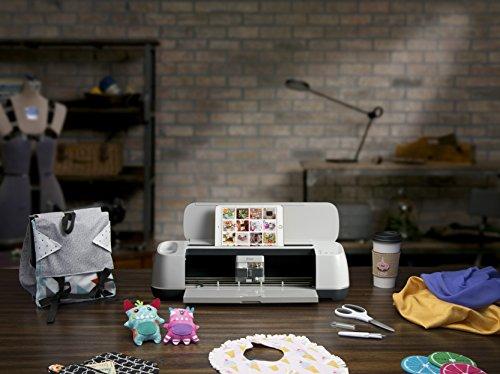 Whilst the Maker is more pricey in comparison to other machines, the Maker Cricut Machine is without a doubt one of the best vinyl cutters for both fabrics as well as for thicker material.
We love that this machine is so versatile that it can handle material from the gossamer-thin fabrics and tissue paper to balsa wood & leather.
This machine excels in offering top-notch features and specs. With lightning-fast precision cutting capabilities, its reasonable price tag as well as its promise to fit with all past, present and future Cricut tools, you know that this machine will last you for many years to come!
We are head-over-heels in love with this cutter and we know you will love it too.
You can click here to find the current best deals. You can always typically save a lot of money by grabbing one of the popular Cricut Maker Bundle Deals.
And we have also listed some great tools and accessories that go well with the machine down below. If you are after some great bundle deals to save you money, please scroll down to our deals and accessories below!
You can read through all the positive Cricut Maker reviews on Amazon here, or simply click the button below to grab your cutter now.

–
Cricut Maker Bundle Deals & Cricut Tools
Find below a selection of tools, supplies, and bundles that are worthwhile to invest in.
–
Best Cricut Maker Bundle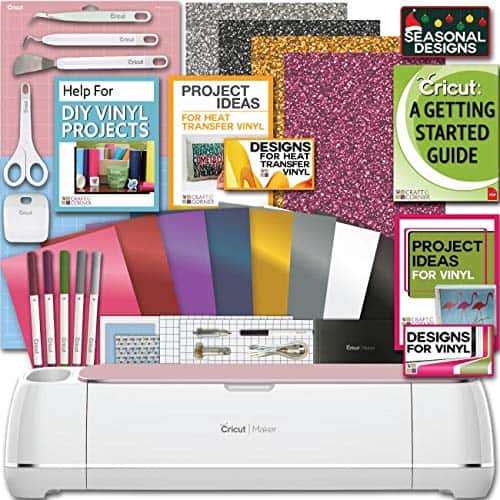 Save money by purchasing this popular Cricut Maker Beginner Bundle Deal.
BUNDLE INCLUDES:-Brand New Cricut Maker machine-Rotary Blade + Drive Housing-Premium Fine Point Blade + Housing-Fine Point Pen-FabricGrip Mat 12×12 in.-LightGrip Mat 12×12 in.-Welcome book-USB cable & Power adapter-Cricut Access free trial membership-50 free ready-to-make projects, including 25 sewing patterns from Cricut's website-Materials for your first project-5 piece Cricut Metallic Pen Set (gold, silver, copper, blue and violet)-Cricut Tool Kit (Spatula, Scraper, Scissors, Sharp Hook Tool and Needle Point Tweezers)-4 Sheets Glitter Heat Transfers (colors may vary)-12 exclusive heat transfer vinyl designs & project inspiration & technique book (digital)-8 sheets vinyl, 2 sheets transfer paper (colors may vary)-12 exclusive vinyl designs with project inspiration & technique book (digital)-Help for DIY Vinyl Projects: A digital book that will walk you through several different way to use vinyl. (digital)-Cricut: A Getting Started Guide is an electronic format e-book perfect for any beginner Cricut user
>>> CHECK OUT THIS DEAL ON AMAZON NOW!
–
Cricut Tools Craft Basic Set
[easyazon_image align="center" cart="n" cloak="n" height="500″ identifier="B00EZUCUUE" locale="US" src="https://www.thebestvinylcutters.com/wp-content/uploads/2017/11/413f92BUZdAL.jpg" tag="bestvinylmachines-20″ width="357″]
Grab all the handy tools in one handy set! Includes the following tools: Scissors with protective blade cover; Tweezers; Weeder; Scraper; and Spatula.
>>> CHECK THE PRICE ON AMAZON NOW!
–
Over to You:
Did you find our Cricut Maker machine review helpful?
Will you be purchasing a Cricut Maker vinyl cutting machine?
In your opinion, is the Cricut Maker worth the money?
Wondering what to do once you get your machine? We have a super helpful guide that will help you to set up a Cricut Maker and to install Cricut Design Space here.