This Infusible Ink wine bag is the perfect way to add some spice to your home. The popping colors will catch the eyes of all of your guests.
Plus, this can be used as a gift for a loved one and or friends!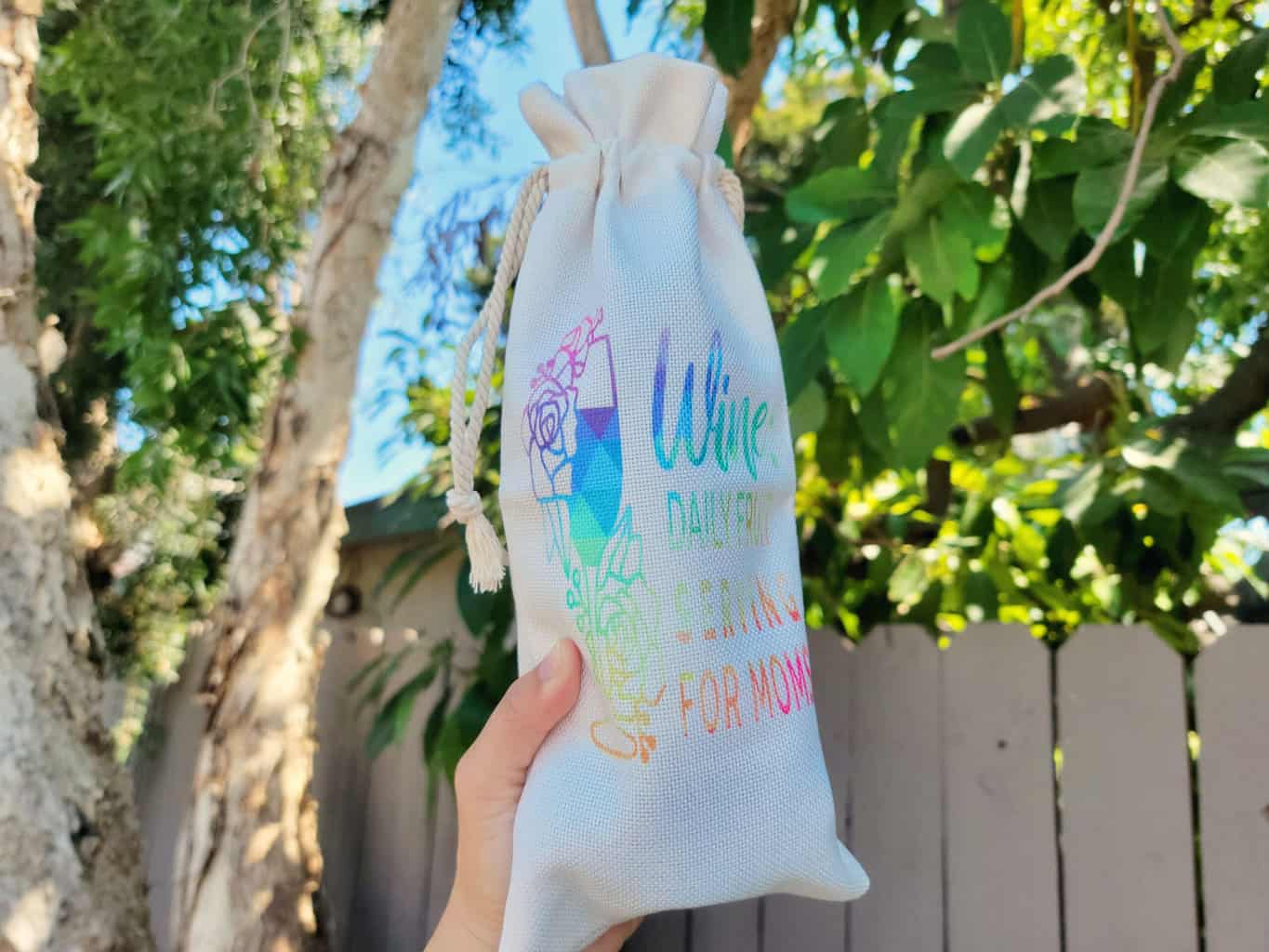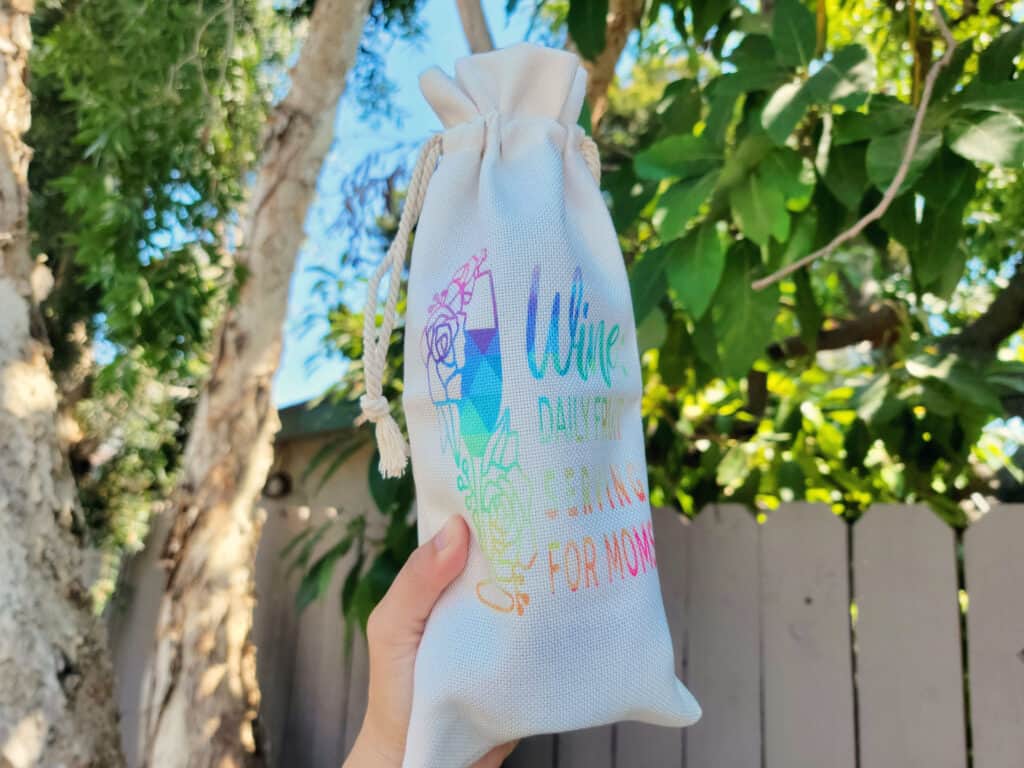 The design options are endless and can be customized for any occasion!
WANT TO KNOW MORE: Read our Beginners Guide to Cricut Infusible Ink to learn all there is to know.
How to Personalize a Cricut Wine Bag Blank with Infubisle Ink
Create a stunning fabric Wine Bag using a wine bag blank and an Infusible Ink transfer sheet. This is a great way to take a plain fabric blank and customize it into an eye-catching item.
Supplies Needed: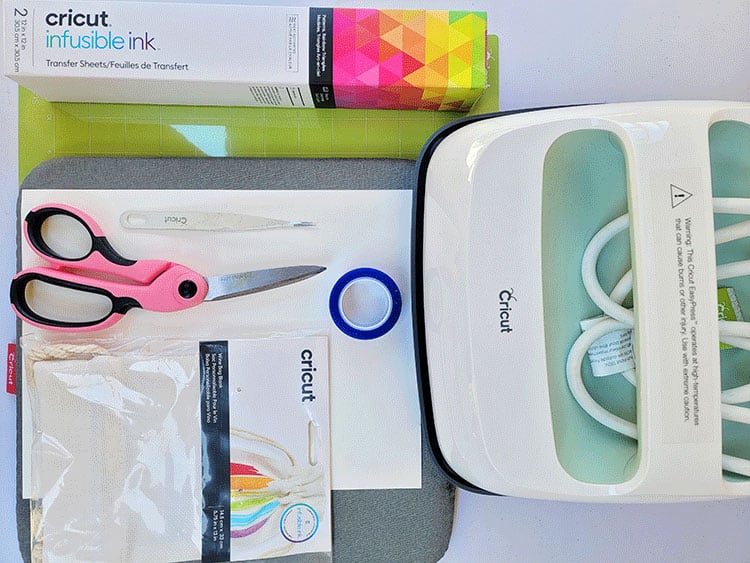 Butcher paper (supplied in the Infusible Ink transfer sheet box)
Lint Roller (Optional)
Scissors & Tweezers (you can get all these tools in the Cricut Basic Tool Set)
Step 1: Download Design
Find below the step-by-step instructions on how to prepare your wine bag design.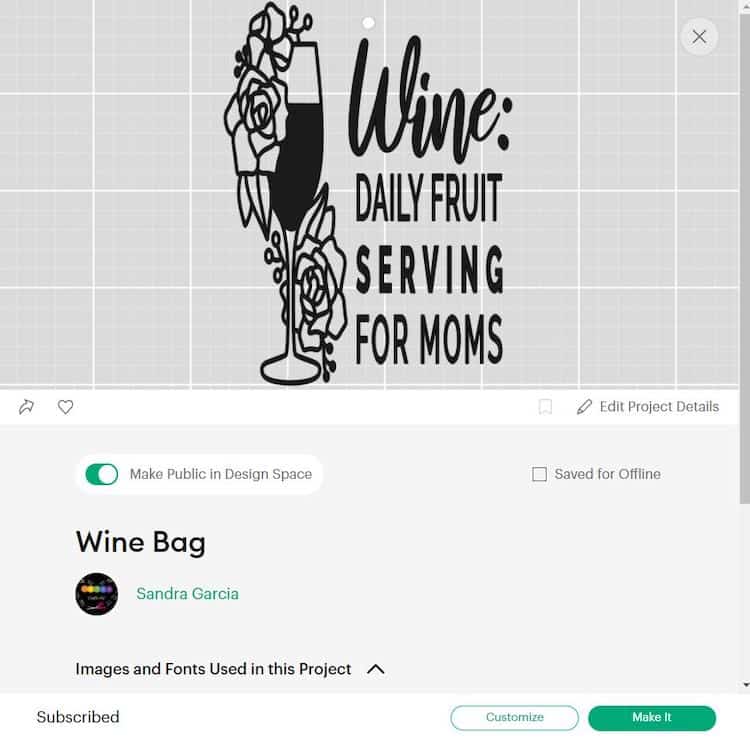 Note: The designs are obtained through the Cricut Assess profile.
Next select "Open in App" and "I agree to Cricut Terms of Use and Privacy Policy," from there you can select "Customize" or "Make It."
Note: Select "Customize" if you want to change the color and size
Once you are satisfied with the design you may move forward with cutting the design.
Step 2: Cut Your Infusible Ink Sheets
Next, it is time to cut your design.
Note: Before handling infusible ink materials be sure that your hands are dry and free of any oils or lotions.
When you are happy with the size and color of your design click on "Make It".
Make sure to select "Mirror" in Design Space.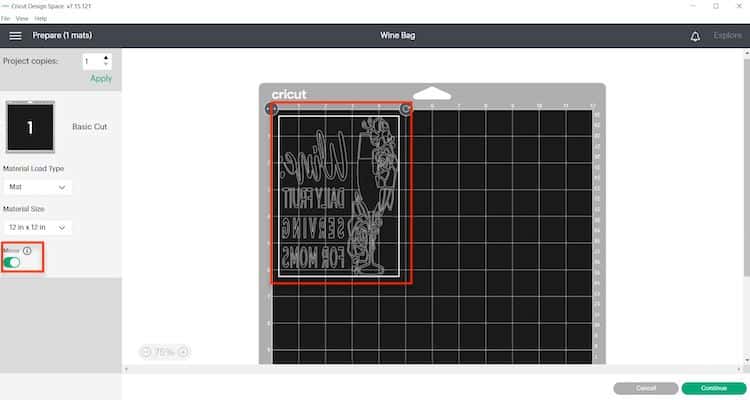 Select continue and connect your Cricut machine.
You will now be able to pick your material and cut settings.
If you have an Explore Air 2 – Select "Custom" on your material dial for the Infusible Ink.
Select Infusible Ink Transfer Sheet from the list of materials in Design Space.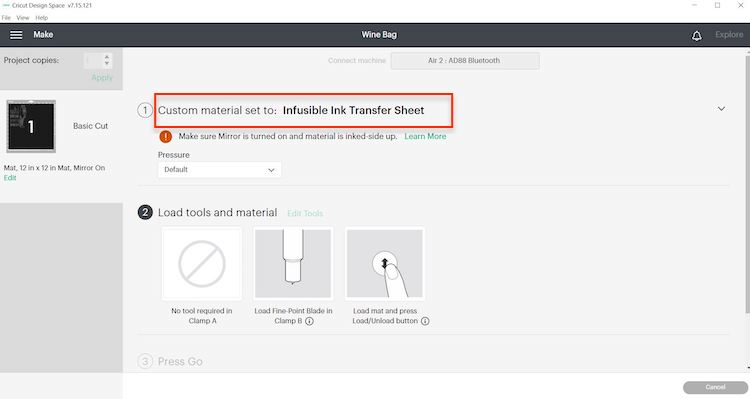 Place Infusible Ink Transfer Sheet onto a StandardGrip mat, liner side down.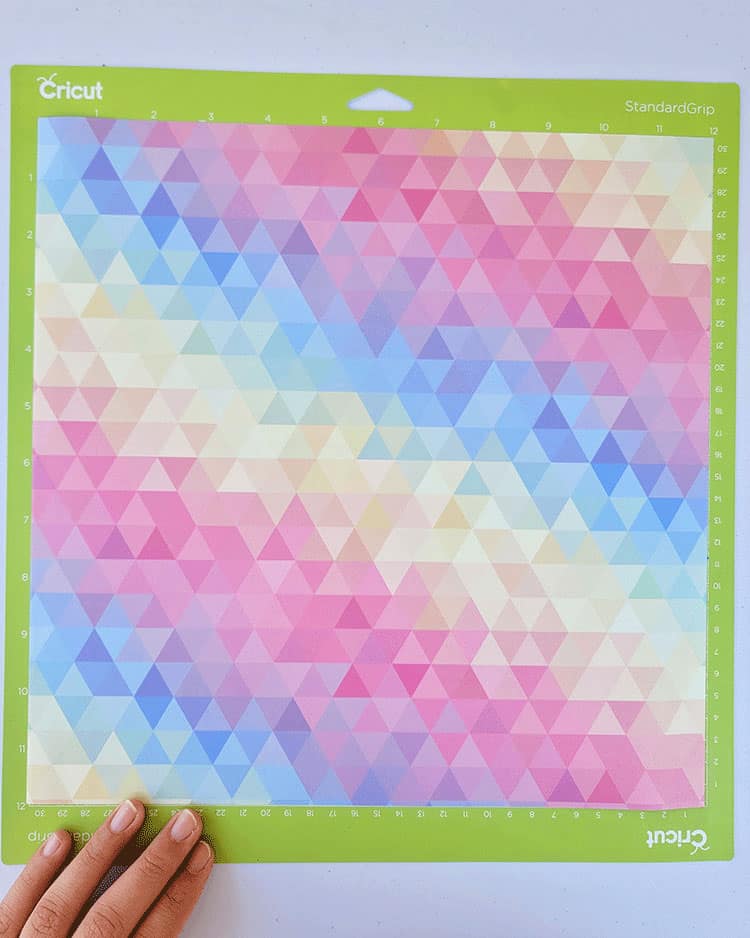 Load mat and blade into machine, then press Go.
Before removing the mat from the machine once cut, double-check that the design has been cut in the Infusible Ink sheet. If it is not cut press Go again to have the design cut again in the Infusible Ink sheet.
Step 3: Weed Your Design
Now that your design has been cut using your Cricut machine you can weed the cut design by removing the pieces of the Infusible Ink transfer sheet that you will not need.
Remove cut design from the mat (it is easier to roll the mat away from the Infusible Ink rather than pulling the Infusible Ink off the mat) and trim away unused areas of sheet.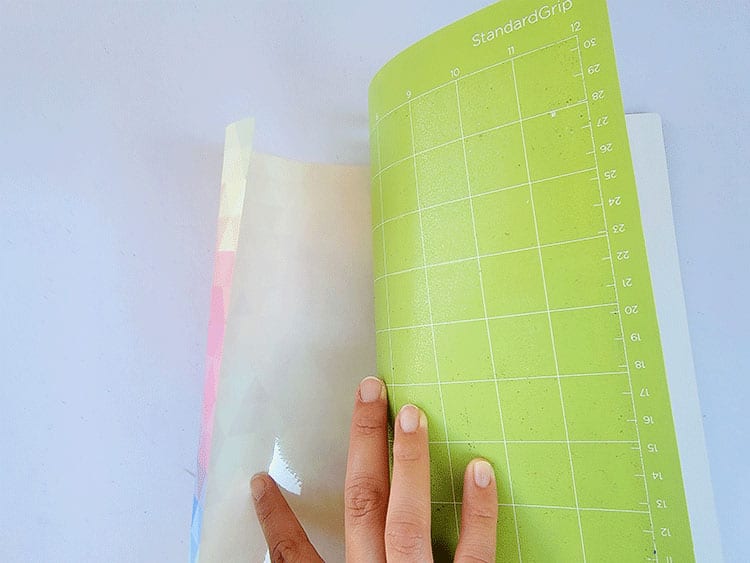 Gently roll cut design so cut lines separate and are more visible. "Cracking" the cut this way makes it easier to remove excess paper from in and around your design.
Use your fingers or tweezers to carefully remove negative pieces from in and around your design, leaving design on liner.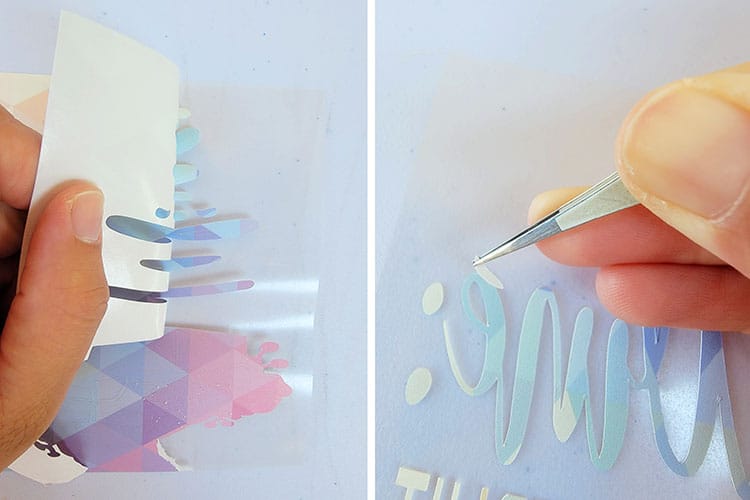 Trim clear liner so that it does not extend beyond the Cricut EasyPress heat plate. It is important that your heat plate is larger than the design to prevent ghosting from happening.
Step 4: Prepare the Blank
Now is a good time to switch on your Cricut EasyPress. For the precise temperature, time, and pressure settings for your project, always refer to the Cricut Heat Transfer Guide (or if you have our Cricut Cheat Sheets, simply find the settings there).
Place a piece of cardstock (or printer paper) inside the wine bag. The cardstock will protect your mat and project.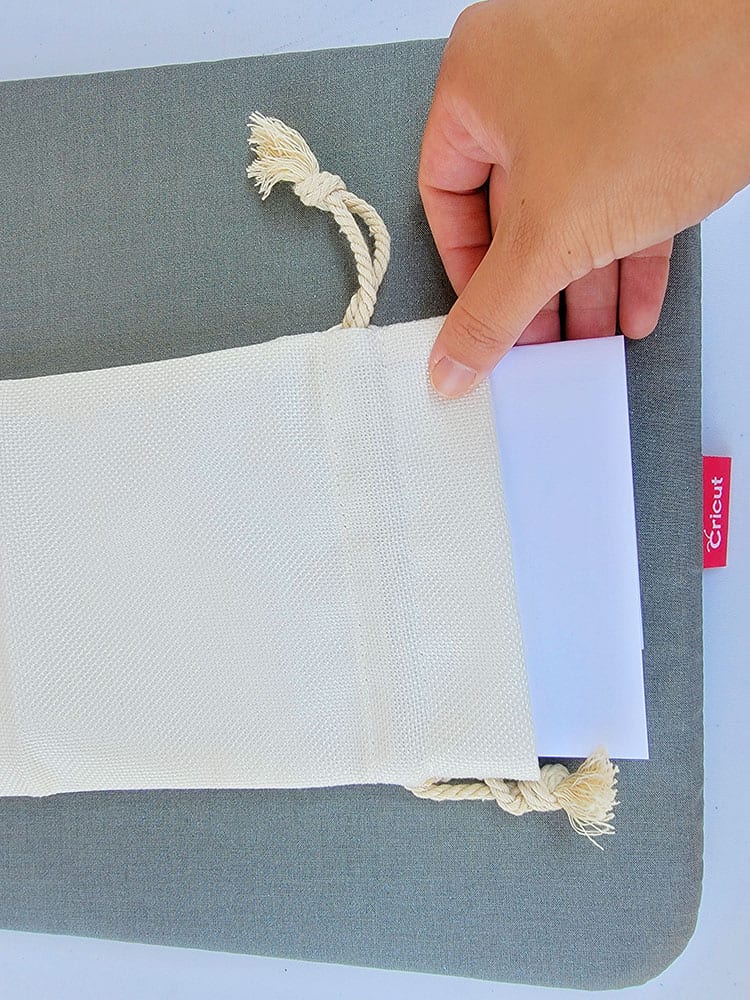 Do not skip this step: Use a fresh adhesive to lint-roll the entire surface. Even minuscule debris or fibers may create imperfections in the final transfer.
Cover blank with butcher paper. Important: Butcher paper must be larger than Cricut EasyPress heat plate.
Note: Butcher paper comes in each package of Infusible Ink Transfer Sheets.
Do not skip this step. Preheat the application area to remove moisture and wrinkles that result in unwanted effects.
Remove butcher paper and let the wine bag cool completely.
Step 5: Apply the Infusible Ink Design
Place cut design face down on the wine bag clear liner on top. Use some heat tape to tape down the edges if you transfer sheet is curling a bit.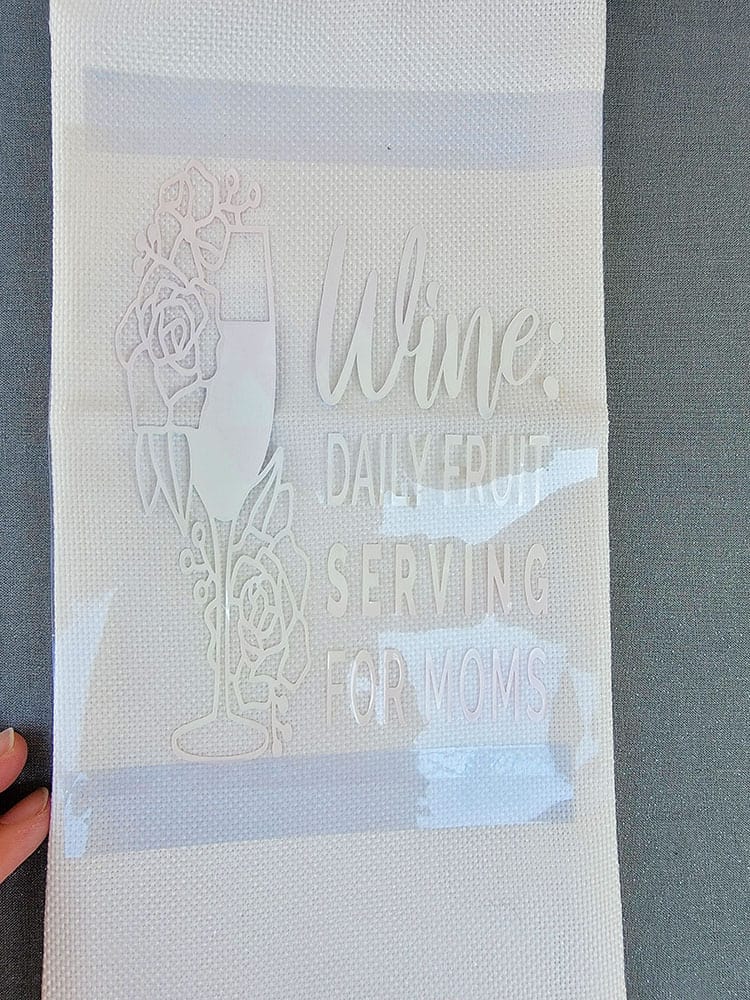 Cover design with butcher paper larger than the Cricut Easy Press.
Slowly lift the Easy Press. Try not to move the stack, including butcher paper.
Let the project cool completely. Then slowly remove butcher paper and liner with design.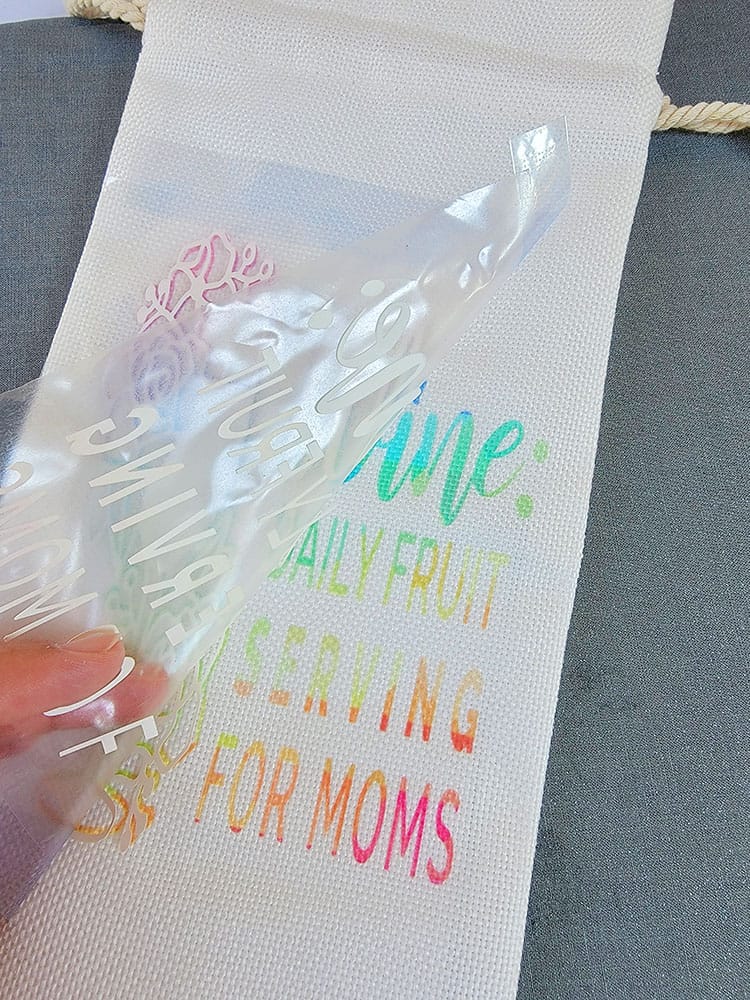 Important: If design separates from liner and remains on blank, remove with tweezers. Do not remove it using your fingers. This could cause unwanted effects, like ghosting or marbling.
And you're done – you have an awesome customized wine bag that will make sure your wine stands out from the crowd!
Now that you know how easy it is you can create custom Cricut Infusible Ink for gifts. If you have any EasyPress you can create more Infusible Ink projects using any of these great Cricut Infusible Ink blanks.
Did you know that you do not have to use Cricut Infusible Ink blanks only with Cricut Infusible Ink? You can also use any of these compatible Infusible Ink blanks for Cricut Infusible Ink!
If you are loving the use of Cricut Infusible Ink why not create more great projects? Here is a list of great Infusible Ink projects to help get those creative ideas flowing!
If you want some inspiration for gift ideas for her using a Cricut, be sure to check out our post with these gorgeous personalized Cricut gift ideas for her.