Looking for some stunning Cricut Leather Projects to whip up? 
In our list below, you will find some cool leather projects for Cricut Explore and Cricut Maker machines.
I just developed a slight addiction to working with luxurious thick leather for projects.
There is something super satisfying about cutting something special and creating something new. 
Not only that, but it always feels like a more luxurious gift when you gift something made from leather (or faux leather).
Fortunately, leather projects with Cricut machines are super easy, and you can quickly whip up leather items with the Cricut Explore Air 2, Explore 3, Cricut Maker, or Cricut Maker 3.
But before we head into the projects, let's look at some Cricut leather basics.
Cricut Leather Products: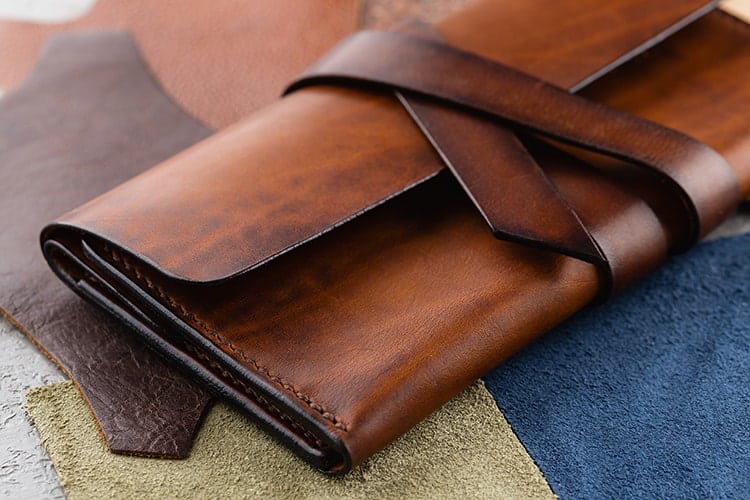 Cricut has a fabulous range of leather-based products on the market, which makes it easy for you to get your hands on some.
Of course, you could expand past these and work with other leathers, but if this is your first leather project, it might be easier to stick with materials that we know will work with the Cricut cutting machines.
Here is Cricut's current range of leather products:
Cutting Cricut Leather: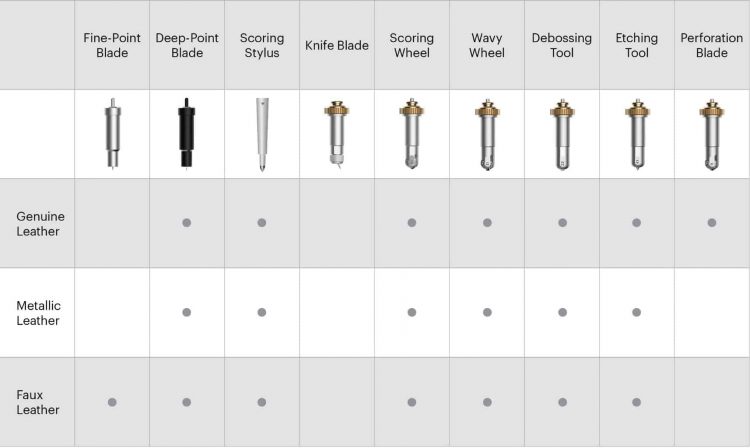 Image Credit: Cricut
Now, you can cut any of these leathers for Cricut cutters with either your Cricut Explore Air 2 or your Cricut Maker machine. Here are some guidelines on how to cut the different types of leather.
Cricut Genuine Leather: We have a full post on cutting Cricut Genuine Leather here, but if you are after quick instructions this might help. Genuine Leather should be cut face down on the StrongGrip mat. You should move the white star wheels out of the way and cut with the Deep-Point blade.
Cricut Faux Leather: Faux leather for Cricut machines should be cut face down on a StandardGrip mat. Use the Fine-Point blade and select Faux Leather (Paper Thin) as the material from your list or dial.
Cricut Metallic Leather: Metallic Leather should be cut face down on the StrongGrip mat. Move the starwheels to the right and use the Deep-Point Blade.
Let's look at some inspirational leather ideas to get your creative juices flowing.
DIY Cricut Leather Projects From Around the Web
Wondering what you can make with leather on your Cricut?
Find ten fabulous leather Cricut projects you can make with your cutting machine.
You will find both Cricut Explore leather projects and Cricut Maker leather projects to whip up.
Included are some Cricut faux leather projects and some genuine leather projects.
1. Gorgeous Faux Leather Earrings with Cricut Explore Air 2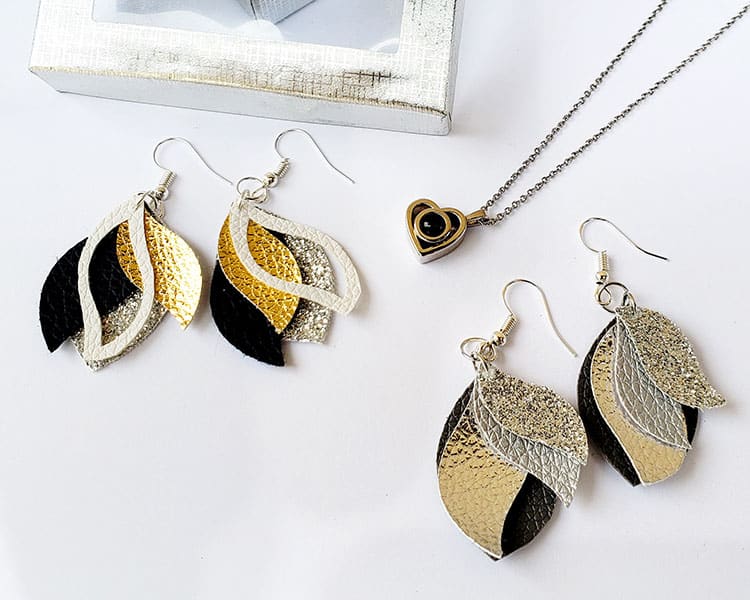 Looking for some easy leather projects? If you want some gorgeous-looking leather earrings, our Design Team member Sandra created these stunning earrings for a gift using her Cricut Explore Air 2.
Learn to create these for yourself or a loved one by following the full tutorial on our blog post. We even share the FREE SVG files with you so it is as easy as 1-2-3!
2. Genuine Leather Wallet with Cricut Maker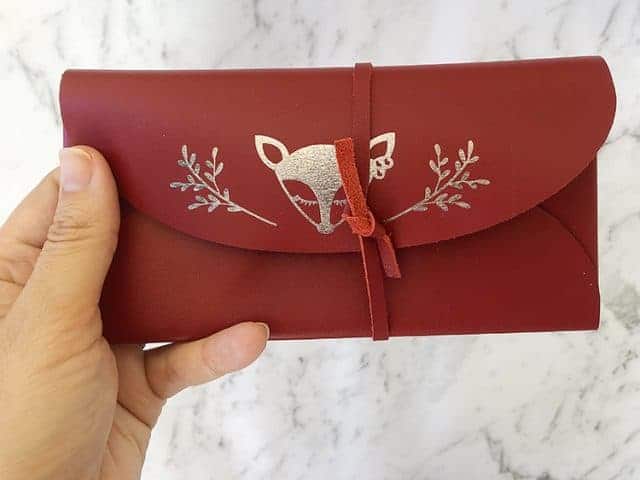 I whipped up this genuine leather wallet for my daughter because she received some birthday money and we realized she didn't have a wallet!! The wallet is super easy as no stitching or fancy closures are required.
You can find the tutorial for this DIY easy leather wallet on our blog. We also have info on how to apply HTV on leather here as well.
3. DIY Leather Cord Keepers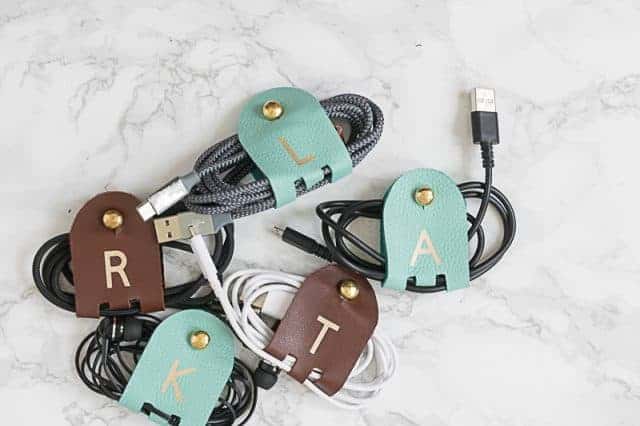 Looking for a super functional gift idea? How cool are these monogrammed leather cord keepers? Not only can you find instructions on how to create the cord keepers but you will also learn how to apply heat transfer vinyl as well.
We travel a lot and I can see this being brilliant for those who travel on a regular basis. Great way to keep things organised!
You can grab the full tutorial for these on the Nourish and Nestle blog.
4. DIY Envelope-Style Leather Wallet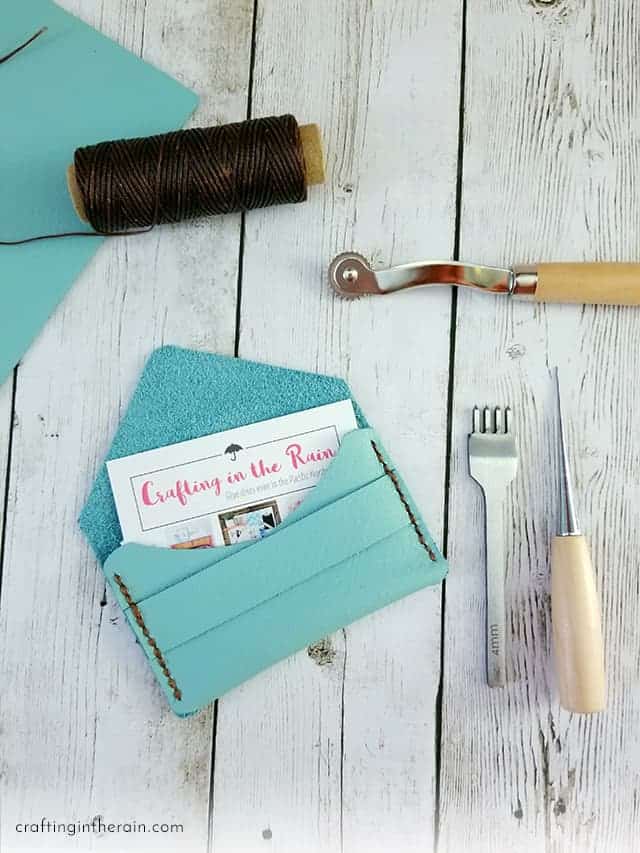 Who doesn't love a leather wallet? These wallets are a bit more complex in comparison to our simply fold one mentioned above, but it is also a little more practical as a result.
Stephanie also has a recommended leather tool kit in her tutorial that will help you to make your holes in the leather. You can grab the full tutorial on the Crafting In The Rain website here.
5. DIY Leather Vase Wrap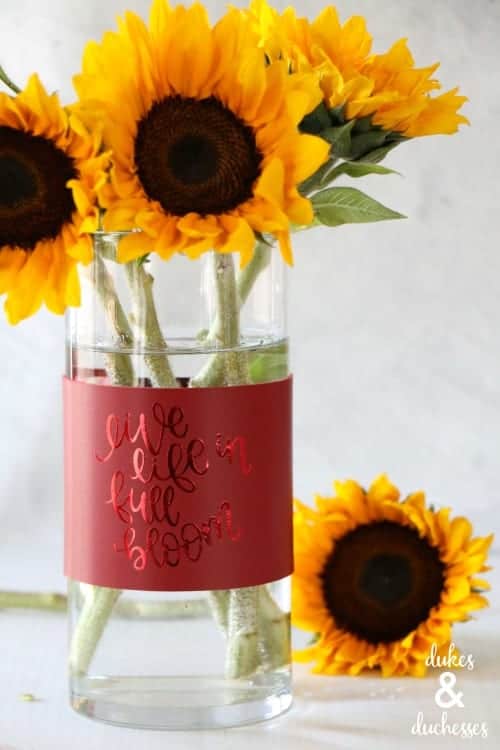 How about turning those boring glass flower vases into a statement piece? These beautiful flower wraps are a fantastic idea!
Grab the full tutorial on the Dukes and Duchesses website.
6. DIY Cricut Faux Leather Triangle Earrings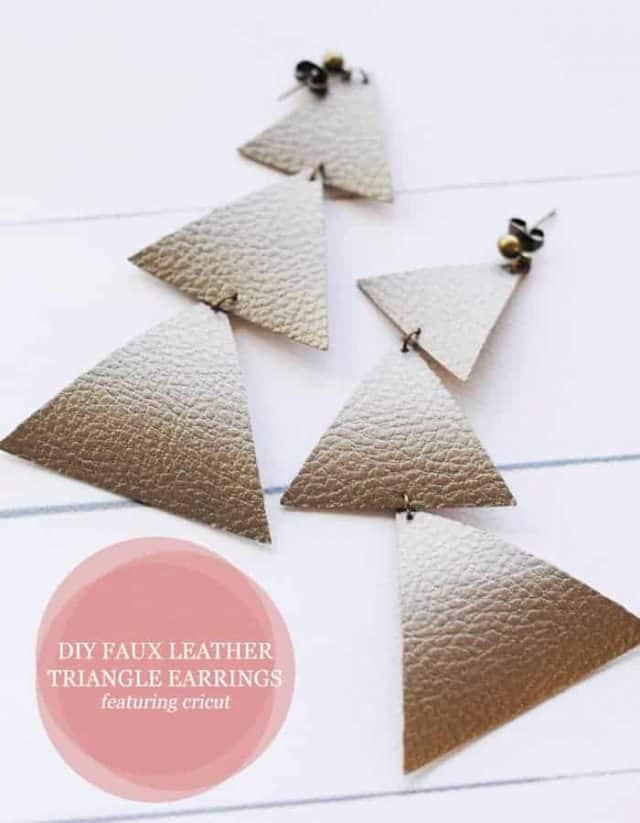 These gorgeous faux leather earrings by Kiss My Tulle is just super elegant. They would make a lovely gift for a friend or family member.
You can grab the full tutorial on how to whip these up here.
7. Cricut Leather Baby Moccasins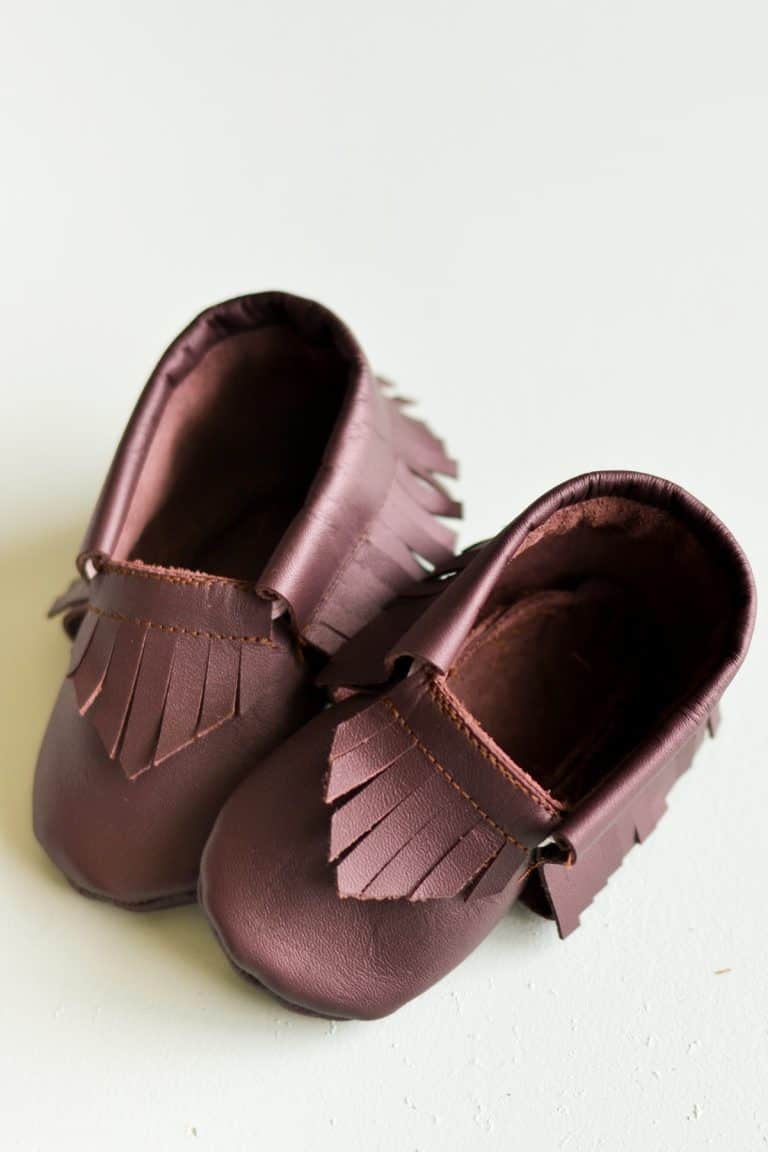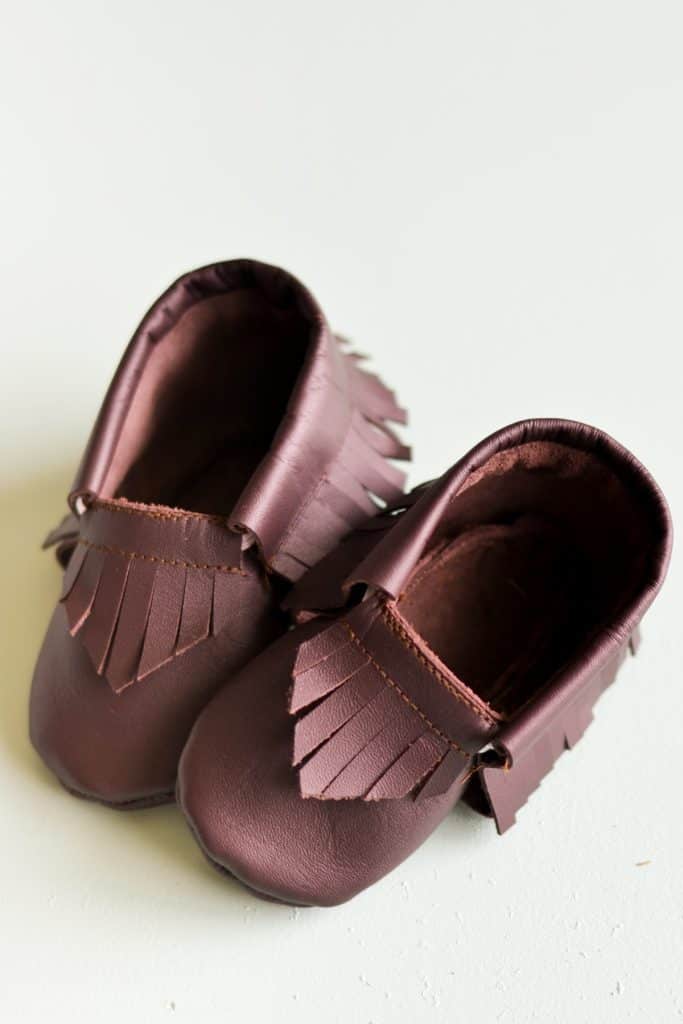 These absolutely precious little leather baby moccasins will delight the new mom-to-be and will look adorable on the baby! See the full tutorial on Lindsay's blog here.
8. Faux Leather Key Fob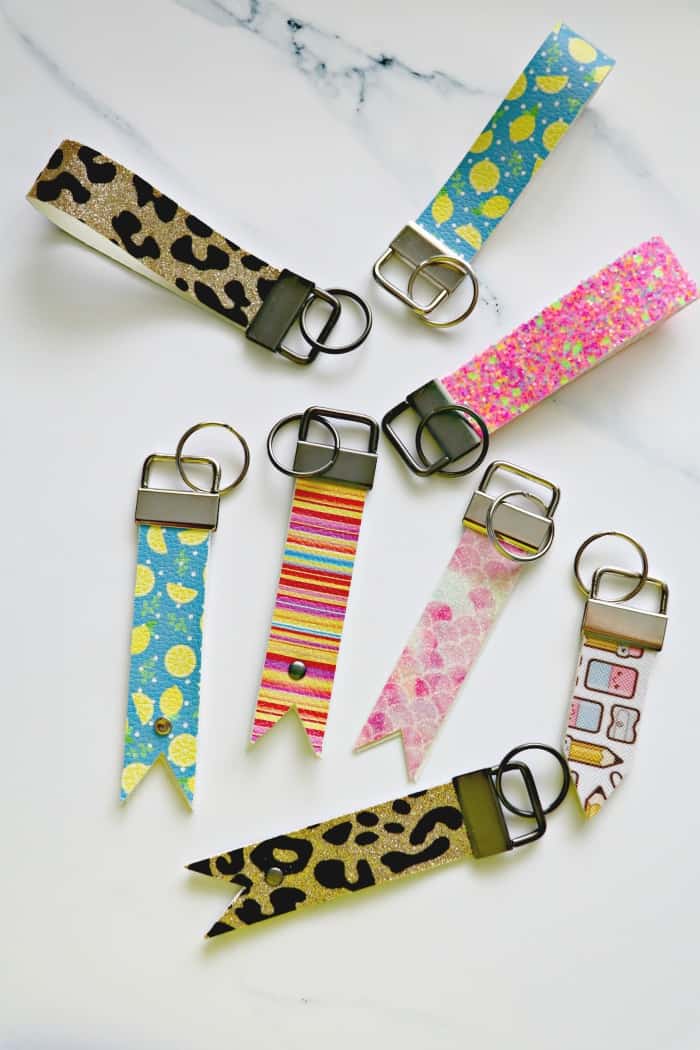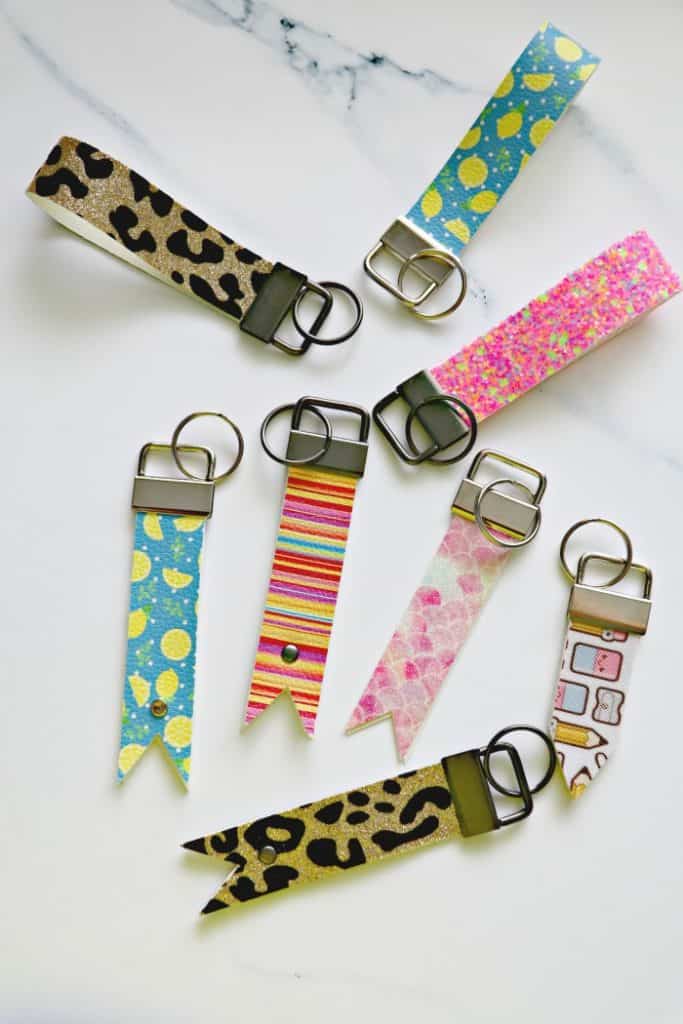 These fun little keychains can be made with every color and pattern under the sun and will also make great gifts! Jamie shows you how to create these on her blog here.
9. DIY Cricut Leather Journal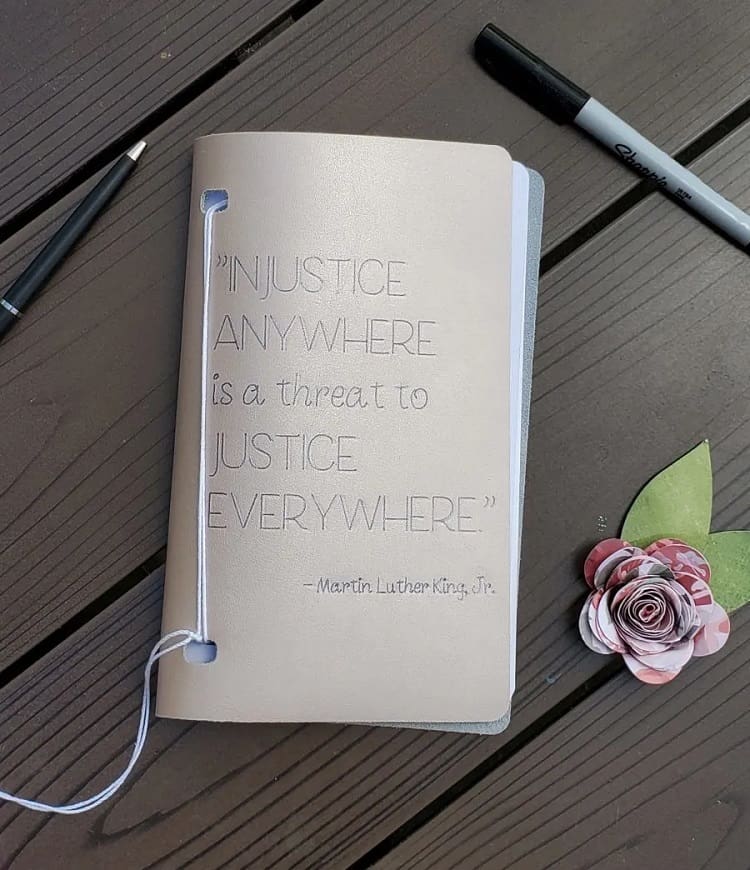 Create a wonderful little writing tool to capture your thoughts or creative ideas in this sophisticated and beautiful Cricut leather journal.
Amy shares the full tutorial for this journal on her blog here.
10. Leather Phone Sleeve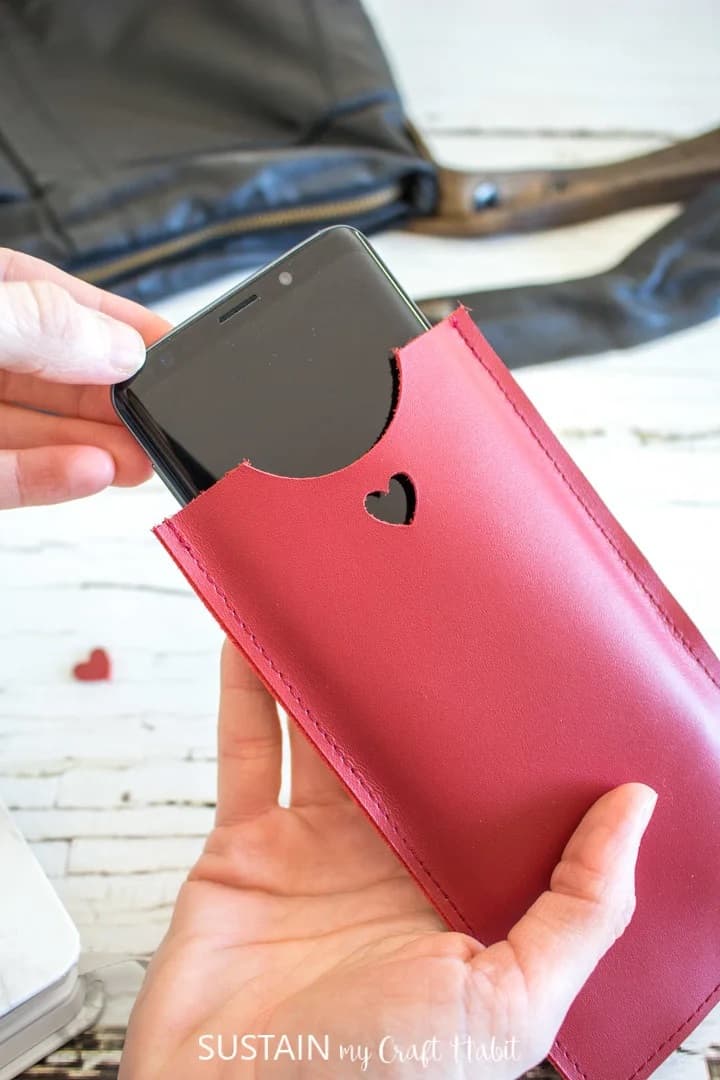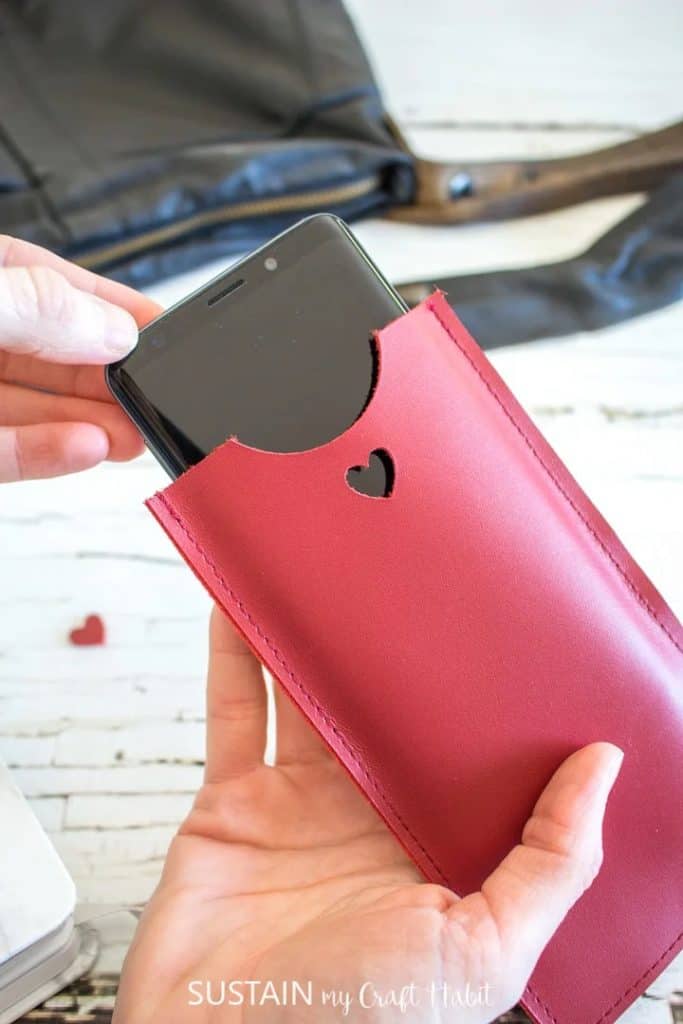 We're loving how gorgeous this leather phone sleeve is! It will keep your phone safe while you are running errands and it's guaranteed that you'll get tons of compliments, too!
See the tutorial on Sustain My Craft Habit Blog here.
And there you have some fabulous ideas on what to create with your piece of leather. Some beautiful genuine and faux leather Cricut projects for you to recreate.

Ready for more Cricut craft inspiration? Click here to access all our Cricut craft tutorials.
We would love to know which of these crafts you might like to try out. Please leave us a comment below and tell us all about it.