The name Cricut needs little introduction for crafters and people who make decals and other embellishments. This company manufactures some of the best vinyl and die cut machines that are perfect for a variety of purposes.
Among them are the Cricut Explore Air 2 and the Cricut Maker, the topics of this article. We'll also explore which one is the overall winner if you compare Cricut Maker vs. Cricut Explore Air 2.
The answer to this question may not be as straightforward as you might think. This is why we'll take a closer look at all the features each of them has to offer.
>>> Click here to purchase your Cricut Maker (Our Preference)
>>> Click here to purchase your Cricut Explore Air 2
*NOTE: The Cricut Maker 3 and Explore 3 were released on June 10 '21. Read all about the difference between the Cricut Maker 3 and Explore 3 here.
Difference Between Cricut Maker and Explore Air 2
Both of these machines are upper-end models from Cricut. As such, they share certain characteristics.
Similarities
You'll find that both machines are super easy to use. The setup and printing/cutting process is simple to master even if you don't have any prior experience. With either model, you should be able to start crafting your designs a few minutes after plugging in the machines.
Cricut Explore Air 2 vs. Cricut Maker is a tie in terms of compatible materials. They are both capable of writing, scoring, and cutting through more than 100 materials. These machines work equally well with delicate paper and tough leather, matboard, and even balsa wood.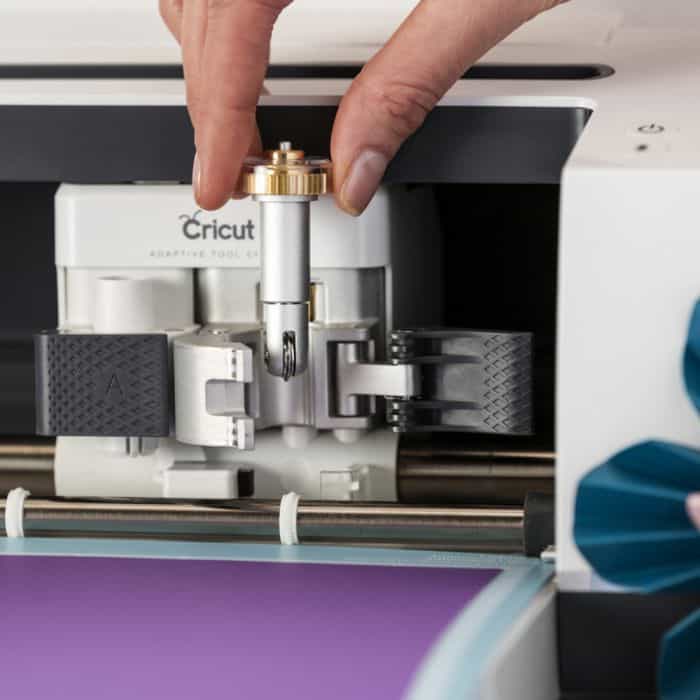 Built-in Bluetooth is yet another shared characteristic. This allows you to transfer your designs from a computer or a tablet to the machine. In fact, these Cricut models come with a cloud-based app that you can use to customize and edit your projects anywhere. All you need to do is to download the Cricut Design Space app.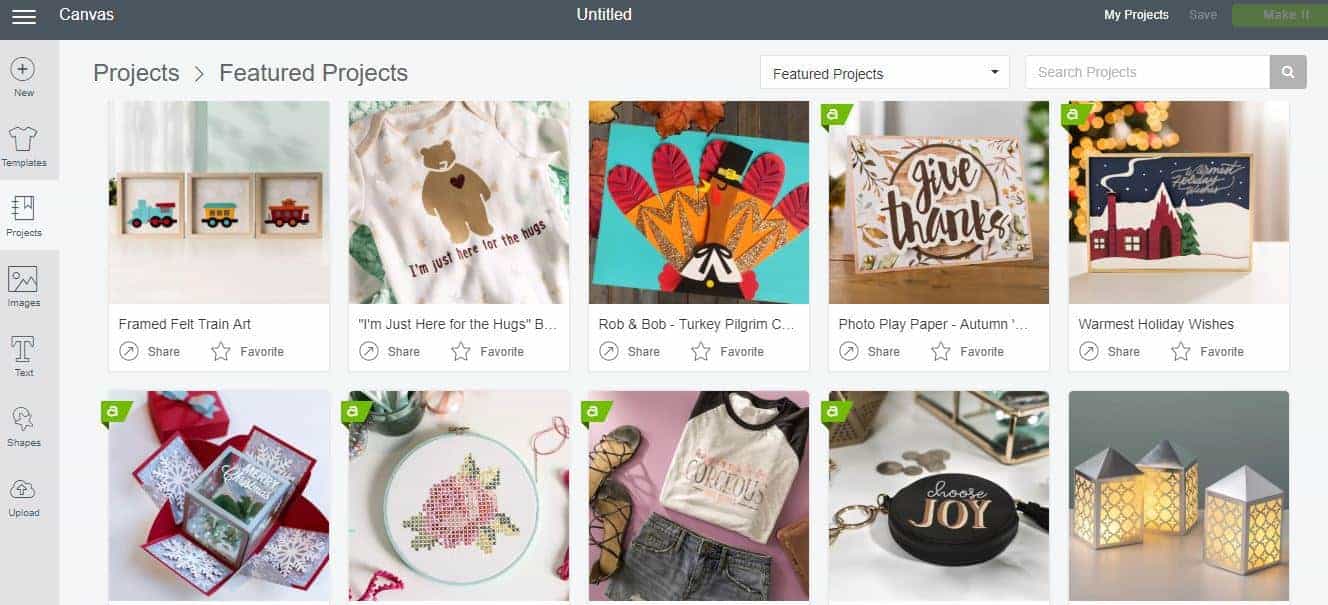 With this in mind, you should know that there are thousands of printable images and 920 patterns in the Design Space app. They come in full color and you can, of course, upload your own designs. While you're at it, feel free to check out some of the 60,000 images in the Cricut Image Library.
Besides the stock photos and designs, you might also find the double tool useful. The machines come with two cartridges that house separate sets of tools. This means that you don't need to waste time switching blades, scoring wheels, and stuff. Just install the tools needed for the project and let the machine do its thing.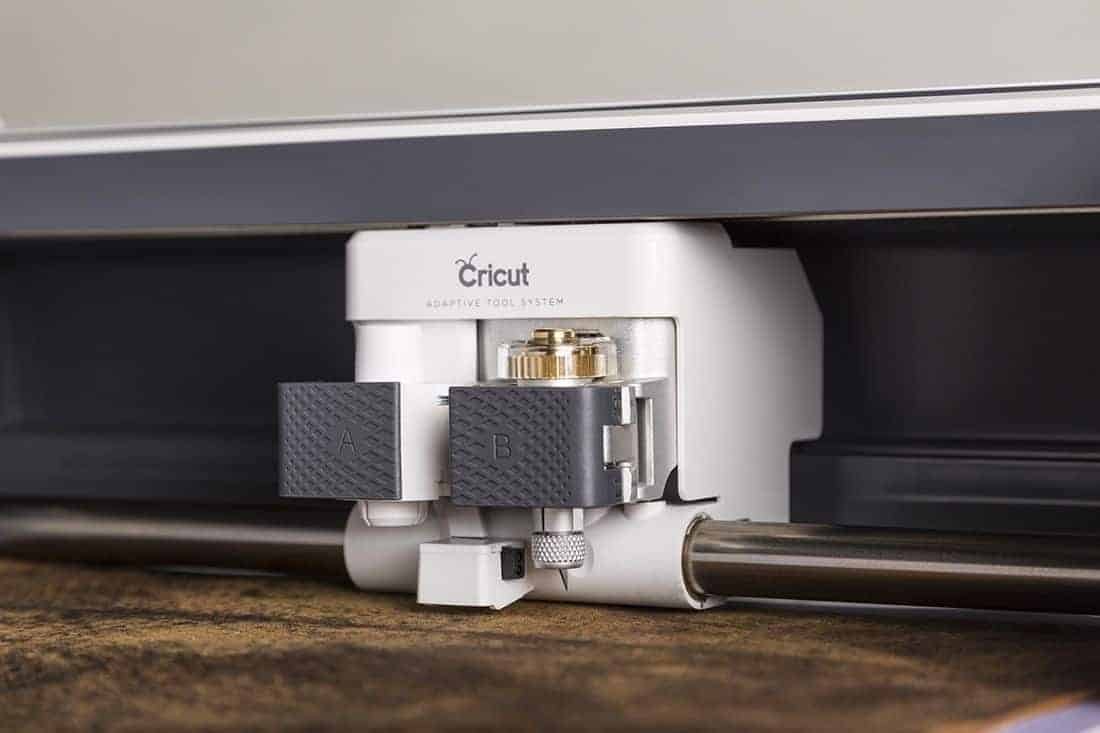 Finally, both the Cricut Maker and Explore Air 2 are designed to write and cut twice as fast as competitor machines. This is achieved via the high cutting force that may make these machines suitable for professional high-volume cutting, writing, or scoring.
>>> Click here to purchase your Cricut Maker
>>> Click here to purchase your Cricut Explore Air 2
Cricut Maker vs. Explore Air 2 Reviews
Now that we've highlighted the common features, don't go out and buy one yet. Let's take a closer look first. One at a time, shall we?
1. Cricut Maker Review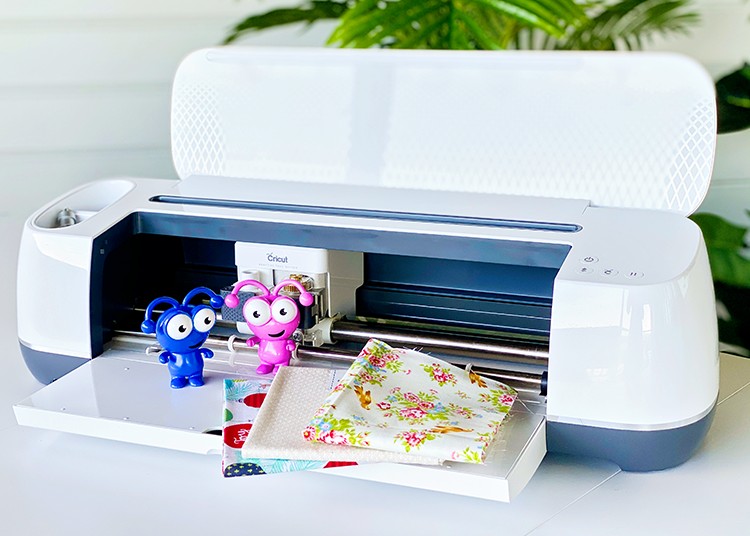 The Cricut Maker is 22.6 x 7.1 x 6.2 inches and about 15 pounds. This makes it fairly portable, but chances are the machine will have a dedicated spot in your work area.
This machine was mostly created to be a fabric cutting machine, but it also does a brilliant job with over 100+ other materials. See what type of projects you can create with the Cricut Maker here.
The Maker comes in four different colors so you can easily match it to your other gear. Still, this model truly shines in terms of compatible tools. However, some of them might not be included in the basic package.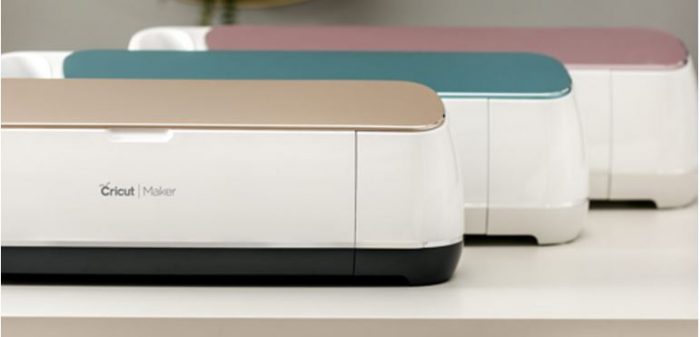 Rotary Blade (Included)
The rotary blade is just one of the new blades for the Cricut Maker. The rotary blade utilizes a rolling and gliding action to help you cut through different materials like fabric, paper, vinyl, and more. You don't need any backing material to use this precision and speedy blade.
You can grab some tips on how to cut fabric with the Cricut Maker here.
Knife Blade (Not Included)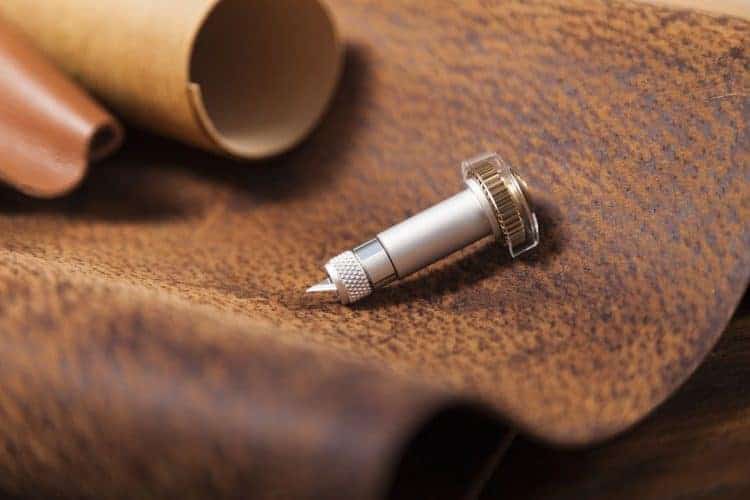 This knife is engineered to perform like an X-ACTO blade. It allows you to cut materials of up to 2.4 mm thick, including matboard and balsa wood. You can find out what sort of materials you can cut with the Cricut Maker here.
Fabric Pen (Not Included)
This is an excellent tool for tracing out patterns to help you preview if they'll fit. The ink is not permanent so feel free to apply it to different fabrics.
Scoring Wheels (Not Included)
The Cricut Maker is compatible with the company's scoring wheel and double scoring wheels. These tools are razor sharp for creating deep scores in any material.
Other Compatible Tools
If this is not enough for you, Cricut has more optional tools for the Maker. They include fine and deep-point blades, fine-point pen, and calligraphy pen. Plus, the Adaptive Tool System controls the blades and provides precise cutting force.
And guess what? You can store all the tools in the built-in compartment to keep them within reach and neatly organized. The Cricut Maker also features a docking slot with a USB charging port for your smartphone or tablet.
What's Inside the Box?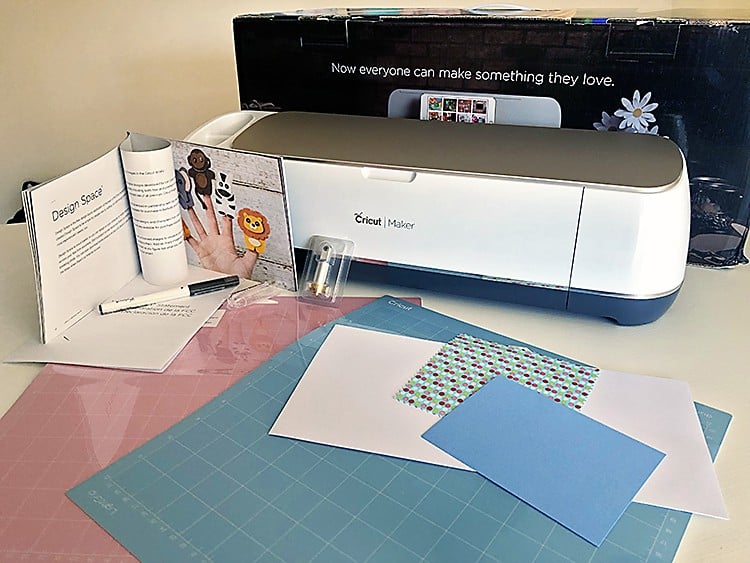 The Cricut Maker in this review comes with the machine itself, a set of tools, and the materials needed for the first project. When it comes to tools, you get a rotary blade with a drive housing and a fine-point blade (housing included). There is also a fine-point pen for laying out the designs.
The package also includes a couple of 12 x 12-inch cutting mats and the design app is compatible with all the major operating systems. You get access to 25 free sewing patterns and 50 premade projects for free. There are a ton more available by subscription.
If you need other extras like sticker papers, vinyl sheets, iron-on materials, and such, check out some of the ready to print bundles on offer.
Price
The Cricut Maker is the company's flagship model with all the best specs. You can expect it to come with a price that matches its status. Nothing else anywhere near the price range can match its 2.4mm cutting depth and 4kg cutting force.
You'll need an industrial machine to outperform the Cricut Maker at upper 3 figures. And they're not going to have the portability and ease of use.
Due to all of these improvements, the Cricut Maker will cost you about $100 more than the Explore Air 2.
You can read through our full Cricut Maker review here if you wish to learn even more about this cutter.
>>> Click here to purchase your Cricut Maker
2. Cricut Explore Air 2 Review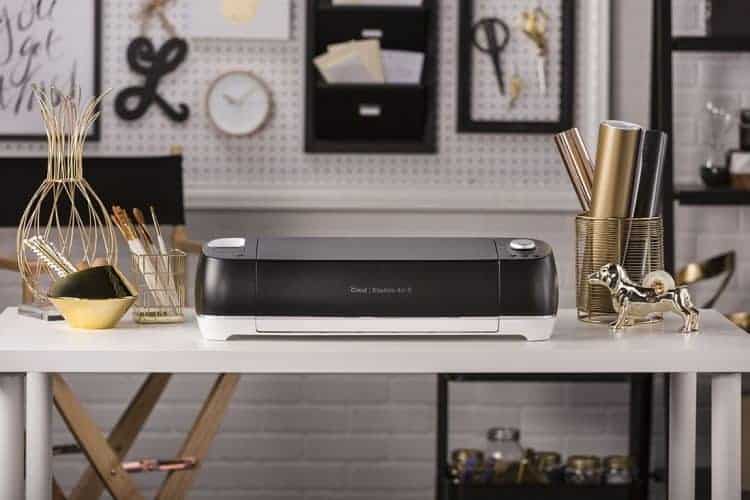 As one of the latest additions to the Cricut family, Explore Air 2 is designed to optimize your workflow. The app, dual tool holder, and speed all help you to save time on your projects.
The dimensions of 24 x 9.5 x 9.5 inches make it a bit bigger than the Maker. It also comes in more colors. The Explore Air 2 is a more affordable machine so it'd make sense to appeal to a wider range of styles.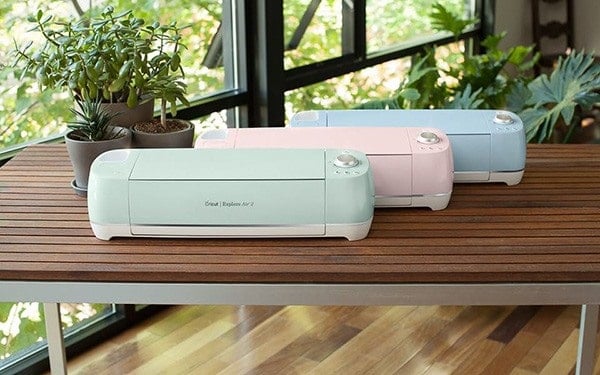 When it comes to the tools, the Explore Air 2 also uses a premium German carbide blade that's compatible with Cricut writing and scoring styluses. Needless to say, the extra styluses are not included in the basic package.
This Cricut also has a decent cutting force of 210gf (gram-force). It's a fraction of the Maker's 4kg cutting force, but it's as high as its top competitor's and more than enough for most materials. With the standard blade, the Explore Air 2 can cut up to 1.5mm deep.
For deeper cuts, you'll need to switch to an upgraded blade that can cut up to 2mm. The machine can cut through the same 100+ materials as the Maker except not as deep, of course (because you can't use the knife blade in this machine).
Another thing that stands out is its struggle to work with fabric. You can't use the rotary blade on this machine, so if you wish to cut fabric you will need to use a backing for the fabric, or stiffen it up pre-cutting.
It is still a fabulous machine though, and 'good-enough' if you don't really work with thick materials or fabric. You can see why we love our Cricut Explore Air 2 so much in this post here.
What's Inside the Box?
The package in this review includes the machine and the built-in blade. It means you need to factor in the price of additional styluses, materials, and any other tools that you might need.
That being said, the machine is also available in a bundle that comes with accessories such as a hook, scraper tool, and scissors. You'll also find an iron-on foil, printable vinyl, and a set of Cricut markers besides. There are other Cricut Explore Air 2 bundles available.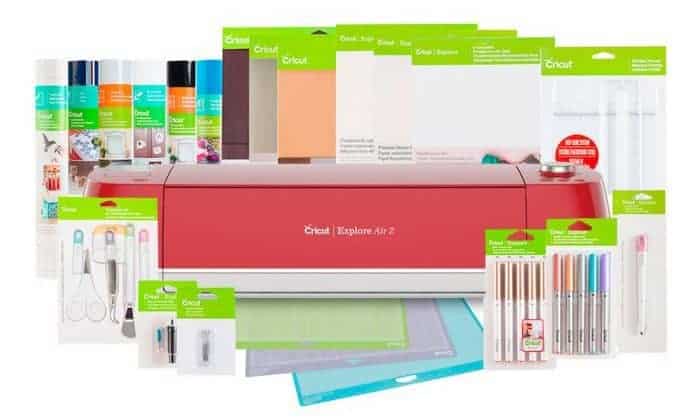 So if you are just starting out, it might be best to go for the bundle. But don't hesitate if you prefer the fun of shopping for everything individually.
Price
The Cricut Explore Air 2 can be purchased for around $100 cheaper than the Maker. Shall we say that you are getting a lot for your money?
This machine is capable of handling everyday use with ease. If might be good enough for a small business if you're using it for in-house production. However, you might want to consider the Maker if you're producing stuff for sale.
You can read through our full Cricut Explore Air 2 review here if you wish to learn even more about this cutter.
>>> Click here to purchase your Cricut Explore Air 2
Pros and Cons
First of all, you can't go wrong with either the Maker and or the Explore Air 2.
When it comes to downsides, there is some room for improvement in the Design Space app. It is quite basic which might be fine for beginners, but you might want more options to edit and customize the graphics.
Some people might find the machines a bit loud. But all cutters in this price range will have noise, especially at Cricut's speed and cutting ability.
With that said, the more affordable Cricut Explore Air 2 may have some limitations in terms of cutting power and depth. You are not likely to notice any difference with standard materials like vinyl, paper, and cardboard stock. And if you wish to cut something thicker, you can always get the upgraded blade that can cut up to 2mm.
The major benefits of both machines are the dual tool cartridge and speed. The software allows you to choose two different speed modes and you can use the tools simultaneously. This can be a major time saver.
Individual Benefits
The top of the line Cricut Maker is superior with 4kg of cutting power and 2.4mm cutting depth. This puts it close to the levels of professional machines and allows for greater versatility in terms of materials and designs. Cricut's Adaptive Tool System controls the blades or tools to match the material in use.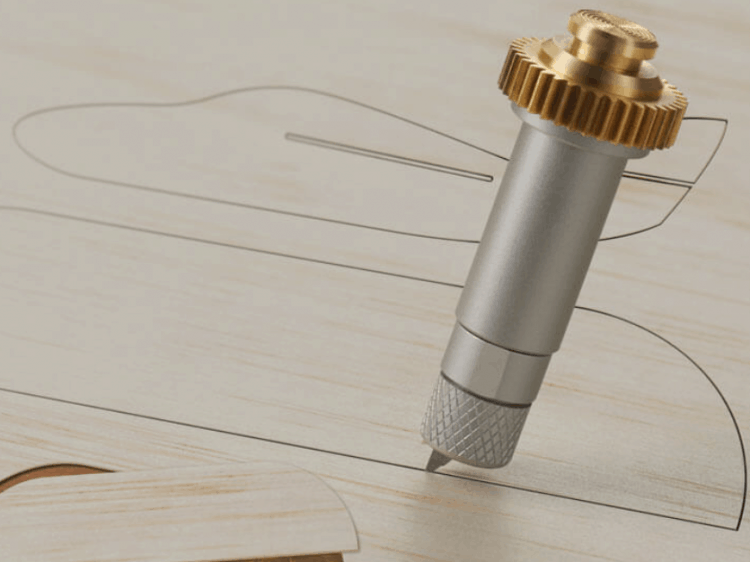 Unlike the Explore Air 2, the Maker is compatible with rotary blades for fabrics. And don't forget all the additional tools that are compatible with this model. Overall, you are getting exceptional precision for any material.
The difference in cutting force is much higher in the Maker, which restricts the Explore Air 2 to light- and medium-density materials. But it can handle all the standard materials really well.
And then there's the price. It's safe to assume that Cricut Explore Air 2 fits the budget of most crafters and business owners. More importantly, you won't be making any significant compromises in terms of performance.
Although it's a matter of personal preference, you might be attracted to the Explore Air 2's vivid colors that range from eye-catching persimmon to soft cherry blossom.
Cricut Maker vs Air 2 – The Final Verdict
Would it be a cop-out to declare no explicit winner? How about two winners? Hear us out before you throw your hands up in the air.
In essence, the final choice is up to you and it boils down to what you use the machine for.
Crafters, DIY enthusiasts, and small businesses are bound to find the Cricut Explore Air 2 quite adequate. It can turn your ideas into fruition regardless of your niche and area of interest.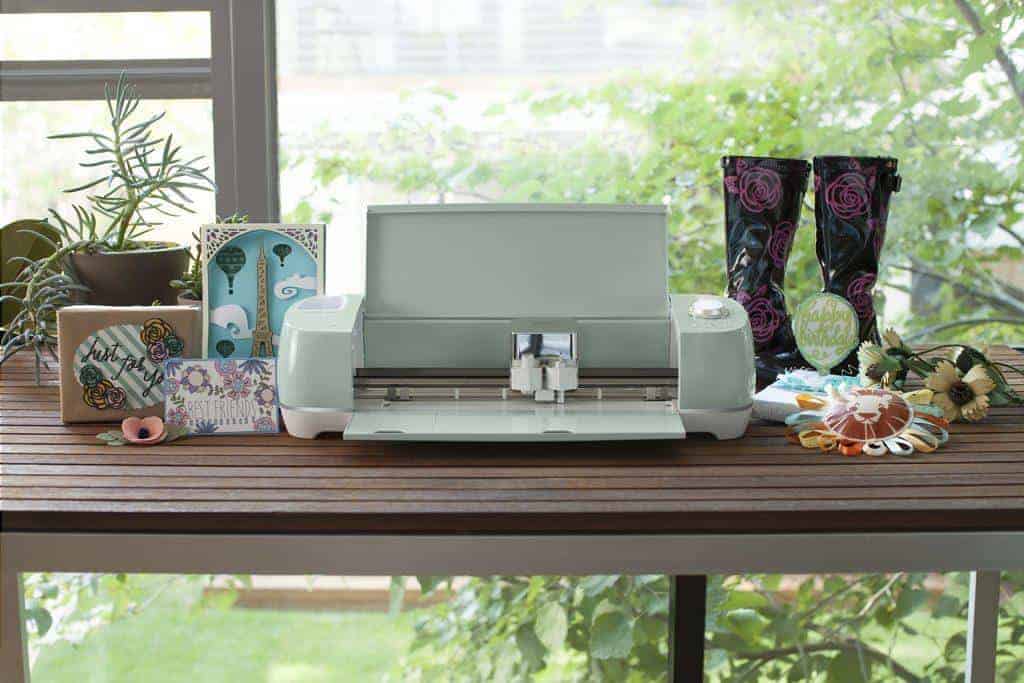 On the other hand, the Cricut Maker is a lean mean die cutting, vinyl and fabric cutting machine. It rivals the power and speed of much larger industrial die cutters and decal makers. The advanced features and specs allow for greater precision and more intricate designs.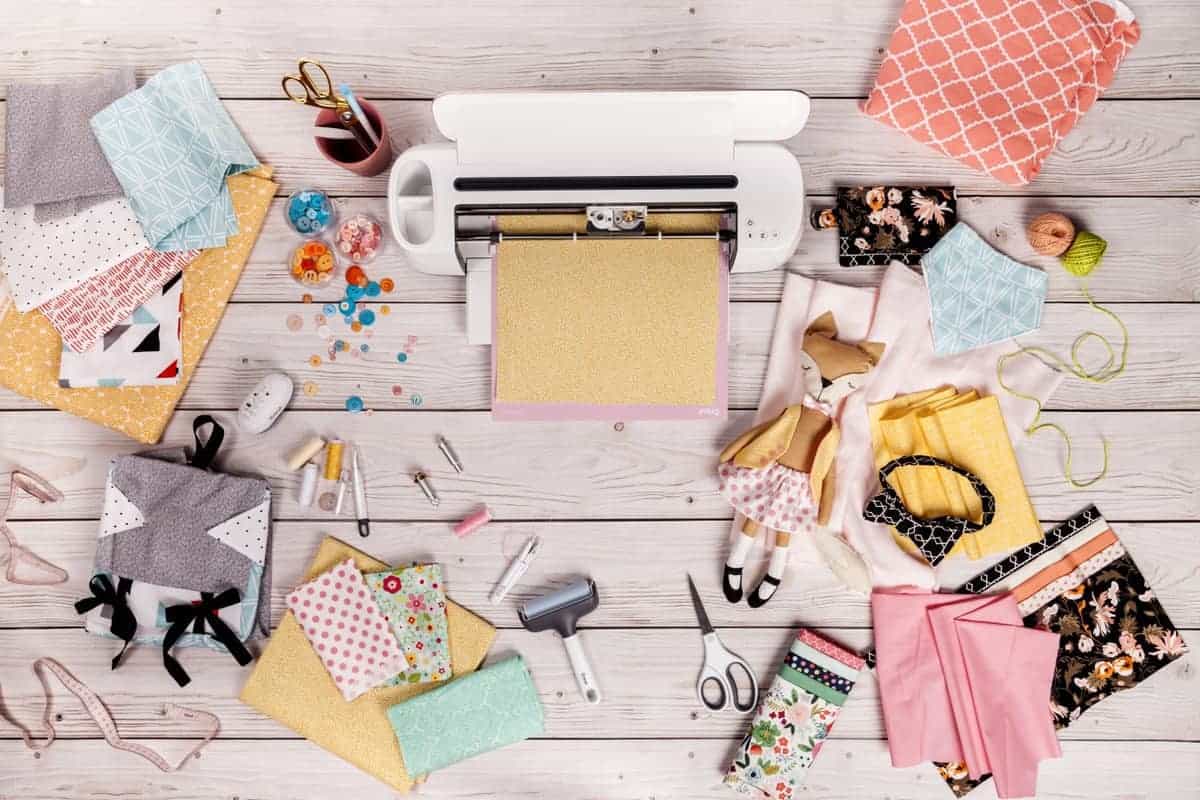 Here's the story. Get the Cricut Maker if you're using it for your business. You won't have to upgrade until you move to a factory space. Especially if you wish to cut detailed designs, cut thicker materials or wish to cut fabric.
This cutter will also save you time as it works so much faster than the Explore Air 2. Not sure what to make with fabric? Here is a post full of gorgeous Cricut fabric project ideas.
However, if you only want a cutter for your home, you can easily find a winner in the Explore Air 2 at about half the price of the Maker.
Which one do we use? I love using the newest and latest. That way I know the technology on the machine will last for a few years. So we personally use the Cricut Maker at home.
>>> Click here to purchase your Cricut Maker
>>> Click here to purchase your Cricut Explore Air 2
See how these two cutters compare against other vinyl cutters by reading through our vinyl cutter machine reviews.
Read more comparison posts: