It's not a question of whether Silhouette is a top brand among vinyl and die cutting enthusiasts and crafters. It's rather which Silhouette machine to get.
Of particular interest are the top-of-the-line Silhouette Cameo 3 and the cheaper Silhouette Portrait 2. When comparing the Silhouette Portrait vs Cameo, it's not about which one is better.
It won't take a genius to know that the latest and greatest Cameo 3 is better. But do you really have to spend more for it? Or maybe there are those who can be perfectly happy with a Portrait?
Continue reading to find out which machine fits your die-cutting needs.
* Please note, that the Silhouette Cameo 4 is out now.
Similarities
At first glance, the Silhouette Portrait and Cameo 3 are quite different. But they do, in fact, have a few things in common.
They both have a single blade with a 2mm cutting clearance. They are also compatible with the new Silhouette AutoBlade. (The Portrait has actually been upgraded to the Portrait 2 for AutoBlade compatibility, and the following discussion and specs reflect the new model.)
You can use either machine with fabric, vinyl, heat transfer material, photo paper, rhinestone template, and more. But the higher-end Cameo 3 works with more than 100 materials, which is not the case with the Portrait.
As you might imagine, the app is the same for both, i.e. Silhouette Studio. Once you register the machine, you also get a 1-month subscription to Silhouette Design Studio. Both models are Bluetooth-enabled, but the Portrait doesn't work as a standalone die cutter.
Needless to say, the app's PixScan technology is compatible with both the Cameo 3 and the Portrait. This allows you to make cuts around a print or at a particular position on the material.
As for the included accessories, both machines come with pretty much the standard package.
You get a USB cable, AC adapter, manual, and cutting mat. Free design downloads also come with the purchase (50 for the Portrait and 100 for the Cameo).
Individual Reviews
Now that we have looked at the similarities, let's have a look at what makes each machine different.
1. Silhouette Portrait Review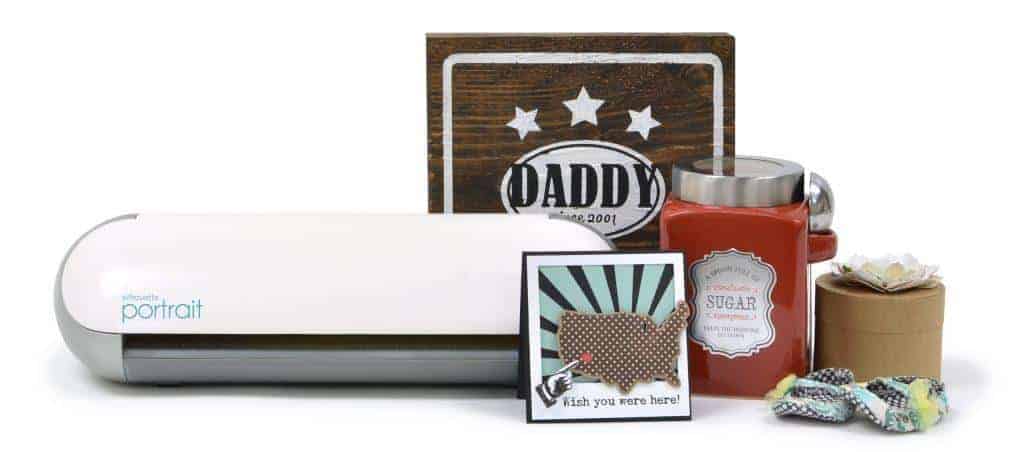 The obvious difference you'll notice between this and the Cameo 3 is in the design and the size.
The lower-end Silhouette Portrait cutting machine is also smaller at 18 x 9 x 8 inches. It sports a rounded design which gives it a different feel than the sleek and angular Cameo 3.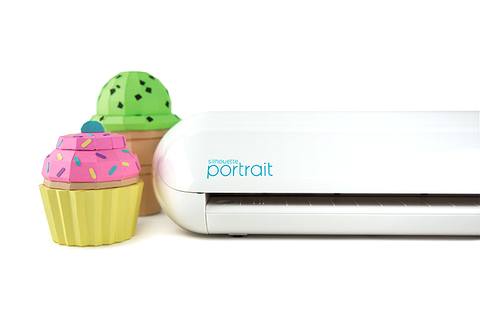 Due to its small size, the Portrait is exceptionally lightweight at 3.53 pounds. You can easily put your Portrait in a backpack and take it to a die cutting convention or crafters' fair.
With this model, you get an 8.3-inch cutting area that can accommodate materials of up to 9.8 feet long. The cutting pressure is 7.6 psi, which is a hair lower than the Cameo. As stated, the machine cuts through standard materials with ease as long as they are of the right thickness.
Who is this machine for?
DIY enthusiast and crafters are likely to cherish the compactness and decent cutting power of the Silhouette Portrait. The machine works great for people who have little to no experience with die cutting, not just because it's easy to set up and use but also for its high performance at a relatively affordable price.
Inferior tools can put a damper on anybody's hobby or interest. Imagine making a child learn how to play the piano on an inferior piano that can't hold a tune or even key pressure. With the Portrait, you can start off on the right foot. The rest is up to you.
In addition, if you own a small business, this can be an excellent tool for creating promotional materials.
Pros
Highly portable
Good performance
Budget-friendly
6 psi cutting power
Cons
For more information, you might also like to read through our dedicated Silhouette Portrait Review post.
>>> Click here to check the latest prices on the Portrait
2. Silhouette Cameo 3 Review

Whichever way you look at it, the Cameo 3 is a powerhouse of a die cutting machine. It has the performance and all the bells and whistles to keep up with the most demanding crafters.
Unlike the Portrait, this machine is capable of working without a computer. It features a sizable full-color LCD which allows you to easily load your designs.
The Cameo 3 measures 22.5 x 8.5 x 6 inches or more than 4 inches longer than the Portrait.
It's also heavier at 8 lbs., but that is something to be expected if you factor in all the extra features and the 12-inch cutting area (compatible with 10 ft. long materials).
However, the key differences are the dual cartridges and greater cutting pressure (8.3 psi). This means that you can use a drawing stylus and the blade simultaneously, which makes the entire cutting/design process quicker.
This includes saving yourself the trouble of having to switch cartridges for each action.
Who is this machine for?
If you want to make your die cutting hobby a source of side income, the Cameo 3 is a very good choice. Due to the greater cutting area and pressure, this machine is very versatile. It will also get the job done faster than the Portrait.
When all is said and done, this model covers the needs of all crafters and professional designers.
Pros
12-inch cutting area
Cuts more 100 materials
LCD screen
Works as a standalone unit
Dual cartridges
Cons
The price might be a bit steep
For more information, you might also like to read through our dedicated Silhouette Cameo 4 Review post.
Cameo vs. Portrait: The Final Verdict
In the end, you should think carefully about your needs, priorities, and budget to determine the better Silhouette die cutter for you.
Both the Cameo and the Portrait do an excellent job of producing cool decals, cards, magnets, and more. But as said, the Cameo 3 works faster, especially if there's some drawing involved. So, if your aim is to scale up your die cutting operation, the Cameo 3 has all the right upgrades.
However, beginners may not want to shell out the extra cash, nor do they have to. The Silhouette Portrait is more than enough to let you get your feet wet and learn how to craft unique items.
Still not sure? I love the Cameo 3 and honestly feel that it is worth the investment.
>>> Buy your Silhouette Portrait 2 from Amazon
Further Reading: