When you choose to invest a bit of money into craft tools and supplies, you really want to ensure that you are purchasing the newest and latest. Especially when you are purchasing something that focuses on technology.
So what is the newest silhouette machine 2019 has to offer? Here is your answer!
Let's dive right into our topic for the day, I will also provide you with a super quick summary of the latest Silhouette Machine as well.
What is the Newest Silhouette Machine 2019
Find below info on the latest Silhouette machines, as well as the newest Silhouette products.
What is the Newest Silhouette Cameo machine?
The Silhouette Cameo 3 is Silhouette's newest craft machine for DIY projects (however the Cameo 4 will be out before the end of the year – more info below). Whilst the Cameo 3 was released back in August 2016, it still one of the best selling cutting machines in 2019.
This Silhouette cutting machine comes with a range of brilliant features and can cut over 100+ different types of materials.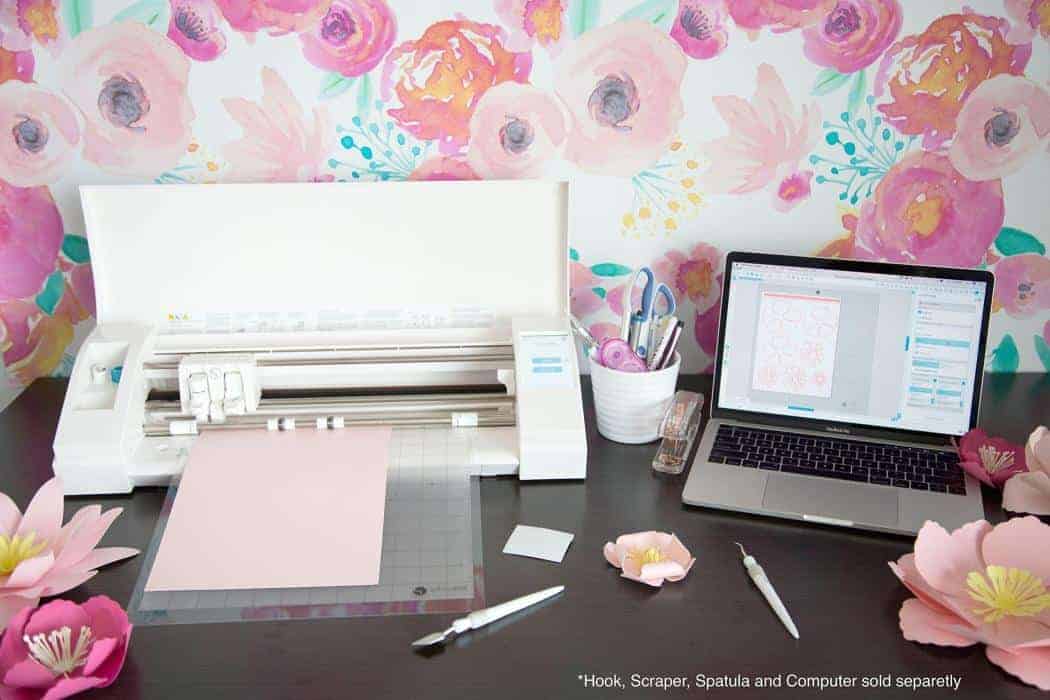 In 2018, the newest Cameo 3 was released in a lovely nice range of colors. Click here to see if Amazon has any of these fun new colors in stock. Typically you can find these in bundle deals, instead of as stand-alone machines. Click here to see our favorite Cameo 3 Silhouette bundles.

It won't be long until we see the release of Cameo 4 though, so if you can wait with the purchase of your machine, it might be worth it. The official release date isn't specific, but we know that the Cameo 4 will go on sale in Fall 2019. You can watch the release on the official Silhouette Design Shop here.
Otherwise, if you can't wait till then, the Cameo 3 is still a fabulous buy. You can read more about this popular machine further down in the post. If you are interested, you can read our full Silhouette Cameo 3 Review here.
Newest Silhouette Printer 2019
The only notable release by Silhouette in 2019 was the 3D Printer: 3D Alta Printer. This printer is pretty futuristic! The Silhouette Alta is a 3D desktop printer, so gone are the days of printing on paper, now you can print 3D vases and so much more!!
You can read our review of the Silhouette 3D Alta Printer here.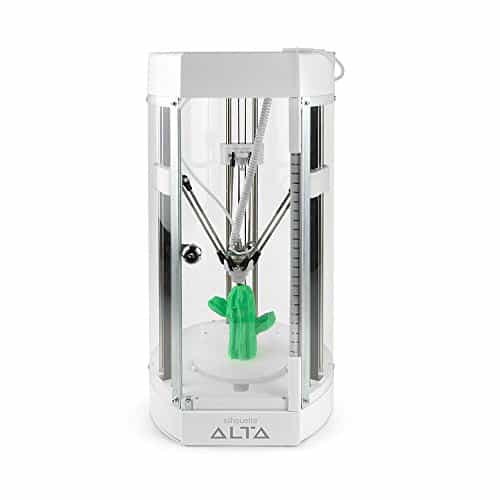 Click here if you want to check the price of the Alta 3D printer.
New Silhouette Products 2019 
Other Silhouette products that were released in 2018 are:
A new Craft blade along with stronghold mats for both Silhouette CAMEO and Silhouette Portrait – these are designed to cut thicker material such as felt and leather.
A new pink tool kit
A pink light tote for the CAMEO 3
A new dust cover for the Portrait 2
A new Silkscreen starter kit
A doming starter kit
An epoxy resin set
New vinyl colors and textures
Silhouette Cameo 3: A Quick Summary
Before we jump into a bit of a summary about this best selling cutting machine, here is a quick video by Silhouette when they released the Cameo 3 back in 2016.
The Silhouette Cameo 3 is the ultimate DIY cutting machine. It is a formidable contender to the Cricut Explore Air 2 and a great step up from the popular Cameo 2.
The Cameo Silhouette 3 includes all of our favorite features of the Cameo 2 but comes with the bonus of dual carriages, Bluetooth functionality as well as some upgrades to the Silhouette studio.
The Cameo 3 Silhouette has the ability to draw and cut on over 100 different types of material and we love that it can cut material that has a width of up to 12 inches by a crazy 10 feet long.
We love our Cameo 3 and it is one of the best selling machines from our affiliate links on our website as well.
>>>READ MORE REVIEWS ON THE CAMEO 3 ON AMAZON HERE
Here is a look at what this machine can do:
Out of the box, the Silhouette CAMEO® comes with the following:
Silhouette CAMEO® cutting machine
Silhouette Studio® software
Power cable and USB cable
12″ Cutting Mat
AutoBlade cutting blade
One-month Basic Subscription to the Silhouette Design Store
Crosscutter
100 FREE digital designs
Features of the new Silhouette CAMEO® 3:
Dual-carriage for multi-tool use
Higher 2-mm clearance
Bluetooth compatibility
AutoBlade and the Deep-Cut Blade compatibility
Barcode scanning feature for repeated cut jobs
Push-release blade holders
Adjustable slider bars to accommodate various media sizes
12″ cutting width
Crosscutter on back of unit for cutting materials fed directly from a roll
Silhouette roll-feeder compatibility
Built-in optical scanner for Print & Cut applications
PixScan™ technology compatibility
Full-color LCD touch-screen with mini tutorials for easy navigation and use
USB port for reading and cutting saved files directly
Blade and tool storage compartments
Power-saving sleep mode
PC and Mac compatibility
Lightweight body
Matless cutting capability
Fiberglass-reinforced synchronization belt to keep cuts precise
Guide marks emphasized in Silhouette blue for easier visual alignment of mat and materials during loading
Access to the Silhouette Design Store, a marketplace of nearly 100,000 ready-made designs
Here is a look at how you can use this Silhouette cutter machine with vinyl and t-shirt transfers:
We love this machine and truly believe that it is a brilliant buy! It is much cheaper than the Cricut Maker (which is fabulous for fabric but offers very similar capabilities.
And lastly, if you want to see how the machine stacks up against other vinyl cutting machines, you can see our vinyl cutter machine listicle and comparison chart here.
We hope you enjoyed our "Silhouette's new machine 2019 guide" blog post.
Till next time, Sam xx