Two very different vinyl cutters, released years apart, and yet comes at a similar retail price. While the Explore 3 may not be Cricut's flagship vinyl cutter, it's still one of the most reliable machines on the market for small DIY projects.
Can it hold a candle to Silhouette's Cameo 4? (See what Silhouette's Newest Machine is in our blog post here). Is it better or worse, and should you even consider buying it? These questions and more will be answered in this article.
Check out the Explore Air 3 Here
Cricut Explore 3 vs. Silhouette Cameo 4 Comparison of Main Features
Let's start by having a quick look at how the features between Cameo 4 and Explore 3 compare.
Cricut Explore 3 Main Features

350g force
Bluetooth
Control buttons
Double tool holder
Design software
Compact size
Silhouette Cameo 4 Main Features

5kg force
Bluetooth
Multiple tools
Single tap AutoBlade
Dual motor system
Design software
Touch panel
Automatic tool detection
---
Explore 3 vs. Cameo 4 Detailed Comparison
Okay now that we know that the Cameo 4 is way stronger than the Explore 3 and also a touch more manual, let's have a more detailed look at how they compare.
Explore 3 Ease of Use
Silhouette machines are known for user-friendliness, except when it came to their design software. That's about the only thing that plagues Explore 3. The differences would mainly be hardware-related.
Cameo 4 Ease of Use
The Cameo 4 isn't just Silhouette's new flagship vinyl cutter, it is also the manufacturer's most user-friendly vinyl cutting machine to date.
There have been numerous software improvements as well as the addition of a touch panel and a few one-touch operations which simplify the cutting process.
Furthermore, the new weeding tool makes it a lot easier to see where the excess vinyl should be cut from.
Cutting Power
The Explore 3 is a small machine. This machine delivers 350g of downward force, which is great for your standard materials.
However, the Cameo 4 is a different kind of beast. With improved motors, its 5kg of downward force can handle any project for small businesses and DIYers.
The extra power allows it to work with very thick and complicated materials, such as basswood. This is something that the Explore 3 simply can't do. In this category, the Cameo 4 wins by a landslide.
Cutting Speed
Cutting speed tells a slightly different story. While the Cameo 4 is faster than the Explore 3 in cutting straight lines and has a higher acceleration speed too, the differences may not be as great as you would expect from looking at the difference in cutting force alone.
The Explore 3 is already a fast-cutting machine, and now with the increased cutting speed when using Cricut Smart Materials the Explore 3 is expected to match the Cameo 4 (if not exceed them) in cutting speeds. This means that both these machines are now equally matched.
Cutting Capacity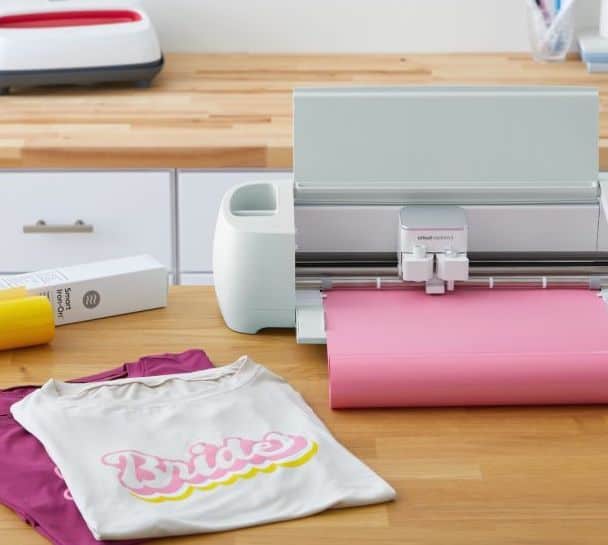 The Explore 3 now has a greater cutting capacity of up to 13″ x 12′ when using Cricut Smart Materials.
Now this increased cutting capacity won't help you with really large projects if you do not use Cricut's Smart Materials as the maximum cutting size is then reduced to 13"x 24″, which is good enough for most projects but not even close to the Cameo 4's 12"x 10' maximum cutting size.
But do you really have to cut 10ft of anything in one go? That's a whole other question. The Explore 3 already matches Cricut's most popular machine in cutting size, so you may not need any higher cutting size.
Matless Cutting
The Cameo 4 has the ability to cut without a mat when using its kiss-cut action for rolled materials, or its pop-out cutting feature for paper and cardstock.
The Explore 3 now also has the ability to cut Smart Materials (vinyl, iron-on, and cardstock) without the use of a mat.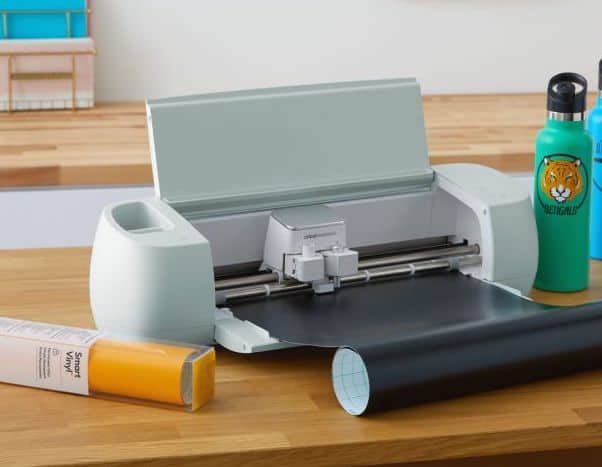 The freedom that the Cameo 4 gives you to cut various material types without using a cutting mat and not being limited to a specific brand means that the Cricut Explore 3 trails behind in this capability.
Tools
In the tools department, the Cricut Explore 3 is the winner. The Cameo 4 has three cutting tools as opposed to the 6 tools for cutting, writing, foiling & more that you can use with the Explore 3.
With Cricut's upgrade of moving from a Smart Set Dial to control buttons on the Explore 3, the Explore 3 are more versatile and easier to use with the various tools due to the automatic tool detection feature.
The Cameo 4 is very similar in this regard. This allows the machines to make all the necessary adjustments for you.
Precision
Here's one area in which the Explore 3 also performs admirably, though it trails the Cameo 4. The Explore 3 is known for its impressive cutting precision.
It is known to be faster and more precise than the Cameo 3, for instance, with a precision comparable to the Cricut Maker 3, the other top manufacturer's flagship machine.
With that in mind, the Cameo 4, for all its bells and whistles, may not be that much of an improvement over the very compact Explore 3. At least not for very small projects like patches, cards, etc.
Pricing
This is where things get really interesting. The recommended retail price for the Explore 3 is $299.99, which is the same price as the Cameo 4.
This means that the Cricut Explore 3 (which is the newer machine) will be the same price to purchase as the Cameo 4.
Want more information on these machines? Read our full Cameo 4 review post here, and see the Explore 3 review post here. You might also find our post full of Cricut Reviews useful if you want to compare the Explore 3 to other Cricut machines.
Verdict: Silhouette Cameo 4 vs. Cricut Explore 3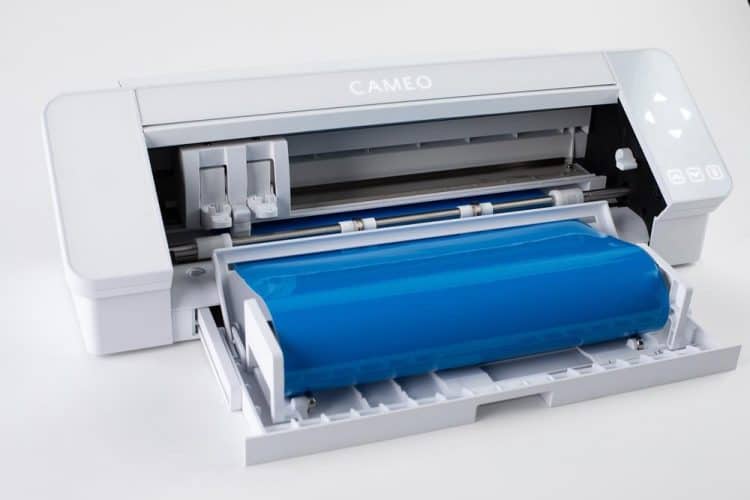 After all is said and done, the Explore 3 can now be seen as equally matched to the Cameo 4 vinyl cutting machine. Both the Cameo 4 and the Explore 3 vinyl cutters have significant improvements over their predecessors.
The Explore 3 is a popular and reliable compact tabletop machine. Its ability to cut and draw simultaneously is a top draw. I really love the range of tools that is available for this machine. I think this is a great machine for beginners.
The Cameo 4 can do everything the Explore 3 can, with similar speeds. The only catch would be that if you want to create large-scale projects you are limited to the Cricut brand of materials with the Explore 3 which is a bummer! The Cameo 4 can also handle cutting thicker materials as well.
I think the Cameo 4 is the best choice if you are a more advanced user.
However, if are not worried about larger-scale projects and you don't feel the need to craft with thick materials, then it really will come down to which machine and software you feel more comfortable with.
Click Here if You Prefer to Grab the Explore 3
Conclusion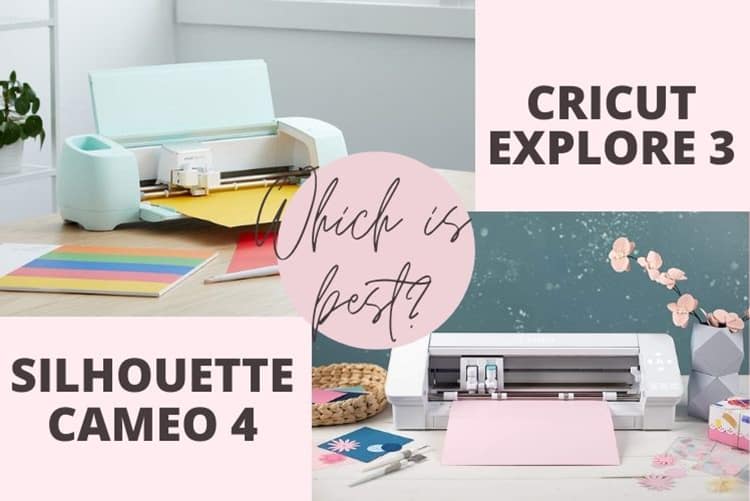 To recap, both machines are the same price at $299.99, the Explore 3 is smaller, and therefore takes up less space compared to the Cameo 4.
The Cameo 4 outshines the Explore 3 with its ability as a vinyl cutting machine to cut any material brand when it comes to its cutting capacity and matless cutting.
That being said, not everyone needs that level of versatility or the cutting power of the Cameo 4.
If you already own the Explore 3 predecessor machine, the Explore Air 2, and if you don't plan on expanding your operation or working with thicker materials, then you will probably prefer to stick to the Cricut brand and grab the Explore 3.
If this is the first vinyl cutter that you will be purchasing, then it simply makes more sense to go with the newest machine which is the Explore Air 3. You'll have a new toy that's fun and easy to use, and capable of a massive range of projects.
Click Here if You Prefer to Grab the Explore 3
Additional Resources: