If you are looking to purchase your first home vinyl cutting machine, you may know that Cricut and Silhouette make the two most popular brands available.
These premium home cutting machine brands have a range of machines to suit the home crafters' needs depending on what type of craft and material they would like to cut.
The home crafter can now cut craft materials like card stock, paper, corkboard, and vinyl easier than ever before. You can now create your designs in no time at all and all from the comfort of your own home!
The upside to using a home cutting machine for home crafting is that you now have a great variety and choice of machines. The downside is that it can become very confusing to know which machines to compare against which!
So let's compare the two brands and their range of machines to see which is better, Cricut or Silhouette?
Silhouette vs. Cricut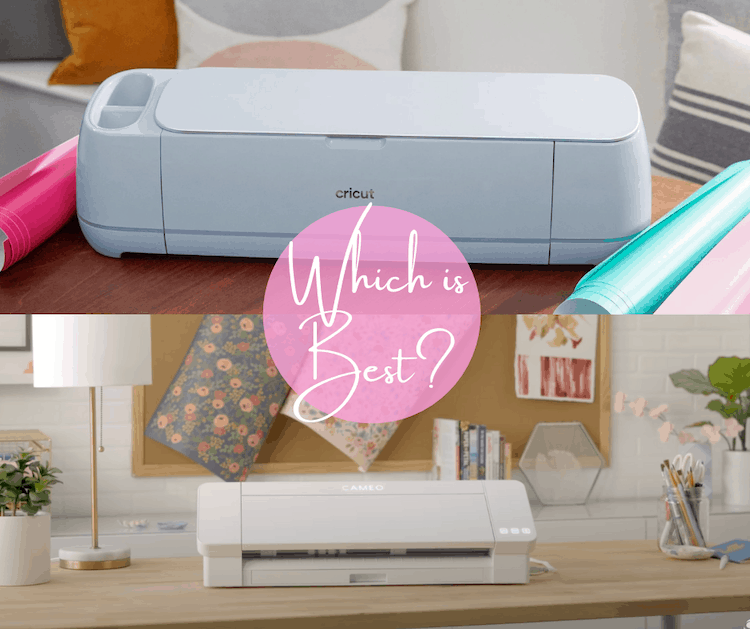 Cricut and Silhouette are two of the most trusted and most popular brands for those looking for either hobby or small business cutting machines.
Both are excellent machines for making personalized gifts such as t-shirts, cups, organizing labels, paper crafts, party supplies, and home decor signs, and so much more.
Both are established, well-known brands that offer quality products that can compete with commercial cutting machines.
Due to the popularity of these two international home cutting machine brands, there must be good reasons for them being top of the vinyl cutting machine charts!
Of course, the machines are bound to have similarities and differences, so to understand and compare these two incredible brands, we will take a closer look at their machines currently on offer.
Machine Range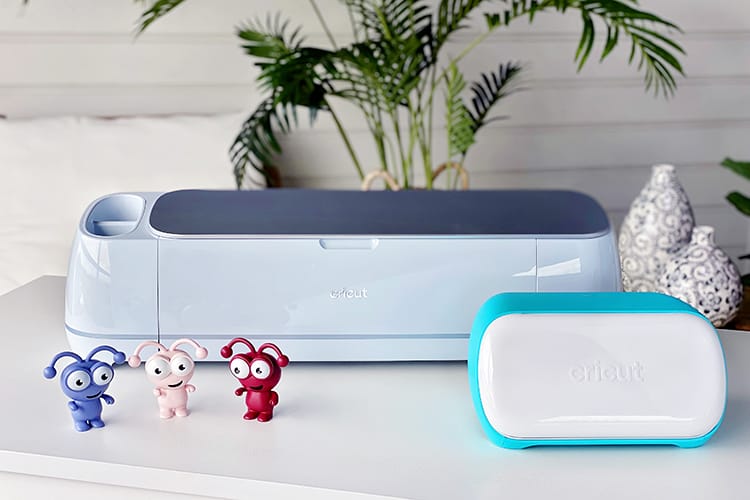 Both Silhouette and Cricut have a small range of cutting machines ranging from the entry-level machine to the more advanced cutting machine that competes with commercial vinyl cutting machines.
Let's have a look at the machines starting with the entry-level machines for each brand.
Cricut Cutting Machines
Silhouette Cutting Machines
Joy
Portrait 3
Explore Air 2
Explore 3
12″ Cameo 4
15″ Cameo 4
24″ Cameo 4
Maker
Maker 3
Cameo 4 Range and the
Silhouette Curio
Despite having a small number of machines, both brands ensure that the functions and capabilities of each machine increase as you advance through the range, and of course so does the price.
For what they are capable of, both product lines are reasonably priced, so if you are starting your journey with vinyl cutting, Cricut or Silhouette's vinyl cutters can satisfy your needs without having to spend too much initially.
If you want a more detailed comparison between the machines, you can look at our blog posts where we compare Cricut and Silhouettes' latest machines head-on and in greater detail.
Functions
The functions and capabilities are pretty evenly matched across Cricut and Silhouette as you look at a particular machine against its so-called rival.
If we look at the entry-level machines, both the Cricut Joy and the Silhouette Portrait are capable of cutting and drawing.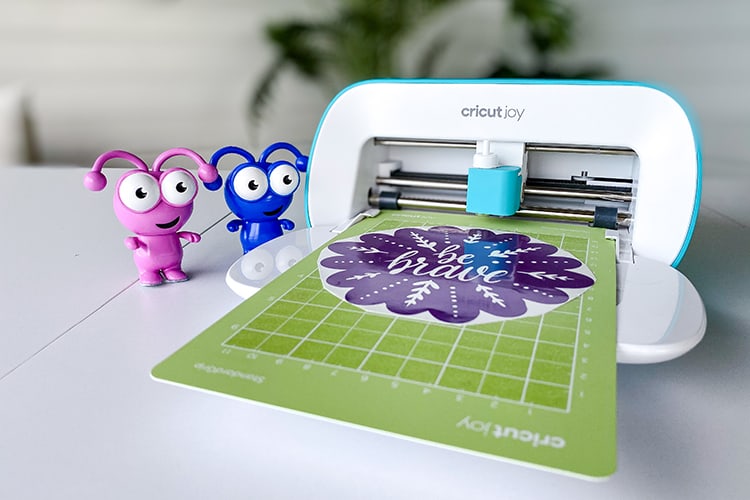 As you start to look at the other machines across both brands, you will notice that each have the following increased capabilities:
increased cutting capacity (longer and broader cuts)
matless cutting
ability to cut thicker materials up to 3mm
ability to carry out functions such as embossing, engraving, and etching
Both machines are Bluetooth enabled, which allows you to create designs in the relevant design software and send them to your respective machine for cutting without being in the same room!
Software
Both Cricut and Silhouette machines use computer software to let you edit and design your project.
Cricut Design Space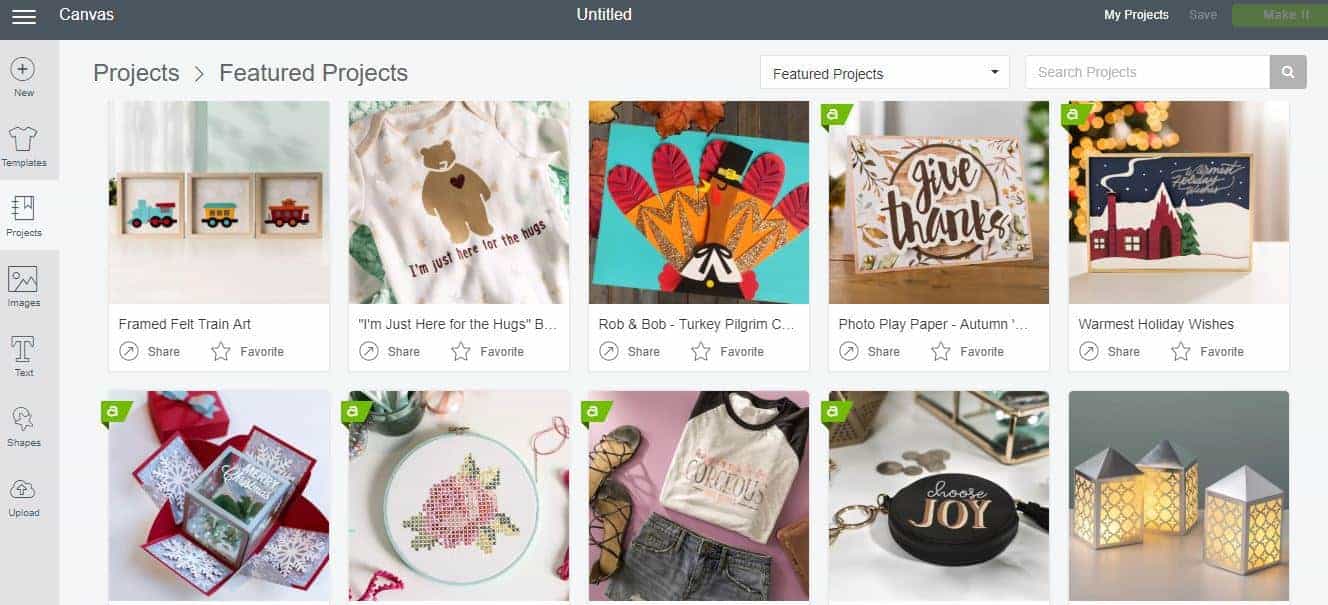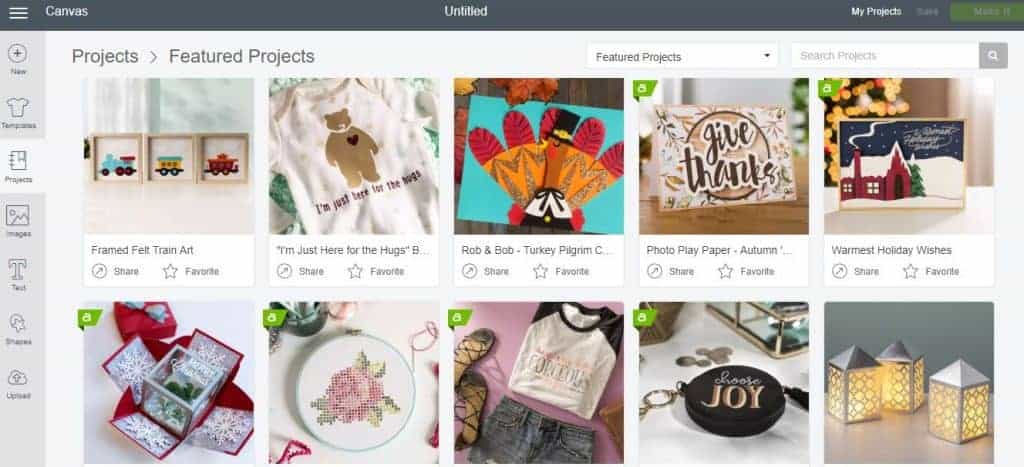 Cricut Design Space is a free software application that enables you to design and then cut your projects. Despite being web-based, you can also use this software offline.
Other capabilities allow you to insert jpg photos and convert them to SVG images. As well as using your own images, you can also use your own fonts for free as well.
However, you can also buy fonts and images separately in the program or you can pay around $9.99 per month to join Cricut Access and utilize the files available only for members.
Silhouette Studio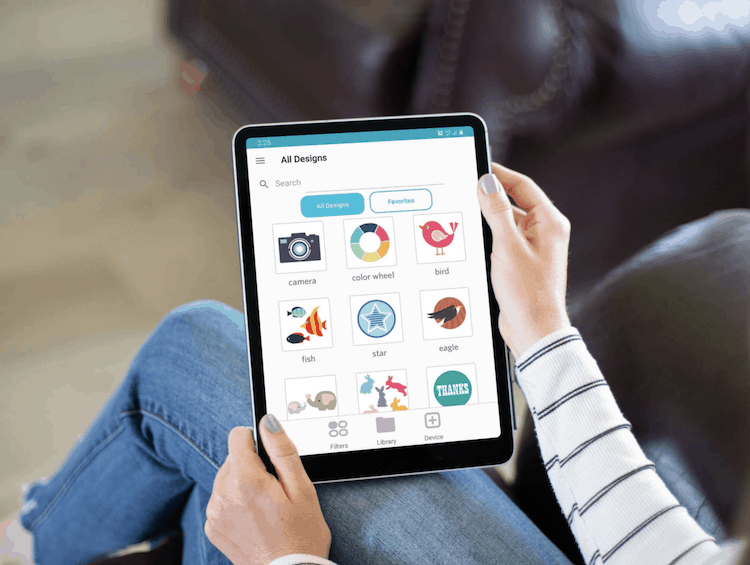 Silhouette's design software is a downloadable program allowing you to work offline perfectly or on the go!
The software is slightly more advanced in terms of graphic design features than Cricut Design Space, which is an excellent thing if you want to make your designs and you're not scared of programs.
However, it has a slightly higher learning curve compared to Cricut's software.
You can also use fonts downloaded on your computer with this software. However, if you want to upload your own SVG files, you will need to have the paid version, which costs around $50.
You can buy files from the software's online store or purchase a subscription that allows you to download files at a discounted price.
The functions and design capabilities within each software application are very similar as they provide a variety of design options to customize your projects which could be from their own project library or from importing your own designs or images for editing purposes.
Overall, they're both great software. If you want to just cut and open files, the Cricut program is ideal for you and it is also easier to use.
If designing is your thing and you will want to make your own designs, Silhouette's software is the better choice as it has a lot of advanced designing options you can use.
Also, if you're purchasing images from Silhouette's software, you will be able to use them even if you cancel your subscription in the future compared to Cricut where you will no longer have access to any designs used when you had the Access subscription.
Pricing
Silhouette machines have a higher price tag. However, in general, the pricing is really pretty similar.
As of this writing, the retail prices for the Cricut machines range from $149.99 to $399.99. In contrast, Silhouette's machines retail for $199.99 to $499.99.
For instance, the Cricut Joy pricing starts at $159.99, and the Silhouette Portrait 3 is priced at $199.99.
The Cameo 4 is priced at $299 which is the exact same price as the Cricut Explore 3.
Overall User Experience
When it comes to the overall user experience, both companies are doing a great job of making sure people can use their machines easily.
Setting up your Cricut is quick and easy, and as mentioned, the Design Space software is easy to use and great for beginners.
The Silhouette is slightly more difficult to set up. Loading the mat can be time-consuming for some, and some find that Silhouette's instructions are not as easy to follow compared to Cricut's.
With that said, both Silhouette and Cricut websites have excellent customer support. You can contact them and ask questions about anything that concerns you, and you will receive immediate help.
Materials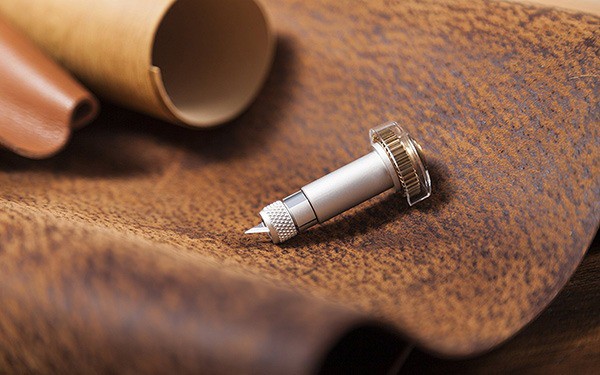 Both Silhouette and Cricut can slice through a lot of materials utilizing different blades. The materials include heat transfer vinyl, thin leather, vellum, vinyl, cardstock, craft foam, and more up to a maximum thickness of 3mm.
Cricut has an Intuitive Control Panel where you choose all the materials in the Cricut Design Space software, which streamlines the creation process and allows you to choose from a large variety of project material types.
To customize the Silhouette blade strength according to the material you are cutting, just twist the blade to a certain number based on the fabric before slicing.
Both brands are perfect for cutting denser materials by purchasing separate deep-cutting blades available.
Overall Machine Design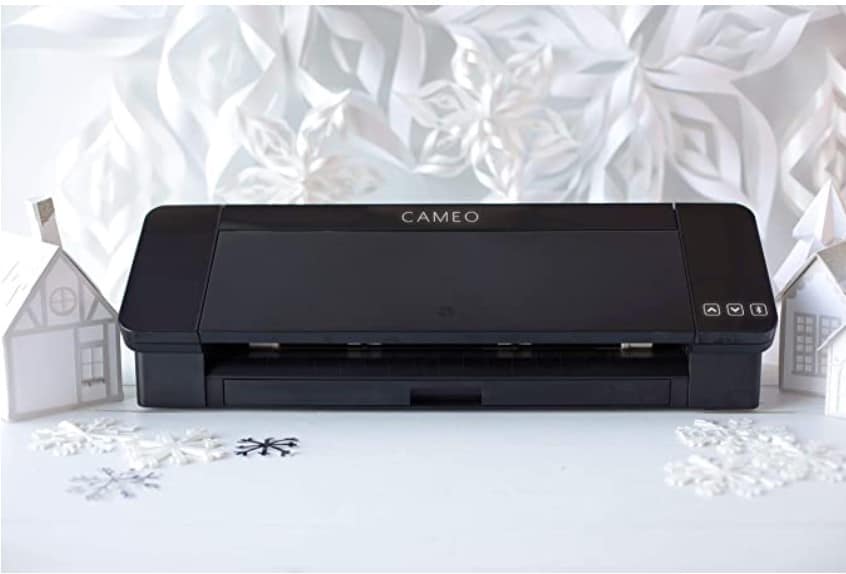 The overall look and feel of both the Cricut and Silhouette units are very similar. They are also comparable in weight and size.
They can both fit on a desk or shelf since they're about the size of a small home printer. The Cricut Maker and Explore machines also have extra storage underneath and on the top left of the unit.
You can store extra blades, markers, and tools in the inbuilt storage tray. The Silhouette machine, on the other hand, doesn't have much storage space.
Cricut vs. Silhouette – The Verdict
As you can see, both brands are very similar and produce impressive home-cutting machines. The most significant difference lies in the ease of use and design.
If you want to cut vinyl and make custom designs where you are not limited to editing options, then the Silhouette Cameo 4 may be your choice.
If you want to cut predesigned projects instead of making custom designs with software that is easy to learn and use, then the Cricut Maker or Explore family of machines may be best. The Maker is brilliant at cutting paper and great for cutting denser and heavier materials due to its greater cutting force of 4kg.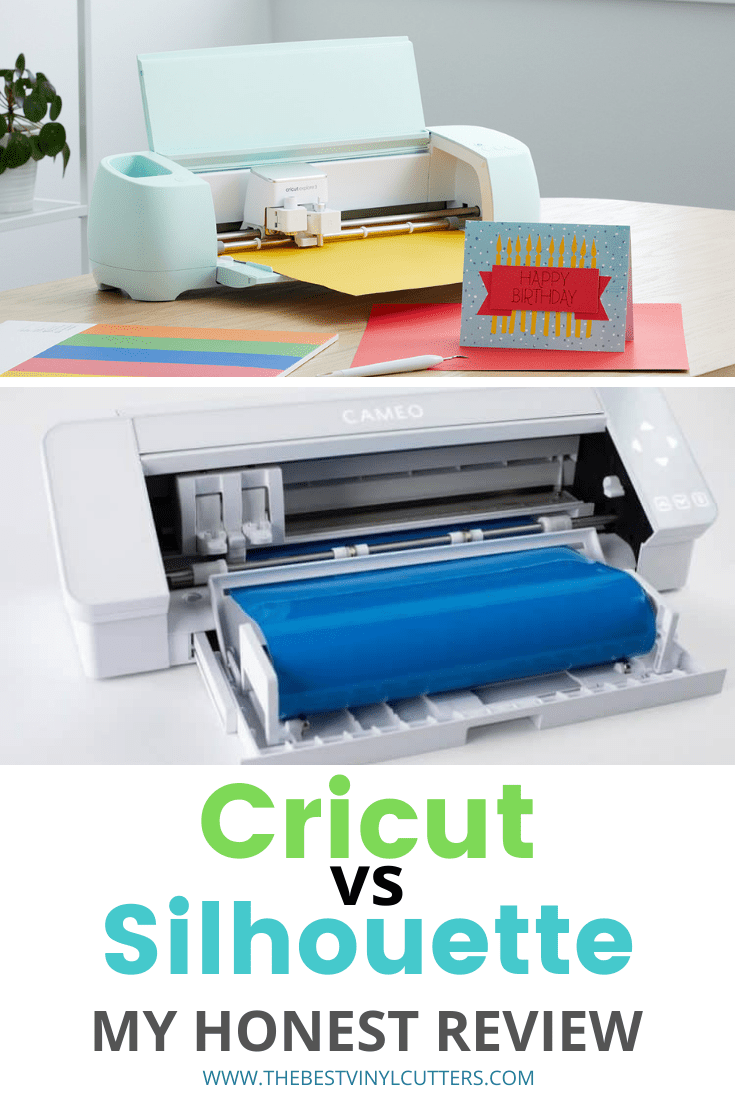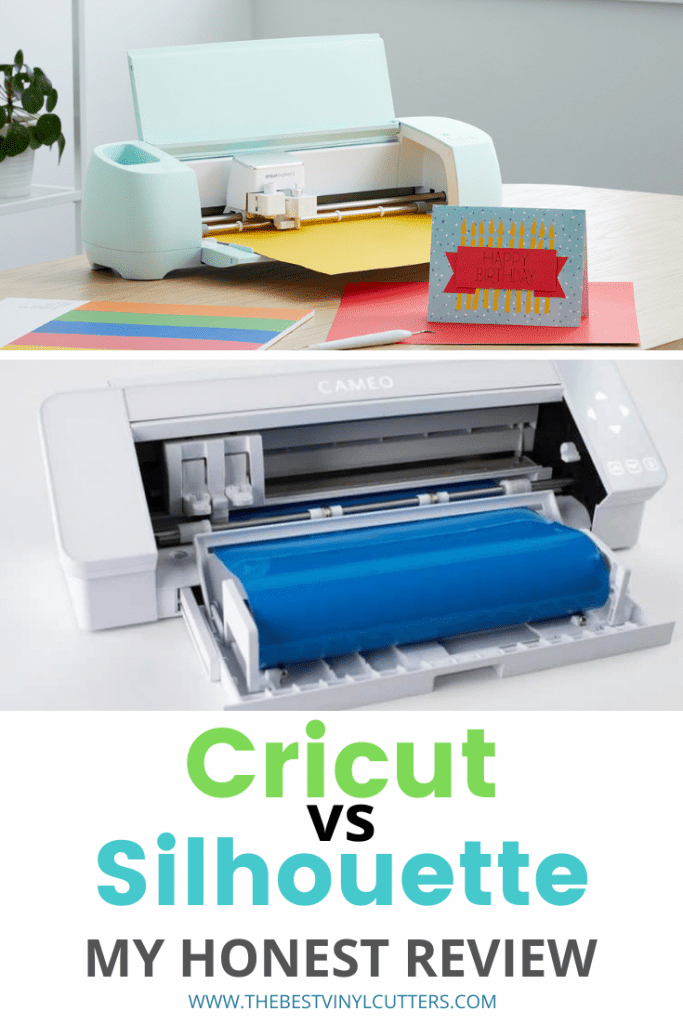 The bottom line, both brands are amazing, and I do love both. However, I enjoy my Cricut machines more because I find them easier to use as the software is straightforward and user-friendly.
If you think you will want to create your own custom designs, you may want to consider Silhouette machines because the advanced software, Silhouette Studio, offers more design options.
In the end, it's a matter of your personal preferences and circumstances. Choose the one that responds to your crafting needs.
Hopefully, my Cricut vs. Silhouette article can help you make an intelligent decision.
Now that you know which brand machine you will buying, let's hop over and help you find the best machine for your needs.
>>>>>TIP: If you are looking to get some Cricut supplies for your new machine, check this out to see where to get you Cricut supplies!
You can also check out our Cricut Resource Hub and Silhouette Resource Hub, where we share crafts and project ideas, machine reviews, guides, tutorials & much more!
Let me know which machine you went for in the end and if this helped you to decide!