Why is there so much hype for the Silhouette Cameo 4? Why should you consider buying it?
Silhouette is a renowned brand that provides dedicated vinyl cutters for crafters. Ever since Cameo 3 was introduced three years ago, people have been waiting for their next product.
And we are so excited about the new Silhouette machine, the Cameo 4 which was released in 2019. You can choose between white, pink, and black or you can grab a Silhouette Cameo 4 bundle (and save some money) as well!
Meanwhile, Silhouette's biggest competitor, Cricut, has released two products – the Explore 3 and the Maker 3 in 2021.
Although Silhouette took considerable time to come out with its next product release, according to industry insights, it was worth the wait. So we had to take a look at everything the Silhouette Cameo 4 has to offer.
Purchase the Cameo 4 Here (for cheaper than on Amazon)
The Silhouette Cameo 4 Review Guide

We have subdivided all the exciting news and information into five categories. Without further ado, here are all the details you need to know about the brand new Silhouette Cameo 4.
Price and Availability
You will be pleased to know that Silhouette has launched the Cameo 4 at a very attractive price range. Efficient vinyl cutters from reputed brands cost a few hundred dollars on average. The base price of the product has been fixed at $299, whereas Cameo 4 bundles will cost slightly more – around $329.
If you want to grab a Cameo 4, you can now purchase the white, black or pink Cameo 4 online at Swing Design.
Cameo 4 Features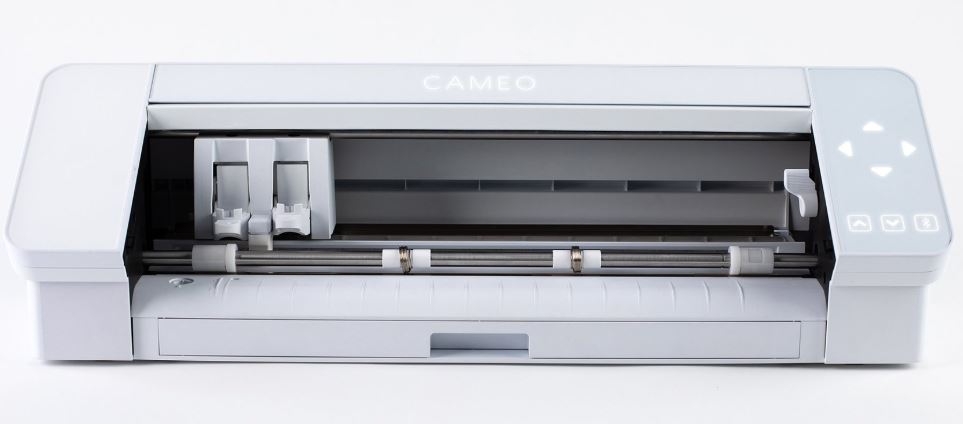 To achieve high sales volumes, a product needs to have top-notch features that coincide with what its target customers want. Silhouette's Cameo 4 is a significant upgrade from its predecessor, the Cameo 3.
Looking at these features, we are convinced that Silhouette paid heed to the feedback on its previous products because it has everything that Silhouette customers wanted. It features an array of best-in-industry features that should give it a competitive edge over the existing competition.
Let's take a look at all the fantastic features of Cameo 4.
1. Size Options
So excited that Silhouette has decided to release the new cutting machine in 3 handy sizes. You will be able to buy it in the traditional 12″ size, as well as a new 15″ and 20″ machine – yay!!
2. Increased Downward Force
If you have tried to cut thick materials with your vinyl cutter, you know it can be a struggle. That's where the downward force of a vinyl cutting machine plays a crucial role. The stronger the downward force, the easier it will be to cut through thicker materials.
Silhouette's Cameo 3 came up short in this department, with a downward force of a mere 210 g/s. The most common complaint from users was about its inability to cut thick materials. But Silhouette has learned from their mistake and packed a massive 5kg of downward force in the Cameo 4.
To give you a clearer perspective, that is more than any other non-industrial vinyl cutter. The current frontrunners in the industry have a downward force of 4kg. Cameo 4 will be almost as powerful as an industrial vinyl cutter.
If you have to work with thick materials like leather, craft foam, balsa wood, matboard, and so on, the exceptionally high downward force of Cameo 4 makes it the perfect vinyl cutter for you. It looks like Silhouette is planning to overtake all its competitors.
3. Better Speed And Acceleration
One of the essential aspects of a vinyl cutting machine is its pace. You do not want to work with a device that takes a lot of time, especially if you have to complete bulk projects. Silhouette claims that Cameo 4 will be three times as fast as its predecessor, the Cameo 3.
If you own a vinyl cutting business, you can reap the benefits of immense time savings by using a machine that can cut very quickly. When it comes to how fast a vinyl cutter can be, there are two attributes – speed and acceleration. The cutting speed refers to cuts in a straight line while cutting acceleration refers to cuts in a corner or multiple directions.
Cameo 4 features high speed and acceleration, making it a valuable acquisition to crafters for all kinds of vinyl cutting projects.
4. Single Tap Auto Blade
Crafters all over the globe applauded Silhouette for the Auto Blade function incorporated in the Cameo 3 machine. It allows for automatic blade adjustment to various materials, ensuring a hassle-free and seamless vinyl cutting experience.
With the Cameo 4, the feature has been retained and been upgraded. Cameo 4 has a "Single Tap Auto Blade" feature – which offers a more intuitive and faster automatic blade adjustment.
5. Fresh Tools
The downward force, speed, and acceleration are three of the most vital features of a vinyl cutter. There are other tools that Silhouette has incorporated in the Cameo 4 to make it a one-stop solution for vinyl crafters. Here are the two new tools you will find in the Cameo 4:
Silhouette Rotary Blade
Silhouette Kraft Blade
These tools will be used to cut fabric and thick materials. The new tools are designed specifically for Cameo 4 and will not be compatible with older Silhouette products.
We are incredibly excited about the automatic tool detection feature that will adjust the machine automatically depending on the tool in the cartridge. Irrespective of whether you load a sketch pen, auto blade, or a blade, you will not have to change any settings in the Silhouette Studio.
6. Other features
Silhouette has gone all out with the Cameo 4 and included some other high-quality features.
Dual motor system to provide maximum power.
Weeding tool for precise markings.
Best-in-industry, backlit touch panel.
Built-in pull-out roll feeder.
Built-in cross cutter.
Retractable cover.
Large tool carriage housing with tool adapter.
Gear-driven tool carriage that accommodates different blades.
Built-in vinyl trimmer.
Ratchet adjustment tool.
These features make Cameo 4 an all-in-one stop for all kinds of vinyl craft. The Cameo 4 is the best non-industrial vinyl cutting machine on the market currently.
Product Design and Look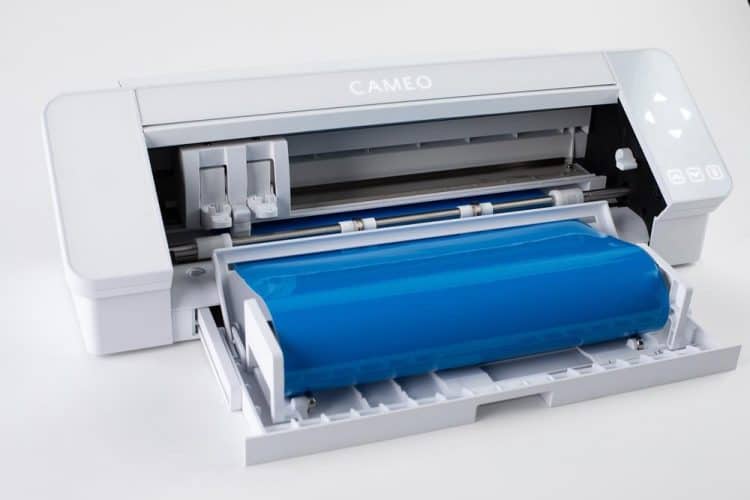 The Cameo 4 features a "not-so-sleek" design – it kinda looks a bit old-school to me. But the look is all due to the increased force.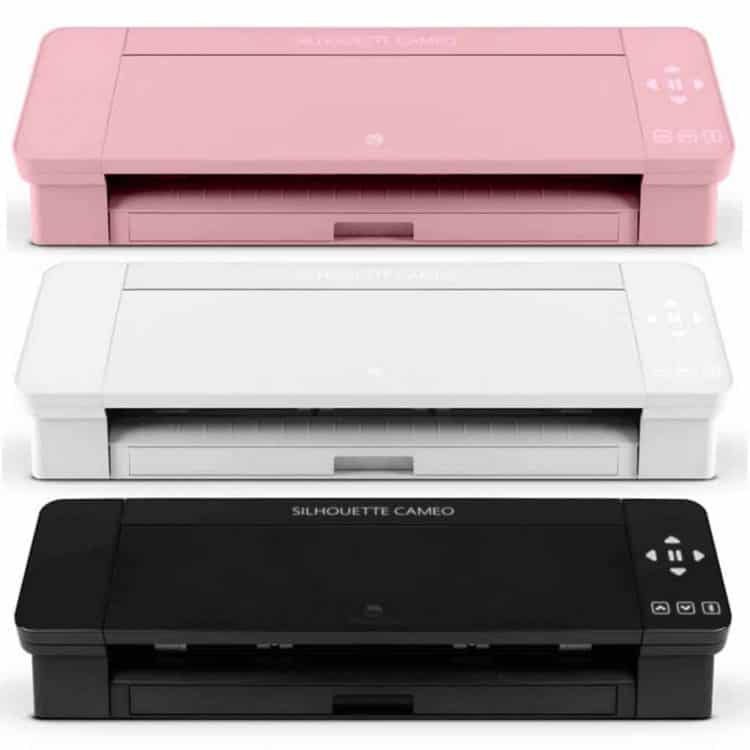 You can buy this elegant machine in three colors – black, white, and pink. Silhouette has maintained the design template of its earlier products and kept similar aesthetics on the Cameo 4.
Cameo 4 Versus Cameo 3
One of the best ways to assess the pros and cons of Cameo 4 is to compare it with Cameo 3. On juxtaposing Cameo 3 with Cameo 4, this is what we ascertained:
Cameo 4 has a downward cutting force of 5 kg, which is much more than Cameo 3's downward cutting force of 210 grams. Cameo 4 has a massive improvement in terms of the thickness of materials it can cut.
Cameo 4 comes loaded with a cutting speed that is thrice as fast as Cameo 3. The cutting acceleration is about twice as fast as well, which means any project you undertake using the Cameo 4 will be completed in about least half the time that it would take to do it using Cameo 3.
Cameo 4 has a more substantial, redesigned tool carriage housing. Cameo 3 tools can still be used with Cameo 4 using the included tool adapter. You cannot use Cameo 4 tools like the new Rotary Blade and Auto Blade in older products, including Cameo 3.
Cameo 4 has an advanced, ergonomic design. It features a back-lit touch panel instead of Cameo 3's touch screen. The lid or cover in Cameo 4 is retractable, unlike the hinge-close cover of Cameo 3.
One of the key distinctions is the price. Cameo 3 costs $199 for the base machine and $229 to $269 for bundles. Cameo 4 will cost $299 for the base machine and about $329 for the bundles.
Cameo 4 has new blades – Rotary and Kraft. It will most likely provide more versatility than the Cameo 3.
Cameo 4 will be much easier to use than Cameo 3, owing to the automatic tool detection and the single tap auto blade functions.
Cameo 4 will be more user-friendly, and you will not have to spend much time to alter settings in the Silhouette Studio.
The pull-out roll feeder incorporated in the Cameo 4 allows one-handed adjustment. Silhouette has improved the quality of the rollers as well.
It is safe to say that Cameo 3 stands nowhere close to Cameo 4. Silhouette has exponentially improved its last product.
Cameo 4 Versus Cricut Maker
We often compare multiple products before choosing one – be it clothes, gadgets, and so on. So why not compare two vinyl cutting machines from different brands? At present, the vinyl cutter industry is being dominated by the Cricut Maker. So how does the upcoming Cameo 4 stack up against its main rival?
Cricut Maker has a downward cutting force of 4 kg/s, which is pretty impressive. Cameo 4 has raised the benchmark by incorporating a massive 5 kg/s downward cutting force. Anything that the Cricut Maker can cut, so can the Cameo 4, and more. A greater downward force equates to a more powerful machine.
Cricut Maker features a maximum cutting area that is 12 inches wide and 24 inches long. Cameo 4 has a maximum cutting area measuring 12 inches wide and 10 feet long. That is five times bigger!
Cricut Maker takes the win when it comes to the tools. It offers a broader range of useful tools including the Fine Point Blade, Knife Blade, Rotary Blade, Deep Point Blade, and Scoring Wheel. Cameo 4 offers the Kraft Blade, Rotary Blade, and Single Tap Auto Blade. Silhouette may release additional tools for Cameo 4 to even the odds, but they are tipped in Cricut Maker's favor currently.
Cricut Maker demands a hefty price of $399, one of the highest for non-industrial vinyl cutters. Cameo 4 comes at a more affordable price of $299. The difference of $100 is not insignificant and certainly makes Cameo 4 very attractive.
Based on these differences, it is evident that Cameo 4 has a slight edge over Cricut Maker. Although Cricut Maker has more tools that offer greater versatility, Cameo 4 is more reasonable, has greater download force, and a larger maximum cutting area.
You can also see how the Cameo 4 compares against some of the best vinyl cutters here.
Final Verdict
The Silhouette Cameo 4 undoubtedly packs a serious punch – more power, speed, and cutting area at a moderate price. The new tools and features certainly make it seem like an optimal product for vinyl crafters all over the world.
If you choose to buy the Cameo 4, we recommend you to buy a Silhouette Cameo 4 bundle for many additional benefits you will not get in the base machine. Some of the perks of purchasing a bundle are:
1-year warranty.
Lifetime customer support.
Hundred exclusive designs.
Additional hundred bonus designs.
Not sure this is the machine for you?