It is nearly Christmas time and guess what might just make one of the best Christmas presents this year?
It is time for a new Silhouette baby to be born! On November 10, the brand new Silhouette Portrait 2 will be released wooohooooo!  We haven't tried this baby ourselves yet as you can only preorder the machine at this stage, but we are loving all the upgraded features from the previous Portrait.  Just have a look at this video to see what I mean!
The new Silhouette Portrait 2's new features brings it up to date and more in line with the very popular Silhouette Cameo 3.  The main difference is that the Portrait 2 is a smaller and more portable package; and cut only cut material up to 8″ in width.  For a lot of home crafters, this is all they would need and it comes at a much more affordable price than the Cameo 3.
Silhouette Portrait 2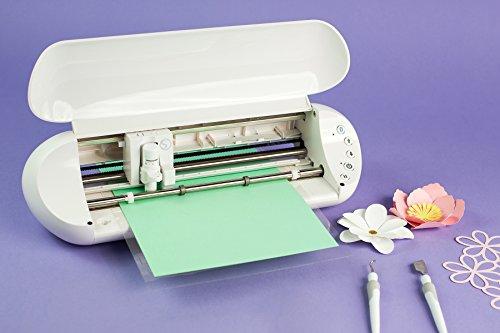 The Silhouette Portrait 2 might look very similar to the first Portrait, but it also sports a few brand new nifty features.  Ultimately the Portrait 2 is still focused on beginners crafters, and as such you will find that it might not be as good as the Cameo 3, but it does come at a lower more affordable price tag for those who want to get into the die cutting and vinyl cutting craft.
Silhouette Portrait 2 Features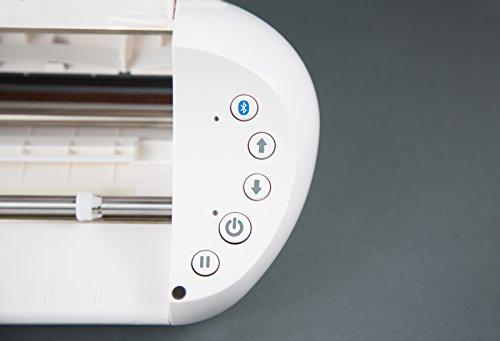 Below you will find a list of all the top features of the Silhouette Portrait 2.  You will quickly notice that there has been some great upgrades made to the original Portrait and it is now just that step closer to its competitor the Cameo 3 Vinyl Cutter.
Bluetooth Compatible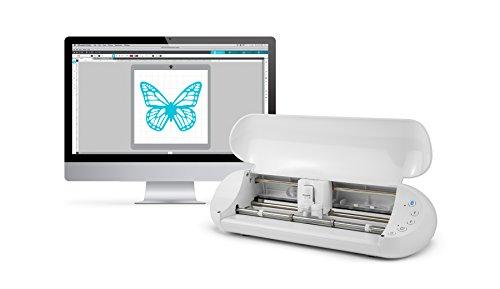 With advanced technology all around us these days, I don't see how vinyl cutters can't offer bluetooth, so it great to see that this little machine can receive cuts to the Portrait from your choice of laptop, smartphone or tablet.  No wires necessary!  YES!
Autoblade
We love autoblade functionality on a vinyl cutter and for us it is pretty much essential.  It makes life so much easier, when the machine can do all the calculations and calibrations for you!  The autoblade can automatically work out the best blade depths and pressure for the type of material that you are working with!  So clever!
Compatible with Deep Cut Blade & 2mm Clearance
If you wish to cutter thicker material, you will be stoked to know that the Portrait 2 can now cut up to 2mm thick material!  You will need to use the Deep Cut Blade which you will need to purchase additionally, but depending on the style of your craft, this might just be worth the added cost!
>>>>  Grab your Deep Cut Blade from Amazon
Built-in Optical Scanner
The built in scanner is great for those who love designing their own cuts.  The optical scanner will allow you to make custom cutouts with the Print & Cut feature.  Nifty!
Compatible with PixScan
Just like the Cameo 3, the Silhouette Portrait 2 can use PixScan technology to scan and cut your own images.  The PixScan allows you to photograph a design with your mobile device's camera, import it into the software and then use the Portrait 2 to cut it out!!
Are you loving these upgrades as much as we are??
Lightweight body and portable size
Silhouette proudly states that the Silhouette 2 is their most compact DIY die cutting machine.  It has been designed as a beginner desktop vinyl cutting machine, but yet it is still powerful and will offer a lot of crafters all the functionality they could possibly want.  The machine is small and lightweight (weighing under four pounds) so that you can take it to crafting events or move it around your house with ease.
Silhouette Portrait 2 Specifications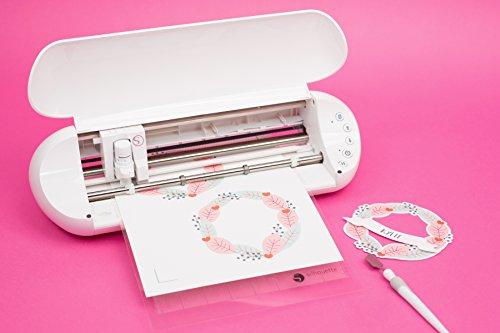 In the Box
Silhouette Portrait 2 electronic cutting machine
Silhouette Studio software
50 exclusive cuttable designs
Power cable & USB cable
8-inch cutting mat
Autoblade
1 month free subscription to Silhouette Design Store
Bluetooth adapter
What can Silhouette Portrait 2 Cut?
This new Silhouette Portrait 2 is a great machine for those who wish to work with a wide range of materials.  It has the ability to cut over 100 materials; from thin vinyl to thick leather, metal & foam.
Silhouette Portrait 2 Cutting Size
The maximum cutting size of the Silhouette Portrait 2 is 8″ x 10 feet.  This is a great size for personal home crafting projects.  What we love about the machine is compatible with the Silhouette Roll Feeder, which means that you can cut straight from a roll of vinyl without a mat to accommodate some larger project ideas.
>>> Grab your Silhouette Roll Feeder from Amazon
If you are after a larger cutting surface, we recommend you have a look at either the Cameo 3 Silhouette (12″ x 120″) or the US Cutter MH 871 MK2 (31″ x 96″).
Warranty & Support
The Silhouette Portrait 2 Machine comes with a 1-year limited warranty (for US and Canada only).
Silhouette also offers support as well as helpful information and tips on their blog.
Silhouette Portrait 2 Price
Currently the machine is only available for pre-order on the Silhouette America website.  The pre-order price for the Silhouette Portrait 2 is $199.99.  It is also available on Amazon UK for pre-order.

The Silhouette Portrait 2 Machine Review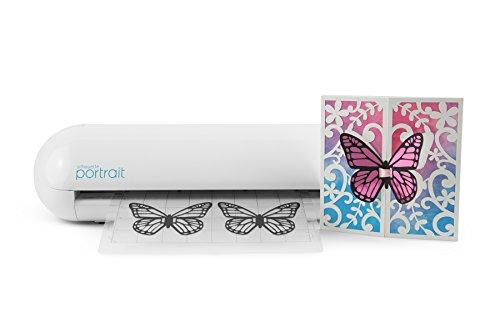 *COMING SOON*
We can't wait to get our hands on this little baby and as soon as we have had a play with it, we will whip up a review with some of the pro's and con's!