You may be new to the Cricut world having just bought your Cricut Maker or perhaps you are thinking about getting one but are asking yourself these questions "What is a Cricut Maker?" and "What can you make with a Cricut Maker?".
Cricut as a Brand
Before we look at what a Cricut Maker is, let's have a look at the company that released the machine. Cricut is a brand that focuses on providing tools that can be used for do-it-yourself projects.
Their focus is on paper crafts, vinyl crafts and fabric crafts. They are well-known, and perhaps even the most popular brand, when it comes to cutting machines. You can read more about their machines and what they can do here.
They currently have 3 cutting machines that you can choose from. Here is a quick overview.
Here are the 3 most popular Cricut machines
Cricut Joy – This is the smallest machine in the Cricut family. It is super compact and cute and is able to cut and draw. Handy for making quick projects. It is also great for those with limited space to work or store a machine.
Cricut Explore Air 2 – This machine can cut, draw and score with twice the speed of the original Cricut Explore cutting machines. It can cut 100 plus materials like vinyl, iron-on, cardstock, and bonded fabric.
Cricut Maker – The ultimate machine of the Cricut family. It has 10 times the strength than the Cricut Explore Air and can cut over 300 different material types.
If you want more information about how these machines compare, we have done a comparison of them here for you.
What is a Cricut Maker?
The Cricut Maker is an electronic cutting machine. Essentially, the easiest way to explain this is to compare it to a printer, but a printer that cuts instead of prints.
The Cricut Maker works in a similar manner to a printer. You create an image or a design on computer software and then send it over to the machine.
Only instead of printing on paper, the electronic cutting machine cuts that design out of whatever material you want: such as vinyl, fabric, craft foam, sticker paper, faux leather, etc.
Not only can it cut things, but it can also create scorelines. You can also use the machine to emboss, deboss and engrave as well.
The Cricut Maker max cut size is 12″ wide x 24″ long. This is a pretty standard size for a personal vinyl cutting machine and will be sufficient for most craft enthusiasts.
The beauty is that you can either grab any project that already exists online and whip it up, or you can design something from scratch.
The Software that comes with the Cricut Maker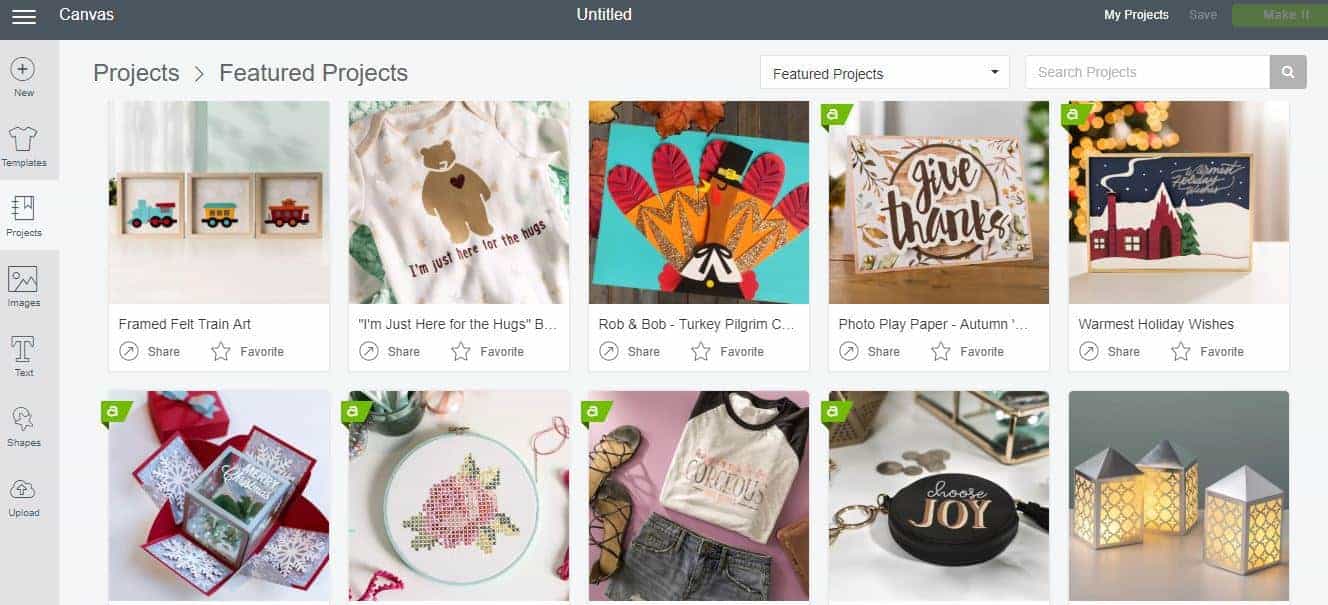 Cricut has a dedicated software program specifically for creating projects called Cricut Design Space. The program is compatible to work on a host of devices like Windows, Mac, iOS (iPhones & iPads), and Android.
The machine works with Bluetooth which is great as it is one less cable to have plugged in! You can easily design in one room and have your cutting machine in another room and they can still communicate.
Cricut Design Space is software that is aimed at beginners. This means that it comes with a massive library of predesigned projects. You can simply pick a project that appeals to you and follow the instructions to whip up the same creations.
The software also has thousands of fonts and images already preloaded for your use. And when you gain more experience you can also use the software to create a project from scratch, upload your own fonts, and images and so much more!
The software is free to use, however, there are some images, fonts, and ideas for what you can do with a Cricut Maker within the design space that can be purchased individually or through Cricut Access by purchasing a subscription.
But I know you are here because you are wondering what you can do with a Cricut Maker, so let's hop into that topic right now.
What Can a Cricut Maker Do?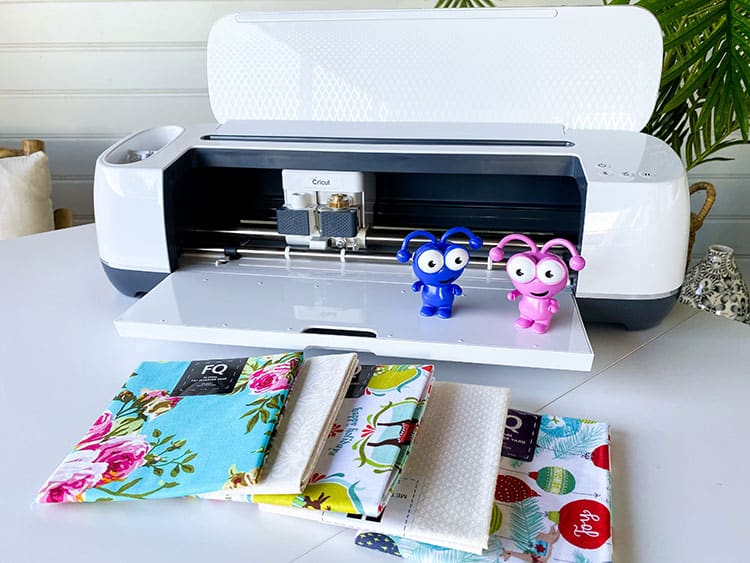 The Cricut Maker is the ultimate cutting machine in the Cricut brand. It is more powerful than the Cricut Explore Air 2 or the Cricut Joy in that it can cut over 300 types of materials making it the most versatile cutting machine.
It takes crafting to the next level by opening the crafting possibilities with more tools and supplies making crafting more enjoyable and easy. It is hands down the best of the machines and is any crafters dream!
Now that you have chosen the Cricut Maker you may be wondering "What can I do with a Cricut Maker?" Once you get to know your machine better you will realize that the possibilities are only limited by your imagination. Along with all the other materials that the Cricut Explore Air 2 can cut like vinyl, card, paper, glitter card etc, it can also cut fabric, leather, and wood!
Let's take a look at some of the most popular materials that it can cut.
1. Fabric
Fabric, yes! It can cut fabric so if you love sewing this cutting machine will be your new BFF with so many fabric projects at your fingertips.
To be honest, the Cricut Maker is not the only Cricut machine that cuts fabric, the Cricut Explore Air 2 can cut fabric however it needs to be BONDED! Yikes, what does that mean?? Bonded means that the fabric needs to have a backing which is adhered to your fabric before placing on your fabric cutting mat for cutting.
If you don't use backing or bond your fabric, you will end up with a fabric that is not cut neatly or accurately and is even stretched. This is what makes this machine so exceptional. The Rotary Blade, specifically designed for the Cricut Maker, is the blade for cutting fabric.
With this blade, you can cut through the most delicate of fabrics from silks, denim, felt and even leather flawlessly, effortlessly, and accurately.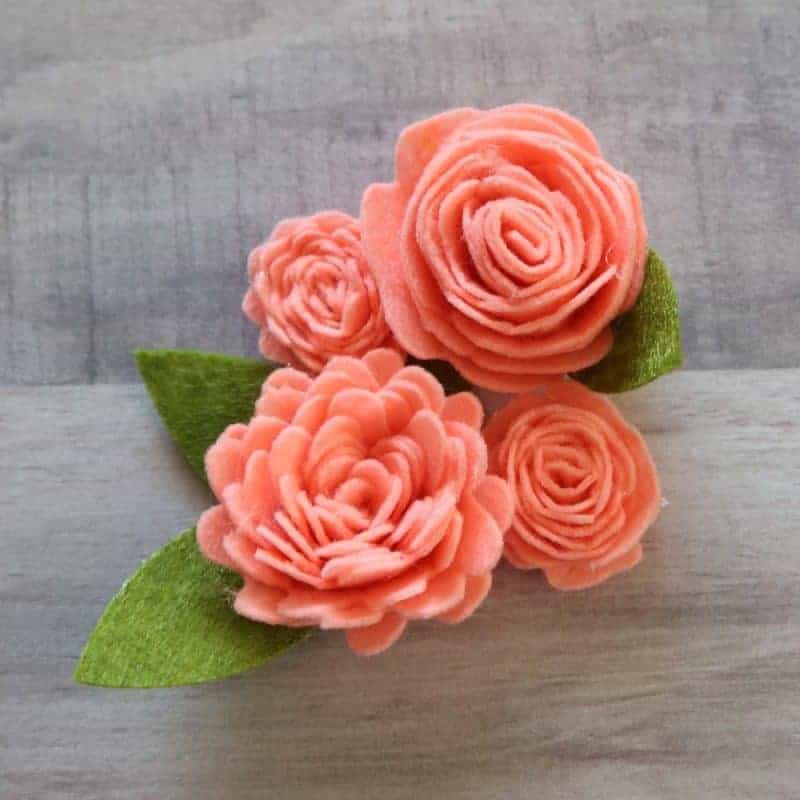 The other great function which sewers will love is that not only will it cut your patterns for you but also mark the pattern pieces and seams with the washable fabric marker so you will know exactly how to put them together once cut and removed from the cutting mat! A-MA-ZING!
Once again making sewing projects that much easier and more fun! Of course, due to the size of the Cricut Maker most sewing projects are on the smaller side but you are able to create larger projects like quilts by cutting lots of smaller pieces.
You may be asking where would I find patterns for cutting patterns? Well, the software has sewing projects in the library or you can even upload your own!
2. Wood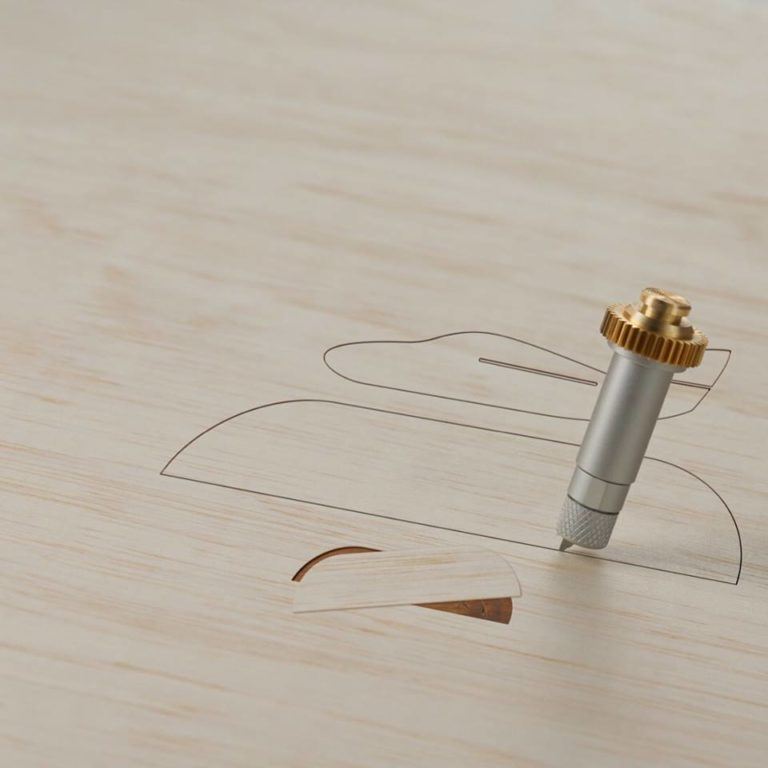 Next on the list of materials is wood….you may be asking just how can this sleek looking domestic machine be a wood cutting machine?
Well, with the Adaptive Tool System technology the machine is able to cut tougher materials of up to 2.4mm thick. It has 10 times the cutting pressure than any of the other machines.
Using the Knife Blade it can cut through matboard and balsa wood with complete ease. This makes the Cricut Maker the ultimate wood cutting machine for home use.
3. Vinyl
Vinyl is my favorite material to work with. Whilst all of the Cricut cutting machines can cut vinyl, I wanted to point out that you can whip up vinyl decals (or stickers) that are up to 12″ wide and 24″ long. You can either use adhesive vinyl or HTV vinyl.
Let's have a look at some of the types of things you will be able to create with a Cricut Maker.
What Can You Make with a Cricut Maker?
Now that the question of "What does the Cricut Maker do?" has been covered and you understand what materials it can cut, you may be wondering "what does a Cricut Maker do?".
This is definitely a question worth asking as the possibilities are endless. Here is a small list of projects to help give you a better idea of the capabilities of this amazing machine.
List of Cricut Maker Projects that you can Create
Decals – you can cut vinyl to make decals for walls and windows. Remember to use the correct type of vinyl for the project type.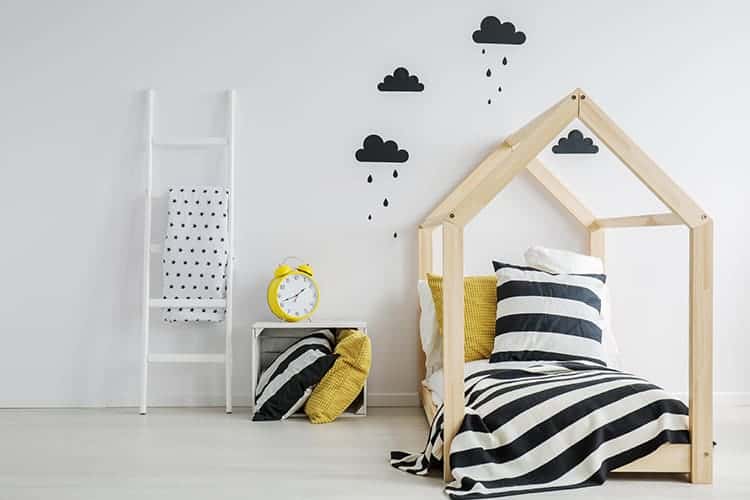 Customized Items – Heat Transfer Vinyl can be used for customizing clothing, bags, and even shoes! Permanent vinyl for customizing mugs, cups, and glasses, or for personalizing your kitchen storage jars.
Card making – you can cut paper and cardstock to create cards for birthdays, celebrations, and seasonal events. No need to spend hours searching for the perfect card in the store, you can now make it yourself EXACTLY the way you want!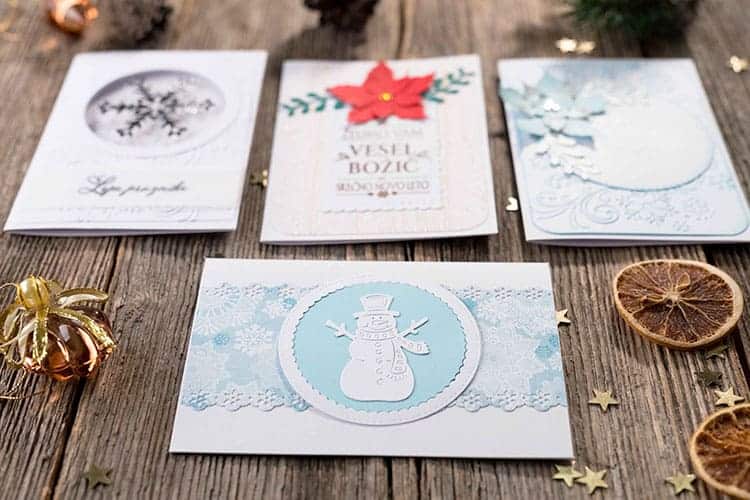 Papermaking projects like flower making, which is a massive trend at the moment. You can cut all the paper flower pieces quickly and cleanly saving you loads of time.
Wooden 3-D projects are a great project to make. Using the unique Knife Blade to cut through wood you will be able to create stunning wooden items that can make unique and amazing gifts!
Stencil-making is another great project. If you love making signs and plaques but just don't have the penmanship to write in a beautiful script, you can create a stencil, secure it to the item you would like to have the text on, and then paint over it. So easy!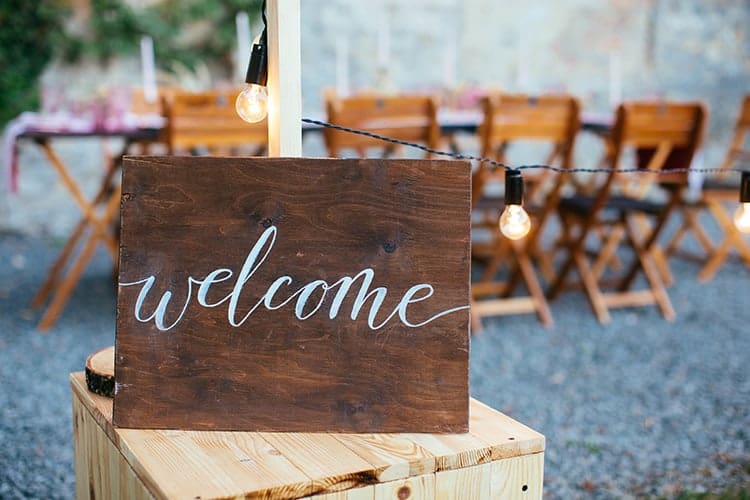 Fabric cutting, as mentioned, is a great functionality of the Cricut Maker. With the Rotary Blade being able to cut thicker fabrics like leather you can make this great leather purse.
This is just a shortlist of Cricut Maker projects and is a great list for beginners. You can also find more ideas of Cricut projects for newbies here.
What Cricut Maker Tools Do I Need?
The Cricut Maker has many tools that it can work with as it can score, cut, write, emboss, deboss and even engrave. It comes standard with the Rotary Blade, the Fine-Point Blade, and the Fine-Point Pen, however, if you want to use the machine to its greatest potential you may want to look at some of the other tools you can use.
Here is a quick overview of the cutting blades that are available for the Cricut Maker. Think about what you will be cutting – you might not need all of these.
Cricut Cutting Blades

To understand exactly what each blade is used for you can read our post where we cover everything you need to about the different blades. A good starting point is to have the Fine-Point blade, the Rotary Blade and the Scoring Wheel.
If you want to read more about the other MUST HAVE tools and the accessories for the Cricut Maker, click here.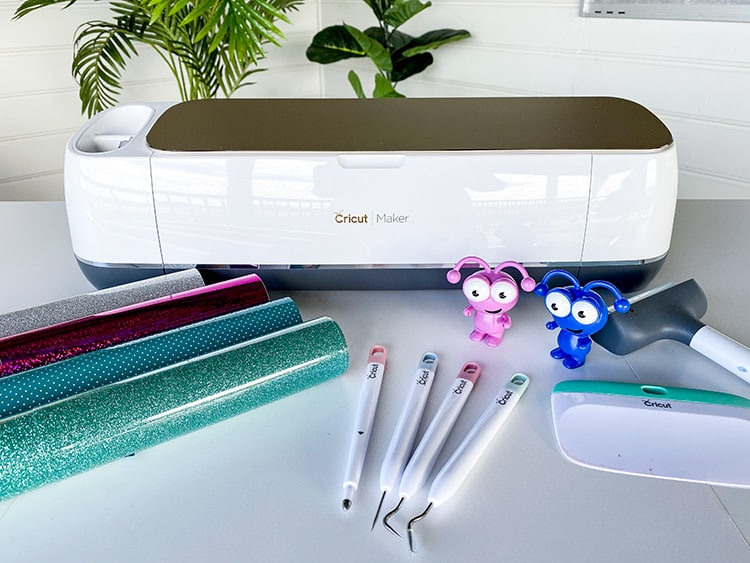 Now that we have covered what an amazing machine this is, you may wonder if the Cricut Maker is the machine for you and worth the extra cost?
If you are going to stick to cutting vinyl or paper then the Cricut Explore Air 2 or the Cricut Joy will probably serve you adequately enough (and they are cheaper).
However, if you love doing a wide variety of crafts, then the Cricut Maker will be the best buy for you. This machine is not only fabulous with fabric, but it can also cut over 300 other materials as well. You can read our full Cricut Maker review here if you are still feeling unsure. It is quick and easy to set up your Cricut Maker and get started.
I definitely recommend the Cricut Maker as it can do everything the other machines can do and MORE! it is the one I use most often whilst crafting and it is by far my favorite!
Click here if you want to check current prices for the Cricut Maker.