What is Oracal 651 vinyl used for?
Oracal 651 is one of the best choices of vinyl for more permanent and long-lasting projects, such as signs or car decals. It is a great choice as it is very durable and can be used with any vinyl cutting machine.
Let's have a closer look at what the specs are on Oracal 651, what we can use it for, as well as where we can buy it online.
What is Oracal 651 Vinyl?
So what is 651 vinyl? Oracal 651 is one of the best permanent types of vinyl on the market, it is very easy to cut and has many useful applications.
Find below more information about this great permanent vinyl in our detailed 651 vinyl review.
Quick Specs:
Finish: High-Gloss
Adhesive: Solvent-based permanent
Indoor durability (claimed): 10 years+
Outdoor Durability (claimed): 6 years+
Thickness: 5 mils
Waterproof: Yes
Number of Oracal 651 colors: 63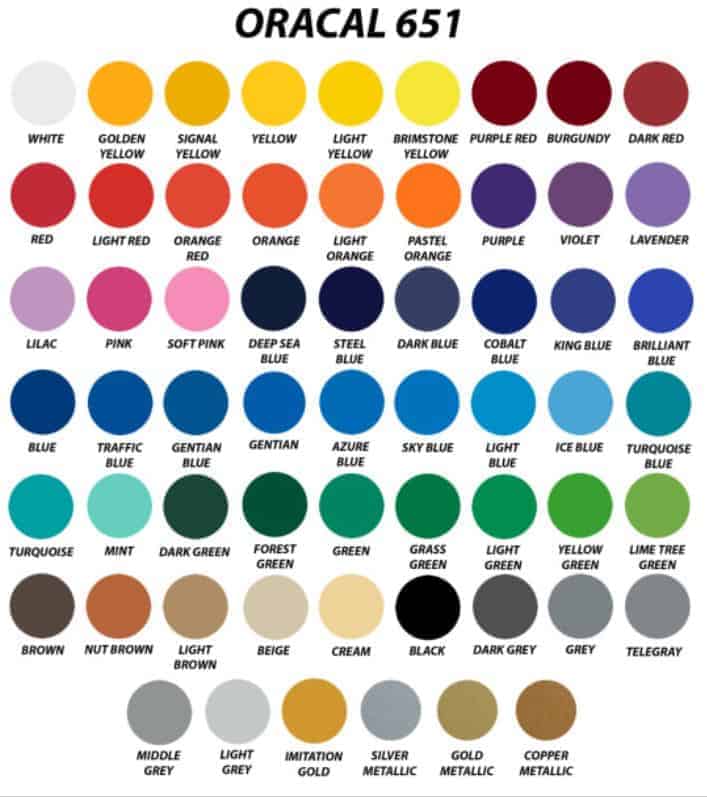 More Detail:
1. Finish:
The Oracal 651 vinyl comes in a glossy finish, as opposed to a matte finish as seen in Oracal 631. Glossy finishes are shiny and reflective, whereas matte finishes absorb light better and are more subtle.
While some may consider a gloss finish slightly garrish as it creates glare, it is perfectly suited for applications where the intent is to grab people's attention, such as with signs for businesses.
2. Adhesive:
The Oracal 651 permanent vinyl uses a solvent-based permanent adhesive. This is in contrast to a water-based removable adhesive.
The latter is easily removable and leaves behind minimal residue, whereas the former needs to be removed with something like a scraper and leaves behind residue, which itself needs to be cleaned with a solution.
3. Durability:
The Oracal permanent vinyl is marketed as an outdoor vinyl, and is claimed to last for more than six years!
Note that the durability of vinyl depends on the color purchased. Some of the brighter colors might not last longer than four years, whereas you can expect the more standard colors to last six years in an outdoor application.
4. Thickness:
Oracal's outdoor vinyl comes with a thickness of 2.5 mil (2.5 thousandths of an inch) thick. In comparison to Oracal 631, 651 is 20% thinner.
5. Waterproofing:
Unlike with Oracal 631, 651 Oracal vinyl is completely waterproof. The 631 is only resistant to water, which means it can handle the occasional splash but is prone to being ruined by water very easily.
Want to know the difference between Oracal 651 vs 631, check out our guide to see how these two adhesive types of vinyl differ.
What is Oracal 651 vinyl used for?
Okay, now that you're convinced that Oracal 651 is the vinyl to buy, the next question is, what is Oracal 651 vinyl used for? Read on to know Oracal 651 vinyl uses!
Interior and Exterior Signs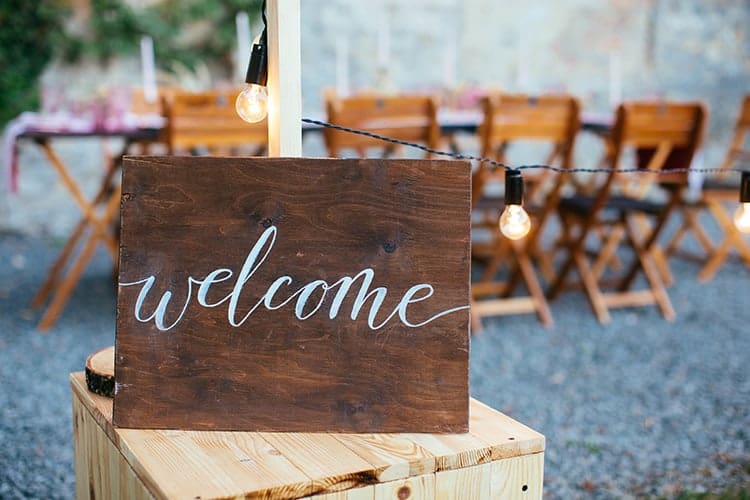 This Oracal outdoor vinyl is one of the best types of vinyl for signage that needs to be more permanent!
The Oracal 651 is great for use in outdoor signs. This is because it comes with a long durability rating, meaning that you will not need to replace your vinyl for at least four years (six, if you opt for a slightly dull shade). Moreover, the permanent waterproof adhesive is best suited for exposure to the elements, such as harsh sunlight, a relentless downpour or even a dust storm!
While we would recommend the Oracal 631 for interior applications, the 651 is great for this purpose too, just as long as you're sure you won't be removing the sign, as the adhesive is permanent and leaves a residue on removal.
Car Decals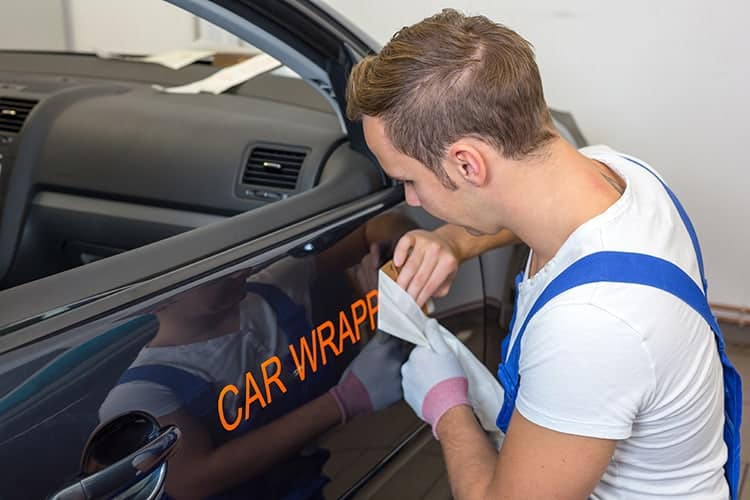 All of us have seen The Fast and the Furious. I remember drooling over the green splash and the muscular arm on Brian's Supra, specifically, how good it looked over the orange paint!
If you wish to pimp your ride and ensure people differentiate it from grandma's minivan, get yourself a sheet of Oracal 651, cut a decent vinyl and transfer it onto your car for maximum street cred!
If street cred is not what you're after, the vinyl is also great for advertising and promoting your business or a cause you believe in by writing about it on your vehicle.
Dishes
If you wish to break the monotony of those plain and drab white plates but something off-the-shelf doesn't quite attract you, then you can simply make your own plate design with the Oracal 651 vinyl!
Owing to its waterproof adhesive, Oracal has ensured that the 651 vinyl, when applied to your plate, will not peel or fade off, irrespective of the intensity of the cleaning you subject your dishes to!
However, it's recommended to wash your dishes by hand if you've decorated them with a vinyl. Some dishes and dishwashers might be incompatible with Oracal 651, so do your homework before decorating.
Mugs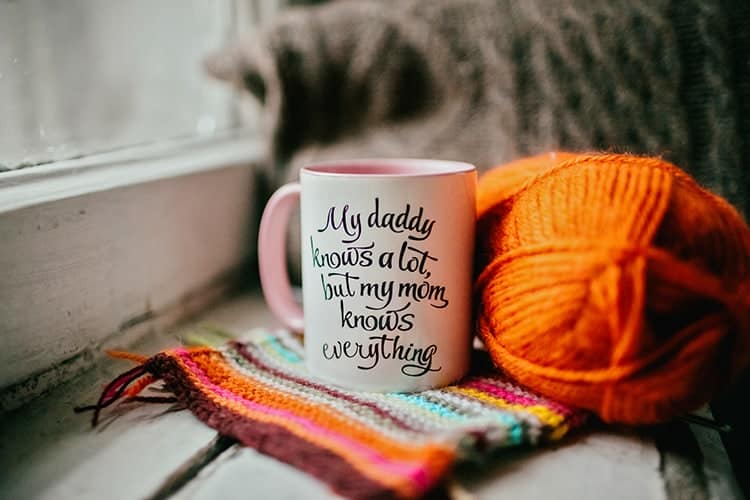 We know how important your morning coffee is, so why not make it that little bit better with a striking vinyl design created with Oracal 651?
Yes, the 651, being the versatile vinyl that it is, can be easily transferred onto mugs as well. It retains its lustre even after prolonged use, is impervious to temperature changes inside the mug and some users have reported that the vinyl has been going strong even after six years of application!
Best Places to Buy Oracal 651 Vinyl?
Here is a list of some of our favorite places to source Oracal 651 vinyl.
1. Expressions Vinyl: What better place to buy your vinyl than from a store that is dedicated to vinyl!!
Expressions Vinyl is very popular as they carry the best quality vinyl brands. They have Oracle 651 vinyl available in 12 x 12″, 12 x 24″ and 12″ x 5yd. They also have some Oracal 651 vinyl rolls as well as a color sample kit available.
They are the cheapest supplier and we typically purchase our vinyl here.
Click here to check out their range.
2. Swing Design: Your whole shopping experience at this site is just a joy and you truly feel like a valued customer. You can grab 12 x 12″ and 12 x 24″ 631 vinyl here. They also have Oracal 651 vinyl rolls as well as Oracal 651 bundles available. You can find exactly what you want here.
What we love is that they have solid colors as well as patterned styles available to choose from and the price is fabulous too!
Click here to check out their range.
3. Amazon: If you aren't too picky about your colors, you can grab some fabulous bundles of a mix of colors from Amazon.
Of course, if you are a Prime member, you can also benefit from the superfast 2-day FREE shipping.
Click here to check out the vinyl that is available on Amazon.
Conclusion
The Oracal 651 is an amazing vinyl that is intended primarily for outdoor use in signs and vehicle design but can be used indoors and on mugs, plates, and dishware.
Its main rival is Oracal's own 631, which does not offer the durability or the waterproofing of the 651, making the latter a better vinyl (Find the Oracal 631 uses here). However, the 651 is permanent, so should you decide to remove it, be prepared to deal with a nasty residue.
Further Reading Ideas: