These days, you are able to decorate t-shirts and other products with heat transfer vinyl. Perhaps, you have big plans for this process (e.g. like building a business out of it).
But before you can do that, you'll need to purchase a heat press machine – but how much is a heat press machine these days?
Keep in mind that heat press machines come with many different attributes such as size, performance, features, attachments and heat press styles.
With so much variety, you can also expect a wide range of pricing, depending on the specifications and size requirements that you would need.
The Short Answer: How Much Is A Heat Press Machine?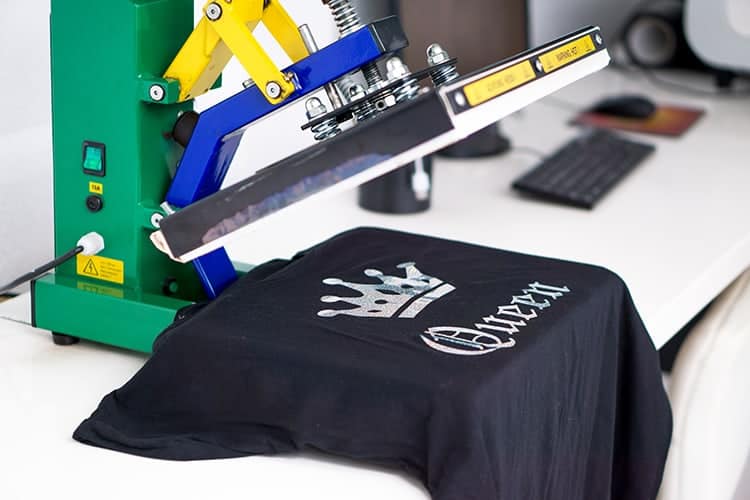 Generally, a heat press will set you back anywhere between $150 to $4000.
With such a wide range in pricing, it really becomes crucial that you have a good think about what you would like to do with the heat press.
If you buy something that is too powerful for your demands, you'll end up overspending. If you buy something that can't serve your needs, then the heat press will be a significant bottleneck in your production line.
To help you figure out which heat press is best for you, we have broken them up into three categories: starter, intermediate or professional. We'll cover each one below so you'll have a better idea of which one to get.
The Longer Answer: How Much does a Heat Press Cost?
1. A Starter Heat Press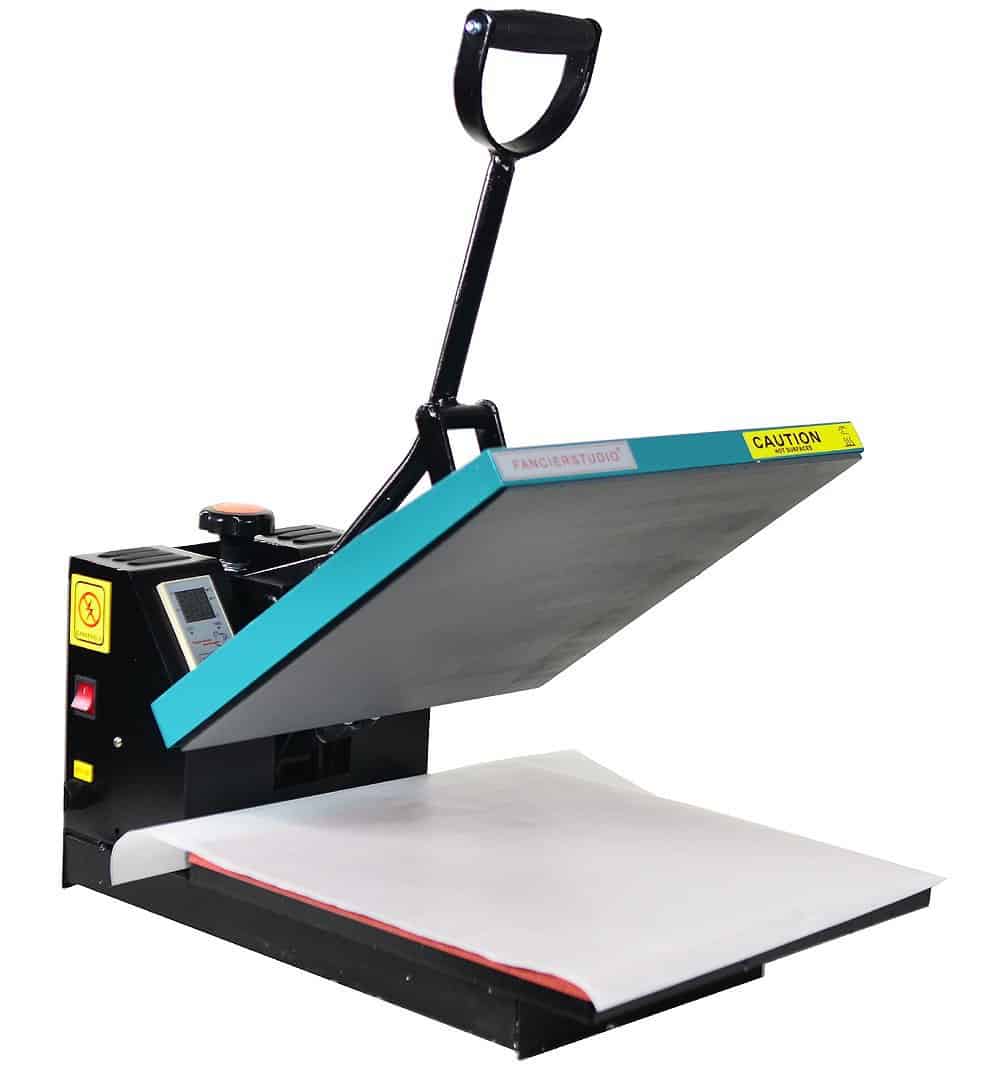 As the name suggests, a starter heating press is ideal for anyone who wants to get an initial feel for the clothing printing business, or maybe you simply prefer to have a machine to use at home as part of your hobby. Most starter heat presses are relatively cheap.
Starter machines as great for occasional use, so they are perfect for hobby heat press users. They are typically compact in design and come in sizes of up to 15×15″. They are usually clam-shell type by design and they don't have all the fancy settings.
As a result, it requires a bigger learning curve to learn how to use your machine and the quality of your heat prints might not be as perfect. However, the most important thing is that it can get the job done.
Bear in mind that a starter heat press is not suitable for mass production. In exchange for the low price, the heating time is typically a bit slow and you would typically have analog controls.
A starter heat press will usually cost you around $150 to $300. Our best selling starter heat press is the Fancierstudio Power Heat Press (15 x 15″). You can read our review of this popular heat press here.
If you want to start really small, you can also pick up mini heat press machines for only around $50.
2. An Intermediate Heat Press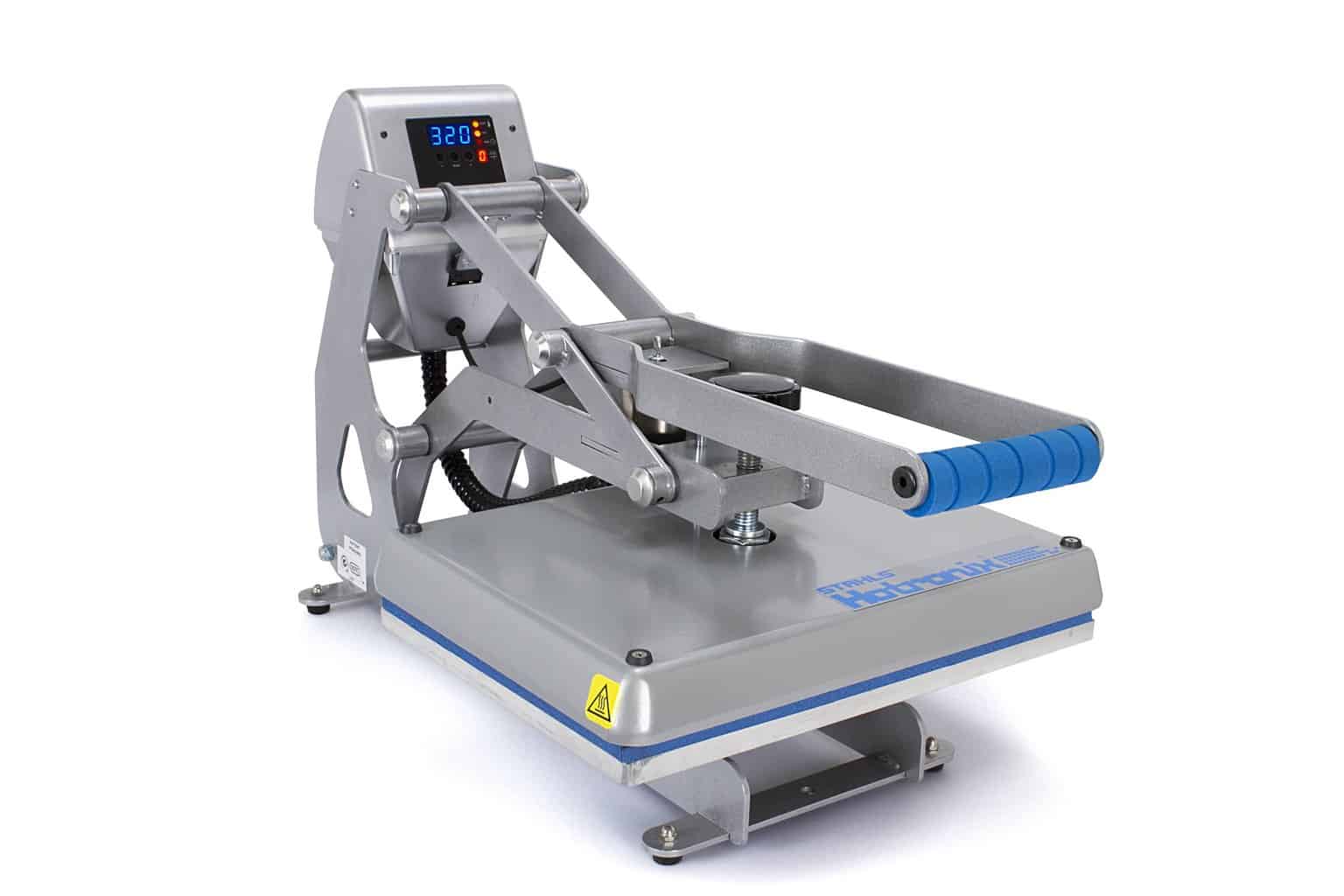 Perhaps, you have outgrown your starter heat press. Or, if you want something that is more powerful than a starter heat press to set up a small business, you might prefer to invest in a more decent machine.
With an intermediate heat press, you can expect to increase your production rate. Also, the intermediate is more reliable and durable than the starter.
It can handle heavy duty use and it will have more digital settings which will allow you to complete your jobs quicker and with more precision pressing. Intermediate machines are usually Swing-Away style machines and their temperature gauge is more accurate.
You can still expect the sizing to be the same as with starter machines (of up to 15×15″ in size).
With an intermediate heat press, you can expect to pay from $500 to $1,000. Our favorite intermediate heat press is the Hotronix 11″x15″ Heat Press. Find our Hotronix heat press review here.
3. A Professional Heat Press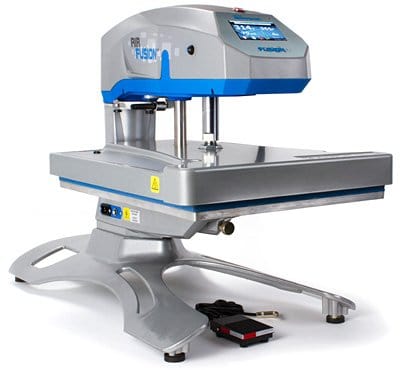 If you have a busy clothing printing business, the professional heat press is the best purchase for you. These machines are designed to give you maximum versatility.
They are built to handle heavy-duty use and can handle the rigor of all-day production. These also come with loads of features to make the production process faster and easier.
Another notable feature of professional heat press is the programmable presets. The presets can save settings for pressure, heat, temperature and more. This allows you to move from one design to the next in a speedy manner and with high accuracy.
The machines are also typically larger in size and you can easily find them in sizes of up to 20″.
Of course, all these features are going to cost you a lot a more. You can expect to pay $1,000 to $4,000 for a professional setup.
The best buy for your machine for business use is the Hotronix Air Fusion 16″x20″ Heat Press.
Where Can you Find a Heat Press for Sale
1. Amazon
If you are after either a starter or mid-way heat press machine, your best bet is to hop over to Amazon. Amazon has some popular machines for super affordable prices.
A good place to start is to browse through the Amazon's 'Best Selling Heat Press' List to see which machines are currently selling really well – it's updated hourly based on real buyer reviews and ratings.
Here are some of the most popular heat press machines from Amazon:

2. Swing Designs
If you are ready to invest in a high-quality heat press machine for your business, we highly recommend that you have a look at Swing Designs. Swing Designs is a very popular website and they only stock the best heat press brands: Siser and Hotronix!

Click here to browse through their heat press machines.
Closing Thoughts
Finding the right heat press for you largely depends on your budget and the machine's productivity. Hence, it's always a good idea to start by assessing your production needs.
If you are starting out and you don't have a lot of orders yet, then a starter may be a good idea. If you have extra money, then its best that you invest in something that can help your business acquire more orders.
If your business demands a heat press with maximum production capacity, then a professional setup is ideal. While it's true that it's more expensive, you can quickly recoup the money due to its high production rate.
Hopefully, our guide has helped clarify pricing of heat pressing machines and has helped you figure out which machine is right for you.