Are you in the process of purchasing a heat press machine?
Before you do, here are some top features to look out for. There are huge differences in the quality and durability of heat press machines on the market.
This is why there are also huge price differences in the machines. It is important to invest in a machine that will be able to live up to your demands and expectations.
If you would like to skip this post, you can find the best heat press machine for your demands in our guide. Otherwise, keep reading to find out how you can make smarter decisions when purchasing your first heat press.
What to Look for When Buying a Heat Press Machine
Here is our full list of what to look for in a heat press. It is important to think about whether you will be using this heat press for personal hobby purposes, small business purposes, or commercial reasons.
1. Heat Distribution Across the Platen
Your machine needs to be able to provide consistent, even temperatures across the platen. One of the most common problems with cheaper heat presses is that they do not manage heat distribution very well.
For brands that deliver excellently and even heat across their platen, look at the popular Hotronic heat press machines.
These machines have three times more heating elements than other presses which is why they are the preferred brand for those who take their heat pressing seriously.
They are not cheap, but they deliver professional results every time. These are perfect for business use. Click here to see the range of Hotronix presses.
If you are planning on using the machine for hobby purposes I do suggest you start out with a more budget machine. This PowerPress from Amazon is our favorite beginner press.
It has pretty impressive even heat distribution for a clamshell-type press. You will love it! Click here to check it out on Amazon (and check to see how many incredible reviews there are as well!).
2. Accurate Temperature
Heat press machines are so much better than irons, due to the fact that you can actually set and control their temperature.
When you apply the transfer, it is essential to have the correct temperature settings in order to process a heat transfer successfully.
Too little heat and you might find your graphic coming loose after only a few washes. Too much heat and you push the adhesive of your transfer too far into the fibers of the shirt, causing the image to look washed out and pale.
Of course, more expensive heat press machines typically have more reliable and accurate temperature readings. Look for a machine that has a cal-rod heating element.
3. Even Pressure
You want a heat press that has centralized pressure adjustment, together with a flotational heat platen.
We personally prefer swing-away heat presses due to their ability to handle pressure a lot better in comparison to the clamshell-type machines.
This is one of our favorite Swing-Away heat presses for beginners.
It is a bit smaller than I like (I prefer 15×15″ presses), but it is a fabulous press for the price. Click here to see the AKEYDIY 5 in 1 Heat Press Machine on Amazon.
4. Easy to Open and Close
You want a machine that opens in a smooth and fluid motion. An easy-to-open press is even more important if you are mass-producing custom shirts on a daily basis.
5. Digital Time and Temperature
Cheaper heat presses rely on manual or bell timers. They also typically have a dial thermostat.
Whilst this is perfectly fine if you are only heat printing occasionally, you would want a digital time and temperature control panel for heavier workloads.
Digital settings are also fabulous as you can input your desired settings and use them time and time again.
6. Easy-to-Position Garment
How easily can you place your garment on your heat press? How easy is it to work with precision placement?
For example, if you are purchasing a clam-shell press, it is easier to burn yourself whilst trying to position the garment and transfer it in exactly the right place.
Precision placement is a lot easier with a swing-away style press. If you are set on purchasing a clam-shell (or you have limited space at home), you might prefer to look into the Hotronix Clamshell Heat Presses as they feature a wide 65-degree opening (which is 10% wider than other brands).
Click here to browse through the Hotronix heat press machines.
7. Size
What does your workspace look like? What sort of space do you have available for the heat press?
If you have limited space, you might prefer to research a clamshell design as they take up less workspace. Clamshell models require at least 2 feet of countertop space.
You will also need to have room next to the press in order to lay out your garment, weed your transfer or place your completed items.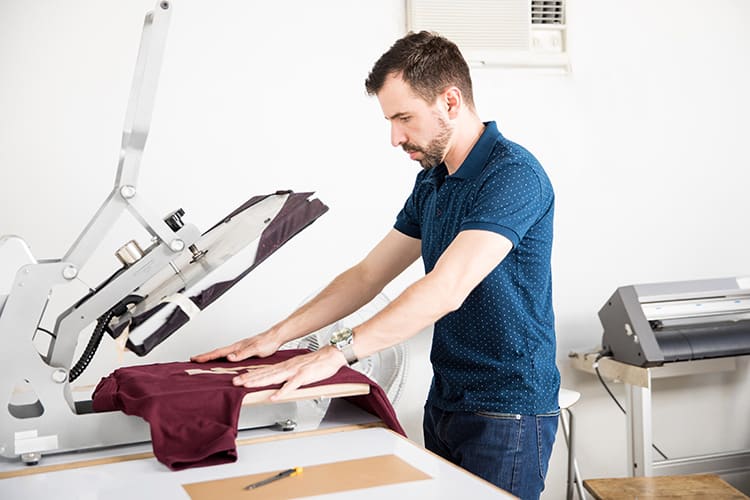 If you have more space available to you, the swing-away models require at least 3 feet and are in our opinion a better buy.
My favorite size press is 15 x 15″ in size, but you can find them in small sizes or larger sizes (such as 16×24 heat presses) if that is what you need.
8. Compatible with Your Workload
Look for a heat press that has thick platens as these retain heat better than the thin platen ones.
If you are only after a machine for occasional jobs, you might be able to get away with one of the cheaper heat press machines, but for those of you who have high-volume production runs, we highly recommend that you invest in a GeoKnight or Hotronix heat press as these can handle the grunt of everyday use.
9. Warranty
Ensure that you have a look at the length of the warranty that comes with your heat press. We prefer to invest in a machine that comes with a lifetime warranty on the heat platen.
10. Customer Service
What sort of customer service is available for the brand of heat press that you are looking to purchase. If anything goes wrong with the press, you want to know that there is a qualified service representative available to help.
See if they have a website and if you can easily find the phone number or online chat button to ask for help.
What is the Best Heat Press Machine?
Whilst we do have a full guide on the top 10 heat press machines, I will quickly outline our top favorites here to make your decision-making process easier.
1. Best for Beginners: PowerPress HPM Heat Press
The Power Press Heat Press is a popular 15×15″ heat press. It is a digital clamshell-type heat press. It has an LCD screen where you can set your temperature and timing digitally.
It has a Teflon-coated heating plate which is fabulous for those of us who work with vinyl. Heat is dispersed evenly.
The PowerPress has a fabulous temperature range of 0 – 450 F and timer settings from 0 – 999 sec.
The machine offers you versatility, and reliability, all for an incredibly affordable price.
Click here to buy this machine on Amazon
2. Best for Commercial Use: Hotronix Fusion Heat Press
The Hotronix 16 x 20″ Heat Press comes at a premium price, but it is also one of the world's most advanced heat press.
It has industry-leading touchscreen technology and is the only heat press with a patented dual function of being able to operate as either a heat press swing away type or as a draw.
You get a 5-year warranty with this press.
If you can afford the premium price, the Hotronix Fusion Press is a brilliant buy!
Click here to buy this press from Swing Designs.
I hope you found our post helpful and that it can help to guide your decision so you can feel assured that you are purchasing the best heat press machine for your needs.
Further Reading: