If you decide to get a heat press, a swing-away machine is a perfect choice. This type of heat press is easy to handle, it allows for precision placement of your vinyl or sublimation transfers, and because the hot plate moves completely out of the way, the possibility that you'll burn yourself is very low.
With the swing-away method, you can just move the heating pod away to the side when you finish. This is not the case with normal "clam-shell" style machines where you lift the heater up and the risk of damage or burns is much higher.
You can read more about the types of heat press machines here.
So, take a look at some of the most popular 15"x15" swing away heat press models. With these, you can enjoy making beautiful designs for your family, and maybe even start your own t-shirt business.
Click here to check current pricing on the best 15×15 swing-away heat press machine.
Swing Away vs Clam Shell Heat Press
We wanted to have a quick chat about why we personally love the Swing-Away style heat presses. So here is a quick refresher on the main differences between the Swing-Away Press and the Clam-Shell press.
Swing Away Heat Press
A Swing-Away style press has the advantage that the top plate can rotate 360 degrees. This means that you can completely swing the upper plate out of the way so that you can work more accurately at getting the exact placement of the design.
Swing Away type presses also typically have more even-spread pressure and heat distribution as well, which really helps in ensuring that your design has adhered efficiently.
The negative of these type of presses are that they are typically most costly than clam-shell presses and they also take up more room (due to the swing of the upper plate).
Clam Shell Heat Press
In comparison to the Swing-Away, a clamshell basically opens upwards (like a jaw or clam). They are typically cheaper and people often complain that the heat and pressure of the cheaper clamshell presses are not evenly distributed over the platen. It is, however, a lot more compact and therefore a great solution for those who operate a small business from a corner studio at home.
Best Swing Away Heat Press 15×15″ Buyer's Guide
These are some essential features that you should look for in every heat press machine. These guidelines also apply to swing away heat press machines as well.
Temperature
If you're looking to transfer graphics to a T-shirt, you should look for a temperature that can reach 400°F, which is enough to imprint designs on all types of cloth. Polyester, for example, requires just 270°F, but cotton shirts need at least 370°F. Non-clothing items may need higher temperatures.
Digital Control Screen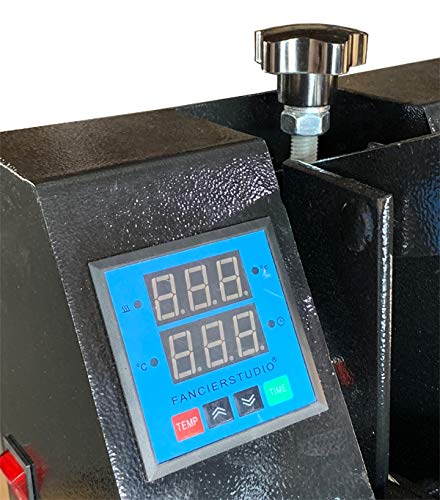 The best heat press machines have a small LED display which shows you the time and temperature. Different objects require different amounts of heat. With the control screen, you can easily adjust the temperature and prevent any damage or unfinished imprints.
Price
For a 15×15 swing-away heat press, the price varies from $300 to more than $1,000. It all depends on the manufacturer, warranty, and other factors. If you see a machine that goes for less, examine it thoroughly before you decide to buy.
Size
Wondering if the 15×15″ press is the right size for you? This great article on what size heat press you should be might help you decide.
Best 15×15 Swing Away Heat Press Reviews
Below you will find all the best swing away heat press machine 15×15″ in size. We will look at their features, as well as discuss the pros and cons in order to help you find the best choice for you.
1. World Paper Heat Press 15×15 Swing Away Review
This 15×15 swing away heat press comes with a wide array of features and a 1-year warranty. It has a durable, steel frame for long-term use, ideal for both private and commercial purposes.
The rotating handle makes it much easier to manage the whole device. When the transfer finishes, simply move the top pad away from yourself or any nearby objects to avoid injuries or damage.
When it comes to controls, you can set the important parameters on the digital control screen. This way, you can easily track the heating intensity and time period, and this heat press machine also comes with adjustable pressure settings. Since this heat press can reach up to 750°F, it is great for all types of sublimation, rhinestone, and vinyl transfers.
If you're wondering about maintenance, you shouldn't worry. This machine has all its electric circuits stored together in a single box, so they are easy to check up on and replace. The heating pads are easy to clean and other materials don't stick on them.
Thanks to the big square pod, you can flatten the T-shirt and easily center the place where you want to apply the design. This lets you avoid the inconvenience of the t-shirt folding while you're trying to work.
Pros
Great square pod
Digital control screen
High temperature
Adjustable pressure
Cons
>>> CLICK HERE TO READ THE REVIEWS AND SEE PRICING ON AMAZON
2.
TUSY
15×15 Swing Away Heat Press Review
With this heat press, the 15×15 swing-away upper heating pad can rotate 360 degrees. This means that you can always leave enough space on one side even if you don't have a spacious room.
This heating pad has an on-screen display which shows the temperature and time counter. You can always set up the time of transfer manually. Once the transfer ends, it will beep to let you know that you can take your substrate out.
The thermometer lets you manage the heat intensity inside the press. You can set up the temperature limit (up to 482 degrees F) so the heater automatically turns off once it reaches a certain level, and there is no chance you will damage sensitive fabrics.
This machine comes with 5 attachments. It has a heat press plate – 15×15″, Mug press sublimation – 3″-3.5″ (11 oz), Hat press – 6″x3″; Plate press #1 – Diameter (max) 5″ & Plate Press #2 – Diameter (max) 6″.
Pros
Fully rotatable handle, easy to manoeuvre
Built-in thermometer and timer
It is a 5 in 1 press so you can do so much more than just tshirts
Cons
>>> CLICK HERE TO READ THE REVIEWS AND SEE PRICING ON AMAZON
3.
Seeutek
15×15 Swing Away Heat Press Review
The Seeutek's heat press comes with two bonus Teflon sheets. The plat has an upgraded press-casting aluminium heating plate with Teflon coating which will protect your vinyl and clothes while working. The Teflon cover is heat resistance and easy to clean.
You can track the timer and temperature on the built-in display, and the timer can be set to make sounds after it reaches zero, so you'll know when the process is done. There's also a thermostat that will track the temperature, and the heater will turn off after the temperature is high enough (it goes up to 484° Fahrenheit).
The press comes with five elements:1 x fully-assembled machine with platen press; 1 x Hat press 5.5″x 3″(Flat); 1 x Mug press 3″-3.5″ diameter(11oz); Plate Press #1: 5″ Max Diameter; Plate Press #2: 6″ Max Diameter and 1 x User Manual.
Pros
Thermostat and display timer
Non-slip rubber handle which is more comfortable to use
Lightweight and easy to manage
Cons
Falls over unless bolted to the table
>>> CLICK HERE TO READ THE REVIEWS AND SEE PRICING ON AMAZON
Verdict
All three heat presses having similar traits, but there are some important distinctions to consider. If you want to opt for one with the lowest price, choose the Seeutek heat press. But if you want the most popular one with the best star rating, then you should get the Tusy.
Whatever you decide, you will be satisfied performance-wise. You are all set to design not only T-shirts, but also badges, key chains, and many other non-cloth objects.