If you're looking to buy a heat press machine for your business, there are plenty of different options available.
in order to figure out which is the type most suited for your purpose, you will also need to decide what's most important to you – ease of use, versatility, efficiency, portability or affordability.
Different heat press machine types offer different features, so it is important to think about these.
To help you figure out which one you would like to buy, we have compiled a guide on how the different kinds of heat press machines work, what their features are and how much space they take up.
Here are the 5 types of heat press machines available on the market this year.
The Types of Heat Press Machines
Find below a quick and easy-to-understand outline on the main heat press types currently available.
1. Clam Shell Type
The clamshell heat press machine is one of the most popular and widely used heat press machines in the world today.
It's called a clam-shell is because of the way it operates. It has a hinge at one end between two plates. This hinge allows the press to open and close just like a clam.
The reason it's so popular is that they are very compact (because they open UP, rather than to the side or the front as the types mentioned below). To top it off, they are also very affordable (find more info on how much a heat press costs here).
There are both automatic and manual versions of clam-shell heat press machines. In the manual version, you will have to open and close the plates yourself. In the automatic version, this is accomplished by the device itself.
The drawbacks are that because of the way the pressure is applied, clamshell heat presses are not suitable for printing on thicker surfaces like mousepads. They are also more likely to have issues with the ability to apply even pressure and heating. And lastly, it can be a bit tricky to centre designs on your products, because you don't have a clear view from above.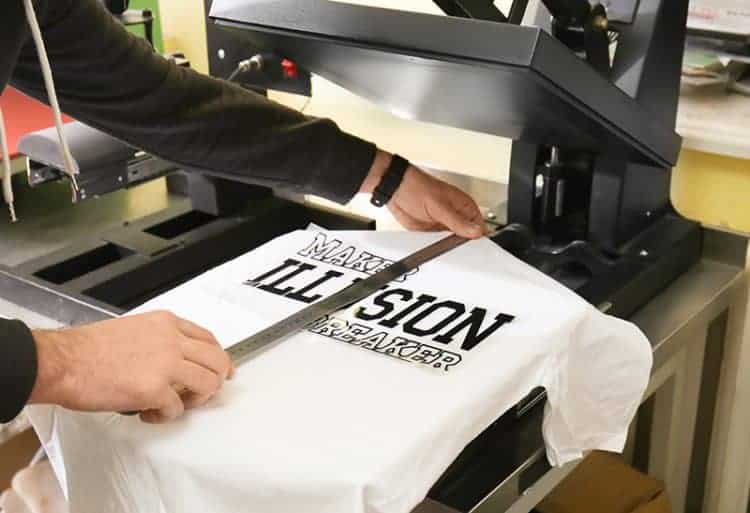 These machines are perfect for beginners and also for people who operate a small business from home and have limited space.
The FancierStudio 15 x 15″ Clamshell heat press is currently the best-selling press. Click here to see if you can find this press available on Amazon.
2. Swing-Away Type
The swing away heat press machine is named as such because it has a swinging upper plate. The top plate swings away from the lower plate so you can pop your product on the lower plate and then rotate the upper plate back above the lower plate.
Because of this swinging mechanism, you can take your time and carefully place your designs, without worrying about any burns, as you don't have to touch the heating element — the swing away machine scores top marks when it comes to operating with comfort.
The primary advantages of this machine, however, are that it can work on materials of all thicknesses. The swing away press machine also typically delivers equal and consistent pressure over the printing area.
All these advantages have made swing-away press machines exceptionally popular commercially as well as in residential homes. The only drawback is that it is not portable and it occupies a large amount of physical space because you need plenty of room for the upper plate to be able to move.
Swing-Away heat presses are my favorite press to invest in. They are usually more expensive than the clamshell, but they are just so much easier to work with. If you can afford them and you have the room, definitely go with a swing-away over a clamshell for sure!
The FancierStudio 9 x 12″ swing-away heat press is currently the best-selling press. Click here to see if you can find this press available on Amazon.
You can find also find our list of presses to help you find the best swing away heat press for your needs here.
3. Draw Type
The draw type heat press machine allows you to 'draw' out the lower plate, giving you total access to your printing space.
After pulling out the lower plate, you can just put your garments or materials there and then load it back in. The advantage this provides is, that you get a full view of the layout space.
Most of these types of presses also come with the ability to swing-away from the upper plate as well.
These types of machines are commercial quality and come with super intuitive technology. As a result, they are SUPER pricey and way above the affordability level of most consumers who enjoy pressing on a small-scale.
Because they are 'elite', they are also pretty hard to come by.
The Hotronix Fusion 16 x 20″ draw and swing-away heat press is currently the best selling press. Click here to see if you can find this press available on Amazon.
4. Sublimation Type 
These days, you will find that most t-shirt vinyl presses are also suitable for sublimation work, which is fabulous.
Sublimation machines allow you to transfer high-quality digital images that have been printed out with a sublimation printer and sublimation ink and then heat press it onto T-shirts and other garments.
This will enable you to make really complicated and intricate designs which will then be reflected perfectly on the T-shirt, etc.
The sublimation ink will last longer in comparison to vinyl and will never fade. You can read more about the difference between heat printing and sublimation here.
You can get sublimation heat presses as well as mug presses for sublimation purposes.
The PowerPress 15 x 15″ Sublimation heat press is currently the best selling press. Click here to see if you can find this press available on Amazon.
5. Multi-Purpose Heat Presses
Multi-purpose Heat Presses are the most versatile type of heat presses.
A multi-purpose machine is able to do much more than just pressing graphics onto T-shirts.
They usually come with several attachments, which when outfitted lets you print on different items like caps, mugs, hats, etc – both curved surfaces and straight surfaces.
These are usually labeled as 5-in-1 or 7-in-1 in heat press machines. The number denotes the number of attachments that are included with the packaging.
There are separate, distinct attachments for each type of item you're pressing on.
Multipurpose heat machines usually have a large swing-away pressing surface for printing shirts and other flat items.
But this surface is detachable and it can be taken out to put in other attachments depending on the type of item being printed on.
This added versatility lets you use it to make your own custom T-shirts,  plates, tiles, mugs, caps, coasters, mouse pads, jigsaw puzzle pieces, etc.
The F2C Pro 5 in 1 Combo Heat Press Machine is currently the best-selling multi-press. Click here to see if you can find this press available on Amazon.
You can also invest in machines that are dedicated to mugs and caps. Click here to see our list of the best hat press machines, and here for our list of the best mug press machines.
Well, that concludes our guide on the different press types available on the market today.
Each of these press machines is designed differently and is meant for different uses. Each type has various features, and they have their own set of pros and cons, so research carefully before you go out and buy one.
Our guide on the best heat press will help you find the best buy for your buck.
We hope our article could clear things up for you.