Are you trying to find the best heat press machine for hats and/or caps?
The devil is in the details when trying to see which of the best hat heat press machines is best suited for your artwork and your turnover rate.
You might be thinking about buying your first cap heat press, upgrading or adding to your current production, and there are key considerations to be made.
First of all, you need to have a good-sized cap element to ensure that nothing moves when applying pressure.
Secondly, you'll want to have a machine that can deliver enough heat so that the transfer doesn't leave you with anything short of a smooth and long-lasting imprint of your artwork. Here is a great article that explains the benefits of using a hat press over a multi-press.
While it's sometimes hard to compare seemingly identical machines (functionally at least) without getting into a huge debate about manufacturers and prices, let's just say that you don't have to.
Just check out these top four hat heat press machines picks. Each has its own unique qualities that make it ideal for various production scales.
Find out which one can help you recuperate your investment in record time and what features are always worth paying a premium if you want to deliver quality products to your customers.
---
---
The Best Hat Heat Press Buyer Guide Navigation
---
Hat Heat Press Machine Reviews
So which press is the best hat press? Here are some reviews to help you decide.
I will outline the top features, the pros and cons of each in detailed cap press reviews, which should help you choose the best cap press 2021 has on offer.
- Our Quick Vevor Hat Press Review -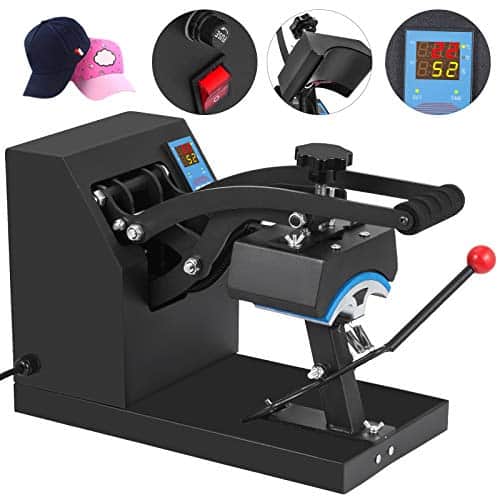 Vevor is another popular brand when it comes to heat press machines. They have a range of presses out that consistently rank well with reviews.
The curved element on this one is 3" x 6", which is a bit smaller than we like, so keep this in mind. It is a clam-shell design which means that it won't occupy much desktop space either.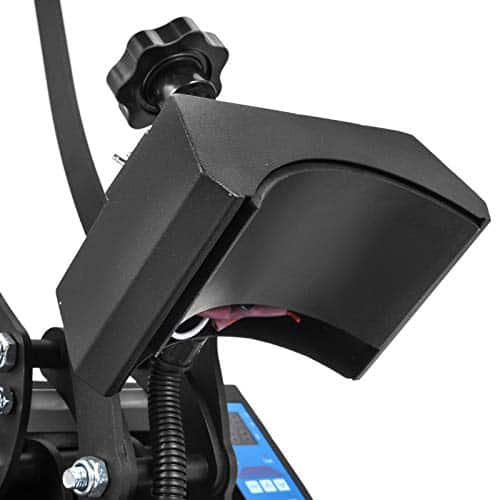 It has an aluminum heating plate which means that the service life that you can expect from this press is rated at 12,000 hours. As usual, it comes with an LCD screen that allows you to set duration, and temperature. Pressure can be adjusted with the pressure knob.
The power consumption is rated at 350W and the machine only gets up to a maximum of 300° C (about 572° F). That's more than enough to ensure a quality ink transfer and a smooth end result.
It has a parallel arm handle with an ergonomic foam-grip. This will minimizes handle flex when opening and closing the machine. We find that the handle is quite comfortable to work with.
The press has a sturdy heavy-duty steel frame, which makes it a great commercial-great stable machine that is built to last.
Easy to use
Heats up to 300° C
Medium-sized element
Steel frame
Long service life
Parallel arm handle
LCD display and touchpad control
---
2. Smarketbuy Digital Hat Heat Press Review
This cap heat press features a curved element which makes it ideal for transferring your designs and logos to various hats. Wondering what makes a heat press a hat heat press? That's it! The curved element.
The one in question is 5.5" x 3" in size which is smaller than the Vevor press mentioned above.
It's fully customization in terms of press time, temperature, and pressure. You can set the temperature to 489° F and the timer up to 999 seconds.
The cap press machine has a clam-shell design. For this reason, it's a very good space saver and also good at applying pressure evenly onto the fabric. The design also allows for switching up platens so that you can work on hats of various sizes.
A quality protective coating is applied to the stock bottom platen. This prevents the material from sticking to the surface area or applying excessive heat to your hat.
The LCD screen is a nice touch too. It makes it easier to make the correct adjustments and lets you know how long it takes until the transfer is complete. The readability is very good so you don't have to worry about the lighting in your studio or workshop.
Another benefit of the cap press is the stability of the platens. They make it so your hat doesn't move during the heat transfer regardless of the pressure. This is very important if you want to minimize user error and wasting materials.
The ease of use is also off the charts. The handle is rubber-coated for ergonomics and heat protection; it's pretty much all you need if you want to churn out hats all day.
The power consumption is 300W which is to be expected of a startup machine. You can plug it in any household outlet and start your long production run without worries.
Although it is quite small, it might just be the best hat heat press for home studios due to its impressive durability and high production rate (for the money).
3. Mophorn Hat Heat Press
- Our Quick Mophorn Cap Heat Press Review -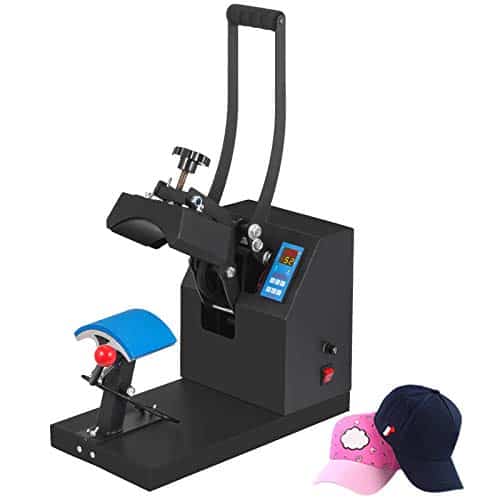 Mophorn designed this cap press for hobbyists and designers that haven't reached a high commercial production rate just yet. It's a quality machine which saves space and offers high quality graphic transfers.
The curved element is 3.5" x 5.9". It's not by all means big but more than capable of handling a wide range of hats and baseball caps whether you're only looking to add lettering or more intricate designs.
The clam-shell design is always nice to have not just because of the space-saving aspect but also because it offers plenty of protection by raising the heating element away from the work space.
The action on the press is smooth and doesn't require excessive physical force.
This will also help you to apply pressure evenly when closing the press. It will also prevent the cap from moving on the element so that you don't mess up the transfer and end up with crooked artwork placement.
The service life of this Mophorn heat press for hats is rated at 12,000 hours. That means you will get 1.5 years of usage with the assumption of the standard 8,000 work hours a year before running up against the rated life. Think of how many hats you could produce in 12,000 hours and the profit potential of that number of hats.
As usual, you can make adjustments to the duration, pressure, and temperature. You can also see each setting clearly on the LCD display.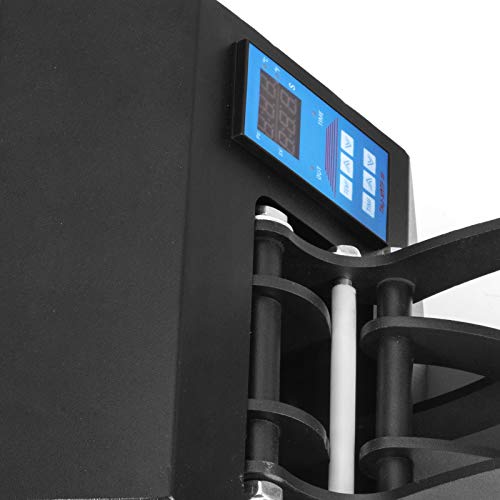 The power consumption is rated at 350W and the machine only gets up to a maximum of 300° C (about 572° F). That's more than enough to ensure a quality ink transfer and a smooth end result.
The coated handle will protect you from burn and give you a firm grip over the press. The design allows for top access to the pressure adjustment knob, the worthy finishing touch on this user-friendly hat press machine.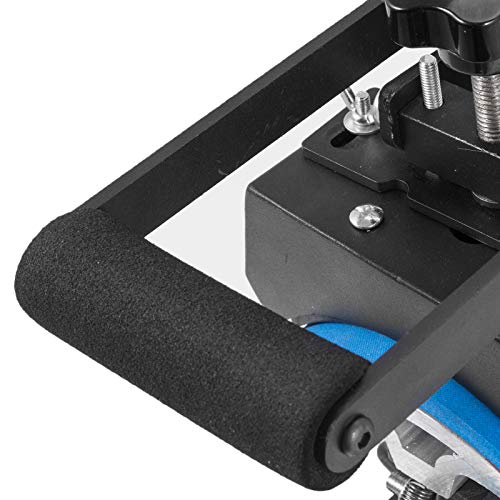 Easy to use
Heats up to 300° C
Medium-sized element
Clamshell design
Long service life
Quality transfers
LCD display and touchpad control
---
4.
F2C Pro 5-in-1 Sublimation Multi-Function Swing-Away Heat Press Machine
- Our Quick F2C 5-in-1 Heat Press Review -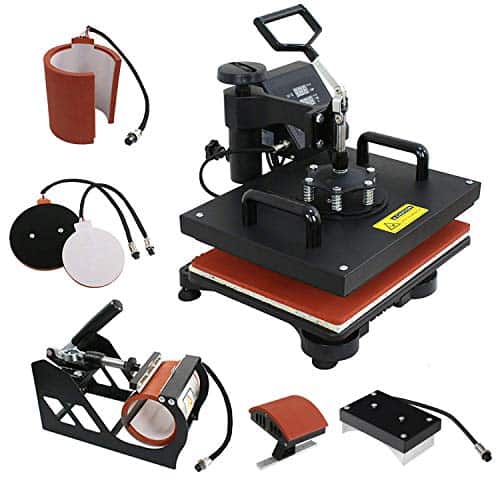 The F2C Pro is sort of a jack of all trades. As a multifunction heat press machine, you can use it to heat press hats and more, including mugs, t-shirts, and other items.
The 5-in-1 model features a swing-away design. It's safer and faster but may not be ideal if you're running a small home workshop. However, its top plate swiveling feature is what makes this one of the safest designs.
For some artists, this may even be the difference between being the best cap heat press machine and just another heat press.
The swing-away design lets you access the surface area with both hands from any direction and it gives you complete freedom of movement. You don't have to worry about coming in contact with the heating element or the press mechanism malfunctioning and dropping on your hands.
But there's more to the F2C Pro 5-in-1 cap press than its safety features. It comes with a 12"x 15" heat press. It has a non-stick surface, thanks to the professional coating, and also features multiple attachments including an aluminum cradle (3" x 3.5") which can be used for mugs (of course you also have the option of grabbing one of the best cup presses if that is what you wish to specialize in).
There are also hat and pad elements. Note that the machine is set up at the factory for use on T-shirts. You will have to manually attach the 6" x 3" hat element and reconfigure the machine accordingly. Luckily, you can use the manual to guide you through this.
The LCD display and control buttons are highly intuitive and have great readability in all lighting conditions.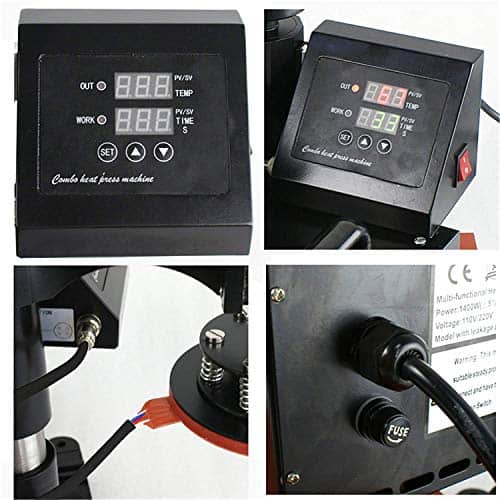 There are however two minor downsides to this unit. If you know anything about how to heat press a hat, you know that for a sublimation process you need at least 400° for a quality transfer. That's the F2C Pro's peak operating temperature.
The heating element and surface is large, which explains the high power draw of 800W and a lengthy stable heat-up time of 20 minutes. It's production capable when you reach a stable temperature.
If you're interested in creating your own heat press hats, T-shirts, mugs, and other apparel or accessories, this sublimation swing-away heat press machine would make a hell of a lot more sense than one-dimensional machines.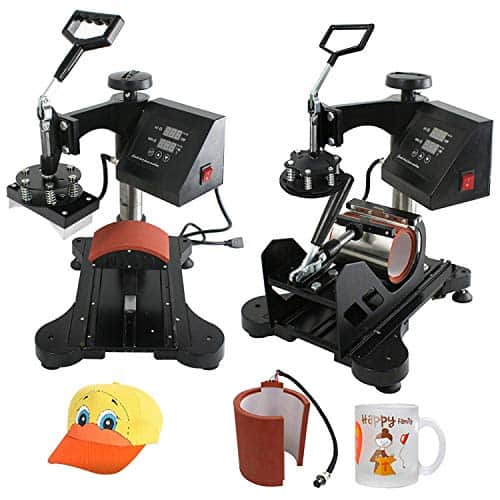 Sublimation heat press takes longer to reach a stable temperature
High power draw
---
Conclusion:
You may be asking yourself which of these machines stands out among the best hat heat press machines. The Vevor Hat Heat Press definitely checks a lot of boxes for hobbyists and designers working to scale up their production.
The clam-shell design is easy to use, the temperature range is amazing (almost double the recommended requirement), and the degree of adjust-ability for sizes and materials is more than impressive.
The machine is not the fastest but it's energy and space-efficient. Of course, if you're not looking for something truly heavy-duty and commercial-grade, both the F2C and Mophorn are strong alternatives.
Particularly the F2C 5-in-1 model which is very versatile with its multiple attachments and swing-away design. Even with its higher price tag, the F2C 5-in-1 heat press machine can help give you a complete introduction into putting your unique artwork on apparel and accessories and how to do it for a living.
Now that you have found a new hat press machine for your home or business, why not hop over to our craft blog section. We have loads of tutorials, project examples as well as step-by-step posts to help you get started.
You can also find our guide with heat press reviews here.