If you love using the Cricut EasyPress 3 or even a home heat press machine for transferring your Iron-On (HTV) or Infusible Ink designs, the one item that you may be missing (and longing for) is a hat press!
If you looking to expand the heat press projects that you make to hats or are looking to buy a hat press there are extensions or stand-alone hat press options that you can buy. However, before purchasing be sure to read this review of the Cricut Hat Press which is definitely a superb choice and option!
Check prices on the Cricut Hat Press on Cricut.com
Let's have a look at why the Cricut Hat Press stands out! Here is our Cricut Hat Press review to help you decide whether this cool little press is the right press for you.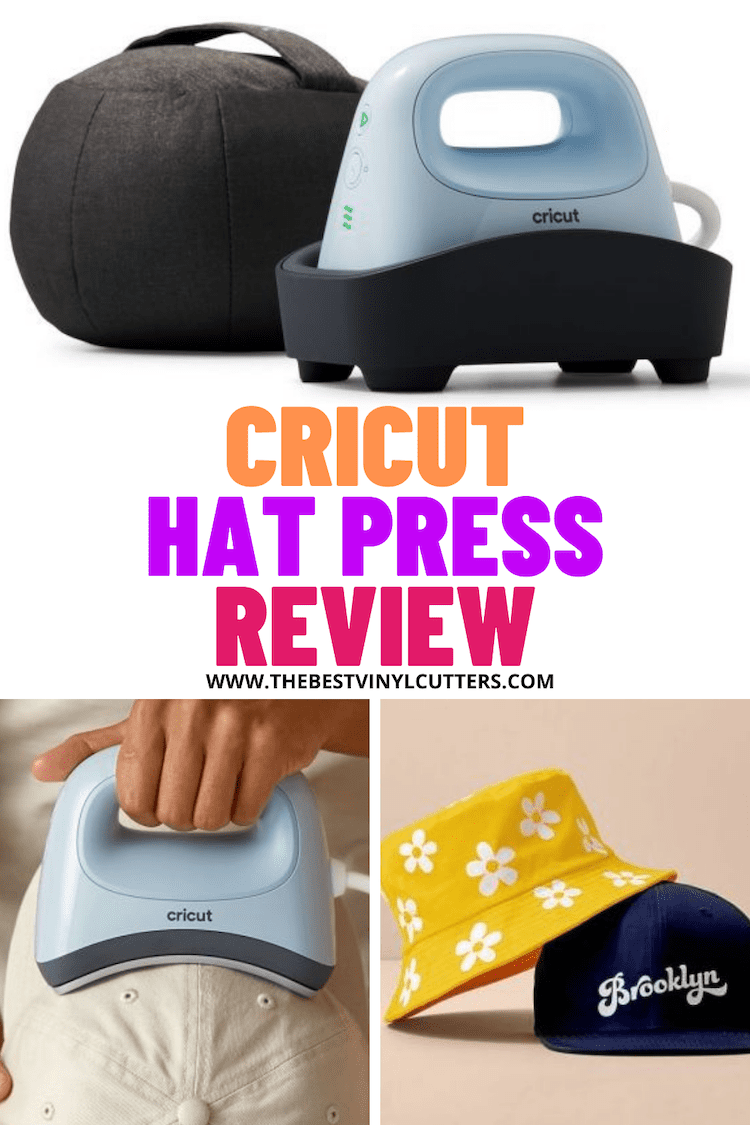 Cricut Hat Press Review Rating
Find below our review rating of the popular Cricut Hat Press machine.
Summary
We personally just love the Cricut Hat Press for a number of reasons. We love the sleek design of the Hat Press, not only is it small and compact but it can be used on a number of different hats. It is so much better than a home iron as you have the ability to set your temperature and the time that is required to achieve a better press that will be more durable. Cricut has also added Bluetooth capabilities so you can connect the Cricut Hat Press to the Cricut Heat app and simply select your base material and the app will set your temperature and time settings for you! Add in the fact that it is affordable and you have a great 'must-have' tool.
PROS
Has Bluetooth for wireless connection to Cricut Heat™ app for step-by-step guided flow
It is small and portable with a comfortable grip
5 in x 3 in (12.7 cm x 7.6 cm) curved heat plate for heat-transfer applications on hats
Includes Cricut Hat Pressing Form for a firm, ideal pressing surface
It heats up fast with 3 heat settings up to 400 ºF (205 ºC) for iron-on/HTV, Infusible Ink & sublimation projects
You can manually set both the time and temperature
It delivers professional results
Safety Base and auto-off feature
CONS
Only available in one size
You can't set the pressure like you can with professional heat press machines, so manual pressure with guesswork is required
Review of the Cricut Hat Press
The Cricut Hat Press is a handheld heat press for transferring Iron-On (HTV), Infusible Ink, and sublimation prints onto different hat options. You can customize a variety of hat designs, including baseball caps, bucket hats, visors, sun hats, and more!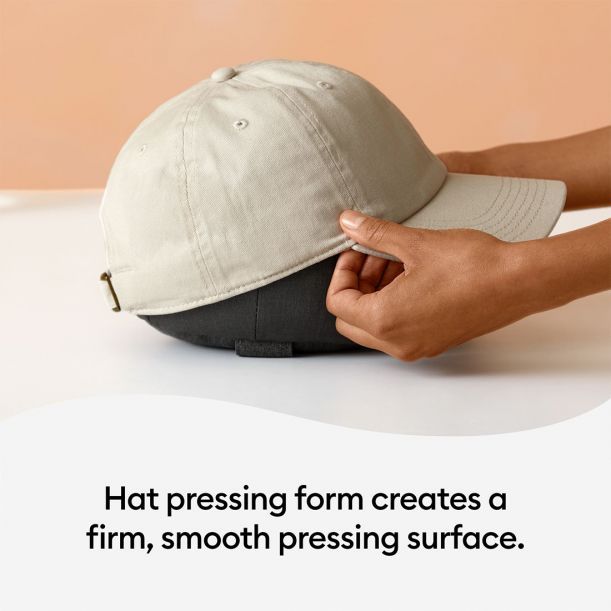 This is the first hat press machine that Cricut has released and like Cricut's other heat press machines, it offers a great temperature range and an edge-to-edge heating element combined with the curved ceramic coated heat plate, gives even heat consistency and professional looking finishes.
The Cricut Hat Press comes in one size only however it does come with a Cricut Hat Pressing Form that molds to the shape of the hat you are using. The Cricut Hat Pressing Form also helps you to achieve a firm pressing surface when pressing.
You can also grab the Cricut EasyPress Mini which is a mini heat press machine with a 3 x 2″ plate.
The Cricut Hat Press is only available in a zen blue color, which seems to be the color that Cricut appears to have used for many of their new machines.
What's In the Box?
Wondering what exactly you will get in the Cricut Hat Press box?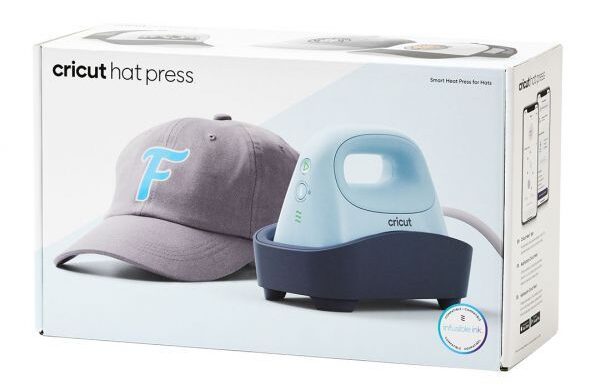 The Quick Start Guide is the first thing that you'll find when you open the box. The Hat Press, the base, and the hat form are also inside, and that's pretty much it.
Who is the Hat Press Best Suited For?
The Cricut Hat Press is an excellent solution for crafters who don't have a lot of space and want to create customized hats. The Hat Press is light and compact so you can easily store it away on a shelf, in a cabinet, or even inside a drawer!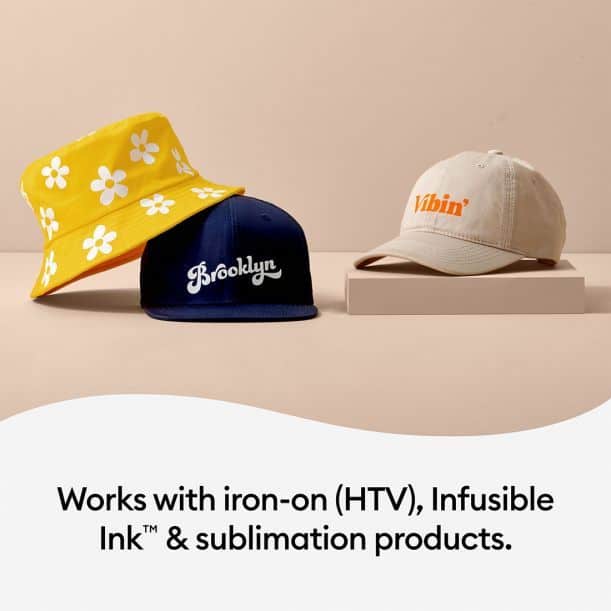 The compactness makes the Hat Press easy to transport as well, so if you like making customized items at craft fairs or shows you can easily transport it to workshops, DIY seminars, and other similar events.
Even small business owners can benefit from the Cricut Hat Press as you can create customized items in small batches and save money on paying other printing companies to do it for them.
In terms of price, this hat press offers excellent value for the money. When you compare it to other hat press machines on the market, the Cricut Hat Press offers greater technology not only for its ability to connect wirelessly to the Cricut Heat app with its Bluetooth connectivity option; but its small and sleek curved design offers great heat resulting in professional-looking products.
Ultimately, the Cricut Hat Press combines the ease of a small press with the consistency of larger hat presses on the market.
Overview of Features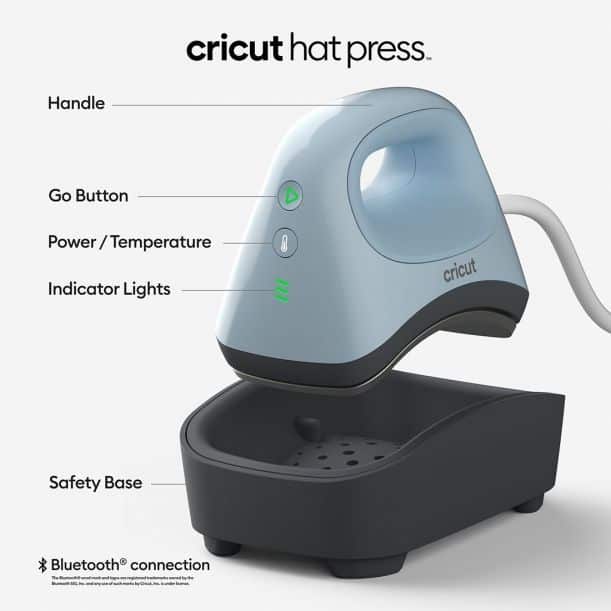 The Cricut Hat Press features an edge-to-edge curved, ceramic-coated heat plate that evenly distributes the heat even when moving the press. There are 3 temperature level ranges reaching up to 400°F (205ºC), allowing you to transfer vinyl to hats, wrinkle-free.
Its edge-to-edge curved, ceramic-coated heat plate also ensures that you achieve consistent and even color when creating Infusible Ink or sublimation projects.
The matching Safety Base is insulated to protect your surfaces. There's an auto-shutoff feature that turns off the heat press machine if unused.
You can set your time and temperature settings by connecting to the Cricut Heat app or you can use the on/off and heat buttons on the side of the Hat Press. The thermometer icon button is to adjust the temperature and time.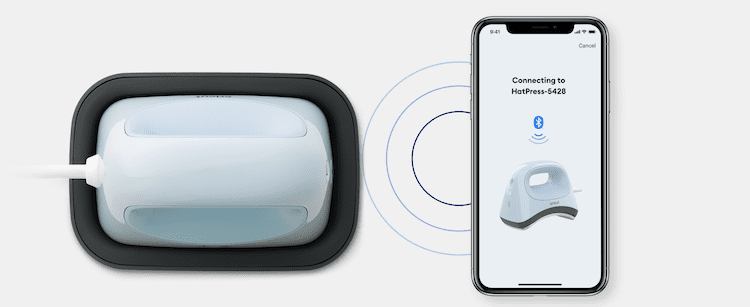 The even heat and high-temperature capability provide professional results. In a minute or less, you'll be able to get high-quality transfers that can withstand multiple washes.
How to Use the Cricut Hat Press
This hat press is a great choice even if you've never used one before. Adjust the temperature and time and wait for the unit to heat up. Connect to the Cricut Heat app and you can send the exact time and temperature settings directly to the hat press. The Cricut Heat app will then give you step-by-step guidance from your device.
If you do not use the Cricut Heat app for automatic heat and temperature settings, you can also go to the Cricut Heat guide and select your preferences from the drop-down menu to get the right time and heat.
Despite the Cricut Hat Press being lightweight you do not have to apply a great amount of pressure when transferring your design onto your hat. Once the Hat Press has reached the desired temperature, you place the press onto your hat and hold the press in place. You can move the Hat Press from side to side and as soon as the beeper sounds, you remove the Hat Press as the time required is up.
Place the Hat Press on the safety base, remove the HTV or Infusible Ink backing sheet and you are ready to wear your customized hat!
Our Verdict
When all is said and done, the Circuit Hat Press really does stand out as one of the best affordable heat hat presses for crafters or even small business owners.
It's hard to fault in terms of usability, performance, and versatility considering the affordability.
Compared to traditional hat heat press machines, the new Cricut Hat Press is easy to use and is capable of pro-quality end products. Though the true highlight lies in the fact that it's a portable heat press and is SMART.
This is a truly top-notch hat press heat machine! I highly recommend that you invest in a Cricut Hat Press Bundle, but if you prefer, you can grab your Hat Press as a stand-alone by simply clicking the button below. You can read through all the positive reviews on Amazon here
Click here to purchase the Hat Press from Amazon
Click here to purchase the Hat Press from Cricut.com