If you have a Cricut EasyPress heat press machine you will know that they are wonderfully easy to use to transfer Iron-On (HTV) or Infusible Ink designs onto your projects.
They are perfect for crafters as they are portable and compact enough so they take up very little space yet they are also great for small business owners as they give a professional-looking end product and result.
Due to the Cricut EasyPress machine's size, it is super versatile as you can use them on tote bags, hoodies, aprons, t-shirts, and more.
If you are in the market for a new heat press machine, the Cricut EasyPress 3, is definitely a heat press that needs to be seriously considered due to its ease to use, versatility, and compact size. This nifty press is available in 2 handy sizes, the 12 x 10″ and 9 x 9″.
Check prices on the EasyPress 3 Heat Press Machines
Intrigued to find out more about the EasyPress 3? Read more of our Cricut EasyPress 3 review below!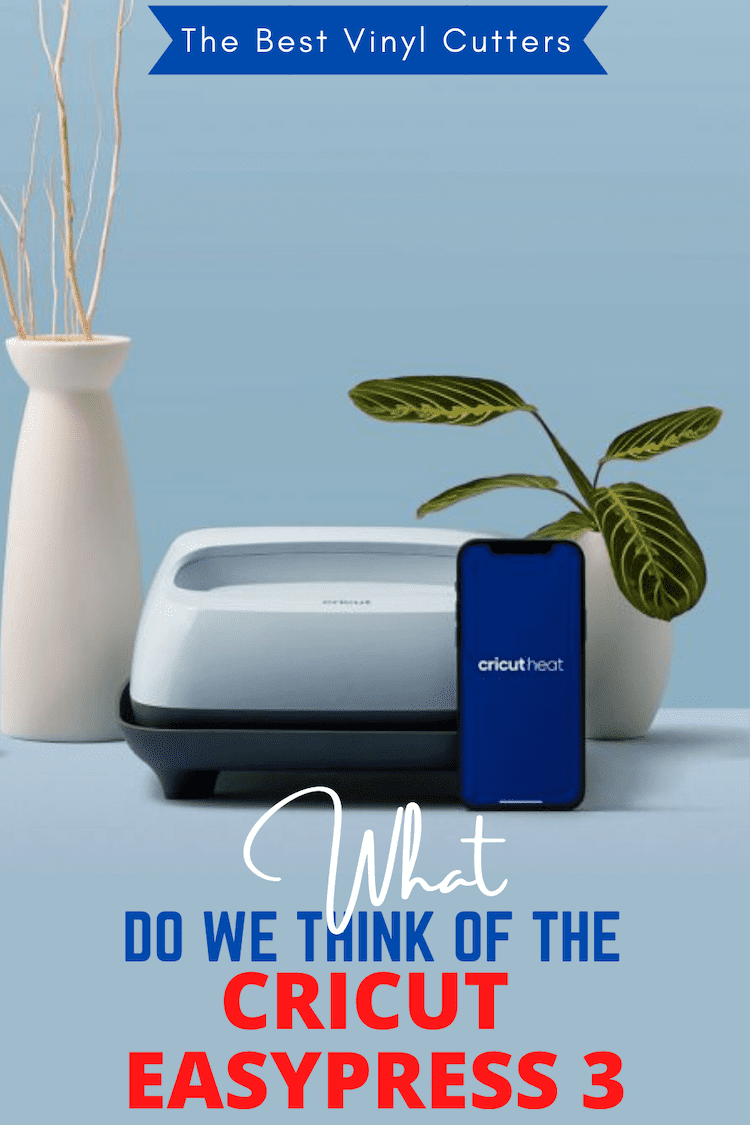 Cricut EasyPress 3 Review Rating
Find below our review rating of the popular and superb EasyPress 3 small heat press machine.
Summary
We absolutely love the Cricut EasyPress 3. It has the same versatility and compact size as the previous models but is now even easier to use with Bluetooth connectivity. It is leaps ahead to using an ordinary iron as you have the ability to set your temperature and the time that is required, both manually and automatically by using the Cricut Heat app. The fact that the Cricut Easy Press 3 is affordably priced, you will be hard-pressed not to give this heat press the consideration it deserves as a must-have craft room tool!
PROS
It is available in 2 handy sizes.
It is small and portable.
It heats up fast.
Connect to the Cricut Heat app via Bluetooth to have heat and temperature settings set automatically.
You can digitally set both the time and temperature.
It delivers professional results.
CONS
The largest in size is 12 x 10″, which can be limiting.
You can't set the pressure like you can with professional heat press machines, so manual pressure with guesswork is required.
Review of the Cricut EasyPress 3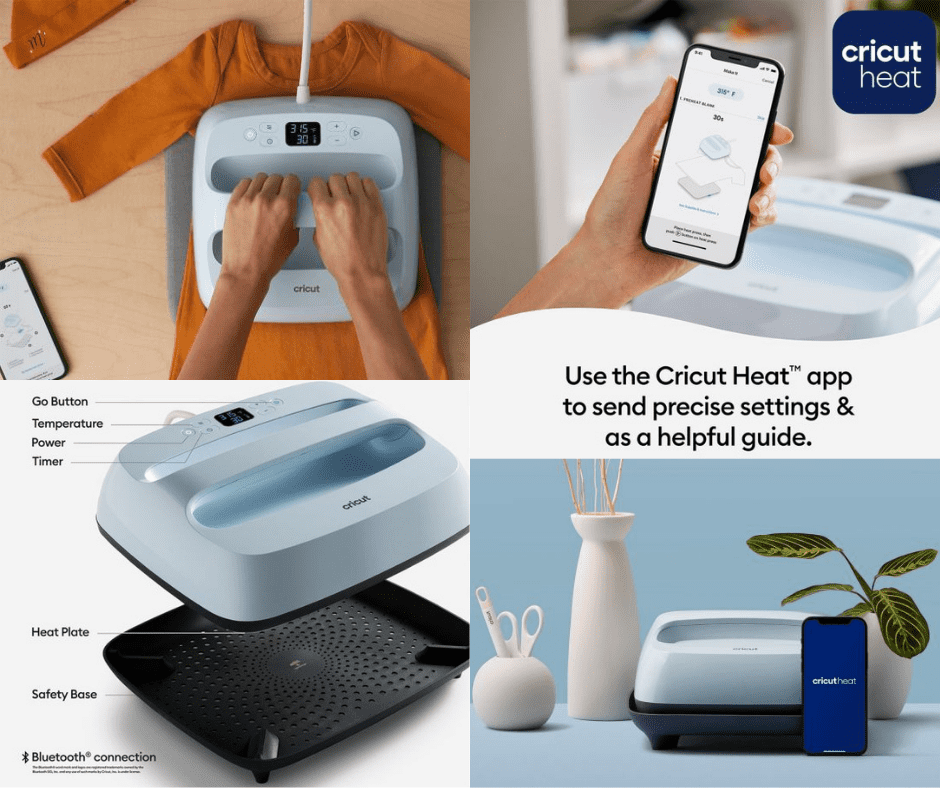 The Cricut EasyPress 3 is a handheld heat press for transferring Infusible Ink, Iron-On (HTV), and sublimation prints onto suitable materials like fabric, cardstock, metal, wood, and more!
The Cricut EasyPress 3 (released in March 2022), is the newest addition to the Cricut EasyPress machines by Cricut and has all of the same great features of the improved EasyPress 2 version.
It has the same precise temperature control up to 400℉ (205°C) and heat consistency with edge-to-edge heat.
What is most impressive about the Cricut EasyPress 3 is the Bluetooth connectivity making this heat press SMART!
This function enables you to connect your heat press to the Cricut Heat app where you simply select your material base and the app will send precise time & temperature settings to the press. All you have to do is then follow step-by-step guidance on your device!
The EasyPress 3 comes in 2 different sizes to accommodate large and slightly smaller transfers. You can also grab the Cricut EasyPress Mini which is a small heat press machine with a 3 x 2″ plate or the Cricut Hat Press for transferring designs to a variety of hats!
The heat press is only available in one color, a gorgeous light blue! If you want to buy the range of Cricut Heat Presses you can buy the Cricut Hat Press and the latest release of the Cricut EasyPress Mini in the same color so that they all match!
What's In the Box?
Wondering what exactly you will get in the Cricut EasyPress 3 box?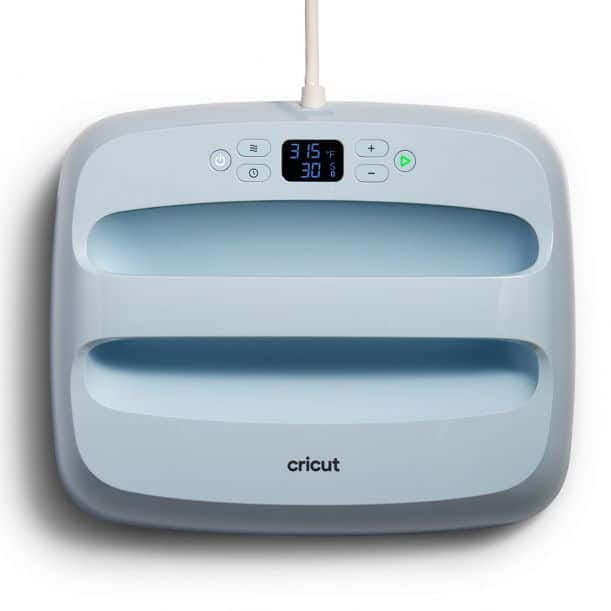 The Getting Started Guide, the Heat Press, and the base come in a protective pouch for storing or transporting, and that's pretty much it.
We recommend that you purchase the Cricut EasyPress Heat Mat with the machine to achieve a tight seal when you transfer designs onto a garment. You can purchase the mat separately or in one of the Cricut EasyPress 3 bundles!
Who is the Easy Press Best Suited For?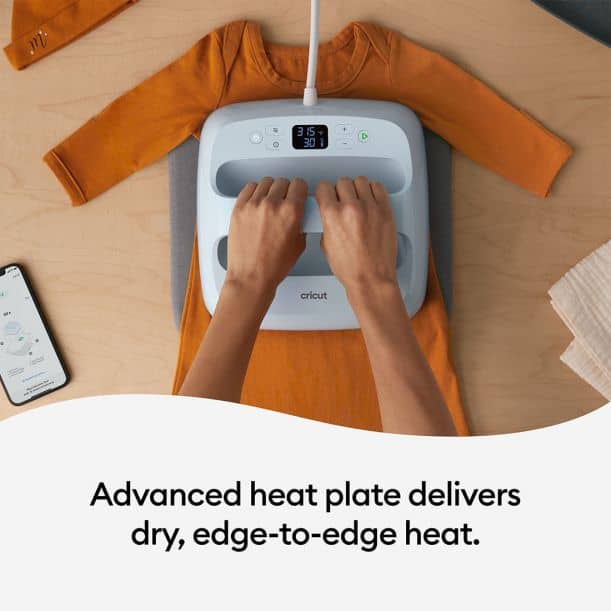 The Cricut EasyPress 3 is an excellent solution for crafters who don't have a lot of space. Both the 12 x 10″ and the 9 x 9″ heat press machines are so light and compact which makes them perfect for storing them on a shelf, in a cabinet, or even inside a drawer!
Due to the lightweight and its small compact size means that the heat press is super easy to transport, so taking your heat press to craft markets, workshops, and DIY seminars is a breeze.
The Cricut EasyPress 3 is not only designed for home crafters but is a great addition for small business owners as creating promotional, customized items can be created in small batches which saves money on professional printing.
The price of the Cricut EasyPress 3 is great value for money with the improved technology making heat pressing projects easier to create. The new model is a bit more expensive than the previous EasyPress 2 but the improved technology and versatility of use of the machine make it well worth it!
Overview of Features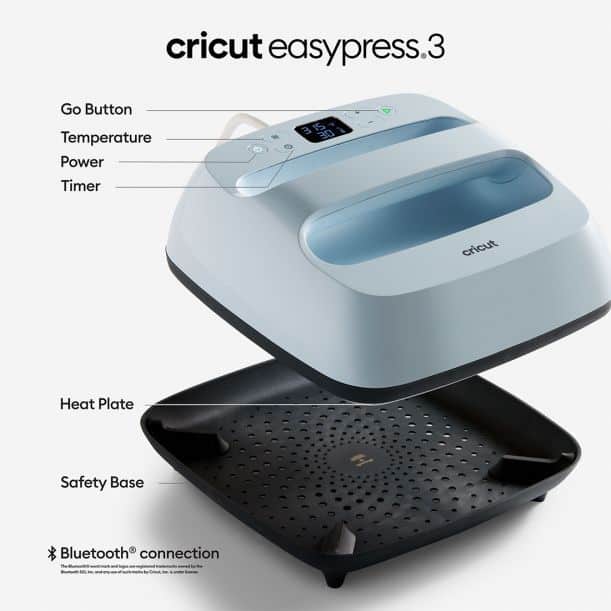 The Cricut EasyPress 3 features an edge-to-edge ceramic-coated heat plate that evenly distributes the heat. Behind the heat plate are two heating elements. The temperature range reaches 400°F, allowing you to transfer vinyl, Infusible Ink, and sublimation prints to different materials.
The handle helps you maneuver the heat press with ease and the Safety Base is insulated to protect your printing surface when placing your heat-press down after use. The Cricut EasyPress 3 has the great auto-shutoff safety feature which means you can use your heat press with peace of mind as the press turns off automatically if unused for a period of time.
As for the controls, the on/off, heat, and timer buttons are located at the top of the press. There are +/- buttons to adjust the temperature and time, which you can track on the LCD display.
The even heat and high-temperature capability provide professional results. In a minute or less, you'll be able to get high-quality transfers that can withstand multiple washes.
The two available sizes are 9" x 9", and 12" x 12". The smaller press is perfect for small projects like baby clothes, tea towels, or small canvases and you can use the bigger model on items like blankets, banners, jackets, etc.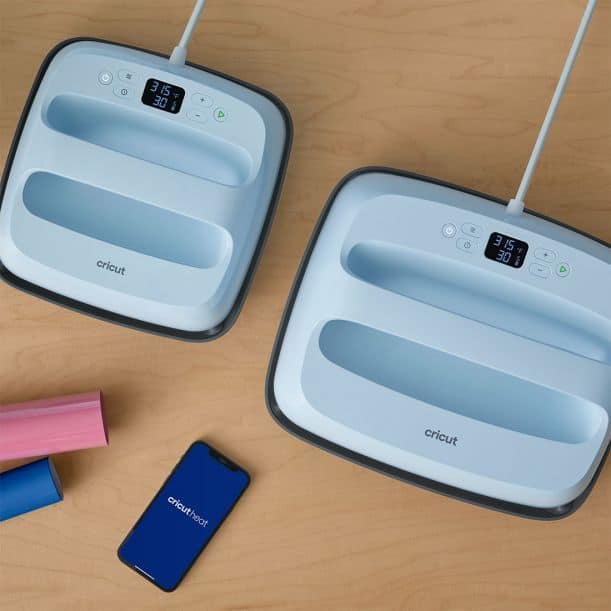 Of course, you don't actually have to transfer something of the full size, the larger press just enables you to transfer bigger designs.
How to Use the Cricut EasyPress 3
This heat press is a great choice even if you've never used one before. Adjust the temperature and time and wait for the unit to heat up. It heats up at about 5 degrees every second and the 'Go' button turns green when the press is ready.
You can set your time and temperature settings by connecting to the Cricut Heat app or you can use the on/off and heat buttons on EasyPress. The three wavy lines icon button is to adjust the temperature, and the clock icon is to set the time.
If you want to set your machine manually you can use the manual to see the list of recommended settings for different materials or you can go to the EasyPress website and select your preferences from the drop-down menu to get the right time and heat. In addition, the website offers preparation and maintenance tips.
The only downside of the Cricut EasyPress 3 is that the pressure needs to be applied by you when you press your project. As the machine is lightweight you are not getting much in terms of pressure therefore you need to apply even firm pressure using your hands and hold until the transfer is done.
Our Verdict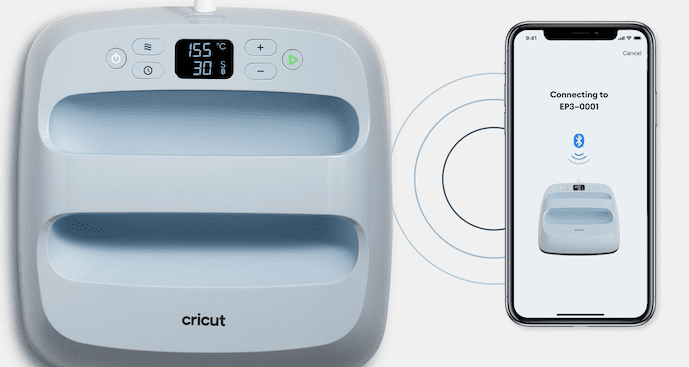 When all is said and done, the Cricut EasyPress 3 is really one of the most affordable and better-performing heat presses for crafters. It's hard to fault in terms of usability, performance, and versatility considering the affordability. It's safe to use and available in 2 sizes to cover any heat pressing need.
Compared to traditional heat press machines, although the EasyPress 3 does require a little more manual labour or pressure when pressing, with its SMART technology and ability to produce professional-quality projects it is definitely hard not to consider this press when looking for a new heat press machine.
This heat press really does lead the pack of heat presses for small business owners and home crafters with its Bluetooth technology and the fact that it is a lightweight, portable heat press.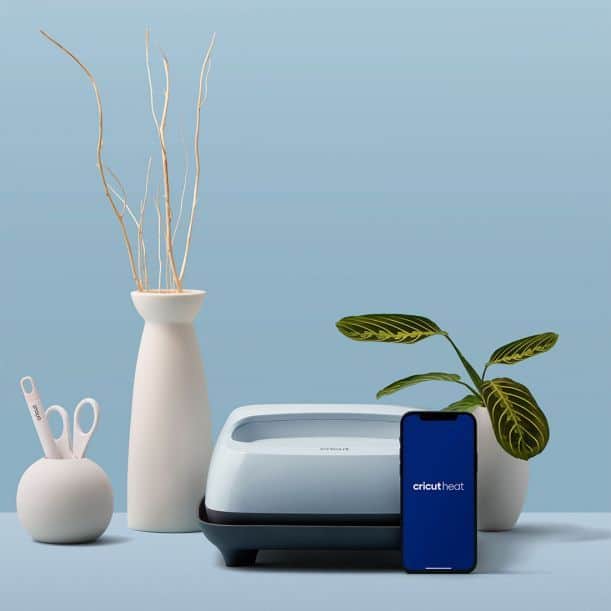 I love using the 9 x 9″ (I have kids so this size is great, but if you do adult shirts I recommend the 12 x 10″) and prefer using it over a bigger heat press machine simply because it takes up less room, but still delivers excellent professional results.
This is a truly top-notch heat pressing machine and is a great addition and tool for any craft room or business!
I highly recommend that you invest in a Cricut EasyPress 3 Bundle, but if you prefer, you can grab your EasyPress 3 as a stand-alone by simply clicking the button below.
Click here to purchase the EasyPress 3 from Cricut.com
Click here to purchase the EasyPress 3 from Amazon
Where to Next? Here is our blog post full of gorgeous Cricut Heat Press Projects.