If you are looking for the best heat press for commercial use? Then this is the one for you!
The Hotronix Fusion Heat Press is a complete and total game-changer! Sure it comes at a premium price, but it is also the world's most advanced heat press. It is the best heat transfer machine for business use.
I'm sure you are aware of the fact that Hotronix is one of the best heat press brands out there. But if you would love to compare this machine to other machines, you will find our heat press machine comparison guide useful.
Check prices on the Hotronix Fusion 16 x 20″ Heat Press Machine
Let's dive into all the fabulous features and specs in our Hotronix Heat Press Review.
Hotronix Fusion Heat Press Review Rating
Find below our review rating of the popular Hotronix heat press.
Summary
The best heat press for commercial use. It offers outstanding features and top-notch quality! It is the fastest heat press on the market and comes with a whole range of innovative features. We absolutely love this machine, we honestly feel like it stands out way above the rest.
Pros:
Dual Function System: Swing-Away and Draw. Industry Leading Touchscreen Technology. Live Digital Pressure Readout. Interchangeable Platens. Commercial grade quality. Premium 5-year warranty
–
Review of the Hotronix Fusion Heat Press Machine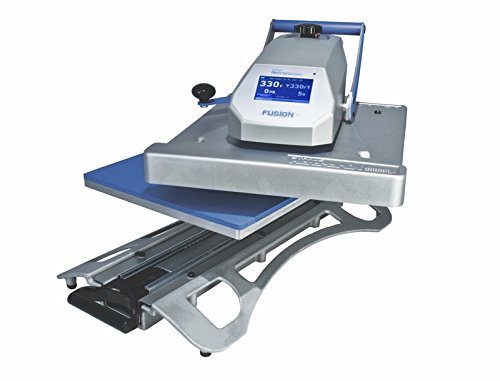 The Hotronix Heat Press is the world's most advanced heat press machine. It has industry-leading touchscreen technology and is the only heat press with a patented dual function of operating as either a swing-away or as a draw-style press.
This 16×20″ heat press is the best commercial heat press machine on the market in 2020. It is perfect for businesses who need a reliable 'workhorse' press for daily rigorous use. Even better? You also have the assurance of knowing that you are covered with the massive 5-year warranty if anything does go wrong!
This Hotronics Fusion heat press has incredible features, such as threadability and an option to preset unlimited programs. This all means that you can complete your heat transfers faster, which equates to more money.
The digital touchscreen display has the:
ability to store unlimited amounts of presets

it contains both time and temperature settings

it displays the current temperature, time left as well as the pressure applied to the garment.
Let's dive right into the features and specs to have a closer look at this press.
–
Features & Specs
Here is a quick look at the main features and specifications of the Hotronix Fusion press.
The Pros & Cons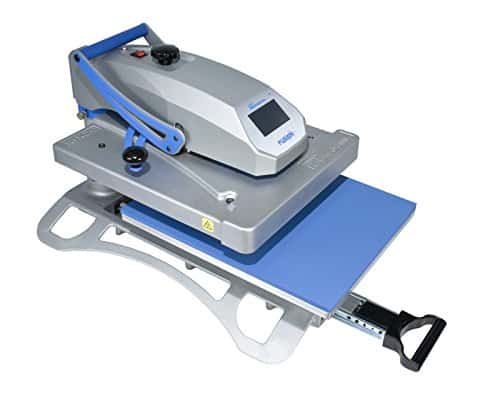 Below you will find the pros and cons of this machine together with information on who this machine would be perfect for.
The Pros
The Cons
The Verdict
If you can afford the premium price, the Hotronix Fusion Press is a brilliant buy. It is one of the best machines for business with its outstanding features and top-notch quality.
A time-saving machine that will allow you to create your heat transfers products quicker, easier and with more exact precise placing.
We absolutely love this machine, we honestly feel Hotronix offers heat press machines that far surpass the standards of similar prices presses.
Click here to purchase the Hotronix Fusion Heat Press from Amazon.