Being a beginner Cricut crafter can be totally overwhelming! Not only are you getting to understand and learn how to use your new Cricut cutting machine and Design Space software but you also have a large number of materials (such as all the types of Cricut Vinyl) to get to know!
Many new Cricut crafters dive in only to realize that there are quite a few Cricut Vinyl materials that you can purchase and use. When realizing this, crafting with your Cricut machine can become a lot more stressful.
In this blog post, I want to explain to you the different types of Cricut Vinyl available that you can use for the project you have in mind because at the end of the day vinyl is not JUST vinyl!
What is Cricut Vinyl?
If you want to use your Cricut for vinyl projects then we need to get down to the basics before we even start to understand the many different variations that you can get your hands on.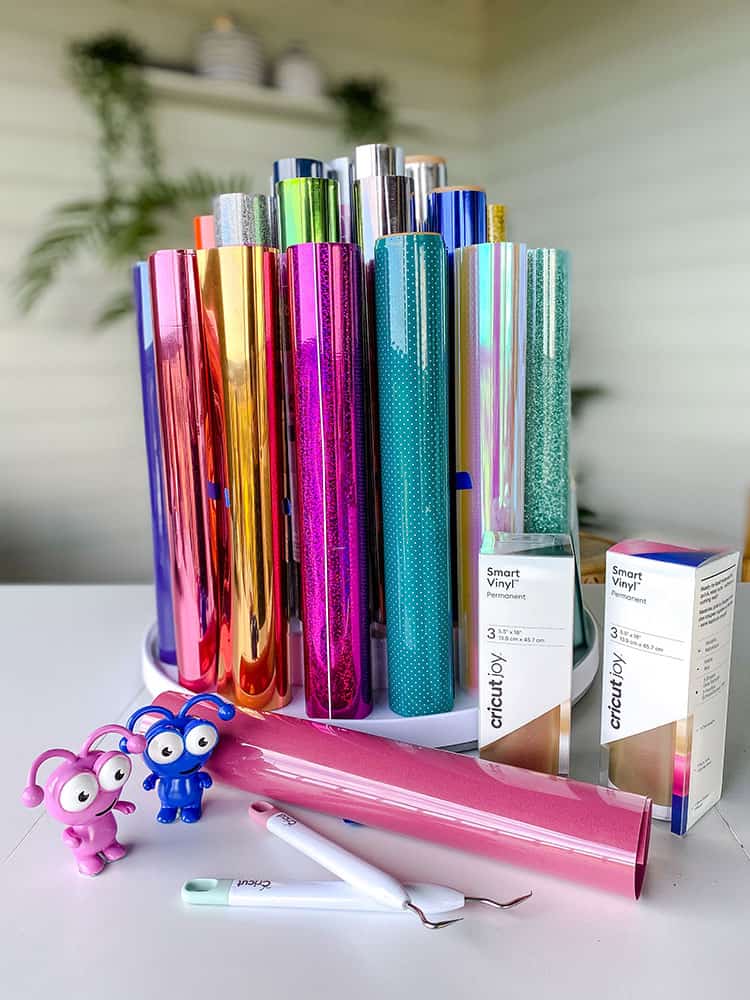 Understanding the basics will ensure that you know which Cricut vinyl you need to use for your project.
Firstly, what do you need to use vinyl for?
Cricut Vinyl is used to create decals (similar to stickers) that you will place or add to items to give your projects a whole new look.
These decals can be adhered to items such as:
Mugs
Tumblers
Caps
T-shirts
Walls
Bags
Cushion covers
Cellphone cases
Balloons
There is actually very little that you cannot create a decal for but understanding which type of Cricut vinyl you need to use is important as some vinyl will require heat whilst others have a sticky backing and require pressure to apply.
Which leads me on to the most important difference between vinyl. The most commonly used vinyl types are Iron On Cricut Vinyl (also commonly known as HTV) or Cricut Adhesive Vinyl. Cricut also has Printable Vinyl, Smart Vinyl, and Infusible Ink (not really a vinyl but we will cover it here as well).
Types of Cricut Vinyl
Now let's have a much closer look at the different types of vinyl that you can use for your Cricut crafting projects so you can be sure you are buying the correct Cricut Vinyl when you start out.
1. Cricut Adhesive Vinyl
Basically adhesive vinyl is pretty similar to a sticker. It is flexible, versatile, and can be cut into any shape.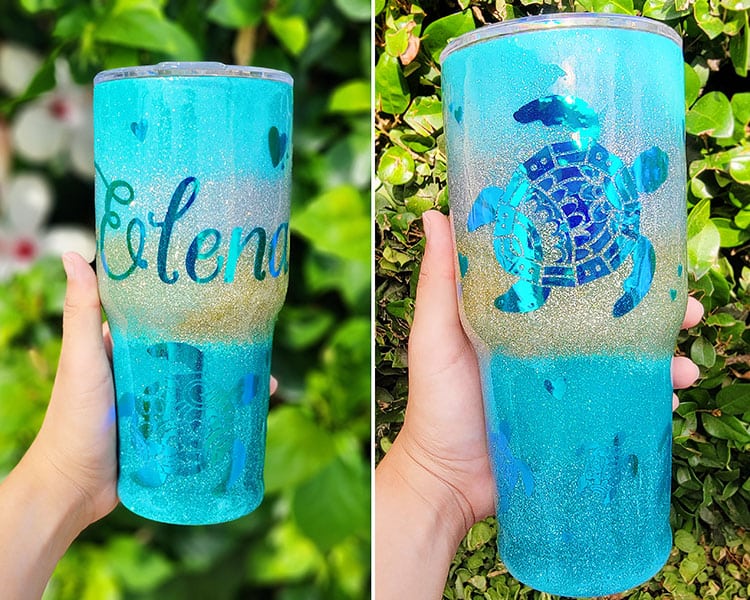 It has an adhesive that is pressure sensitive and it is durable and water-resistant in order to withstand temperature changes and general wear and tear.
Adhesive vinyl does not need heat to get it to adhere to your items as it is applied like a sticker.
You simply transfer your cut decal by using transfer tape (find the best transfer tape to use here) and applying pressure by rubbing the Cricut Adhesive Vinyl decal onto your item like a glass or mug!
Cricut Adhesive Vinyl comes in permanent or removable vinyl. It is important to know this because as the names suggest one is removable and one is permanent which will make it super difficult to remove once applied.
1a) Cricut Removable Vinyl
Removable vinyl is as the name suggests, removable. So it is a temporary sticker. It can last up to 2 years only.
Use this type of vinyl if you know that you will want to change it later so it's great to use for themed or holiday decorations etc. It is perfect for indoor surfaces that won't get handled a lot, such as walls or windows.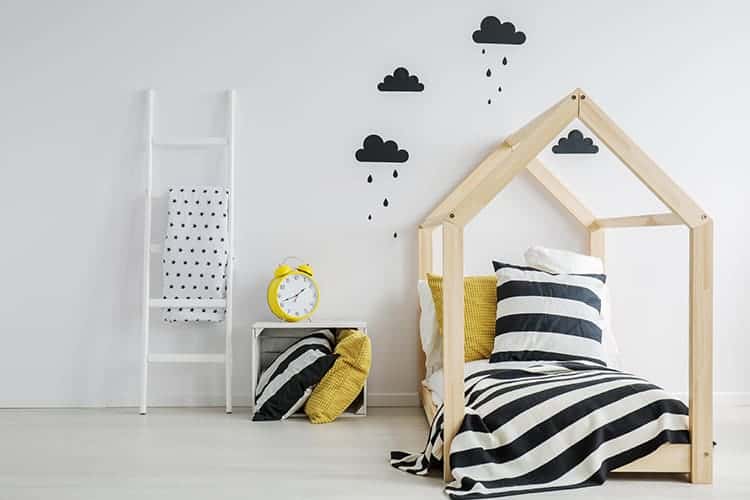 Removable Cricut Vinyl is great for the following project types:
Scrapbooking
Wall Decals
Stencils
Cellphone Case Decals
Themed Window Stickers
Nail Decals
Temporary Window Signs or Logos
On Pregnant Bellies (because why not!)
Party Glassware that you might want to Re-Theme Next Year
Cupboard Decals
Laptop Decals & so Much More!
Different types of Cricut Removable Vinyl include:
Cricut Premium Removable Vinyl in 55 solid colors
Cricut Glitter Vinyl – Removable
Cricut Holographic Sparkle Vinyl – Removable
Cricut Metallic Vinyl – Removable
Cricut 3D Textured Vinyl – Removable
Cricut Patterned Vinyl – Removable
Cricut Joy Smart Vinyl – Removable (for the Cricut Joy Cutting Machine)
---
1b) Cricut Permanent Vinyl
Cricut Permanent Vinyl can withstand heavier use and weather conditions which makes it more suitable for outdoor use. It can last up to 3 years.
This type of vinyl has a stronger adhesive and whilst it can be removed, you will most likely destroy the surface if you try to pull it off.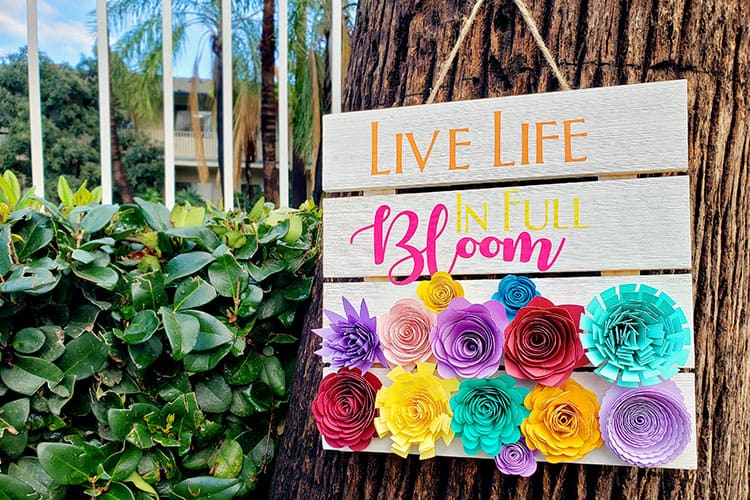 This type of vinyl is perfect for the following project types:
Wooden Porch or Door Signs
Personalized Water Bottles (Plastic or Metal)
Outdoor signs
Car decals
Personalized Mugs
Personalized Tumblers
Decorate Clipboards
Paper, Cardstock or Chipboard Banners
Party Decor
Personalized Journals
Pantry Jar Labels
Coasters & So Much More!
Different types of Cricut Permanent Vinyl include:
Cricut Premium Permanent Vinyl in 47 solid colors
Cricut Shimmer Vinyl
Cricut Glitter Vinyl – Removable
Cricut Holographic Vinyl (Threads, Sparkle, Art Deco, Bubbles, Crystals, Mosaic)
Cricut Frosted Vinyl
Cricut True Brushed Vinyl
Cricut Mosaic Vinyl
Cricut Metallic Vinyl (Textured, Pearl)
Cricut Joy Smart Vinyl (for the Cricut Joy Cutting Machine)
Notes about Permanent Vinyl
You can apply it to pretty much everything you can imagine but be careful as due to the adhesive backing it can cause damage to paint or walls or leave a very sticky residue if you remove it.
Even though it is pretty weatherproof and can withstand rain, it is not great for going in the dishwasher or sitting in a sink of water so it is always advisable to hand wash items like glasses or tumblers if you have added a Cricut Adhesive Vinyl decal.
---
Here is a list of Cricut adhesive vinyl options that are super popular.
Most Common Cricut Adhesive Vinyl Types
Basic – A removable vinyl that you can use to create removable decals, labels, and more. Available in solid colors only. You will also find the chalkboard vinyl & dry erase in this category.
Premium – Premium vinyl is available in either removable or permanent adhesive. Permanent vinyl can last up to 3 years and is water and UV-resistant. It comes in a mix of special types such as holographic, glitter, frosted, metallic etc.
Adhesive Foil – A shiny removable vinyl. Use this vinyl to add a metallic finish to products. It is also great for custom party confetti as well!
Patterned – Patterned vinyl comes in many different patterns and designs. This vinyl is available as both permanent and removable.
Mosaic – This vinyl is another permanent vinyl. It has, as the name suggests, shimmering metal shapes in a mosaic arrangement. It is wonderfully water-resistant and works great for glassware & indoor decor.
Wondering if Cricut Adhesive vinyl is the best vinyl to buy? Find out which vinyl buys we love most! Check out our guide on the best adhesive vinyl here.
---
2. Cricut Iron-On Vinyl
As the name suggests, Cricut Iron-On Vinyl or HTV (Heat Transfer Vinyl) as it is also more commonly known, will need heat to apply.
The most common types of heat sources are everyday household irons or a heat press machine.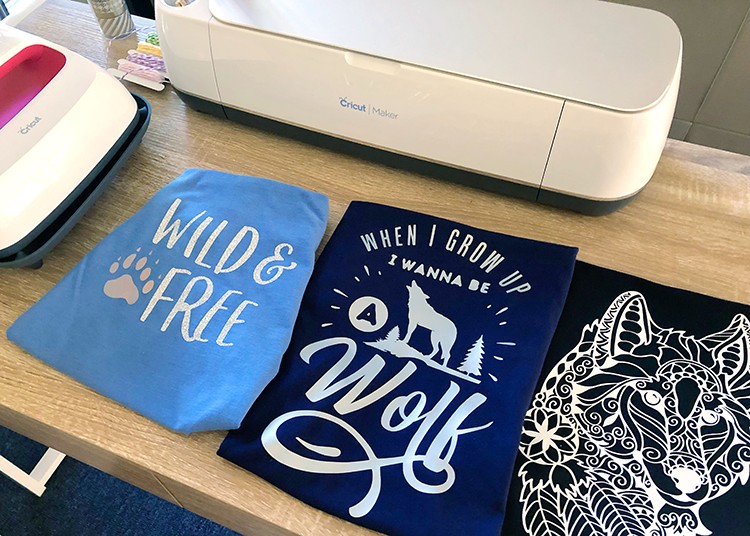 Iron-On Vinyl consists of layers. There is the vinyl layer and there is a protective clear carrier layer. The carrier sheet is sticky and holds the vinyl in place while you cut. It also aids in transferring the vinyl to your project surface.
You can purchase heat transfer vinyl sheets or heat transfer vinyl rolls. You can either purchase HTV in single colors or you might prefer to save some money by purchasing a variety color pack.
Cricut Iron-On Vinyl is a special type of material that allows you to transfer any design to fabric or other surfaces like:
T-shirts
Caps
Kitchen towels
Canvas bags
Cushion covers or pillowcases
Shoes
Clothing items
Totes
Bath towels
Soft or stuffed toys
And so much more!
The great thing when using iron-on vinyl is that you can layer it so if you are using a variety of colors you can still create a beautiful and detailed design.
Tip: A good thumb of the rule is that you shouldn't layer over Glitter Iron-On or Foil Iron-On.
Most Common Cricut Iron-On Vinyl Types
Not only does Cricut Iron-On Vinyl come in a variety of solid colors, but you can also choose from the following types of Iron-On Vinyl:
Glitter Iron-On
Holographic Iron-On
Metallic Iron-On
Foil Iron-On
Sport-Flex Iron-On
Patterned Iron-On
And more!
With so many options to use when crafting with your Cricut machine and creating Cricut Iron-On projects the imagination is endless and you can create countless unique designs.
You can also read about the best Iron-On Vinyl on our blog if you want to know more about this type of vinyl.
---
3. Cricut Printable Vinyl
Cricut Printable Vinyl is great for creating stickers or even labels for packaging. When using Cricut Printable Vinyl you will need a printer, preferably a color printer especially if you want to create kids stickers!
With the Print then Cut feature in Cricut Design Space you will have endless possibilities with creating these removable DIY stickers or Vinyl Decals.
You simply create your design or images in Cricut Design Space, send them to your home printer machine to print, and then use your Cricut machine to cut out images, patterns, and even photos cleanly and precisely.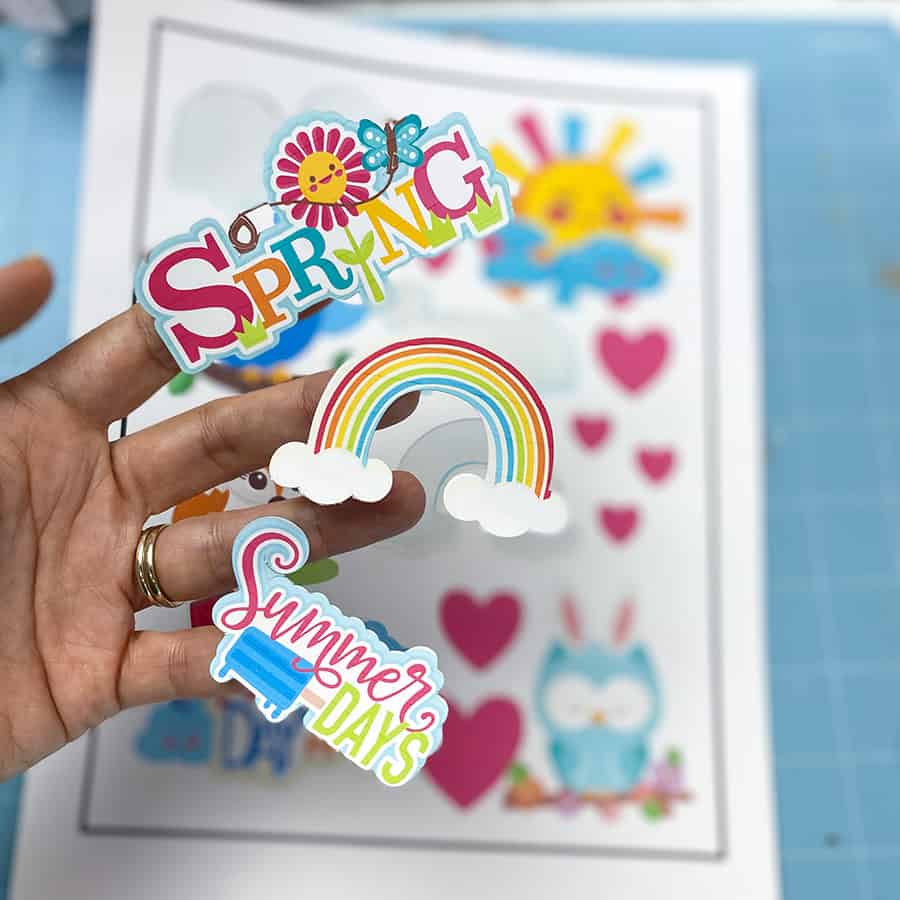 Printable vinyl has a smooth matte surface and removes cleanly, leaving no sticky residue.
---
4. Cricut Smart Vinyl
Cricut Smart Vinyl was introduced by Cricut when their latest machines allowed you to simply feed the vinyl directly into the machine to be cut without the need for a cutting mat!
You can use Cricut Smart Vinyl with the Cricut Maker 3 and Cricut Explore 3. You can also use Cricut Joy Smart Vinyl with the Cricut Joy but be sure to purchase the Cricut Smart Vinyl that is specifically for the Cricut Joy due to the cutting width of the machine.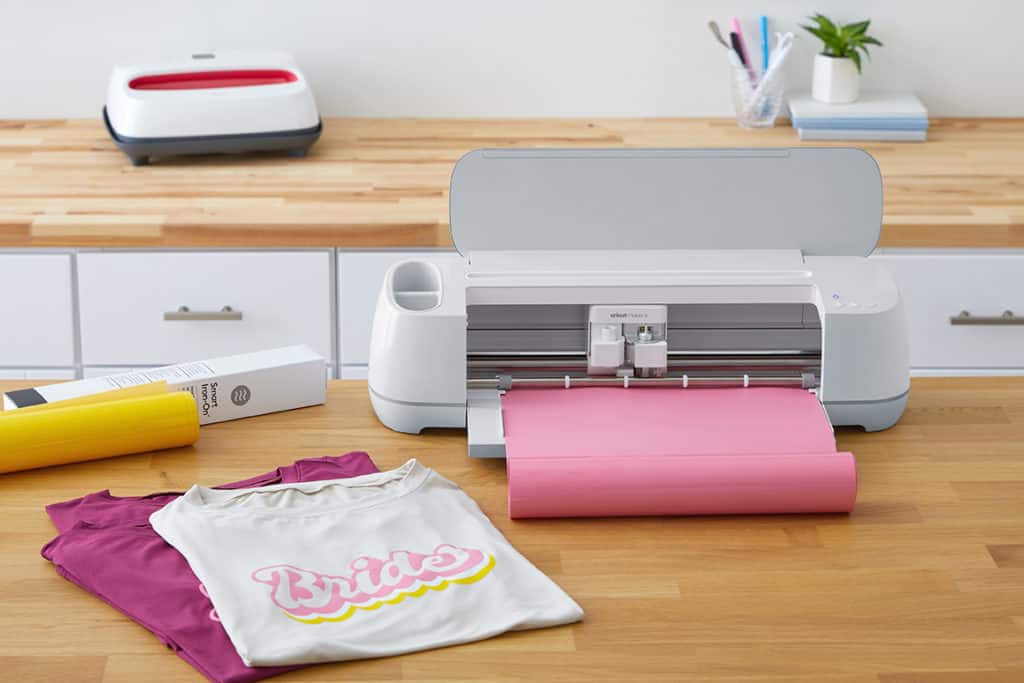 The great thing about the Cricut Smart Vinyl is that it is available in both permanent and removable adhesive vinyl varieties. It comes in a wide variety of colors, effects (metallic, shimmer, etc), and material lengths from 3 ft (0.9 m) to 75 ft (22.9 m).
Just like the normal Cricut Adhesive Vinyl, you can apply the Cricut Smart Vinyl to the same surfaces and items.
You also get Smart Vinyl in Iron-On and is referred to as Smart Iron-On. Just like the original Cricut Iron-On you can use the Smart Iron-On on a variety of fabrics.
It also comes in many different colors, effects e.g. glitter, and material lengths from 3 ft (0.9 m) to 9 ft (2.7 m).
---
5. Cricut Infusible Ink (Not Really Vinyl)
Although Cricut Infusible Ink is not exactly the same as Cricut vinyl, I am adding it to this post because it can be used for similar projects when using a heat press.
Essentially, Cricut Infusible Ink is an ink transfer sheet product and when you use a heat press to apply high heat, the ink is transferred into the base material.
This is different from the way Iron-On or even adhesive vinyl is transferred as vinyl is stuck on top of the base item whilst Infusible Ink is infused into the fibers of the shirt so becomes one with the fabric.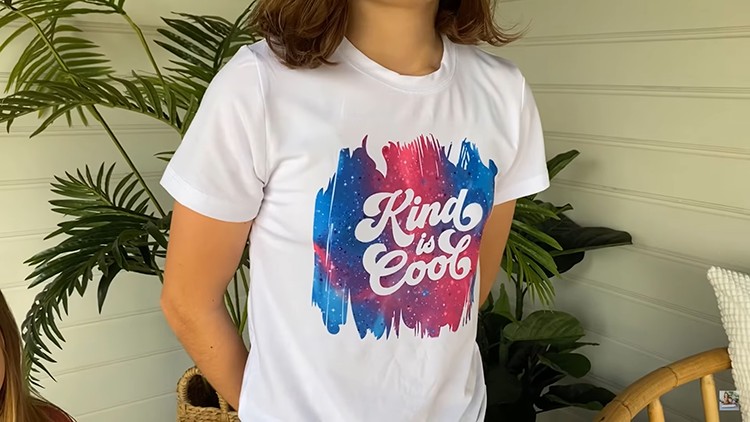 You can use Cricut Infusible Ink sheets on a variety of items like:
T-shirts
Mugs
Cosmetic bags
Totes
Coasters
The great advantage to using Cricut Infusible Ink sheets over Cricut Iron-On Vinyl is that it becomes one with the material.
This means that the ink design infuses into the item and ensures you have no peeling or cracking that is often encountered when using Iron-On vinyl for projects.
Cricut Infusible Ink transfer sheets are available in solid and patterned sheets. You can also get great deals by purchasing this awesome material in a Cricut Infusible Ink Bundle deal!
They feel more like thick paper than regular iron-on or adhesive vinyl and once you have cut your design with your Cricut machine you have to "crack" the sheet to enable you to weed the design.
>>> Read our Ultimate Beginners Guide to Cricut Infusible Ink to learn more!
---
Conclusion
These are all the different types of vinyl that you can purchase for your Cricut cutting machine.
There are so many different choices of vinyl available which can be overwhelming. So I hoped that our blog post has helped you to figure out which types to purchase.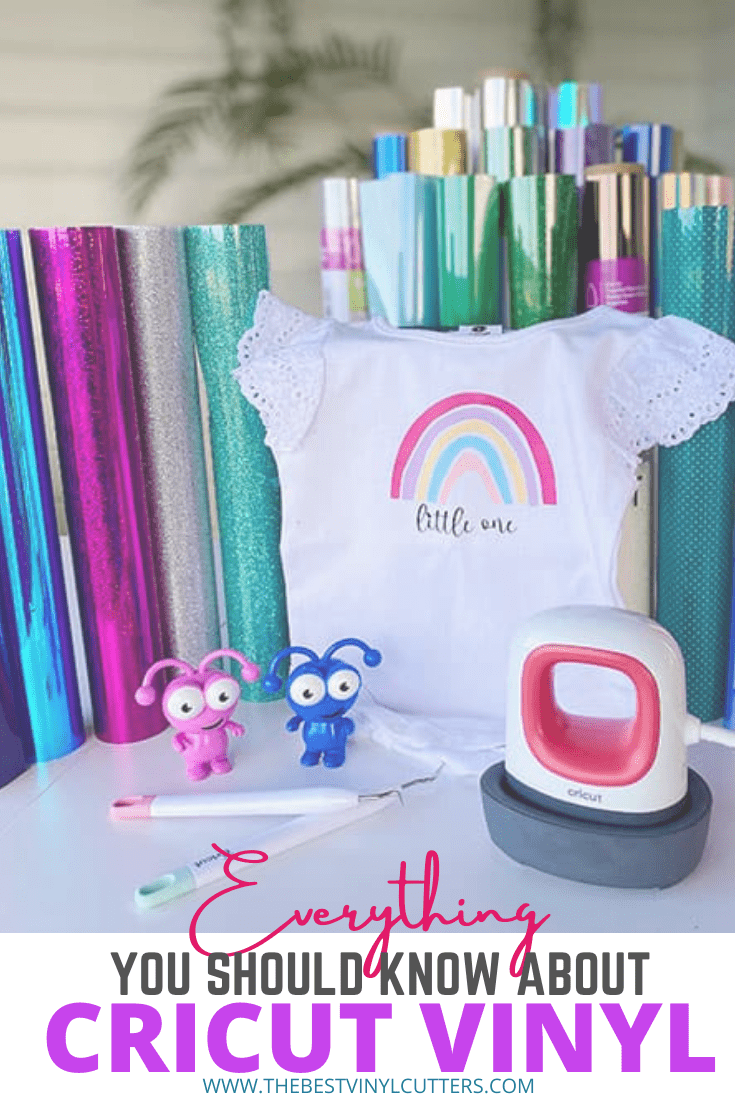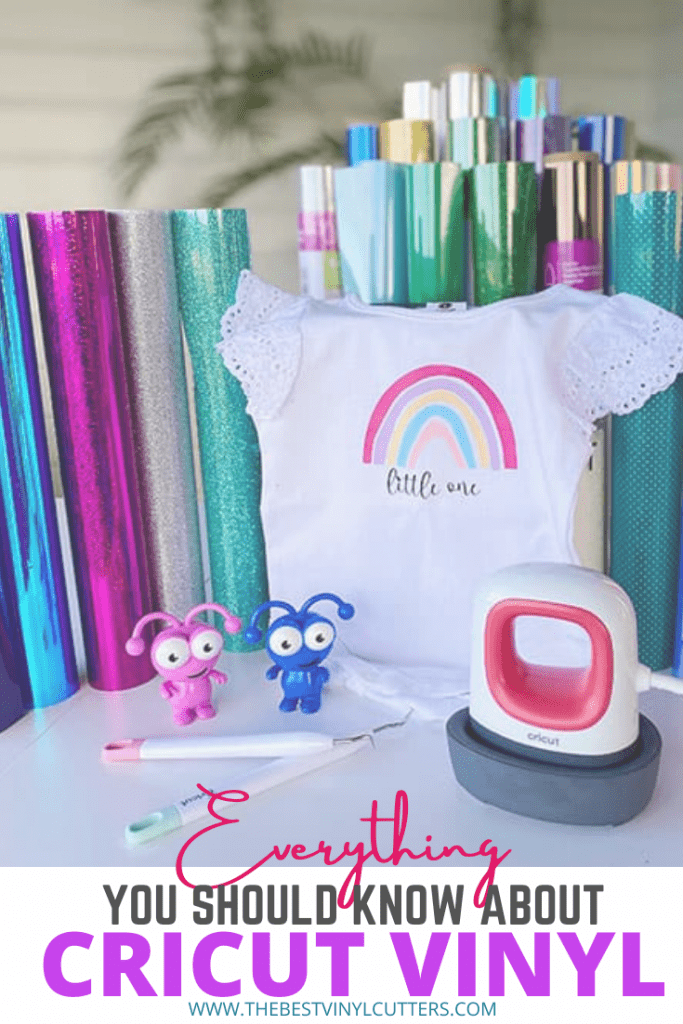 Not sure where to buy your vinyl? Here is our blog post outlining where to buy Cricut Vinyl.
Or maybe you want to learn more about all the different types of vinyl? Read our blog to get all the information you need.
What kind of vinyl person are you? I love working with Iron-On vinyl but let me know which one you love!
Still, feeling unsure about which material to pick for your next project? Here is a great blog post by Cricut to help you out.