Each one of these adorable Cricut Christmas ideas is the perfect way to add some extra holiday spirit to your home this year!
Either with homemade decor, ornaments, or even a few gifts, everyone will love these Christmas Cricut ideas and will be asking where you got them from!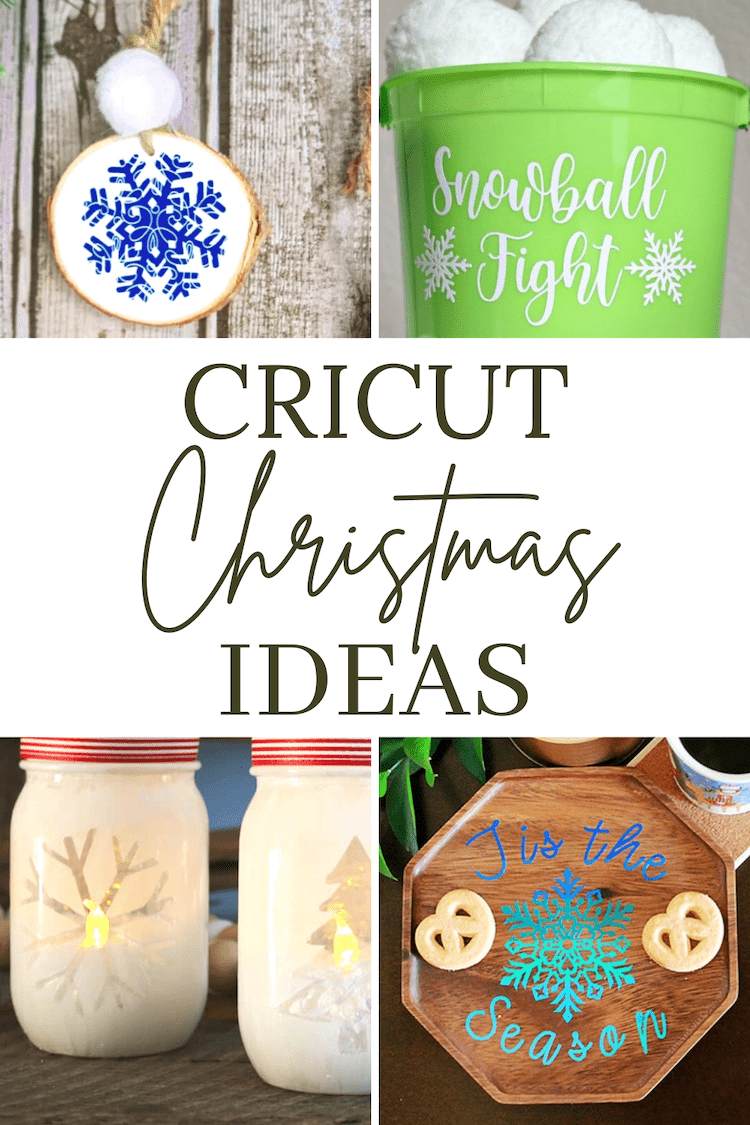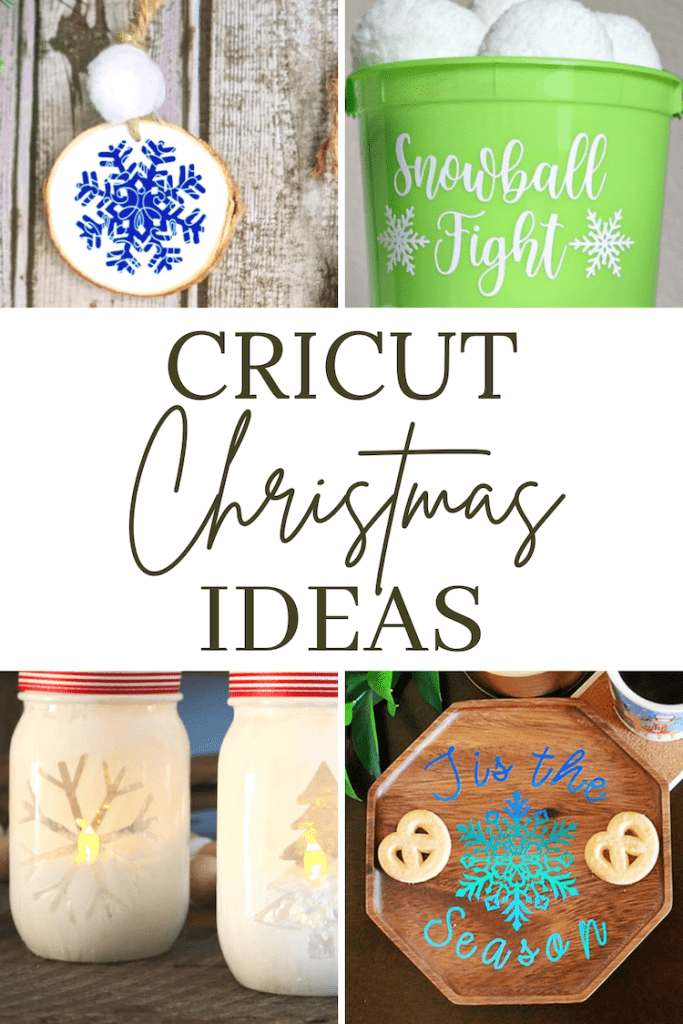 In addition, you will save so much time and money by making these fun DIY Cricut Holiday projects yourself at home instead of overpaying just to wait in long lines all day!
20 DIY Cricut Christmas Ideas
We wanted to share some beautiful inspirational Cricut Christmas craft ideas with you to show you what you can make this festive season with your Cricut Cutter.
Here is our list of 20 gorgeous Cricut Christmas craft ideas to make your home festive or for gifts for family and friends.
All of the Cricut projects for Christmas are made using a Cricut machine. So grab your Cricut Maker 3, Cricut Explore 3, or Cricut Joy and let's get crafting.
1. DIY Personalized Cricut Serving Tray with Vinyl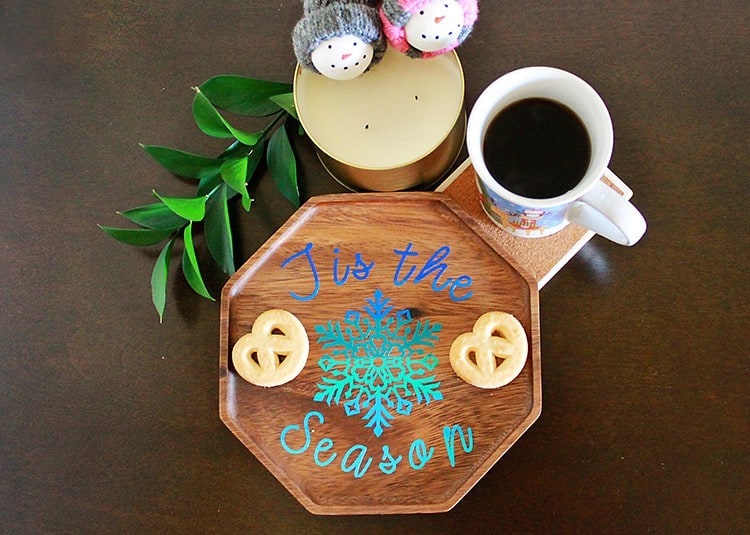 First up on our list of Cricut Christmas crafts is this adorable personalized serving tray. It makes for the perfect way to add a little extra Christmas spirit to your home this season or even a thoughtful last-minute gift for someone special!
Learn how to make your own personalized Cricut serving tray here.
See More:
2. DIY Etched Casserole Dish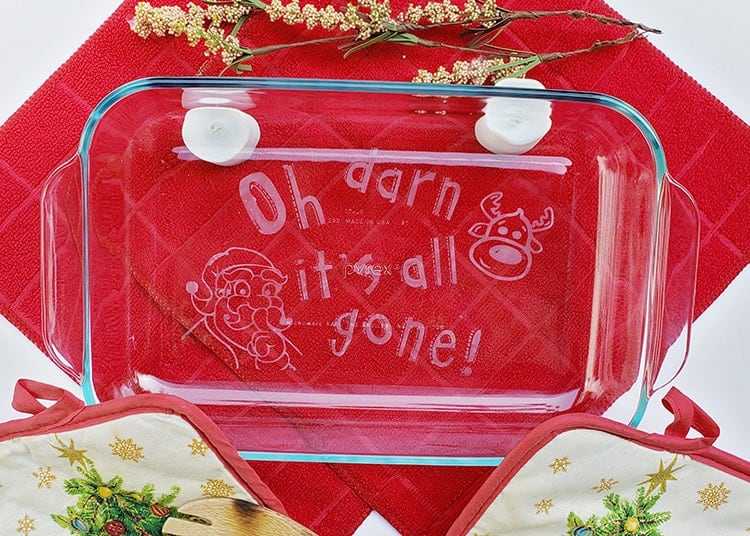 This etched casserole dish is a festive way to serve your Christmas dinner or put on display in your kitchen or dining room!
Use this tutorial to make one an etched pyrex dish for yourself.
3. DIY Cricut Wooden Serving Tray for Hot Cocoa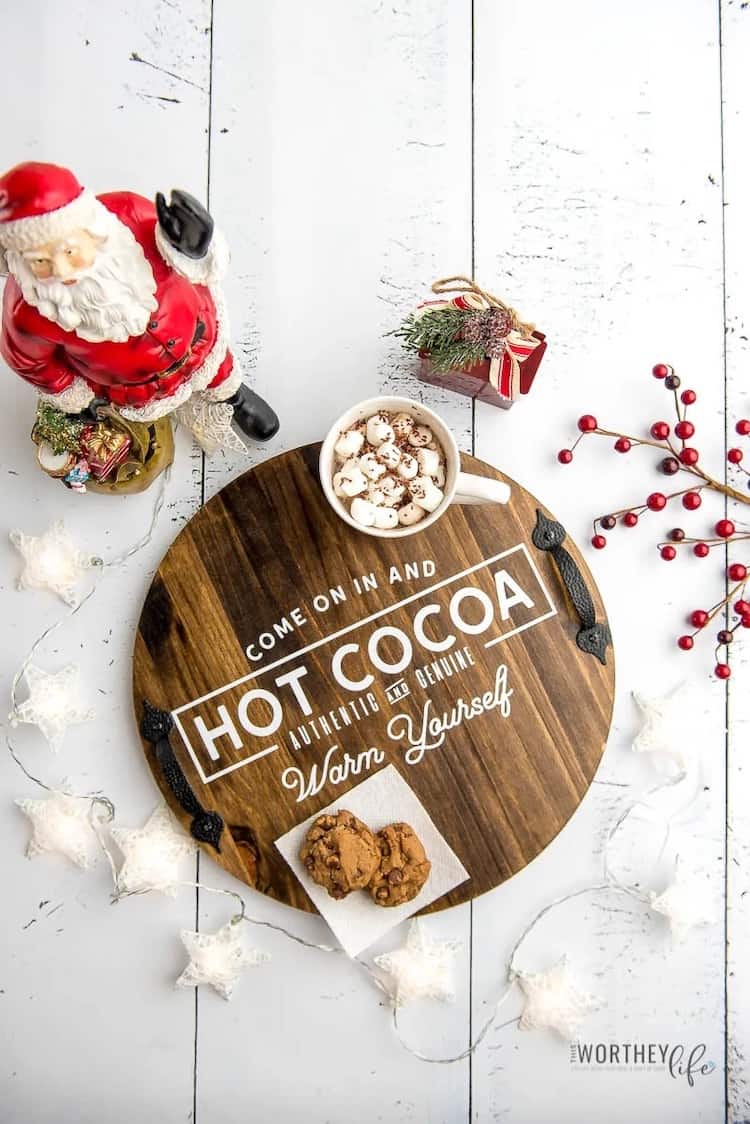 This simple but beautiful DIY Wooden Serving Tray is a perfect way to use your Cricut for adding a special message to your new cocoa serving tray.
Find all the info that you will need about how to recreate this serving tray here.

4. Cricut Snowflake Ornaments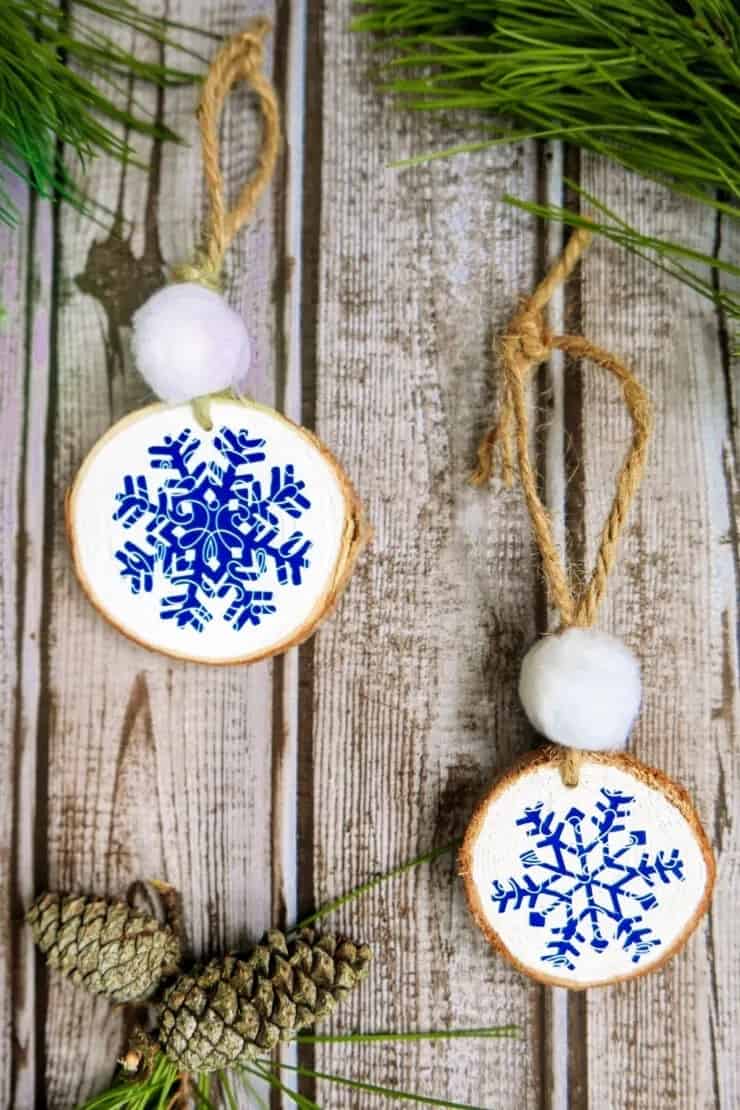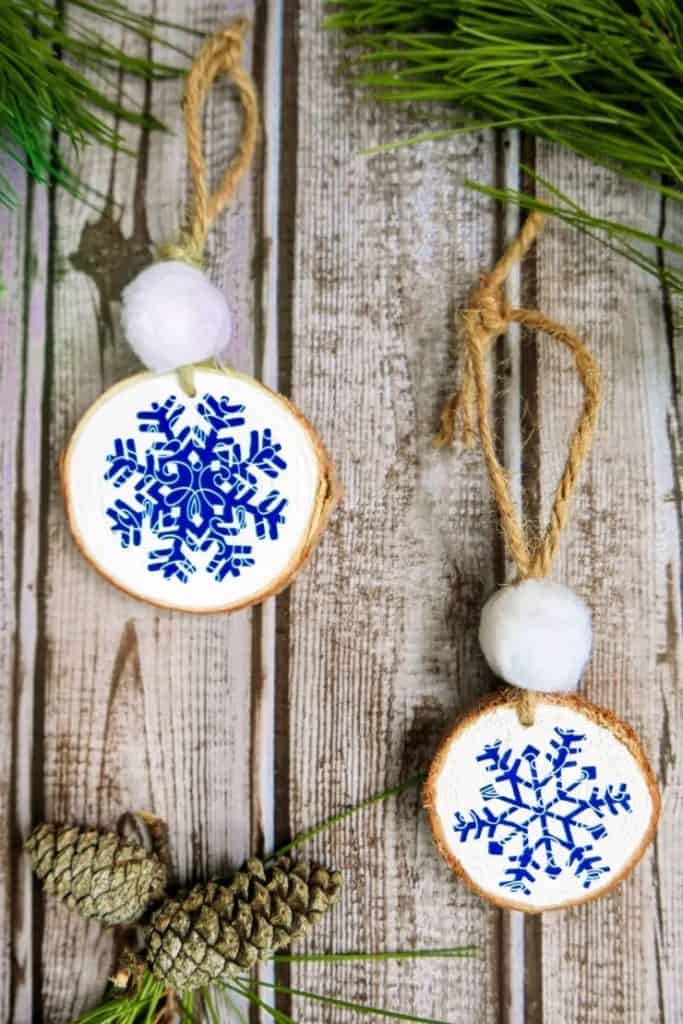 These Cricut Snowflake Ornaments are easy to make and will give your Christmas tree a Nordic inspired rustic look!
Grab all the info about how to make these ornaments here.
5. Christmas Votive Holders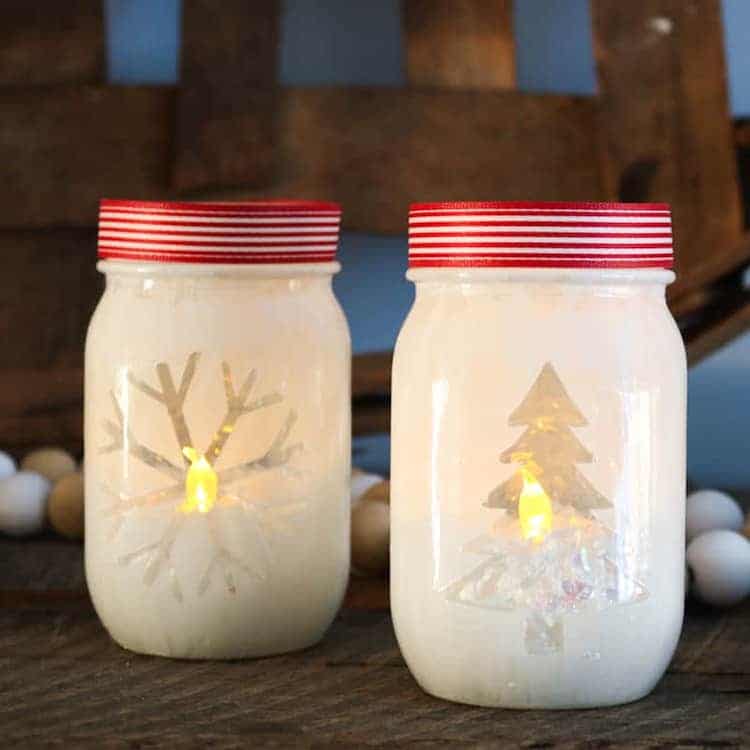 Make decorative votive holders with any Christmas shape you want and add some battery operated candles to add some cozy and warm light to your holiday decor.
Create your own votive holders by following the instructions on the Crafts by Amanda blog.
6. DIY Snowflake Decor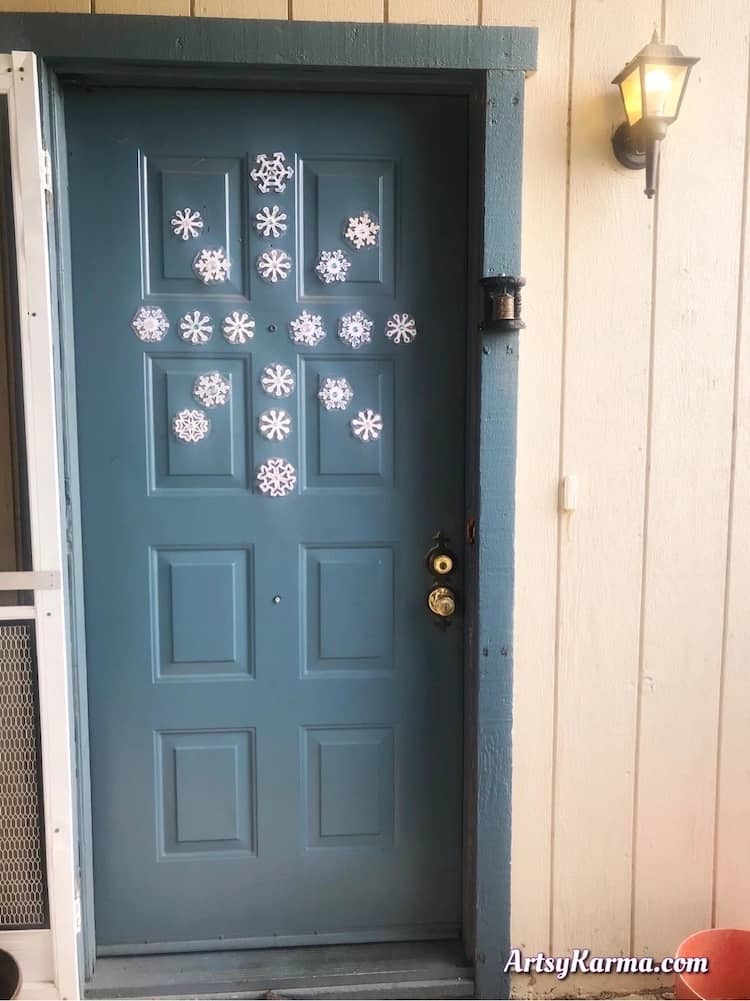 These snowflake magnets are so easy and fun to decorate for Christmas plus you can leave them up after the holiday season for winter decor!
Find the full tutorial for this snowflake decor on the Artsy Karma blog.

7. DIY Vinyl Christmas Ornaments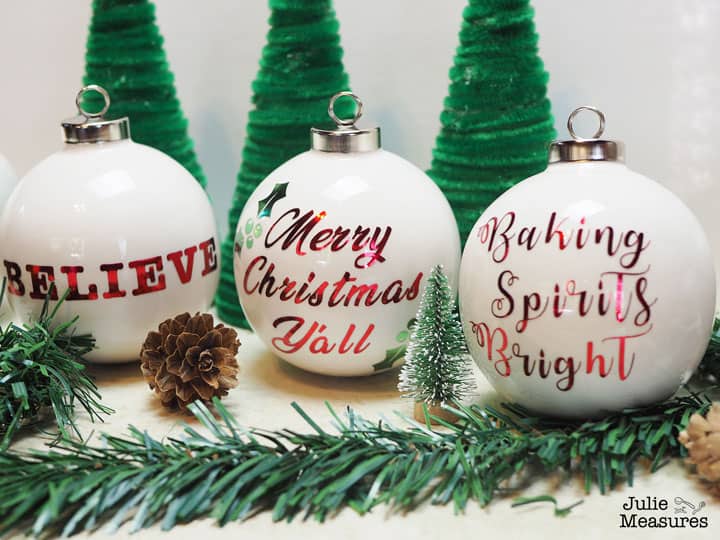 With just a few supplies, beautiful DIY ceramic Christmas ornaments are easier than you think!
Click here to find the instructions on the Julie Measures blog.
Note: If you love making ornaments, you will love our blog post about the most beautiful Christmas Cricut Ornaments here.
8. Make a Gift Bag for Christmas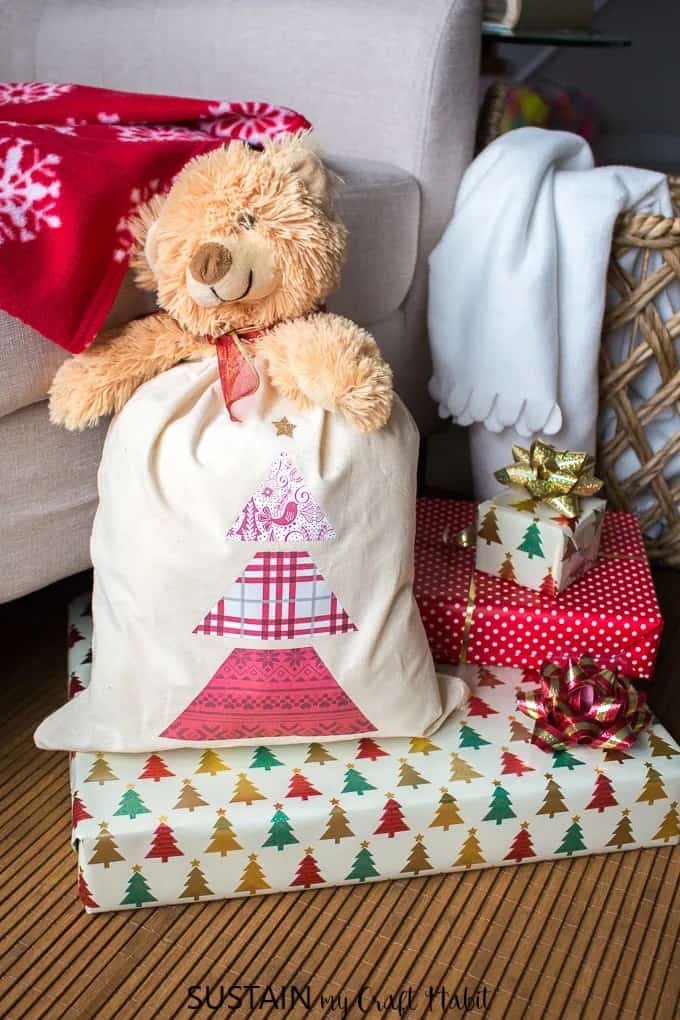 Make this beautiful, reusable Christmas gift bag using blank canvas and your Cricut machine.
Find all the info that you will need about how to recreate this gift bag here.
Tip: Wondering what to make for gifts? Find our post full of Cricut Christmas gift ideas here.
9. DIY Indoor Snowball Fight Buckets for Kids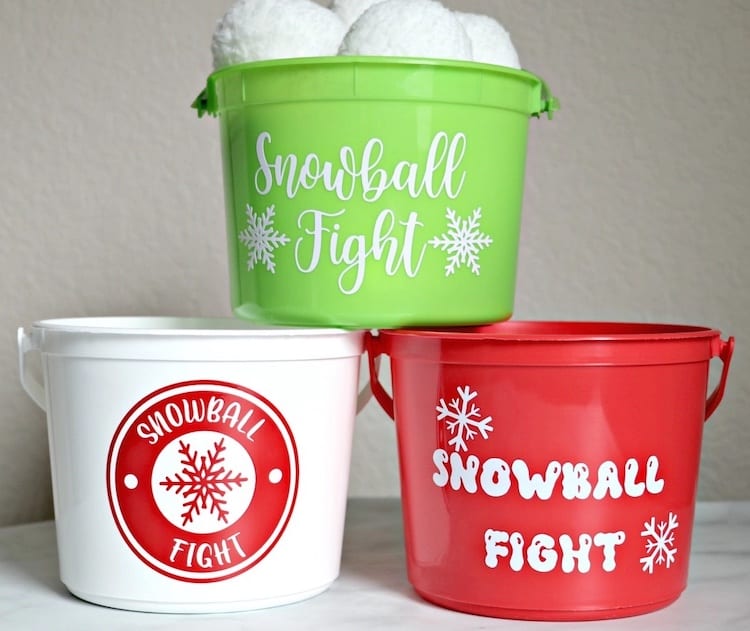 Looking for some super fun Christmas Cricut projects that are also easy to whip up?
Bring the snowball fights indoors with these snowball fight buckets filled with reusable snowballs!
Create your own snowball fight buckets here.
10. Santa Cookies Tray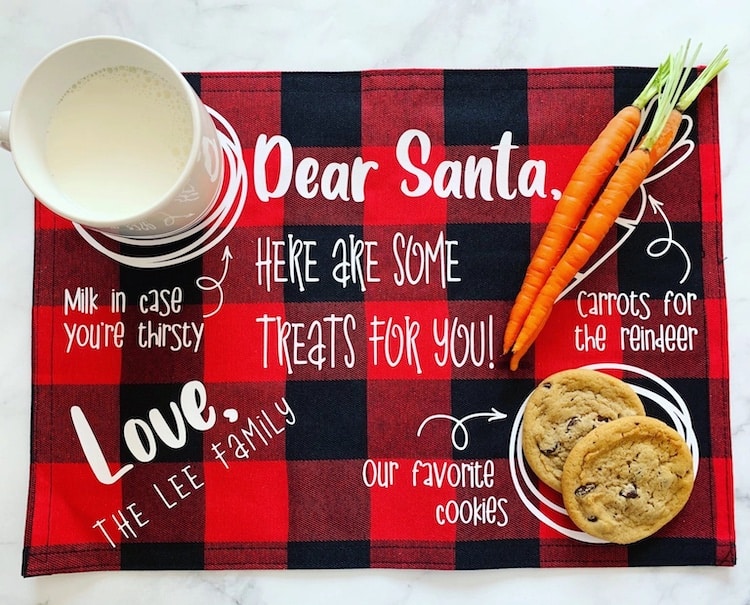 Leave cookies and milk out for Santa with this Santa Cookies Mat. Included is a free SVG file that can be personalized.
Find the full tutorial on The Denver Housewife.
11. Reindeer Stocking Holder DIY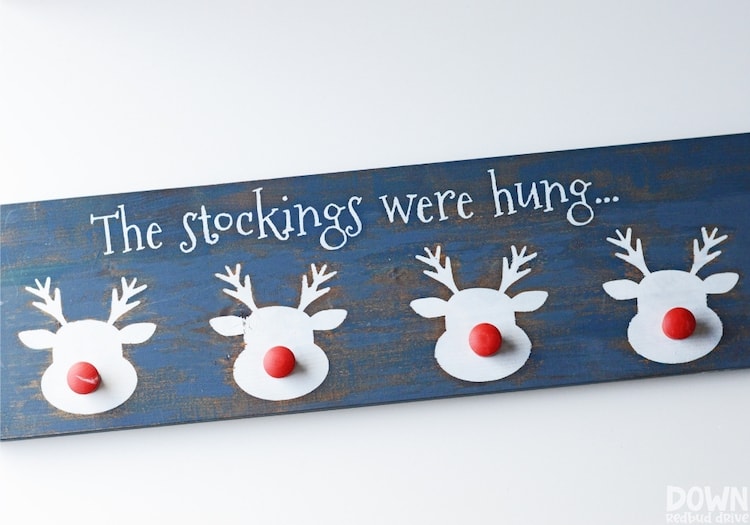 Make this adorable Reindeer Stocking Holder DIY with just a few materials and a free SVG file! It's the perfect way to hang stockings this year whether you have a fireplace or not!
Find the step-by-step tutorial on how to create this stocking holder here.
12. Pickle Jar Christmas Terrarium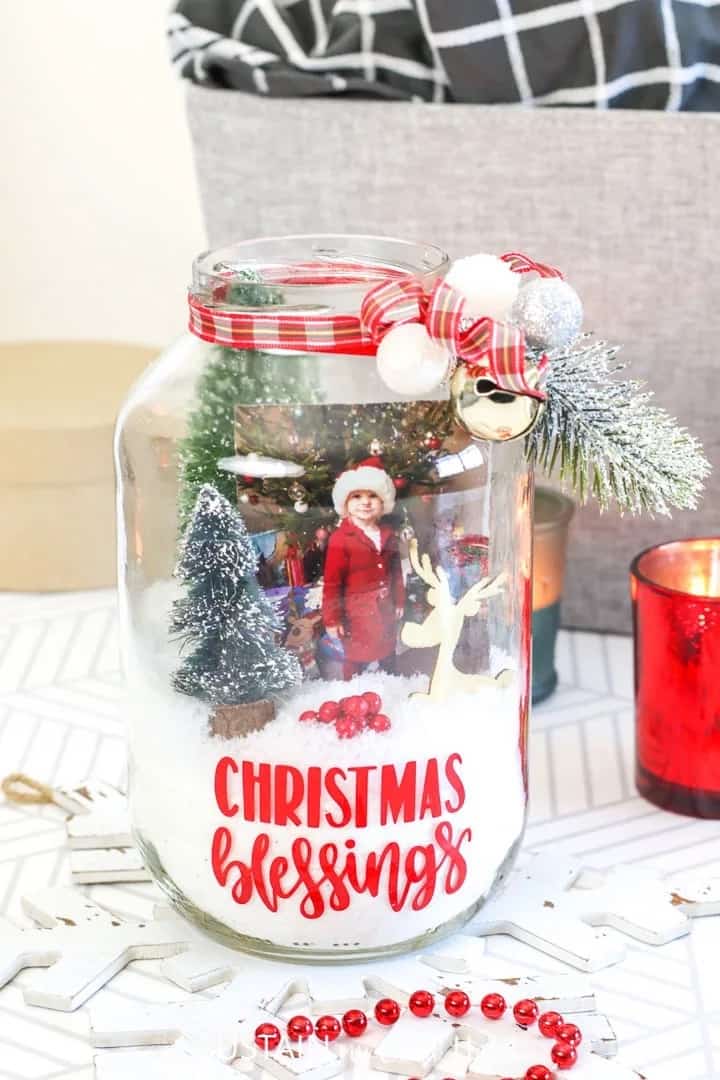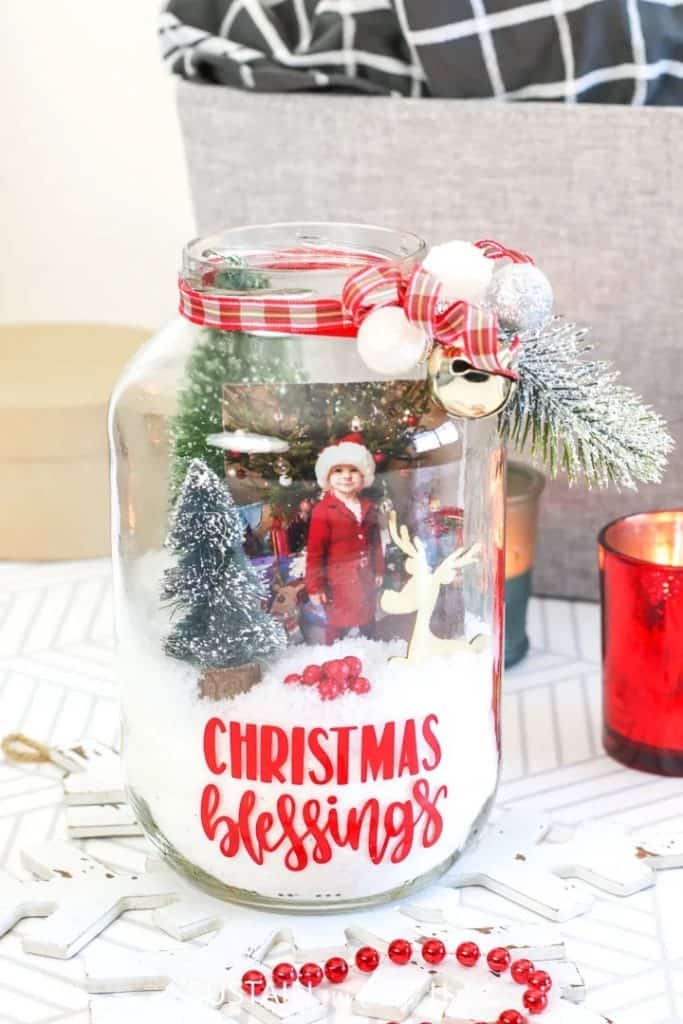 This Pickle Jar Christmas Terrarium is so adorable and easy to make, either to add to your own Christmas decor collection or to gift to someone special!
Find the full tutorial on Sustain My Craft Habit.
13. DIY Paper House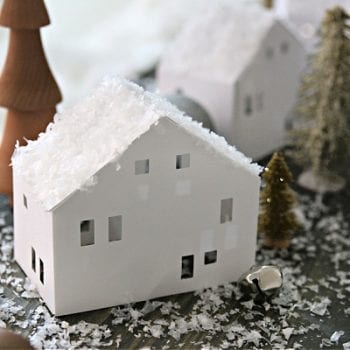 Save a ton of money this year by making your own paper houses for decor instead of buying the overpriced plastic ones at the store!
Follow the instructions here to make your own.
14. DIY Holiday Pillows with Cricut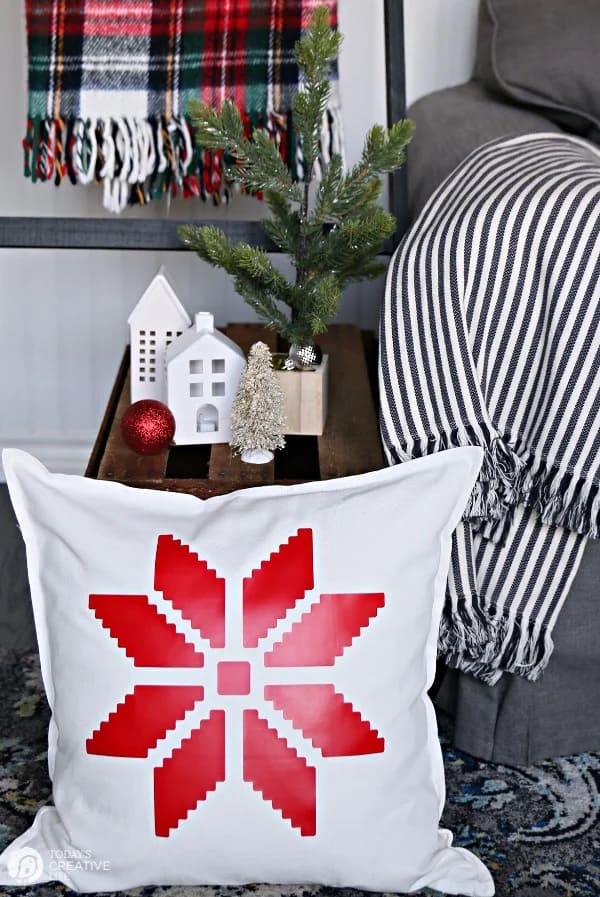 Wonder which Christmas Cricut crafts you can make and also sell on Etsy? These pillows are great for either your own home or to sell and make some money.
Find out how to create your own holiday pillows here.
15. Family Christmas Pajamas With Cricut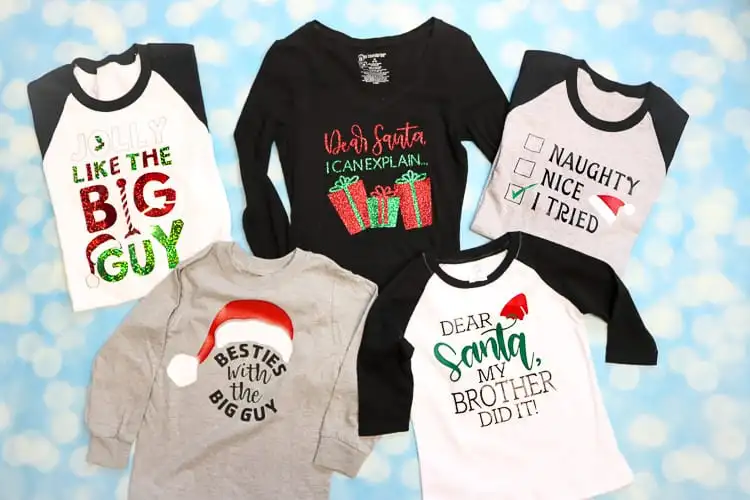 Matching family Christmas pajamas is an adorable and classic holiday tradition! Make your own this year to add a special and homemade feel that everyone will appreciate!
Click here to find the instructions to create matching Christmas pajamas for your family.
16. Cricut Christmas Village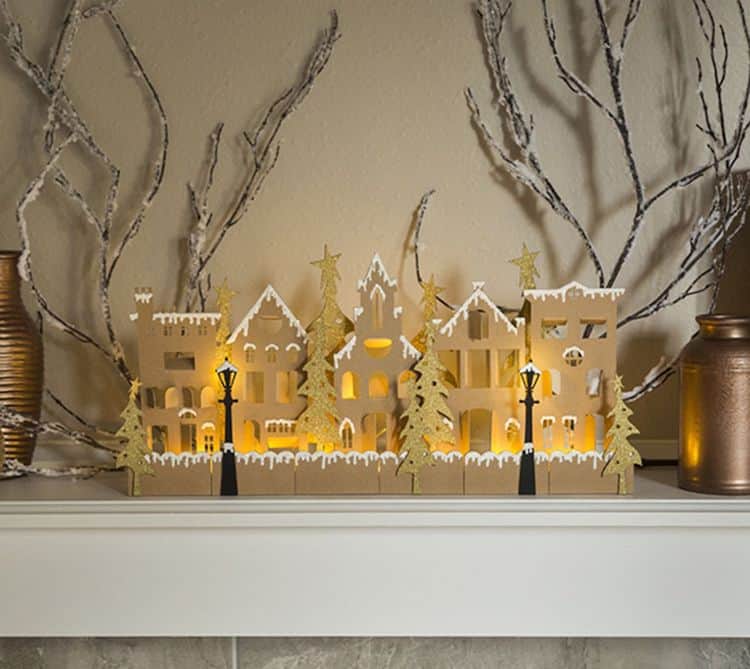 Creating your own Christmas Village for the mantel is so quick and easy with your Cricut and we just love this simple yet elegant design and project that you can find in Cricut Design Space.
Click here to see what you need and the steps on how to make this great Christmas craft decoration.
17. Merry Christmas Cricut Foil Card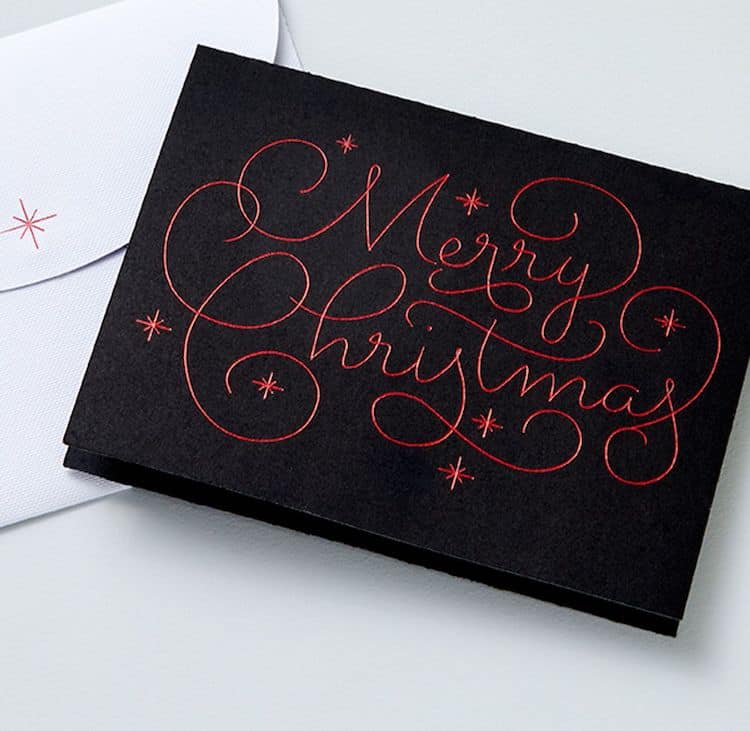 We just love the foil writing on this Cricut Christmas card. I love creating cards with my Cricut cutter and using the foil transfer tool is such a great way to add that extra something to make your card extra special.
You can see exactly how to create the Christmas foil card by clicking this link to Cricut Design Space.
18. Merry Christmas Exploding Box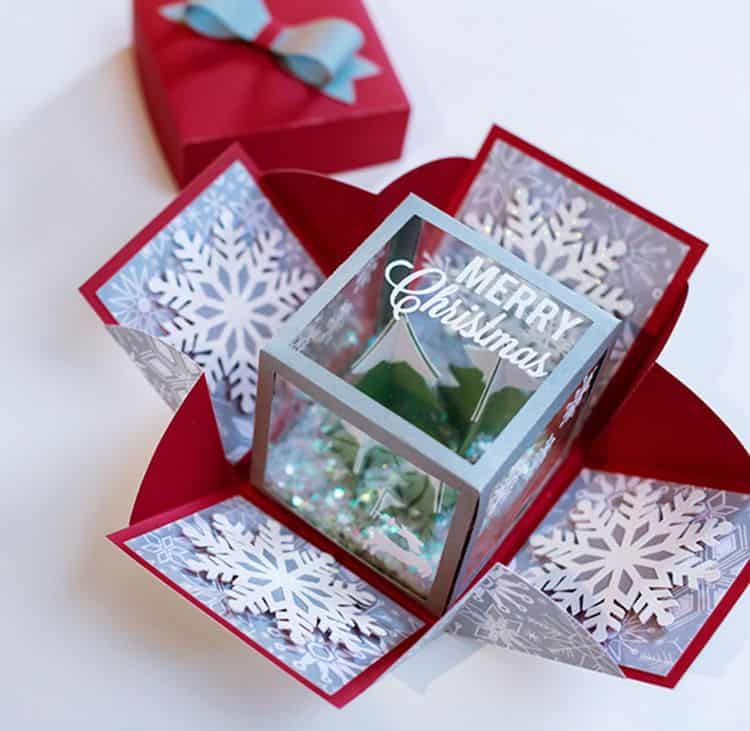 Want to find some Cricut ideas for Christmas that are a bit more unique? These exploding boxes will definitely impress!
Family and friends will simply be wowed when they receive this unique and completely unexpected way of wishing them a Merry Christmas. Head over to Cricut Design Space to see just how to make your own Christmas Exploding Box!
19. Rustic Christmas Door Plaque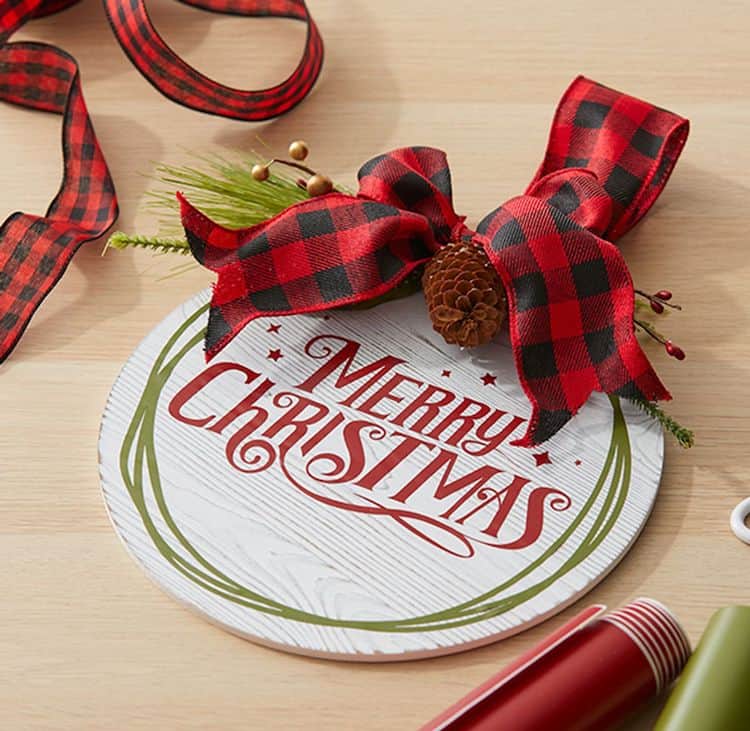 Seasonal door plaques and signs are all the rage! I love that you can always make a fresh new door plaque for every season or event.
If you want to make your own rustic Christmas Door sign this year, check out this project we found on Cricut Design Space.
20. Personalized Santa Sack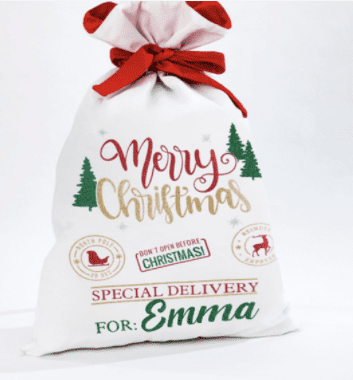 A personalized Santa sack is such a great gift that any child would love. This is also a great idea of a Cricut Christmas craft that you could sell on Etsy!
If you want to make your own Santa Sack head over to Cricut Design Space to see just how to make this Cricut Christmas craft.
I hope that you found the list of Cricut Christmas projects inspirational and that you have found Cricut Christmas craft ideas that you can use to decorate the house or use as gifts for loved ones.
Let me know what you love creating for the festive season and what Cricut Christmas projects you made.