The new Silhouette machine, the Cameo 4 was released in September 2019!
There were years between the release of the Cameo 3 (released August 2016) and the Cameo 4, which may be a much better indicator than it seems at first.
You see, manufacturers of top-quality products don't come up with something new every year like mass-market electronic companies.
They take their time to perfect any new updates. And that's why Silhouette always makes sure that their new models clearly outclass their predecessors.
It doesn't matter how long it takes if you can come up with something that people have to have.
Years of research and development might have just paid off in spades. The Cameo 4 might just be the first Silhouette vinyl cutting machine that blasts past its predecessor by a landslide.
Here are the important highlights of the Cameo 4 in a direct comparison with the Cameo 3. See if you can resist upgrading.
Comparison Table of Cameo 3 vs Cameo 4 Main Features
| | |
| --- | --- |
| Cameo 3 Main Features | Cameo 4 Main Features |
| 12"x10' Cut size | 12"x10' Cut size |
| Bluetooth | Bluetooth |
| AutoBlade | AutoBlade |
| Built-in scanner | Built-in scanner |
| Precise cutting | Precise cutting |
| 221 Grams cutting pressure | 5,000 Grams cutting pressure |
| – | Single tap AutoBlade |
| – | Tool detection |
| – | Touch panel |
| – | Dual-motor system |
---
Cameo 4 Ease of Use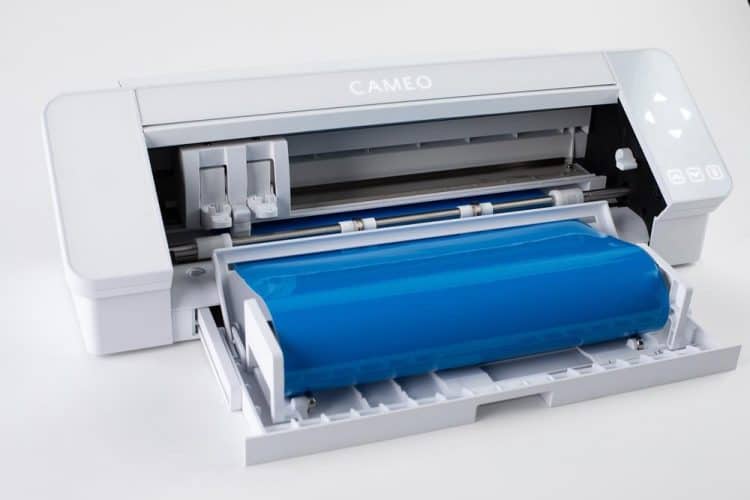 With the addition of the touch panel, the Cameo 4 should have an even smoother learning curve than its predecessor. One thing that makes it considerably easier to use is the Single Tap AutoBlade function which automatically adjusts the blade to the material without having to go through different menus and make multiple manual adjustments.
Another interesting thing to see is the automatic tool detection. Since the Cameo 4 comes with extra tools, it's nice to know that the machine recognizes newly inserted tools and switches to the appropriate default settings.
Of course, ease of use is more than just one-touch operations. With more features, new functions, and a wider range of compatible materials, the Cameo 4 does also pose some difficulties to overcome. There's a lot of new stuff to learn, more menus and more parameters to get accustomed to.
First-time users might rate the Cameo 3 and Cameo 4 machines equal in terms of how easy they are to learn. But those who are accustomed to the Cameo 3 will definitely appreciate the operational improvements and give the edge to the Cameo 4.
---
Cameo 4 Notable Improvements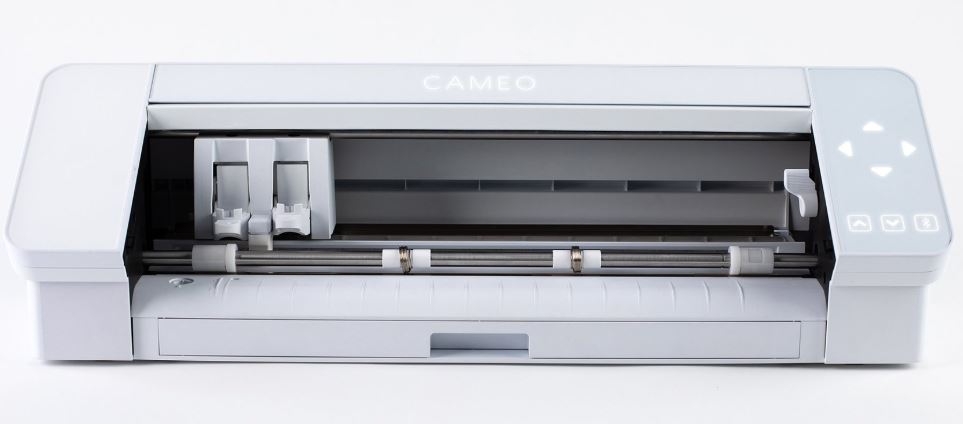 What probably jumps out at first when looking at the Cameo 4 is the impressive downward force and remarkable speed. As most DIYers know, the main complaint about the otherwise highly capable Cameo 3 has been the downward force.
Force
221 grams in the case of the Cameo 3. In contrast, the new and improved Cameo 4 delivers 5,000 grams of downward force which results in roughly three times the cutting speed of the Cameo 3.
It'd become a lot easier to scale up production and work with thicker materials. Leather, craft foam, matboard – these are materials that are beyond the capability of the old Cameo 3 vinyl cutting machine.
Speed
There are two types of speed that are important in any vinyl cutting machine: regular speed (measured when cutting in a straight line) and acceleration speed (measured on cuts that involve changing the blade's direction).
As you might imagine, the much higher cutting force of the Cameo 4 makes it three times faster in regular speed and at least twice as fast in acceleration speed.
New tools
Seeing as the Cameo 4 is Silhouette's most powerful DIY vinyl cutting machine, it's not a surprise to see the introduction of new tools at the same time.
The new rotary blade, dubbed the single tap AutoBlade, and the craft blade are tools which work perfectly with the new and improved precision cutting technology and extra power.
It's also worth noting that the old Cameo tools will not work without an adapter. You can buy that separately or get new tools for the Cameo 4.
Bluetooth and Other Considerations
If you really want to get down to the finer details, here are some other things that might interest you. The Bluetooth range has been extended. The roll feeder is built-in unlike the attachment feature on the Cameo 3.
The rollers are adjustable and the cover is retractable, making it easier to go from project to project. Even the clearance is 1mm higher, which is something noticeable with certain materials.
---
Can the Cameo 3 Hold a Candle?

There are two things that may make some of you avoid rushing into upgrading your Cameo 3: price (which will be discussed later) and footprint.
The Cameo 3 does a good job and on top of that, it has a relatively small footprint while maintaining the same maximum cutting size as the Cameo 4. If you're limited on space and you have no need or desire to tackle more difficult materials, it might not make too much sense to switch to the new Cameo.
But, if you're just starting out, you might not have a choice. It doesn't look like Silhouette will keep the Cameo 3 in production. So, obviously this would all be a moot point.
---
Price Wars and the Definitive Answer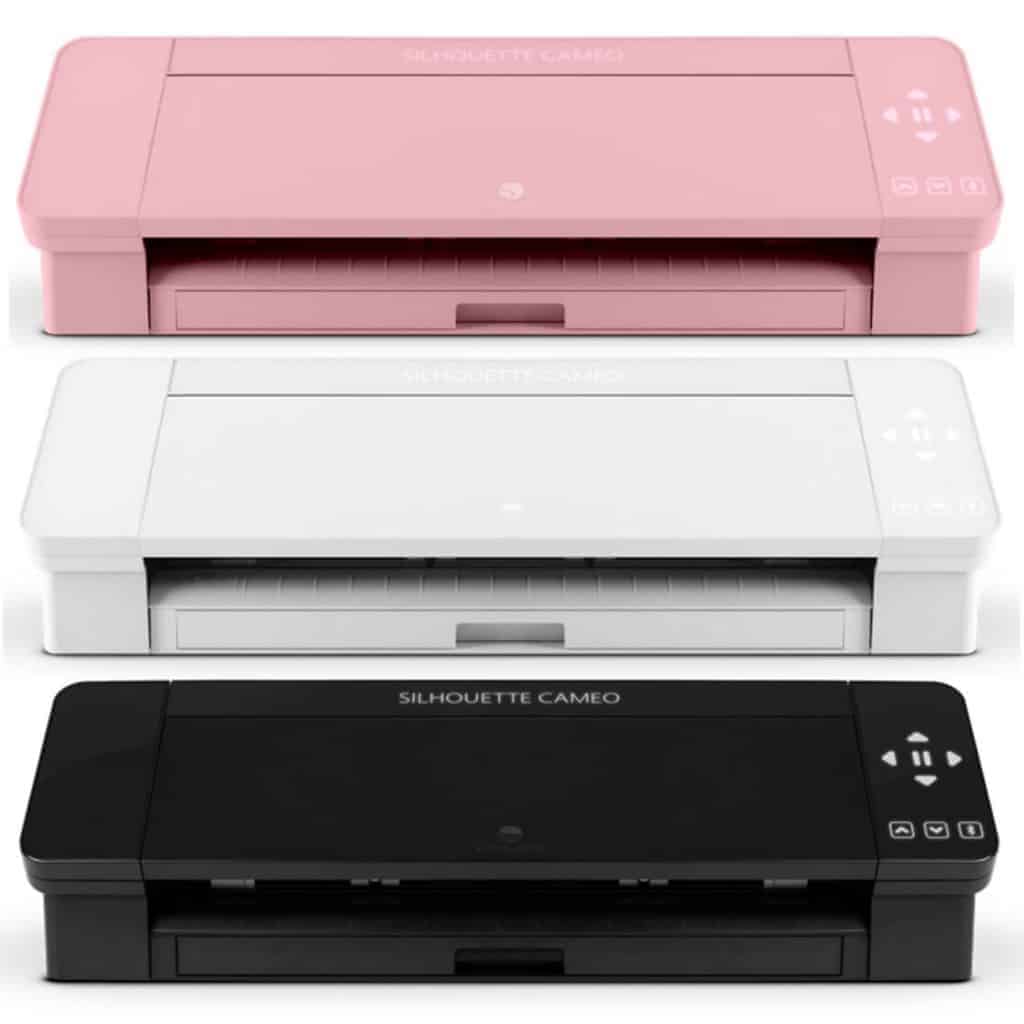 While some might argue that the Cameo 4 may not be worth all the hype due to its higher recommended retail price, others welcome the highly anticipated crafting powerhouse. It's true that if you're on a budget, the Cameo 3 can serve you well enough.
However, after it's all said and done, the difference in pricing between these two vinyl cutting machines may not be too scary. It has yet to be set but it's expected to be about the same as its main competitor, the Cricut Maker. Or maybe slightly higher.
The multitude of features and performance improvements of the Cameo 4 makes it worth the price difference.
Not only does the Cameo 4 outshine its predecessor in every department (except size and desk space) but also most of the competition. With that in mind, it's best to just consider whether or not you're willing to evolve your craft and get a machine that's better equipped to handle future workloads.
Don't forget to check out these popular Cameo Silhouette 4 bundle deals whilst you are busy doing research.
Click Here to Grab the Brand new Cameo 4
Further Reading: