Wondering what the best scrapbooking supplies are that are worth investing in to set yourself up with your craft hobby?
There are so many scrapbooking tools, supplies, and products on the market that it can be truly overwhelming if you are only getting started.
And let's be honest, some of these tools and supplies cost a lot of money.
So we wanted to create a scrapbook supplies list for both the essential items as well as those that are handy-to-have to help you get started.
But before I hop into the detailed post about why you need each item, here is an easy-to-scan scrapbook materials list.
Scrapbooking Essentials:
Handy-to-Have Scrapbooking Accessories:
An Album
Refill Pages
Cardstock
Patterned Paper
Sharp, Fine-Tipped Scissors
Paper Trimmer
Liquid Adhesive
Adhesive Tape
3d Tape
Embellishments

Craft Cutting Machines
Paper Punches
Photo Printer
Cutting Mat
Xacto Knife
Acid-Free Journaling Pens
Essential
Scrapbooking Supplies List + Why You Need It!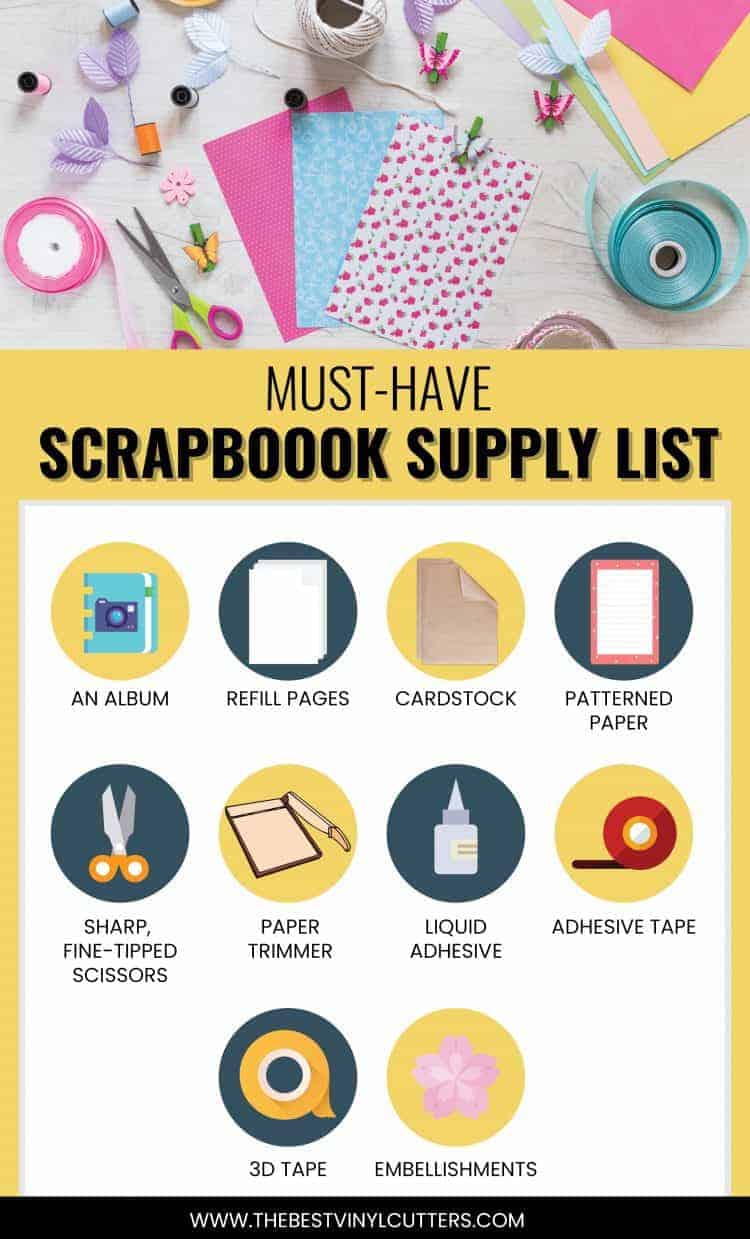 So what do you need for scrapbooking? Find below our scrapbooking supplies list together with a bit more information and explanation as to why you need each of the items listed above.
We will also share our recommendations for the best products to purchase for your scrapbooking needs.
1. An Album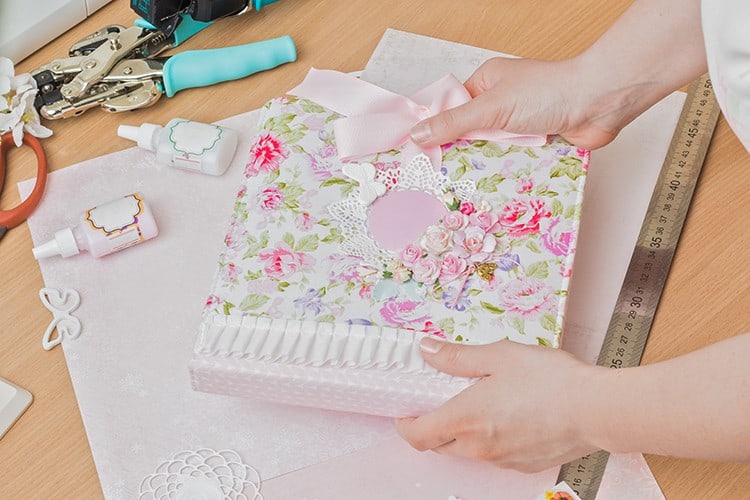 Once you get addicted to scrapbooking it will take you no time at all to fill every free spot in your home with a new album.
I have about 40 albums in my home (EEEP!) and the tips and advice I can share with you are to plan ahead.
I find that my shelves look so much better when I use the same brand album and stick to a color theme.
I use a different colored album for each of my kids and yet another color for my family albums. They are all the same brand and they look great together on a shelf.
Another tip is to make sure that you stay clear from the post-bound albums. It is way too hard to switch around pages in those albums.
I also found that they are too 'stiff' for bulky pages – and they don't hold nearly as many pages as a D-ring (or three-ring) album.
One last tip (yes I'm full of tips – years of experience), is to make sure that the refill pages of the album you want to purchase actually fits 12×12″ layouts (we want them to be roomy to fit bulky layouts).
Too often have I had to trim down a completed layout in order to make it fit into tight refills.
These albums are my favorites because it is easy to insert new page protectors and to switch around pages. You can also easily fit bulky pages.
Here are some of my absolute favorite albums:
2. Refill Page Protectors
Page protectors are important to keep your pages as protected as can be. Don't go cheap here as you want good-quality refills that are acid-free.
I also prefer refills that have their opening of the pocket to the top rather than on the side.
If you are purchasing a post-bound album, you will get an album that typically has around 10-page protectors inside it.
I recommend you purchase another 10 and add these to your post-bound album (even if you don't have 20 completed pages yet).
If you are buying the D-ring/3-ring albums, you will need to purchase refills separately. Fortunately, you can easily purchase some "universal" page protectors that can fit well for various brands.
Click here to see pricing for some of our favorite page protector brands.
3. Cardstock
Cardstock will form the base of almost everything in scrapbooking and honestly, you can't go without it.
Cardstock is thicker and heavier than patterned paper, so a lot of scrapbookers like using it for the base of their layouts. You can also use it to matt your photos.
If you are getting started I highly recommend you invest in some cardstock starter packs. That way you will have a large range of colors to get you started whilst mixing and matching papers and elements with your photos.
I absolutely adore Bazzill Basics cardstocks. I'm a big fan of the colors, weight, and texture of their cardstock.
4. Patterned Paper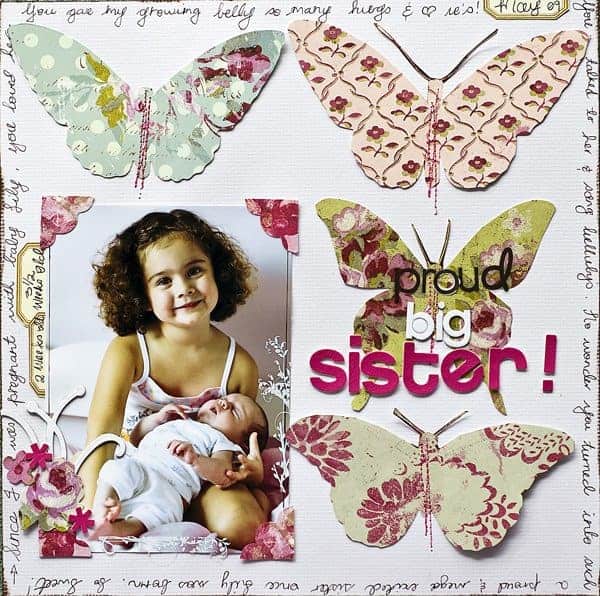 It is super important that the paper you purchase should be acid and lignin-free. So whilst patterned paper can add up in cost quickly, I highly recommend you stick to purchasing proper scrapbook paper. This paper has been designed to keep your photos from yellowing.
Patterned paper is great for layering. I also use patterned paper off-cuts to make my own embellishments as well.
5. Sharp, Fine-Tipped Scissors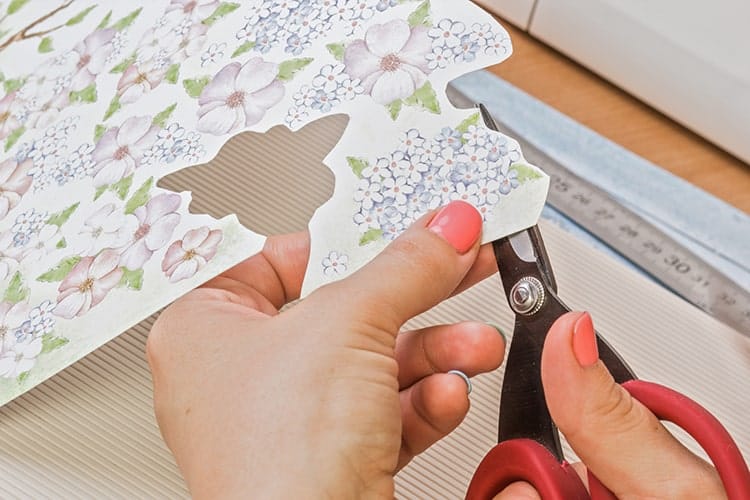 You can't go without a pair of sharp high-quality scissors. Trust me, it is worthwhile to invest in a quality pair! I also prefer fine-tipped scissors so that I can cut out those intricate details when making my own embellishments.
Again, we recommend purchasing scissors from scrapbook brands. These specialist scissors are the best because they have been specifically designed for scrapbookers.
Here's a few of the best available:
6. Paper Trimmer
I can't go without my paper trimmer! It is one of the best investments.
A good trimmer will let you slice up quick, accurate cuts to your papers. Look for one that has a see-through ruler and take the time to see how much the replacement blades will be.
Some trimmers also come with self-sharpening blades and others include additional blade options such as for scoring or for cutting patterned edges.
My favorite brand for trimmers is Fiskars. They have a range of trimmers to suit different budgets but this trimmer is my favorite: 12″ Premium Cut-Line Portable Trimmer – Blade Style I.
You can also browse our suggestions for the best paper trimmer in our guide here.
7. Adhesives
You can't go without adhesive and you will also need a few different types of adhesives to set you up properly.
You want a good quality permanent glue that will keep things stuck down for years to come! We prefer having the following types of adhesives on hand:
Some favorites include 3L Scrapbook Adhesives, Tombow, and Glue Dots.
—
8. Embellishments
Embellishments are fun! Embellishment types include buttons, ribbons, bling, flowers, frames, photo overlays, journaling cards, tags, die cuts, stickers, and more.
Use embellishments sparingly, the aim is to use the embellishments to enhance your page. But the focus should always remain on the photo.
Handy-to-Have Scrapbooking Materials
The following scrapbook tools and materials on our list are by no means essentials, but we find them truly handy to have and we use them on a regular basis.
1. Craft Cutting Machines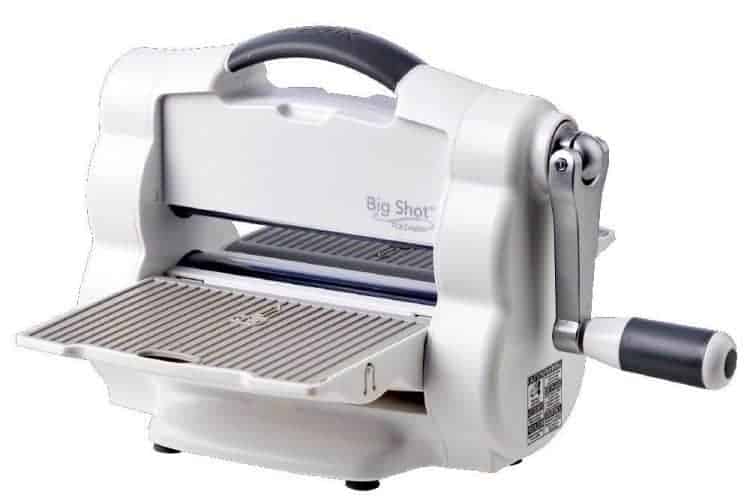 I really think that once you get to a stage where you become a serious scrapbook, you will find yourself investing in a Scrapbook Die Cutting Machine. They truly are the ultimate scrapbook tool to own.
They make life simpler, they make scrapbooking more flexible and in the long run, they save you money on pre-made embellishments as they can make your own.
The following post on our website defines what a cutting machine is.
Materials are cut similarly or closely in the way a printer prints. Ultimately while using this machine, your designs will be sent directly to the digital cutter from your computer or tablet, where your created designs are made. See full post here
If you want to get started with a cutting machine, we highly recommend you hop over to our die-cut machine comparison post.
2. Paper Punches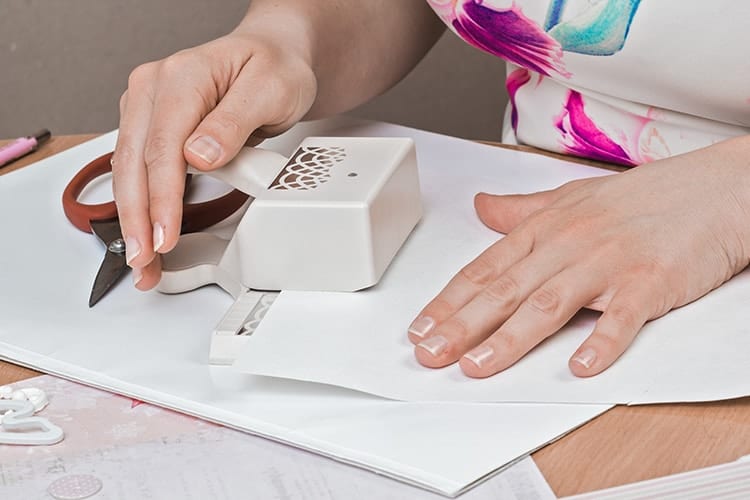 Paper punches are really handy to have on hand. It makes life easier and they are easier to pull out in comparison to a cutting machine.
We have both a cutting machine as well as a small selection of punches in our craft room.
My favorite punches are:
3. Photo Printer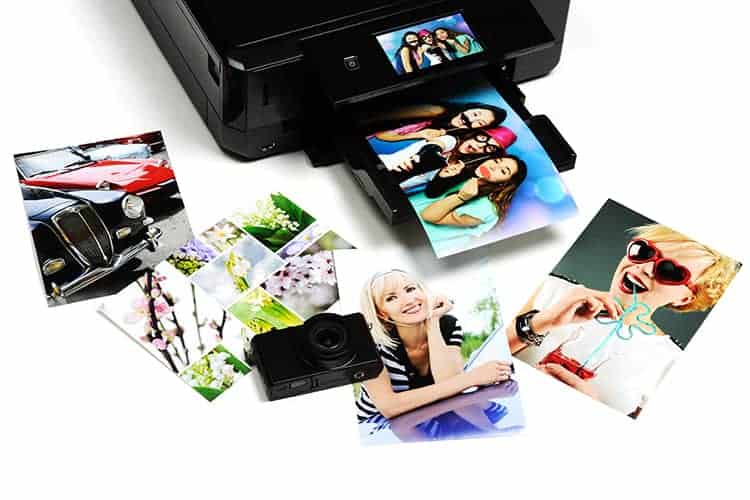 I can't be bothered ordering my photos online and waiting for them to arrive. When I'm in the mood to scrap, I want to choose an image that speaks to me and print it off to get started straight away.
Photo printers are really affordable these days.
Here are some good investments:
4. Cutting Mat
A cutting mat is a fabulous item to have on hand for when you need to protect your work surface.
I often work on the dining room table so I will use a craft mat to protect my table from glue, glitter as well as cuts made with an x-acto knife.
I love the large-sized self-healing cutting craft mats by Crafty World.
5. X-acto Knife
Craft knives are pretty cheap and they are always handy to have on hand. We will often use them to cut out areas in the middle of embellishments.
I use them to make a small hole in photos etc before adhering to a brad (as it is tricky pushing a brad through thicker items). They are cheap, so grab one and have it on hand.
6. Journaling Pens
Make sure to choose pigment ink-based pens. Bonus if they are fade-proof & water-proof.
If you wish to write on your photos you will also need to make sure that they are acid-free as well.
Working with black cardstock? You'll need special pens to make your creations pop! The best pens for black paper are those that'll stand out clearly on the page, letting your creations shine in all their glory.
My essentials are black and white, so grab those two to set you up.
Some brands to consider: ZIG and Sakura.
Conclusion
I hope that our list of scrapbooking supplies has made it easier for you to figure out what you need to get started.
It can be tricky to find all the supplies if you are on a tight budget, so keep in mind that you can start small and build up your stash over time. And you can also often find packs of cardstock and patterned papers in cheaper shops, so look out for those too.
Don't forget that you can get things like a ribbon from many cheap shops as well (it is often much cheaper to buy a roll of ribbon from a $2 shop rather than buying them by meter from a fabric or scrapbook store).
All the best in getting yourself set up for your new hobby. If you have any questions please drop them in the comments below.
After some inspiration to actually get scrapping now? Here are some posts to get you started:
Bookmark this Page on Pinterest: