So you have a new addition to the family – congratulations!
If you are one of the lucky parents, you might even have some time to whip up some sweet baby scrapbook layouts. But I bet the brain might be a bit tired and you might be struggling to come up with some scrapbook ideas for babies?
That is okay, we totally understand!
In this post, you will find 15 fabulous baby girl scrapbook page ideas to help inspire your creativity.
Our designer, Jolene, has three beautiful daughters, so whilst our post is full of baby girl scrapbook ideas, you can easily use the same principles and features for baby boy scrapbook pages (just used some boy papers and embellishments – easy!).
Your baby's first scrapbook is a truly important one, so don't rush the process, allow your time to play until you are happy with the placement of your photos and all the elements of the baby scrapbook pages.
15 Baby Girl Scrapbook Ideas
Find below 15 baby scrapbook album ideas. Again these are all easy to replicate if you are looking for baby boy scrapbook layouts – simply use boy-themed/colored patterned paper and embellishments.
1. Newborn Scrapbook Ideas: Welcome Baby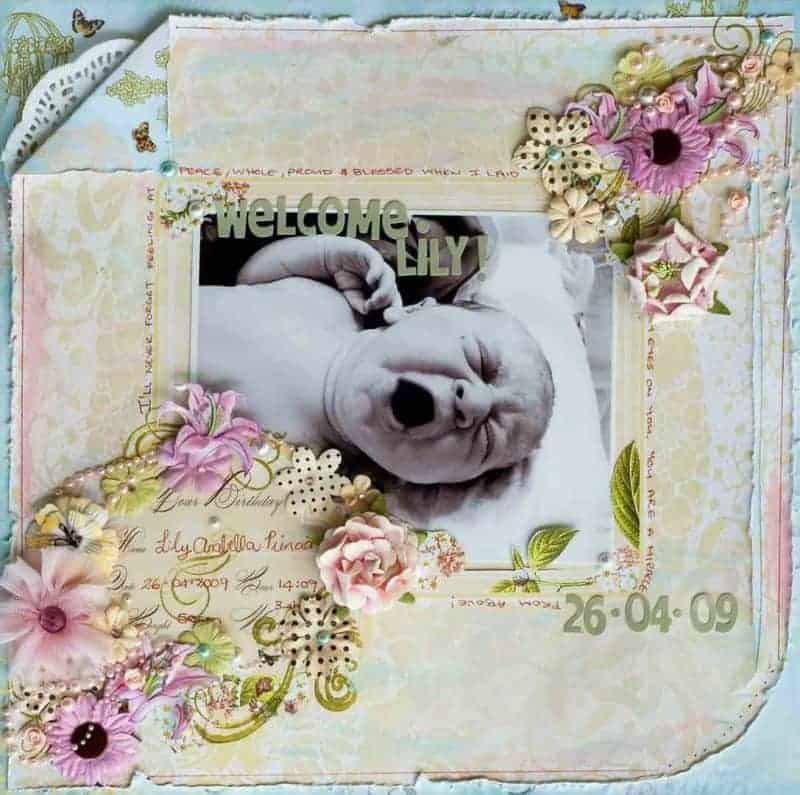 Looking for newborn baby scrapbook ideas?
I think the 'welcome baby' scrapbook page is always the hardest one to make. Not only because your baby is probably covered in blood and amniotic fluid, but also because there is so much emotion attached to the photo.
Jolene says that this photo was a bit 'gross' in color, which is why she reverted to a softer black and white photo. She tried to add 'pretty' with the spray of flowers. I think it sets off her baby daughter beautifully.
2. Baby Girl Scrapbook Ideas: Recording Details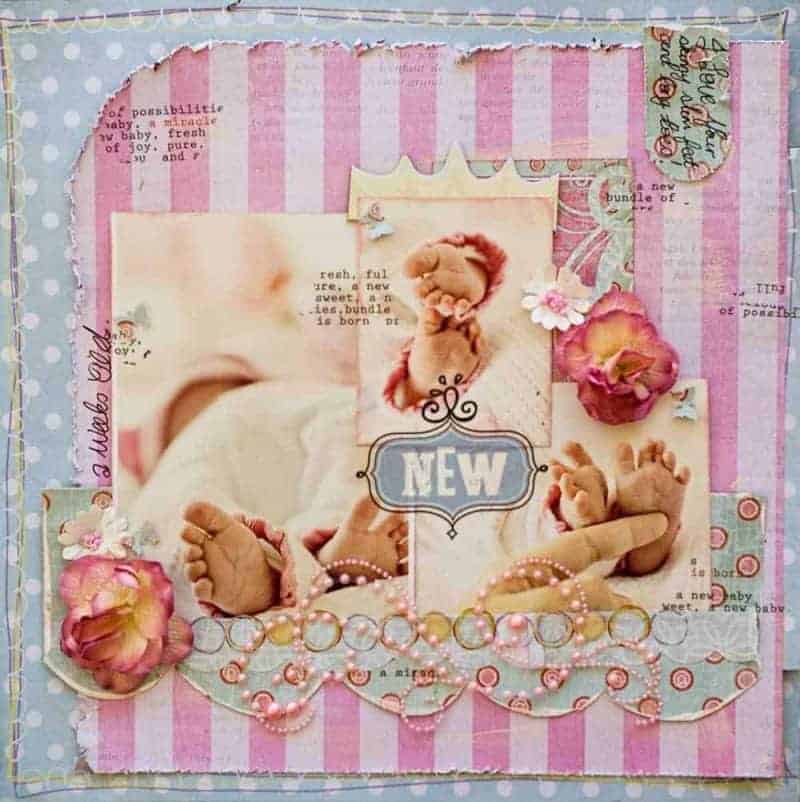 I love this layout because all it does is focus on the details. A sweet layout to give a perception of how teeny tiny those sweet baby feet truly are.
Make sure to record the details of your baby, because they grow up so fast and before long these moments will be forgotten.
3. Baby Scrapbook Page Ideas: Mummy and Daughter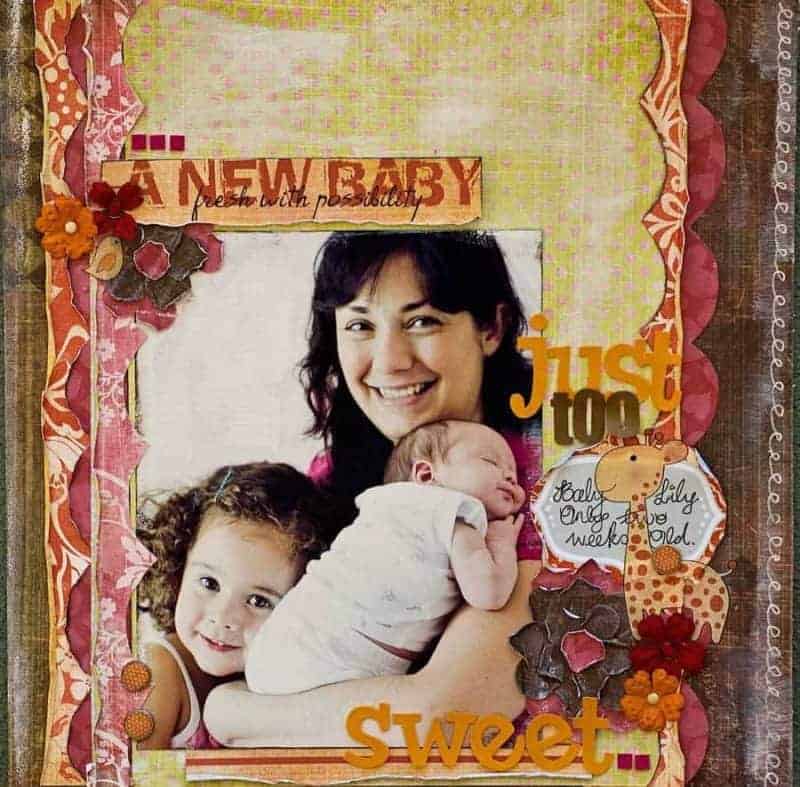 Don't forget to grab a photo of yourself with your baby. The best moment to do so is when your newborn baby is fast asleep.
Tip: If you find that your papers or cardstock feel too 'hard' for a baby layout, you can always soften them up by dry brushing some white paint over the top.
4. Baby Scrapbook Pages to Record Sibling Moments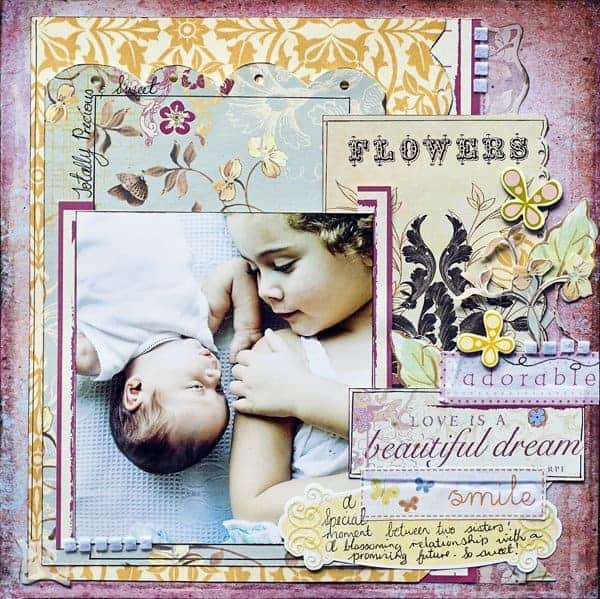 Absolutely in love with the way that Katie is staring at her new baby sister here.
Make sure to record those new sibling vibes – even if they aren't so pleasant. Describe the feelings and the emotions to make the layout even more sentimental.
5. Baby Book Ideas Scrapbook Pages to Show the Size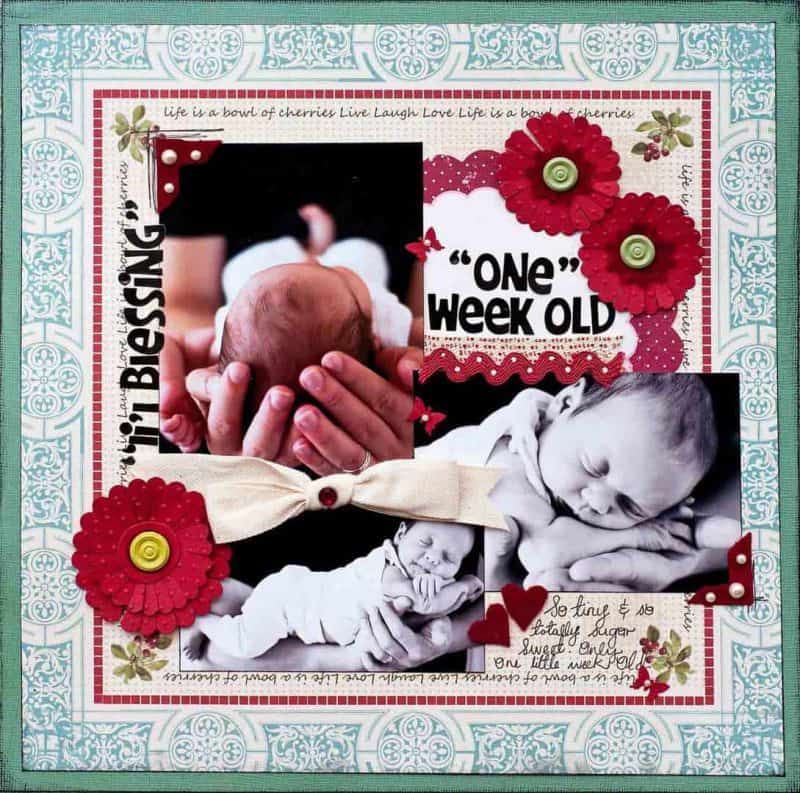 Back to showcasing your new baby's size. Think about grabbing photos that clearly give proportion to your baby's size. Jolene used Lily's dad here and his hands helped to tell the picture of how teeny tiny Lily truly was.
Those red flowers on the layout were created with scalloped circles. You can easily create scallop circle die-cuts with a manual die-cutting machine, such as the Sizzix Big Shot Die Cutter.
Simply snip down each scallop and roughen up the petals. Layer them up and add a brad, pearl, or some bling in the center.
6. Baby's First Scrapbook: Baby Holding Mum's Finger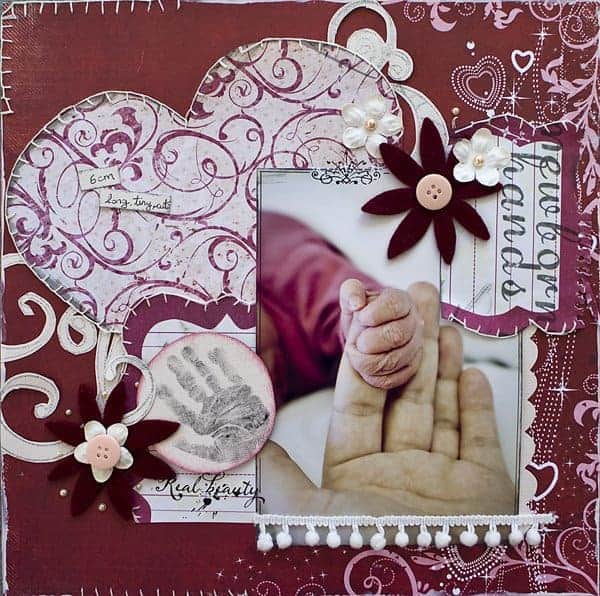 Another clever way to show size. Grab a photo of your baby holding your finger!
And if possible, try to get a handprint of the size so that you can add it to the layout as well.
7. Baby Scrapbook Album Ideas: Recording Sweet Moments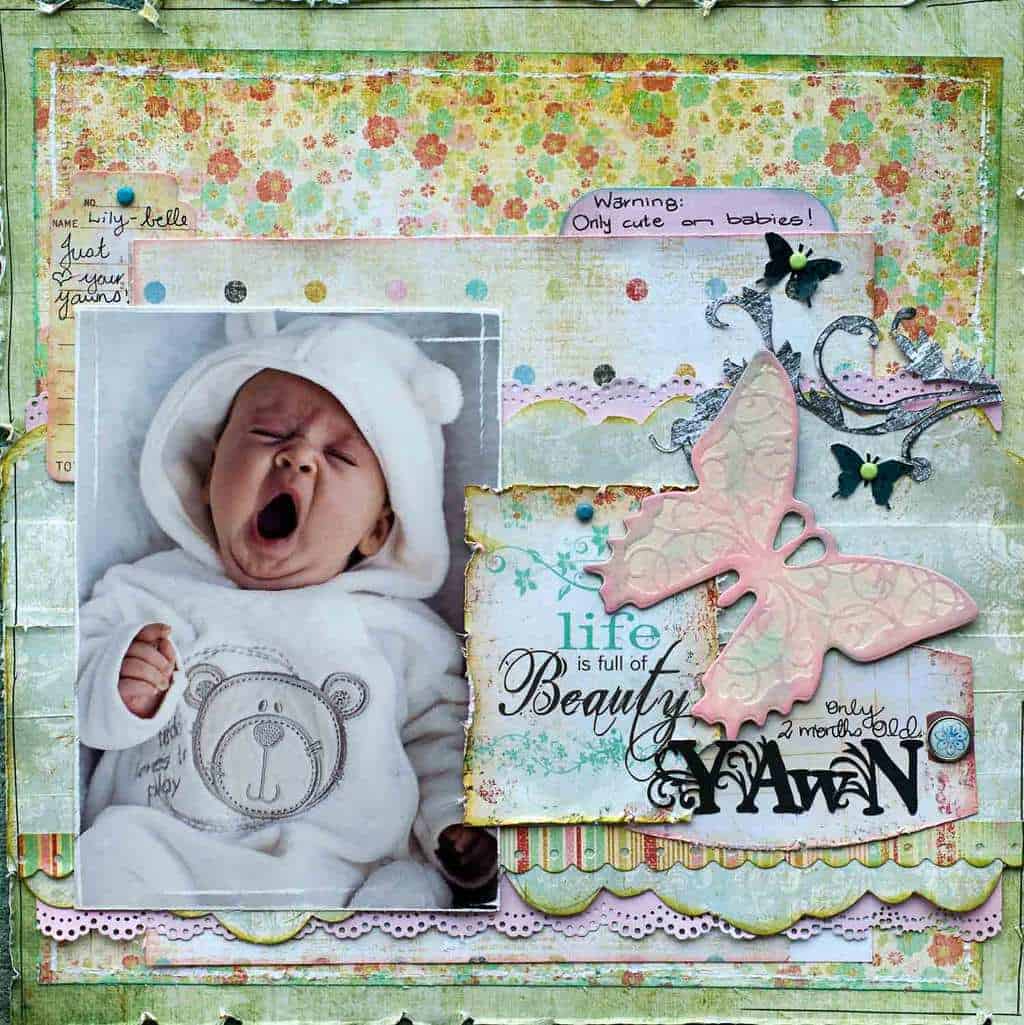 We all take photos of our babies that we think are absolutely adorable. It is important to scrap those and to record them so you can look back at them in the future.
My favorite photos of babies are either when they smile for the first time or when they yawn – so cute!
8. Scrapbook Baby Layout to Showcase New Family Relationships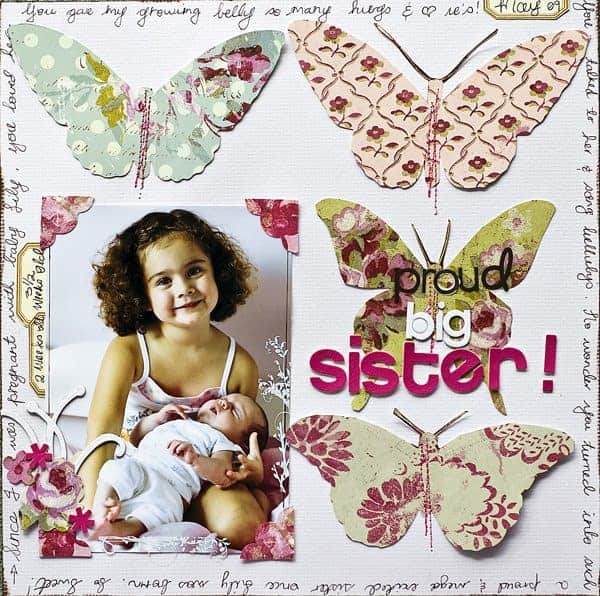 Another sibling layout. Katie's proud face says it all! Don't forget to add some journaling to your layout to record some of the detail of the new blooming sibling relationship.
9. Scrapbook for Newborn Baby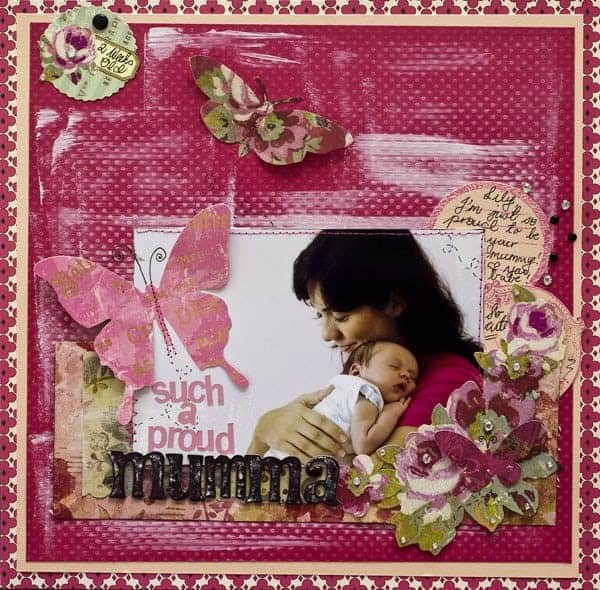 Look at that little baby face – totally milk-drunk here!
This layout is maybe more about mum, instead of the new baby. It is important to record your own feelings too, even if the feelings include being tired, drained, and scattered.
You can always create some hidden journaling if you don't want all your emotions and feelings visible.
10. Baby Scrapbook Layouts To Record Favorite Baby Features (Such as the Eyes)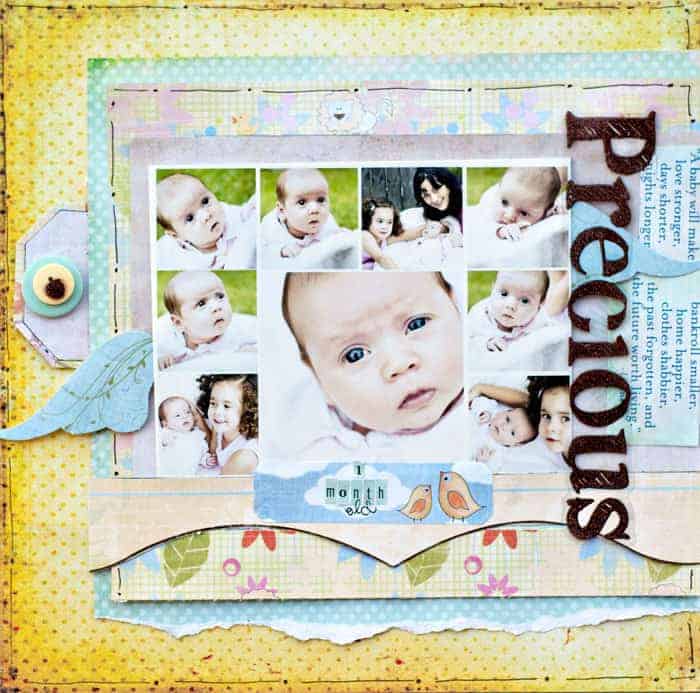 What is one of the features of your baby that you love the most? Jolene says that those steel-blue eyes really captured her from the moment of birth.
The color didn't last, Lily now has brown eyes, which is why it is so important to grab photos of the features that you fall in love with. So that you have that memory recorded.
11. Baby Layouts to Record Love Shared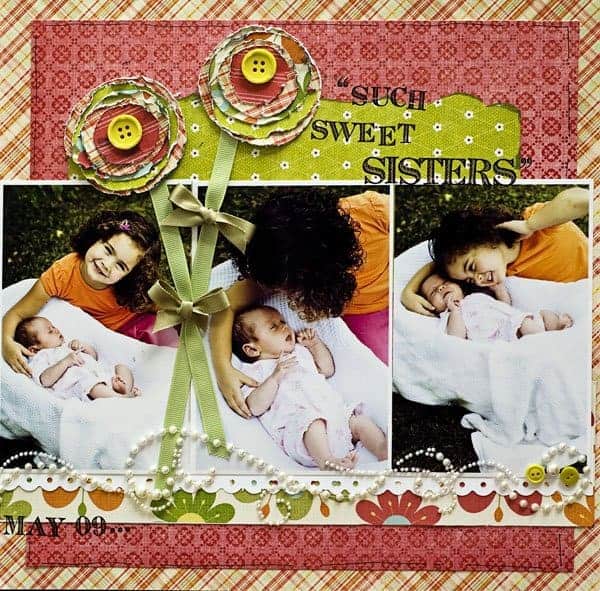 Capture the moments of love, whether it is between siblings, or dad and daughter, or dad and son, or grandparents and grandchild. I think it is important to record those photos.
They will be priceless for your child one day when they are old enough to appreciate their first scrapbook album.
12. Sweet Baby Layouts to Record Favorite Photos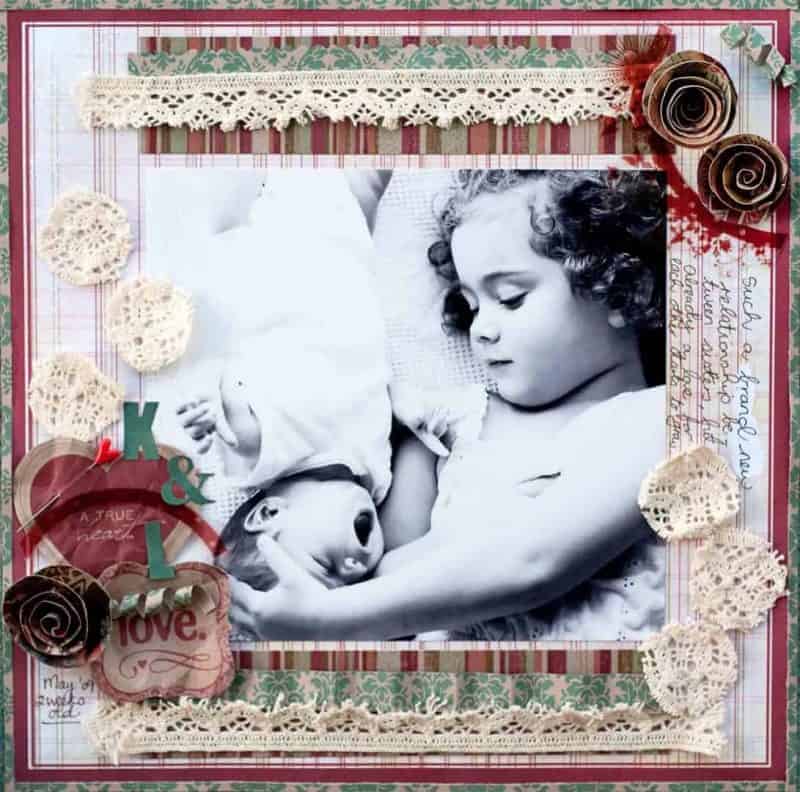 Sometimes you manage to capture a photo at just the right time. This was one of those moments.
Little Lily decided she is hungry and instinctively reacted to the skin rubbing past her mouth – so she was going in for a drink haha!
13. Baby Pages to Record Baby's Firsts (Such as the First Smiles)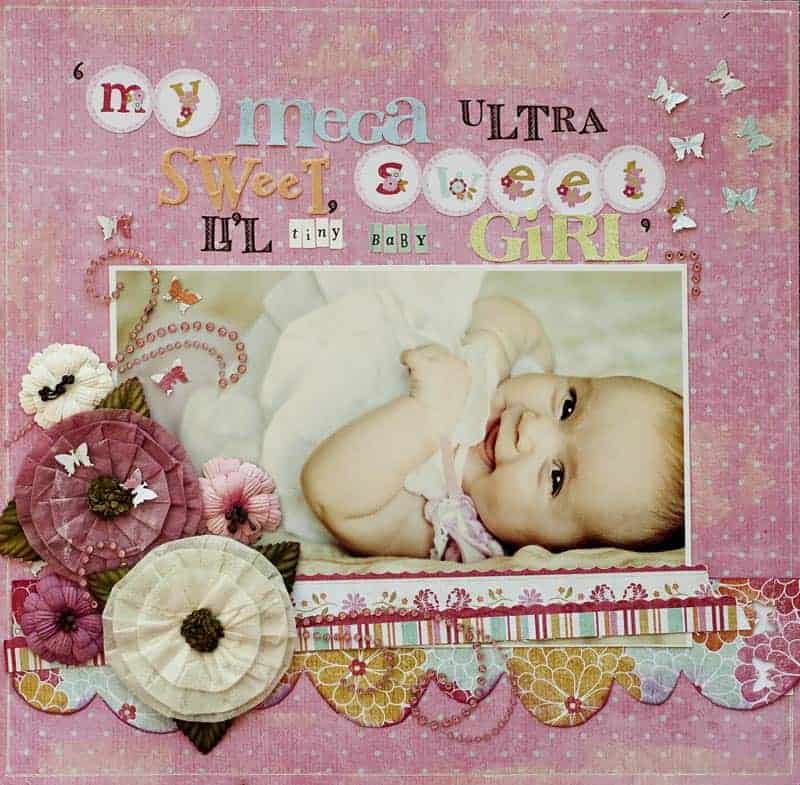 Of course, it won't be long till baby knock off those 'first' moments. The first smile, the first crawl, the first mouth full of food. Don't forget to grab photos and to scrap those very important moments.
14. Layouts to Record Growth and Changes (Check out the Hair going Orange??)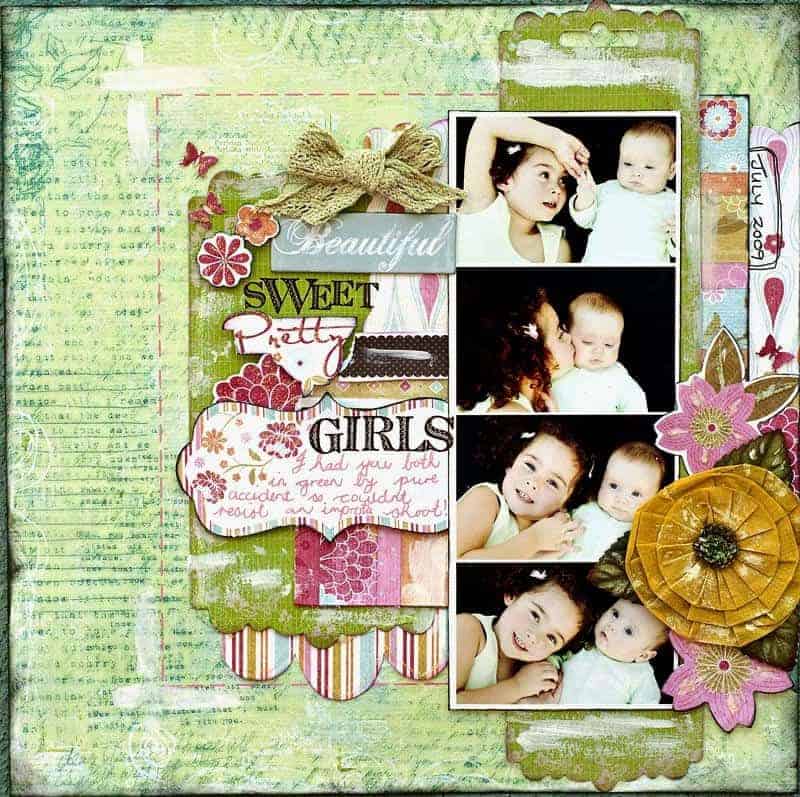 Things change. Your baby's eyes might change color or in this case, we went towards orange-tinged hair (but she is back to brown again now!).
When you notice those subtle changes, make sure to snap some photos.
15. And of Course Baby Scrapbook Layouts – Just Because!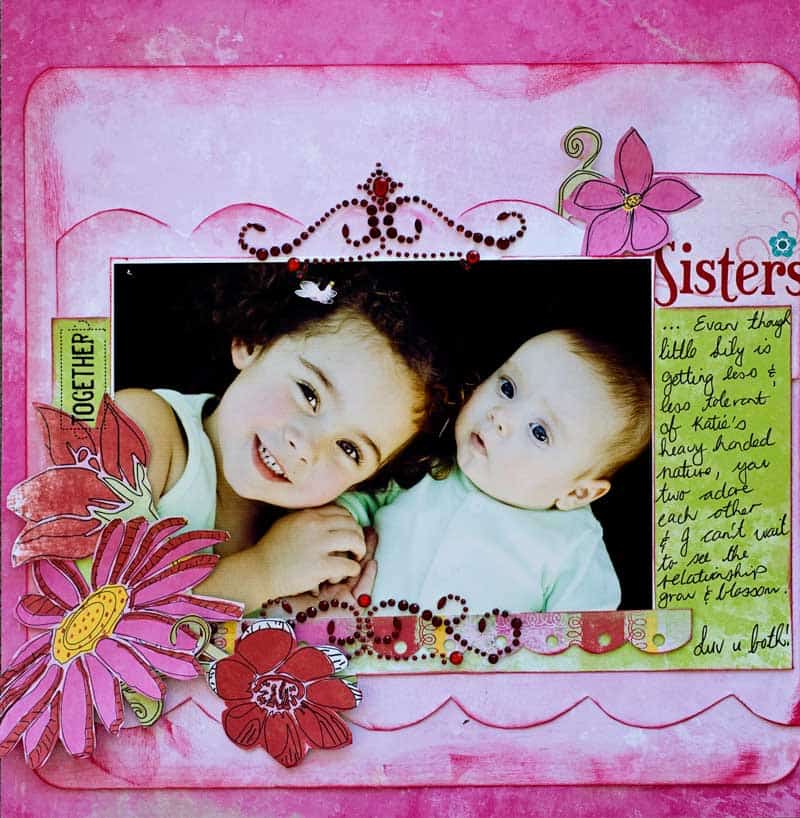 And lastly, don't be afraid to try out bolder and brighter colors with your baby photos. Jolene had Avalee in a green outfit here, so she could play with strong pinks in the paper without the layout feeling like a 'pink-overload'.
We hope you have loved all of our baby scrapbook ideas. Hopefully we have given you loads of ideas of what to scrap as well as loads of ideas on how to scrap those photos.

You can also grab some baby scrapbook title ideas from here. And here is a list of ideas of how to create your own Scrapbook page layout title.
As always, we love seeing your creations, so please leave us a comment below and let us know which scrapbook ideas for baby girl pages you have.