The Sizzix Big Shot Die Cut Machine is the best machine for those of us who enjoy either scrapbooking, card making or quilting.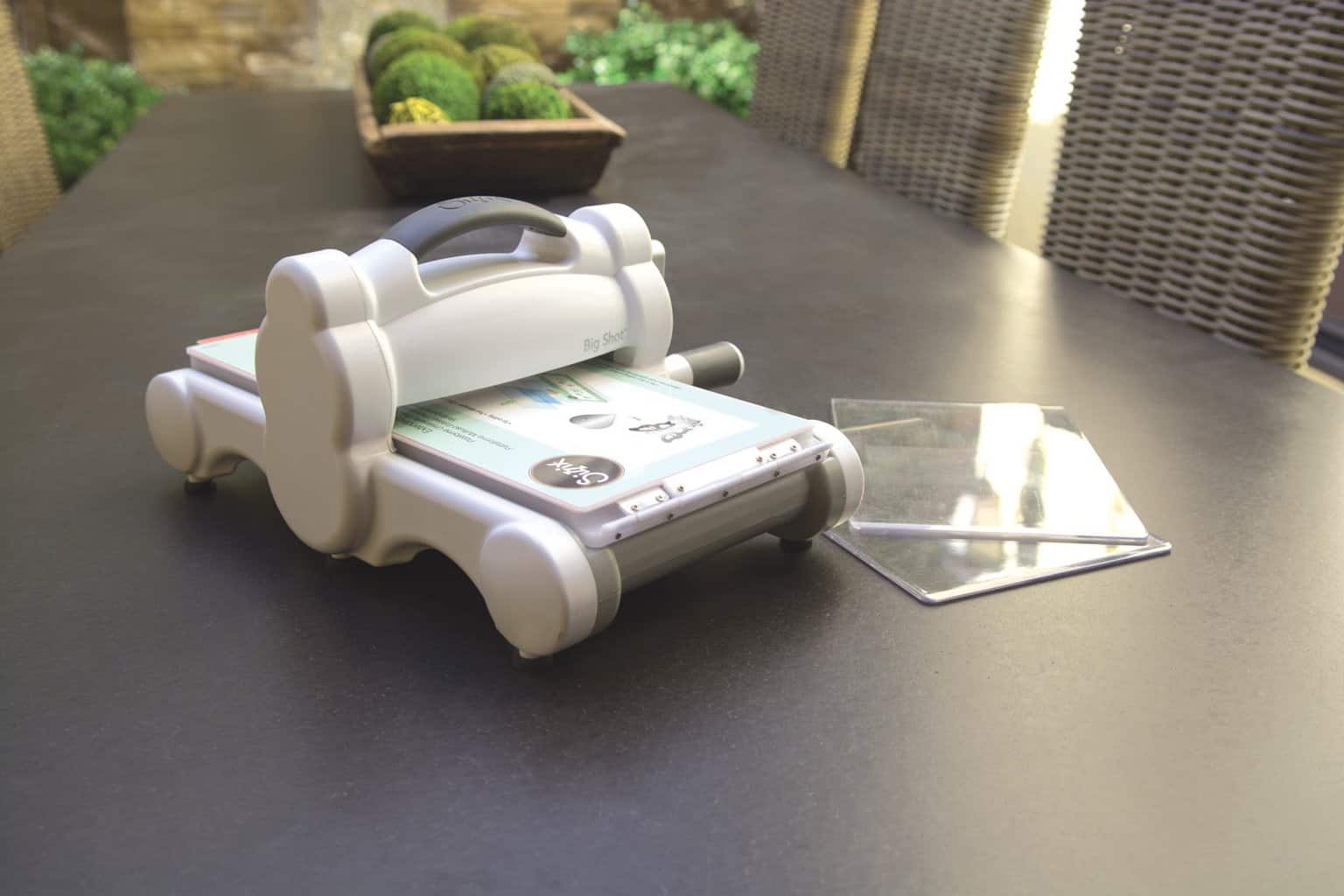 And as a paper crafter enthusiast, I'm sure that you know how loved the Sizzix brand is in the crafting community. We absolutely love the modern, clean and sleek new look of the Big Shot.  
If you can't reach the high price tags for the electronic die cutters, the crank-operated Big Shot is the next best things. Not only is it affordable, but it is very portable to take to crafting events as well.
The machine does an excellent job at both die cutting and embossing and we love the versatility when it comes to the wide range of materials that it can cut.  
Click here to check current prices for the Big Shot Machine
Now that we know that the Big Shot embossing machine is indeed a fabulous machine, what we really need to do is to figure out if this is the right machine for YOU.  And to help you out, we have come up with a Big Shot review.
Big Shot Die Cutting Machine Review Rating
Find below our review rating of this popular die cutting and embossing machine by Sizzix.
Features

Quality

Cutting Specs

User Experience

Value
Summary
This Big Shot is perfect for scrapbookers, cardmakers, and quilters who are getting started with die cutting machines. It is a great machine that comes with an affordable price tag. It is easy to use and very portable due to its compact size. It is one of the best manual cutters on the market currently.
Pros:
Small and portable. It is a die cut and embossing machine. Very powerful crank feature that can cut through multiple layers of material. Super modern and sleek look. Affordable.
Cons:
Manual crank operation which slows you down. Limited capabilities with pre-made dies and folders. Extra costs involved when purchasing dies and embossing folders
–
Review of the Sizzix Big Shot Machine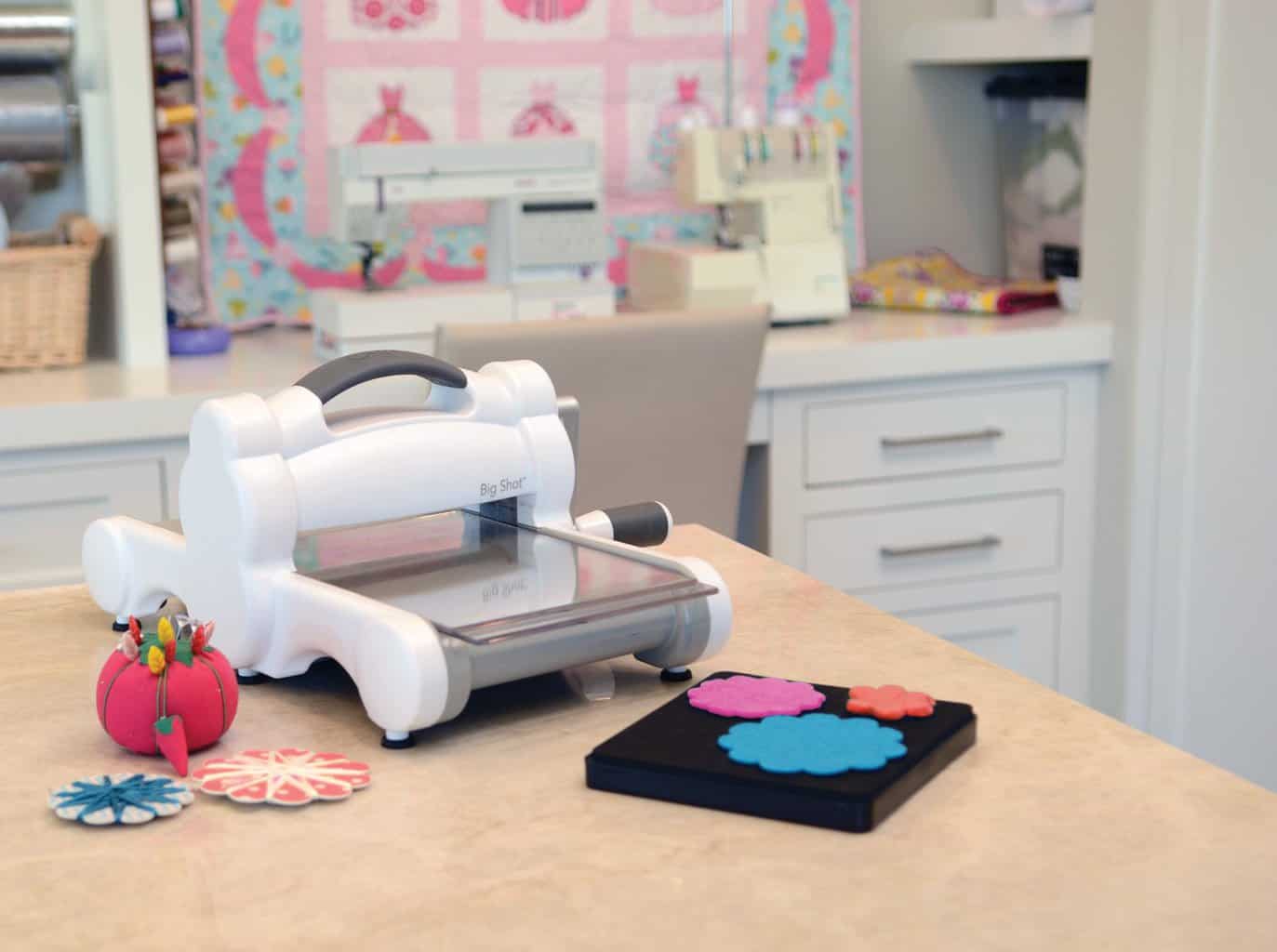 The Big Shot Cutting Machine is not only our personal favorite but also a pocket-friendly and easy-to-use machine. 
If you do want to compare this machine against other machines, you might like to visit our detailed guide to the best die cutting machines.
So What Comes in the Box?
The Sizzix Big Shot Die Cutting Machine comes with all the platforms and plates that you need to get started. The unit itself measures approximately 14 1/4″ x 12 3/8″ x 6 5/8″.
You will, however, need to purchase some dies and embossing folders before you will be able to use the machine. You can browse through some of our favorite dies and folders here.
Here is what is included with the Big Shot:
The Machine
1 x Extended Multipurpose Platform (14 1/8″ long)
1 Pair of Cutting Plates (8 3/4″ long)
We also highly recommend that you invest in the Extended Plates, so that you can use longer dies (seeing as the plates that come with the machine can only cut dies up to 8 3/4″ in length). You can grab a pair of Extended Plates here.
What are the Cutting Dimensions?
The cutter can handle dies and folders that are up to 6″ in width. If you purchase the extended plates mentioned above, you will be able to extend the cutting length up to 14″, which is great for creating borders and fabric strips.
What Material Can it Cut?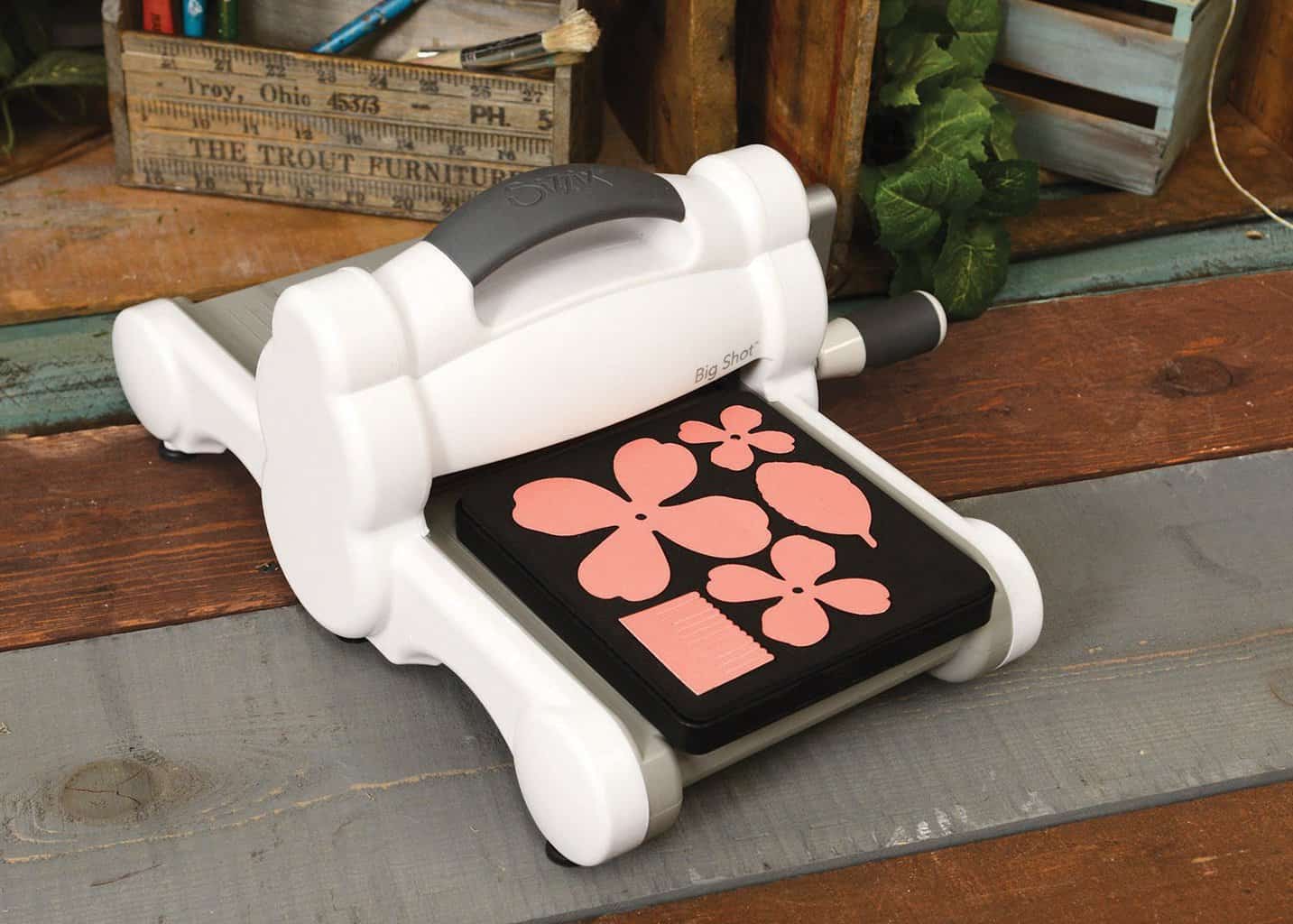 The Big Shot Die Cutter is really versatile when it comes to cutting a wide range of materials. These include:
cardstock
felt
fabric
foam
magnet
leather
craft aluminum
chipboard
metallic foil
vellum
and much more!
Some dies cope better with some material than others.  Want to see what your die can cut? Here is a Sizzix Die Cheat Sheet.
The designing potential is truly limitless with this machine. And with the Extender Plate, you can get even more creative as well.
What Brand Dies and Folders Can you Use?
The Big Shot machine works with the entire Sizzix® product library, including their smallest dies to their big 6″ wide steel-rule dies and embossing tools. Important to note that the Big Shot is not compatible with the Bigz™ Plus and Bigz Pro dies.
The fabulous thing about Sizzix is that you can use dies and embossing folders from a whole range of brands.
Here are some of our favorite brands when it comes to dies and folders:
Cricut Cuttlebug
Spellbinders (absolutely love these)
QuicKut
Accuquilt (great for quilters)
The Pros & Cons
Pros:
Small, lightweight and portable to take along with you to craft events

Easy to use

Very powerful crank feature that can cut through multiple layers of material 

Super modern and sleek look

Affordable price tag
Cons:
The manual crank operation takes time and effort

Limited capabilities, stuck to cutting shapes from dies and embossing with folders

Extra costs involved when purchasing dies and embossing folders
Verdict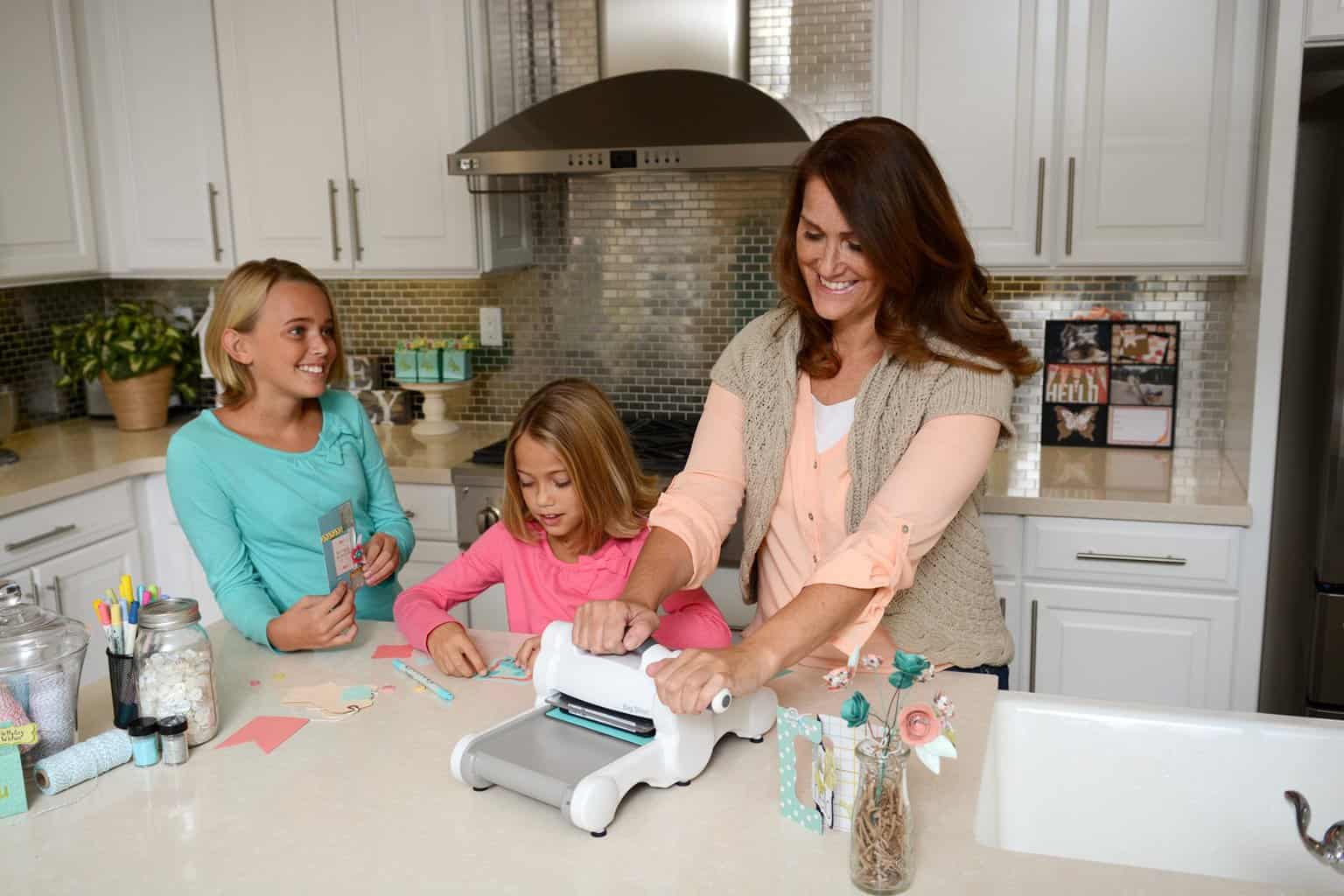 The Sizzix Big Shot Machine is the best manual die cutting machine on the market in 2020!
The machine is affordable, small, compact and easy to take along to crafty events and gatherings. We love that it is a combination die cut and embossing machine.
It can cut through so many different types of materials, including fabric and vinyl.
If you don't mind the labor of the crank, then this is the one for you!  A hot favorite by a brand that we all trust and love!
You can read through all the positive reviews on Amazon here, or simply click the button below to grab your cutter now.
Click here to purchase the Big Shot from Amazon
or