If you love creating designs with vibrant colors or you wish to move away from using Heat Transfer Vinyl (Iron-On) then using Cricut Infusible Ink may be your next step!
Cricut Infusible Ink is a brilliant product that helps take your projects to another level. You can also use it on many Cricut Infusible Ink blanks like canvas bags, shopping bags, canvas shoes, hats, caps, sublimation mugs and so much more.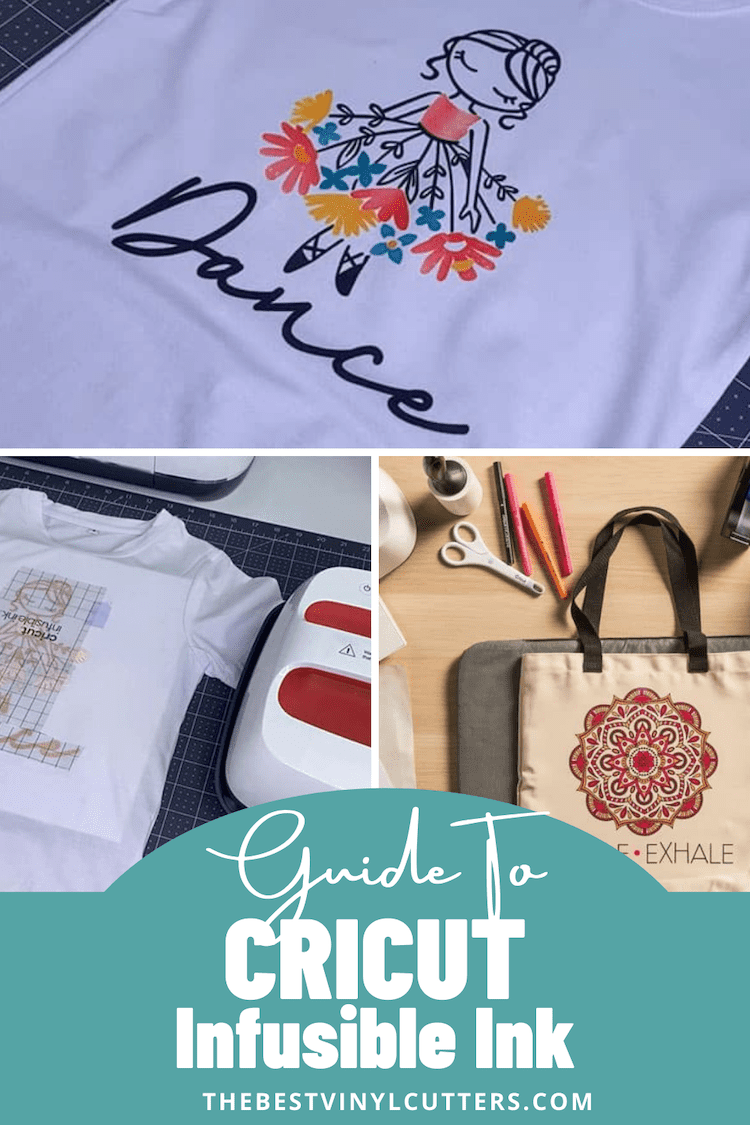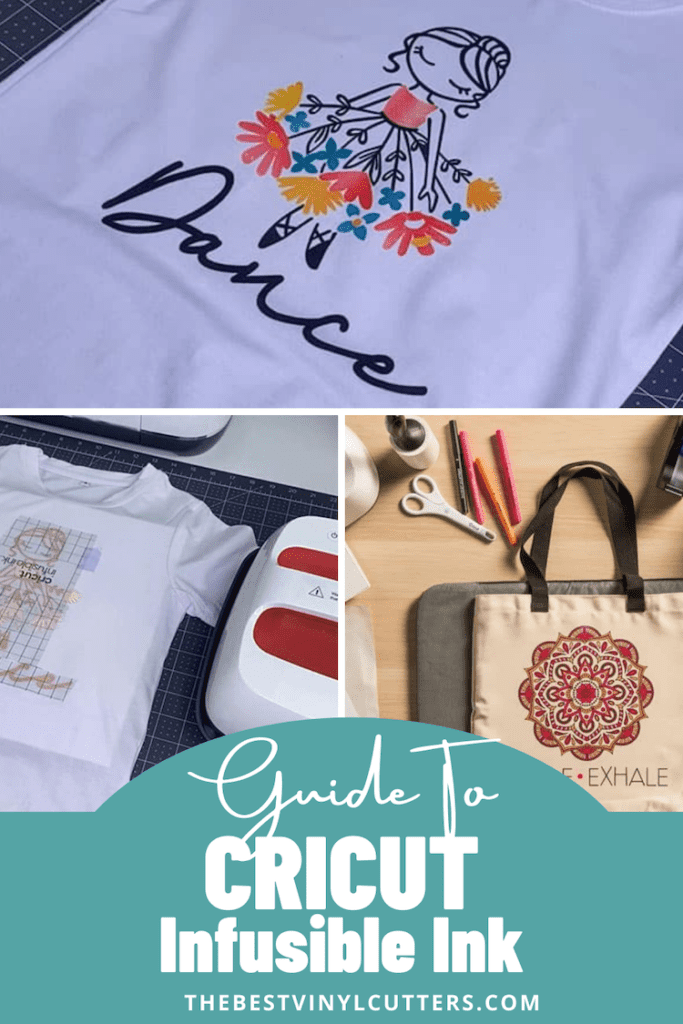 Working with infusible ink sheets can be a little tricky, but having a really clear tutorial to follow when you try to use Infusible Ink Sheets for the first time helps prevent you from getting a few steps wrong which will totally ruin your design.
Today we share our ultimate beginner's guide to using Cricut Infusible Ink to help you take your projects to the next level!
What is Infusible Ink?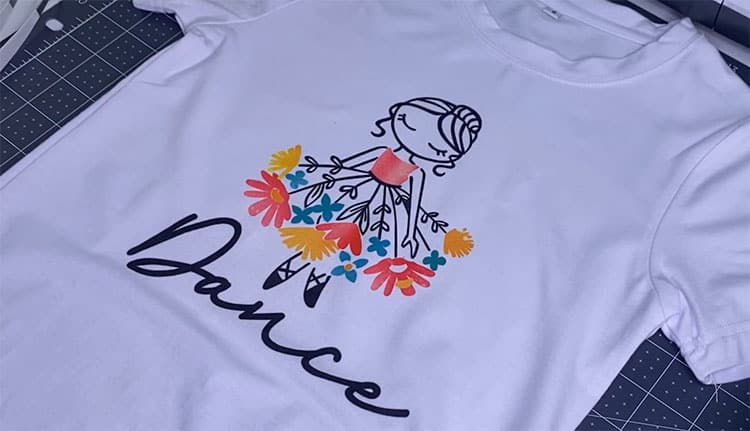 Cricut Infusible Ink is ink that is activated with heat and transferred to your material of choice.
The ink infuses with the fibers of fabric items or dyes the special coating that is applied to ceramic items like mugs or coasters.
What Makes Infusible Ink Special?
Now you may be wondering how does Infusible Ink differ from using Iron-On (HTV) or permanent Adhesive Vinyl?
This is a great question! When the ink is heated the ink dyes your item this means that the end product is waterproof, has no peeling or cracking and flaking that you often get after a while with HTV or adhesive vinyl.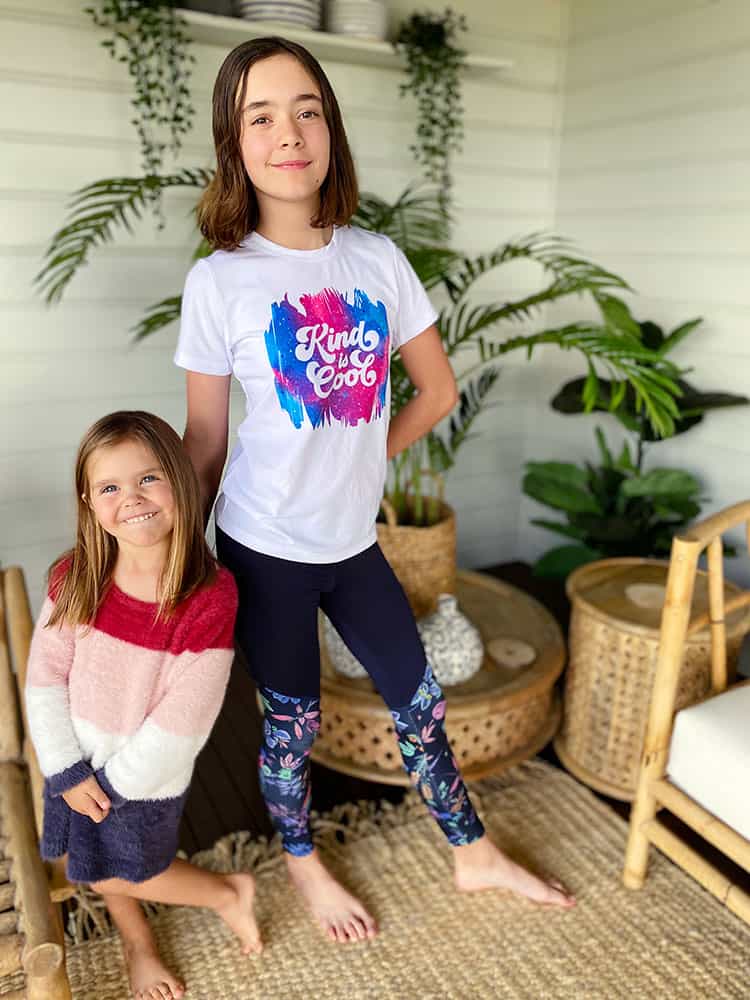 The finish is smooth and seamless as it becomes one with your material.
This is a great game-changer for creating projects that want a more professional look and feel!
If you are getting started with Infusible Ink, I highly recommend you buy an Infusible Ink bundle – that way, you will save loads of money and delete the overwhelm from trying to figure out what to buy.
How Does Infusible Ink Differ to Iron-On Vinyl?
There are quite a few differences between Infusible Ink and Iron-On despite the end result and application process being similar. Let's have a look at the table below to understand the differences.
| | |
| --- | --- |
| INFUSIBLE INK | HTV (IRON-ON) |
| Lightweight when applied to the base material as colors infuse with the material. | The end result will be slightly heavier even when using lightweight HTV. |
| Image/design stretches with the fabric. | Most iron-on vinyl does not stretch. |
| Has a smooth seamless finish. | Available in different textures such as smooth, flock, or glitter and has a raised feel. |
| Ink infuses into the fabric. | Vinyl adheres on top of the fabric. |
| Never flakes, peels, cracks, or wrinkles. | Can crack, peel, flake, and wrinkle over time. |
| Available in solid and patterned sheets. | Available in solids, patterns, glitter, holographic, flock, and many more. |
| Works with a heat press or EasyPress only. | Can use an iron, heat press, or EasyPress. |
| Heat press plate needs to be larger than the design. | The design or image can be larger than the heat press plate. |
| Only work with compatible blanks. | Works with most surfaces. |
| Works on light or white materials. | Can be used on any color material. |
| Apply to polyester fabrics. | Can be applied to almost all fabric types. |
| Limited to the number of layers that can be applied. | Can layer multiple layers of vinyl without issues. |
What are the Infusible Ink Options?
What makes Infusible Ink so great is that you get a few options that you can use for your designs.
Not only can you purchase Infusible Ink in transfer sheets but you can also get Infusible Ink pens or markers!
Let's have a look at both in a little more detail.
1. What are Infusible Ink Transfer Sheets?
Infusible ink transfer sheets are similar to vinyl sheets in that you need to use your Cricut cutting machine to cut and weed the design out of the sheet before transferring it to your base material.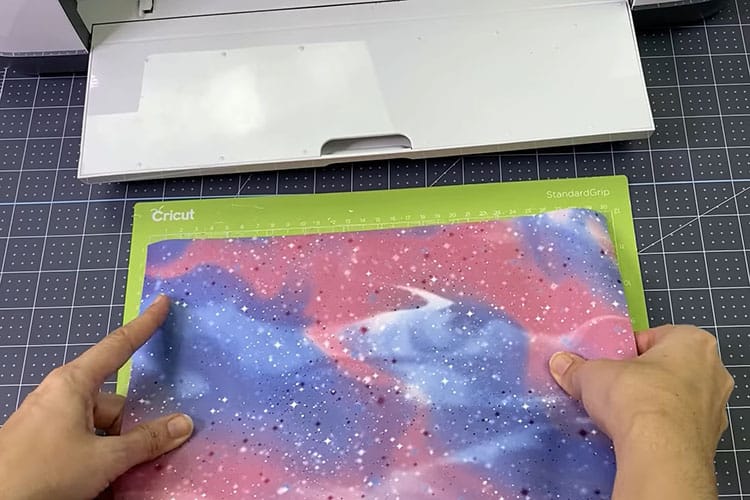 They are like thick sheets of paper that have dried ink on them.
TIP: Always use dry hands when working with infusible ink transfers. If the sheet or part of the sheet gets wet, the dry ink will smudge.
The transfer sheets are available in solid colors or patterned and multi-colored sheets. The patterned and multi-colored sheets really do take your designs and projects to new levels that are difficult to achieve with HTV.
NOTE: The sheets will look dull however when you press the sheets the end color result is bright and vibrant!
2. What are Infusible Ink Pens or Markers?
Infusible Ink pens have (as you would expect) Infusible Ink in them and when you draw with the ink, the ink is infused with the surface.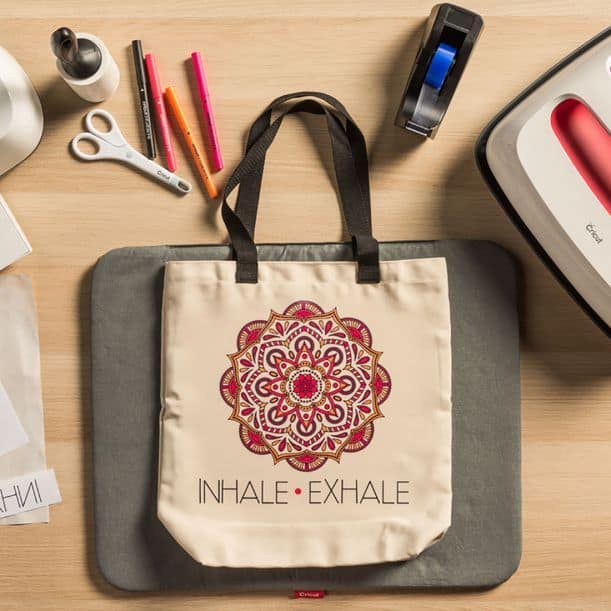 As the Cricut machines can draw, you can use your Infusible Ink pens for designs that you want to be drawn or written. But you can also use draw the image freehand yourself using the pens.
Once you have your drawn image, you will use a heat press to press the design onto your material base of choice. It is recommended to draw on laser copy paper first (and not directly onto your base material) and then transfer the design.
Which Cricut Machines Cut Infusible Ink Transfer Sheets?
The following Cricut machines can all cut Cricut Infusible Ink Transfer Sheets:
Which Cricut Machines Can Use Infusible Ink Pens and Markers?
The following Cricut machines can all use the Cricut Infusible Ink Pens and Markers:
What is Cricut Infusible Ink Used For?
Infusible Ink can be used for a lot of different projects and items.
Infusible Ink cannot be used on 100% cotton items because the Infusible Ink heat-transfer process requires specially engineered polymer or polyester-based substrates.
Below I will share the different items that you can use Infusible Ink on so that you can get a better understanding of how awesome this material is!
Need Ideas? Have a look at this blog post for Cricut Infusible Ink projects that you can create using Infusible Ink and plain t-shirts!
1. What Can You Use infusible Ink On?
Although Infusible Ink is similar to HTV vinyl this does not mean that you can use Infusible Ink on all of the same items that you would apply iron-on or HTV on.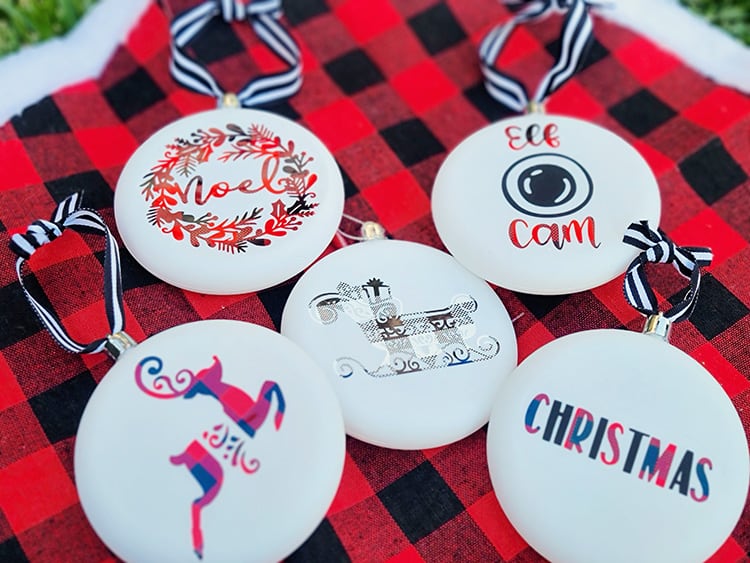 What you need to make sure you look for are blanks that can be used for sublimation or are the Cricut Infusible Ink products (Infusible Ink compatibility badge on the packaging).
Examples of the Cricut blanks for Infusible Ink products are:
T-shirts
Tote bags
Wine Coolers / bags
Cosmetic bags
Pillow cases
Coasters
Mugs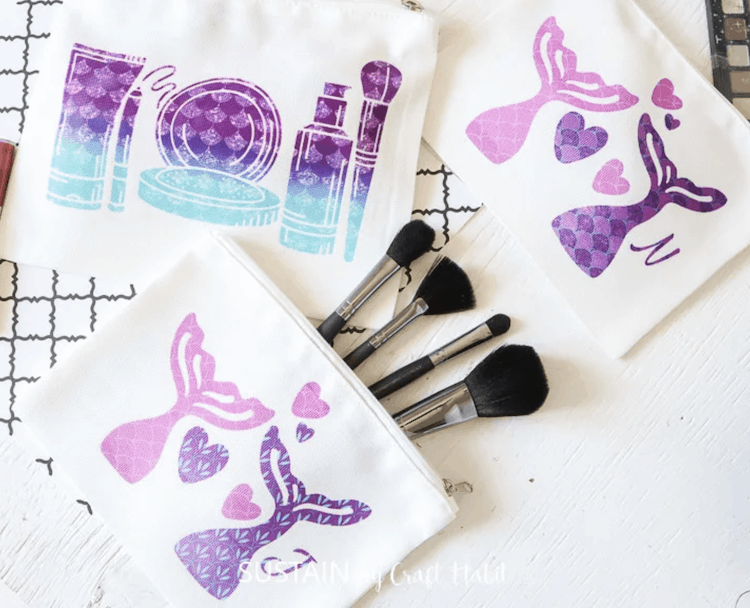 Some generic blanks that you can infusible ink on are:
2. What Color Blanks Can I Use?
Infusible Ink is not recommended for dark surfaces.
The Infusible Ink needs light-colored surfaces to adhere to because when you use black or dark materials, or even bright colors, the Infusible Ink design will not show up.
For this reason, Cricut only sells white and light grey blanks.
What do I Need to Get Started with Infusible Ink?
If you have been using your Cricut cutting machine for other crafts you will probably have a lot of the materials and tools already – which is great!
Below is a list of everything you will need to get started with Infusible Ink:
Cricut cutting machine
Cutting mat (use the Green StandardGrip mat for transfer sheets and Blue LightGrip mat when working with the pens)
Design Space (or other software to design on)
Butcher Paper (comes in the Transfer Sheet Box)
Infusible Ink Transfer Sheets or Infusible Ink Pens
Printer Paper (for use with infusible ink pens)
Your Infusible Ink (or sublimation) blank
Heat Pad
Heat Press or EasyPress
How Large Should Your Heat Press Be When you Work With Transfer Sheets?
Ideally, we need your press plate to be larger than the design.
Cricut has designed the Infusible Ink transfer sheets to only receive one pressing of heat. If you press in sections or more than once you may get uneven color with your final design or unwanted marks.
How Does Cricut Infusible Ink Work?
Below is a very simple explanation of how to work with infusible ink. For more detailed guidance and steps, I have shared step-by-step tutorials further down.
Steps to Using Infusible Ink
Decide on what Infusible Ink blank that you will be using.
Create your design in Cricut Design Space.
Send the design to be cut by your Cricut Maker machine, Cricut Explore machine, or Cricut Joy machine.
If you are using the Infusible Ink pens or markers, use Cricut Design Space to draw your design or draw your design by hand.
Once your design is cut or drawn, use a Cricut EasyPress or a heat press to transfer and infuse the ink of the design to the base surface of the blank.
If you are using Infusible Ink transfer sheets, the best way to weed your sheets is to roll and crack the sheet and then peel away the pieces that need weeding.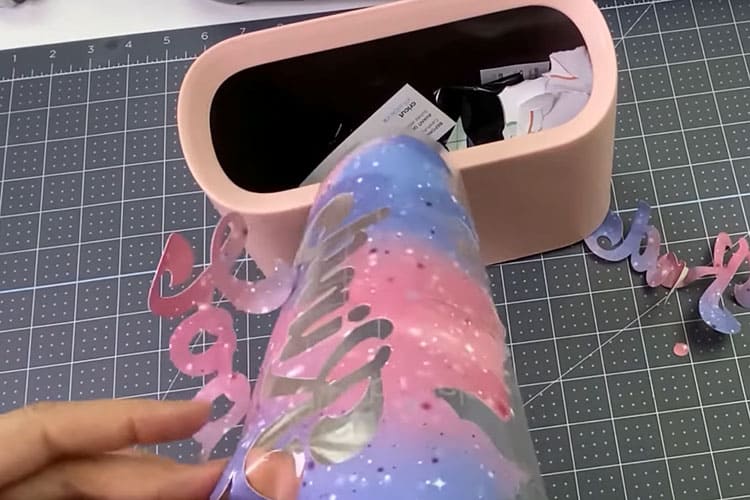 I do not recommend using a normal weeding tool unless you have small pieces that you are struggling to remove.
Does the Ink Need Time to Dry After Application?
Infusible Ink does not need time to dry after you have transferred your design to your base material.
Once you have transferred your image or design you can touch your design immediately however before folding wait for your project too cool to prevent any of the ink transferring.
Can You Layer Infusible Ink Transfer Sheets?
Yes and No! You can't layer them the way you would do with vinyl. You can however build the design with different color of Infusible Ink with the Slice then Set method.
What you do need to be aware of when layering transfer sheets is that the ink colors will blend where the sheets overlap or are layered on top of each other.
You also want to be careful when layering the transfer sheets that you do not apply too much heat as this can cause the color to fade after some time.
We recommend the best way to layer or use multiple colors of Infusible Ink transfer sheets is to use the Slice function in Design Space and create puzzle pieces that fit together to create your final image or design.
And once you have built your design on one single transfer sheet, then you will apply the whole design in one go.
Can You Layer Infusible Ink over Iron-On Vinyl?
Yes you can! Just make sure to layer the HTV or Iron-On over the Infusible Ink!
How Do You Look After a Shirt that Has Infusible Ink On It?
The best way to ensure that your Infusible Ink design lasts for as long as possible and does not fade is to wash the item inside out with cold water.
If you do use a tumble dryer, use low heat or try and line dry if possible.
It is also recommended to not use laundry softener, drey sheets, or bleach when washing your shirts or fabric items that have Infusible Ink on them.
How Do I Get Started?
Now that we have covered all there is not know about this great product I am sure you are excited to get started to create a project using Infusible Ink!
Below are Infusible Ink step-by-step tutorials that will walk you through creating your project in Design Space and then applying it using a heat press.
Create your first Infusible Ink shirt (perfect for beginners)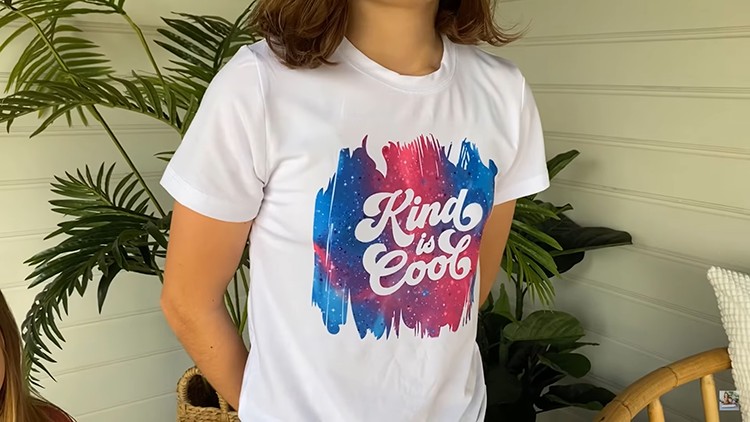 Create a multicolor infusible ink shirt and learn how to layer Infusible Ink (best if you have already done at least one single color Infusible Ink shirt)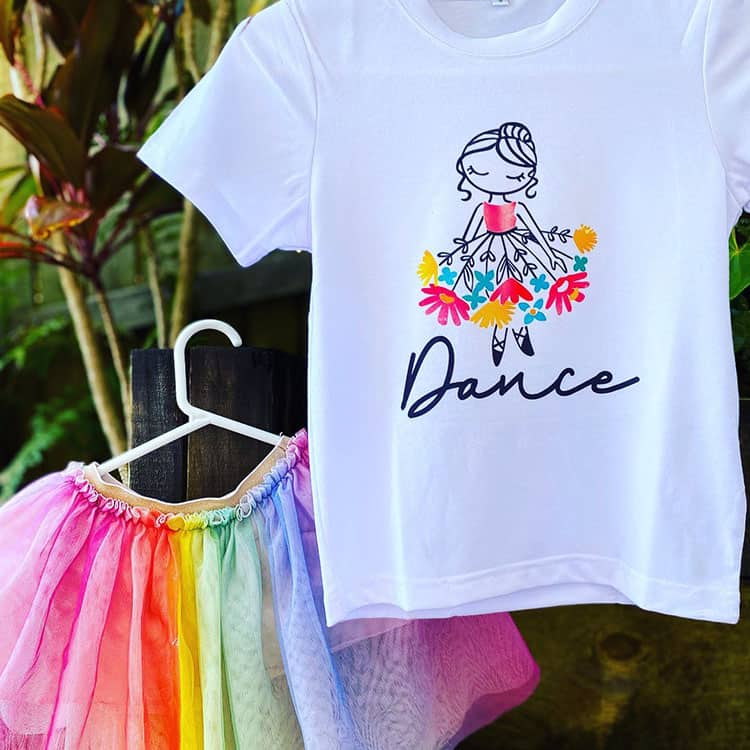 We hope that you found this guide to using Cricut Infusible Ink useful and packed full of tips and tricks to help you get started.
>>> Not sure what Cricut Infusible Ink is? Read our complete guide to Cricut Infusible Ink – perfect for beginners!
>>> Want More? Check out our blog post full of Cricut Infusible Ink projects for further inspiration!
>>> Want to make Cricut Infusible Ink projects with coasters, check out our post full of coaster ideas!