Looking for something new to decorate with your Cricut Machine?
I love gathering ideas and popping them in my ideas folder so that when I feel stuck, I can simply go browse and find something new to work on.
So today I'm gonna talk about 30 different blanks for crafting projects. There are some really fun things that you can find.
I have also added links to most of these blank items on Amazon as well so that they are easy to find. I also recommend that you keep an eye out for some blank items in the dollar stores as well, as you can often find brilliant items there.
So let's start with our 30 blanks for vinyl crafts.
List of Blanks for Vinyl Projects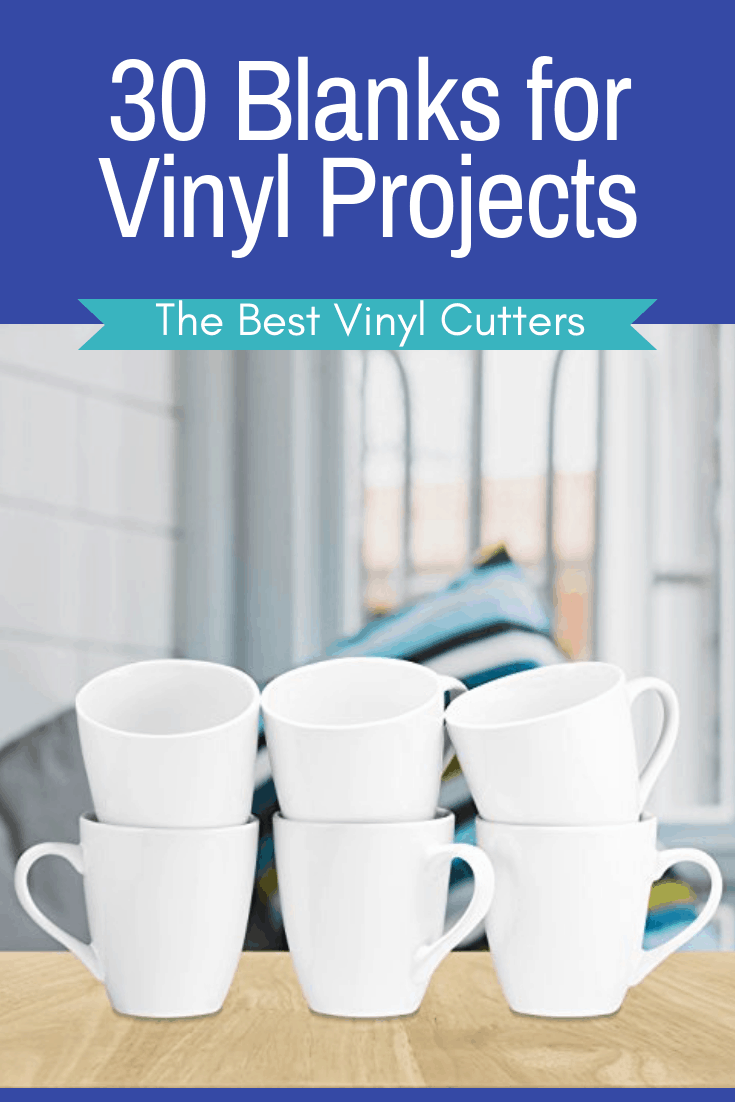 Here is our fun, easy-to-browse craft blanks.
Helpful products to have on hand for those projects include:
1. Blank T-Shirts
Now the chances are pretty likely that you bought your Cricut Cutter simply because you wanted to customize some shirts. This item is one of the most obvious crafting blanks.
Shirts are also really easy to work with, so if you are a beginner, they are a great place to start.
I must admit that I love to just grab some blank t-shirts for printing for cheap from my local clothing stores, but you can also find some fabulous buys from Amazon here as well.
2. Blank Caps
Another fabulous fun item to personalize is hats and caps. They look absolutely brilliant with some HTV.
You can either grab a specialized cap heat press, or you can use your normal heat press to get the HTV pressed onto your caps.
I love grabbing my caps from Amazon here. Loads of different colors, soft and easy to work with as well.
2. Blank Aprons
Have a friend that likes cooking or baking? Or maybe after a Father's Day gift for a Dad that looks to BBQ? I LOVE personalizing aprons, I think they make brilliant gifts.
I love to keep the cost of the products low and these black aprons are a steal from Amazon.
You can also create some brilliant craft aprons for friends who love to paint or work with messy mediums. I love using these cotton canvas aprons are just begging for some colorful HTV.
3. Hot Pot Holders
Another fabulous item to customize for friends who love to be in the kitchen, I love to pair this one up with the apron and give them a few baking tools as well.
You can easily find some blank hot pot holders, here are some of my favorites from Amazon (available in a range of colors as well).
4. Blank Dish Towels
Another fun item to work with is blank dish towels. I can never find pretty dish towels in the malls. I think they are absolutely horrid most of the time.
So I love buying these great quality dish towels and simply adding some pretty HTV designs to them myself.
You can add saying, quotes, logos, pictures, or a beautiful pattern.
You can grab loads of different types of blank dish towels from Amazon.
5. Blank Wristlets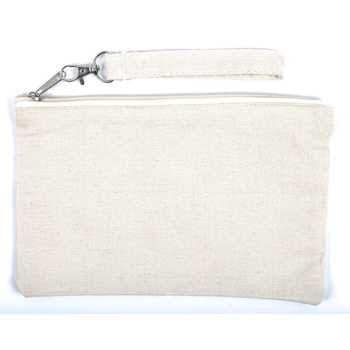 After a great DIY gift idea for tweens or teens?
These wristlets are fabulous and waiting for your magic. Add some HTV and you can really take these to the next level.
Click here to grab them from Amazon.
6. Blank Tumblers
Tumblers are fun to personalize. The plastic ones are great for parties – you could even add names to them so that people could find their own tumbler, or personalize them in the theme of the party.
Tip: Plastic tumblers work really great with adhesive vinyl, whilst we recommend iron-on vinyl on the metal tumblers instead.
You can grab some plastic tumblers here, or some metal tumblers here.
7. Coasters
Coasters are a great gift item. I am always in need of coasters in my home and again I don't really like the ones from the store. Personalize them with a travel theme or with some silly quotes. You get the idea.
You can grab these beautiful leather coasters here, but if you prefer you can also find some blank wood coasters or blank glass coasters.
8. Glasses
Glasses are great – especially whisky or wine glasses. Pair it up with a bottle of wine and you have a quick but really cool gift.
I love these glasses from Amazon, but you can find LOADS of glasses to use here.
9. Flower Vases
Flower vases can be pretty boring, so why not elevate them with a simple metallic vinyl saying? Or use some removable adhesive vinyl to create a mask and give the whole vase a spray paint – it makes a great color pop to any room.
I love grabbing my vases when I see them on sale, but you can browse through the big selection on Amazon here too.
10. Pencil/Pen Box Holders
These are functional – I have one on my desk. I just bought a cheap ugly white silicone pen holder actually, but luckily I could make it really pretty with some vinyl.
I just found this wooden craft pen holder on Amazon and think it is much better than mine though.
11. Blank Baby Bibs/Bandanas
These Baby Bandanas are all the rage right now and you can easily add a fun saying or funky pattern to make them really cool.
Fabulous baby gift as you always need at least a few of these as a new mom.
You can grab the set of these bandanas from Amazon here.
12. Blank Dog Shirts
Looking for a gift for a dog owner? You can easily personalize these dog shirts with the pet's name or maybe a cheeky saying.
Grab the set from Amazon here.
13. Luggage Tags
Have a friend that loves to travel? How about adding a fun travel quote to these tags, or maybe the world map or even just their name?
Grab some tags from Amazon here.
14. Bags
Another fabulous blank product to add vinyl to is bags. Think of make-up bags or even backpacks. So cool to add some unique vinyl designs and make them truly special.
You can even pick some up for pretty cheap as well. Here is our go-to blank make-up bag.
15. Socks
Blank socks are the new fad. Have you seen the socks where the sole of the sock has a cheeky saying on them?
Add a saying on the bottom of the socks (so you will see them when someone is relaxing with their feet up), or add a sports team name to the sides.
Cheap and easy gift idea.
You can find loads of blank socks here.
16. Blank Onesies
Blank onesies – one of my favorite items to personalize because they just look so darn cute when you have them vinyl'ed up. Cute gifts!
Here is a great blank set of onesies that you can grab.
17. Blank Tote Bags
Blank totes are super fun and the beauty is that they are super cheap too. So many uses for tote bags – beach bags, shopping bags, book bags, craft bags, and even just as gift bags.
You can grab these canvas tote bags from Amazon, they come in a nice variety of colors as well.
18. Blank Mugs
Blank coffee mugs and teacups – oh yes!! They look BRILLIANT with some vinyl on them but do keep in mind that it is best to handwash them once vinyl is on.
You could try to use heat transfer vinyl – which should work better with the heat of a dishwasher, or you could try sealing it, but eventually, if you don't hand wash it, it will start coming off.
You should also check out our guide with loads of helpful mug press reviews to help you find the right heat press for your cups if you wish to work with HTV or sublimation.
Browse through all the blank mugs here.
19. Flower Pots
I love gifting plants, I just think plants always add such a homely touch to any home. My favorite way of elevating the gift is to apply some adhesive vinyl to the blank flower pot. It really makes a lovely gift.
These pots from Amazon are cheap and come in different sizes (available in black as well).
20. Party Tubs/Buckets
So another idea is the party tubs, you can find these in metal as well and they are great to personalize.
We love using them to theme up our party, but I've also seen them being used at sports events as well – a great place to pop the sports gear when not being used.
You can find a range of blank party tubs here.
21. Blank Pillows
I really love these blank linen throw pillows and they come in a range of solid colors as well. Great to theme up a room for different seasons or events and they make great gifts as well.
Hop over to Amazon and grab them (I think they are very reasonably priced)
22. Blank Table Runners
You can find some beautiful blank table runners. I love these linen blank runners from Amazon.
Imagine all the possibilities of turning this runner into a unique decorative piece for your dining table.
Click here to snap this one up from Amazon.
23. Placemats
Whilst we are talking about table runners, we might just as well mention blank placements. I love these heat resistant light linen placements, and they come in a range of colors as well.
24. Wood
You can easily whip up some blank wood signs for decor, weddings, or for parties. You can even use wood planks to make up some hanging signs as well.
I love to buy my wood pre-stained and ready to go, but if you don't mind doing the staining you can really pick up some cheap wood.
Otherwise, feel free to browse through the blank wood pieces on Amazon here.
25. Blank
Leather Bracelets
Here is a unique blank product idea. Blank leather bracelets, they come in different colors and they are just begging for your personal touch.
Grab the blank leather bracelets from here.
26.
Laundry Sorter
Have a big family? These blank laundry sorters can be a lifesaver. Pop some vinyl on them to help the kids understand which is for the blacks, the whites, and the colors.
Grab this laundry sorter here.
27. Blank Jars
Blank jars are fabulous, they are easy to decorate and there are so many different uses for them.
You can store spices, you can display candies at a party, can make a candle in it, can pop some homemade jar in it, or maybe just a collection of little gifts.
Grab some jars and give them a go. They are so much fun!
Loads of jars on Amazon here and they are cheap too!
28. Candles
Buy some candles that have sticker labels on them. You can carefully remove these stickers and then add a beautiful decorative vinyl design to take the candle vase.
Everyone loves candles and I really think that candles are elegant gifts.
29. Storage Containers
Blank storage containers are great for so many different reasons. Organize the kid's toys, organize the tools in the garage, organize your craft goodies etc.
It would be a great idea to label these containers to make them easier to organize.
You can grab this cute kids storage container system here.
30. Blank Pencil Cases
The last one on our list today is blank pencil cases. Great if you have kids as you can customize these according to their passions and interests.
You can grab these canvas pencil cases from Amazon here.
Other blanks for vinyl crafting that you can easily get hold of are picture frames, mirrors, blank key chains, trays, any blank dollar items, laptops, blank notebooks, journals, car windows, makeup brushes, and so much more!!
And there you have our massive list of vinyl blanks. I hope you have gathered some inspiration and that you are ready to tackle the next project.
Till next time,
Sam xxx