How tough can it be to start a T-shirt printing business?
When done right, it is one of the most straightforward projects due to low capital and human resources requirements.
What is a fundamental prerequisite to finding success in T-shirt printing? If you think about it, the quality of the fabric and the overall finish of the product is what makes all the difference.
But how do you find the best quality blank T-shirts for screen printing and HTV design work?
We have made a checklist of important factors you should consider to ensure that you find top-notch fabric for your printing endeavors.
---
Checklist for Finding High-Quality Blank T-Shirts for Printing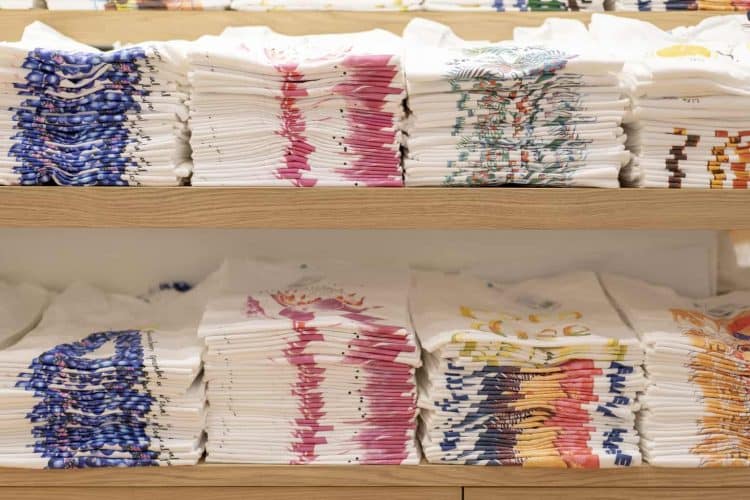 Each of the following six factors is essential in simplifying your quest for finding the best quality blank T-shirts.
Without further ado, let's break down the nitty-gritty of where to buy blank t-shirts for screen printing or vinyl HTV designs.
1. How to Choose Your Blank Tee Shirts?

There are a few qualities that separate a high-quality tee from an ordinary one. You should pay attention to these qualities to ensure that you get your hands on top-notch blank shirts.
If we had to break it down into basics, the ideal product will have good quality at a reasonable price, have an optimal fit, and be made from the best materials.
For anybody who is just starting a T-shirt printing business, it can be very challenging to get the best quality blank tees without increasing the price you sell at, but do try to stay clear of cheap blank t-shirts, and rather focus on quality.
Customers will not be willing to pay more to buy tees from a new source so you should avoid increasing your material procurement cost beyond a permissible budget.
We advise you to ascertain the maximum price you can pay for plain tees and buy the best quality products you can find at that price. You can expect to pay around $4 – $7 per quality tee, possibly less if you purchase in bulk.
Your tees will sell only if they provide the right kind of fit. Based on who your target customer is, your fit can vary between loose or baggy, regular, and slim fit.
The blanks you get should be made from top-notch materials. How do you pick the right material? We have addressed it in detail later.
2. Purpose of Printing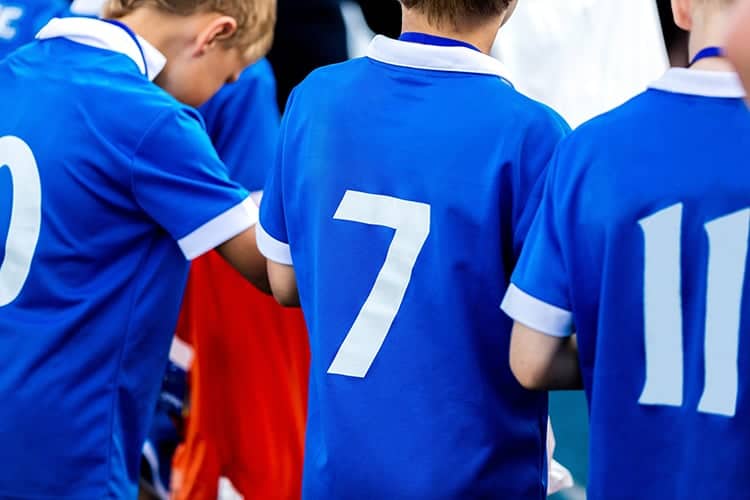 One of the vital factors to consider when starting your T-Shirt printing business is your target audience and the kind of products you want to offer.
Being aware of the audience and your short-term goals make it easier to decide what kind of blank tees you should be procuring.
You can choose from a variety of apparel categories and offer any combination of two or more styles.
If you're going to focus on sportswear, go for plain blank T-shirts that have a quick dry feature. Procuring a blend instead of pure cotton to add some polyester will be ideal. You can browse through some activewear tees here.
If you're going to offer tees to cater to top-notch fashion trends, you might want to go for premium blank T-shirts from reputed brands to get a comfortable and feel-good fabric.
Another factor you may want to consider is whether you're buying blank tees that are made from 100% organic cotton.
Being environment-friendly is a significant positive characteristic of any business today.
What kind of blank T-shirts should you procure? How many blank T-shirts will you need and at what time interval?
Answering these essential questions gets relatively simplified if you clearly define the purpose of printing from the get-go.
3. Types of Printing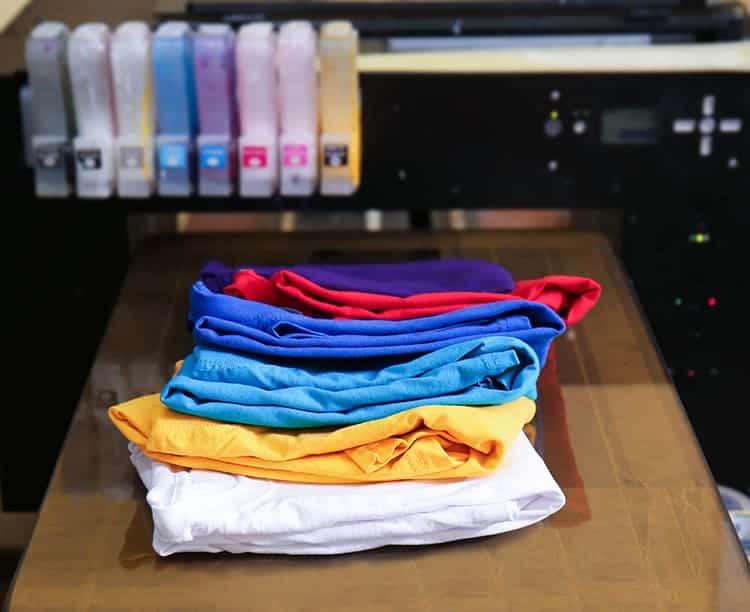 To be able to pick the right kind of blank T-shirts for printing, you need to know what variety of printing techniques you'll be using.
Many different printing methods are used, and they cannot be applied to one type of fabric.
You can choose from five printing techniques to implement in your business. Although screen printing and heat press printing are the two most commonly used printing methods, there are three more alternatives that you can consider.
Screen printing is used for simple designs that are not too colorful and complicated. It is the ideal method to use if you aim to create a large number of the same T-shirt design.
One of the benefits of this technique that has made it famous is its accuracy – guaranteeing a replica of the design on each T-shirt.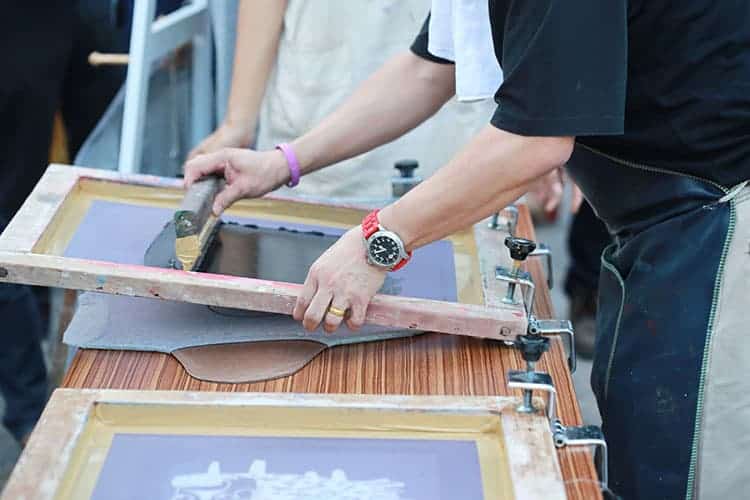 Heat press printing is more suitable for creating a small number of T-shirts with complicated designs. It is a cost-effective way to replicate intricate designs. However, it is not ideal for mass production.
If this sounds like your preferred option, you can learn more about the best heat press machine for shirts here.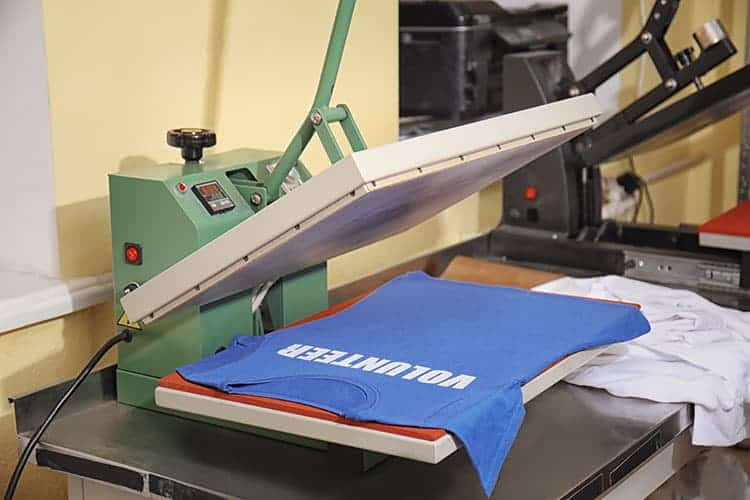 Dye sublimation is an effective method for printing minimalistic designs on light-colored polyester T-shirts.
Direct to Garment (DTG) is the least durable and is well-suited for hobbyists who have a top-notch textile printer.
Still, feeling confused? You can learn more about the types of shirt printing here.
4. Choosing the Right Fabric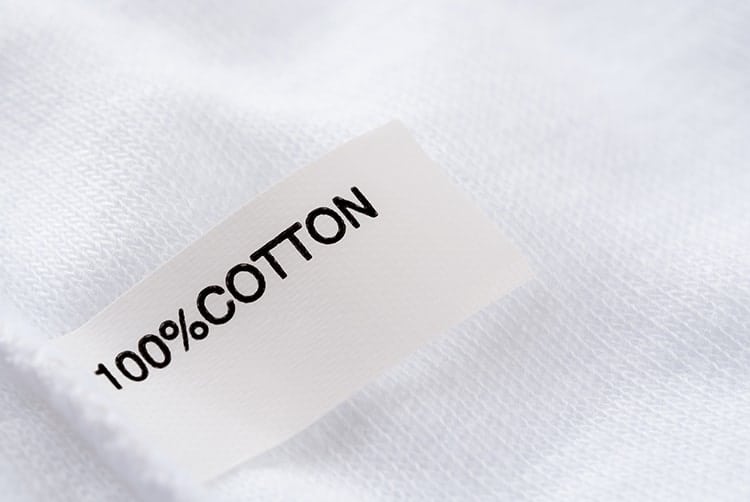 Based on the printing method you will be using, you need to decide what kind of blank T-shirts you should be procuring for the business.
The fabric you need may vary greatly, but cotton and polyester are two of the most used T-shirt fabrics.
Your customers will not appreciate a T-shirt that looks great but is not comfortable. The right fabric ensures that your T-shirts feel as good as they look, if not better.
If your T-shirt shrinks after it is washed, it is a big lose-lose situation. It is vital that you focus on the quality of the fabric you're going to use.
100% Cotton shirts are a favorite these days, but they usually tend to cost slightly more than blended shirts. Click here to browse through 100% cotton blank shirts.
If you're going for blends instead of pure cotton, a double-blend with 50% cotton and 50% polyester is one of the most commonly used fabrics.
But double blends can vary in their constitution with some fabrics having 90% cotton and 10% polyester. Click here to check out the top favorite 50/50 blank t-shirt brands.
You can opt for much softer tri-blends consisting of 50% cotton, 25% polyester, and 25% rayon.
5. The Ever So Essential 50/50 Blend
When customers buy T-shirts, one of the first things they check is the material by feeling the fabric. If it does not feel soft and comfortable, it will most likely not sell.
A safe bet for new businesses is to go for the 50/50 blend, essentially deriving the best of both cotton and polyester. Cotton adds comfort and polyester adds tear-resistance.
A crucial benefit of using the 50/50 blend relative to 100% cotton is that it does not shrink. It is also cheaper in the long run, allowing you to keep production costs in check.
Click here to check out the top favorite 50/50 blank t-shirt brands.
6. Procuring the Best Blank T-Shirts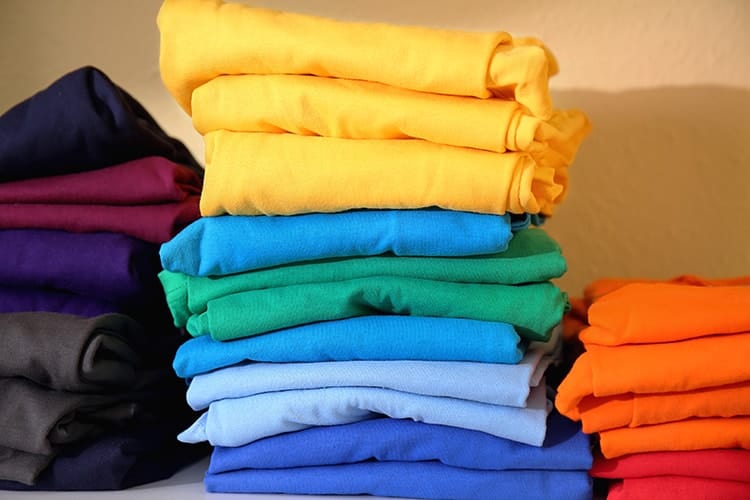 Wondering where to buy blank t-shirts for screen printing that is actually high-quality?
There are two essential factors to consider when choosing the supplier you're going to procure your blank T-shirts from – the price and the quality.
A significant component of your direct costs in the T-shirt printing business can be attributed to the price of blank T-shirts that you pay to the supplier.
You do not want to buy overly expensive T-shirts because that will increase your selling price and reduce the affordability of your products.
If somebody is supplying blank T-shirts at a cheap price, there is an inherent concern about the quality of the fabric.
There is a delicate balance between the quality and price of blank T-shirts that you need to maintain.
When you buy blank T-shirts for your business, procure different sizes, light as well as dark colors, and different fabrics.
You should have an arsenal of blank T-shirts – round neck, polo, V-neck, halter, half-sleeve, full-sleeve, and sleeveless.
If you can regularly update your products and offer a variety of T-shirts, it will not take long to create a loyal and rewarding customer base.
7. Brands You Should Consider
When starting your T-shirt printing business, you need to decide if you will be relabeling the T-shirts to try to create your brand name or use the label of the company manufacturing the blank tees.
If you buy your blank tees from a popular brand, it may not be a bad idea to let your customers know that you're printing on quality products they can trust.
Some of these brands do however sell tear-away labels so that you can remove them and replace your own brand label instead.
Here are some of the popular T-shirt brands that offer standard quality T-shirts:
Some brands offer premium quality T-shirts:
Brands like AIstyle and Tultex are cheaper alternatives to the premium brands of American Apparel and Alternative Apparel.

Tees from AIstyle and Tultex tend to shrink and can be inconsistent concerning color and size in different batches.

As a result, AIstyle and Tultex tees are more affordable.
---
Summary to Our Best Blank T-Shirts for Heat Transfer & Printing Guide
With a wide array of companies selling all kinds of clothes, finding high-quality blank T-shirts for printing can be a daunting task.
The importance of finding quality shirts for printing cannot be underestimated. At the end of the day, find customers if you offer T-shirts that feel and look good.
With the help of this checklist, finding the best quality blank t-shirts for printing should be a piece of cake!
Till next time, Happy Printing!