What is flocked HTV vinyl? Flocked HTV is a heat transfer vinyl with a raised soft and fuzzy texture.
But let's back up a section and talk about heat transfer vinyl.
HTV or Heat Transfer Vinyl is a type of vinyl that can be ironed onto any t-shirt, sweatshirt, blanket, or other cotton or polyester-based fabric.
There are different types of heat transfer vinyl.
The most common type is standard smooth vinyl, but you can also find HTV vinyl in glitter, holographic, glow-in-the-dark, flocked, and even more.
Today we want to zone in and focus on a common question that we get asked all the time: "What is flocked heat transfer vinyl?"
And I also want to talk about how you can use flocked HTV.
Let's get started!
What is Flocked HTV?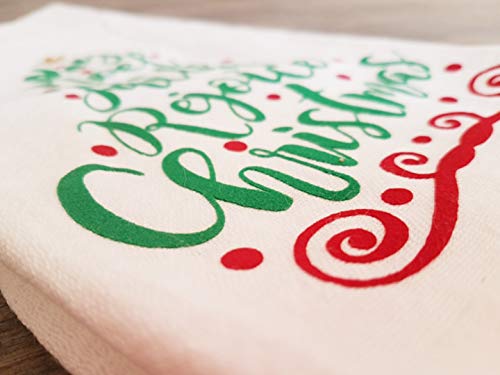 Flock heat transfer vinyl is the type of vinyl that feels like suede.
It has a soft, fuzzy, raised feel and is a great way to add more dimension, thickness, and texture to your designs.
Do you remember those embroidery patches on your favorite jeans when you were little?
Flocked vinyl is very similar to those, except that it's much more affordable and easy to apply.
Like regular vinyl, you will need a vinyl cutter to cut your vinyl. You will also need an iron or a heat press to apply to your fabric.
Flocked vs Smooth Heat Transfer Vinyl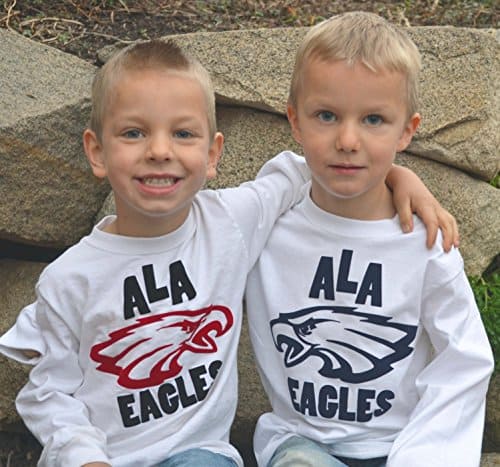 The main difference between flock and smooth heat transfer is the texture and material.
Flocked vinyl is fuzzier and it pops up for dimension, whilst smooth vinyl is flat and you guessed it … smooth.
Smooth vinyl is more delicate, whilst flocked vinyl is tougher.
These types of HTV vinyl are so different that they each require different cut settings.
With smooth vinyl, you can just go ahead with the normal cut vinyl settings but when cutting flock vinyl, you need to increase the depth for your blade to cut through the textured flock.
What Kinds of Surfaces Can I Apply Flocked Vinyl On?
Flocked vinyl is fabulous on kids' clothing because it adds a level of softness and cuteness to their clothes.
We also love flock vinyl to create some professional logos on staff uniforms.
The texture of the vinyl helps divide the logo from the clothing – you want your logo to jump out and be seen right!?
Flock vinyl is one way to achieve exactly that.
Flocked HTV is also fabulous for sports lovers, it looks flashy on sports hoodies, sports caps, as well as team shirts.
From experience, we have found that flocked vinyl works really well on certain surfaces and fabrics such as:
100% Cotton
Poly/Cotton Blends
100% Polyester
Leather
Where Can You Get The Best Flocked Vinyl?
Below you will find a list of the best flocked vinyl companies, together with ideas of where to buy them from.
You can typically buy them in either individual flocked vinyl sheets or you can buy bulk in rolls.
1. Siser StripFlock Vinyl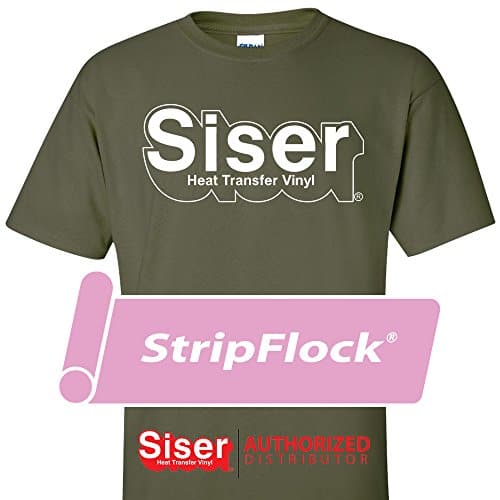 If you want the best of the best, we would recommend the Siser Stripflock which comes in 10 different colors plus your standard white and black.
Siser has a fabulous reputation and most professional vinyl crafters often announce that Siser manufacturers the best HTV vinyl on the market.
Why we think this is the best vinyl for use because it is the only kind of flocked vinyl that you can use in multiple layers for creating different designs.
Siser vinyl applies easily and it peels easily – it is overall just a really easy vinyl to use. Find all the types of Siser HTV here.
2. Firefly Craft Flock Vinyl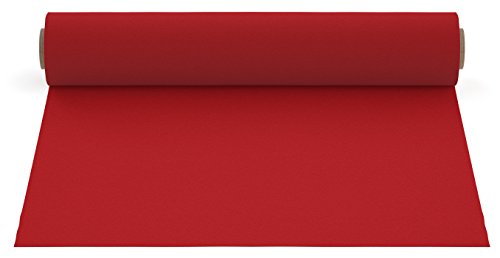 Firefly flock vinyl is favored by many designers and DIYers. This vinyl comes in 6 colors and is slightly more expensive than Siser.
Important to note that you can not layer this flock vinyl, so best to use it for single-color designs.
How to Use Flocked Heat Transfer Vinyl
It's not really hard to use flocked transfer vinyl once you get the gist of it.
If you want to create multiple fancy designs, flocked vinyl works pretty well. You can layer it with smooth vinyl as well.
Just lay down a sheet of smooth vinyl and heat press it, followed by a layer of your cut flocked vinyl (also heat pressed).
Moreover, with the Siser Stripflock, you can even layer one sheet of vinyl on top of another sheet of flocked vinyl to create multi-color designs.
But let's jump into the tutorial on how to use flocked vinyl.
1. How Do I Cut My Flocked HTV?
As we have mentioned before, you will need a vinyl cutting machine to cut your flocked vinyl.
Also, note that flocked vinyl requires more blade depth than smooth vinyl.
However, this varies from one manufacturer to another. They will likely put instructions about the cutting requirements on their packaging.
Also, it depends on which kind of cutter you use.
Here is a general guideline that you can try out – best to try it on a small sampler size to see if your machine cuts correctly.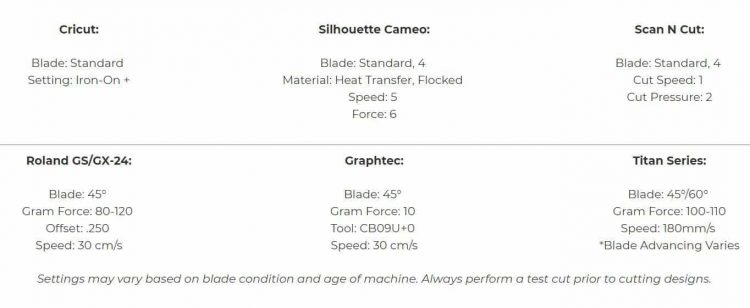 I personally use the latest Cricut Maker Fabric Cutter to cut my flocked vinyl and have never had an issue with the settings.
Do remember that if you cut your vinyl and you realize it didn't cut through properly you can always ask the machine to do a re-cut.
Next, simply weed and peel your design as you normally would in order to prepare it for the application.
More info on weeding vinyl is in our post here.
2. How to Iron or Heat Press Flocked Vinyl
The first step, make sure you read the instructions that come with the vinyl you bought.
Each brand is different from the other and they will typically provide you with the temperate and time settings that are required to apply their vinyl brand.
You can use either an iron or a heat press (read about the differences between an iron and a heat press here). I prefer using a vinyl heat press for my designs.
Remember to do an initial press before laying it on the fabric. This will remove any moisture and will remove wrinkles from the fabric.
After that, set your temperature at 320 degrees Fahrenheit, add pressure for about 15 seconds, and check the corners carefully to see if it is applied properly if it lifts up simply apply more heat and pressure.

With iron, you can follow the same steps except you have to set it at 'cotton' or 'high'.
Apply pressure for 20 seconds, before moving on to the next section of your design.
Make sure to follow the vinyl instructions on whether to peel the plastic when it is cold or when it is still hot.
The Siser StripFlock should only be peeled once the plastic is cold to the touch.
And that's it! You're done. It's as simple as that.
Don't forget to wait 24 hours before your 1st wash. Always set the machine wash to warm or cold and use a mild detergent.
You can tumble dry your clothing, but I recommend turning your shirt inside out to protect the vinyl.
Tumble dry on cool or normal but avoid hot.
Finally, we have come to the end of today's article.
What we have given you are the important basics one needs to know about flocked heat transfer vinyl. And we hope you enjoyed it!
Don't Forget to Pin this Post for Future Reference