Looking for some cool DIY Happy Potter crafts?
We have a massive list of some of the best Harry Potter craft ideas from around the web.
There is something for everyone on this list, from wands, to edible crafts, to robes, owls, mugs, t-shirts and so much more!
There is also some fabulous Harry Potter crafts for kids to make, as well as some awesome projects that make excellent Harry Potter decorations for birthday parties.
And whilst you are in the Harry Potter mood, don't forget to grab a Hogwarts Letter of Acceptance. You can read more about how to get hold of one of these letters here.
Enjoy!
BEST DIY Harry Potter Craft Ideas From Around the Web
Find 20 fabulous Harry Potter craft ideas from all of our favorite craft bloggers below.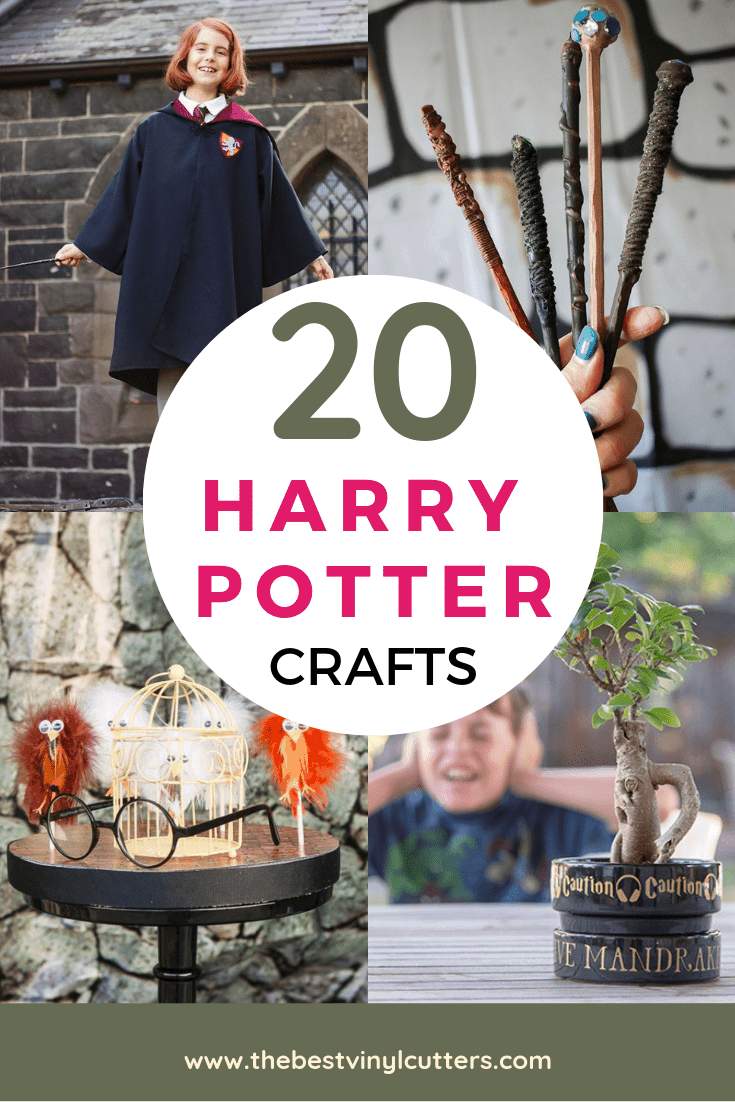 Silhouette & Cricut Harry Potter Projects
Find below all Harry Potter craft ideas that require either a cutting machine or a heat press (or both). Here is our fabulous guide to help you find the best home vinyl cutter.
1. DIY Harry Potter Box People Using a Cricut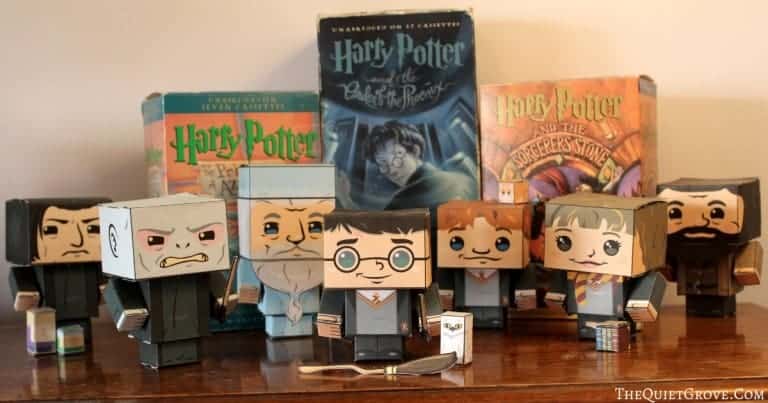 After some Harry Potter Cricut crafts?
We are in love with this adorable set of Harry Potter box people. Julia from The Quiet Grove has a detailed tutorial on her blog that you can follow. She also has FREE Harry Potter SVG files available for download to help you with this craft as well. Click here to see the step-by-step instructions.
Check it Out: Wondering which Cricut machine is best?
2. Easy Harry Potter Craft Owls Using the EasyPress 2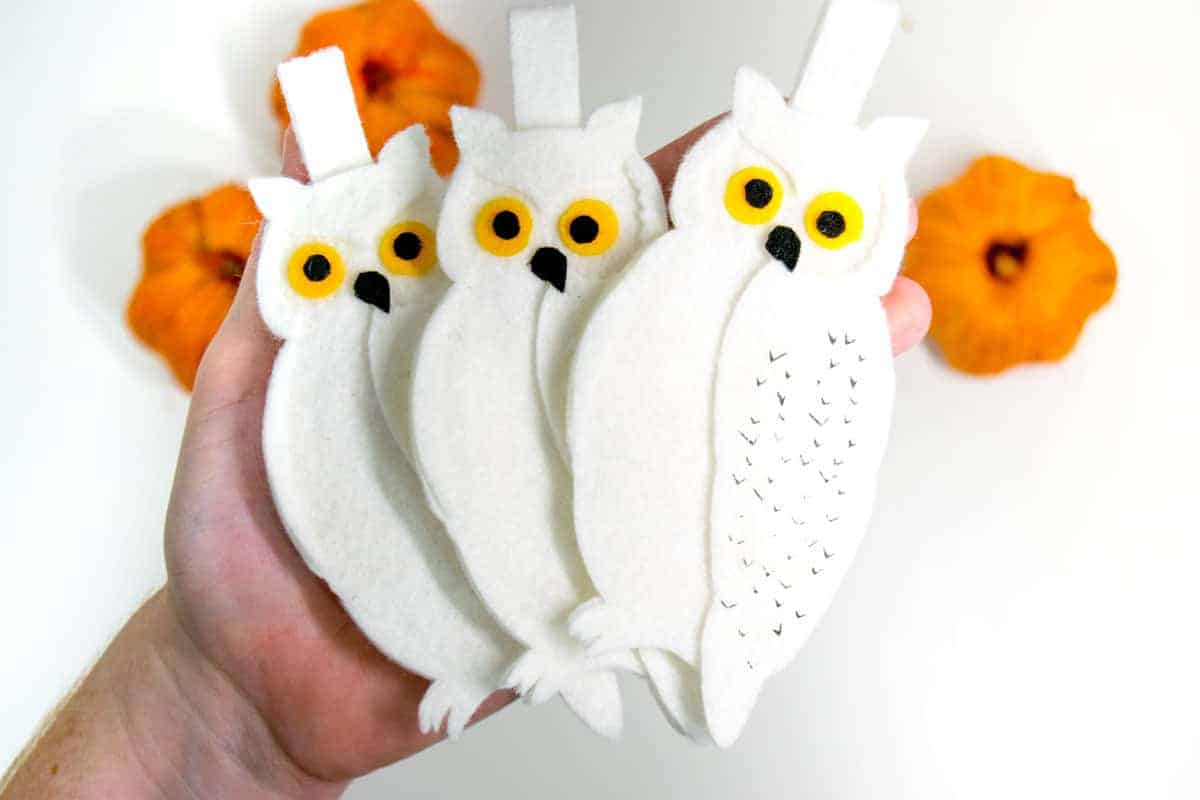 These Hedwig Owls are gorgeous! Lindsay designed them to hang from a Christmas Tree, but I can also see them being used as a bookmark or as string them up and use them as decoration at a Harry Potter themed party.
Lindsay uses her Cricut Maker, some Cricut Iron-On Felt, and her Cricut EasyPress to create these beauties. You can find the full tutorial on her blog: See Lindsay.
Did you Know: The Cricut Maker is the best cutting machine to use for both felt and fabric crafts? Read our review of the Cricut Maker here.
3. DIY Cricut Harry Potter Potion Labels by GYCT Designs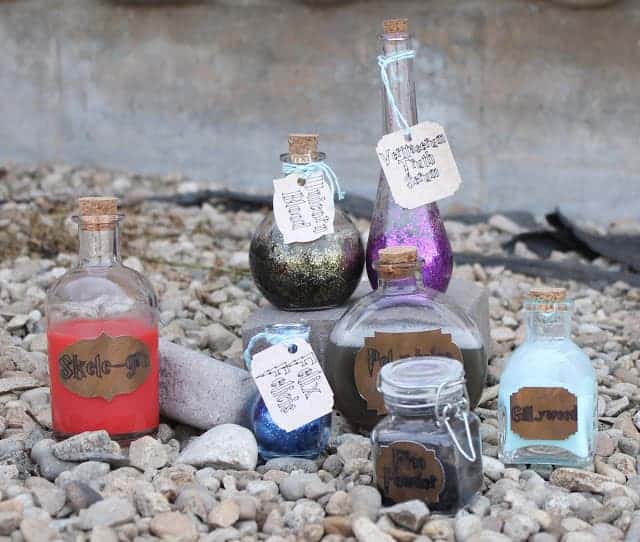 After some nice and easy Harry Potter Crafts? It doesn't get much easier than this! Chelsea from GYCT Designs has a great tutorial to show you how you can create these gorgeous potion bottles. You will need a Cricut machine to cut out the potion labels. Hop over to GYCT Designs to see the full tutorial.
4. Harry Potter Shirt Design by Swoodson Says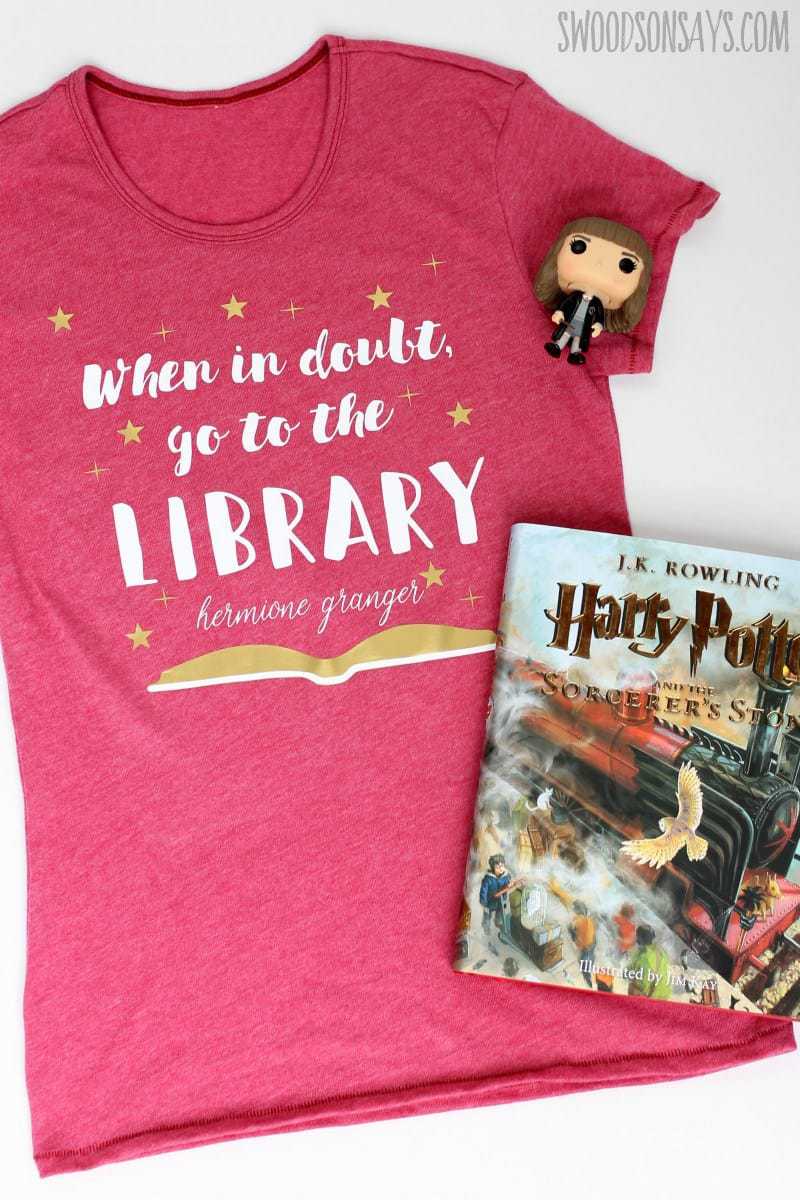 Looking for some Harry Potter T shirt transfers? Stephanie from Swoodson Says kindly shares her FREE Hermione Granger quote file (you will need to sign up for her newsletter to get it) so that you can whip up a T shirt similar to hers. Hop over to her site to grab the downloadable file.
Tip: You have a lot more control over your HTV application when you are using a good quality heat press. Here is a great post that will help you find the best T shirt press.
5. DIY Mandrake Pot using a Silhouette by More Than Thursdays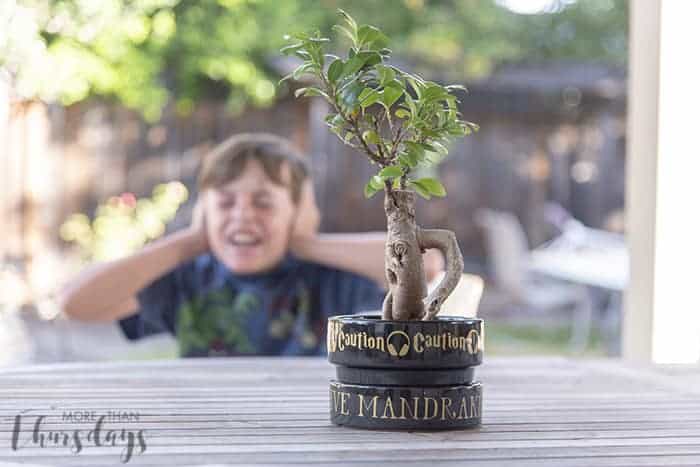 After some truly cool Harry Potter crafts for kids? I think this is really brilliant! PLUS it gives your child the opportunity to look after a plant as well right? Hop over to More Than Thursdays and grab the full tutorial on how to whip up your very own Mandrake pot with some vinyl.
6. DIY Harry Potter Mugs by Simply Made Fun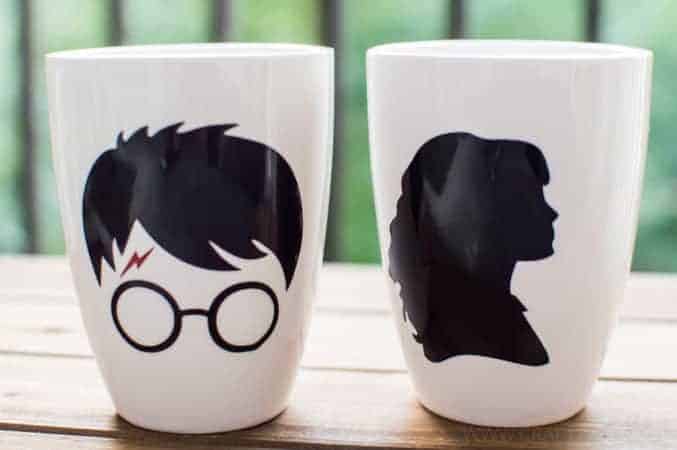 Teresa from Simply Made Fun has a fabulous tutorial on how to create these awesome 'his & hers' Harry Potter mugs. You will need a cutting machine, some Oracle 651 vinyl, and some transfer paper. She also shares the link to the Hermione silhouette as well. Click here to see her tutorial.
DIY Harry Potter Wand Craft Projects
Wondering how to make a Harry Potter wand? We have you covered with some beautiful Harry Potter wand DIY tutorials.
1. DIY Harry Potter Wizard Wands by My Poppet Makes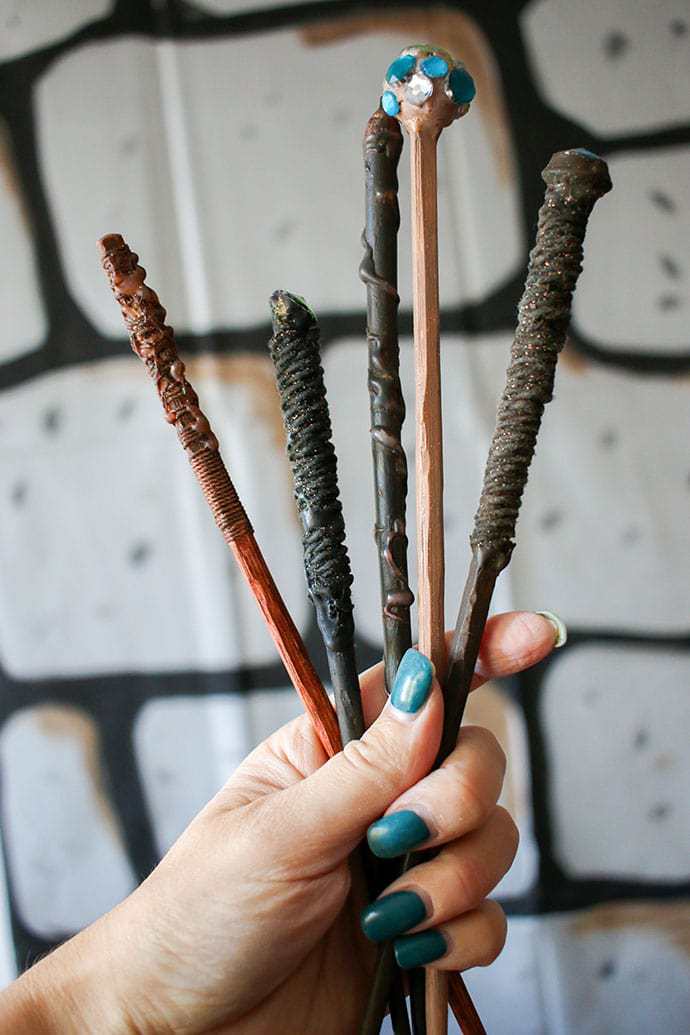 Cintia from My Poppet Makes shows us how to create these cool Harry Potter Wands. She created them for her daughter's themed Harry Potter Party. She made her wands out of chopsticks – how brilliant is that! You can find the full tutorial on how to make these magic wands on her blog.
2. Easy Custom Harry Potter Wands by The Inspiration Edit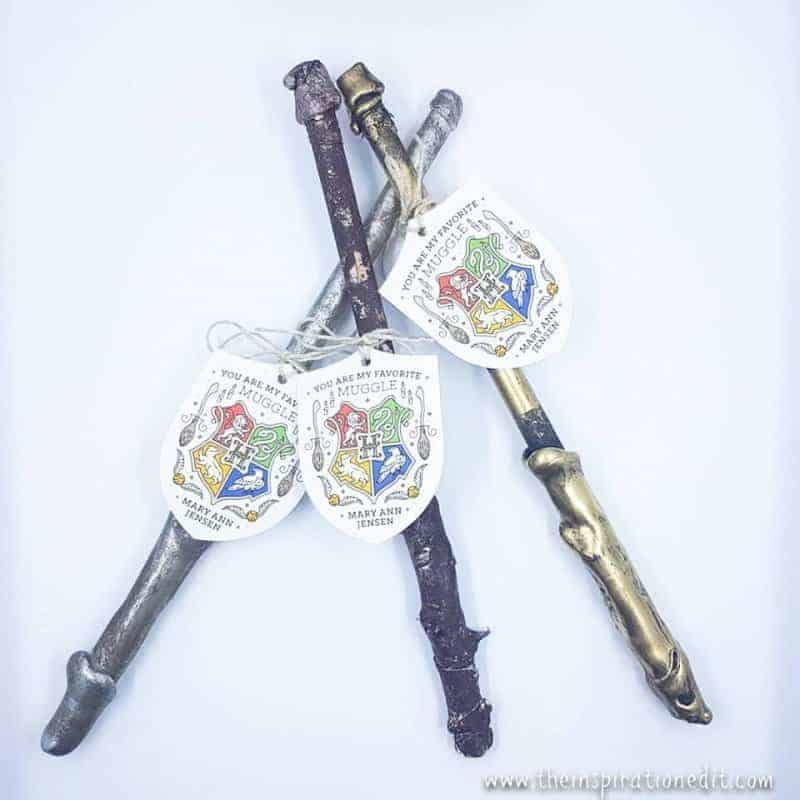 These gorgeous custom Harry Potter wands are in actual fact made from paper. I bet you might even have most of the supplies on this list at home already! Hop over to The Inspiration Edit to check out the full tutorial.
3. DIY Luna Lovegood – from Harry Potter – Toy Wand by Tikkido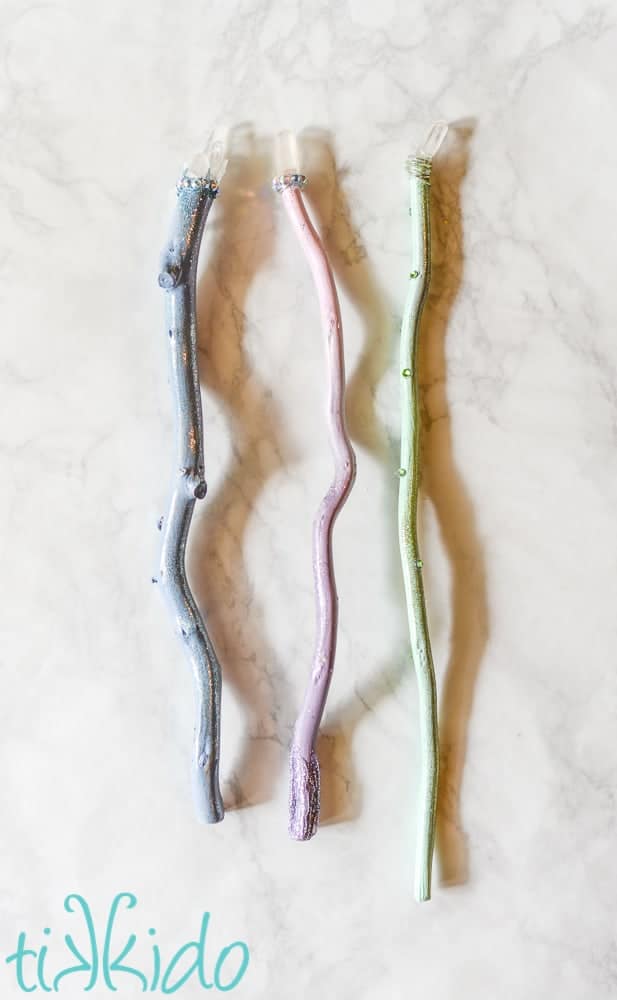 Looking for a softer, more girlie wand to whip up? These gorgeous soft pastel-colored Luna Lovegood wands are perfect for any girl. Nicole used some twirly willow sticks for her wands. You can find her full tutorial on her blog: Tikkido.
4. Wood Chopstick Harry Potter Wands by The Quiet Grove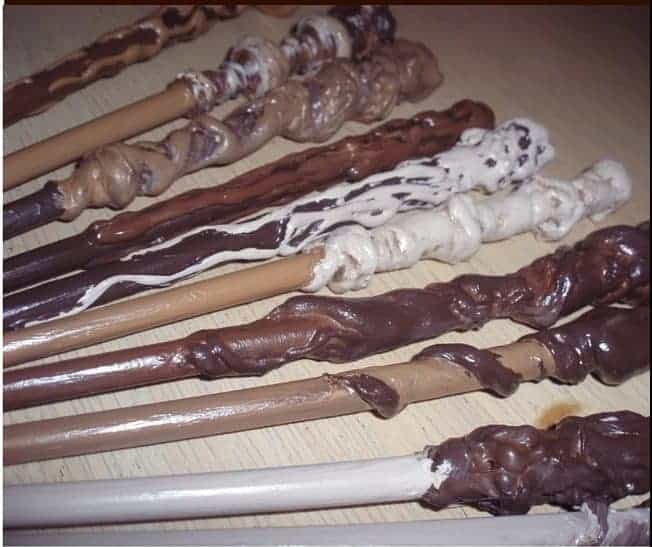 Julia from The Quiet Grove shows us how to quickly and easily whip up these fun Harry Potter wands. You will need some wooden chopsticks for some hot glue for these wands. Click here to see her full tutorial.
Homemade Harry Potter Golden Snitch Ideas
Want to whip up some homemade Harry Potter Golden Snitch Ornaments? What about some Golden Snitch editable crafts? Sound good? Here are some of our favorites!
1. Harry Potter Golden Snitch Ornament by Savings Lifestyle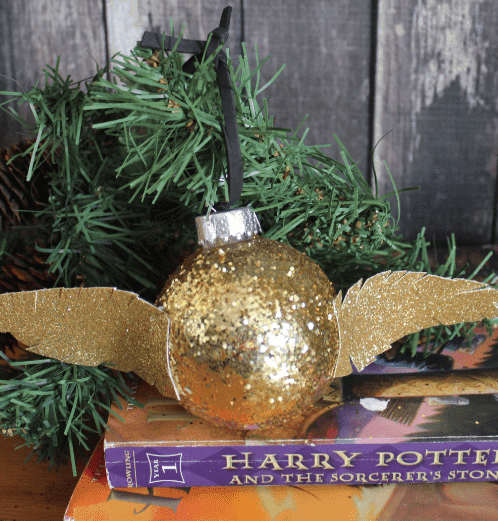 This beautiful Golden Snitch works beautifully as a Christmas Ornament. So easy to make, that even your kids can join in on the craft. Andrea from Savings Lifestyle shares the full tutorial on her blog. Why not whip up a few for your Christmas tree?
2. Harry Potter Golden Snitch Cupcakes by Dessert Now Dinner Later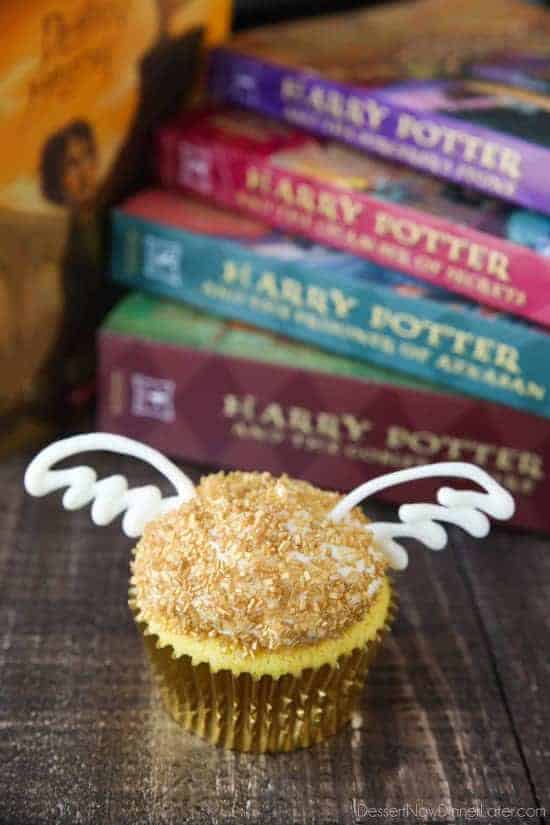 After an edible craft? Or maybe you are planning a Harry Potter Birthday Party. Amber from Dessert Now Dinner Later shows us how to create these beautiful Golden Snitch inspired cupcakes. Hop over to her blog and grab the step-by-step instructions.
3. Harry Potter Golden Snitch Edible Craft by Adventures of Mel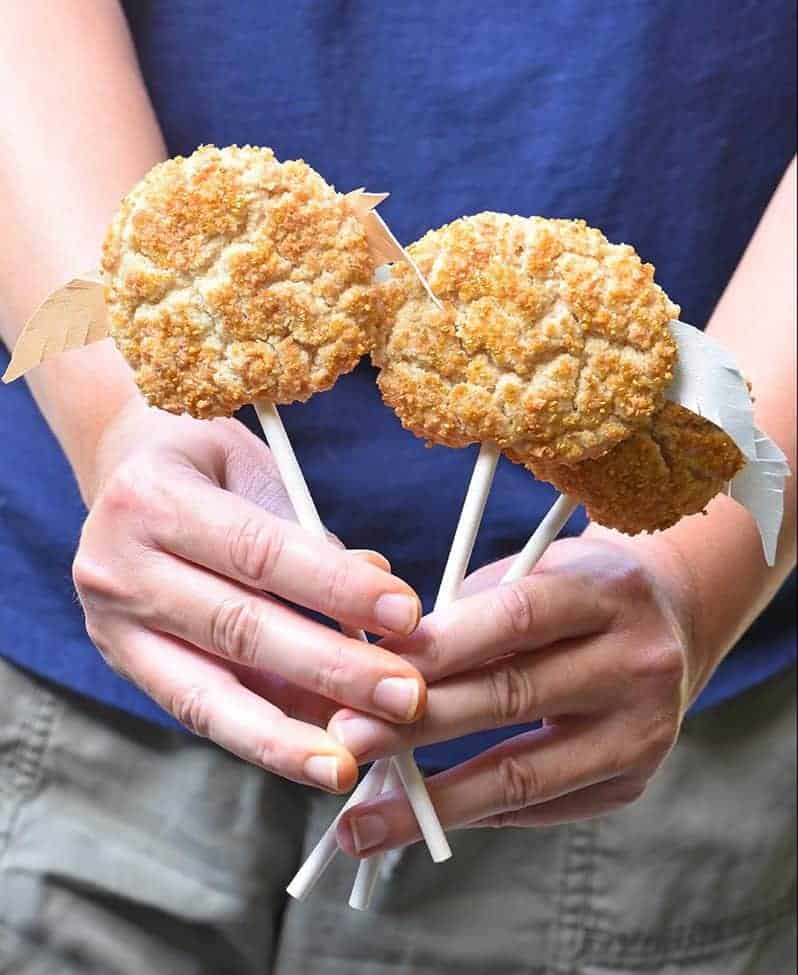 Don't these Golden Snitch Snickerdoodle Cookie Pops look absolutely delicious!? We are loving these edible Harry Potter craft ideas. Mel from Adventures with Mel shares the recipe as well as a video tutorial on her blog.
Other Harry Potter DIY Crafts to Make
Looking for even more DIY Harry Potter crafts to make? Here are some more fabulous projects.
1. Free Harry Potter Brush Lettering Worksheet by Awesome Alice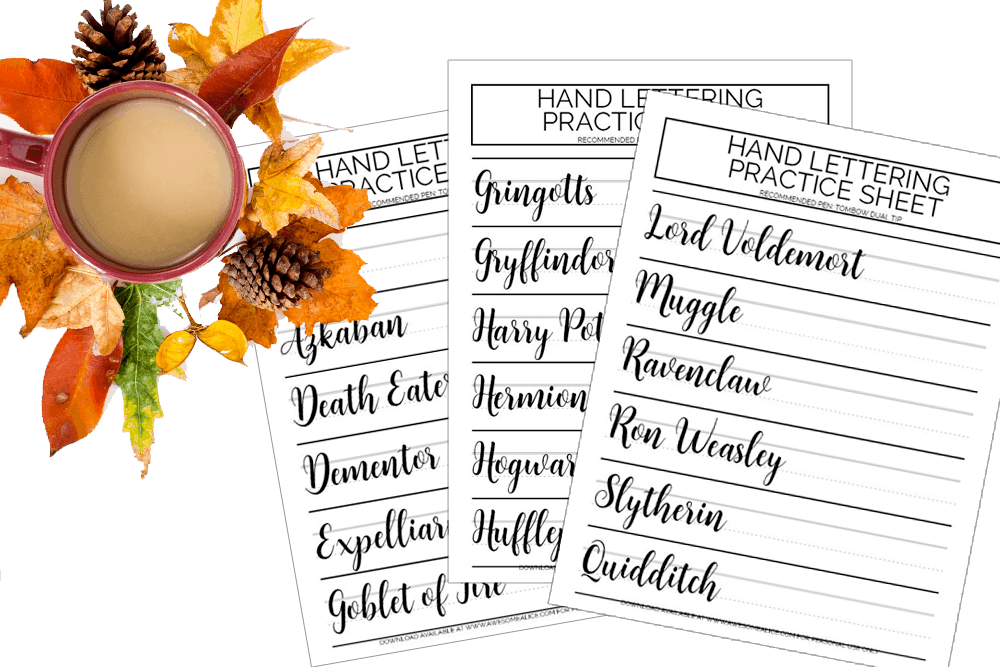 Viktoria from Awesome Alice has this fabulous free printable brush lettering practice sheet available for download. She also has some fabulous tutorial posts on how to get started with brush lettering. Hop over to her website and download your printable PDF.
2. Editable Harry Potter Themed Crafts: Chocolate Frogs by Kim and Carrie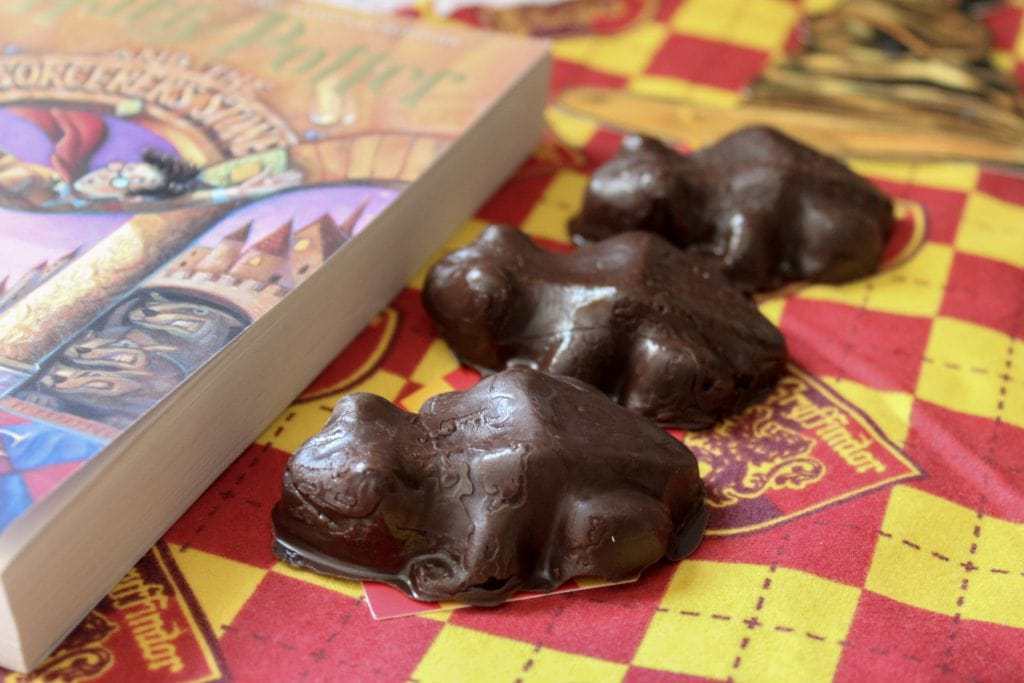 After some yummy Harry Potter craft ideas? Check out this fabulous DIY Harry Potter chocolate frogs candy recipe from Kim and Carrie. Another great project that you can easily get your kids involved in as well.
3. Crochet Harry Potter Art Projects by Too Much Love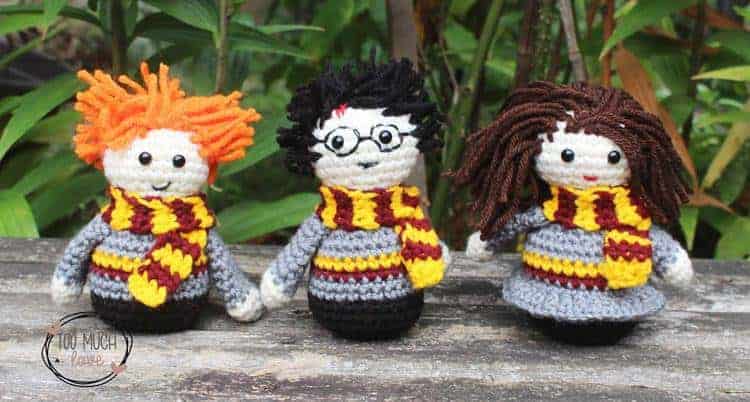 If you can crochet, this is a fabulous project. Aren't these guys adorable! Nancy from Too Much Loves shares a full and detailed tutorial on how to make the Wizarding Trio – Harry Potter, Ronald Weasley, and Hermione Granger.
4. Sorting Hat Harry Potter Art Project by Ruffles and Rain Boots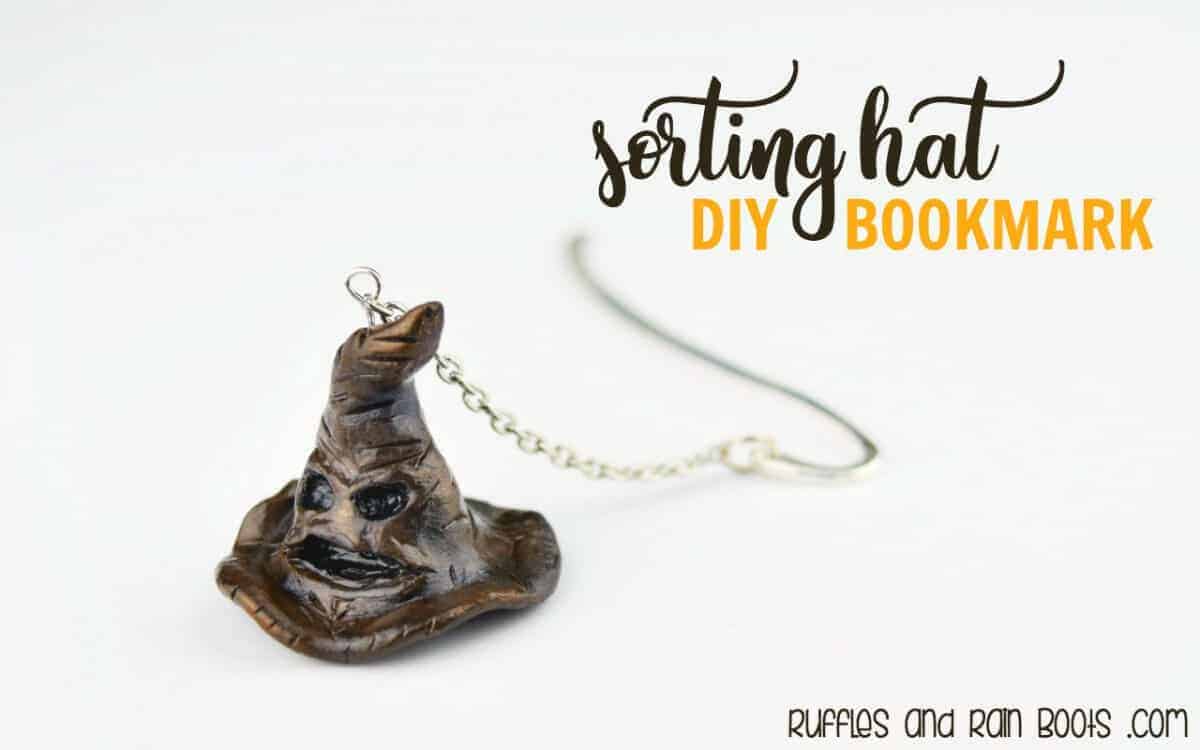 How cute is this bookmark!? I know my girls would love one of these. Sarah from Ruffles and Rain Boots has a brilliant tutorial walking you through the steps of how to whip up these bookmarks with some polymer clay. Have fun!
5. DIY Hogwarts Robe by My Poppet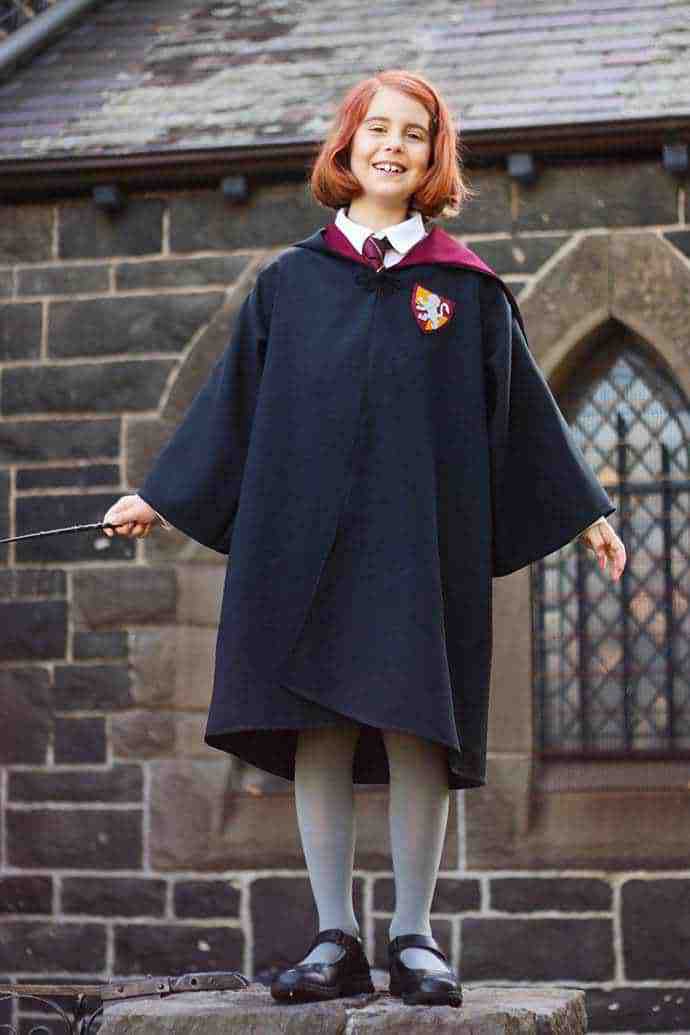 This project is truly a step above the rest. Be warned that there are loads of steps in order to create the tie, the logo and of course the robe itself. But in my opinion, it is worth all the effort. Cintia from My Poppet shares the full step-by-step tutorial on her site here.
6. Harry Potter Owl Lollipops Tutorial by Tikkido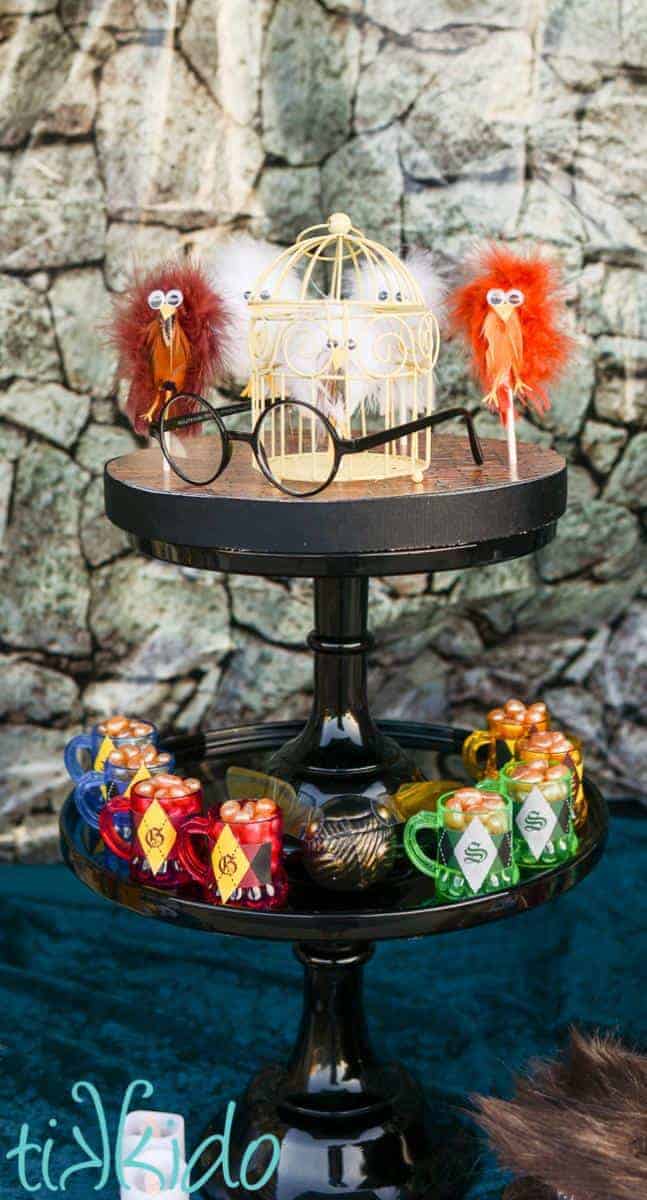 These are just way too clever.  Not only are they super adorable owls, but they actually have a lollipop inside of them!! Uhmmm yes, please!! Hop over to Tikkido where Nicole shares her full tutorial.
7. DIY Harry Potter Prophecy Ball by More Than Thursdays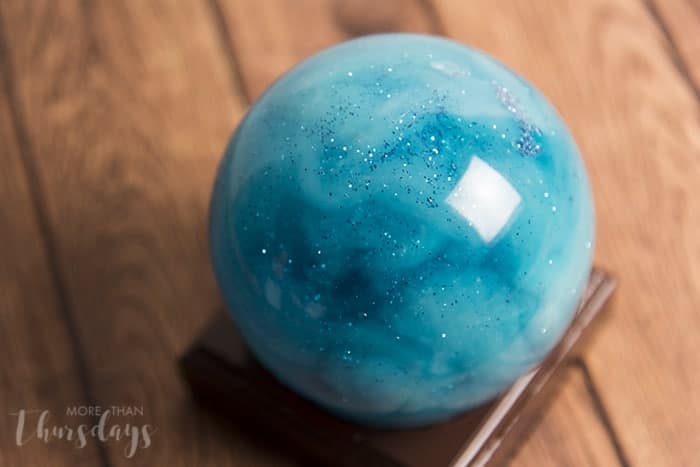 I really love this and I think it is brilliant. A DIY Prophecy Ball! Whilst this might look like it is complicated to make, it is in fact pretty easy. So hop over to More Than Thursdays to check out the tutorial.
And there you have our massive guide full of awesome Harry Potter art ideas. We would love to know which of these crafts you might like to try out. Please leave us a comment below and tell us all about it.
Till next time,
Samantha xxx