Looking for some cool free Harry Potter Cricut Project Ideas?
We have a massive list of some of the best Harry Potter craft ideas from around the web.
There is something for everyone on this list, from color-changing cups to library bags, to robes, owls, mugs, t-shirts and so much more!
These Harry Potter designs for Cricut machines have been designed by other Harry Potter fans who love to craft!
Here is our list of Cricut Harry Potter ideas. Enjoy!
28
Free Harry Potter Cricut Projects From Around the Web
Find 28 fabulous Harry Potter Cricut craft ideas from all of our favorite craft bloggers below.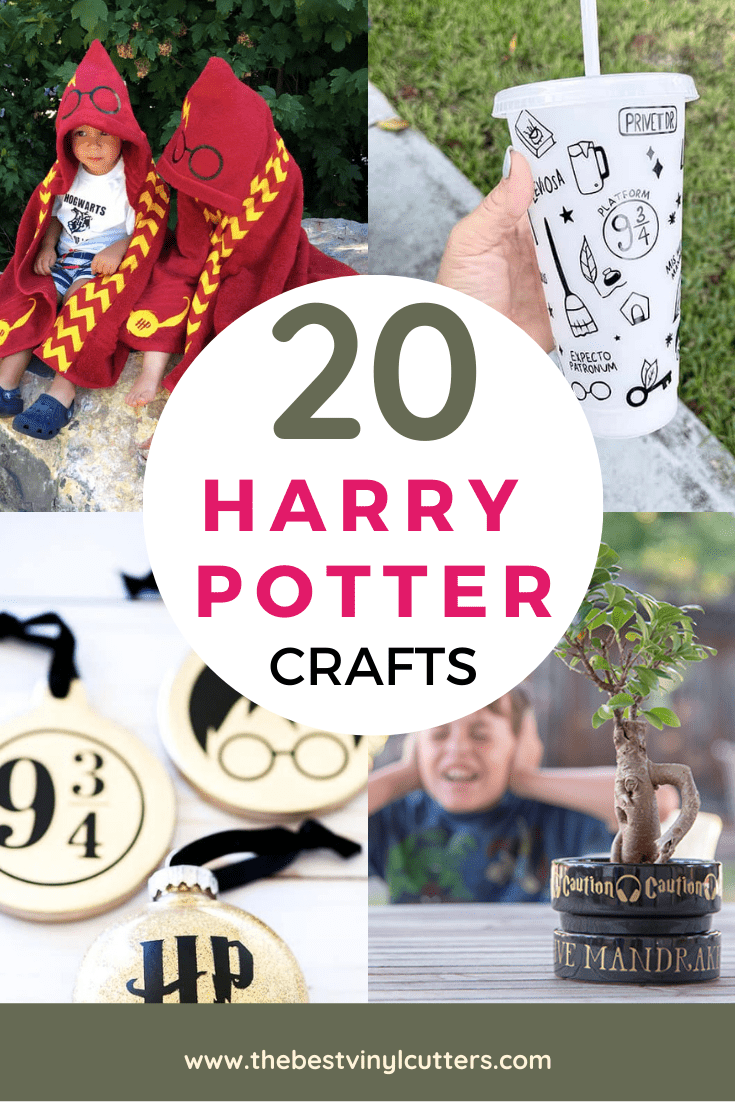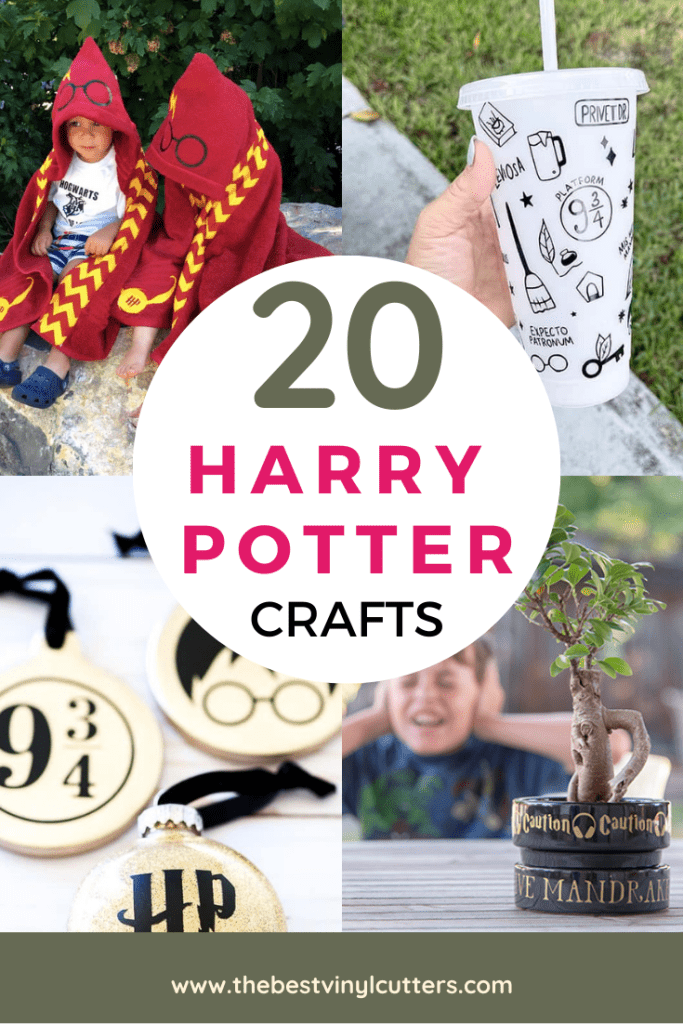 1. DIY Harry Potter Box People Using a Cricut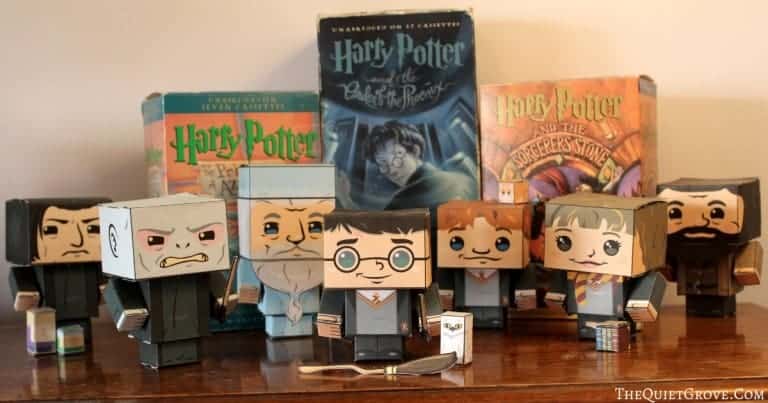 After some cute Harry Potter Cricut crafts? We are in love with this adorable set of Harry Potter box people.
Julia from The Quiet Grove has a detailed tutorial on her blog that you can follow. She also has FREE Harry Potter SVG files available for download to help you with this craft as well.
Click here to see the step-by-step instructions.
---
2. Easy Harry Potter Craft Owls Using the EasyPress 2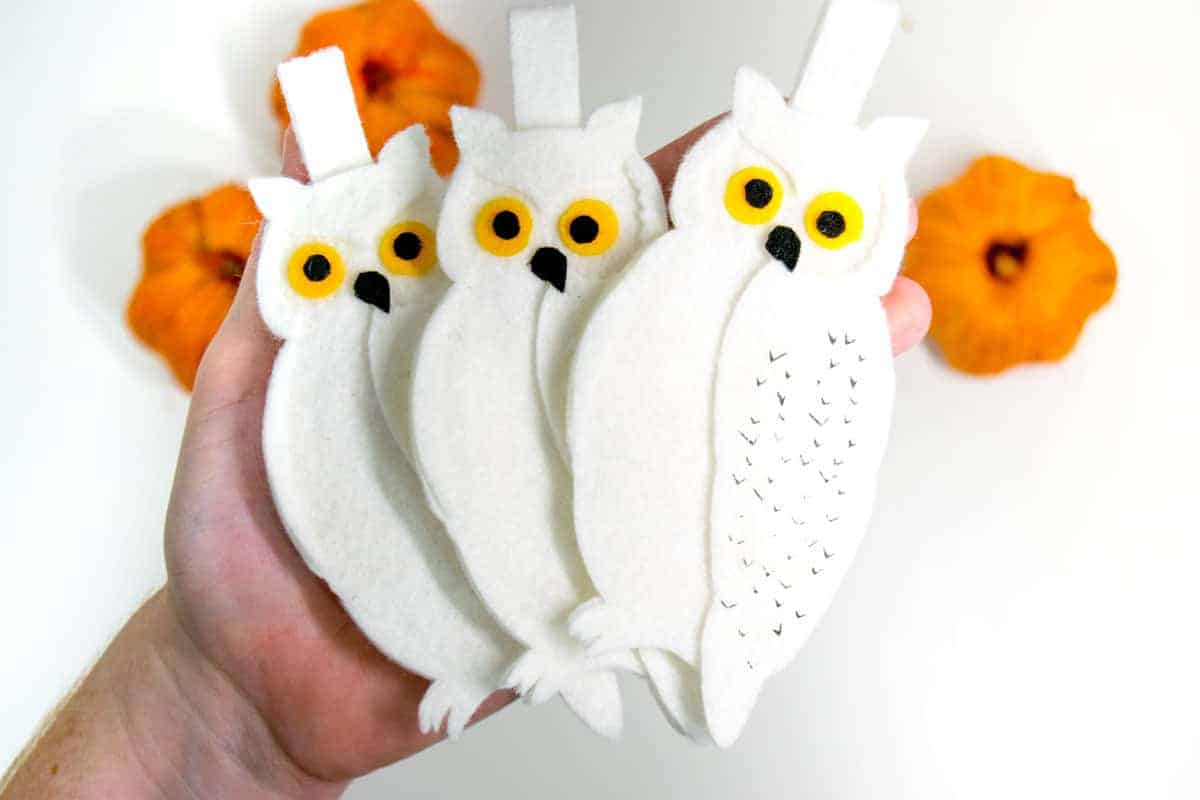 These Hedwig Owls are gorgeous! Lindsay designed them to hang from a Christmas Tree, but I can also see them being used as a bookmark or as string up and used as decoration at a Harry Potter-themed party.
Lindsay uses her Cricut Maker, some Cricut Iron-On Felt, and her Cricut EasyPress to create these beauties.
You can find the full tutorial on her blog: See Lindsay.
Did you Know: The Cricut Maker is the best cutting machine to use for both felt projects and fabric crafts? Read our review of the Cricut Maker here.
---
3. DIY Cricut Harry Potter Potion Labels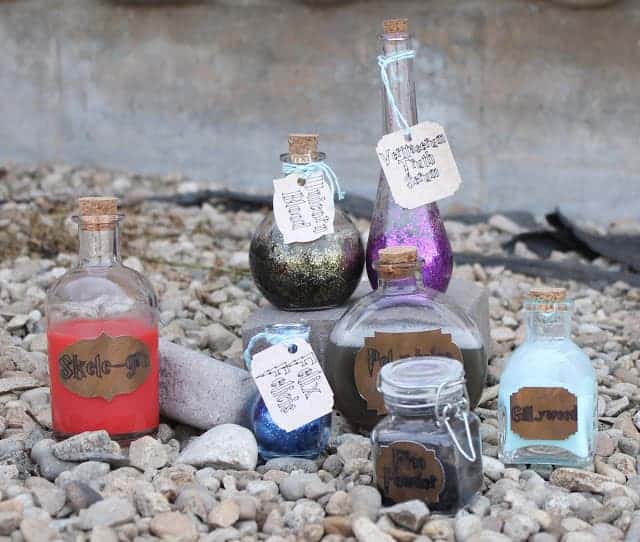 After some nice and easy Harry Potter Crafts? It doesn't get much easier than this!
Chelsea from GYCT Designs has a great tutorial to show you how you can create these gorgeous potion bottles. You will need a Cricut machine to cut out the potion labels.
Hop over to GYCT Designs to see the full tutorial.
---
4. Harry Potter Shirt Design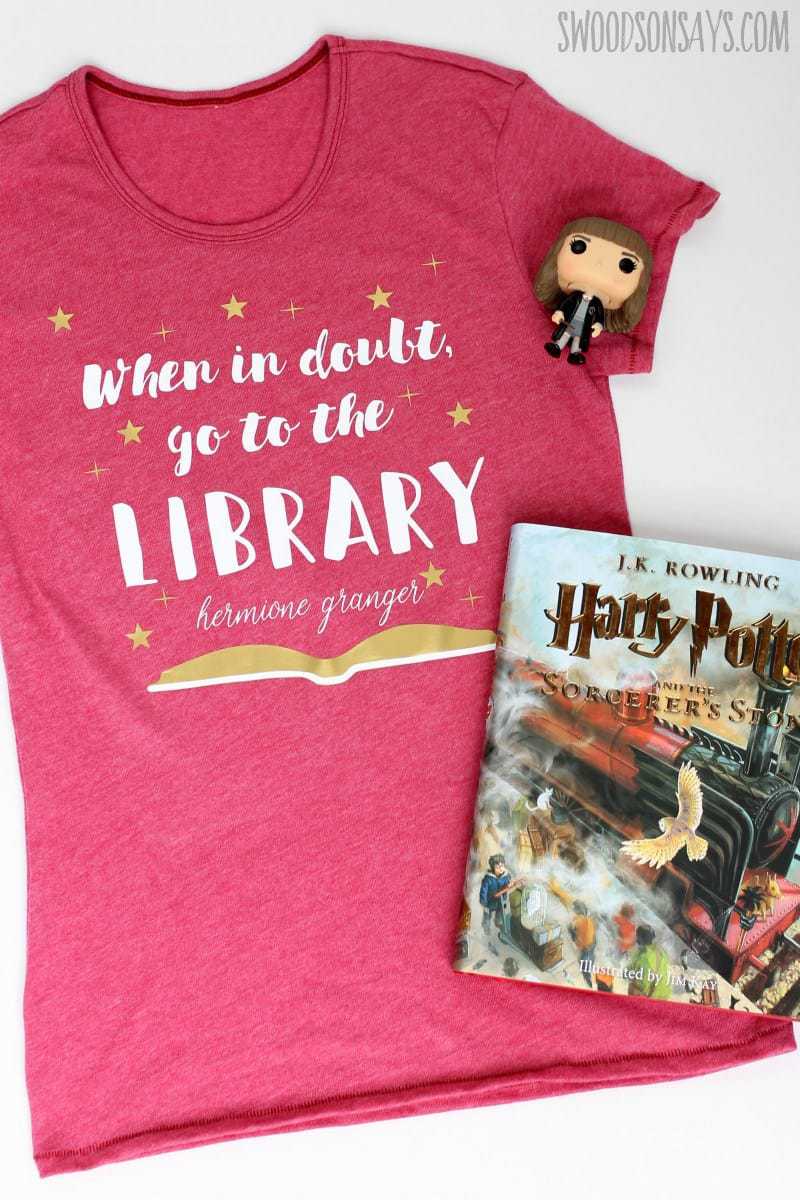 Looking for some Harry Potter T-shirt transfers?
Stephanie from Swoodson Says kindly shares her FREE Hermione Granger quote file (you will need to sign up for her newsletter to get it) so that you can whip up a T-shirt similar to hers.
Hop over to her site to grab the downloadable file.
Tip: You have a lot more control over your HTV application when you are using a good quality heat press. Here is a great post that will help you find the best T shirt press.
---
5. DIY Mandrake Pot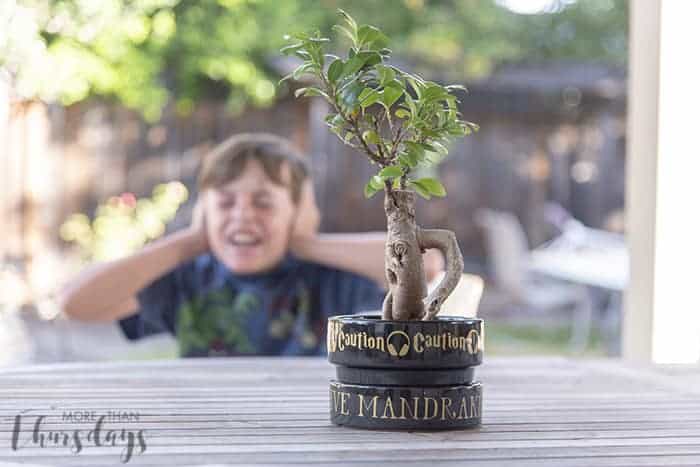 After some truly cool Harry Potter crafts for kids? I think this is really brilliant! PLUS it gives your child the opportunity to look after a plant as well right? H
op over to More Than Thursdays and grab the full tutorial on how to whip up your very own Mandrake pot with some vinyl.
---
6. DIY Harry Potter Mugs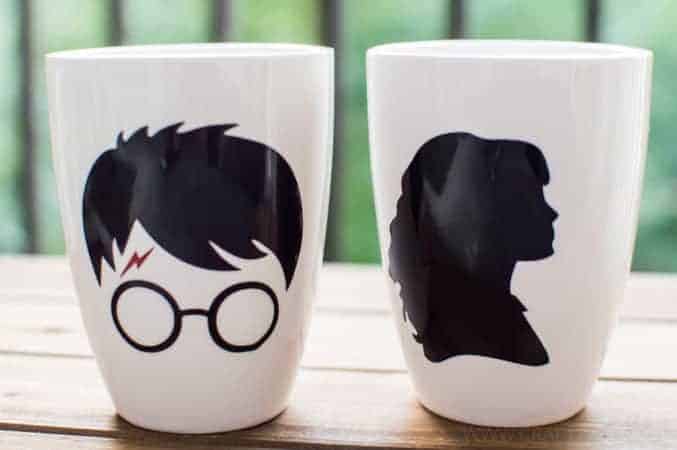 Teresa from Simply Made Fun has a fabulous tutorial on how to create these awesome 'his & hers' Harry Potter mugs.
You will need a cutting machine, some Oracle 651 vinyl, and some transfer paper. She also shares the link to the Hermione silhouette as well.
Click here to see her tutorial.
---
7. Personalized Harry Potter Backpack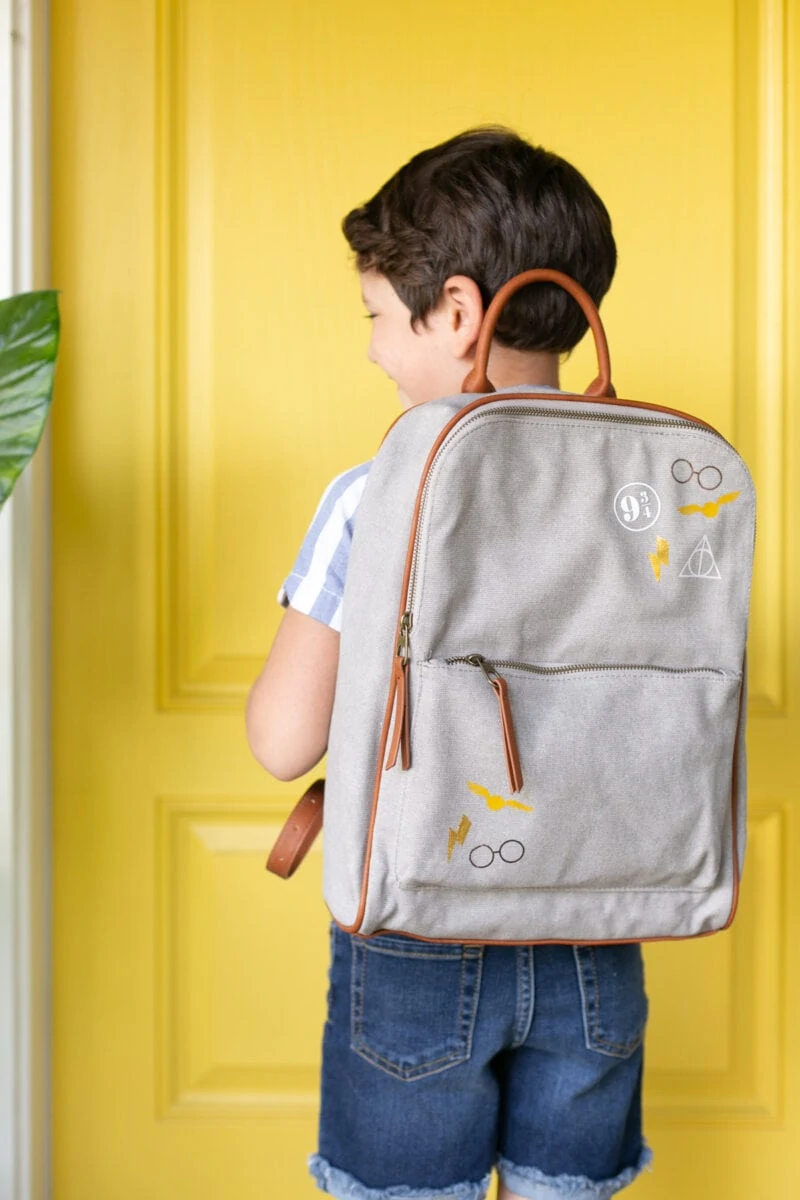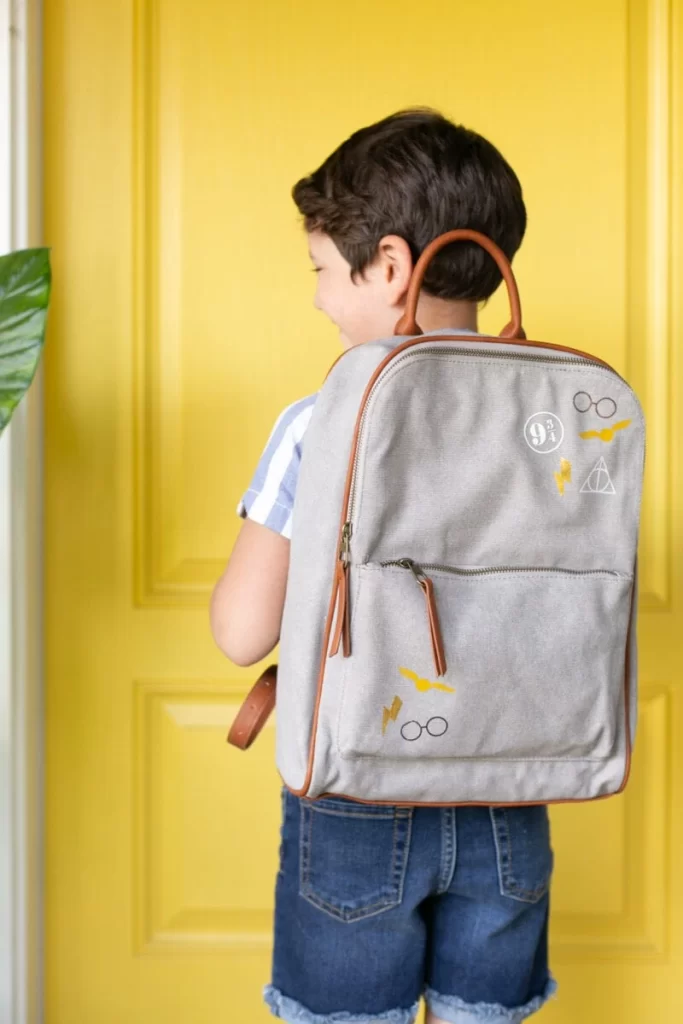 Chelsea from Lovely Indeed shows us how to create this cool Harry Potter themed backpack. Such an easy way to make a dull backpack look fabulous! Perfect for the back-to-school season too.
You can find the full tutorial on how to customize a backpack like this on her blog.
---
8. Easy H

arry Potter Sleep Mask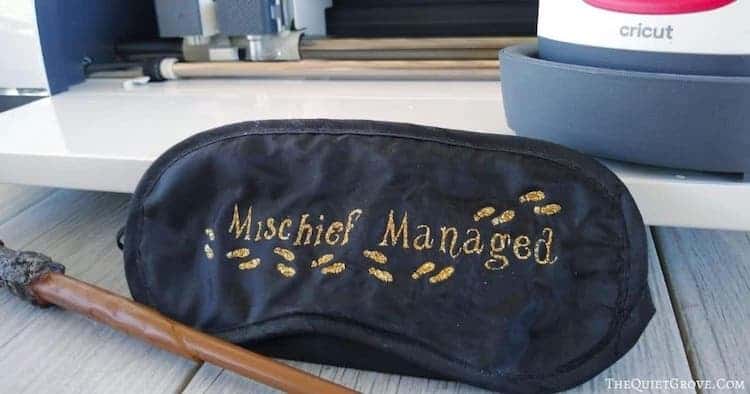 Heading off on a trip somewhere? Add darkness and peace to your sleep by making this your own customized Harry Potter sleep mask with this fun "Mischief Managed" design.
Hop over to The Quiet Grove to check out the full tutorial.
---
9. Harry Potter Backpack Tag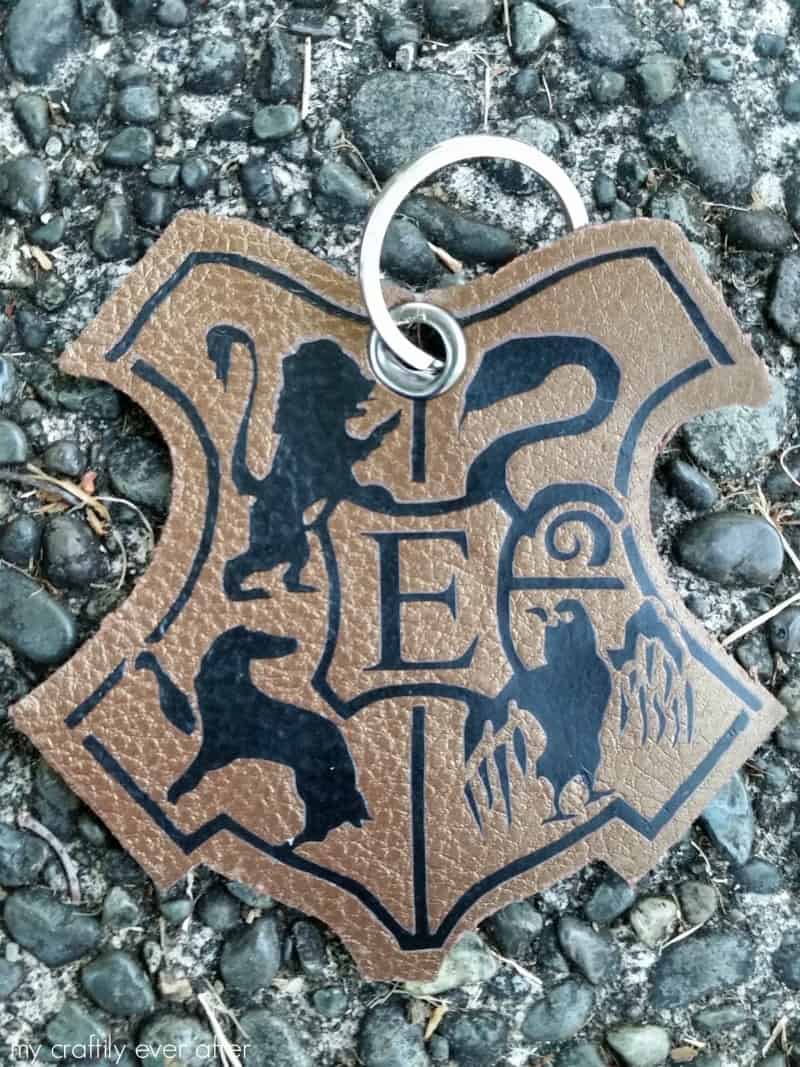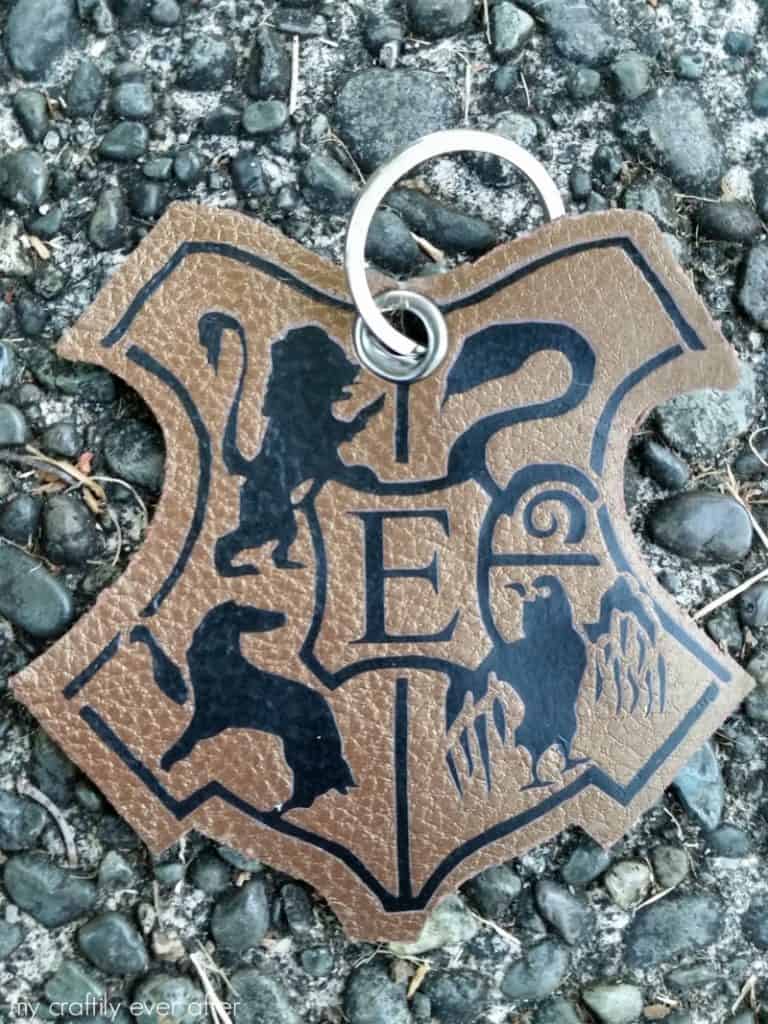 At our school, the kids all have to use the same school backpack and it can be tricky to identify one bag from the other. So this is a great way to add a personalized touch to the backpack.
You can find her full tutorial on her blog: My Craftily Ever After.
---
10. Hogwarts Mail Holder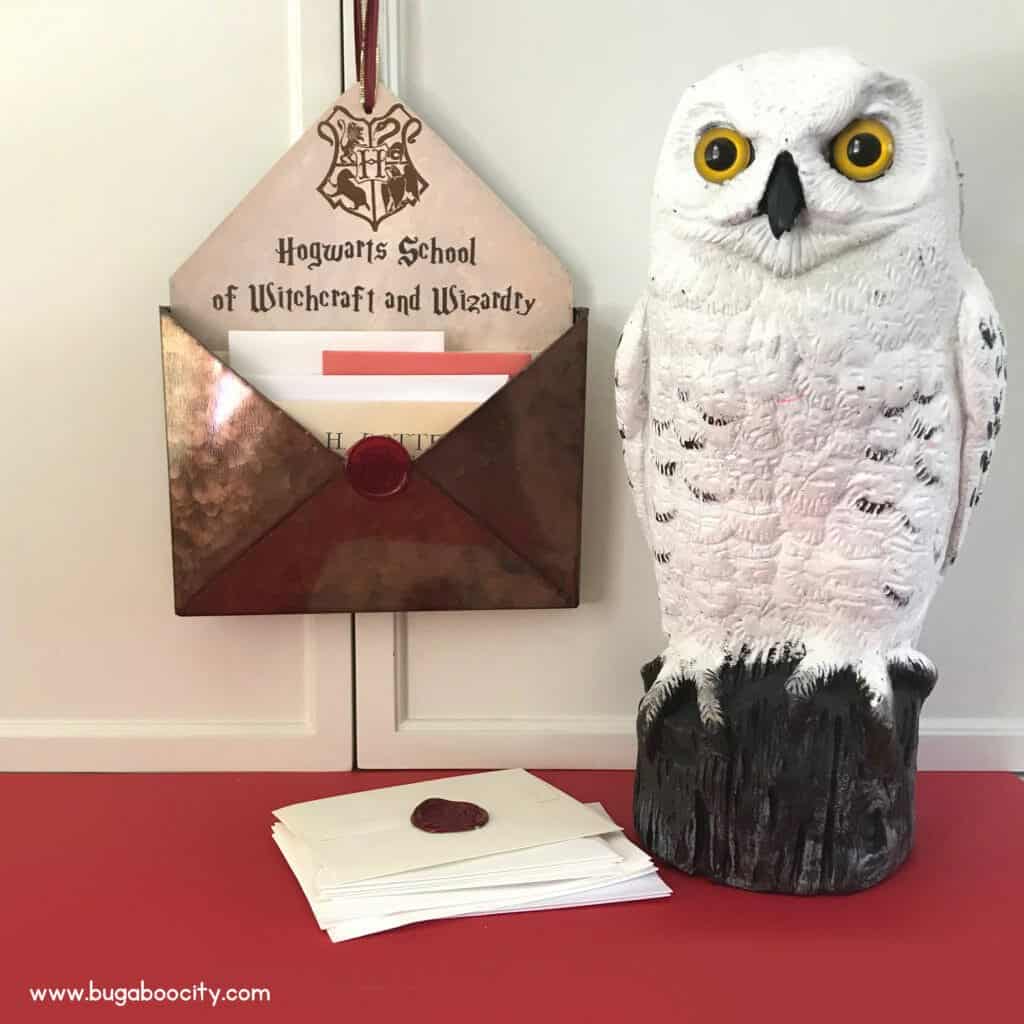 Now this one is slightly harder to recreate as Kim used a copper mail holder that she found in JOANN Fabrics. She then went ahead and completely redecorated the mail holder to theme it up.
Click here to see her full tutorial
---
11. Harry Potter Themed Singlet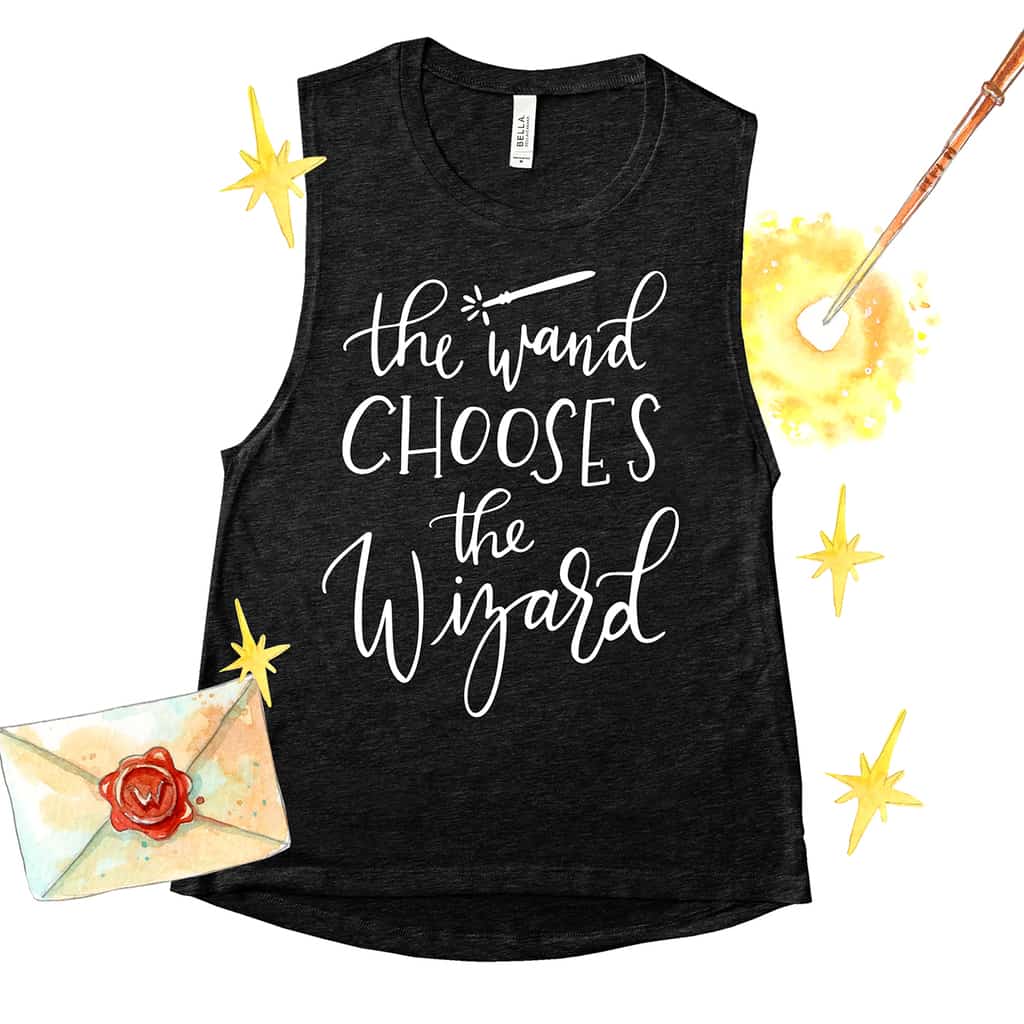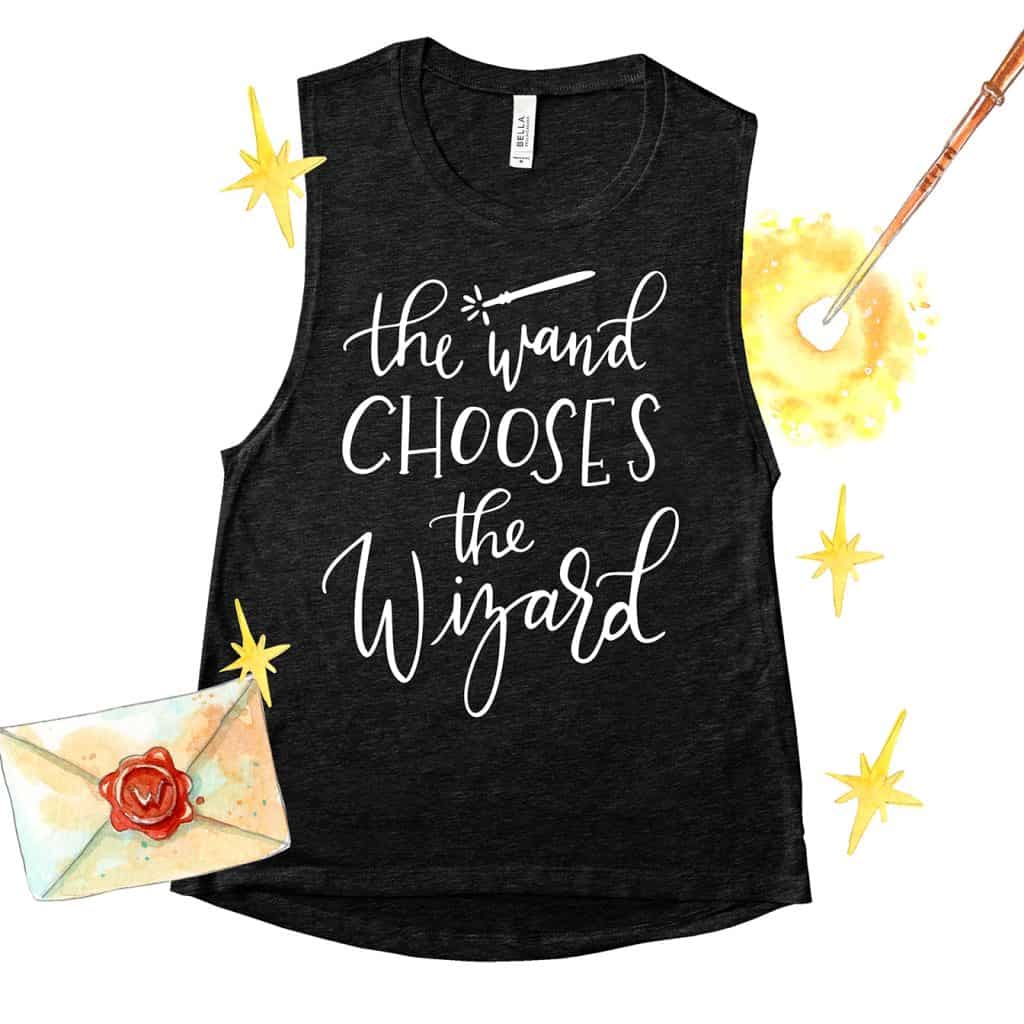 We love this dramatic black and white singlet. The SVG: 'The Wand Chooses the Wizard' is also available to download for FREE from her blog.
Charynn from Pineapple Paper Co shares the full tutorial on her blog.
---
1
2. Harry Potter Cupcake Toppers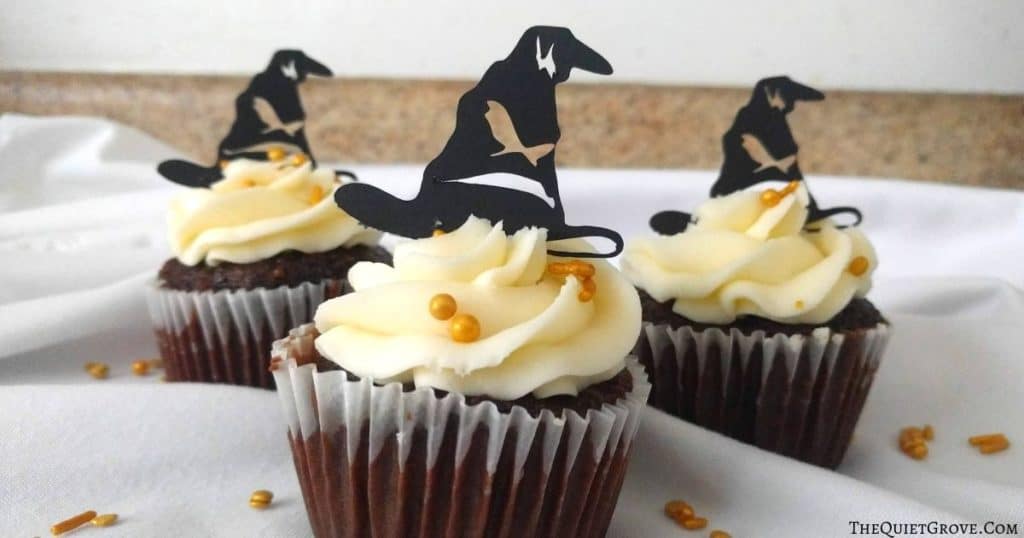 After an edible craft? Or maybe you are planning a Harry Potter Birthday Party.
Julia from The Quite Grove, shows us how to create these beautiful Harry Potter Sorting Hat cupcakes. Hop over to her blog and grab the step-by-step instructions.
---
1
3. Harry Potter Socks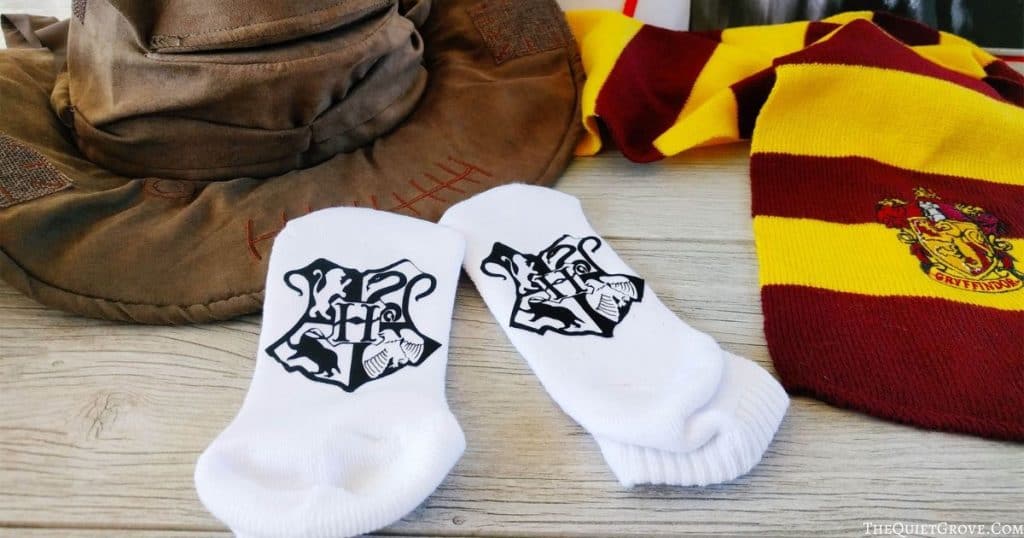 Want to customize some boring socks? So easy to do with some black vinyl and an EasyPress, plus it will complete any Harry Potter costume!
Julia from The Quiet Grove shares the tutorial as well as the FREE SVG file on her blog.
---
14. Harry Potter Themed Coffee Mug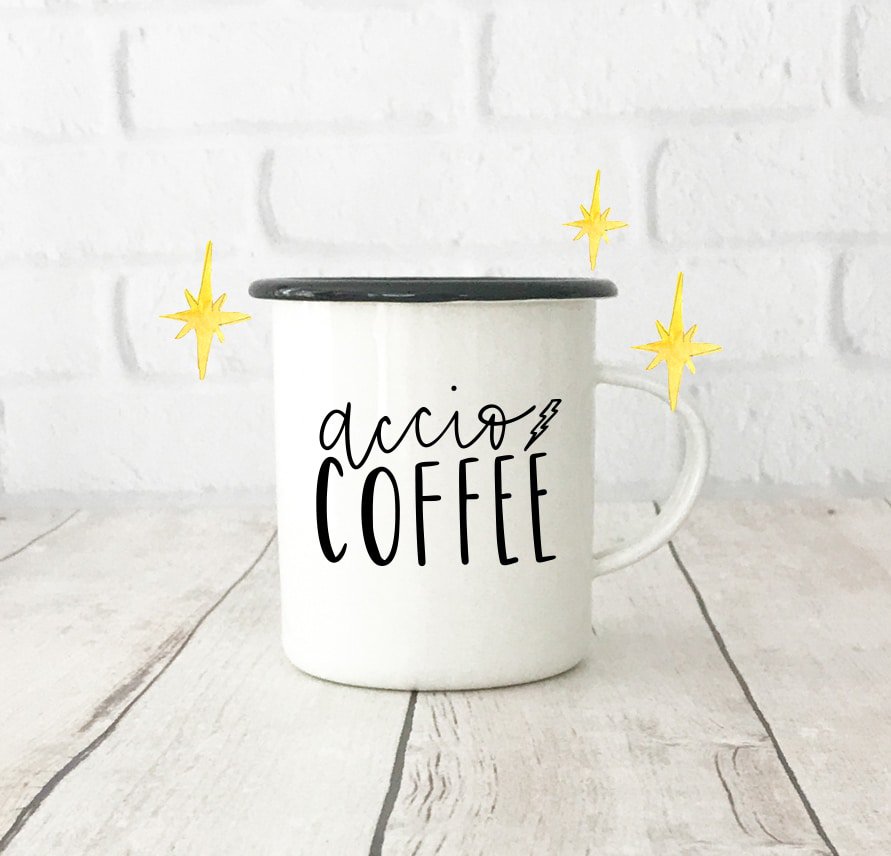 This is a really easy project, so if you are new to the Cricut world, then this is a great one for you to pick. I love this super cool coffee mug, but you could also easily add this SVG to a shirt as well.
Hop over to her website and grab the step-by-step instructions.
---
15. Harry Potter Pillow Case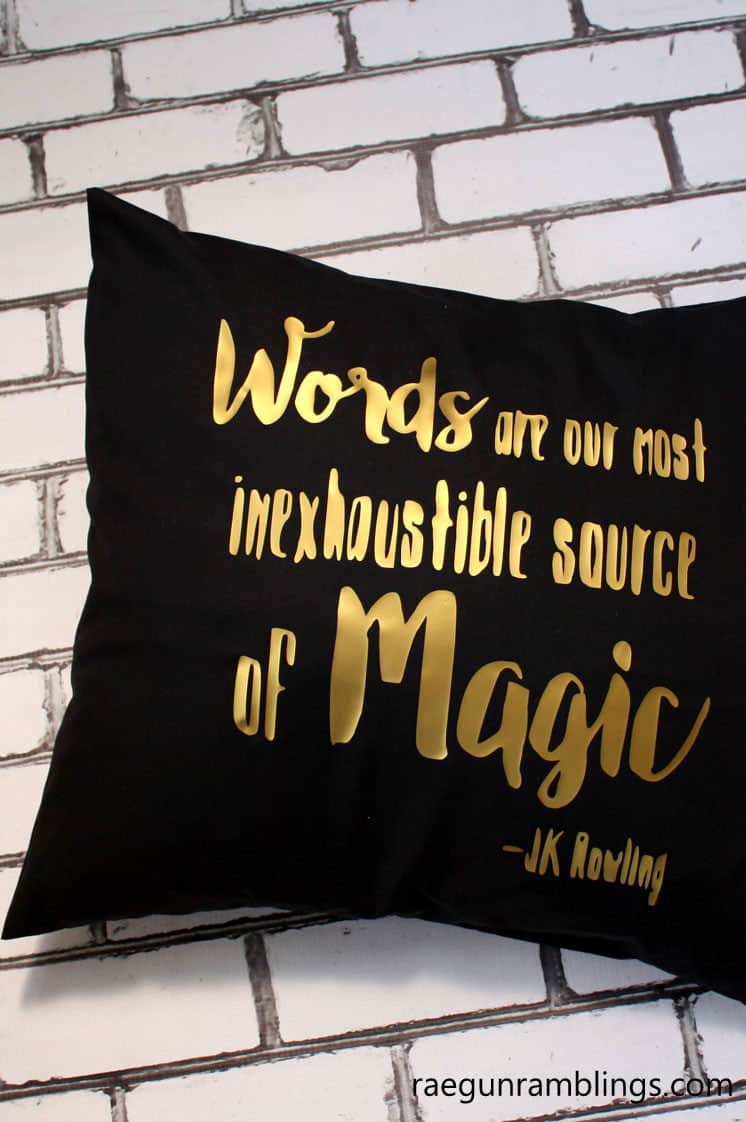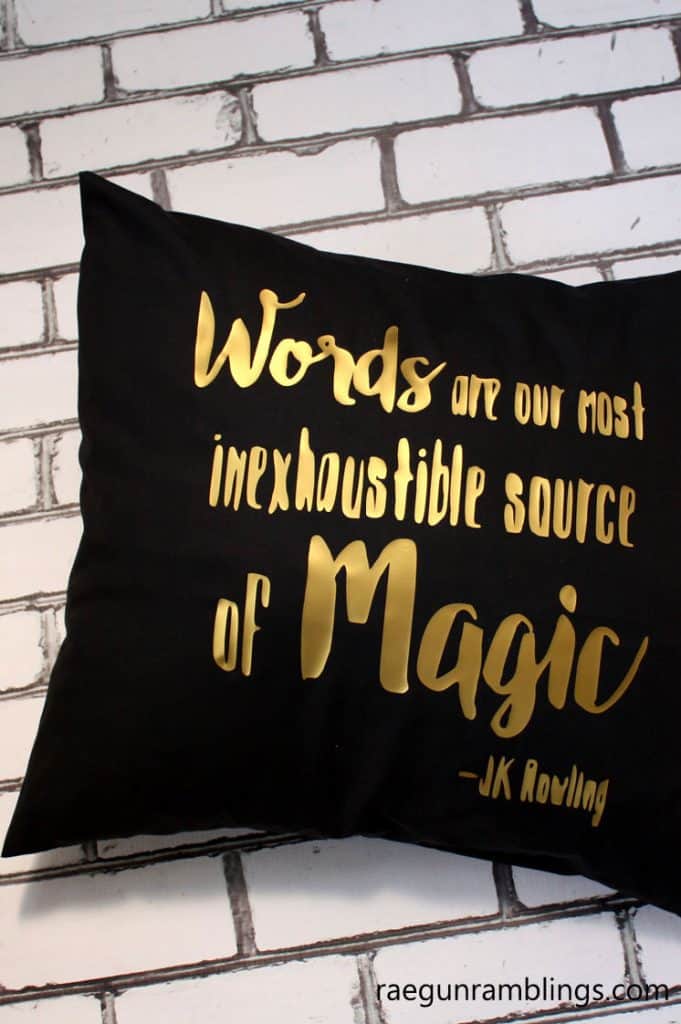 If you love quotes from the Harry Potter book then you will probably be able to identify this quote by Dumbledore. Again this is a really quick and easy project to create and it looks totally stunning on a bed or couch.
Grab the tutorial and SVG file from Rae Gun Ramblings.
---
16. Christmas Harry Potter Ornaments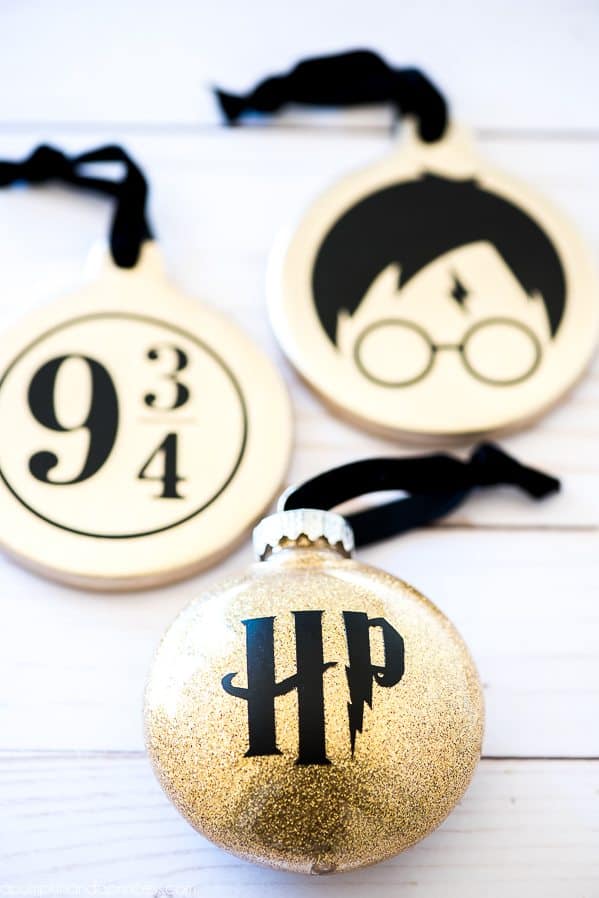 These DIY Harry Potter ornaments are really easy to make. All you need are some ceramic and plastic ornaments, gold paint, and black vinyl. These will make fabulous gifts for any Harry Potter fans as well.
---
17. Harry Potter Welcome Mat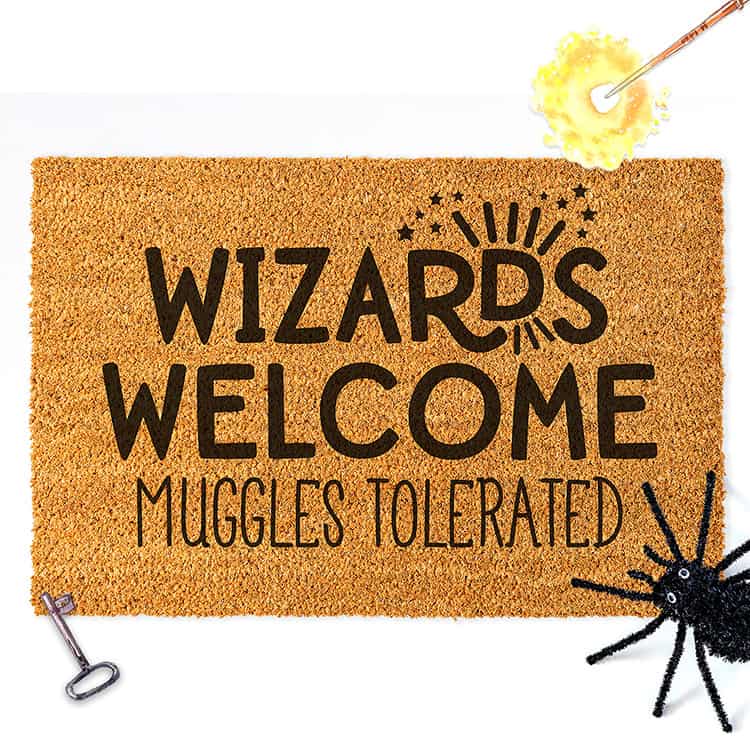 How cute is this welcome mat? I love how cheeky it is. Welcome mats are easy to whip up with a Cricut and a stencil.
Charynn from Pineapple Paper Co. has a brilliant tutorial walking you through the steps of how to create your own Harry Potter doormat. Have fun!
---
18. DIY Harry Potter Hooded Towel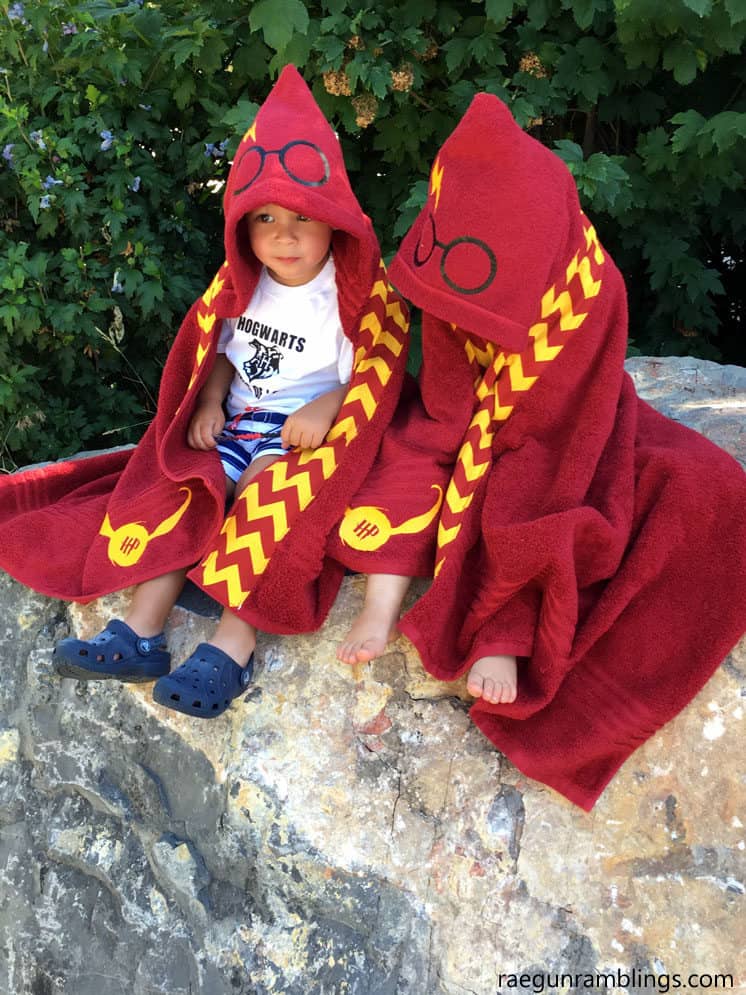 This project is truly a step above the rest. Be warned that they are labor-intensive to create from scratch. But in my opinion, it is worth all the effort.
Marissa from Rae Gun Ramblings shares the full step-by-step tutorial on her site here.
---
19. Harry Potter Color Changing Cups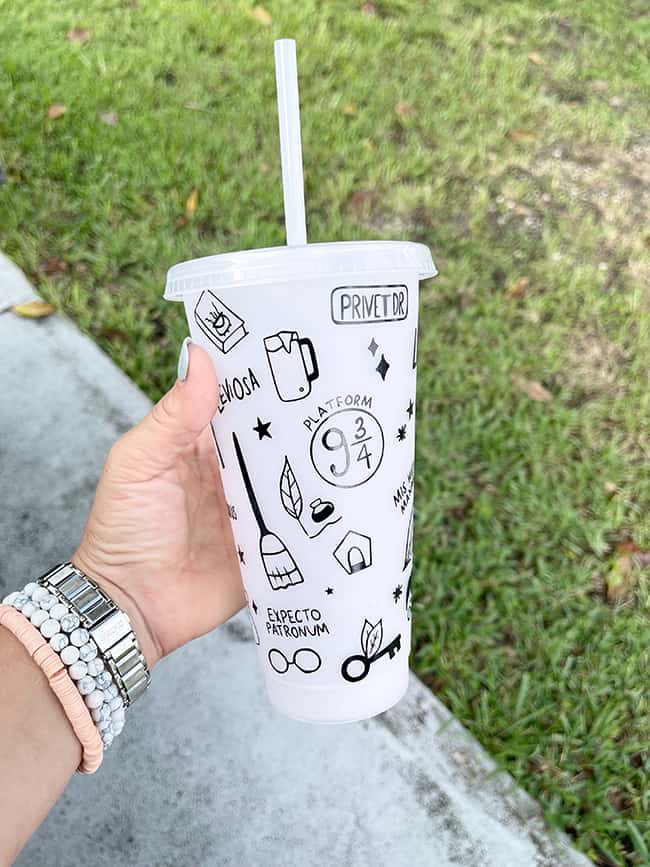 These are just way too clever. Super cute Harry Potter doodles on a color-changing cup – talk about a bit of magic! Uhmmm yes, please!!
Hop over to Poofy Cheeks where Kelsey shares her full tutorial.
---
20. DIY Harry Potter Library Bag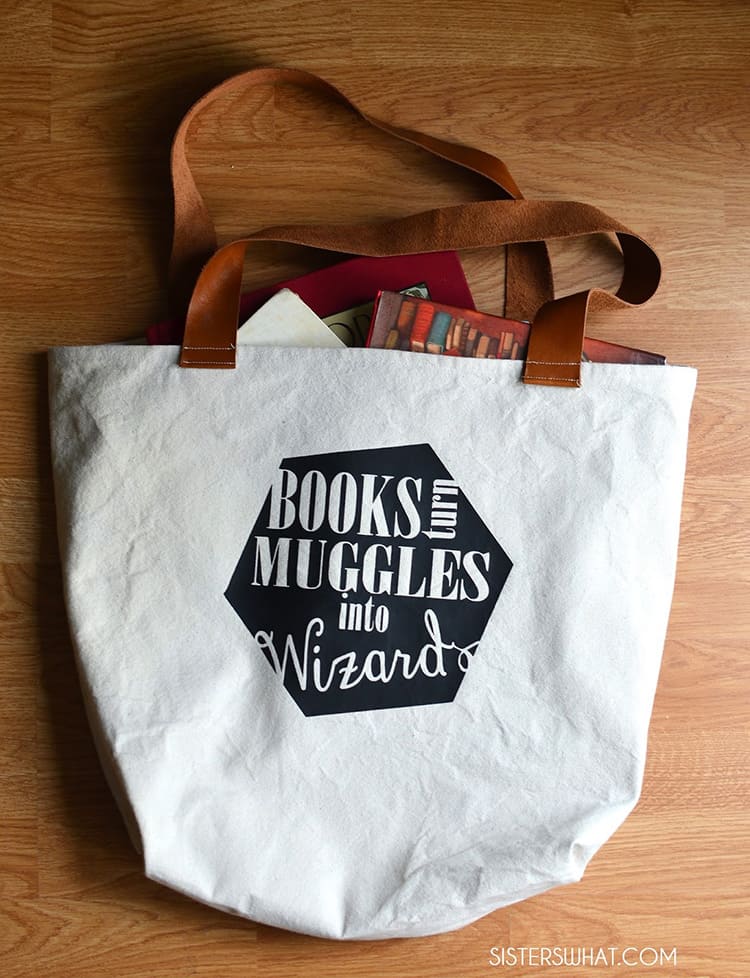 I really love this and I think it is brilliant. A DIY Libary Bag! What is even better is that this is such an easy tutorial – perfect for Cricut Beginners!
So hop over to Sisters, What! to check out the tutorial.
---
21. Personalized Buttons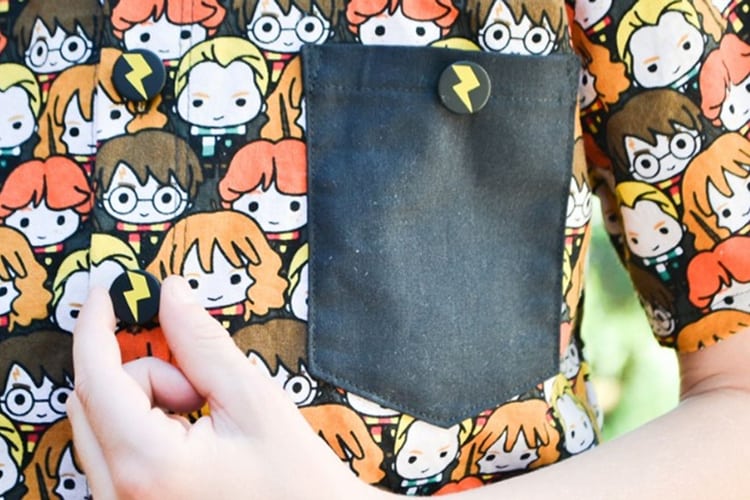 With a Cricut Access membership, you can make this project for free: crafting unique lightning buttons using the Cricut Maker & permanent vinyl.
Super easy to whip up. Find the project ready to make on Cricut Design Space here.
---
22. Harry Potter-Themed Cricut Favor Bags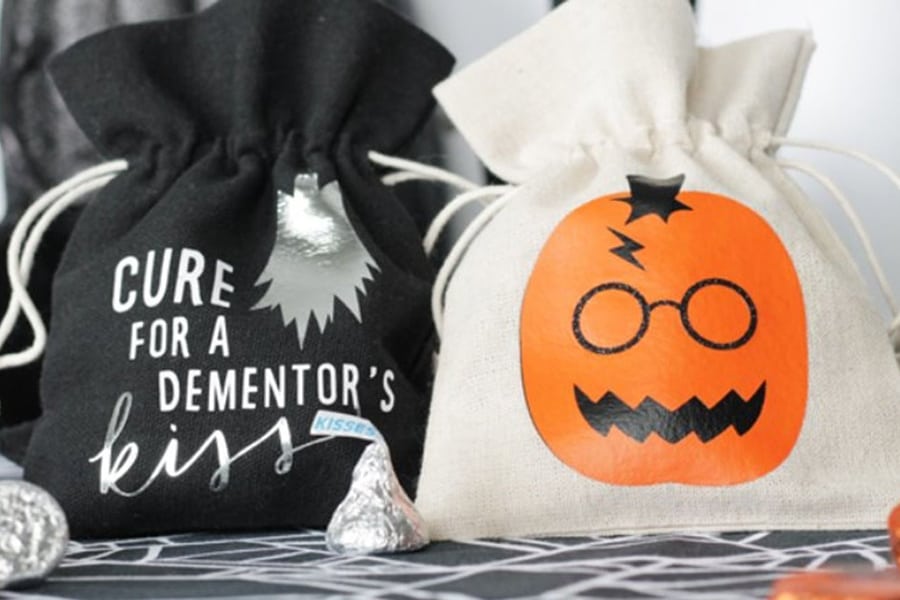 Craft a custom Halloween party favor bag that will delight Harry Potter fans of any age! The "Cure for a Dementor's Kiss" bag is loaded with chocolate, an antidote to the soul-sucking power of the Dementors.
And the best part? It's absolutely free to make if you have a Cricut Access Membership.
Just head over to Cricut Design Space and find the project – your guests are guaranteed to love it!
---
23. DIY Harry Potter Pencil Pouches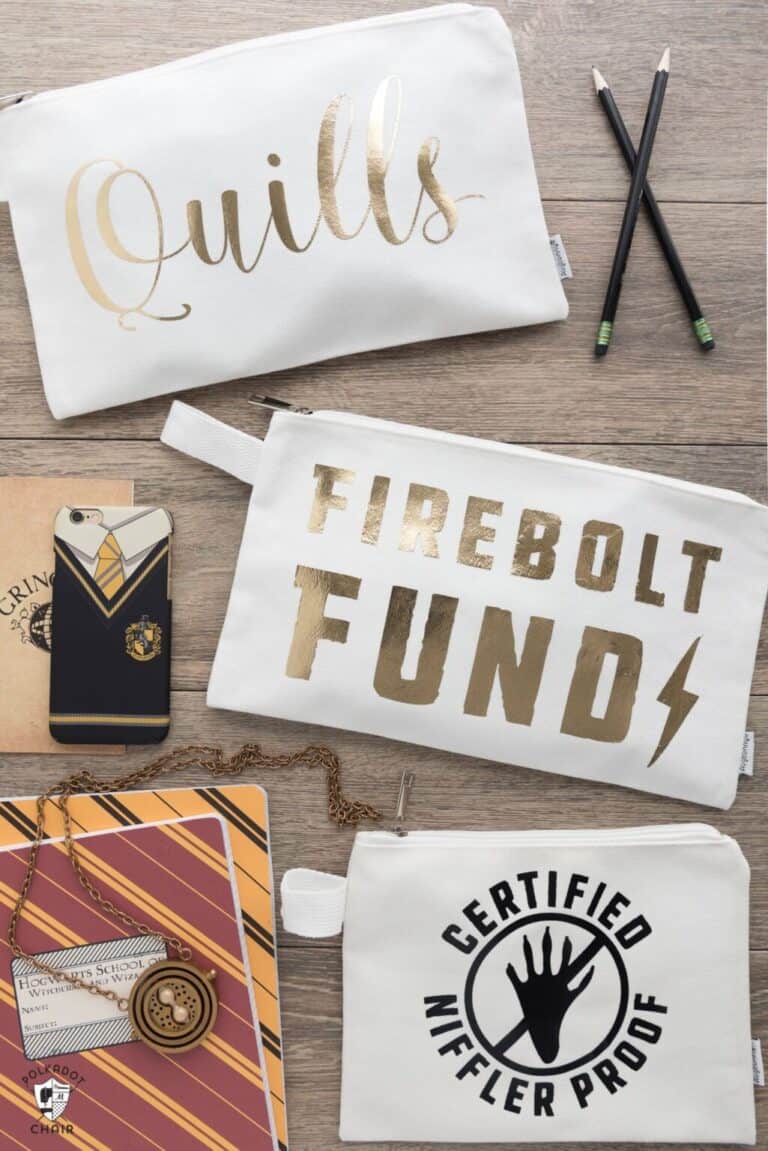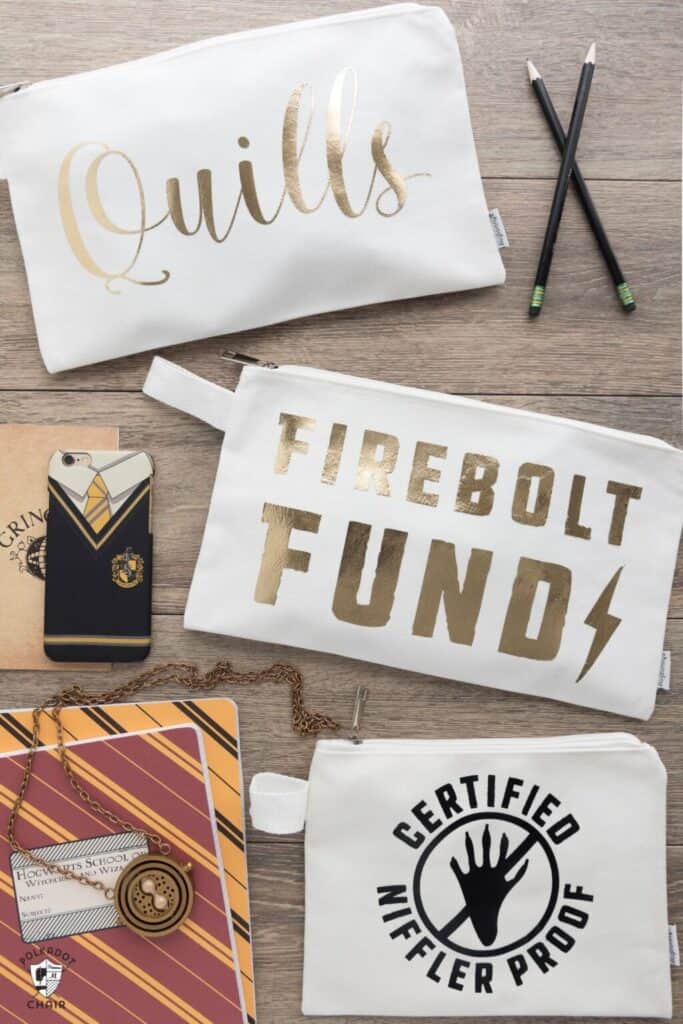 Polka Dot Chair has designed the most adorable Harry-Potter-themed pencil pouches that include free cut files.
These pouches will be the perfect addition to your back-to-school projects!
Grab the tutorial and free SVG files from her blog.
---
24. Harry Potter Golden Snitch Wings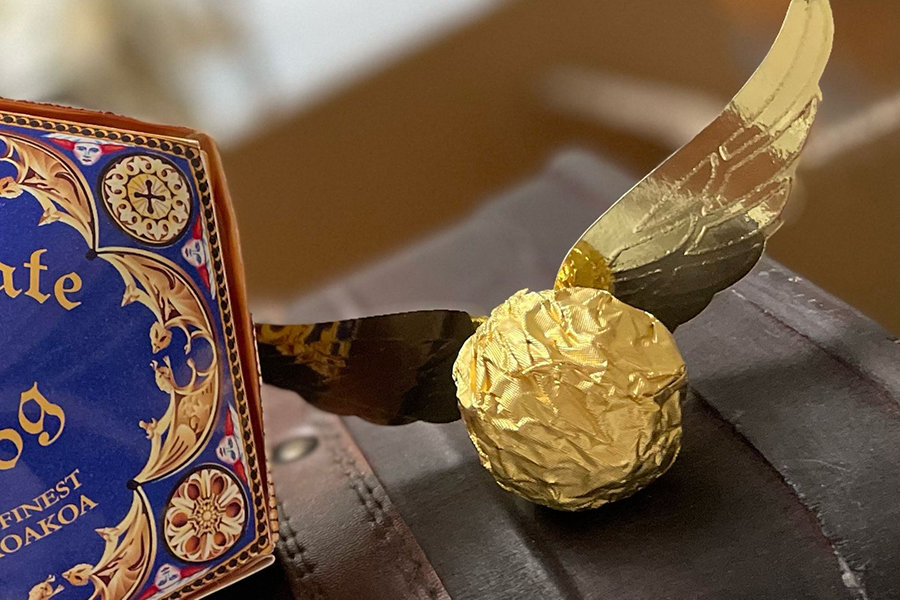 Craft your very own Harry Potter Golden Snitch wings with ease! Simply cut out the wings using your Cricut, and affix them onto a scrumptious chocolate, like Ferrero Rocher.
Enhance the wings with intricate details using your debossing tool.
The tutorial is available on Cricut Design Space; free for all Cricut Access members. Start making magic today!
---
25. Hogwarts House Treat Boxes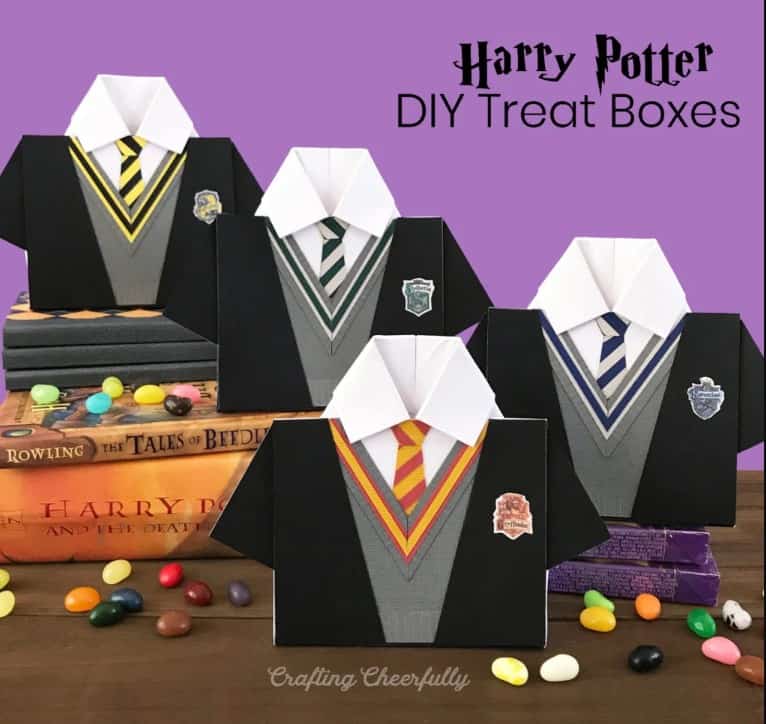 Discover the secrets to creating delightful Hogwarts House Treat Boxes that any Harry Potter enthusiast will adore!
Enjoy a free template along with cut files for making delightful favor boxes for each of the four houses, Gryffindor, Slytherin, Hufflepuff, and Ravenclaw.
Follow Crafting Cheerfully's blog for a step-by-step tutorial and free cut files, and bring the magic of Hogwarts to life at your next event!
---
26. Harry Potter Mailbox
Discover the magic of Harry Potter with Mr. Crafty Pants on YouTube! Follow along as he guides you through the transformation of a plain, boring mailbox into a whimsical masterpiece.
Unleash your creativity and unlock your inner wizard with this enchanting DIY project.
---
27. DIY Light-up Harry Potter Doormat
Join Cooking and Craft Chich for a magical experience! She'll guide you through making an enchanting Light-up Harry Potter doormat using an affordable Fiber mat, Flex Seal, Battery LED Lights, and a Cricut.
Your front porch is set to transform, so don't miss out on this perfectly extraordinary addition!
---
28. DIY Harry Potter Birthday Cards
Calling all Harry Potter fans! Danny & Rochelle whipped up some custom Harry Potter birthday cards for their Potterhead friend.
The cards turned out super cute and the process was a lot of fun, so they wanted to share it with you too! Check it out and let the magic inspire you.
---
Final Thoughts: Harry Potter Cricut Projects
And there you have our massive guide full of awesome Harry Potter Cricut projects. We would love to know which of these crafts you might like to try out.
And whilst you are in the Harry Potter mood, don't forget to grab a Hogwarts Letter of Acceptance. You can read more about how to get hold of one of these letters here.
Please leave us a comment below and tell us which of these Harry Potter Cricut ideas you will be tackling today.
Check it Out: