Wondering how you can organize your Cricut tools in an easy but fancy way? In this Cricut Tool Holder review, I will share my newfound favorite way to store my tools.
Not only could it be the solution to your tool organization dilemma, but it is also lightweight, portable, and can fit so many of your tools and blades.
Excited to know what accessory is it? Drumroll, please…… It is called Cricut Small Fry 2.0 and it is available in LOADS of colors! Here is all the info (as well as some alternatives that you can grab from Amazon as well).
You can buy this Cricut Tool Organizer on Etsy here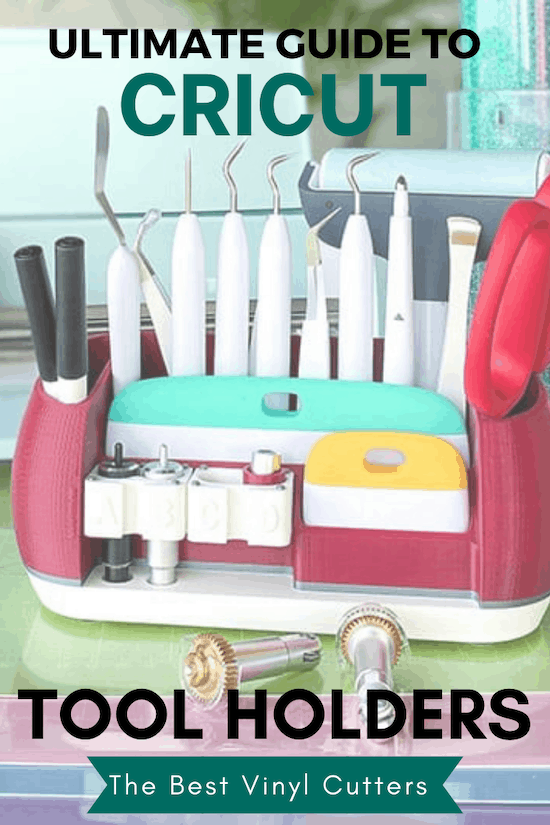 Small Fry 2.0 Cricut Tool Holder Review
If you have been trying to find a stylish and simple way to store all your Cricut tools, then look no further. I simply can't live with my new Cricut tool caddy. It can fit your weeding tools, scoring tools, the brayer, scissors, blades, and both the small and XL scrapers.
Cricut Small Fry Tool Holder Size
The caddy is nice and compact, super lightweight, and easy to move around on your table. Approximate dimensions are 4" x 8" x 4", this Cricut Small Fry tool holder can hold the Cricut essential toolset and also has a lot of room for new tools too!
Cricut Small Fry 2.0 Features:
There are so many little areas in this tool holder to store all your Cricut and Non-Cricut crafting tools. Here is a quick look at all the slots and pockets you will find on this caddy.
1 Customized A, B, C & D Clamp Set for 4 Standard Blade Housings
2 Forward slots for the 2 inch Cricut Scraper and the XL Cricut Scraper
6 Slots for the Cricut Scoring Stylus, Weeder, Tweezers, Remover, Spatula, and Scissors
1 Slot for the Cricut Brayer
1 Slot for the Cricut Rotary Cutter
1 Slot for the Cricut True Control Knife
8 Small miscellaneous slots for various tools plus 2 larger side pockets for your likings
Each tool row is slightly raised to add visual appeal
Each Cricut Tool slot is designed to provide a tight fit to maintain a clean look
You can choose whichever color combination you want. There are over 40 colors to pick from.
Pros and Cons
Here are some of the things I love about this tool holder … and some things I don't like as much.
Pros:
Can hold the Cricut Essential toolset
Has a lot more room for other tools
Compact and stylish, can sit perfectly on your desk
You can grab and go when you want to craft away from home
Get it made in your favorite colors
Cons:
Little room for blades and tip, you need to buy alternative storage for your blades
The Maker blades don't fit in the blade storage clamps – only the standard ones do
It is pretty pricey
You can buy this Cricut Tool Organizer on Etsy here
Other Gorgeous Tool Holders
Now if this caddy is too pricey for you, or if you want something different, there are some fabulous options that are similar on Amazon.
1. Artbin Storage with 24 Slots
This one is a hell of a lot cheaper than the Etsy tool holder mentioned above. This organizer has 24 circular slots with a .5″ diameter for tools and markers plus a bulk storage compartment in front.
I don't think it is nearly as stylish as the Small Fry 2.0, and you can't pick your own colors as it only comes in white … but if you want something cheap, then this will be the purchase for you.
Click here to check out current prices for this Cricut Tool Caddy
2.
HIRALIY Vinyl Weeding Tool Kit
This tool caddy is not only super cheap, but it also comes with the tools. The Clear Weeding Tool Organizer Stand has 22 holes for craft tools of various sizes. You will receive 1 set of clear tool organizer holder, 2 types of scrapers, 2 types of tweezers, 2 types of weeders, 1 craft scissors, 1 spatula, 1 cutting knife.
Of course, there is no space for any Cricut blades though.
Click here to check this one out on Amazon.
3. Tool Organizer Case for Cricut Tools
This is a cool tool organizer for your Cricut tools and accessories. This case can hold so many of your tools, blades and even Cricut pens. I love so much as it can store so much!
It has 56 grooves in the bottom foam layer that can with hole positions for various blade tools and even replacement blades.
If you love crafting away from home this handy case is perfect as it is easy to transport.
Click here to check out this hand tool case from on Amazon.
4. XCJD Small Pink Cricut Tool Organizer
A pretty small and compact little holder, but look at all the blades and tips it can fit. This one is only for those of you who love pink though as there are no other color options. I have way too many tools for this holder, but if you are just starting out then this might be all that you need.
Pretty affordable as well.
Click here to purchase this Cricut Tool Caddy.
5.
Cricut Maker Tools & Blade Organizer Insert
This tool tray insert is the perfect fit to the storage tray on your Maker and Maker 3 machine.
The tray has slots or places where you can store all your Cricut blades and essential tools. Made of premium plastic and very easy to use as you simply pop it into the storage tray on your Maker machine.
Click here to check out the tool tray insert on Amazon.
Cricut Tool Holder Conclusion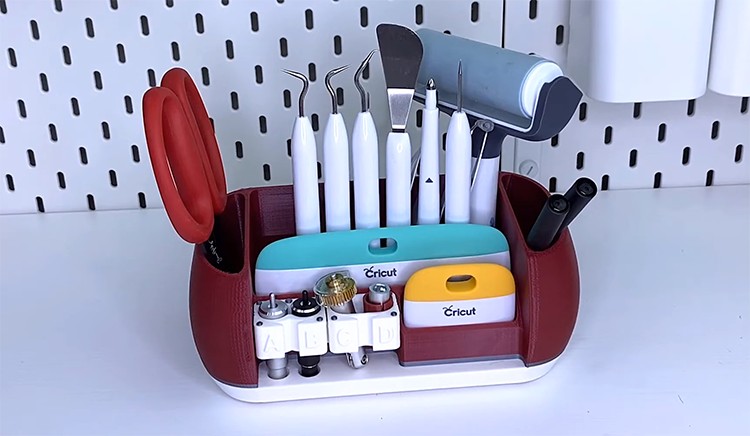 And the verdict? I have tried other organizers but the Small Fry is my favorite (I just think it looks so much more elegant than the ones mentioned above).
I won't have second thoughts about recommending this great tool to organize your Cricut tools. I'm sure you will fall in love with this tool as much as I love it.
You can buy this Cricut Tool Organizer on Etsy here
If you love to have a spot for all your craft supplies, you will love our post on craft room organizer ideas here, as well as our post on vinyl roll storage solutions. Also, take a look at our guide on where to buy Cricut tools and more!