As you keep improving your craft skills, you'll notice that the craft vinyl rolls keep stacking up, creating chaos in your workspace. T
o be honest it gets really tricky to keep a space organized when materials and rolls seem to be exploring from drawers, baskets, and desk surfaces.
Eventually, you will get to a point where a vinyl rack holder becomes crucial. My space got so bad that I didn't even know which of my vinyl were HTV and which were adhesive!! EEEK!
I'm sure if you are here, you are just as desperate as I was to find a way to keep things more organized in order to have a neater working space.
This article will review some of the best vinyl roll storage racks, holders, and storage options of 2024.
It will also explain what you should look for in a standard vinyl roll holder, as well as look as how much space each will take up.
If you are in a rush, these are the wall mount vinyl holder rack that we highly recommend!
Here are some questions you might want to answer in your mind before you proceed – otherwise you might go down the rabbit hole of option overload, which will cause confusion and we don't want that!
So answer these and keep these in mind when you browse through our recommendations:
How much space do you have in your craft room/or craft corner?
Would it be best to have the solution sit on the wall or do you prefer do you have enough space for it to occupy some floor space?
How many rolls do you estimate you actually have?
Now, let's find the best solution for your circumstances.
Buyers Guide for the Best Vinyl Roll Storage Racks and Holders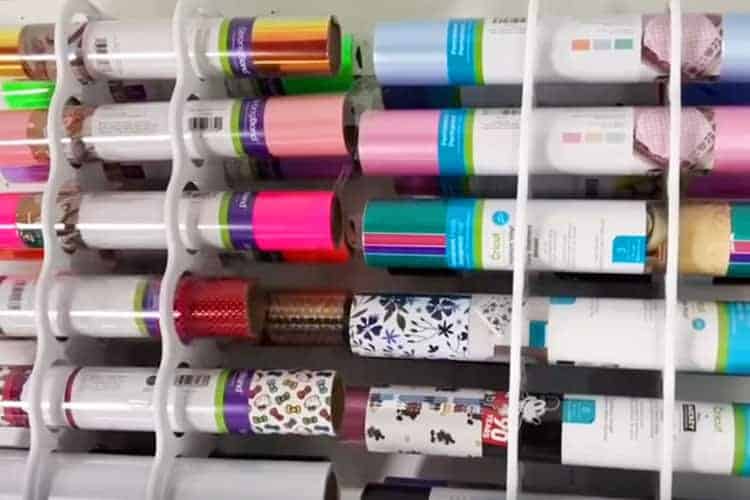 Here are some guidelines for you to help you figure out which storage option is the best option for your craft room.
These are all ready-to-purchase options. But of course, you also have the option of grabbing a DIY vinyl roll holder tutorial and building one from scratch.
We love this one by Jennifer Maker.
1. Why Should You Organize Your Vinyl Roll Storage?
It's important to have all your rolls in one place. This way, you can easily arrange them, access them, and protect them from damage.
I also know that you will most likely have way more adhesive vinyl and HTV vinyl in your craft room than you need.
You can also save up some space in your room or office by storing these on the back of the door (shoe holder), under the desk (wrapping paper containers), or on the wall (see racks and vinyl wall holder ideas below).
It makes it big difference when you keep your craft room nice and organized. Here are a few ways how you can organize your craft room.
2. What Dimensions Should I Look for in a Vinyl Rack Holder?
A standard vinyl roll is up to 12" in width and around 48″ in length, though there are wider options you can use for special projects.
Always consider the width and diameter of the vinyl rolls that you typically buy when you are looking for a holder.
3. Price
A standard-mounted vinyl holder can go up to $15 for a capacity of 20. But the price varies a great deal, depending on the material quality, capacity, and brand.
This article will demonstrate why some holders are much more expensive than others.
Top 15 Vinyl Holder and Storage Racks
We scouted the internet and asked other crafters what type of storage they like using to help compile a lovely list of vinyl roll storage ideas of the BEST ways you can store your collection of vinyl. I'm sure one of these will be suitable for your room.
1. ArtBin Vinyl Storage Rack Review
ArtBin's rack is a budget-friendly wall-mount vinyl rack storage option. There are two holes on the top, so you can also place it on your wall. Since its size is just around 16.5" x 8.6" x1", you should always have enough space for it.
To assemble it, simply unfold it and it will lock into position. There are no additional screws or other accessories that you need to use if you want to use it as a standing rack.
You'll need to apply two screws or sturdier nails and easily mount it to the wall.
There's a space for 12 rolls, with each hole being 2" in diameter. You'll have a hard time finding a cheaper vinyl roll storage rack that can fit 12 rolls and almost any space.
Pros
Low price
Easy to assemble and disassemble
You can mount it on the wall
Good utilization of space
Cons
Looks unimpressive
Cheap-feel
>>> Click here to grab this vinyl rack storage from Amazon
2. Acrylic Vinyl Roll Holder Review
Looking for a gorgeous acrylic vinyl roll holder? We absolutely love the elegant look of this rack.
There are two storage holders in a pack and each holder can hold up to 20 vinyl rolls which means you can store up to 40 rolls in total! This a great for organizing your vinyl rolls in the craft room.
Not only is the vinyl roll holder elegant and stylish but it is extremely durable as it is made of thickened acrylic material for long-lasting use.
With a convenient storage area, it makes your craft room clean and tidy.
Pros
Lightweight
Easy to install
Durable
Clear in color means it works in any craft room and looks beautiful
Great utilization of space
Cons
>>> Click here to grab this elegant acrylic roll holder from Amazon
3. Baspoom Vinyl Storage Rack Review
Looking for a clever vinyl storage rack that does not use a lot of space?
The Baspoom Vinyl storage rack is an excellently and innovatively designed vinyl roll organizer that solves common vinyl storage issues.
The vinyl roll holder has multiple holes and you can put the holder together so that you can place your rolls in multiple directions instead of just putting your rolls in one direction. How cool is that?
The best part is that this viny roll organizer is multi-functional and can be used not only for holding vinyl rolls but also paper, documents, and cardstock in your craft room.
Not only is the vinyl roll holder innovative in design but it is extremely durable and sturdy.
Pros
Lightweight
Easy to install and assemble
Durable
Clever and innovative design
Great utilization of space
Cons
>>> Click here to grab this innovative roll holder from Amazon
4. Adjustable Door & Wall Vinyl Storage Rack Review
Looking for a vinyl storage rack that does not use a lot of space and can be mounted on your door out of sight?
This door or wall-mounted vinyl storage comes in two sizes. You can purchase a holder that has 32 transparent compartments or a slightly larger version that can hold up to 50 vinyl rolls.
With such a large storage capacity it is sure to meet your craft room organization demands.
It is also a great space saver when not in use but when mounted to the wall or on a door, it not only keeps your craft room tidy, it displays the rolls in a way so that it is super easy to find what you need.
If you need vertical storage that has a sufficient number of holes to store vinyl or other craft materials like paper, this is a great choice.
Pros
Lightweight
Easy to use
Saves space when not in use as can easily store away
Can store a large number of vinyl rolls
Cons
Cannot be used without hanging to a door or hook on the wall
>>> Click here to grab this roll holder from Amazon
5. Acrylic Vinyl Roll Holder Review
If you loved the elegant acrylic vinyl roll holder we reviewed above but don't need to store as many as 40 vinyl rolls, then this is the holder for you!
It has the same elegant and stylish design which means it will look great in any craft room but stores slightly fewer vinyl rolls by having 20 holes.
This 20-hole acrylic roll holder is elegant in design as well as extremely durable as it is made of thickened acrylic material for long-lasting use. You can get it in two color options, clear acrylic or white.
It is easy to assemble and makes your craft room clean and tidy.
Pros
Lightweight
Easy to assemble
Durable
Two color options
Great utilization of space
Cons
>>> Click here to grab this 20 hole acrylic roll holder from Amazon
6. Harper Blvd Leal Black Storage Rack Review
If you want a vinyl roll rack with a modern and elegant design, you should take a look at this black vinyl wall rack.
With a size of 27.5″ x 35″ x 46″, you shouldn't have trouble mounting it to a wall. But if you don't have enough wall space, you can also use it as a standard rack.
The top pole connects the two sides of the rack that help it stand. You can disconnect it by unscrewing the sides from each other. Then, you can hang the front side on the wall and use it as hanging vinyl storage.
The aesthetics and space-friendly features are a considerable upside, but this rack can only fit up to 8 rolls. So, if you're looking for higher storage capacity, you may want to skip it.
Pros
You can hang it on a wall
Elegant design
Space-friendly with 27" wide and 35" high
Cons
>>> Click here to grab this rack from Amazon
7. Signworld Vinyl Storage Rack Review
This storage rack has a bigger capacity and uses up a little more space than some other models. It's 70" high and 33" wide, so you will have to find a proper place for this one. But once you find where to put it, you will have a place for 40 vinyl rolls.
The powder-coated steel material prevents damage and corrosion while keeping the whole product stable.
You just slip a roll into one of the arms on the holder, and it will stand. Each one can hold up to 30 lbs. of weight. You won't need to worry about the rack breaking under the weight of all your rolls.
However, there might be a problem if you want to place smaller rolls on the arms. Most 30" rolls will fit perfectly, but you may have difficulties with other sizes.
Pros
Holds up to 40 rolls
Strong and durable construction
Stands still
Cons
Might not fit rolls with a small diameter
Challenging to assemble
>>> Click here to grab this vinyl holder from Amazon
8. HOME SHARON Vinyl Roll Holder Review
This vinyl roll holder is double sided so you can store more rolls per holder. You can hang your vinyl roll over the door, on the closet, on a swivel holder, or mount it on the wall.
The vinyl roll holder has 3 different capacity sizes. You can select from a holder for 24 rolls to 48 rolls or the triple-sided holder that has 44 compartments.
If you don't want to spend much money on vinyl storage racks, consider this one, as it is both affordable and has a lot of capacity.
Pros
Large capacity
Takes up very little space
Convenient to use
Comes in larger sizes
Cons
Mesh storage so may not hold heavy weights
>>> Click here to try out this option for storing your rolls
9. Holdin' Storage Hanging Holder Review
The Holdin' Storage is another mount-only vinyl roll holder, but this one has space for much more than just rolls. It's made from a durable, soft fabric with pockets and sleeves for various accessories on each side.
At the center of the holder, there's a strong metal bar that keeps everything in place.
Just hang the 360-degree hook on a pole in your room and you'll have all your crafting accessories in one place.
You can fit up to 20 rolls inside this storage option. However, the accessibility and organization are not ideal since there are no separate pockets for your rolls. You always have to open the holder and dig through it.
On the upside, the outer pockets fit scissors, ribbons, tapes, cards, pens, highlighters, and any other crafting accessories. This storage is quite affordable and it's one of the more interesting-looking options around.
Pros
Stores up to 20 rolls
Pouches for other accessories
A unique design
Cons
Sorting and organization are difficult
>>> Click here to grab some of these nifty storage holders
10. Alvin King-Size Mobile Storage Review
This one has 4 built-in wheels that make it your personal storage cart. It has a simple cube-like fence design with four different openings for your rolls. All these openings are 9" x 14", so you can sort different rolls in different pockets.
The best part about this storage is its mobility. You can push it around and it will smoothly glide through the room.
But you should know that you need to assemble this product yourself. Since it comes in many different parts and requires some additional tools, it's not easy to put together. If you don't consider yourself handy enough, you should probably skip this one.
Pros
4 built-in wheels make it mobile
Big enough pockets for more than just vinyl rolls
Sturdy steel construction
Cons
>>> Click here to grab these wheeled roll storage trolleys
11. Stanton Wrapping Cart Review
Here is a versatile vinyl roll stand with three drawers. This wooden construction is designed to help you keep gift-wrapping supplies organized, but you can also use it for vinyl rolls and other supplies too.
As it is only 20" wide, you can fit it in most spaces you can easily move it around since it has 4 built-in wheels. Drag it from corner to corner until you find a perfect spot.
The top part consists of long poles which act as roll holders, while the drawers are on the bottom part. The rolls also fit into the drawers, but you can use them for accessories and various other things.
The Stanton cart is a reliable, great-looking product with multiple uses. However, it may strain your budget.
Pros
Wooden, modern furniture design
Doesn't use up a lot of space
Has good capacity
3 drawers for storage
4 built-in wheels for mobility
Cons
More expensive than most vinyl holders
>>> Grab this beautiful wrapping trolley for your rolls
12. Signworld Vinyl Storage Rack Review
Signworld racks come in various sizes and this one can fit 20 rolls. Design-wise, it is simply a smaller version of Signworld's popular 40-rolls rack.
In this case, you get a 26" x 32" x 16" storage rack that you can mount to a wall or any other hanging space. When you unpack the rack, you need to make two holes and put up two screws or hooks. These hanging accessories don't come with the product.
When you mount it, you'll get space-saving, 20-roll storage that can hold up to 600 lbs. of weight overall.
As with its larger model, the arms on this Signworld holder are a little too big for some smaller rolls, so depending on your preferred vinyl rolls, you may want to consider a rack with thinner arms or poles.
Pros
Good utilization of space
Reasonably cheap
Strong construction
Cons
Not suitable for rolls with small diameters
>>> Click here to buy this roll rack on Amazon
13. Signworld BV38 Holder Review
If you are looking for an Amazon vinyl holder, then we highly recommend this high-quality craft vinyl storage rack.
The Signworld BV38 is perfect if you're looking for wider roll holders. It can contain only three rolls on its stainless steel poles, but these rolls can be 42" wide. As it fits a 7" diameter, this holder is perfect for bigger vinyl rolls.
As with most of Signworld's vinyl roll storage holders, you will need to hang this on a wall. There are two holes that you can mount on two hooks or screws and it should hold well. Each pole is extremely strong and can hold up to 77 lbs.
Pros
Perfect for big, heavy rolls
Fits seamlessly into any environment
High-quality material
Cons
>>> Click here to buy this roll holder
14. Whitmor Clear Vinyl Wrap Roll Holder Review
The Whitmor organizer is for those who want to save a lot of space and don't need to organize their vinyl rolls very precisely.
It is a very convenient way to keep all your rolls in one place and store them away when you don't need them.
You can place around 25 rolls inside of this organizer, but keep in mind that the measures are for standard gift wrap. The organizer is 31" long and is made from a clear material, and has a zippered top.
You can zip up all your rolls in this holder and the impenetrable material will keep them from damage.
If you opt for the Whitmor, you won't have to worry about moisture or any other external conditions.
So if you need a super cheap, spacious, and portable organizer, consider this one.
Pros
Good protection from moisture
Easy to move around or put away when not needed
Stores a lot of rolls
Cons
Hard to organize
Not for serious crafters
>>> Click here to grab some gift wrap organizers for your vinyl rolls
15. MISSLO Organizer Review
The MISSLO organizer is also a holder that requires a wall or a door to set up. However, unlike other mounted-only storage options, this MISSLO comes with two hooks so you can place it on a door right away — no need to do any additional drilling and assembling.
Since there are six different-sized pouches, you can store not only rolls but also various other things like crafting accessories and items of clothing.
The pouches are waterproof, so your rolls and other vulnerable objects will be safe as long as you don't overload the holder.
The organizer is 59" high, but only 14.5" wide. So, you'll have a lot of storage capacity in a small space, and you can even take it traveling.
Pros
Comes with two hanging hooks, setting up takes minutes
Waterproof, protective material
Low price
Cons
Can't hold too many heavy items
>>> Click here to purchase one of these shoe holders for your vinyl rolls
16. IRIS Storage Box Review
If you're looking for a discreet storage box that you can hide away when you don't need it, consider this one. This plastic box is 33" wide, so it should fit most of the standard rolls.
It gives you a 33"x12" space to fit your rolls. The product comes with a divider and an accessory box.
You can place it inside and make a separate section, where you can place scissors or other accessories that you use together with your vinyl rolls.
You can easily put this box under your bed and store it away when you don't need it. It is also sturdy and big enough to store some other things inside.
But if you want to store only rolls, there are cheaper and more easily organized alternatives.
Pros
A section for accessories
Easy to put away
You can use it as a regular storage box
Cons
>>> Click here to purchase this storage container on Amazon
17. Wallniture Multi-Use Brackets Review
With this wall vinyl holder, you'll get a modern, minimalistic design to fit in your household interior. Place it directly on the wall, or under a shelf, and it will look appealing as well as being useful.
It comes with two brackets with a set of 6 circles on both sides to hold your rolls, maps, and other long objects. The circles are durable, with a diameter of almost 3".
The best thing about them is that you can choose the length of the holder since the two sets come separately.
Despite all the great features, this holder still contains only 6 rolls, and for the price, you can get a better value; however, if you like the design, you won't regret buying it.
Pros
Pick the length of the holder yourself
Durable material
Looks great in any room or office space
Cons
Expensive considering the low storage space
>>> Click here to grab this stylish vinyl roll holder
18. AdirOffice Mobile Storage Review
This is a storage option for professionals. This sophisticated wooden storage can fit up to 20 regular-sized rolls regardless of length. You can easily organize your vinyl rolls and access each one without any trouble.
The storage is made from durable wood and it should last for a long time. There are 4 wheels at the bottom which make this storage easy to move around. There are also two handles, so you can also effortlessly carry it around.
If you're serious about crafting or if your business involves blueprints, maps, or another type of paper roll, consider this storage. However, you should know that it is the most expensive one on the list.
Pros
High-quality wood
Serious design that fits any interior
Top-notch organization
4 wheels for moving it around
Cons
>>> Click here to grab this nifty storage cart for your vinyl rolls
19. PACON Classroom Keeper Storage Review
Although it has "Classroom" in its name, this PACON holder is suitable for plenty of other spaces. Its interesting, colorful design can add life to a sterile environment and the 27.8 x 25.1 dimensions mean you can fit it into any corner and small space.
The best thing about the storage is that you can use a divider to set up the size and the number of slots. For example, you can make 4 big slots or 16 small ones.
Thanks to this, you can customize the holder any way that you want.
On the other hand, the cardboard material makes it one of the least durable options on this list.
So you get a good-looking and spacious holder, but it may be easily damaged by moisture or improper handling.
Pros
Small and spacious
Possibility to adjust the size and number of slots with a divider
Simple, colorful design
Cons
>> Buy some of these boxes from Amazon and give them a try
20. Cricut Vinyl Storage Rack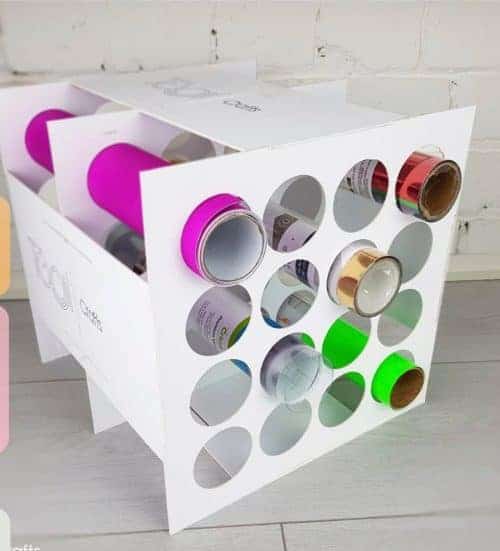 If you are looking for a DIY vinyl wrap rack that you can whip up with your Cricut cutting machine, then this is the one we love most of all!
You can purchase the template for this beautiful vinyl storage holder over at Etsy.
This vinyl craft storage box can fit 16 rolls of vinyl. The Cricut vinyl roll holder measures 27 x 27 Centimetres.
You can create multiple cubes and stack them and lock them in place to keep things sturdy.
They recommend that you also purchase some mount board to cut your template from.
Pros
You can make it yourself
It can fit 16 rolls
It takes up little space
Cons
>> Buy the template and cut out your DIY vinyl storage holder now
Verdict on the Best Vinyl Roll Holders/Racks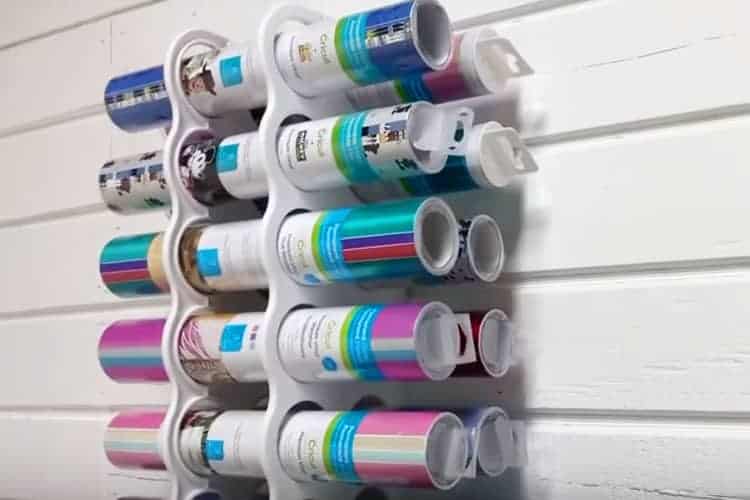 Before you make up your mind about which vinyl roll holders to grab, remember those questions we asked at the start?
How much storage capacity do you need and how often do you plan to use the roll dispenser rack or holder? How much space do you have? Will it need to be on the wall?
Once you know what you want, it will be easy to get the correct vinyl holder. We absolutely love the ArtBin Vinyl Storage Holders, but if portability is your top priority, consider the MISSLO Organizer instead.
Whichever one you opt for, organizing your vinyl rolls will make your work easier and more comfortable, so don't hesitate and choose a storage option today.
Any other ideas of what to use to store all those vinyl rolls? Please share them with us.