Is your craft room looking a little too lived in? Clean it up with these 10 craft room organization ideas! They'll help you make your space clean, organized, and most of all, functional.
You'll get 10 times more crafting done with your newly organized space.
10 Craft Room Organization Ideas
Is your craft space a bit of a mess and looking for some organizational ideas for the craft room? I get it, we all love to craft more than we love to clean. This post has over 10 craft room organization tips for you.
1. How to Store Vinyl Rolls and Sheets
Watch our video to see how we love to store our vinyl rolls and sheets. There are 6 different ideas of how you can organize your vinyl in your craft room here.
All of these solutions are bought options to keep things simple, but if you feel like making your own vinyl storage rack, then the next solution is for you.
2. DIY Craft Vinyl Storage Rack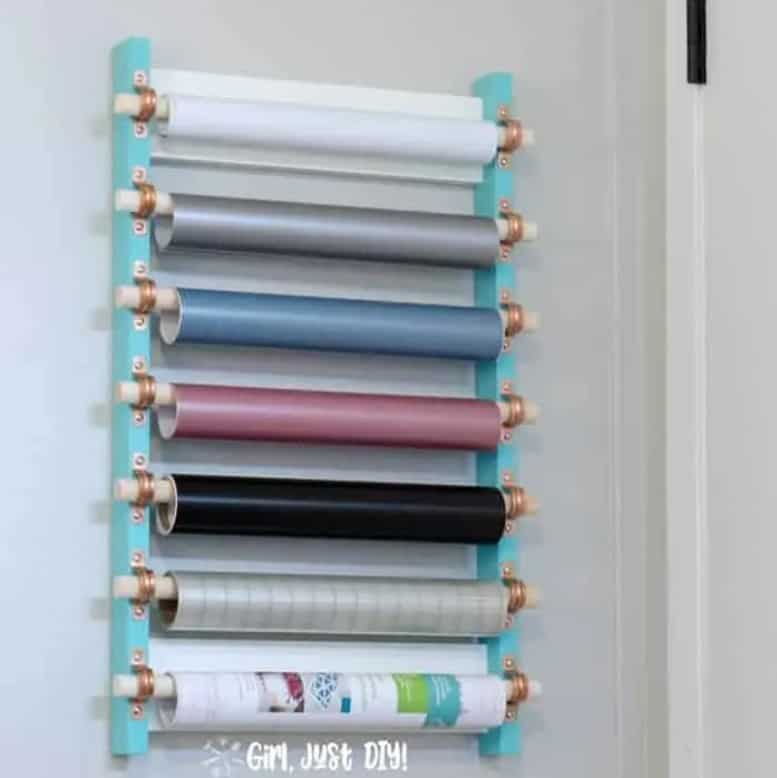 Is your Cricut vinyl just lying around haphazardly? Mount it on the wall and create a colorful vinyl storage rack! If you were looking for some small craft room organization ideas, then this is a great place to start.
Click here to learn how to make this vinyl storage rack for your craft room.
3. Ikea Shoe Containers for Papers and Cardstock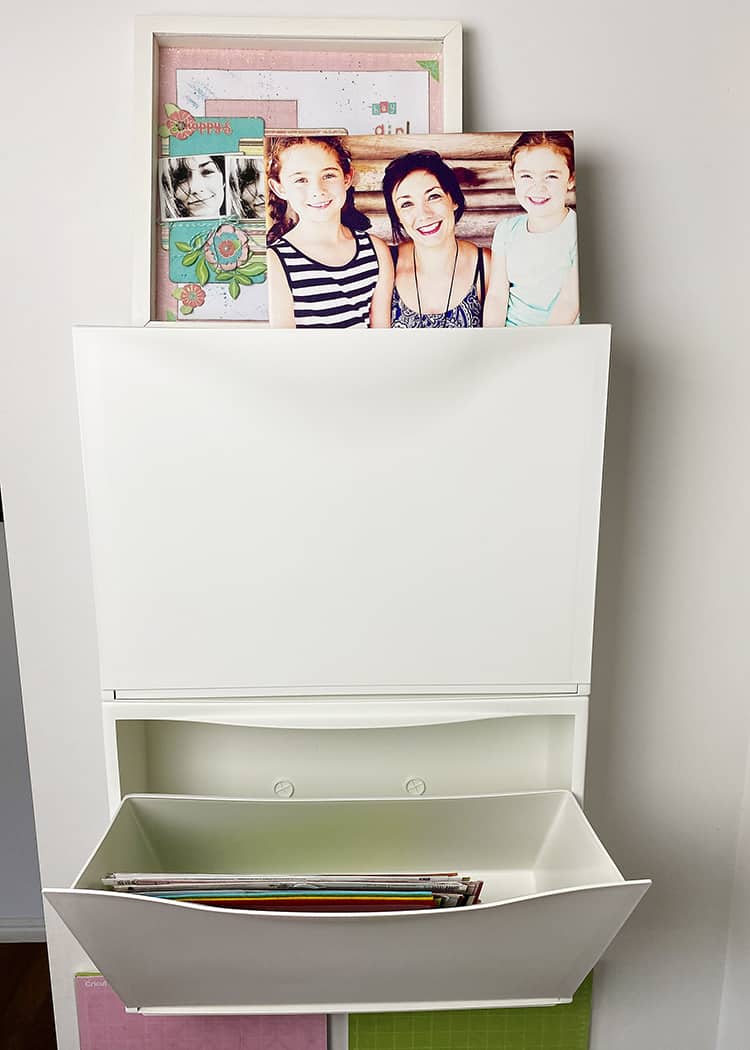 Looking for craft room organization ideas on a budget? IKEA is always a great way to save money.
These IKEA shoe holders are so thin that they barely take up any space on a wall. I have two of these and I love to store my cardstock, paper and 12×12″ felt pieces in them. It keeps things tidy, plus it takes up way less room than a vertical paper rack.
4. Craft Trolley on Wheels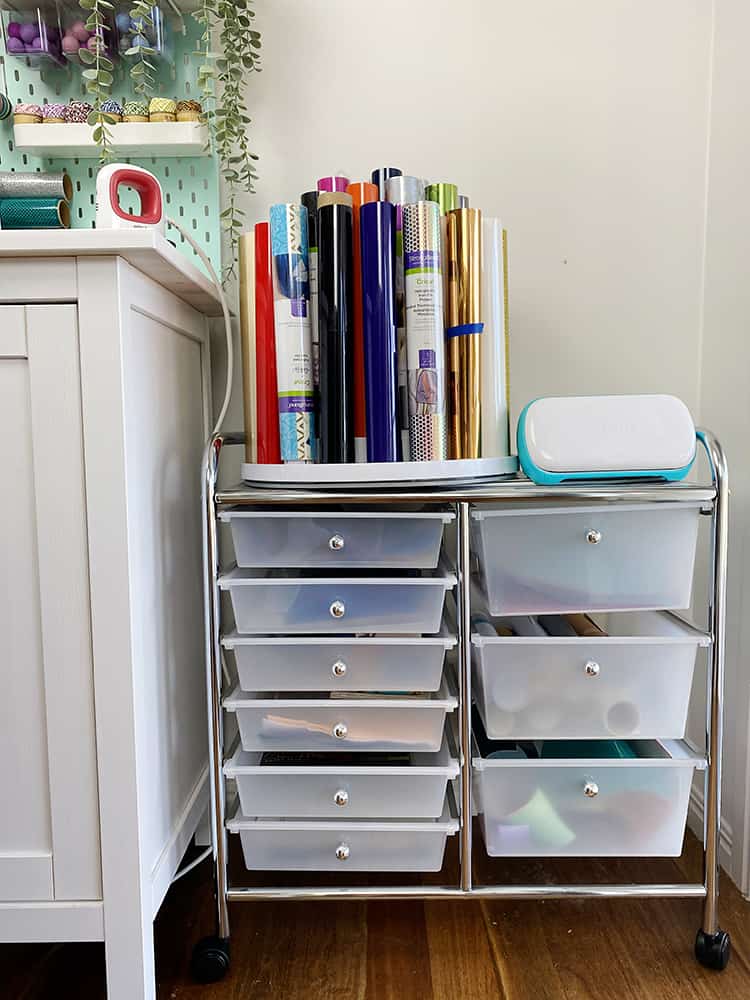 Another solution that I found and absolutely love is this craft trolley. Not only does it have drawers to organize my craft supplies but it also has space on top to either pop your Cricut machine or other craft supplies.
Click here to browse through all the craft trolleys on Amazon.
5. Craft Tool Holder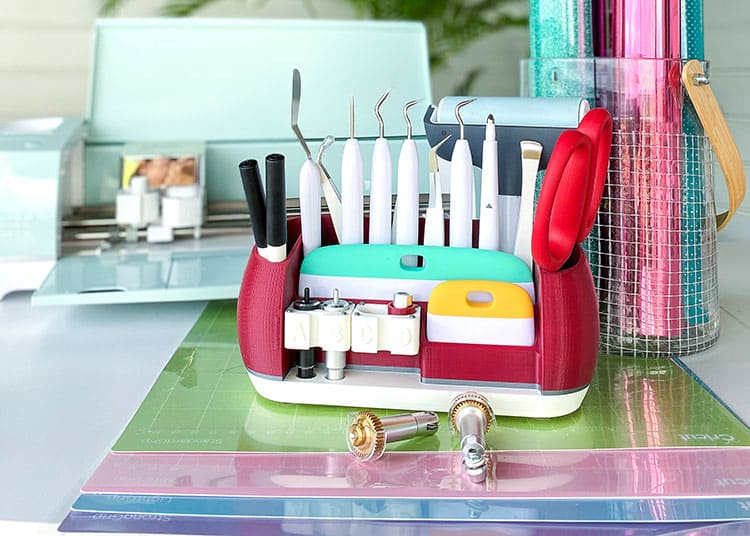 Looking for something small and compact to store your Cricut craft tools? This little tool caddy is super elegant and you can even choose which color you would like to have it made in.
You can read our full review, as well as grab info on where to purchase this caddy on our Cricut Tool Holder post here.
6. Hanging Up Your Cricut Mats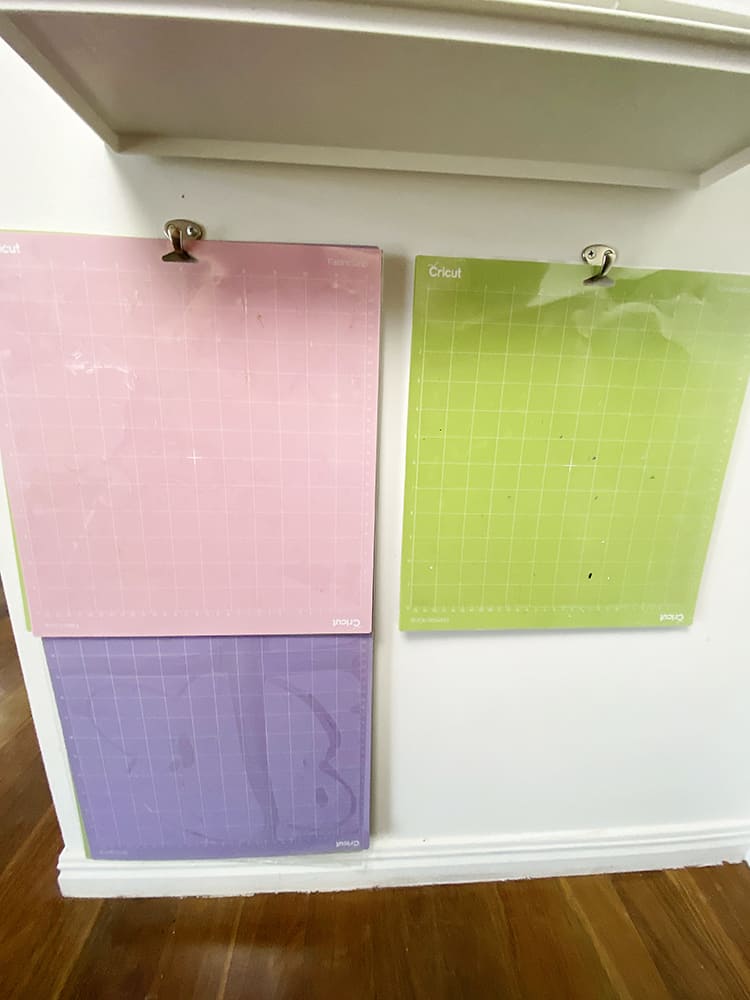 Not sure what to do with your Cricut Mats? I bought picture frame hooks and simply found some space on the wall to hang them up nicely. It is also helpful to ensure that they don't curl. Plus it takes up no space at all, and is so super cheap to do!
7. Craft Room Lazy Susan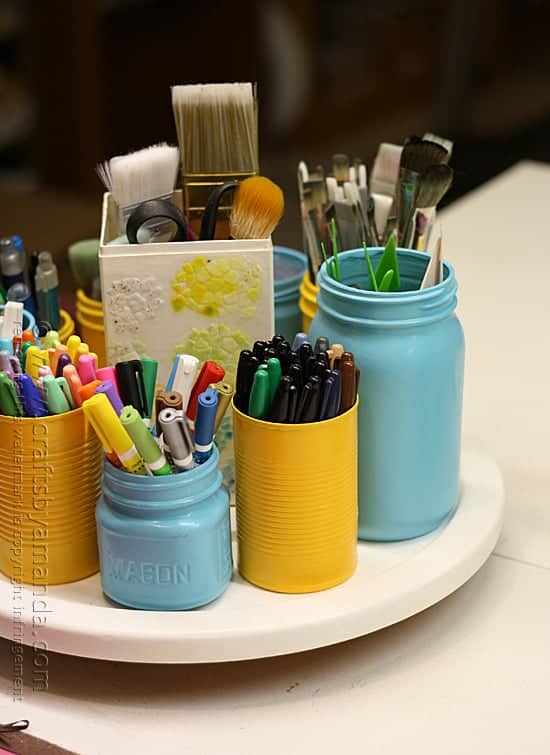 This Susan is most assuredly NOT lazy! Keep all your paintbrushes and art supplies within reach on this crafting lazy susan. Click here to find the tutorial.
8. DIY Pegboard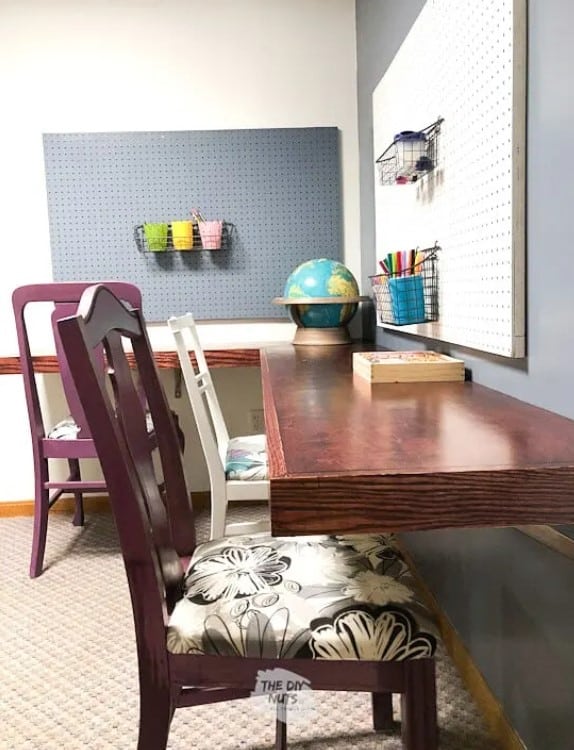 This pegboard is easy to make and can be used in a craft room or even a classroom! Click here to find the tutorial that will walk you through how to create your very own pegboard.
9. Craft Drawer Organizer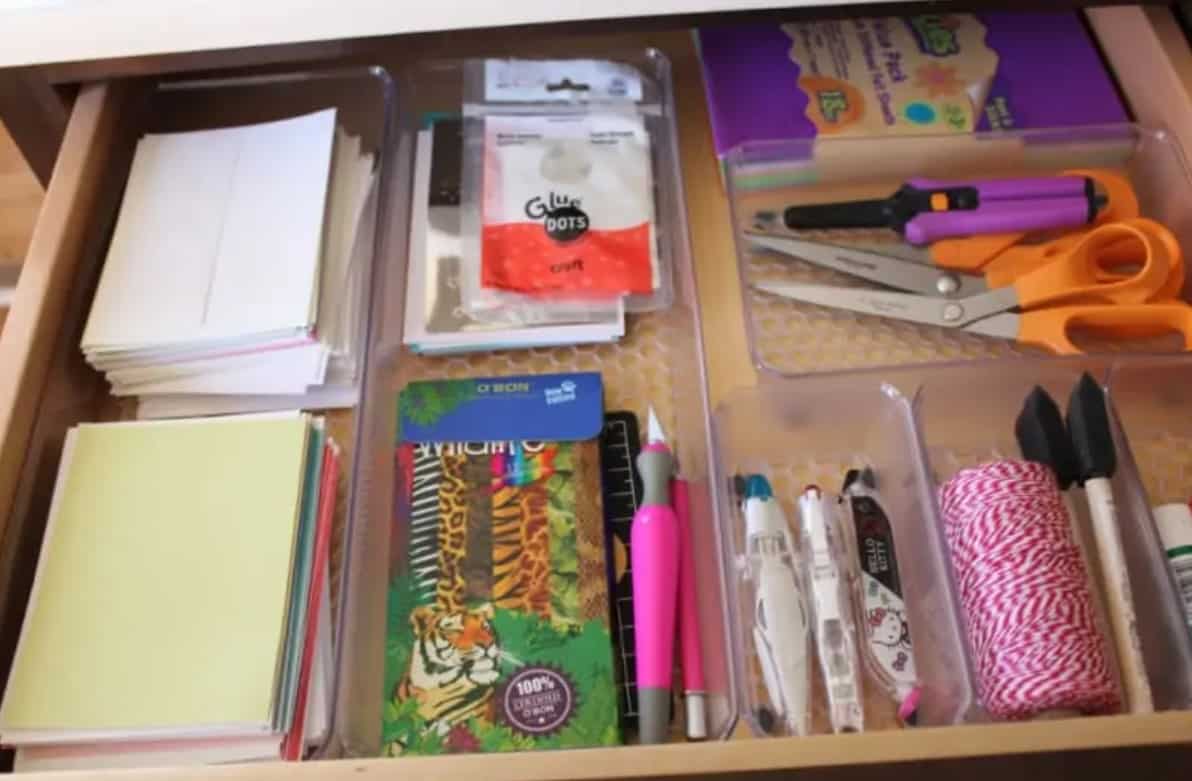 This tutorial walks you through how to organize your space so that it looks as bright and shining as the sun!
10. DIY Ribbon Organization Rope Ladder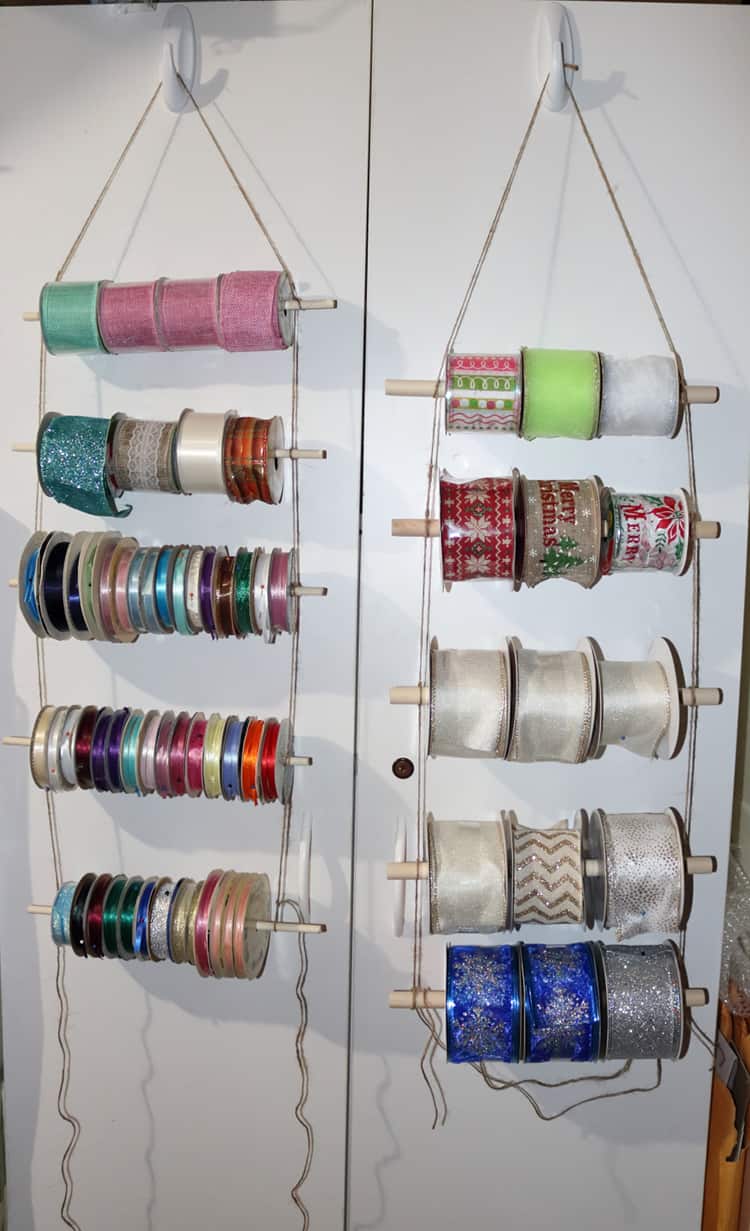 Your ribbons will never be happier than when they're placed on a dowel rope ladder to create a beautiful, colorful presentation! Click here to learn more about how you can create your very own dowel rope ladder.
Now that we've given you all of these amazing tips and ideas, we know you've got a renewed sense of motivation to get that craft room ship-shape and sparkling!