In most ways the Sizzix Big Shot Plus is really the same machine as the Sizzix Big Shot; the only difference is that it has a larger cutting surface (can cut up to 8.5 x 11″).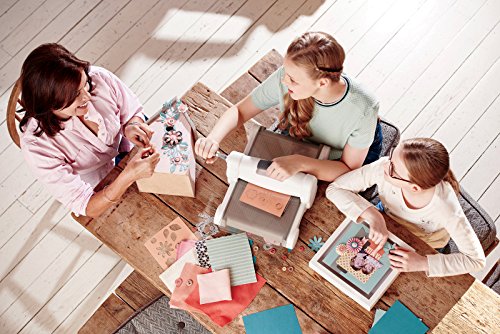 And as a paper crafter enthusiast, I'm sure that you know how loved the Sizzix brand is in the crafting community.
Their combo die cutting & embossing machines can add the perfect final touches to custom made embellishments, shapes and die cuts. It has the ability to cut and emboss all sorts of materials from paper, vellum, fabric, chipboard, and cork.
Whilst the machine is heavier than the Big Shot, it is still lightweight and portable. Only negative? It features a crank handle – bring on the muscles!
Click here to check current prices for the Big Shot Plus Machine
Now that we know that the Big Shot Plus Die Cutting & Embossing machine is indeed a fabulous machine, what we really need to do is to figure out if this is the right machine for YOU.  And to help you out, we have come up with a Sizzix Big Shot Plus review.
Sizzix Big Shot Plus Review Rating
Find below our review rating of this popular die cutting and embossing machine by Sizzix.
Features

Quality

Cutting Specs

User Experience

Value
Summary
This Big Shot Plus is perfect for scrapbookers, cardmakers, and quilters who are getting started with die cutting machines. It has a larger cutting surface than the cheaper Big Shot, which is brilliant for those wishing to create larger die cuts or embellishments. It is easy to use. It is one of the best crank operated die cutting and embossing machines on the market currently.
–
Review of the Sizzix Big Shot Plus Machine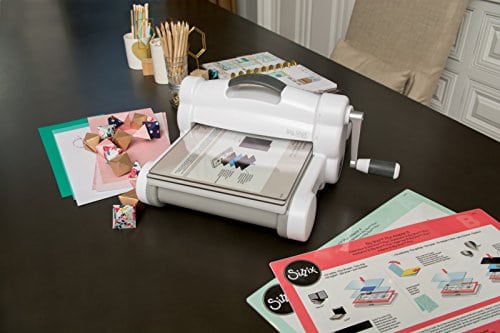 The Big Shot Plus Cutting Machine is not only our personal favorite but also an affordable and easy-to-use machine. 
We recommend that you compare the Big Shot Plus against electric die cutting and embossing machines.
So What Comes in the Box?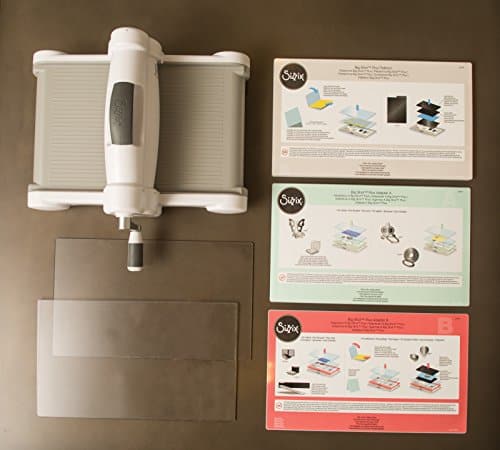 The Sizzix Big Shot Plus Die Cutting Machine comes with all the platforms and plates. The machine measures approximately 15 3/4″ x 11 3/4″ x 7 1/2″.
You will, however, need to purchase some dies and embossing folders before you will be able to use the machine. You can browse through some of our favorite dies and folders here.
Here is what is included with the Big Shot:
The Machine
1 x Platform
Adapter sheets: A & B
1 Pair of Cutting Plates
What are the Cutting Dimensions?
The cutter has a larger cutting surface in comparison to its 'little brother' the Sizzix Big Shot. The Big Shot plus has a cutting of 8.5 x 11″.
What Material Can it Cut?
The Big Shot Plus Die Cutter does a fabulous job working with a wide range of materials. These include:
cardstock
felt
fabric
foam
magnet
leather
craft aluminum
chipboard
metallic foil
vellum
and much more!
Some dies can handle cutting some material better than others, so it is best to check out the Sizzix Die Cheat Sheet.
What Brand Dies and Folders Can you Use?
The machine works brilliantly with any Sizzix® die or embossing folder, including their smallest dies to their big 9″ wide steel-rule dies and embossing tools. Important to note that the machine is not compatible with the Bigz™ Pro dies.
We love machines that can work with dies and folders from a wide range of brands. The Sizzix Big Shot Plus can work with the dies and folders from the following brands:
Cricut Cuttlebug
Spellbinders (absolutely love these)
QuicKut
Accuquilt (great for quilters)
& more!
The Pros & Cons
Pros:
Whilst it is larger than the Big Shot, it is still portable enough to take with you to crafty gatherings.

I can cut and emboss

The motor is strong enough to cut through multiple layers of material.

Has a gorgeous modern sleek new look

It is affordable
Cons:
Has a crank instead of an electronic feature

Limitations: cutting with dies and embossing with folders

Extra costs involved when purchasing dies and embossing folders
Verdict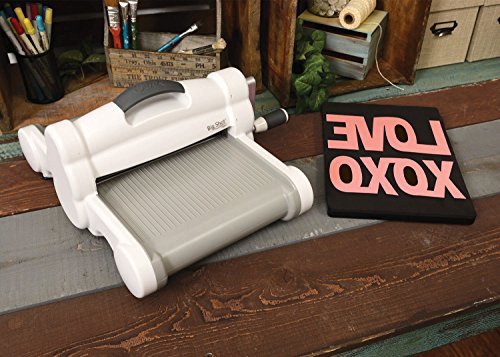 This machine is perfect for those who are after a great die cut and embossing vinyl machine!  The Big Shot Plus offers a wider cutting width than its little brother the Big Shot.
It is a brilliant machine for those who love to enjoy their craft with groups and friends, due to its lightweight and portable features.
You might even wish to purchase the whole Sizzix Big Shot Plus Starter Kit!
I guess your main problems will be which dies and embossing folders to purchase with these scrapbook cutting machines!
You can read through all the positive reviews on Amazon here, or simply click the button below to grab your cutter now.
Click here to purchase the Big Shot from Amazon
or