The Cricut EasyPress heat press machines are an excellent tool for transferring your designs from vinyl to fabric. They are perfect for crafters or small business owners. Plus, you can use them on tote bags, hoodies, aprons, t-shirts, and more.
Whilst there are plenty of heat press machines to choose from, the Cricut EasyPress 2, stands out for its ease to use, versatility, and compact size. This nifty press is available in 3 handy sizes.
Check prices on the EasyPress 2 Heat Press Machine
Let's take a closer look at all the features in our Cricut EasyPress 2 review.
Cricut released the upgraded Cricut EasyPress 3 in March 2022, read our review of the Cricut EasyPress 3 machine here
Cricut EasyPress 2 Machine Review Rating
Find below our review rating of the popular EasyPress 2 small heat press machine.
Summary
We personally use the Cricut EasyPress 2. We love that it is versatile whilst still being small enough to pack away when not being used. It is so much better than an iron as you have the ability to set your temperature and your time that is required to achieve a better press that will be more durable. Add in the fact that it is affordable and you have a great 'must-have' tool.
PROS
It is available in 3 handy sizes.
It is small and portable.
It heats up fast.
You can digitally set both the time and temperature.
It delivers professional results.
CONS
The largest in size is 12 x 10″, which can be limiting.
We know of people who had a press for a few months and then it stopped working. Fortunately, Cricut has EXCELLENT support and it got fixed ASAP, but it is still annoying.
You can't set the pressure like you can with professional heat press machines, so manual pressure with guesswork is required.
Review of the Cricut EasyPress 2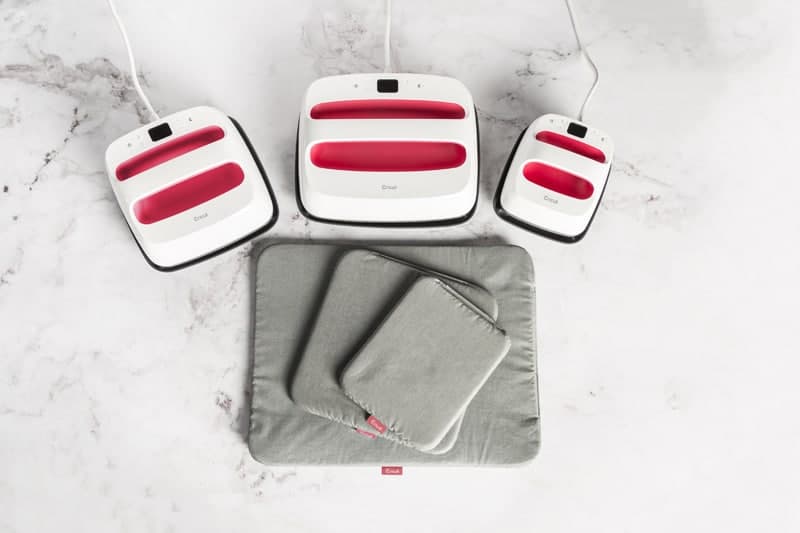 The Cricut EasyPress 2 is a handheld heat press for ironing on substrates to different materials. You can use it to transfer vinyl on fabric, cardstock, metal, wood, and more.
The second iteration of Cricut EasyPress was released in 2018 and is an improvement over the original model in many respects. It offers a greater temperature range and a redesigned heating element with improved heat consistency. There are some small changes to the base of the unit as well.
The EasyPress 2 comes in three different sizes to accommodate large and small transfers. You can also grab the Cricut EasyPress Mini which is a small heat press machine with a 3 x 2″ plate.
You can currently get the press in a striking raspberry and pearl white combo or in a calm mint and white combination.
What's In the Box?
Wondering what exactly you will get in the Cricut Easy Press 2 box? I have made a video to show you what is in the box.
The manual is the first thing that you'll find when you open the box. The press and the base come in a protective pouch for storing or transporting, and that's pretty much it.
This machine works best with Cricut EasyPress mats that allow for a tight seal when you transfer designs onto a garment. They're sold separately.
Who is the Easy Press Best Suited For?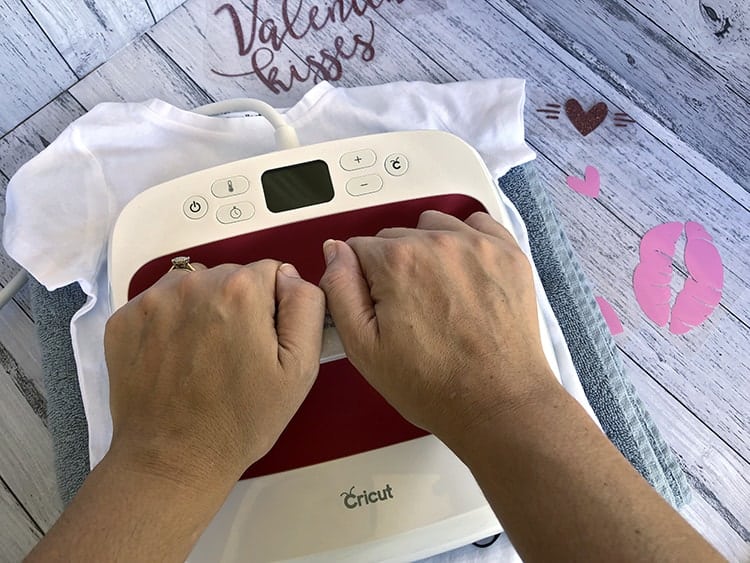 The Cricut EasyPress 2 is an excellent solution for crafters who don't have a lot of space. Regardless of the size, these tools are light and compact so you can easily store them on a shelf, in a cabinet, or even inside a drawer.
The compactness makes the press easy to transport as well. You can take it to workshops, DIY seminars, and other events.
That being said, small business owners can also benefit from the EasyPress 2. They can create custom promotional items in small batches and save money on professional printing.
In terms of price, this hybrid press offers excellent value for the money. The new model is a bit more expensive than the original but you are getting improved heat, power, and features.
Overview of Features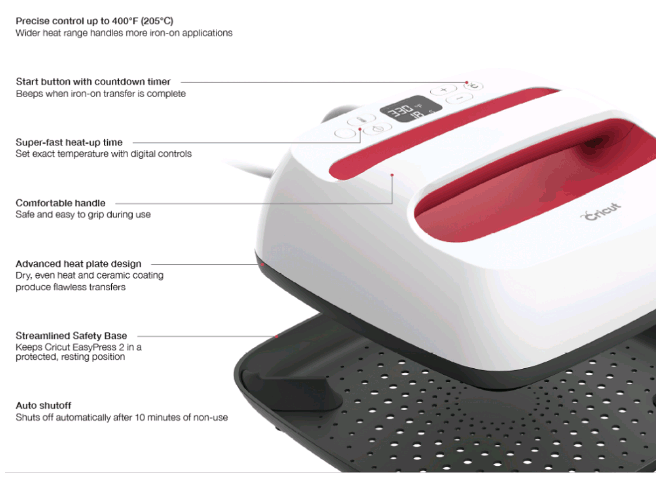 The Cricut EasyPress 2 features an edge-to-edge ceramic-coated heat plate which evenly distributes the heat. Behind the heat plate are two heating elements. The temperature range reaches 400°F, allowing you to transfer vinyl to different materials.
A rather large handle helps you manoeuvre the unit. The matching Safety Base is insulated to protect your printing surface. There's an auto-shutoff feature which turns off the machine if unused for 10 minutes.
As for the controls, the on/off, heat, and timer buttons are located at the top of the press. There are +/- buttons to adjust the temperature and time, which you can track on the LCD display. On top of that, the Cricut EasyPress 2 comes with a USB port with which you can update the firmware.
The even heat and high-temperature capability provide professional results. In a minute or less, you'll be able to get high-quality transfers that can withstand multiple washes.
The three available sizes are 6" x 7", 9" x 9", and 12" x 12".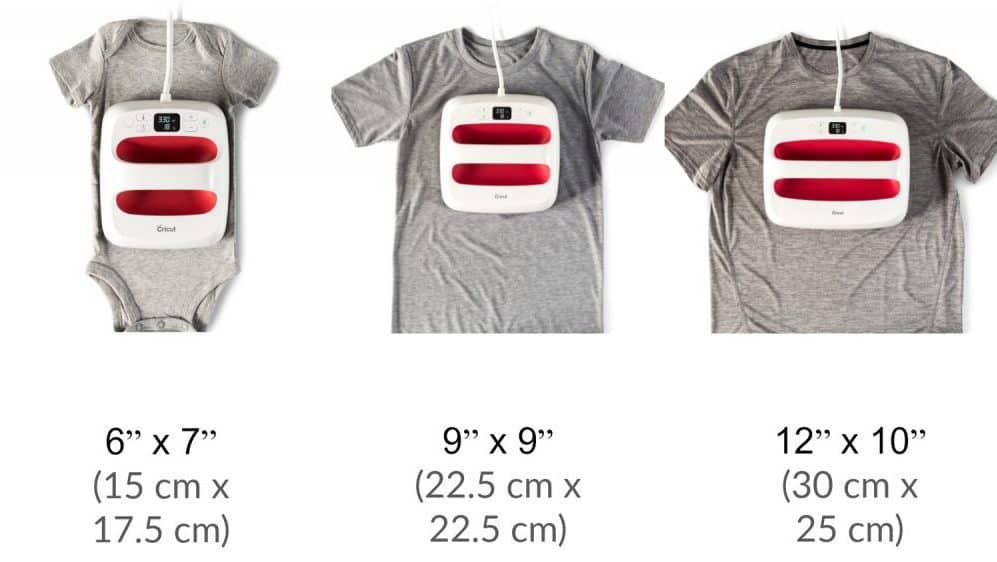 The smallest press is perfect for baby clothes and caps and stuff. And you can use the bigger models on blankets, banners, jackets, etc. Of course, you don't actually have to transfer something of the full size. If your vinyl is 3" x 3", you can use any of the 3 sizes.
You can find a detailed post to help you work out which Cricut EasyPress 2 size is the right size for you, by clicking here.
How to Use the Cricut EasyPress 2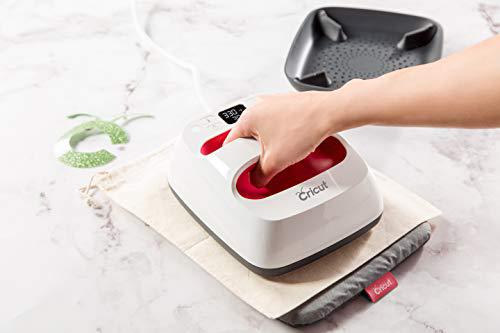 This heat press is a great choice even if you've never used one before. Adjust the temperature and time and wait for the unit to heat up. It heats up at about 5 degrees every second and the 'C' button turns green when the press is ready.
The manual list recommended settings for different materials. You can also go to the EasyPress website and select your preferences from the drop-down menu to get the right time and heat. In addition, the website offers preparation and maintenance tips.
The Cricut EasyPress 2 is lightweight so you are not getting much in terms of pressure. You'll have to apply even firm pressure using your hands and hold until the transfer is done. Don't forget to use a piece of fabric between the press and the iron-on material to protect the heated plate.
I have made another quick video to show you how you can get started with the supplies that are included in the box. It might be worth watching.
Alternatives to the Cricut EasyPress 2
To be honest, you'd be hard-pressed to find another handheld heat press that matches the Cricut EasyPress 2's performance. However, if you want more pressing power or a larger surface, the following ePhotoInc heat press machines are a good alternative.
1. The EPH10BU features 1400W of power and a 9" x 12" heat press. It can reach up to 500°F and the Teflon-coated aluminum heat platen ensures even heat distribution. There is also a knob to adjust the applied pressure as well as a large display and capacitive settings buttons.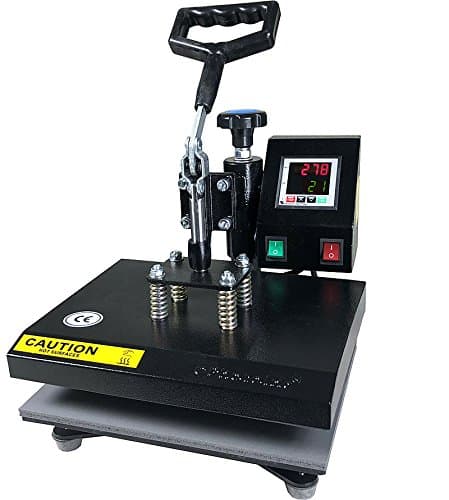 >>> You can check out current pricing for this heat press on Amazon here.
2. Stepping up to the 15" x 15" class, the ePhotoInc EPH15BLK is capable of much larger transfers. The heating elements draw the same power and the heat plate is also Teflon-coated aluminum. However, it doesn't come with a raised base, and the handle sports a different design.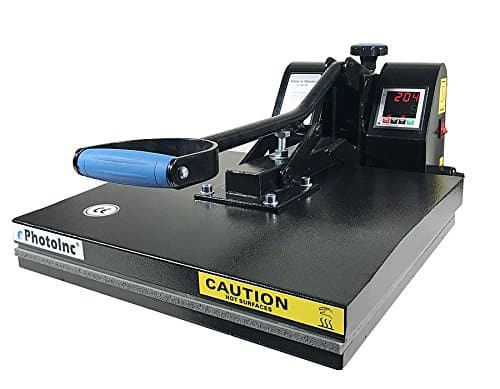 >>> You can check out current pricing for this heat press on Amazon here.
Both of these ePhotoInc machines are a good fit for professional and home use. But they're not small and handheld like the Cricut EasyPress 2.
Our Verdict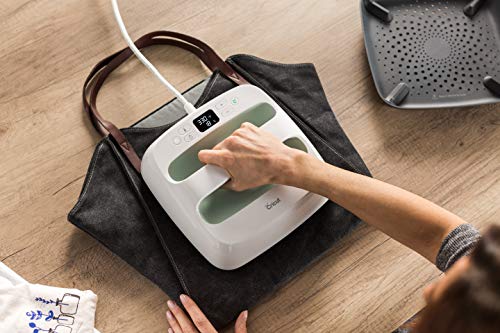 When all is said and done, the Cricut EasyPress 2 stands out as one of the best affordable heat presses for crafters. It's hard to fault in terms of usability, performance, and versatility considering the affordability. It's safe to use and available in 3 sizes to cover any printing need.
Compared to traditional heat press machines, the new EasyPress is more labor-intensive and not nearly as fast. For what it's designed for, this press is capable of pro-quality prints and withstanding heavy use. Though the true highlight lies in the fact that it's a portable heat press.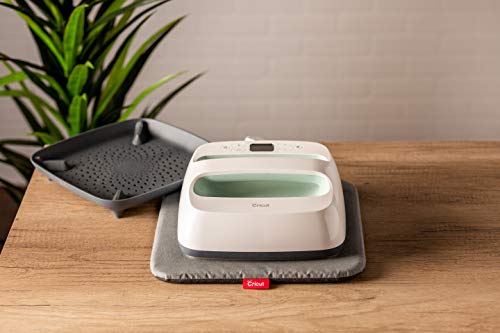 We personally have the 9 x 9″ and I prefer using it over my big heat press machine simply because it takes up less room, but still delivers excellent professional results.
This is a truly top-notch beginner machine! You can read through all the positive reviews on Amazon here. I highly recommend that you invest in a Cricut EasyPress 2 Bundle, but if you prefer, you can grab your EasyPress 2 as a stand-alone by simply click the button below.
Click here to purchase the EasyPress 2 from Amazon
Click here to purchase the EasyPress 2 from Cricut.com
Where to Next? Here is our blog post full of gorgeous Cricut Heat Press Projects.