If you have started crafting with your Cricut or are looking for a way to create high-quality DIY crafts then you may be looking at using sublimation designs.
But if you are new to the concept of sublimation and feeling unsure about the steps to take in order to ensure that your designs are truly perfect? Fret not!
Whether you are looking to add your own designs to clothing or seeking to create a one-of-a-kind gift for that special someone, sublimation printing is the answer to achieving great-looking projects!
Using sublimation ink and transfer paper you will achieve vibrant colors and prints.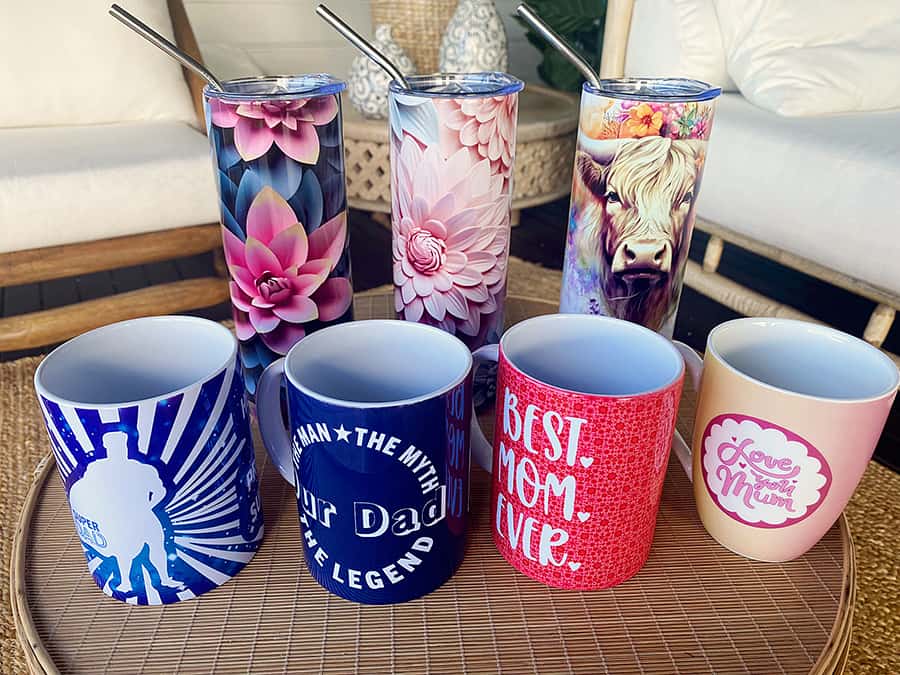 What's more, sublimated images are not only visually stunning but also durable and last a long time.
From personalized mouse pads and bespoke keyrings to eye-catching polyester shirts and sleek metal plates – the possibilities are truly limitless.
Curious to dive deeper into the captivating world of sublimation? Look no further!
Our comprehensive guide below will provide you with all the knowledge you need to explore the ins and outs of sublimation, including what you can (and can't) sublimate on.
What Can You Sublimate On (and what can you not)
It can be overwhelming to know which method is perfect for what you would like to create.
I put together this full guide to help you know what can you sublimate on (and what can't you sublimate on).
I cover what is the best fabric for sublimation printing and alternative types of fabrics that you can use.
What Is Sublimation?
Sublimation is a unique printing technique that allows you to transfer an image directly onto a variety of fabrics and materials.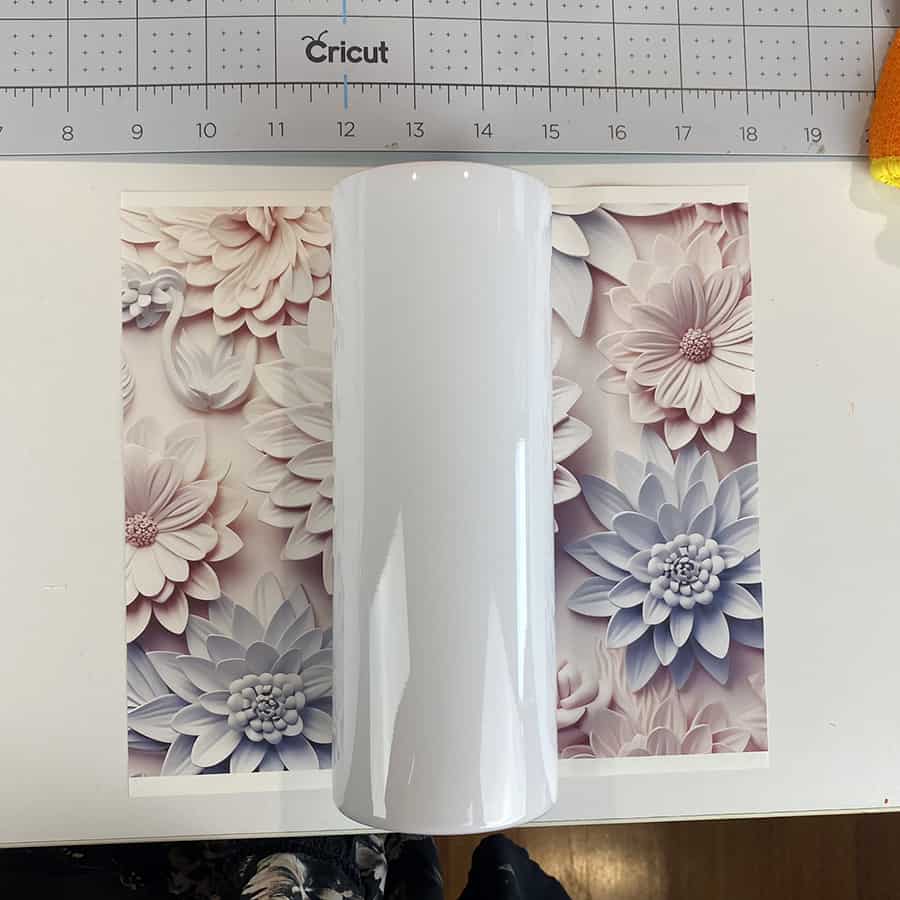 Unfortunately, not all materials can be used for sublimation. While some materials can be prepared through a special coating, most will not give you the end result you are looking for if you do not use the correct base material.
You may be wondering, just how does sublimation work?
Sublimation printing works its magic by using heat to fuse ink and fabric, creating an unbreakable bond.
A design is printed using a sublimation printer and sublimation ink. The design is printed onto sublimation paper and when heated using a heat press the sublimation process begins by transforming the ink into a gas and infusing with the fabric.
The end result leaves a permanent mark that's nothing short of mesmerizing. It's pure printing wizardry!
What Can You Sublimate On?
The best material to sublimate on is polyester or polymer-coated items such as mugs, t-shirts, mousepads, and more. Sublimating on these materials provides an excellent and long-lasting result that won't fade easily over time!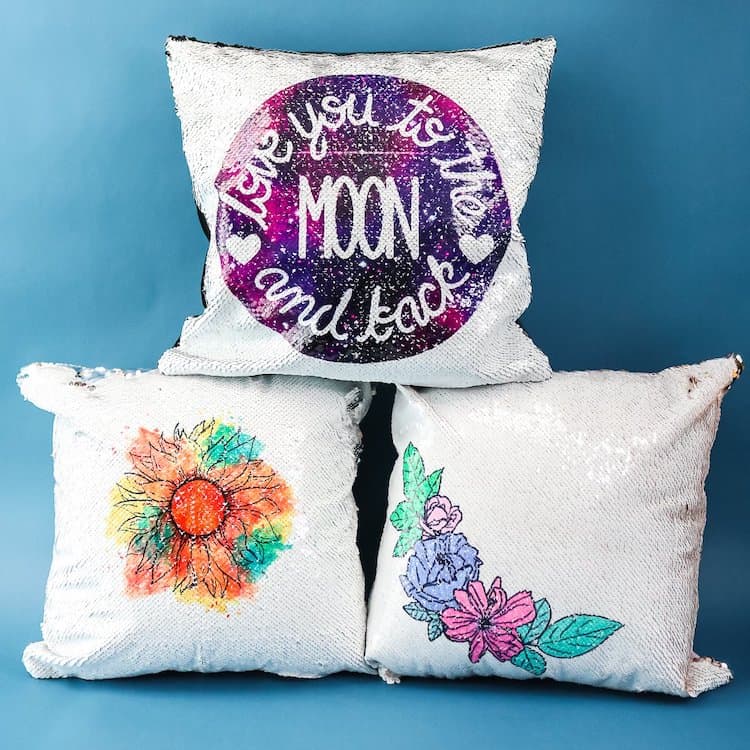 But exactly what type of material can you sublimate on?
1. Polyester Fabric
Polyester is the most common and widely used sublimation material and is most commonly used to create sublimation shirts.
The sublimation ink easily bonds with polyester fibers. For the best design transfer, opt for 100% polyester fabric as the higher the polyester count, the better the results.
Although low polyester count fabrics can still be used, the design may not fully transfer onto the material and be as vibrant.
2. Ceramics
Ceramic sublimation blanks are probably the next most popular and commonly used for sublimation projects and are ideal for sublimation due to their high heat resistance.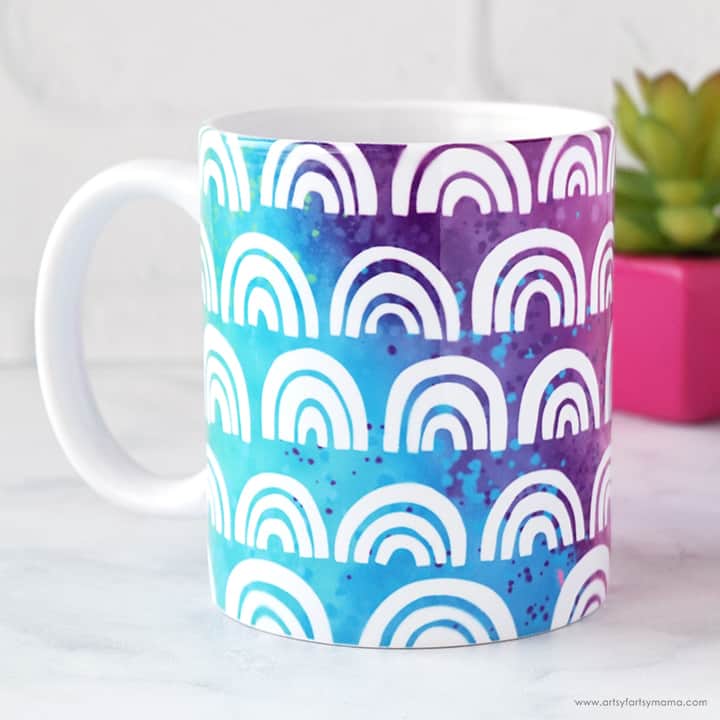 The design on a ceramic surface remains intact even with microwave or dishwasher use. The ceramic surface has a polyester coating enabling the transfer of the design from the sublimation paper.
While sublimation mostly works on flat surfaces, for mugs and other round objects, a specialized machine called the mug press is used.
3. Plastic
Plastic items that have a polymer coating allow for the sublimation ink infusion to take place when heated.
4. Blended Fabrics
Although not as effective as 100% polyester, sublimation can still have satisfactory results on blended polyester materials (synthetic fabrics) with lycra, nylon, spandex, and other synthetic fibers.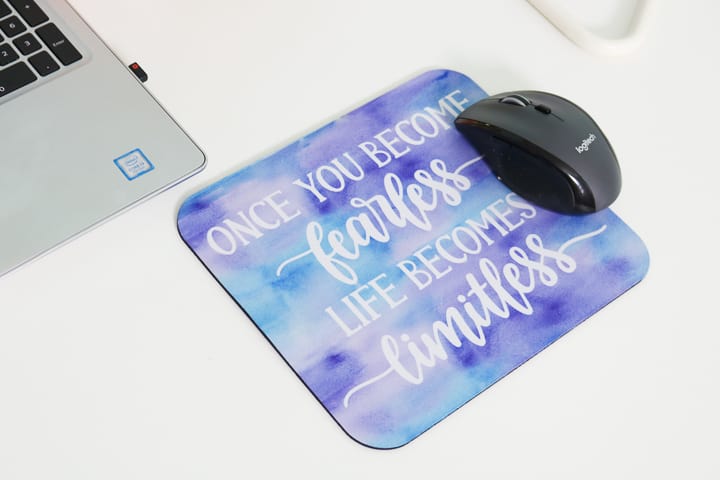 For the best results with blended fabrics, aim for a minimum of 40% polyester content and select a material with high-temperature resistance.
If you cannot find a suitable fabric for your sublimation transfer you can also purchase a sublimation spray that you can spray onto cotton surface and other fabrics to transfer your printed design too.
5. Metal, Wood and Glass
Metal, wood, and glass are all excellent materials for sublimation. Metal and glass are particularly good due to their durability and high-temperature resistance.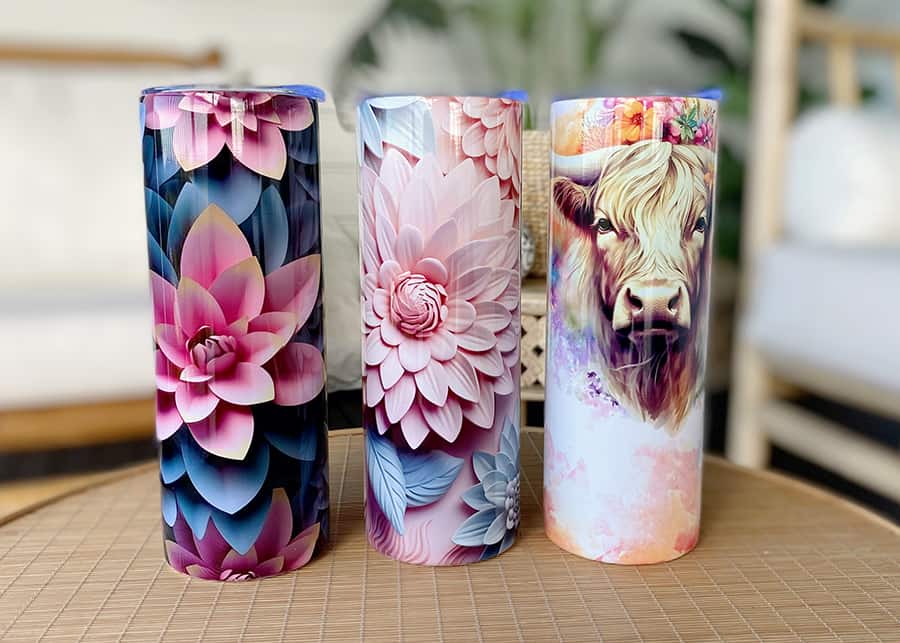 You will need to ensure that the materials are cured with a polymer paint coating, which allows the sublimation ink absorption and provides longevity. The polymer coating for wood also prevents it from burning.
>>> Check out this post if you want to learn how to make sublimation tumblers!
6. Vinyl
While vinyl and polyester have distinct chemical compositions, they share similar physical properties. Sublimation ink effectively bonds to both materials, making heat transfer vinyl an excellent substitute for polyester-coated products.
What Can you NOT Sublimate On?
Sublimation printing is a direct-to-garment printing process that allows for vibrant, durable prints. Materials such as cotton fabric and natural fabrics are not suitable for sublimation dye and inks.
Compared to other materials, cotton fibers have a lower affinity for dyes, resulting in subpar outcomes that fade rapidly and lack durability.
Although cotton-polyester blends can be used it may result in the image cracking, bleeding, fading, or peeling.
For successful sublimation on cotton, it's best to sublimate the design onto a white glitter vinyl sheet. This sheet can then be pressed directly onto the cotton shirt, allowing the image to adhere to the glitter vinyl without penetrating the underlying fabric.
While ceramic, plastic, metal, and other sheet materials can be used for sublimation, uncoated polyester materials are an exception.
When selecting base materials for sublimation printing, look for options like metal, ceramic, or wood that have a polymer coating.
What Color Can You Sublimate On?
When it comes to sublimation printing, you want to use white or light-colored fabrics and base materials as sublimation is less effective on dark surfaces and dark fabrics like black shirts.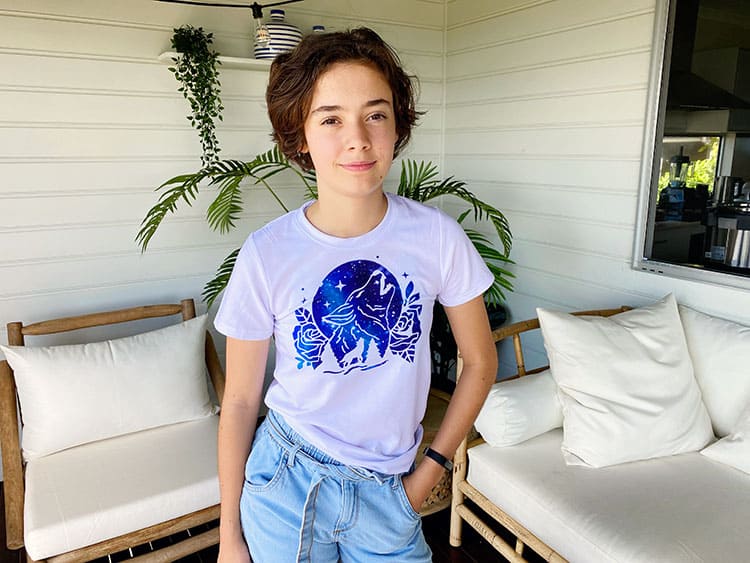 While it is possible to sublimate dark fabric and materials, the design won't be as vibrant compared to materials and fabrics in light colors.
Using these color base materials is the best choice for achieving vibrant and realistic colors in your designs.
FAQ's About what materials can be sublimated
1. Can you sublimate on 100% white cotton?
No, the short answer is that sublimation is not compatible with 100% white cotton fabrics.

However, if you want to sublimate print on 100% cotton shirts, the best way is to use a sublimation coating spray or heat transfer vinyl as a protective layer to ensure long-lasting and vibrant results.
2. What happens if I sublimate on 100% cotton?
If you directly sublimate onto pure cotton surface, like cotton shirts using sublimation ink, it is important to note that the ink may fade quickly after washing.

This is due to the nature of the sublimation process, where the ink penetrates the fabric fibers and can be less durable compared to traditional textile printing methods.

Therefore, it is best to use specialized sublimation-friendly fabrics for longer-lasting results.
3. Do shirts have to be 100% polyester for sublimation?
When it comes to fabric choices, they don't necessarily have to be made entirely of polyester.

However, it is worth noting that polyester tends to deliver the best outcomes due to its unique properties to absorb the ink when using heat. So, while other materials can be considered, it's worth giving polyester a closer look for the best results.
4. What fabric can be sublimated on?
Sublimation is most suitable for fabrics or materials that possess a polyester or polymer coating.

It is the unique composition of polyester material that enables the dyeing and infusion of the ink during the heating process. Fabrics predominantly comprised of natural fibers like cotton, silk, or wool, are unable to effectively absorb the sublimation ink.
5. What is the lowest amount of polyester for sublimation?
Polyester blend fabrics, crafted with as little as 40% polyester can still be used with using sublimation inks and prints.

Their unique composition combines the benefits of polyester with other textile fibers, providing a blend that balances comfort, durability, and functionality.

With versatile applications in clothing, upholstery, and beyond, these fabrics provide so many possibilities to meet your sublimation project.
Final Thoughts: What Material Can You Sublimate On?
Sublimation is a great way to quickly and easily create personalized projects with unique designs, and it's relatively affordable for most beginners.

The possibilities of sublimation are endless once you know what can you sublimate on and which materials can you not sublimate on!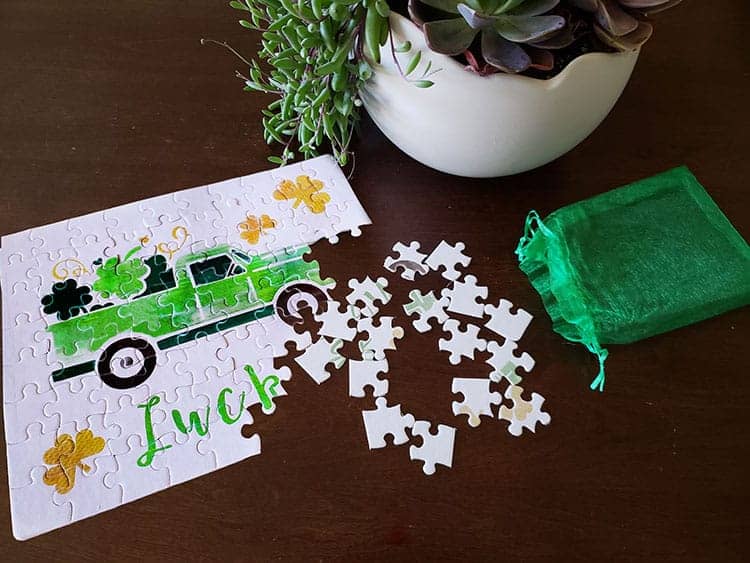 Over the years of making many DIY projects and crafting with my Cricut machine, I have learnt that you can apply a design onto fabric, cotton t-shirts, coffee mugs, tumblers, hats, tiles, plates and more using sublimation prints.
However, it is good to remember that not all base materials are good for sublimation, and materials like wood blanks, plastic, ceramics, and metal should have a polymer coating.

So if you're looking for an easy way to add unique designs onto everyday items then look no further than sublimation!
With the right tools and equipment, you'll be able to bring your creative ideas and already-made designs quickly and easily into reality.