If you are feeling a bit confused about whether to buy the Silhouette Curio vs Cameo 3, we are here to help! Fortunately these two machines have very different features, so by the end of this comparison, you should know exactly what the difference between the Silhouette Cameo 3 vs Curio is.
Silhouette Curio vs Cameo 3 Comparison Chart
Below you will find a super handy Silhouette Cameo vs Curio comparison chart. The chart is great for a visual representation of the difference between the Curio and Cameo 3 cutters.
8.5" x 6"

8.5" x 12" (with large tray purchase)​
Summary of Main Difference between the Silhouette Cameo 3 and Curio
The main difference between the Cameo 3 and Curio is that the Silhouette Curio is more versatile, in that it can cut, score, emboss, deboss, etch and stipple. The Curio has a much smaller cutting surface of 8.5" by 12", compared to the Cameo 3, which has a decent cutting surface of 12" wide and up to 10 feet long.
If you wish to purchase a machine that will be used for cutting, we highly recommend you invest in the Cameo 3, but if you are after a machine that has added features, the Curio might be for you. Keep reading the rest of the post to find more in-depth information and videos to help you decide which machine is the right one for you!
---
Silhouette Curio Overview
The Curio Cutting Machine​ is the best specialist DIY vinyl cutting machine. With this nifty machine you can enjoy crafting a wide range of Curio Projects. This cutter does not only have the ability to cut and draw, but it can also emboss, deboss, score, sketch, stipple, and etch. Pretty impressive huh!?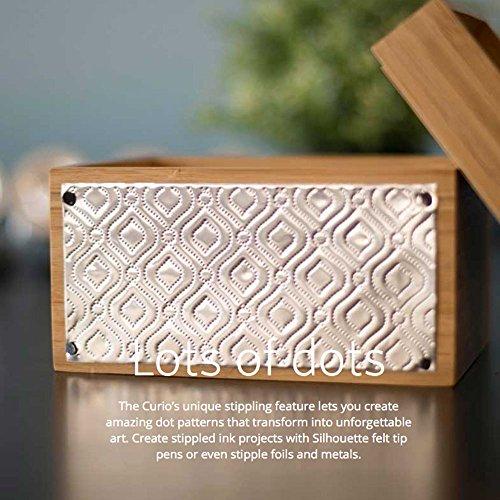 Whilst the machine sounds too good to be true, it does come with its limitations though. Where the Curio is more versatile than the Cameo Vinyl Cutter, it offers a much smaller cutting size. The Curio has an 8.5 inch by 12-inch cutting surface, compared to the vinyl cutter Cameo 3, which is capable of cutting 12 inches wide and up to 10 feet long.
Below you will find a quick Silhouette Curio Video to outline all of the positive features of the machine.​
The Curio Vinyl Cutter has been designed to be a companion machine to your favorite vinyl cutter, rather than a stand-alone cutter. ​
Silhouette Cameo 3 Overview
The Cameo Silhouette 3 is one of the top selling vinyl cutters on the market in 2018. What makes this machine so popular?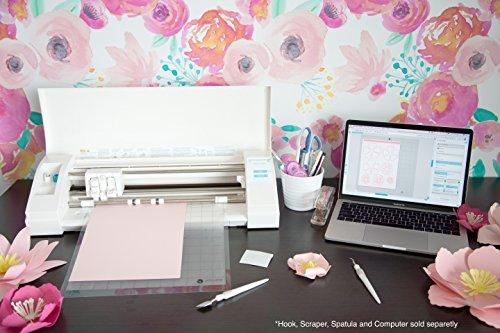 In comparison to the Curio Plotter, the Cameo 3 is more focused on being brilliant at cutting and drawing. It has the ability to work with over 100+ material and will deliver precise and intricate cutting of designs.​
The Silhouette Cameo 3 features a much larger cutting size (12" x 10 feet) and has the very intuitive autoblade which auto-adjusts its blade depth to the material to be cut.
Below is a quick Silhouette Cameo 3 video to showcase its most prominent features.
---
What can the Curio Cutter do that the Cameo 3 machine can't?
Let's take a closer look at the Curio Silhouette vs Cameo 3.
​The Curio can tackle a large variety of gorgeous Silhouette Curio projects.
More specifically the Curio has the following unique features:
Stipple Metal and Foil

Etch Metal

Emboss and Deboss

Score

Can work with much thicker materials (up to 5mm thick in comparison to Cameo's 2mm)
What can the Cameo 3 do that the Curio machine can't?
The Silhouette Cameo Version 3 has its own set of brilliant features and these include:​
Bluetooth Technology ​

Ability to use the machine without a computer

Larger cutting surface (12" x 10 foot) in comparison to Curio's tiny 8.5" x 6" (which you can extend to 8.5" x 12" if you purchase the silhouette curio large base set)

Autoblade Feature - the autoblade will auto-adjust its cutting to the depth of the material you are using.
---
Curio vs Cameo 3 Comparison Video
Here is a great video showcasing how the Silhouette Curio Cutting Tool stacks up against the Cameo 3 Silhouette. The video clearly outlines the difference between the Silhouette Curio vs Silhouette Cameo 3 Vinyl Cutter.
---
Which one is the one for you?
Have you managed to figure out which one is for you? Let's break it down further to see whether the Curio Silhouette or Cameo is for you.
Do you need a machine that can emboss, deboss, etch, stipple as well as draw and cut?
The Curio has a lot more functions on offer, but the compromise is that your working space is pretty small.
Do you need a machine that has a decent cutting size on offer?
The Cameo 3 is perfect for those who wish to work on larger cutting surfaces. It is a popular machine for scrapbookers as well as sign-makers and T shirt transfer businesses.
Do you want to have your machine away from your computer and out of the way?
The Cameo 3 has bluetooth which means it can talk to your computer wirelessly.
Do you want the cheapest machine?
The Curio is slightly older, being released a year before the Cameo 3, and therefore comes at a cheaper price.
Remember, the Curio was designed to accompany your current vinyl cutter. If this is your first vinyl cutter purchase, we highly recommend the Cameo 3.
If you have a great vinyl cutter and you want to add the versatility of adding embossing, etching and stippling features to your projects, then we suggest you purchase the Curio.
If you have some money to invest, you could also look at getting the perfect combination of both machines together!​
Over to You
Which one will you buy? The Silhouette Cameo or Curio?

Do you think the Silhouette Curio Digital Crafting Machine is worth the money?

Which machine do you think won the great Cameo Curio battle-off?

Can you add any more helpful info for our readers to help you decide between the Silhouette Cameo 3 vs Silhouette Curio
PLEASE PIN ME