Heat press machines are becoming increasingly popular. The recent advances in ink transfer technology have made it possible to skip going through an industrial printing company if you're looking to advertise your designs or start a wholesale business.
Are you a crafty individual with ideas that need some exposure? Have a look at the Tusy heat press machine and find out why it may just be the missing tool in your arsenal.
[easyazon_image align="center" height="500″ identifier="B07MRFF1FL" locale="US" src="https://www.thebestvinylcutters.com/wp-content/uploads/2019/07/41jTNW3WeNL.jpg" tag="bestvinylmachines-20″ width="500″]
Check prices on the Tusy Heat Press Machine
Let's dive into all the fabulous features and specs in our Tusy Heat Press Review.
Tusy Heat Press Review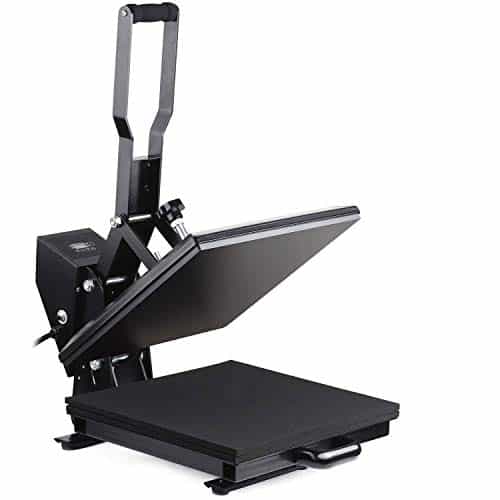 Who can benefit the most from the Tusy heat press machine?
Beginners, freelance artists, startup design firms, and anyone that wants to promote their brand on their own.
Style
This 15×15-inch heat press has a clamshell design. Right off the bat, this means that it has a small footprint and it's a lot easier to use than swing-away or drawer models. If your main goal is to print your designs on t-shirts, few other heat presses can give you so much control and ease of use.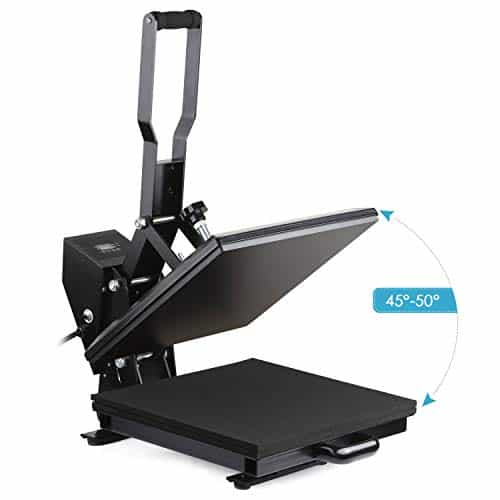 Another cool thing about this machine also comes from its clamshell design. This type of machine is a massive time-saver due to the few steps involved in operating it.
You can compare this 15×15″ clamshell design press against more expensive 15×15″ swing-away heat press machines here.
Functions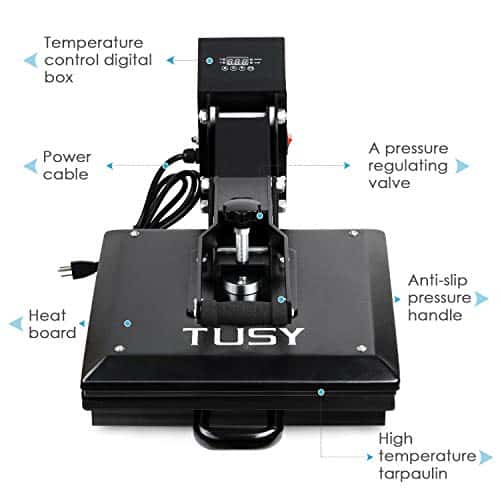 The Tusy 15×15″ heat presscomes with all the standard functions that you will need to get your business rolling. Whether you want to start selling T-shirts or you want to be able to create proof of concept merchandise during a live presentation, the machine is ready to use out of the box.
It features a long power cord, a pressure regulating valve, a high-temperature tarpaulin, a digital control box for the temperature setting, and an anti-slip handle. The anti-slip handle is very useful because it makes it easier to open and close the clamshell besides preventing you from getting burned.
The heavy-duty press requires double-arms force. This is also the reason why some extra physical effort is required to open and close the shell.
Performance
When it comes to performance, the Tusy 15×15″ clamshell heat press machine can reach a maximum temperature of 500°. It's nothing spectacular but more than you'll need for a quality transfer.
You can also set the timer between 0 and 999 seconds. This allows you to keep the press on for longer, potentially darkening the ink and improving the contrast of your design.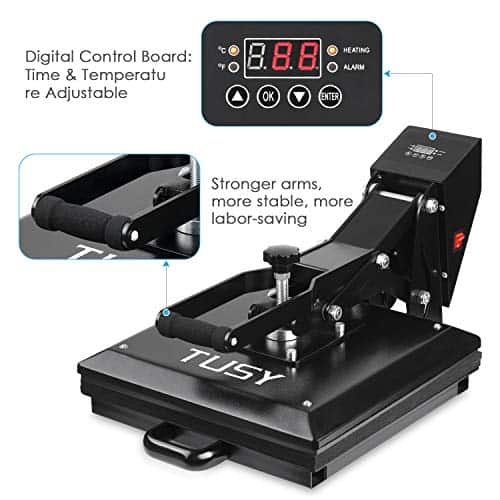 Even heat distribution is ensured by the Teflon-coated aluminum heat platen. High-density sponges are used to offer protection to your T-shirts at high heat settings.
With that in mind, an automatic shutoff feature is also included to prevent the accidental burning of your merchandise.
Uses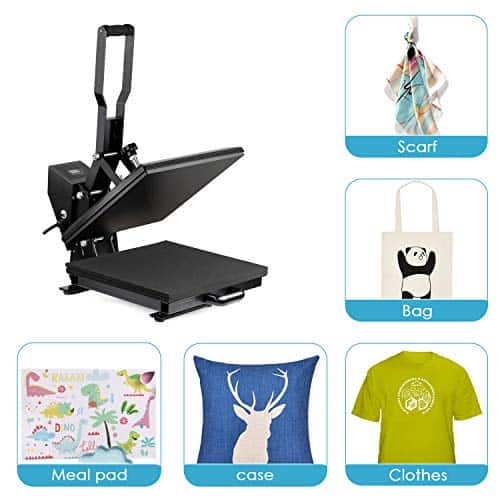 Although this is mainly designed for T-shirts, you may also use the Tusy heat press machine to print on other mediums and merchandise. You can print your unique designs on bags, thin sweatshirts, blankets, banners, and other similar items.
Pros and Cons
Below you will find the pros and cons of this machine together with information on who this machine would be perfect for.
Pros
Decent platen size
Even heat distribution
Overheating protection
Up to 500° F temperature
Digital temperature and timer control
Light and portable
Adjustable pressure
Cons
Can't be used for mugs, hats, and other non-flat items
May not work well on hoodies or winter wear
Final Thoughts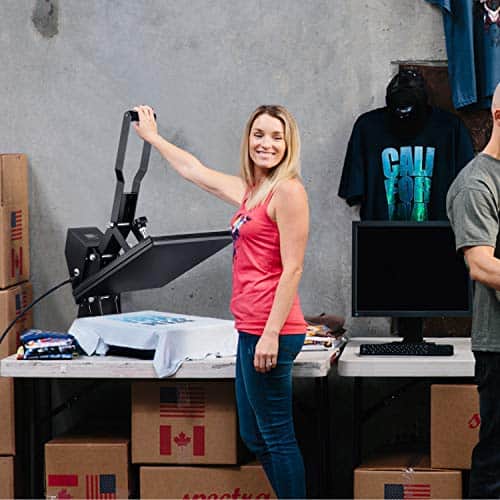 Tusy offers an advanced portable 15"x15" clamshell heat press that individual artists and startup design companies can use at the office or on the road. The ink transfer is very good with minimal saturation loss.
The adjustable pressure, temperature, and timer give you total control over the transfer process no matter the receiving material. It's definitely worth looking into if you're just now considering buying your first heat press machine.
This is a truly top-notch beginner machine with a cheap price tag! You can read through all the positive reviews on Amazon here, or simply click the button below to grab your press now.
Click here to purchase the Tusy Heat Press Machine from Amazon.
Looking for something different? You can find a review for a pink heat press here.