We are BIG BIG fans of Bundle Deals. Bundle deals typically always help you to save a lot of money.
In fact, we love bundles so much that we want to dedicate a whole post to one of our favorites.
The Cricut Explore Air 2 Heat Transfer & Vinyl Bundle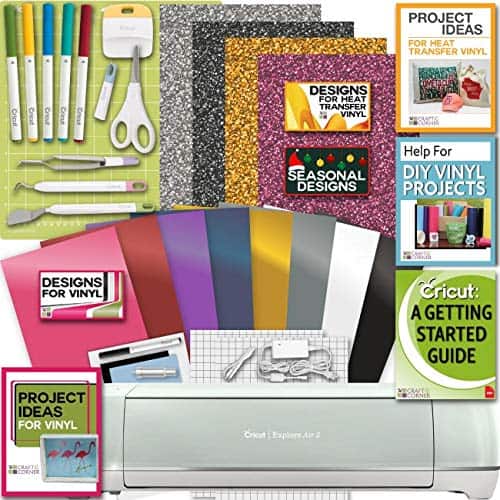 The Cricut Explore Air 2 Vinyl Bundle is a perfect starter bundle for those who want to create with vinyl.  This bundle is one of the most popular sellers on Amazon and truly packs in massive value for a low price.
What is Included in this Bundle?
The stuff you get in the Explore Air 2 Machine-Only Box: Cricut Explore Air 2 Machine, 100+ free images, 50+ free project ideas, Getting started guide, Pen & cardstock sample, Cricut 12″ x 12″ cutting mat
Additional items specifically for this bundle: 5 pack Cricut Color Candy Shop Pen, Cricut Tool Kit (Spatula, Scraper, Scissors, Sharp Hook Tool & Needle Point Tweezers), 8 sheets vinyl, 2 sheets transfer paper, 4 Sheets Glitter Heat Transfer Sheets, 12 exclusive vinyl designs with project inspiration & technique digital book, 12 exclusive heat transfer vinyl designs & project inspiration & technique digital book.
But what exactly can you do with all those extra goodies? Well here is our list of fabulous vinyl project ideas that you can try out with your Cricut Explore Air 2 Glitter Vinyl Bundle. 
Cricut Explore Air 2 Glitter Vinyl Bundle Project Ideas
We wanted to round up some beautiful inspirational glitter vinyl ideas from around the web, to show you what you can make with this fabulous bundle.
Click here if you are wondering which Cricut to buy, and here is a brilliant post if you wish to compare Cricut Explore Air 2 bundle deals.
1. Glitter Throw Pillow Transfer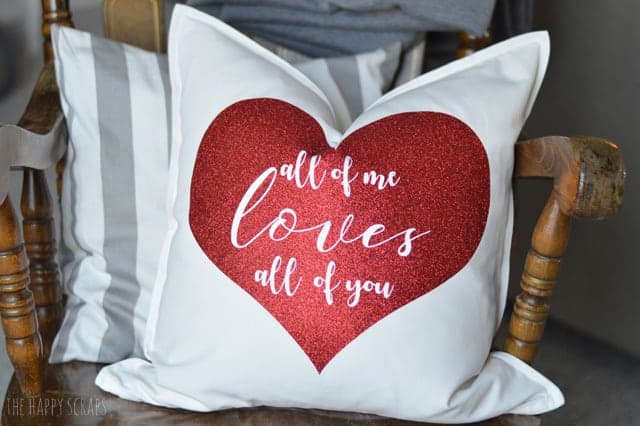 Amy from The Happy Scraps shows us how to whip up this stunning glitter heart pillow. She uses an Explore Air 2 Machine together with some red glitter vinyl and within a short time, she has a statement piece for her bed or lounge. Absolutely loving it!
2. Dishwasher Safe Glitter Mug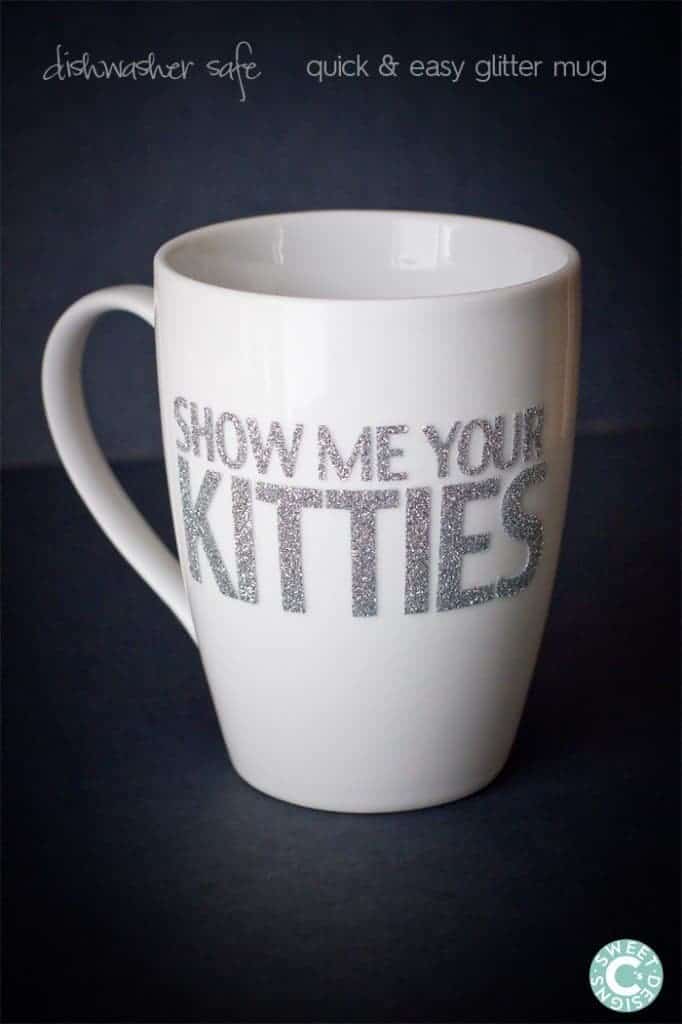 Courtney has done an amazing done with this elegant and cute glitter mug!  Not only is the mug dishwasher-safe, but she also managed to use a normal house iron to iron the glitter vinyl onto the mug – holy moly!! Hop over to her blog: Sweet C's Designs, to find the full tutorial!
3. Glitter Pillow Case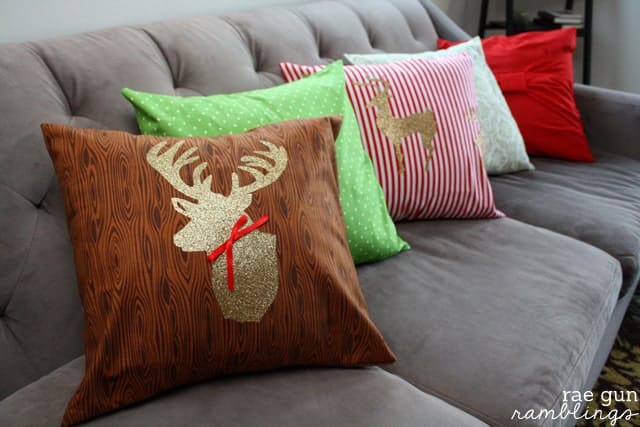 I totally adore these deer glitter throw pillow accents. I love it even more against the 'wood grain' fabric – total statement piece. Marissa shares her step-by-step instructions for these throw pillows on her blog: Rae Gun Ramblings.
4. Glitter Makeup Bags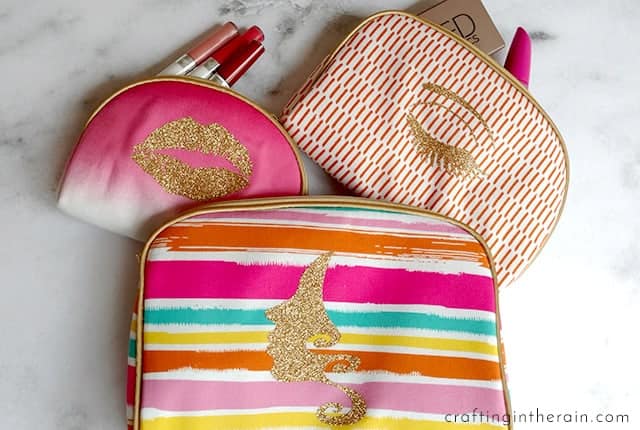 These makeup bags are simply the cutest. I love the colors and I love the glitter accents. Stephanie from Crafting in the Rain shares a full tutorial to show you how easy they are to whip up. They would make brilliant gifts as well!
5. Custom Glitter T-Shirt
Liz from Liz on Call shares her tutorial to show you how you can use glitter transfer to create some custom t-shirts! Loving her glittery black Disney themed transfer.
We hope you have found some great inspiration for your next Cricut Explore Air 2 Glitter Vinyl project!   Please leave us a comment below and let us know what you will be making next.
PS. Settled on grabbing the machine only? Why not stock up on glitter vinyl. Here is our guide to HTV and in there we talk about the best heat transfer vinyl for Cricut.